Maldives Airport Information With Distance To Resorts
There are 12 airports operating in the Maldives of which 4 are international. The main gateway to Maldive is Velana International Airport or more commonly known as Male' International Airport which is situated in Hulhule' island, a 10 minute boat ride from capital Male'. The second one is Gan International Airport in Gan island of Addu Atoll. If you are planning holiday with a domestic flight transfer you can see which islands are close by each airport. You can also
locate airports on the map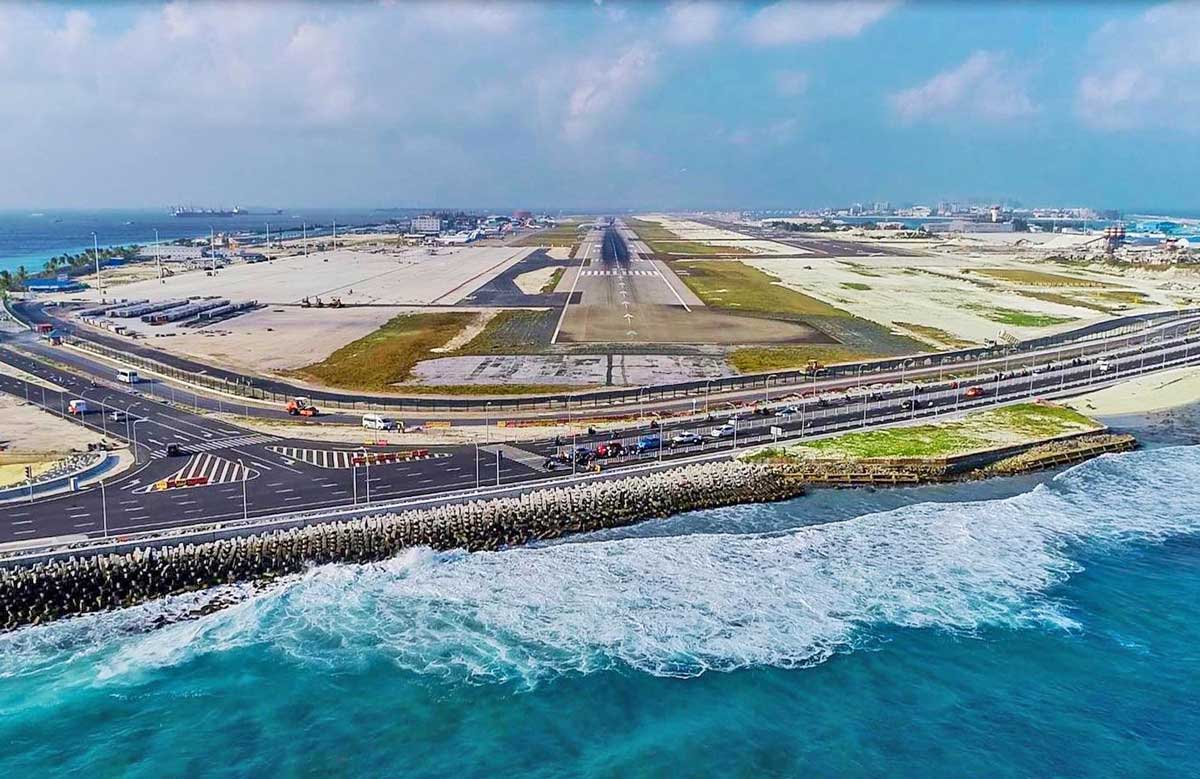 Velana International Airport. Photo by Maldives Airports Company Limited
International Airports In Maldives
Velana International Airport - MLE
This is the main gateway to the Maldives. It was opened in 1960s as Male' International Airport. In 2008 it was rebranded as Ibrahim Nasir International Airport. On 1st January 2017 the airport was again rebranded to what we now call Velana International International Airport. It is situated in Hulhule' island off capital Male'. This gateway is connected to Hulhumale' by road, airport operates taxi and shuttle bus throughout the day and early hours of night. Capital Male' is accessible by ferry boats that have frequent trips each way. Male' Atoll, also known as Kaafu Atoll, is home to most of the resorts. Resort islands that are close to airport offers speedboat transfer day and night, further islands offer seaplane transfer that operates only at day time. A good place to stay overnight would be Hulhumale' or city hotels in Male'. If you prefer the closes to airport, it is Hulhule' Island Hotel which is few minutes by bus or van.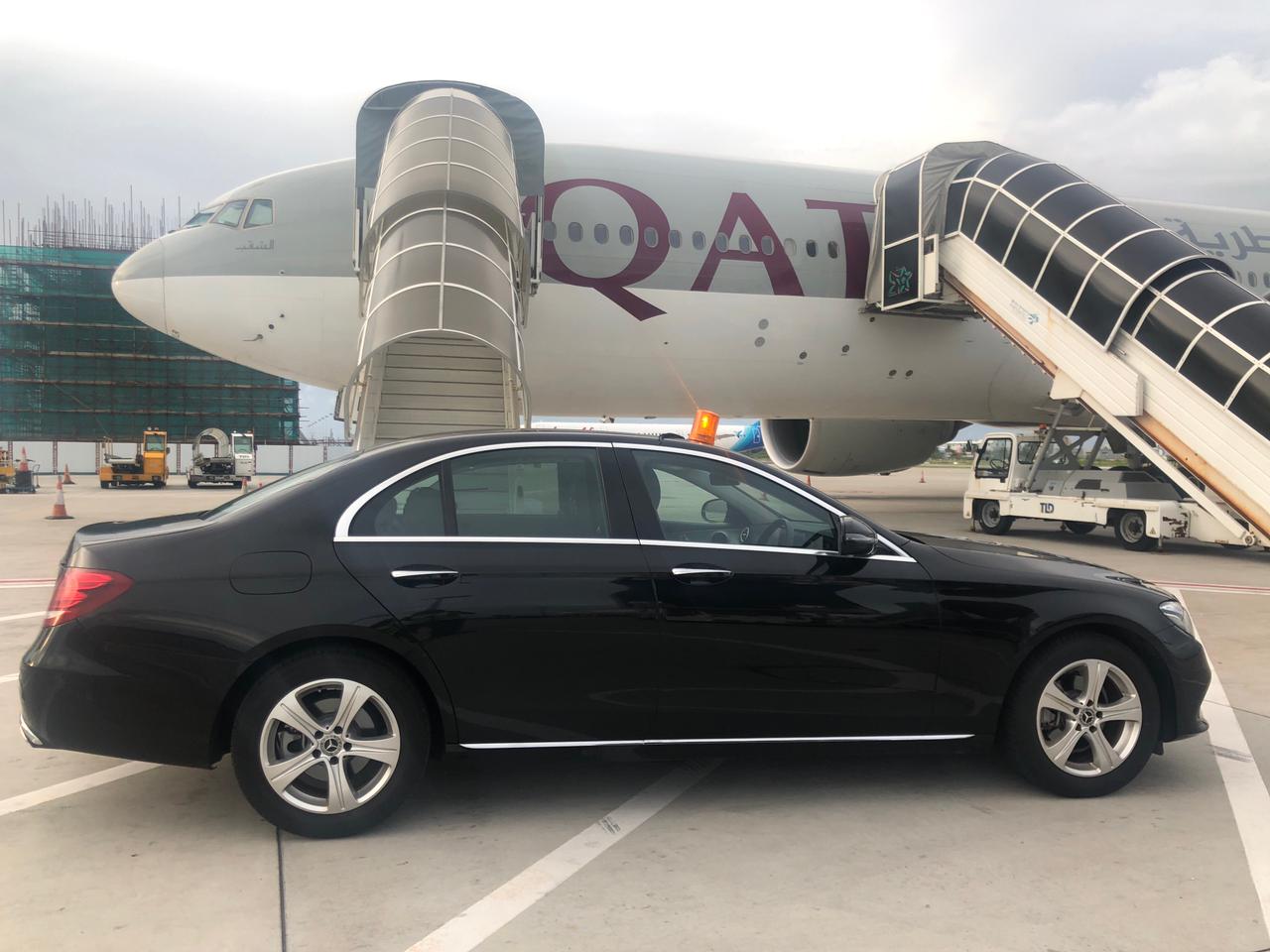 Photo: Limousine at Maldives main airport waiting to welcome fast-track VIP passengers
Tourists visiting to 5 star resorts should ideally book the
maldives airport fast track service
to skip the immigration queue which keeps you waiting for an hour or more depending on busy hours. Use this link to make booking. The service allows passengers to skip the queue and proceed directly to the VIP lounge on a limousine that waits at the flight stairs. The airport host collects the passenger passport and do processing at immigration counter, also collect passenger baggage from belt. There is an option to skip the limousine and just take the shared VIP vehicle as well, so go with your preference.
What is the name of Maldives airport? Over 90% of international flights operate to
Velana International Aiport
. Therefore, if not specifically mention as another regional airport it is considered Velana. The name
Male Airport
also refers to the same. The island itself is called Hulhule', so some locals refer by its island as well. ICAO code for this airport is
VRMM
and IATA code is MLE.
Maafaru International Airport - NMF
Built in 2020, Maafaru is the second most popular international airport in the Maldives. As the name suggests, it is located in Maafaru island in Noonu Atoll, about 180 km from capital Male'. The domestic airline Maldivian, operated by Island Aviation Services, offers daily flights from Male', it also offers easy connection to/from Hanimaadhoo. Most of the time it is a combined flight to Maafaru and Hanimaadhoo, sometimes there may be additional stopovers at Ifuru or Dharavandhoo depending seats occupied and flight size. Our
FBO services in VRDA
includes landing permits, parking reservation, refueling, in-flight catering and several adhoc requirments for private jets as well as charters.
Right after opening of Maafaru International Airport the country went into coronavirus pandemic and international schedule flights were not started. Currently the international flights landing at Maafaru are mostly privet jets and occasional charters.
Luxury resorts
such as Cheval Blanc Randheli, Velaa Private Island or
Soneva Jani
are located near by, so it is very convenient for millionaires and billionaires to escape into their extravagant abodes whenever they wish. They can just fly to Maafaru, park their jet and take speedboat ride of few minutes before going barefoot on white sandy beaches where privacy and luxury comes with world's finest services by Maldivian butlers.
Government has recently upgraded the airport terminal to cater for international schedule flights, Soneva group donated a Covid19 testing facility right at the airport in order to allow passengers travel safely, via Maafaru International Airport. Schedule flights are expected to start soon, the country only opened it's borders on 15 July 2020. The government plans to divert some of the international schedule flights to Maafaru in order to reduce health risks. Noonu Atoll is well known for luxury tourism. But, there are also affordable 5 star resorts such as The Sun Siyam Irufushi or Robinson Club Noonu. If you want to book a 4 start resort this atoll is not far from Lhaviyani where Kuredu is located, it takes about 45 minutes by speedboat. Kuredu is one of the largest resorts, also there are other high class resorts in Lhaviyani Atoll if you prefer. Closet resorts include:
• Soneva Jani - 7 miles
• Sun Siyam Iru Fushi - 10 miles
•
Velaa Private Island
- 17 miles
• Noku Maldives- 7 miles
Hanimaadhoo International Airport - HAQ
In Haa Alifu Atoll, Hanimaadhoo is on the upper north of the country. Construction of new terminal began in 2023. Once completed it is estamated to be a hub in the region with frequest flights from India. Code-named as VRMH by ICAO the run way is also getting an extention to accommodate larger aircrafts. The closest resorts include:
• J Resort Alidhoo - 7 miles from airport
• Hideaway Beach & Spa Resort - 10 miles from airport
• JA Manafaru - 23 miles from airport
Gan International Airport - GAN
Addu is the southern end of the Maldives and the
international airport
is located in the island of Gan. It is 336 miles from Male' Internatoinal Airport. Closes local islands are Feydhoo and Maradhoo which connects many other islands by a course way called Link Road. Equator Village is a city hotel in Gan. There are 2 resorts in this atoll.
• Shangri-la Maldives Vilingili - 1 mile from airport
• Canareef at Herathera - 6 miles from airport
Domestic Airports In Maldives
Ifuru Airport - IFU
The airport is located in Raa Atoll, next to the Atoll capital Ungoofaaru. It is 110 miles from Male' International Airport. The closest resorts include:
• Irufushi in Noonu Atoll - 20 miles from airport
• Zitahli Kudafunafaru in Noonu Atoll - 27 miles from airport
• Randheli in Noonu Atoll - 21 miles from airport
• Velaa Private Island in Noonu Atoll - 15 miles from airport
Dharavandhoo Airport - DRV
In Baa Atoll, Dharavandhoo is Maalhos and Dhonfanu island. The atoll capital Eydhafushi is third closes local island. Dharavandhoo is 72 miles from Male' International Airport in Hulhule' island. The closest resort include:
• Kihaad Maldives - 4 miles from airport
• Dusit Thani - 5 miles from airport
•
Amilla Maldives
- 5 miles from airport
• Reethi Beach - 7 miles from airport
• Four Seasons Landaa Giraavaru - 9 miles from airport
• Royal Island - 5 miles from airport
• Soneva Fushi - 5 miles from airport
• Coco Dhunikolhu - 19 miles from airport
Maamigili Airport - VAM
Located in Alifu Dhaalu Atoll, more commonly known as South Ari Atoll, Maamigili is next to local island of Dhidhdhoo. Unlike other atolls the island capital Mahibadhoo is quite far from airport. Closest resorts include:
• Holiday Island - half mile from airport
• Sun Island - 2 miles from airport
• Lux Maldives - 4 miles from airport
• Kudarah Island Resort - 8 miles from airport
• Vakarufalhi - 8 miles from airport
• Ranveli Village - 13 miles from airport
• Centra Grand - 9 miles from airport
• Vilamendhoo - 14 miles from airport
• LiLy Beach - 15 miles from airport
• Angaga - 12 miles from airport
• Thulhaagiri - 12 miles from airport
• Mirihi - 11 miles from airport
• Conrad - 13 miles from airport
Thimarafushi Airport - TMF
Located in Thaa Atoll, Thimarafushi is local island with a domestic airport. The island is 140 miles from Male' International Airport. Closes local islands are Gaadhiffushi, Kibidhoo, Omadhoo and Hirilandhoo. Other islands in the atoll are little far. There is only one resort in the atoll which is:
• Maalifushi by COMO - 12 miles from airport
Kadhdhoo Airport - KDO
Located in Laamu Atoll next to Thaa Atoll, Kadhdhoo is close to atoll capital Fonadhoo, Gan and Gaadhoo. There are many other local islands spread across the atoll. The Kadhdhoo airport is 160 miles from Male' International Airport. The only resort in the atoll is:
• Six Senses Laamu - 8 miles from airport
Kooddoo Airport - GKK
Located in Gaafu Alifu Atoll, Kooddoo is next to atoll capital Vilingili and local island Maamendhoo. Kooddoo is 240 miles from Male' International Airport. There are 4 luxury resorts in this atoll.
• The Residence at Falhumaafushi - 4 miles from airport
• Robinson Club Maldives Funamadua - 22 4 miles from airport
• Park Hyatt Maldives Hadahaa - 16 4 miles from airport
• Jumeirah Dhevenafushi - 26 4 miles from airport
Kaadedhdhoo Airport - KDM
This airport island is located in Gaafu Dhaalu Atoll. The capital Thinadhoo, Madaveli and Hoadedhdhoo are closest local islands. The resorts in this atoll include:
• Outtigger Konotta - 11 miles from airport
• Ayada Maldives at Maguhdhuvaa - 30 miles from airport
Fuvahmulah Airport - FMV
This is the only single island atoll in the Maldives, it has its own domestic airport. Some guesthouses and small hotels exist in the island, there is no resort. Fuvahmulah airport is 308 miles from Male' International Airport.
Closest Islands and Resorts to Male Airport
The capital Male' is located in the central region of the Maldives. Male' Airport (officially known as Velana International Airport) is located on Hulhule' island which is connected to Male' via bridge, the airport shuttle or taxi takes only 10 minutes in between. Another part of Male' that is accessible to airport is Hulhumale', it takes only 5 minutes. Hulhumale' is modern city that has nice beaches and
several small hotels
of which some overlooks the beach.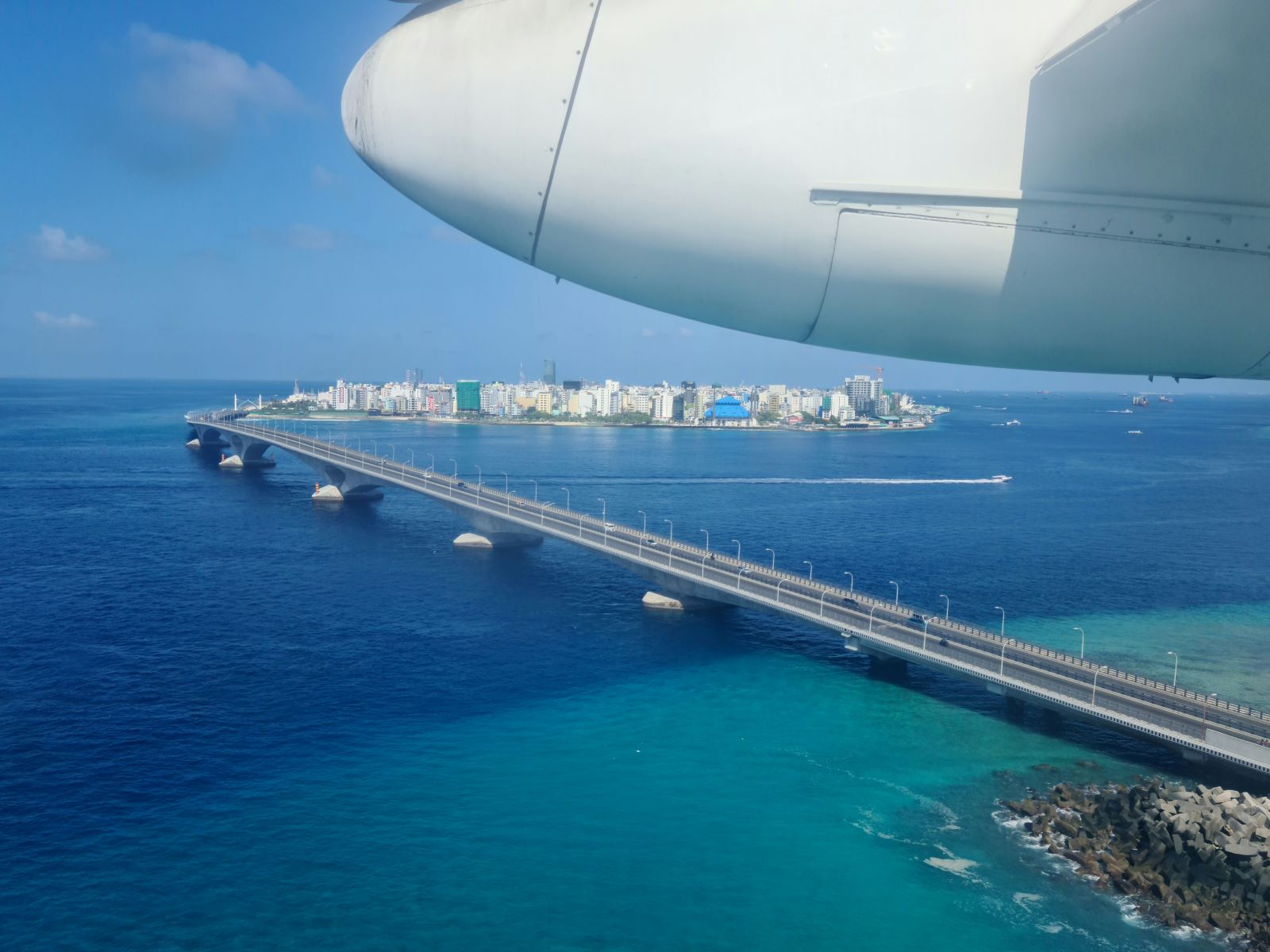 Photo: Bridge connecting main airport to Male' City.
If you are looking for a hotel to spend just 1 night before travelling to resort Hulhumale' is the most popular transit hotel location. Similarly you may want to spend a night after coming back from resort and take international flight next day. In that case you could stay overnight at Hulhumale' for convenience. Other local islands close to airport includes Huraa, Thulhudhoo, Dhiffushi, Gulhi, Maafushi and Himmafushi. These islands are reachable in less than 30 minutes by speed boat. Closes resorts to Male' include Kurumba Maldives, Centara Ras Fushi, Sheraton Maldives Fullmoon, Taj Exotica, Grand Park Kodhipparu, Thulhaagiri, Paradise Island Resort, Banyantree Vabbinfaru, Baros Maldives, Gili Lankanfushi, Cinnnamon Dhonveli, Coco Bodu Hithi, Huvafen Fushi, Varu by Atmosphere, Vivanta by Taj, One&Only Reethi Rah.