Hulhumale Hotels And Guesthouse Contact Details
Below is a list of hotels and guest houses in Hulhumale' and airport. Hulhumale' is a 10 minute drive from airport. There are many small hotels or guest houses in Hulhumale', most of them operates shuttle between airport and hotel. The airport also operates public bus which is not very frequent. For your convenient it is advisable to arrange prior transfer from your hotel or guest house.
Elysium White Willow
Hulhumale', Ranauraa Magu
Tel: +960 7776213, 3356669
Email: nabbe04@yahoo.com



City Beach
Lot No.1007, Hulhumale'
Tel: +960 7778851, 3355854, 3355855




Eve Beach House
Lot No.10082, Hulhumale'
Tel: +960 3330945, 3317653
Email: info@evemaldives.mv




Crystal Beach Inn
Lot No. 11100, Hulhumale'
Tel: +960 7777600, 3350700
Email: hsnime@gmail.com




Elite Inn
Lot No. 10835, Hulhumale'
Tel: +960 7917871, 3357007
Email: hotel_elite@live.com




Iberry Inn
Lot No. 10362, Hulhumale'
Tel: +960 7952782, 3356866
Email: iberryinn@gmail.com




Fern Boquete Inn
Lot No. 10402, Hulhumale'
Tel: +960 7772089, 3336728
Email: admin@maziya.com




Velaa Beach
Hulhumale'
Tel: +960 7978008
Email: amjad.thaufeeg@gmail.com



Fuana Inn
Lot No. 10107, Hulhumale'
Tel: +960 3350610, 3350611
Email: fuanainn@gmail.com




HolidayMakers Inn
lot No. 10818, Hulhumale'
Tel: +960 7782340
holidaymakermaldives@gmail.com




Hulhumale' Inn
Lot No. 10487, Hulhumale'
Tel: +960 3321079, 3325397




Le Vieux Nice Inn
Lot No. 10056, Hulhumale'
Tel: +960 7737867
Email: haseedhm@gmail.com



Loona Hotel
Lot No. 10106, Hulhumale'
Te: +960 3312790, 7772053




Palm View
Dhigga Magu, Hulhumale'
Tel: +960 3355670, 3355671
habeeb@fasfinntravel.com




Ripple Beach Inn
Lot No. 10117, Hulhumale'
Tel: +960 3352012, 7784856
sales@ripplebeachinn.com




Transit Beach View
Lot No. 10065, Hulhumale'
Tel: +960 7774222, 3328777
sales@transitbeachview.com



Transit Inn
Hulhumale'
Tel: +960 7935807
Email: v2maldives@gmail.com




Travel Lodge Maldives
Eash Villa, Hulhumale'
Tel: +960 7422422, 3350353
Email: travellodgemv@gmail.com




UI Inn
Lot No. 11063, Hulhumale'
Tel: +960 9762668, 7792522
Email: info@uihotels.com




Velima Inn
Lot No. 10530, Hulhumale'
Tel: +960 3350015




Visit Beach Inn
Lot No. 10345, Hulhumale'
Tel: +960 7789311
Email: ashraph@hotmail.com




Yellow Shine Inn
Lot Now. 10572, Hulhumale'
Tel: +960 3003678, 3003678
Email: admin@shinemaldives.com




Royal Relax Holiday
Lot No. 10595, Hulhumale'
Tel: +960 3356650, 3356650
info@royalrelaxholidays.com




New town Inn
Lot No. 10488, Hulhumale'
Tel: +960 9948696, 3358697
Email: sales@newetown inn.com




Star View Inn
Lot No. 10543, Hulhumale'
Tel: +960 9792222, 3355066
Email: info@starviewinn.com




Royal Relax Beach
Blue Water, Hulhumale'
Tel: +960 3356606, 3356606
info@royalrelaxbeach.com




Fenda
Lot No. 10103, Hulhumale'
Tel: +960 7778634, 3011511
Email: accounts@bureauxinc.com




DeMal Orchid
Lot No. 10134, Hulhumale'
Tel: +960 3353678
Email: zaid@demaltravel.com




Globus Beach Inn
Lot No. 10809, Hulhumale'
Tel: +960 3353844, 7773844
Email: ali@globusmaldives.com




Coral Queen Inn
Lot No. 10132, Hulhumale'
Tel: +960 3350041, 7887630
Email: abd_zahir@hotmail.com




Airport Beach Hotel
Lot No. 10969, Hulhumale'
Tel: +960 7787085, 3359949
Email: info@thehawks.biz




Relax Beach Inn
Lot No. 10365, Hulhumale'
Tel: +960 7976383, 3355707
Email: sales@relaxbeachinn.com




Koamas Lodge
Vaarey, Hulhumale'
Tel: +960 3350885, 3350885
Email: info@koamaslodge.com




Crown Reef
Lot No.10112, Hulhumale'
Tel: +960 7989890, 3356551
Email: mahjabyn3@gmail.com



Ocean Grand
Lot No. 10717, Hulhumale'
Tel: +960 3355044, 3350211
sales@oceangrandmaldives.com




Maakanaa Lodge
Lot No. 10026, Hulhumale'
Tel: +960 3355560, 7785560
Email: info@maakanaalodge.com




City Grand
Lot No. 10440, Hulhumale'
Tel: +960 7778851, 3355955
Email: info@citygrand.net




The Sand Gate Inn
Lot No. 10820, Hulhumale'
Tel: +960 7777969, 3350616
Email: info@sandgatemaldives.com




TLM Retreat
Lot No. 10413, Hulhumale'
Tel: +960 3351011, 3351011
info@travellinkmaldives.com




Seaside Lodge
Lot No. 10431, Hulhumale'
Tel: +960 3356697, 3356696
marketingsales@seasidemaldives.com



Wonder Retreat
Lot No. 10435, Hulhumale'
Tel: +960 3350096, 7799383
Email: wonder@apquo.com




Tourist attractions and things to do
Most of the visitors staying in Hulhumale are transit tourists who stay overnight before visiting resort next day or before taking international flight back to your destination of origin. Low hotel rates attract many budget travelers who enjoy local rates at restaurants in this new town. There are over 40 hotels (guest houses) on the second most populous island in the Maldives. Entire Island reclaimed in the sea, Hulhumale' is the first and only planned city which aims to ease overcrowding problems in the capital Male'. Currently is it home to over 40,000 residents, businesses and economic activities are vibrant and fast growing.
Public beach near airport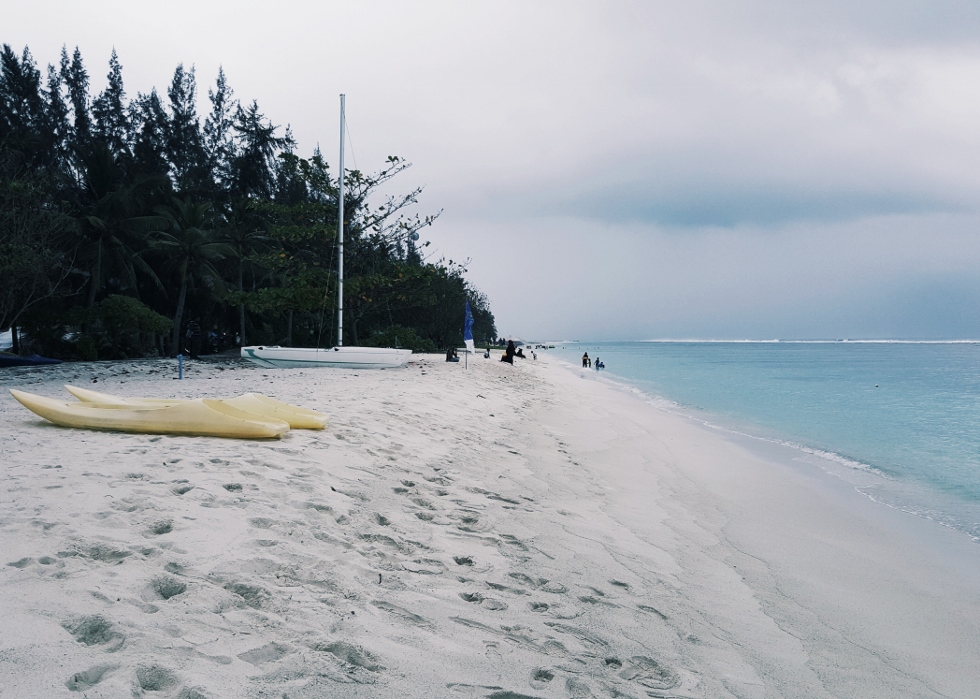 A mile long white sandy beach is a popular attraction among locals and tourists. Maldives being tiny islands Hulhumale' beach is one of the largest in the country and of cause closest beach to airport. Maldives is a Muslim country, bikini and swim suit is not permitted on Hulhumale beach. Tourists normally wear T-shirt with short or T-shirt with tight, to swim in Hulhumale Lagoon. If you want to wear your bikini then head to one of the resorts where everyone around on the beach wears it. Many hotels and guesthouses in Hulhumale' offers day trips to near by resorts, in case you do not want to stay for a night. Hulhumale beach is definitely not the best in Maldives but it is beautiful even take pictures. Find road named "Dhiggaa Magu", that is the beach road. It is the closes public beach to the airport. Public bus and airport taxi makes it easy to access for both tourists and locals. There is boat ferry between Male' and Hulhumale'. Between airport and Hulhumale' access is only by road.
Barbecue on the beach
Ask a taxi driver to take you to barbecue spot, everyone knows this place. It is an area of the beach allocated for barbecues but it is not very clean. The nearest shops sell all what you need for barbecue, from stove to charcoal to meat, sausage, disposable plates etc. Remember, the chili paste sold in these convenient stores are very strong, use minimal if you are not used to spicy food. This is a public place, you do not have to pay rental to use this area, just buy what you need for your barbecue and enjoy. Remember to trash everything and clean up the place for the others to come and enjoy. This Do-It-Yourself barbecue is for groups only, not for couples. Bad groups and crowds often roam around this area, generally it is safety but I would not recommend for couples. Do not take unwanted risks, if you are couple there are many hotels that organize private barbecue on the hotel terrace, do not take unwanted risk of saving few bucks, it is not worth it.
Night fishing
This is one of the most popular activities among tourists. Most of the hotels offer night fishing, the activity is often organized by third party, they would combine guests from different hotels and arrange the trip. Prices vary from hotel to hotel. Few but good hotels give last minute discount on already arranged trip as adding a few more people would not cost much.
Watersports
Things are not cheap in Maldives as living expenses are generally high in the country. All the resorts offer water sports but prices are high as there are higher taxes and operating costs involved. Cheapest place for watersports is Hulhumale'. Walk along the road "Dhigga Magu" and you will find watersports service providers. Snorkeling, windsurfing, jetskii are among the most popular activities.
Scuba diving
There are two or three dive centres in Hulhumale' and "Into Scuba Dive Centre" is my favourite. Head to beach road Dhigga Magu and it will not take long to find one. Into Scuba is a convenient location close to many hotels and restaurants. Before attempting to dive remember this is not for you if you are just staying in Hulhumale' for 1 night. Diving requires to have 1 day after and before your international flight. So, if you staying overnight try other activities.
Sandbank trip
Sandbanks are one of the most fascinating treasure of nature you could experience in Maldives. Spending some time on a sandbank is highly recommended in your Maldives trip. Most of the resorts offer this activity directly from the resort, but not all resorts are close to one of these magical spots. There are two sandbanks easily accessible from Hulhumale', one is called "Sexy Beach" which is near Maafushi island, about 45 minutes by speedboat. Other one is close, near Koddipparu island and Baros. Both are public places, you do not need any permit to visit. Just hire the speedboat and off you go. Again, the activity is offered in most of the Hulhumale hotels who takes of trip arrangement with some drinks and snacks to enjoy. Remember you are visiting a sand spot in the middle of ocean, there are not trees or shades. You may want to take your umbrella or ask the hotel for a beach umbrella which they may provide for extra charge. Apart from taking lot of amazing pictures there is nothing much to do on the sandbank as it is hot in the mid-day sun. On a fine day it would be nice to snorkel around, but remember not to attempt this alone, I would highly recommend to have a snorkeling guide with you as current is usually strong and unpredictable in this area.
Whale submarine experience
Maldives is home to one of the biggest tourist submarines in the world. It is the safest way to explore beauty of the underwater world. It is often referred as diving without getting wet. The company schedules few trips daily, you can book directly from Whale Submarine through phone or from your hotel in Hulhumale. If booked through your hotel they would often arrange your taxi while fare for submarine remains same, so take advantage of the convenience.