Hanifaru Bay For Whale Shark And Manta
05 MAY 2021
Hanifaru Bay is a sanctuary for people who love snorkeling with manta rays and whale sharks. This UNESCO biosphere reserve in the Maldives is legally designated as a Marine Protected Area. There are strict regulations are in place to protect and preserve this amazing wonder of nature. Hanifaru Bay is part of the Baa Atoll Biosphere Reserve and many of the resorts in this area are licensed to arrange excursion for their guests. Such trips are led by licensed Tour Guides and there are special rules boats and guests. The rules play vital role to keep the mantas and whale sharks at peace while guests enjoy watching them up close.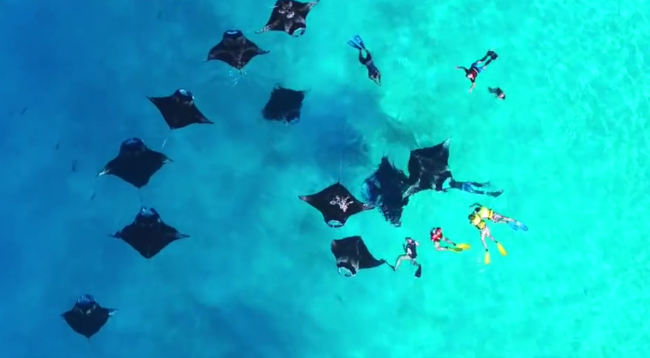 Video screenshot. Check the video attached below.
The reef at
Hanifaru Bay
is like a funnel that is about 1300 meters, the inner narrow part of the funnel is about 600 meters and that is where
whale sharks and mantas
are found more common.
The whale shark season is from May to November.
In this period, planktons gets trapped in the funnel-like reef and concentration of planktons attracts whale sharks and schools of manta rays. At any time there could be over a hundred mantas and several whale sharks feeding off the coral reef. This is the world's largest feeding station known to exist.
Hanifaru Bay is in Baa Atoll
, about 115 km from Male' International Airport. If you want to fly seaplane it takes about 25 minutes. Otherwise, Dharavandhoo domestic airport is just 2 km from Hanifaru Bay.
Resorts near Hanifaru Bay:
• Kihaa Maldives – 4 km
•
Amilla Maldives Resort & Residences
– 7 km
• Royal Island – 9 km
• Soneva Fushi – 10 km
• Dusit Thani Maldives – 6 km
• Four Seasons Landaagiraavaru – less than 20 km
To visit Hanifaru Bay you have to book a trip through a licensed guesthouse, resort or safari boat. Many resorts in Baa Atoll have license and there are some guesthouses in Dharavandhoo that offer trips to this manta sanctuary. Every guest have to buy a token Hanifaru Bay Management Centre, resorts usually keep this token fee added to trip price, so guests need not buy it separately. From guesthouses and safari vessels the policy may be different.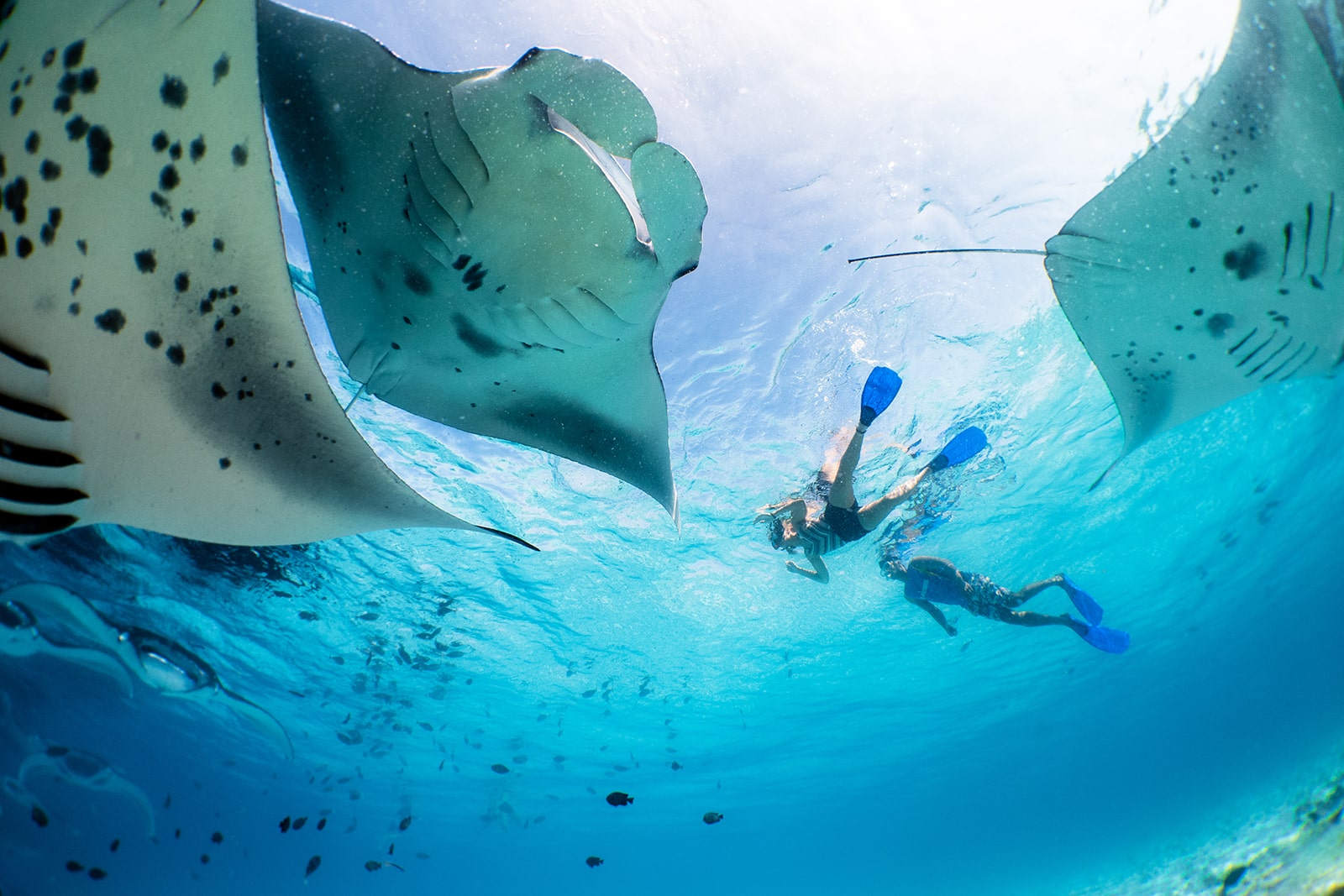 Hanifaru Bay, Photo by Dive Butler, Amilla Maldives Resort & Residences
At Hanifaru Bay you can do snorkeling
, diving is not permitted any more. During your snorkeling you must keep proper distance from whale sharks and manta rays, a radius of 3 meters from head section of whale shark and 4 meters at its tail is minimum distance you must maintain. You should not approach the creature from front or cross its path, stay at sides and swim with whale sharks. It is allowed to take pictures but without flash, you cannot use scooter or motorized devices to tow yourself. Touching, stroking or even getting that close is prohibited and there are trained rangers monitoring your moves.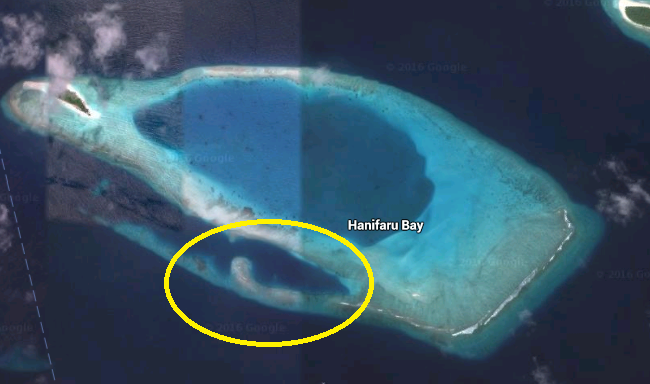 Prior to implementing these regulations the place was overcrowded with boats and tourists. At some point whale sharks and manta population in Hanifaru Bay went to a drastic drop. The creatures might have been disturbed by human intervention. Hence, the regulations are important to keep this amazing wonder preserved.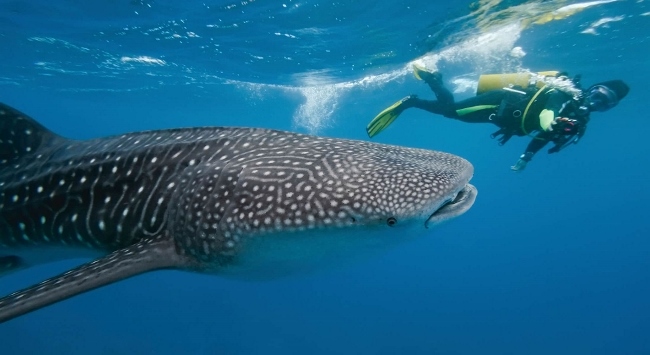 The little island next
marine protected area
is Hanifaru, the island itself is preserved. It is not permitted to get on the island without written permission from Environment Protection Agency - EPA. The lagoon and sea around Hanifaru is protected too, it is not permitted for boats (other than taxi vessel) to go there or do fishing or any other activity. Any boat permitted to enter the area must maintain speed limits in order to ensure whale sharks and mantas do not get disturbed in any way. There are Rangers from EPA monitoring the feeding station and surrounding areas.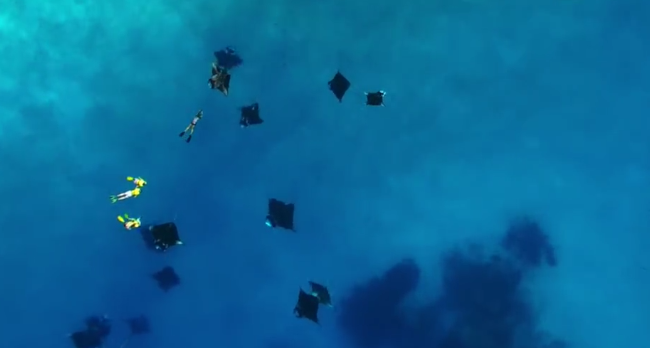 World's best whale shark and manta point? #maldives #diving #manta #whaleshark #HanifaruBay