Lux South Ari Announces Underwater Festival 2016
Lux South Ari Atoll has announced the return of the Underwater Festival in partnership with Euro-Divers Maldives from 3rd to 9th of April, 2016. Euro-Divers has been operating on a global scale and is currently one of the leading diving centres in Maldives.
This is the fourth year of this festival and the previously organised festivals were hailed by the visitors as well. Lux* Maldives has also announced a special offer for those who book the Lux* Maldives Signature Pool Villa during the festival day. They would stand a chance to be the one person who would be getting the complimentary PADI Basic Free Diver Course.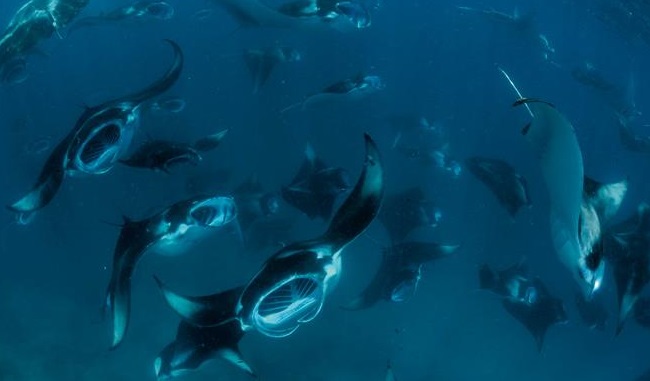 Photo:
Hinifaru Bay
in Baa Atoll
It was also announced by Lux* South Ari Atoll Maldives that Christian Redl, the famous Australian diver would be taking part in the 2016 Lux* South Ari Atoll Underwater Festival. Christian Redl, who is also a world record-holder, would be hosting apnea courses during the festival. Christian Redl would also be sharing his life experiences. He started diving in 1996 and attended the World Championship in the same year as well. Today, Christian Redl is considered as one of the most successful athletes in the field of free diving. He holds world records such as distance diving under ice for 100 meters. Apart from that, he inspires and trains his students to chase their own goals with desire and to overcome barriers.
What adds thrill to the weeklong event more is the participation of the well-experienced photographer from Germany, Marc Hilleshiem. The festival offers training and workshops on underwater photography, free diving photo sessions, directed photography dives as well as GoPro photography and filming tutorial. The festival organisers have decided to host an instagram contest for guests sharing their underwater photos and tagging the hash tags #LUXUNDERWATER #LUXONEBREATH and #NOGRAVITYMALDIVES. The winders of this contest would get prizes as well.
Overall, Lux* Maldives remarks that this festival is "a great way to get up-close and personal with the resident whale sharks and manta rays in their natural habitat". This resort is also the winner of 2015 Traveller Choice Award and the Leading Family Resort which is awarded by TripAdvisor. The resort has a beautiful turquoise water and underwater garden which would fascinate any diver. The area has butterflyfish, Oriental Sweetlips, turtrles, dolphins, manta rays, whale sharks and more. The resort even offers the opportunity to swim personally with the whale sharks. Since the resort is located in one of the country's prime spot for whale sharks, the probabilities of spotting them are quite high. The good news is that they even offer a money back guarantee scheme – if a tourist is not fortunate enough to spot a whale shark, they give the money back.