3rd Annual Maldives Whale Shark Festival On 29th August
9 Jul 2015: Maldives Whale Shark Research Programme [MWSRP] is collaborating with Maldivian Artists to celebrate the whale shark in the Maldives third annual Whale Shark Festival. Hosted on the beautiful local island of Dhidhoo, this year's Festival will be the culmination of months of creative workshops and collaboration in which community members work together to create incredible art work representing their island culture and celebrating the marine diversity of South Ari atoll and it's Marine Protected Area (the S.A.MPA).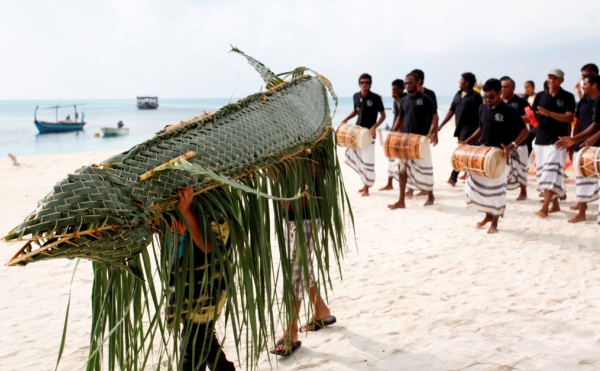 This unique Festival, driven by national and international collaborations between dynamic Maldivian artists, marine biologists, and scientific researchers, places island communities at the forefront of creative decision making. Promoting intergenerational exchange, the Festival provides vital opportunities to celebrate both the rich cultural heritage of the atoll and it's internationally renowned marine environment.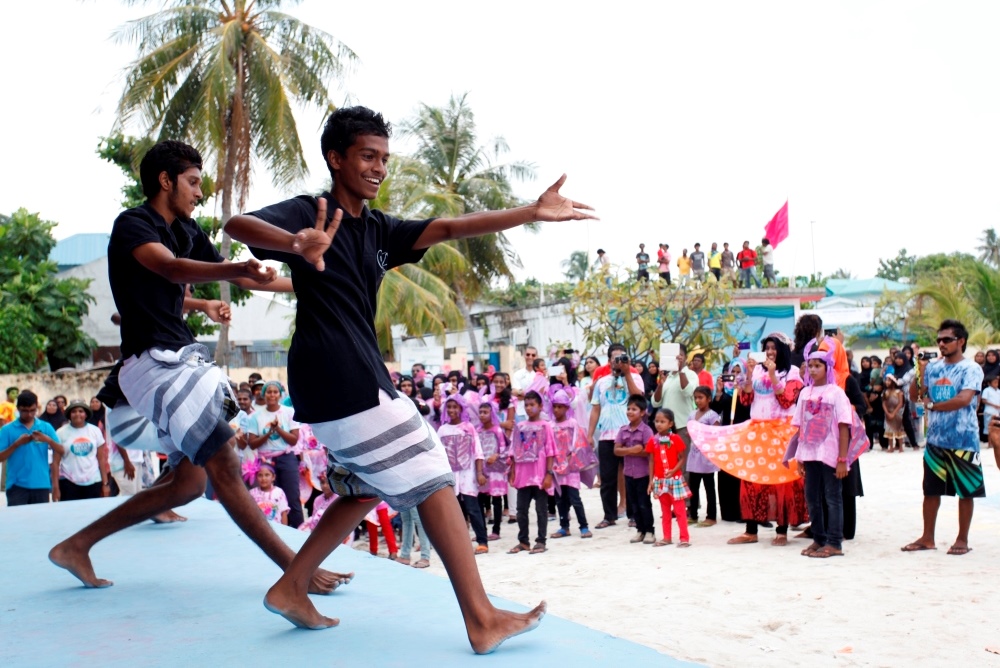 Building on the success of last year's festival, this year the festival will be bigger and bolder than ever before. The Festival will take advantage of its new position in the Maldives national calendar on the weekend of International Whale Shark Day, beginning with a 'ScienceFEST' mini-conference on Friday 28th August for teachers, community leaders and marine biologists before the whole community travels to the Dhidhoo for the main event on Saturday 29th August.
Dhidhoo, a small island with a big personality will host the 2015 event in style, festooned with vibrant costumes, banners, flags and puppets, it will host hundreds of school children and community members from across the atoll.
Festival Co-Director Kareen Adam and Story-Telling artist Fazail Lutfi will be working again with each participating island to share and celebrate the unique stories of each island's community, weaving traditional Maldivian dance and music with contemporary art work to entertain and inform a diverse audience of Island residents, Maldivian creatives, scientists, and international visitors.
Under the guidance of professional artists like Nadee Rachey each participating island will create a large scale kinetic whale shark sculpture from recycled materials for the procession to be accompanied by endangered reef fish inspired art work and costumes. From the Peacock mantis shrimp to the noduled sea star (Fas Ingili), this is an opportunity for artists and marine biologists to design a dynamic learning opportunity, full of independent investigation and discovery, ensuring that conservation and awareness underpin the whole of the Festival Programme.
For the young Maldivian artists involved, this event is a fantastic opportunity to showcase and share their skills, Ms Rachey said of last year; "It is hard to explain it in words how much fun I had working on the festival last year. Working with the local community and collaborating with so many different artists was a really inspiring and rewarding experience".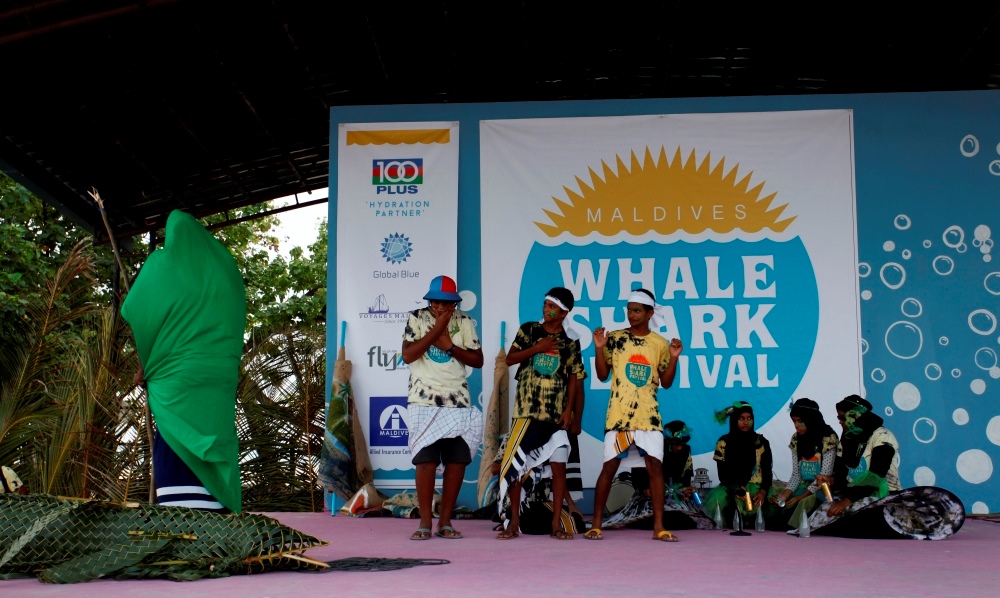 Festival Co-Directors Kareen Adam and Chloe Osborne, are designing a series of multidisciplinary art workshops for participating islands. Ms Osborne enthused that 'the workshops and Festival will build on the incredible collaborations and partnership work that we witnessed in the build up to last years festival. The creative ideas and technical skills on every island we worked with far surpassed our expectations - we have had to work hard to raise the bar for this year's festival!' Co-director Ms Adam added, 'I'm feeling excited to see the children and adults from seven islands come together with colourful props and costumes to celebrate their unique environment and whale sharks".
The event hopes to attract festival goers from across the atoll, Male and beyond as a yearly opportunity to celebrate the craftsmanship and creativity of the island communities and to celebrate the area's unique role in International whale shark ecology.
The 2015 festival has been created with support from Artist Sponsor LUX* Maldives, Festival Partners Allied Insurance, Visit Maldives, Mirihi Resort, Carpe Diem and Flyme, Hydration Partner 100Plus, Print Partner Novelty Print, Online Partner Maldives.com, Design Partner Emau Saleem and Audio-Visual partner DOAV, along with the support of Festival Friends; Friend of the Sea, Voyages Maldives, We Care Maldives, LaMER and Cyprea Pvt Ltd.
MWSRP programme coordinator Ibrahim Shameel concluded, "for me the Festival has proved it can bring people together from all walks of life to celebrate and take creative inspiration from the whale shark and our marine environment. Last year it was made spectacularly clear how much this opportunity meant to the community of South Ari, and the MWSRP are hugely excited to see the scale and reach of this event grow year on year".
If you would like to follow the festival please find more information online:
http://maldiveswhalesharkresearch.org
https://www.facebook.com/maldiveswhalesharkfestival
https://www.facebook.com/MWSRP
Festival Background
Developed by MWSRP and IUCN Maldives in 2013, the festival exists to provide the island communites of South Ari Atoll with the opportunity to celebrate the whale shark and the marine diversity of their atoll whilst promoting environmental sustainability and conservation at a grass roots level. Seeding the idea of an international collaboration between marine biologists and artists and promoting the use of community art as a tool for social and environmental engagement, the project seeks to boost local and national awareness and tourism to support future generations.
Maldives Whale Shark Research Programme
The Maldives Whale Shark Research Programme (MWSRP) is a charity that carries out whale shark research and fosters community focused conservation initiatives in the Maldives.
What initially began as a scientific expedition in 2006, the MWSRP has grown to become the only long- term organisation dedicated to study the iconic, yet vulnerable whale shark species in the Maldives. Our goal is simple: we seek to advance the field of whale shark knowledge and to advocate for sound conservation policy in the Maldives. By encouraging and valuing community and industry stakeholder participation, we are able to leverage the scientific research to safeguard the rich biodiversity and fragile marine ecosystems that are the basis for not only whale sharks, but also life, livelihood and culture in the Maldives. Community mobilisation is one of our core values. Participation from the local residents of South Ari Atoll and throughout Maldives is very important to the work of MWSRP.