Northern Atolls Of The Maldives Have Lesser Rainfall
The main international airport is at the capital of Maldives and that is central region of the country. Tourist started here in the central atolls and developed further. Resorts are now found through out the country. There are many new resorts in the northern and southern atolls. Many repeaters visiting Maldives every year have more to explore and try out new hotels.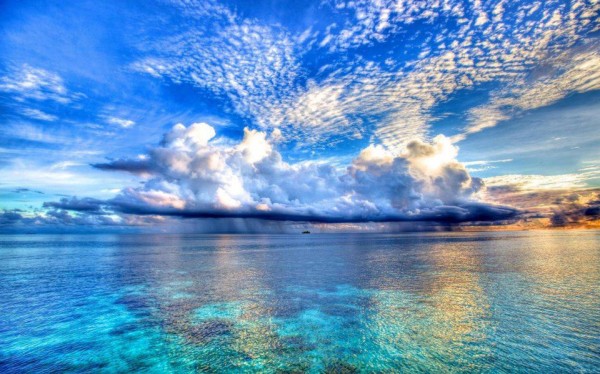 You want to go for the islands in south or north? One factor that might help you choose is the weather. Even though Maldives is said to be sunny year around the tropical climate in the northern atolls of Maldives have lesser annual rainfall than the south. North gets an average of 2,540 millimeters (100 in) of rainfall annually. As for the southern atolls it is 3,810 millimeters (150 in). That's a remarkable difference in weather.
Even through northern islands have lesser rainfall it is quite difficult to pin-point sunny days and locations. The tropical climate is very much unpredictable. Weather forecast gives you a clue. The period of monsoon changes means rain and little sunshine. Other than that, the it is very much luck that gives you a complete sunny holiday and most of the tourists get exactly that.
The year around temperature is between 32 degrees and 28 degrees. During rain it gets lower to 25 degrees. It is a warm climate through out the year, even during the rain. You will still need air-conditioning to stay in perfect comfort. Haa Alif Atoll is the most northern part of the Maldives, followed by Haa Dhaalu Atoll, Shaviyani Atoll, Noou Atoll, Raa Atoll, Baa Atoll, Lhaviyani Atoll. Capital Male' is located in Kaafu Atoll, just next to Lhaviyani. Kaafu is a big atoll and distance between Kaafu and Lhaviyani is huge.
Resorts in Haa Alif Atoll include JA Manafaru, J Resort Alidhoo, Island Hideaway. Haa Dhaalu Atoll do not have any resort in operation, there are some under construction. Viceroy Maldives is located in Shaviyani Atoll. Many new luxury resorts are located in Noonu, such as Chevalblanc Randheli, Velaa Private Island, Irufushi Beach & Spa Resort, Zitahli Kudafunafaru. Two popular resorts in Lhaviyani Atoll are Kanuhura Maldives and Kuredu.