Geography Of Maldives
Maldives is a low lying island country in the Indian Ocean, it is 717 km from Sri Lanka and 430 km from India. There are 1192 islands which are dispersed over an area of 90000 square kilometers southwest of Sri Lanka. Every island is individual and separate from other islands, there is a lagoon or sea in between the islands.
Islands of Maldives are beautiful with white sandy beaches and clear water seas that fade away into the deep ocean blue. These are coral islands, in many islands the sand are soft and fine, in some other islands they are rocky and difficult to walk barefoot. Almost all islands have at least a part of the beach that has fine sand. Resorts are mainly developed in islands that have good quality beach and rich sea life.
Atolls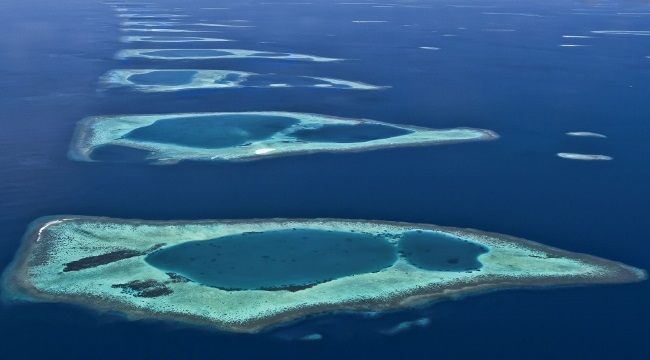 The word atoll is believed to be derived from local Maldivian word
atholhu
which means group of islands. There are 26 natural atolls which are officially recognized as 20 for administrative purposes. Not all atolls are of same size or hold same number of islands, it is based on geographical grouping. Some atolls are huge with hundreds of islands and the atoll of Gnaviyani is based on only 1 island. See
Maldives atolls map
with list of all 20 atolls.
Archipelago
Maldives is an archipelago of islands. Archipelago means chain of atolls. The Maldives archipelago is made up of 26 natural atolls stretched over 90000 square kilometer in the sea which is filled with hundreds of tiny coral islands, reefs and marine lives.
Reef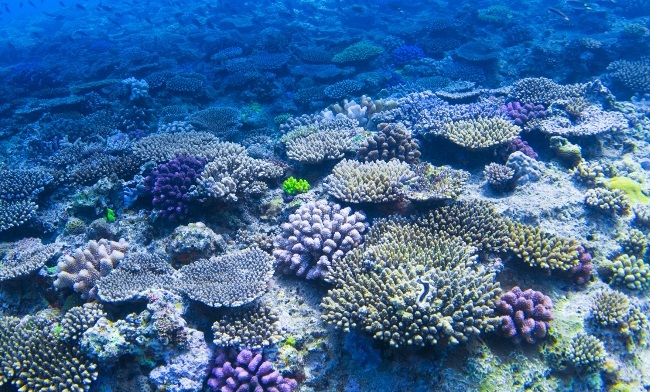 Tiny coral islands of the Maldives are protected by two major types of reefs; house reef and outer reef. There are islands that have lagoon fading into the blue ocean without any barrier in between. Other islands have house reef where lagoon meets deep sea. The house reef protects lagoon and the beach of the island from waves and ocean current. In some parts this natural protection comes to the atoll as whole, providing a coral boundary that protects all islands within it. Such an example is Meemu Atoll.
Waves are an important part of geological formation of the islands. Bigger the waves the higher the ground level of the islands. That is the reason the atolls with outer reef many have islands just a feet or two above sea level. Atolls that have no such protection causes bigger waves to reach the shore and thus pushing the sand atop. In Maldives the ground level of islands vary from 0.5 meter to 1.4 meter.
Volcanoes and Earthquakes
It is believed that the atolls are actually super volcanoes. The circular pattern in formation of atoll is the rim of the volcano. Don't worry, these volcanoes are inactive and that enables colourful corals to grow and flourish atop. Despite millions of years old volcanoes the Maldives is not prone to earthquakes. Meteorological Department at times reported some earthquakes in the Maldives region but it was too minor for people to feel anything.