Dive Insurance That Works In The Maldives And Hyperbaric Chamber
Few days back I wrote about my first
dive experience
and mentioned that I would write about some safety tips. Dive insurance is the first safety precaution you need to take and there are countless companies that provide dive insurance. How do you go about selecting a good company?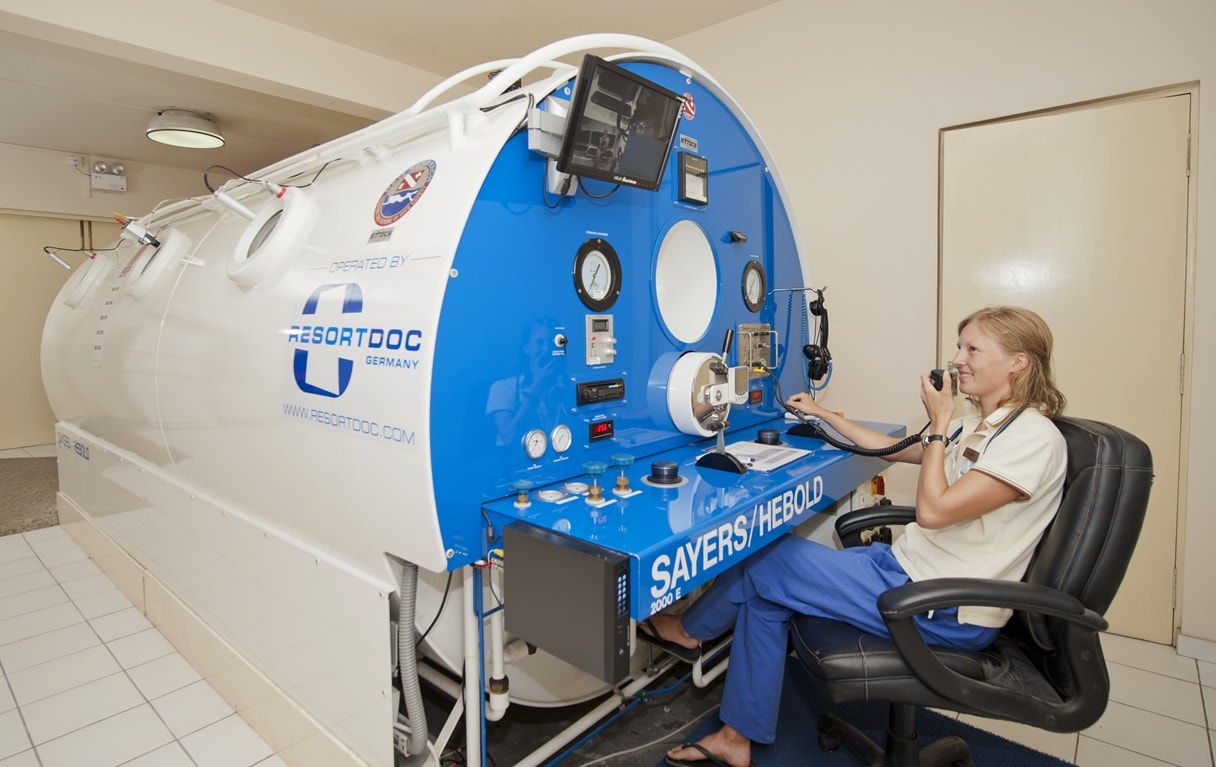 I never obtained dive insurance for myself. But, I did come across people who needed treatment for dive accident. That was when I realized the importance of having dive insurance that works in
Maldives
.
First and foremost, dive accident treatments are tremendously costly. To give you a figure it normally costs around $5,000 - $15,000 and that is just to treat 1 person.
Why is it so costly? You might ask. Unlike normal diseases and accidents treating a dive accident often requires a hyperbaric chamber and there is no
hospital in Maldives
that has this kind of chamber. But, don't freak. There are few resorts that have hyperbaric chamber. Resorts that do not have this knows the nearest resort equipped with a hyperbaric chamber so that they could go there on emergency cases. Just having the chamber is not enough, there should be a doctor who is trained on dive medicine which includes use of hyperbaric chamber. The dive medicine doctor and hyperbaric chamber along with other facilities could just be there sitting idle for months with no patient. Maintaining this facility is costly.
Dive accident treatment involving hyperbaric chamber or decompression chamber is called Hyperbaric oxygen therapy (HBOT). Hyperbaric chamber is an air tight container that depicts decompression at different depths of sea. There is a supply of oxygen connected, usually 100% oxygen. There are glass windows (of cause you can't open) at different locations so that doctors can monitor your conditions. The chamber is equipped with sensors to monitor compression level, oxygen etc. The therapy includes adjustments of compression level at different intervals while total duration of therapy itself remains important. Nowadays the decompression champers are very advanced in functionality, the doctor would program the machine and it would control the conditions based on program. There is an emergency button inside the chamber, just in case. Some champers come with communication device so that doctor could speak patience while undergoing treatment. Some also have a camera inside and screen outside to allow doctor at the control to monitor easily.
The capacity of chambers used on Maldives varies, usually 2 – 6 people at a time. The chamber in
Kuramathi
could accommodate up to 6 people at one time. If an accident happens near Male' or
airport
there is Bandos Island Resort. Just like any other insurance the first thing to do following an accident is to inform insurance company who often suggests the nearest treatment centre to go. Insurance company also communicates the resorts. Not being able to inform insurance company should not stop you from treatment. After treatment you could present your insurance details to the resort clinic.
I came across few dive accident cases and all the guests had insurance from Dan Europe. I talked staff of the resort clinic and understood there was a good understanding between resort and insurance company.
Once guest reports an accident to Dan Europe they know it had happened. Later on when resort sends them the medical bill with insurance details the resort receives payment. Dan Europe holds a good reputation in the Maldives as a quick and easy insurance provider for divers.
Dive insurance that works in the #Maldives and hyperbaric chamber. #scuba #diving #insurance #daneurope