Kuramathi Island Resort Water Villas In 30 Photos
For a perfect vacation with sunny weather, glittering beaches, and cerulean oceanic views, look no further than the exquisite range of water villas at Kuramathi Island Resort. These magnificent villas situated over the water guarantees a luxury vacation, complete with amazing views, and wide array of amenities and services; all while promising absolute privacy.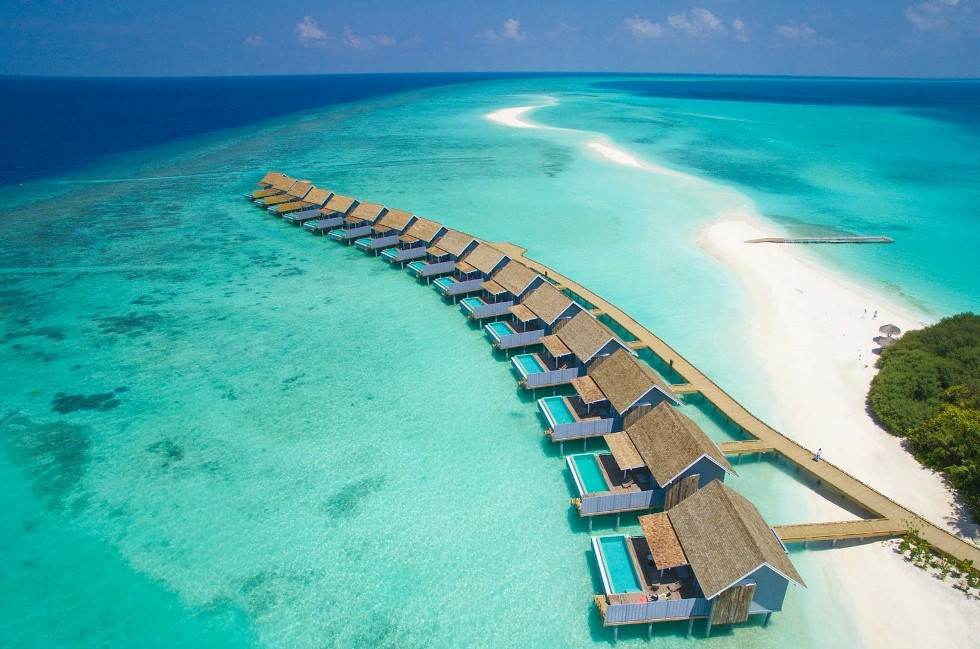 Thundi Water Villa - Aerial view
If you are looking for a dreamy type holiday in Maldives, Kuramathi Island Resort Water Villa is what you need to book. It is of great value for money and delivers excellent satisfaction in all aspects of a Maldives holiday. The island is one of the most beautiful in the Indian Ocean.
Over 20 food and beverage outlets offer enough, if not too many, to choose from for your 2 weeks in heaven. Diving and snorkeling makes you forget how many days you actually spent there as you enjoy the dream holiday. Spa and boutique is needless to mention, but the amazing hospitality and quality of service is something that never gets unnoticed.
Kuramathi Island Resort
Located in Rasdhoo Atoll, 56 kilometres to the west of Male' City, Kuramathi Island Resort is one of the first island resorts in Maldives to have opened its doors to guests. Comprising of luxurious guest villas situated both on the beach and over the water, the 1.8-kilometre island comes complete with lush greenery, white sandbanks, and sparkling azure waters. The natural vegetation of the island is mainly left untouched and is open to guests for exploration; a part of Kuramathi Island Resort's environmental awareness and sustainability programme. The resort is equipped with a variety of bars and restaurants to dine in, top-notch spa facilities, and an impressive sports centre with 3 swimming pools located around the island, a jacuzzi, a gym and a floodlit tennis court. Kuramathi also has a kids club as well as a Renewal of Vows service, making it ideal for those vacationing with the family as well as for those who are looking for a romantic getaway. Transfer to the island is available either by seaplane (typically 20 minutes) or speedboat (approximately 90 minutes). Both options offer you an exquisite view of the beautiful Maldivian seas and atolls during the ride. Check-in for guests is at 2:00 pm while check-out is at 12:00 pm.
Water Villa with Jacuzzi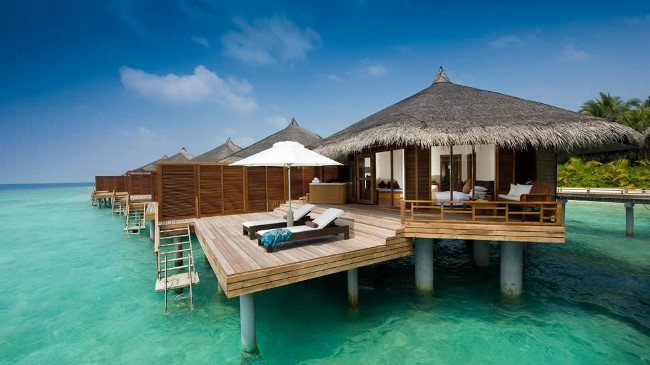 Water Villa with Jacuzzi
Water Villa With Jacuzzi is 90 sqm in size. Water Villa (50 sqm) do not exist any more. It has been demolished and rebuild as
Deluxe Water Villa
which is massive 136 sqm in size.
The 30 units of
Deluxe Water Villa
are located in the lagoon side of the island. The view is amazing. These are new rooms built recently. The rooms are spacious, fresh and very appealing. These villas are very close to Jetty B where the sting ray feeding happens every evening. It is also close to sandbank (but not closest) and the tropical vegetation of the island in this area is attractive. To use beach you can just have a few minutes walk to the sandbank and it is the best beach in the world. The reef is on the opposite side of the island. There is a ladder in the terrace to go down into the sea, but to reach reef you have to go the opposite side, hence ladder is useful if you want to swim in the lagoon.
Water Villa with Jacuzzi
is a better location if you are devoted to sea life and want to snorkel everyday. There is a huge veranda deck with umbrella and a pair of sun loungers. The view of the Indian Ocean is amazing. The stairs in the room lead you down to the water and you will be in the reef within minutes if not seconds. The coral are colourful and fish are plentiful at Kuramathi Island Resort. Pay attention not to damage the coral. Also watch out for the waves as you swim through the snorkeling channels. Do not approach swim over the reef or walk, it is harmful to environment and risky for you. The tiny channels are little deeper and allows easy access to the reef. There are signs on the beach pointing to snorkeling channels.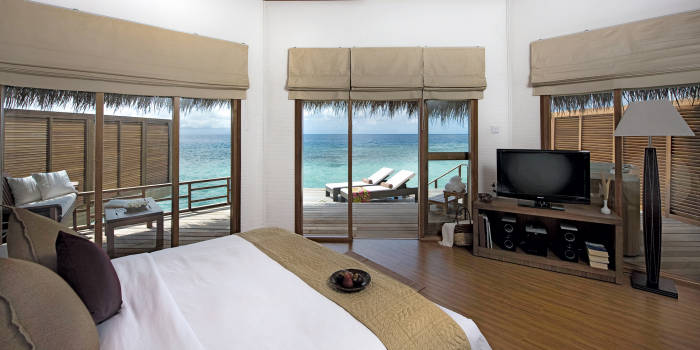 Water Villa with Jacuzzi
Water Villa with Pool
Built on stilts, these Water Villas are located close to the house reef with its vibrant fishes and other marine life. This 90 sqm villa consists of a spacious bedroom with a king-sized bed and minibar, a partly open-air bathroom, and an oversized two-tiered sundeck. There is an 18 sqm private pool that gives breath-taking views of the Indian Ocean. The bathroom has twin vanities and a rainfall shower, along with complimentary toiletries and amenities. The first tier of the sundeck features an outdoor seating area with a whirlpool (hot tub) while the second tier has a sun umbrella and sun loungers where you can enjoy the scenic view of the crystal-clear lagoon.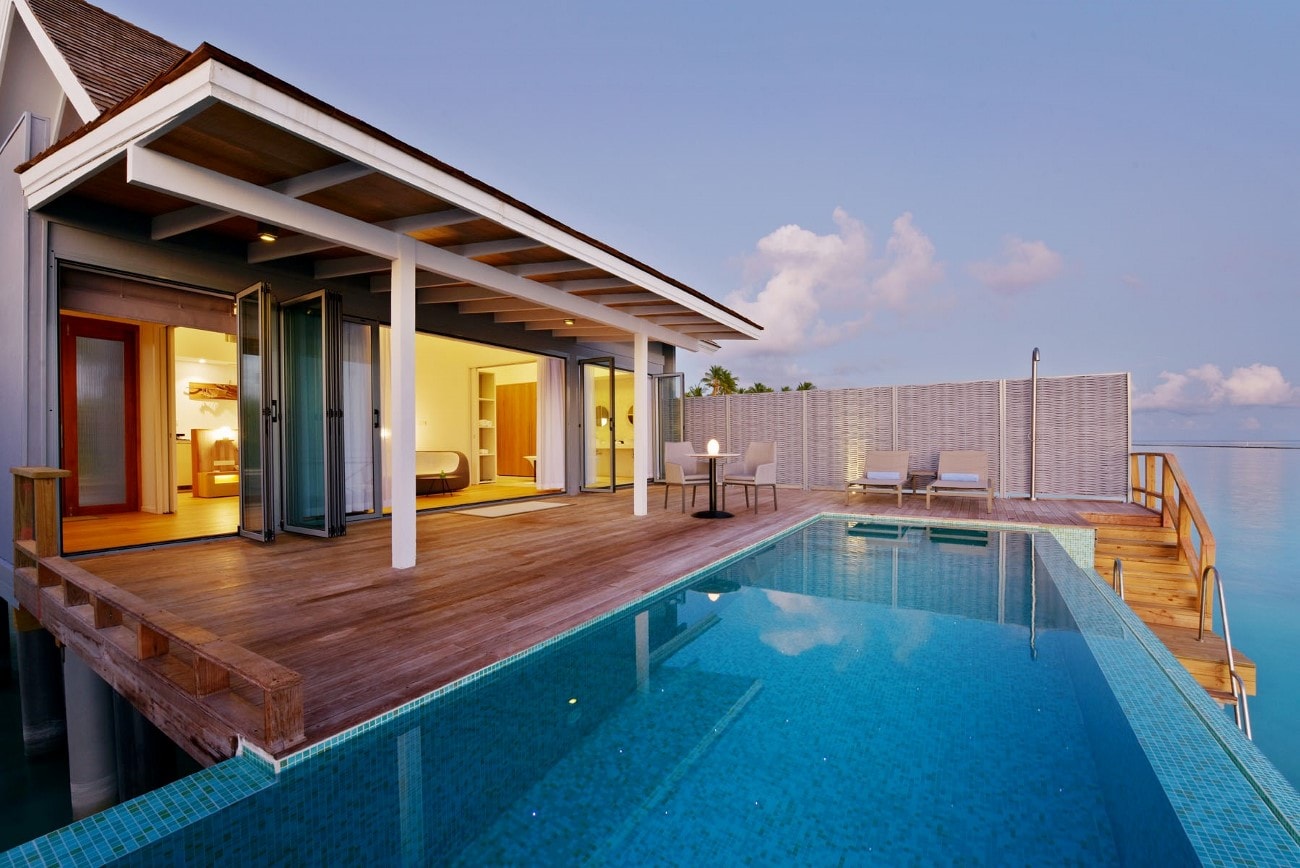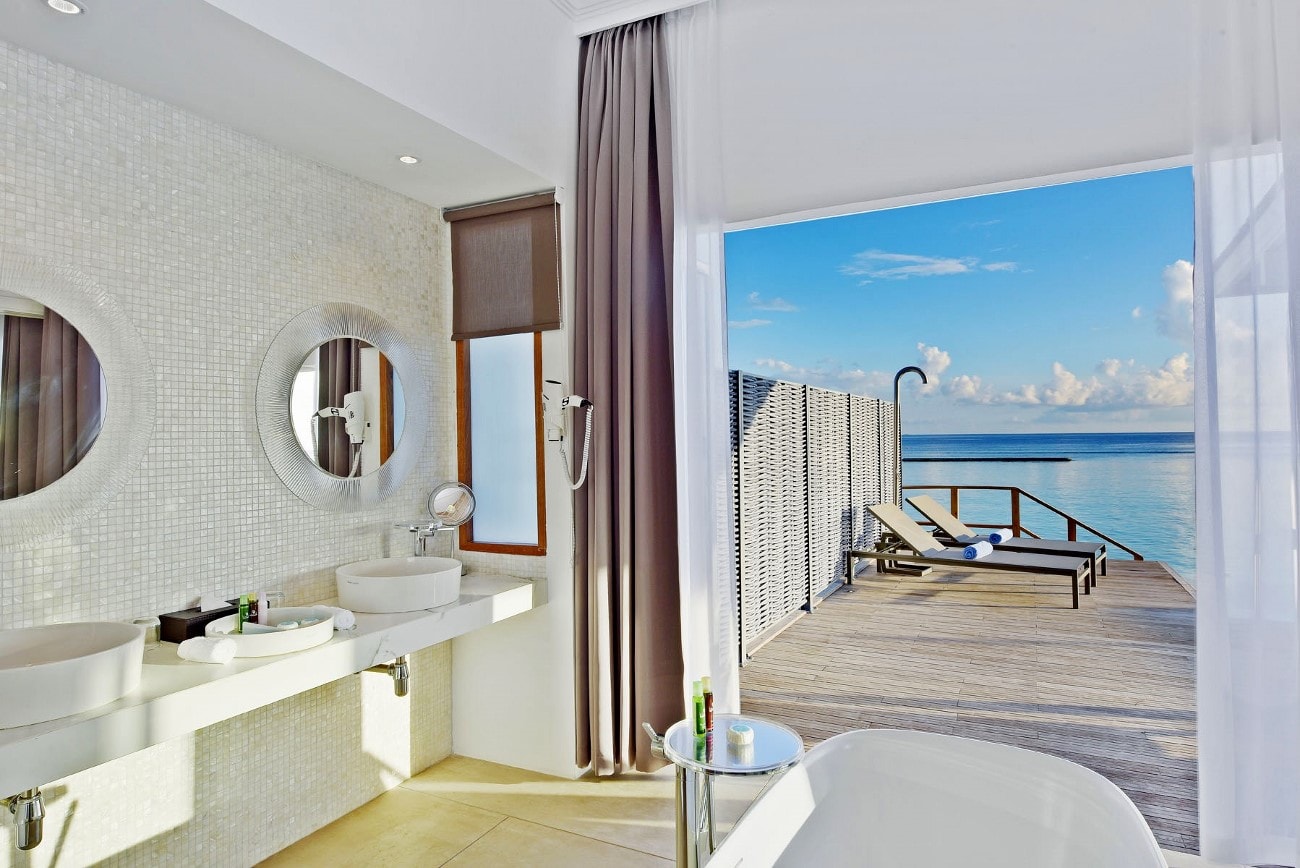 Water Villa With Pool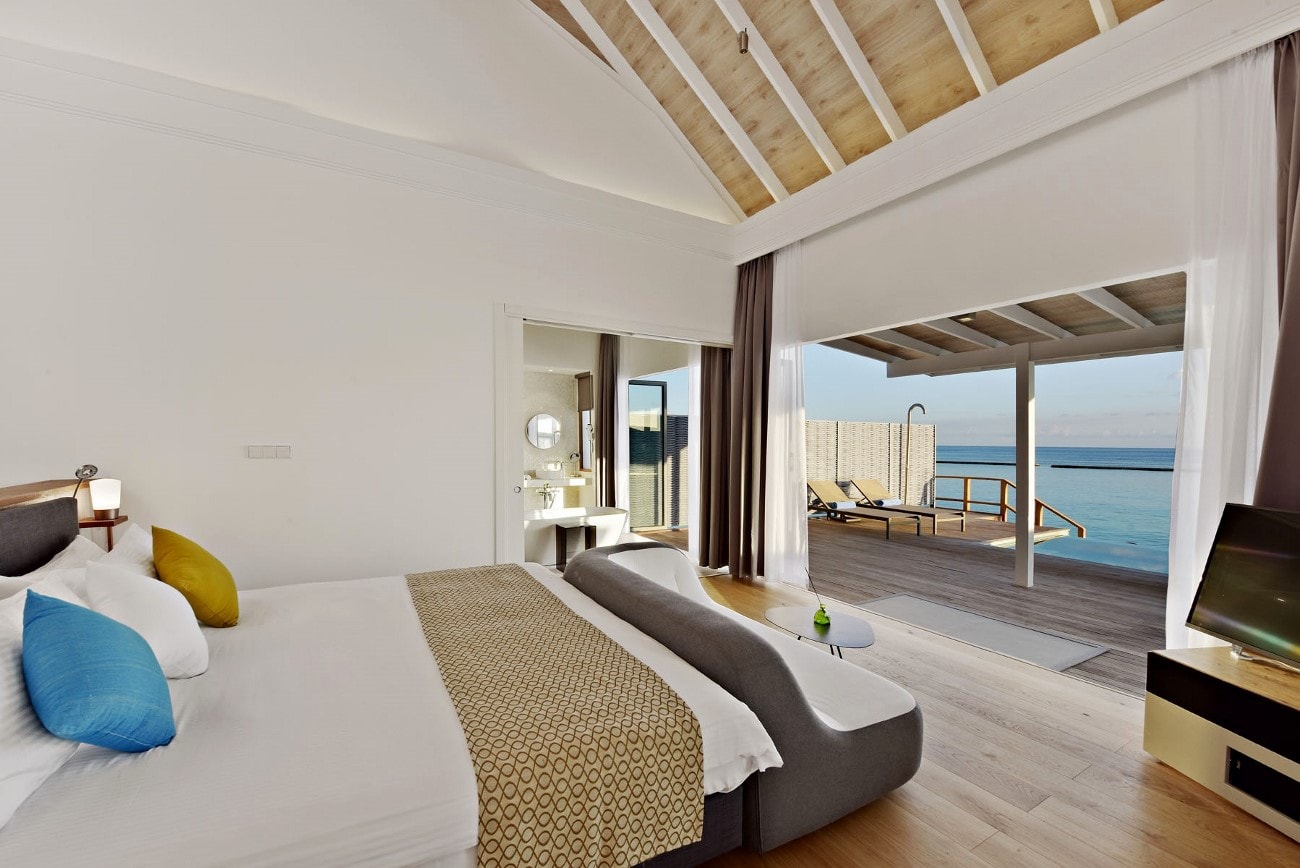 Water Villa With Pool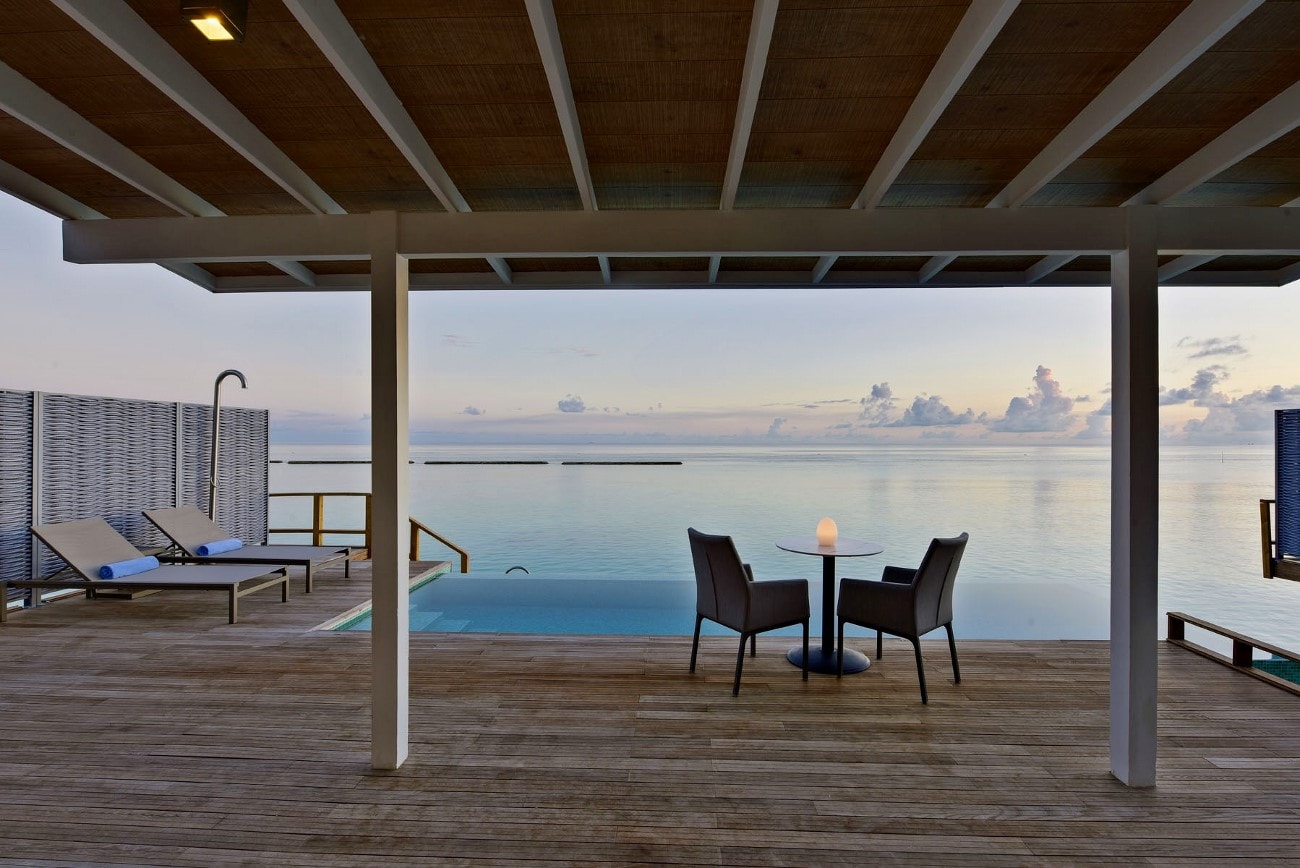 Water Villa With Pool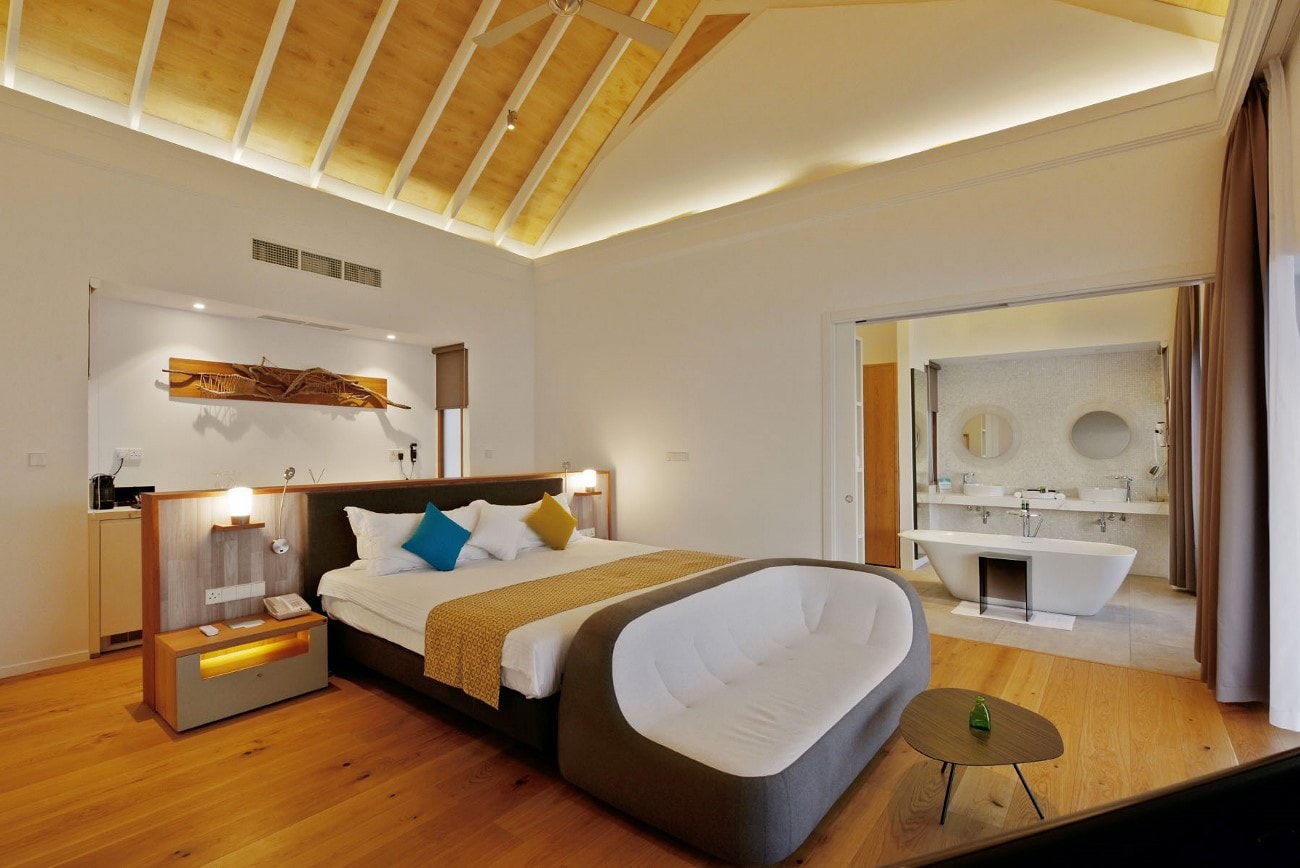 Water Villa With Pool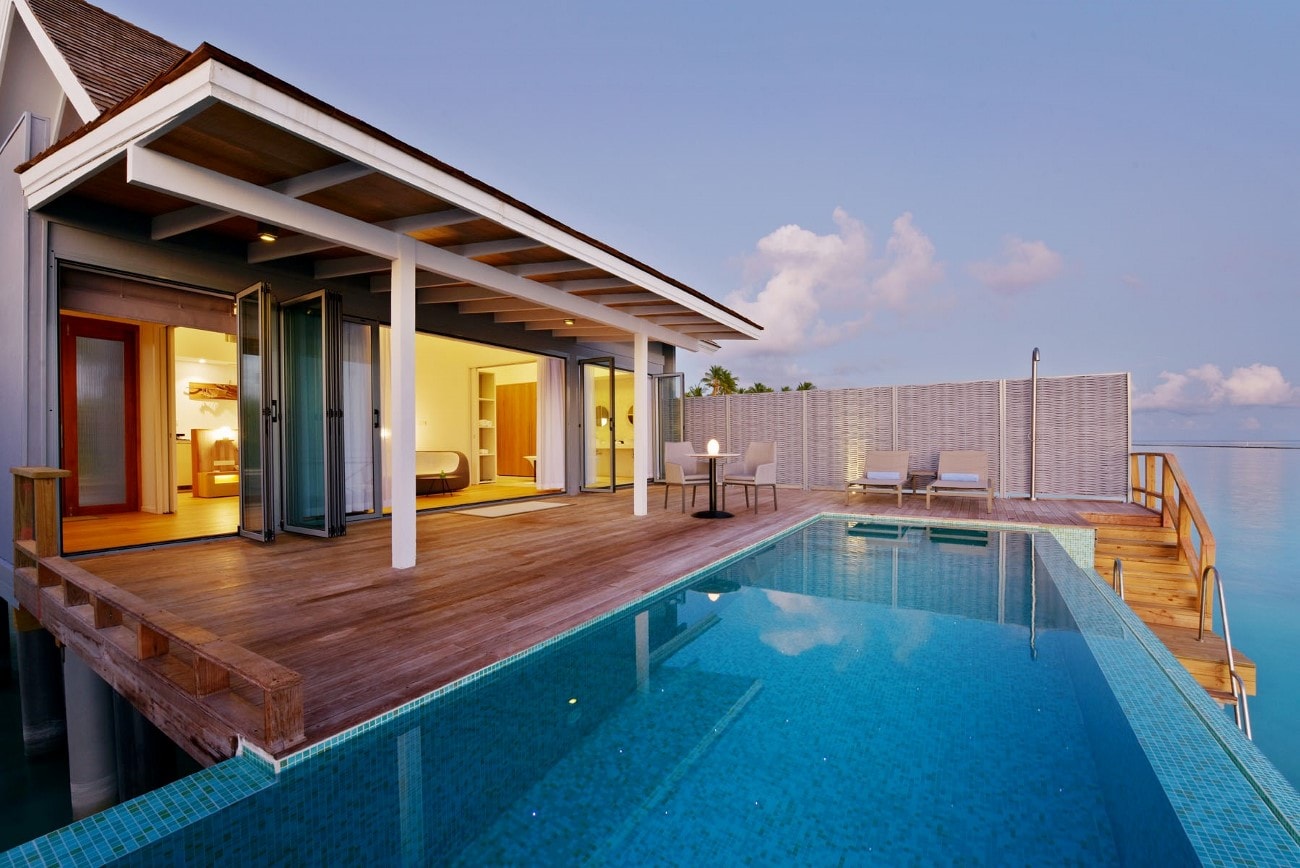 Water Villa With Pool
Deluxe Water Villa
Approximately 115 sqm in size, the Deluxe Water Villas are situated in the middle of the natural lagoon of Kuramathi, surrounded by gentle turquoise waves on all sides. As well as a king-sized bed and daybed, the bedroom also features an upgraded minibar with a separate wine chiller consisting of various bottles from around the world; an amenity which is present in all the villas upwards from this category. The bathroom of the Deluxe Water Villas consists of a free-standing bath in addition to the twin vanities and rainfall shower.
There is a jetty leading to these villas – which also has a spacious sundeck with sun loungers and deck chairs – with steps down to the sparkling water; perfect for a morning swim by yourself or even to just sit on and gaze across!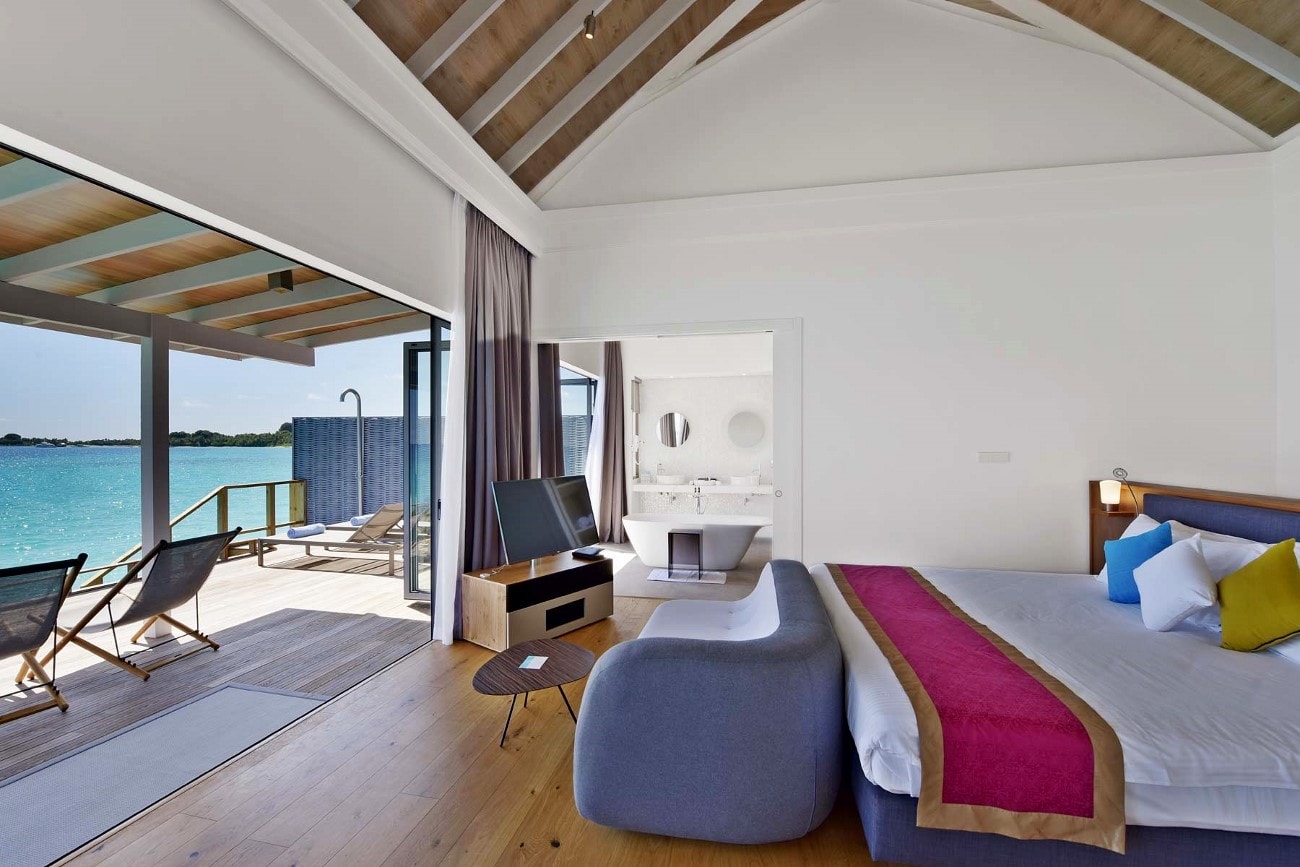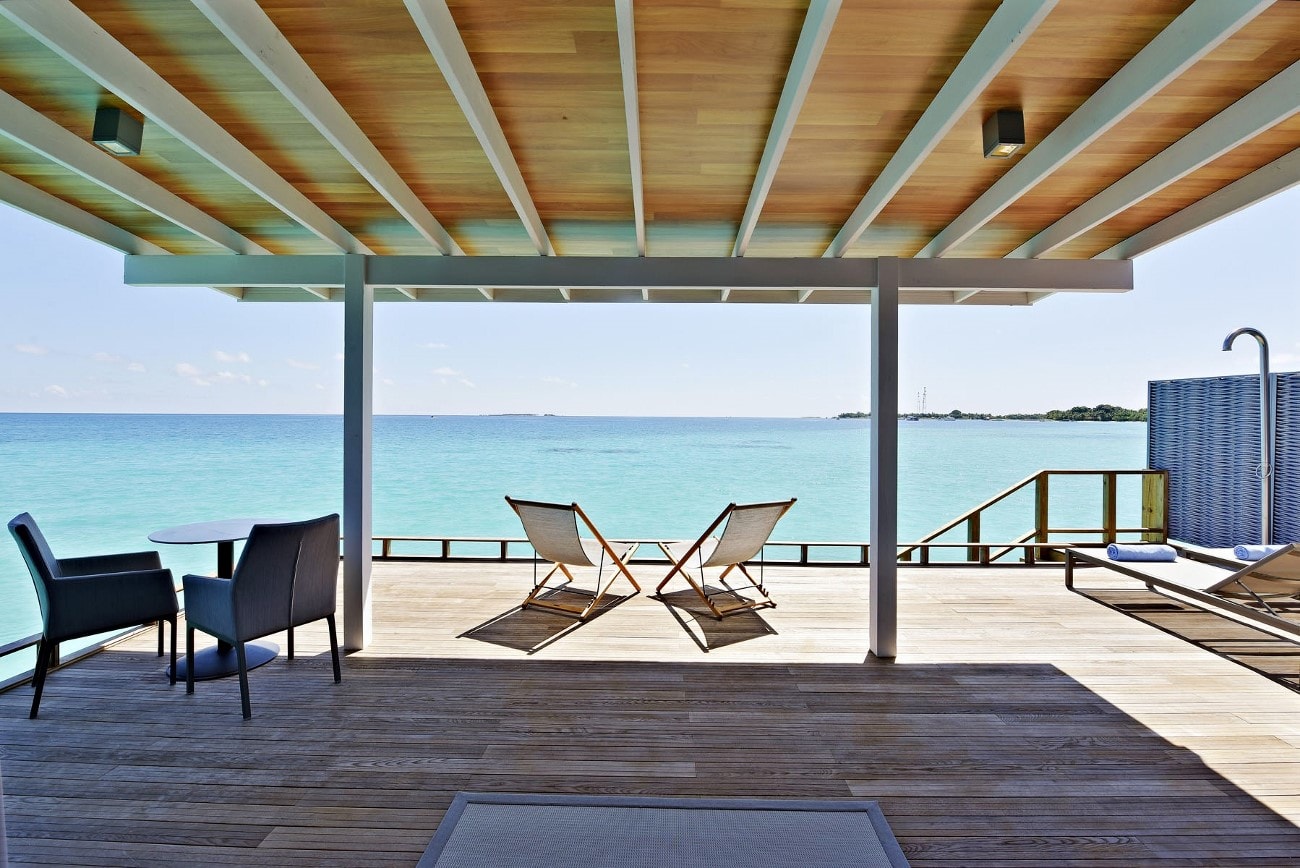 Deluxe Water Villa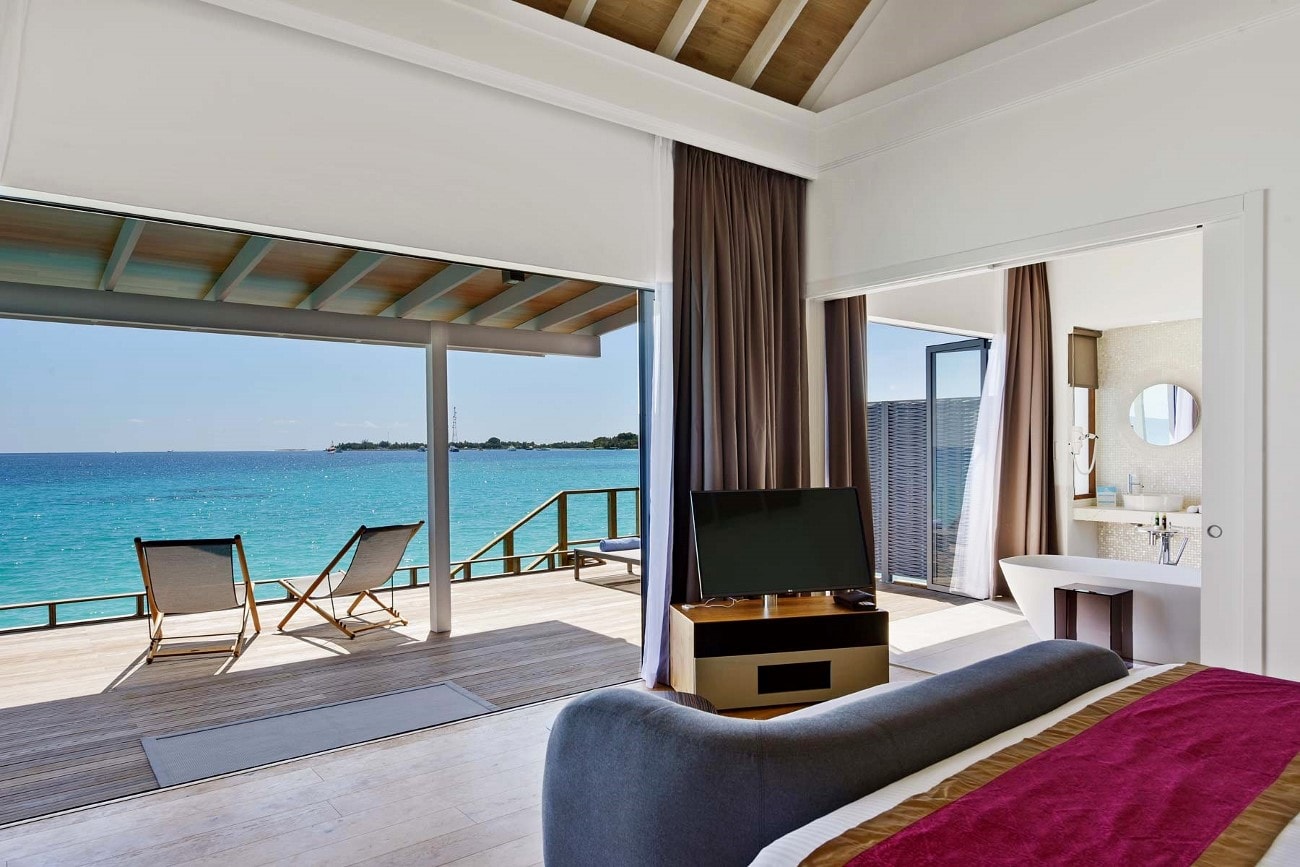 Deluxe Water Villa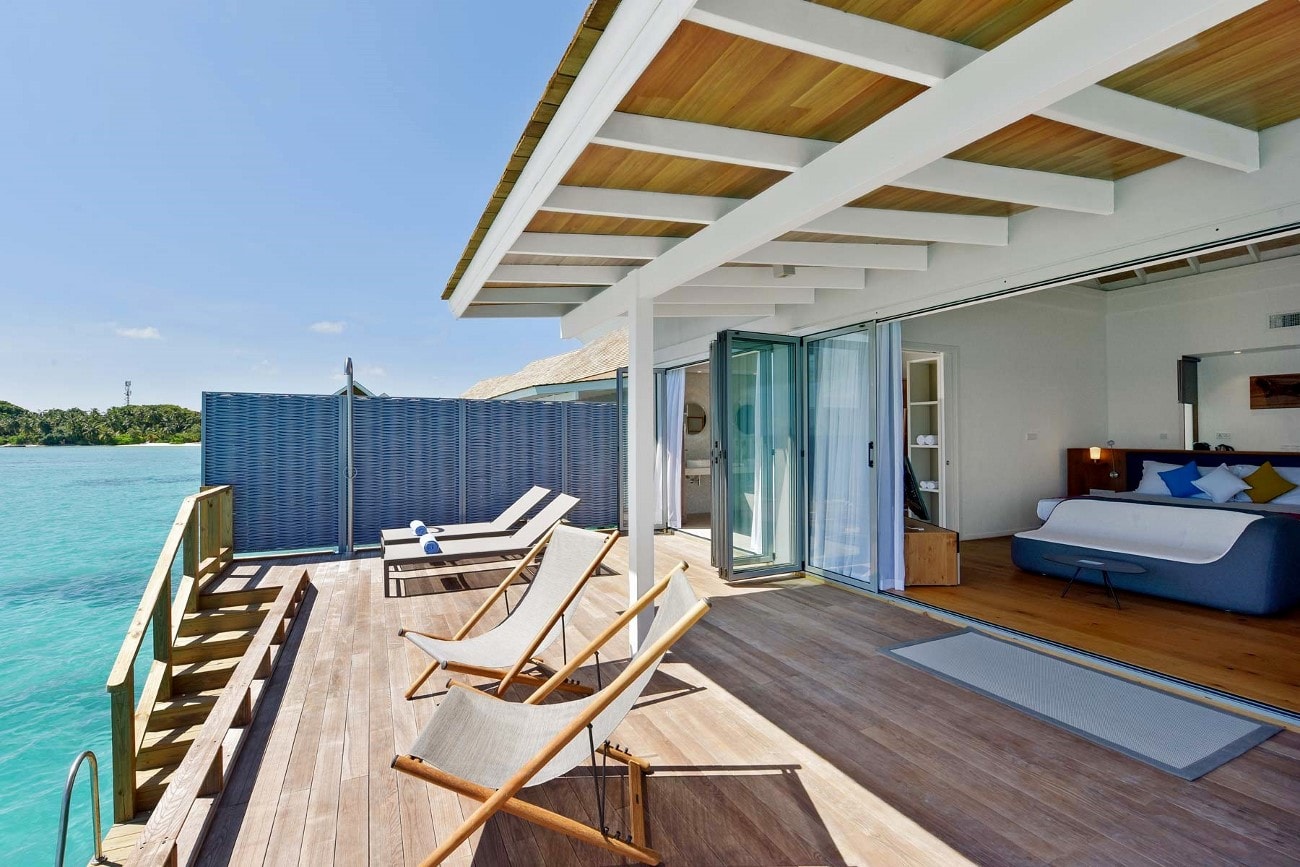 Deluxe Water Villa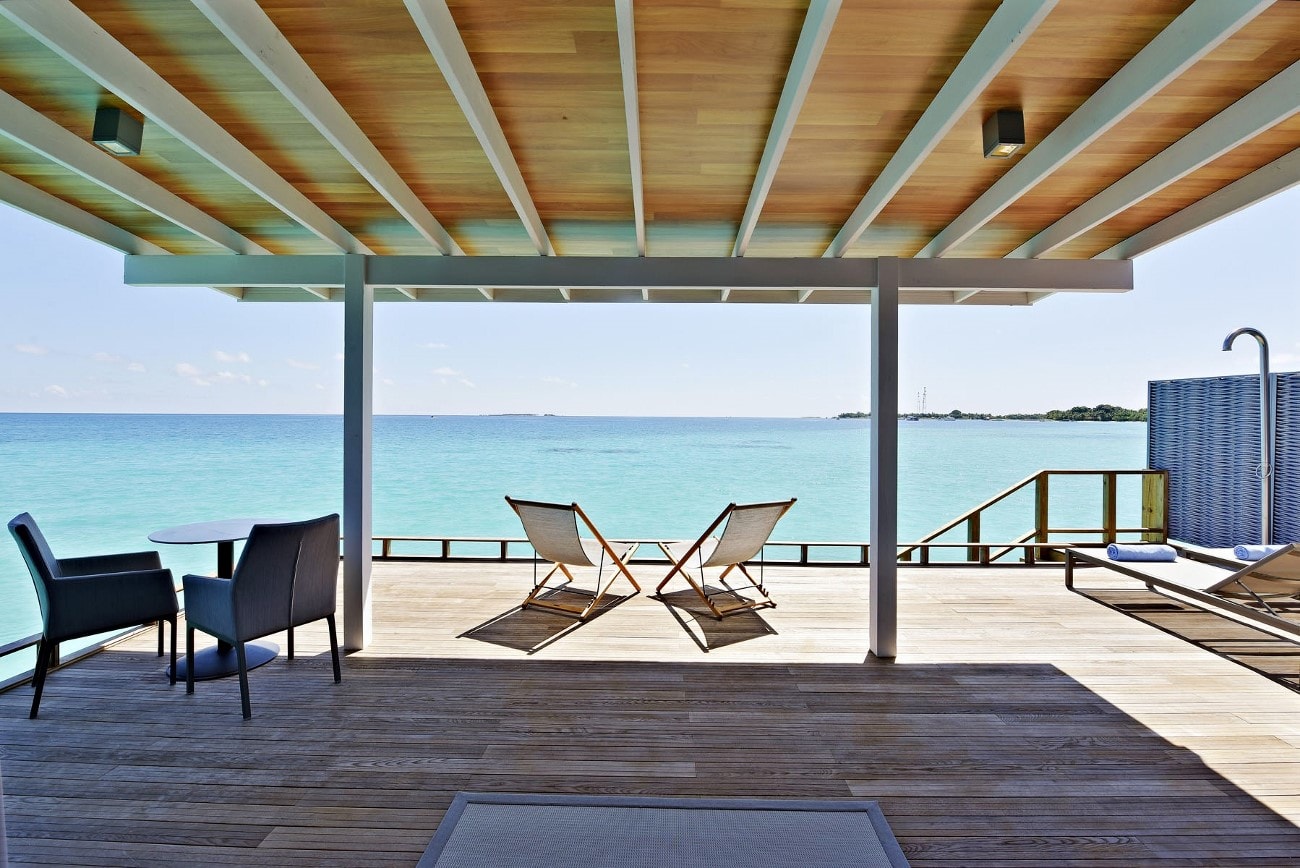 Deluxe Water Villa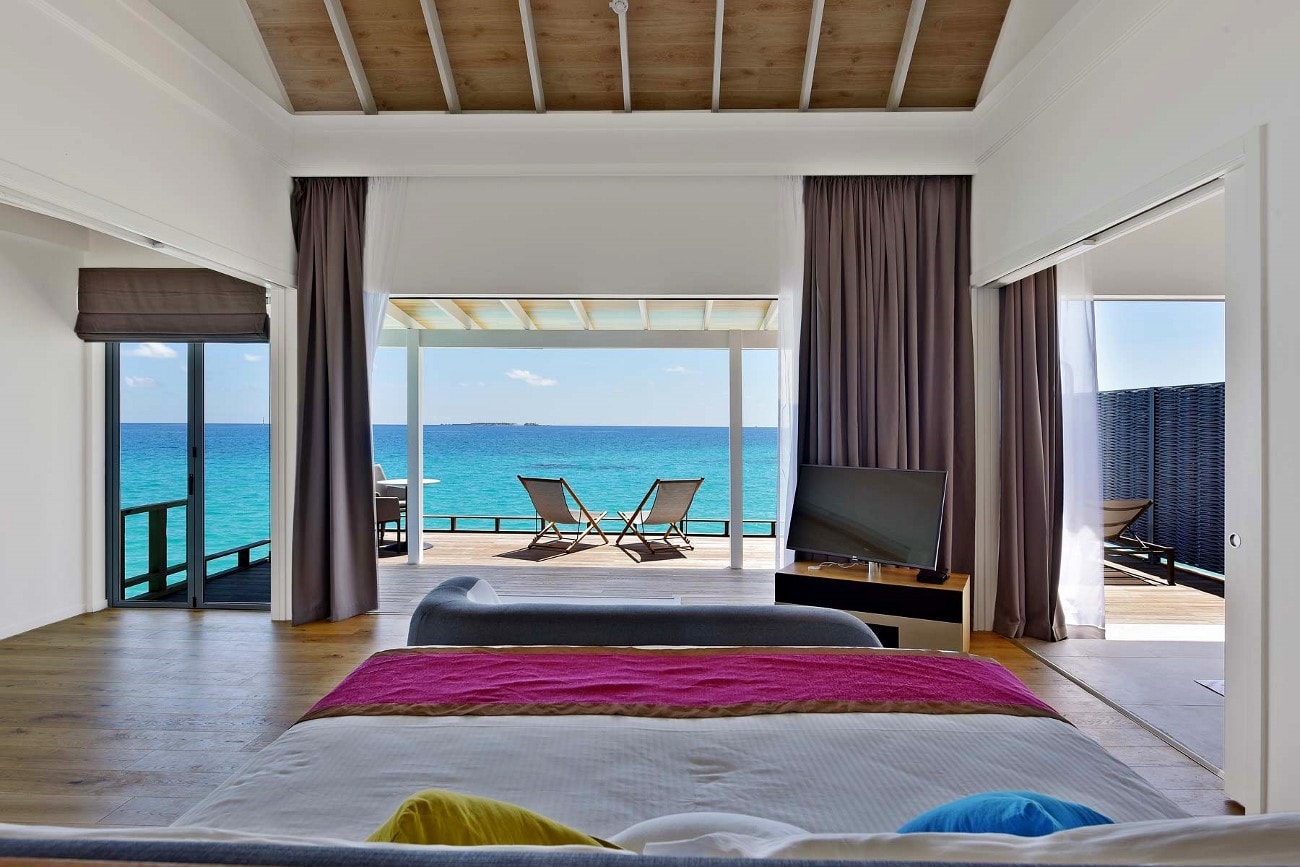 Deluxe Water Villa
Deluxe Water Villa
Thundi Water Villa with Pool
The Thundi Water Villas are identical to the Water Villas with Pool in size and interior. It consists of an 18 sqm private pool, a spacious bedroom with a king-sized bed and minibar, and a bathroom with twin vanities, a rainfall shower and a free-standing bath. However, what sets these villas apart is its location at the edge of the Kuramathi sandbank. In fact, the word 'thundi' means sandbank in Dhivehi – the language of the Maldives – which gives these villas their name. Start your mornings with a walk along the exquisite sandbank, and you might even see a resting heron!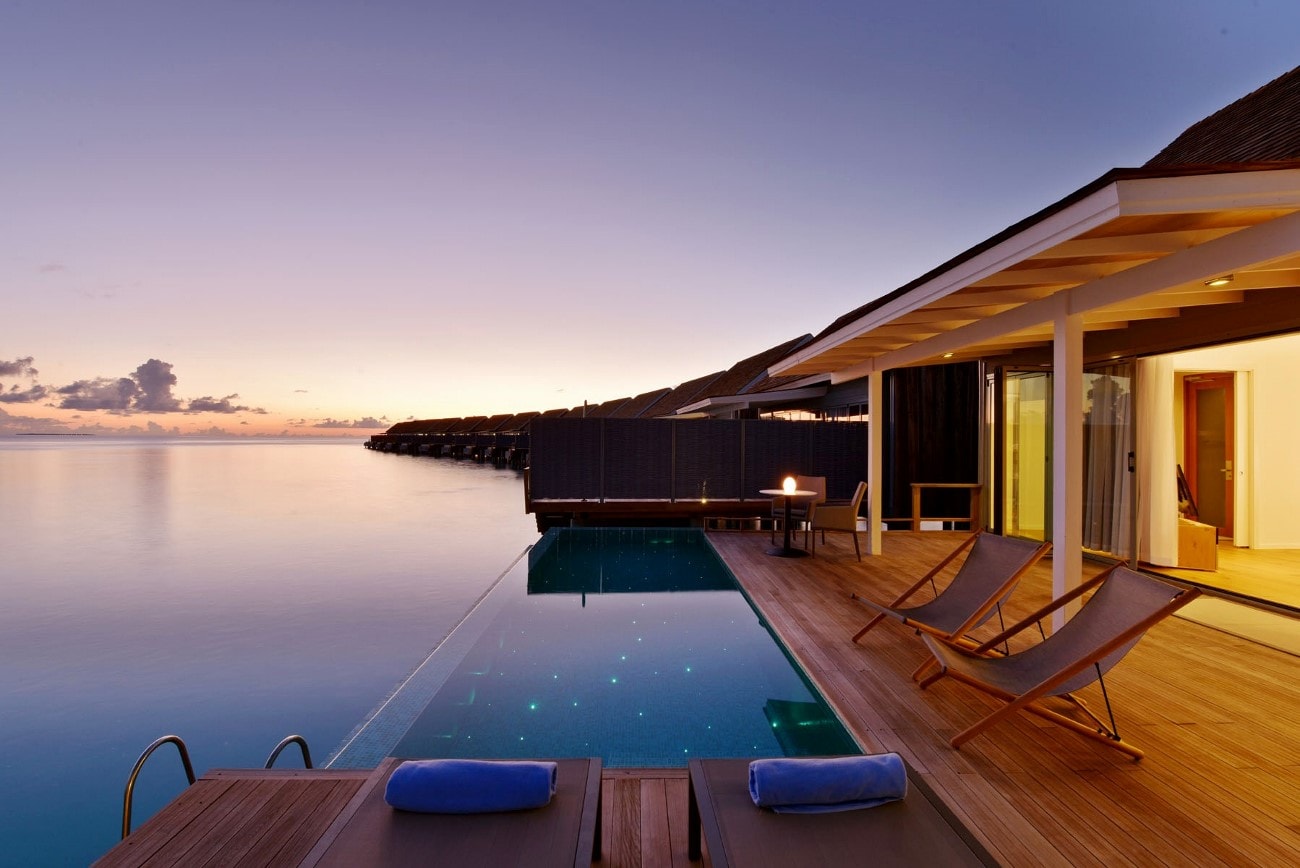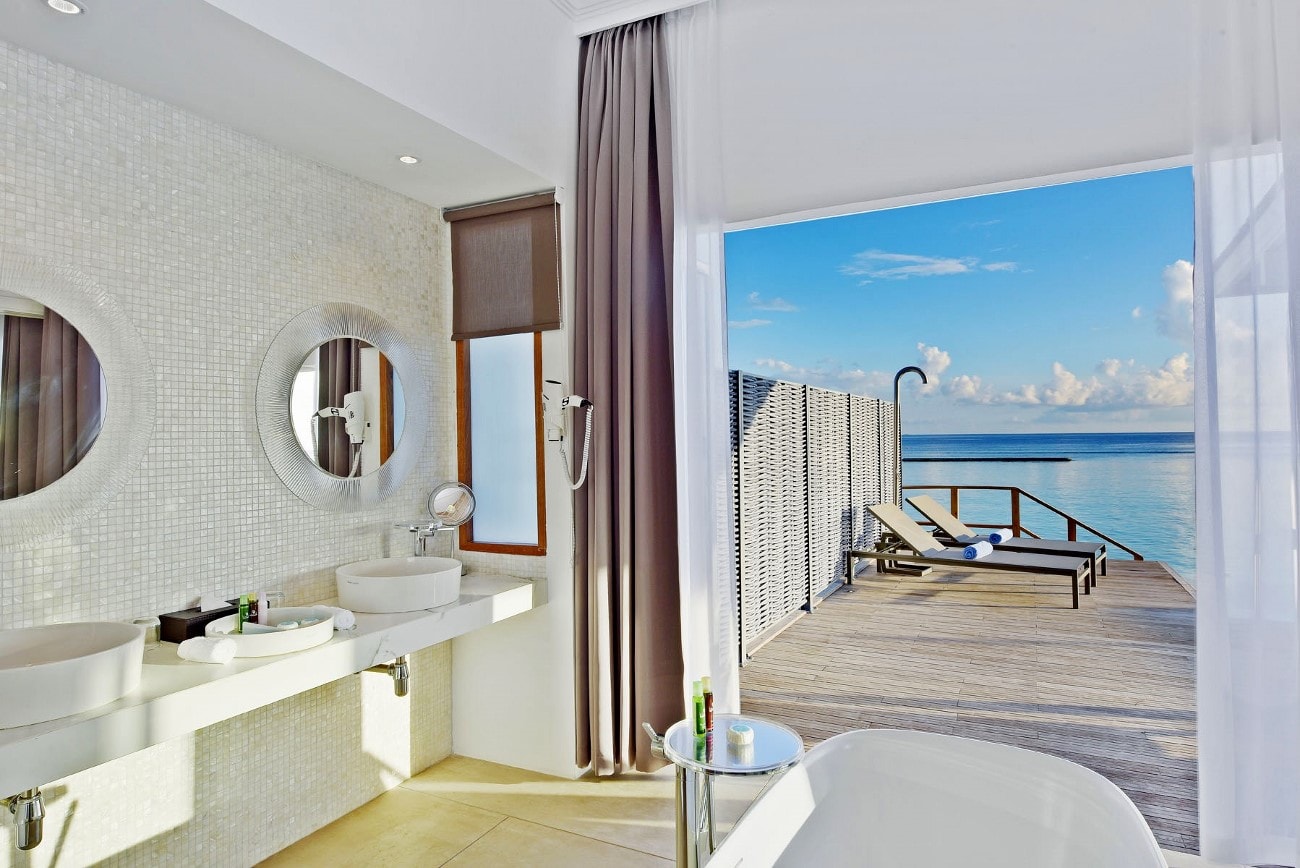 Thundi Water Villa With Pool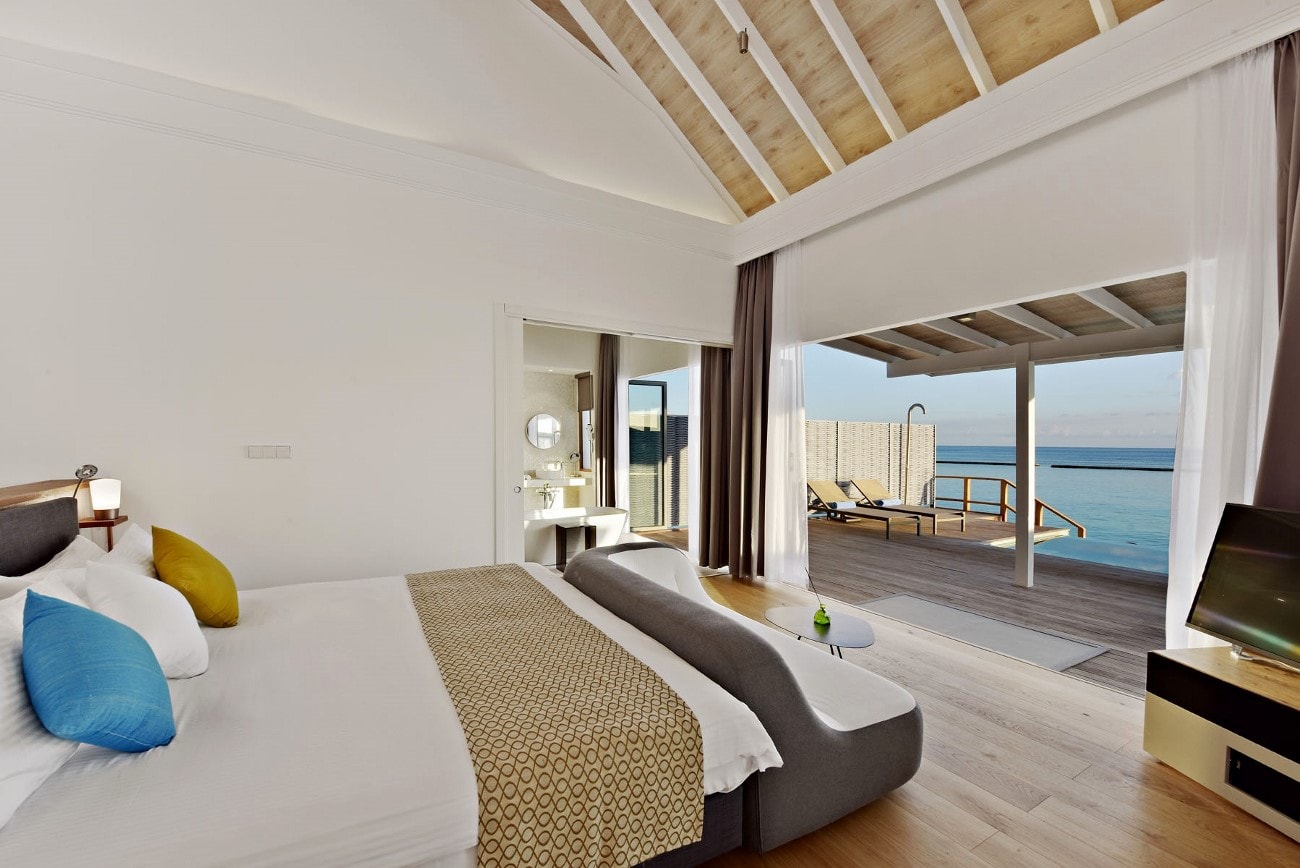 Thundi Water Villa With Pool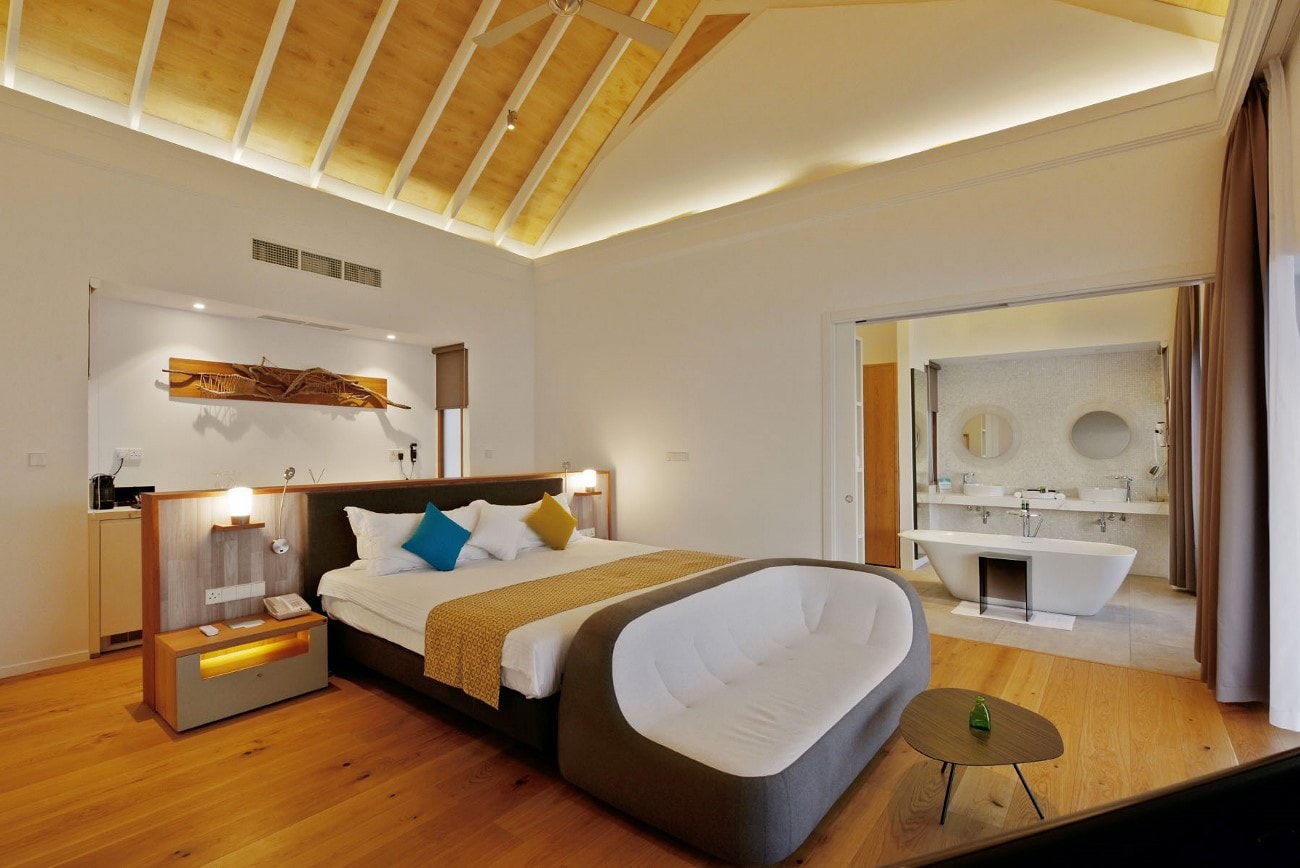 Thundi Water Villa With Pool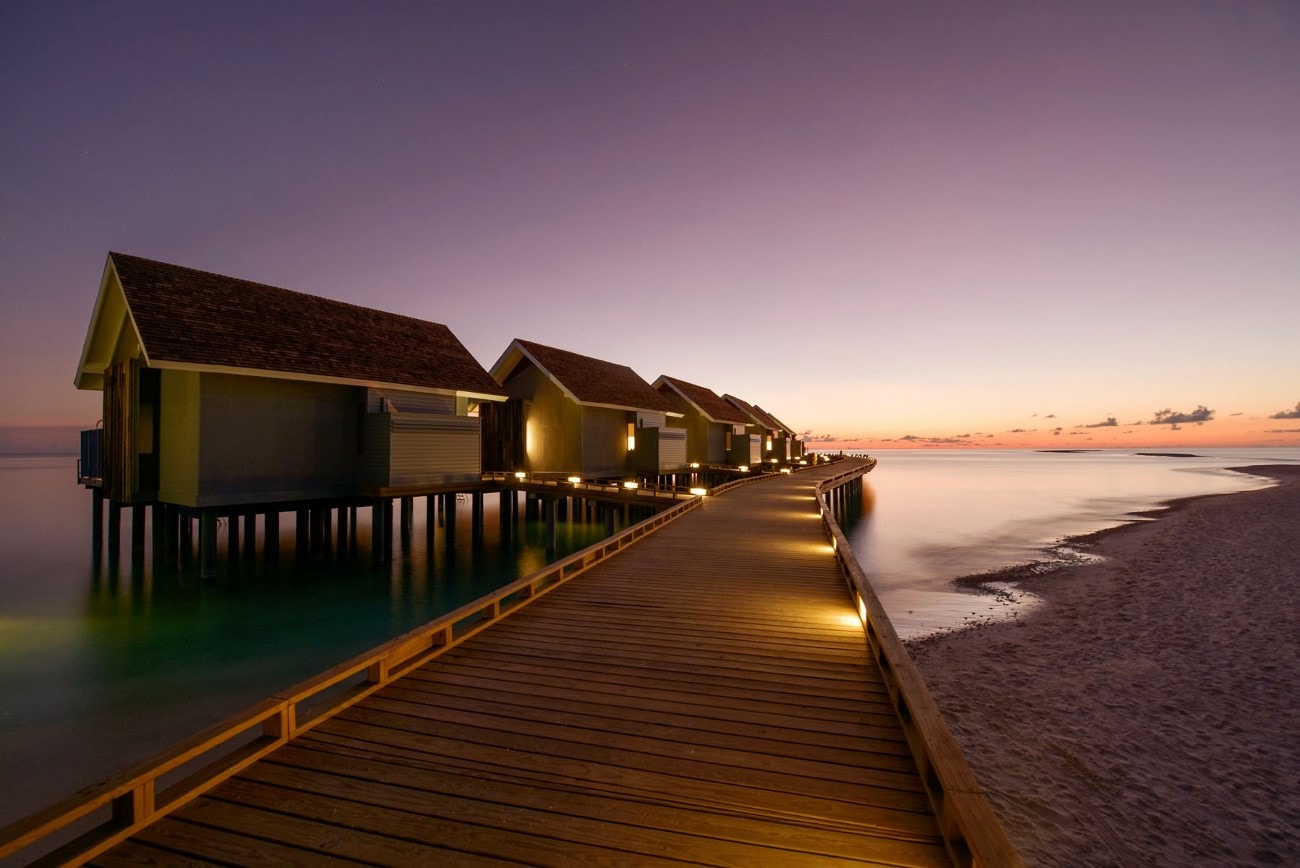 Thundi Water Villa With Pool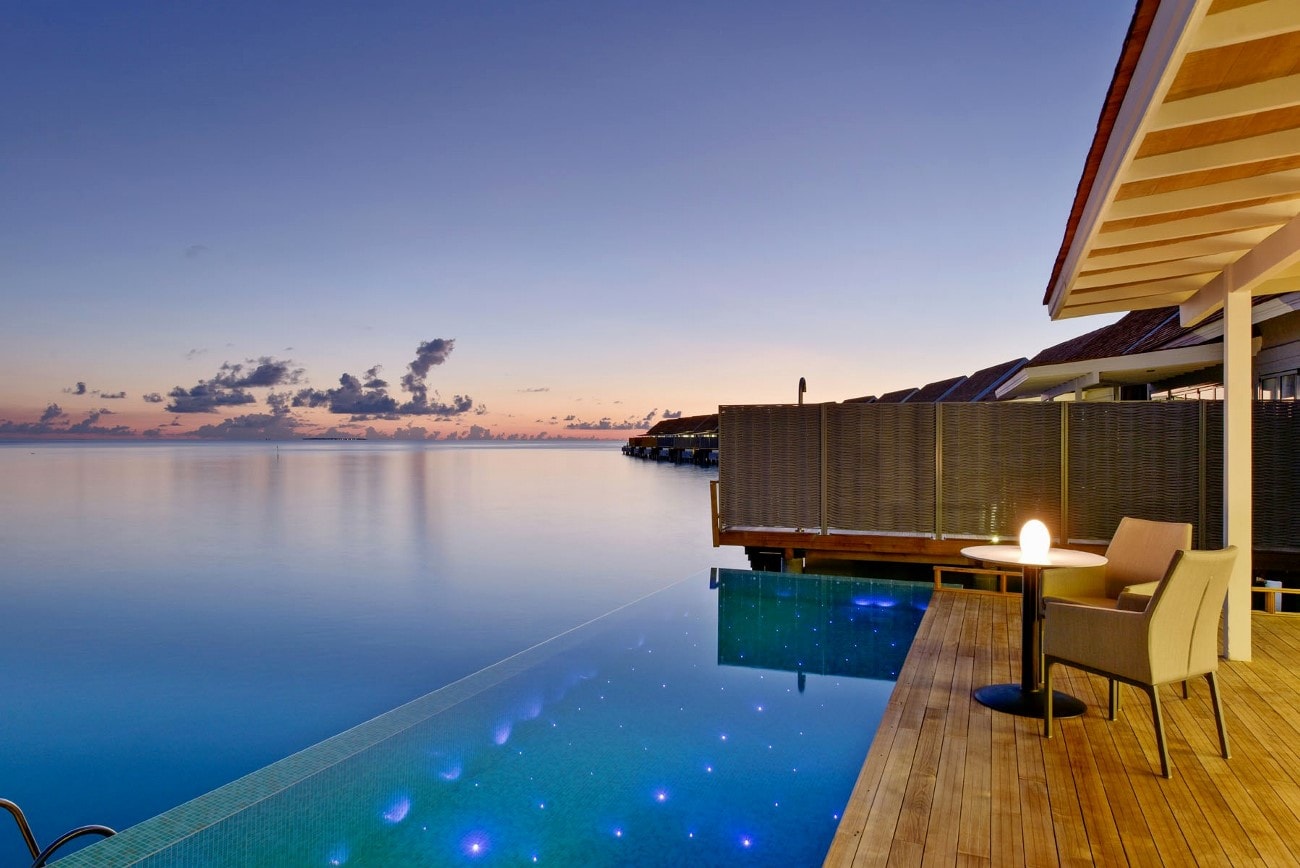 Thundi Water Villa With Pool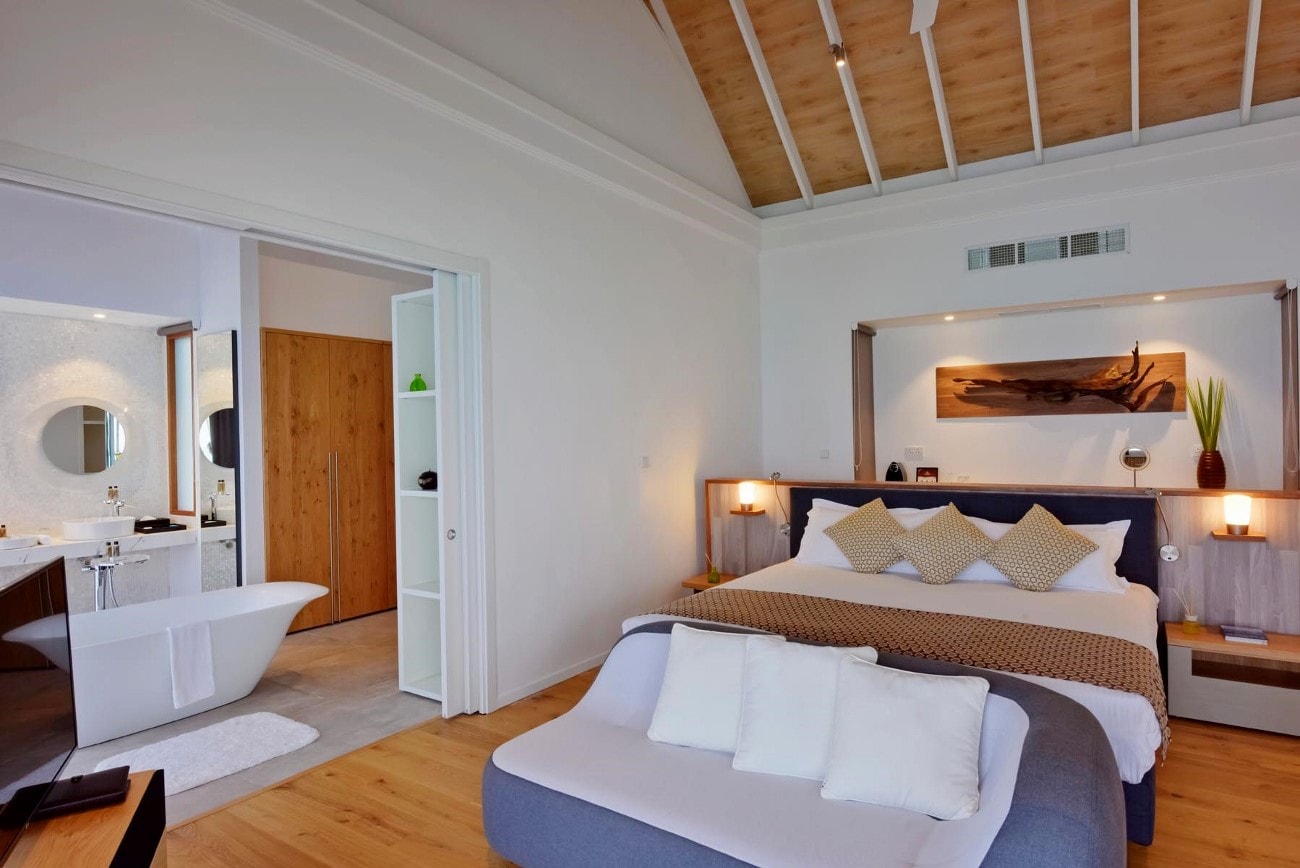 Thundi Water Villa With Pool
Pool Villa
Positioned at the edge of the beach, the Pool Villas at Kuramathi Island Resort offer the best of both worlds. The entrance to the villa is through your very own private courtyard, leading to the bedroom which offers a view of the 18 sqm private infinity pool and the vast expanse of the ocean beyond. The courtyard also boasts a separate bath court area with an outdoor rainfall shower. The bedroom, with its trademark king-sized bed and minibar, plus a separate daybed, leads out to the veranda and the sundeck. In addition to the usual twin vanities, rainfall shower and free-standing bath, the bathroom also has a sizeable walk-in wardrobe. The epitome of luxury, a Pool Villa is the perfect place if you are looking for a relaxed and secluded break.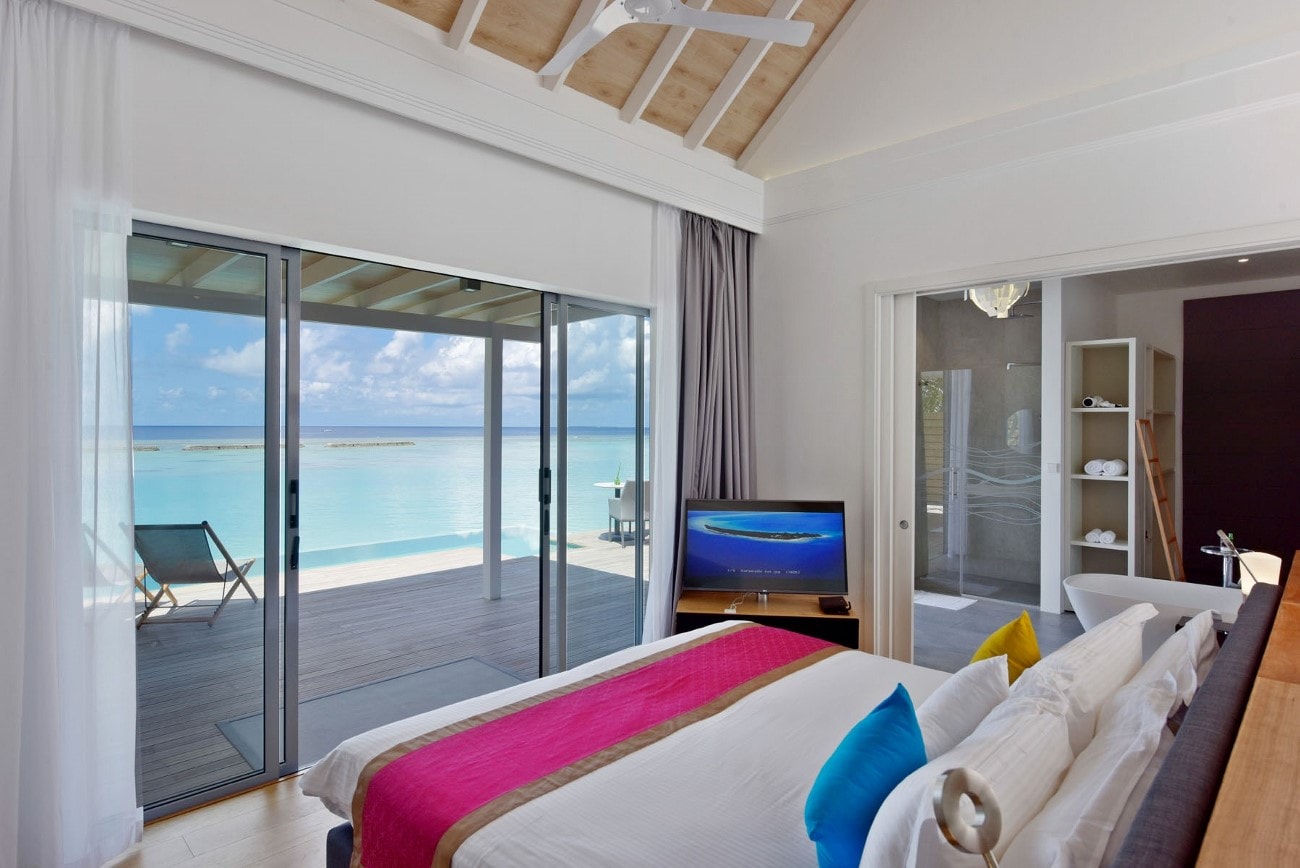 Pool Villa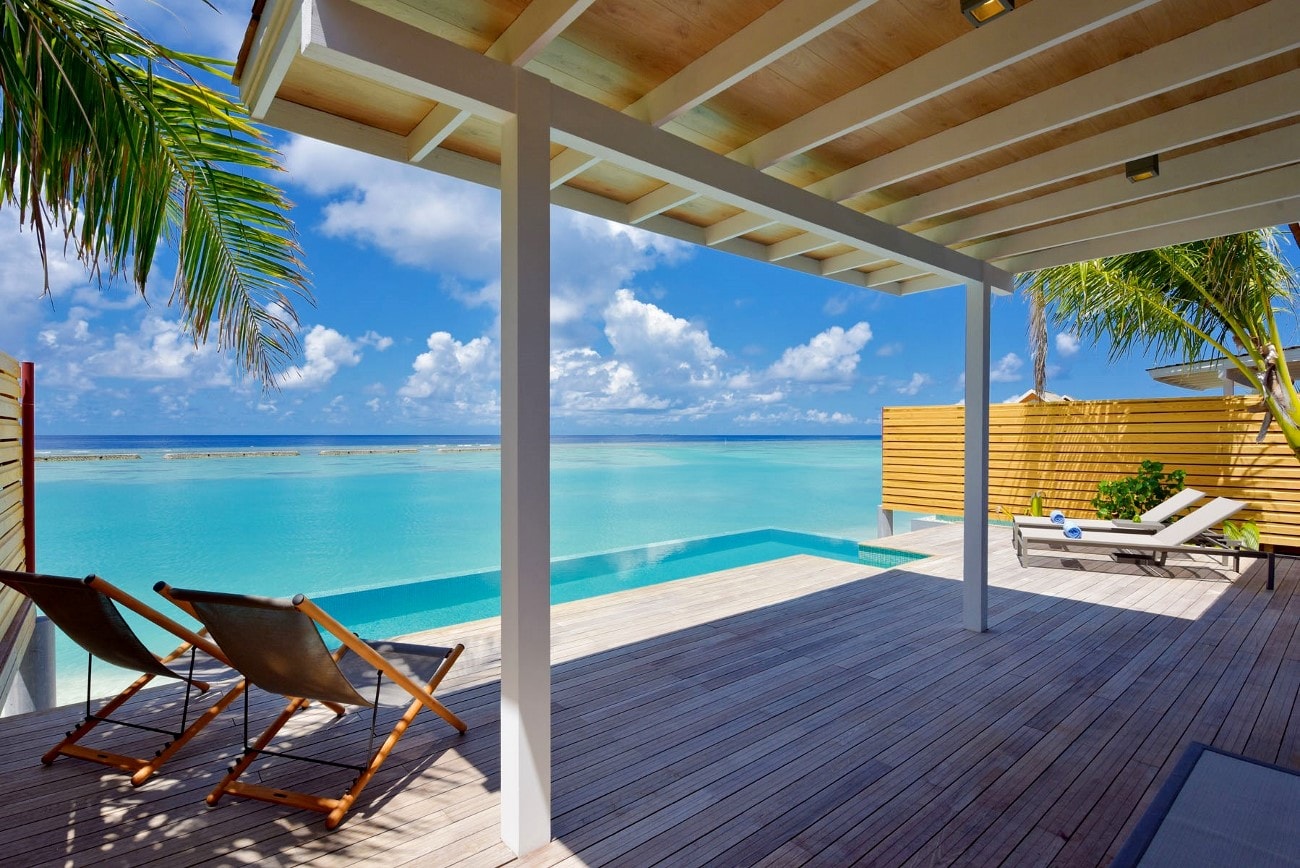 Pool Villa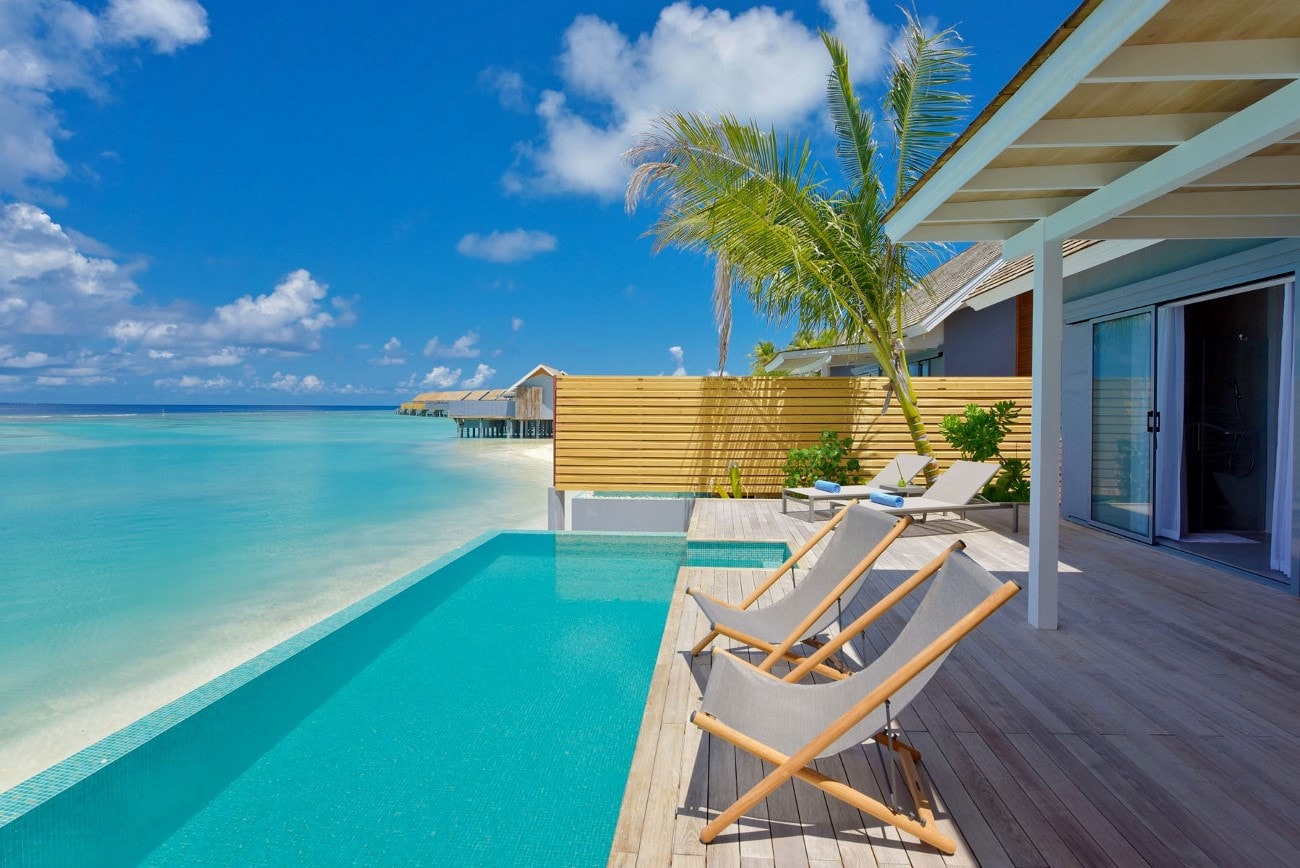 Pool Villa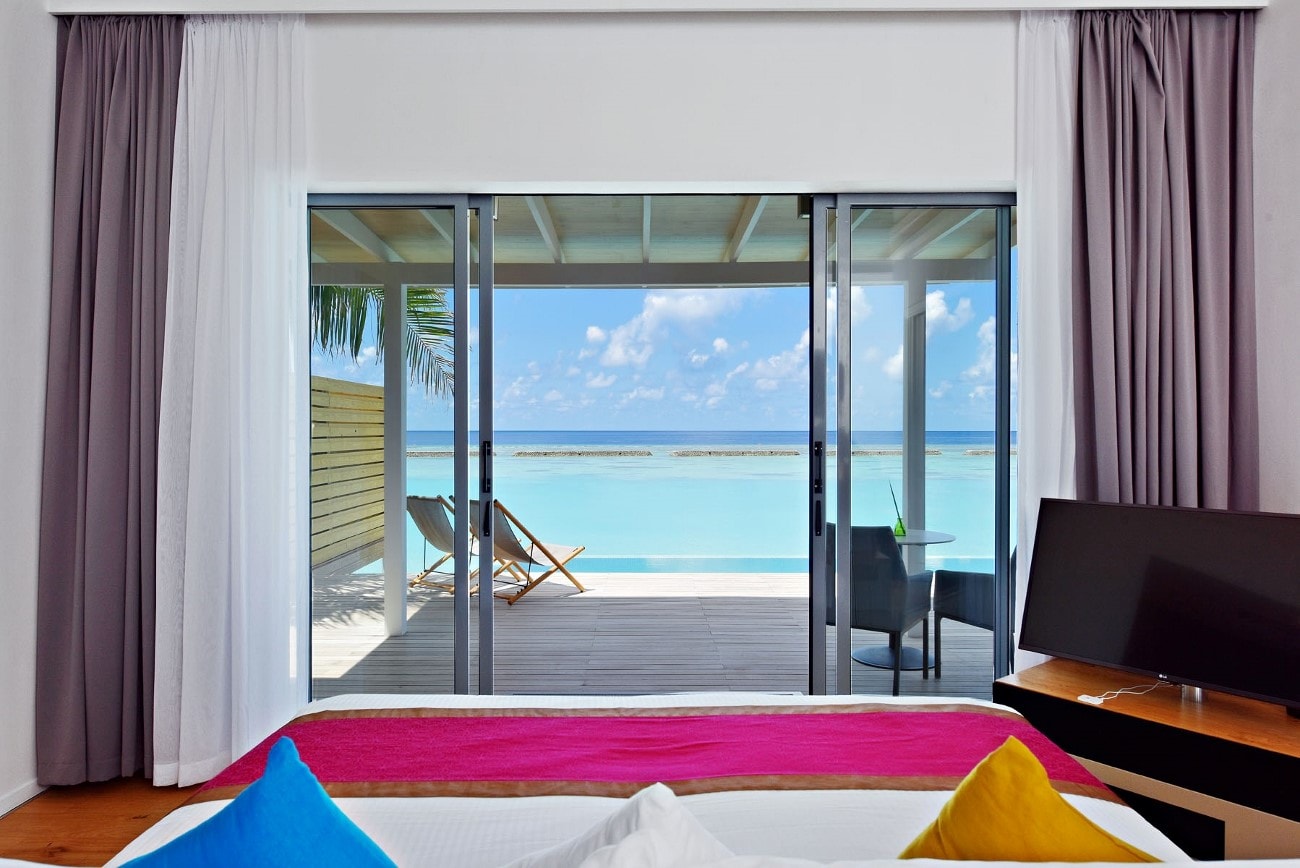 Pool Villa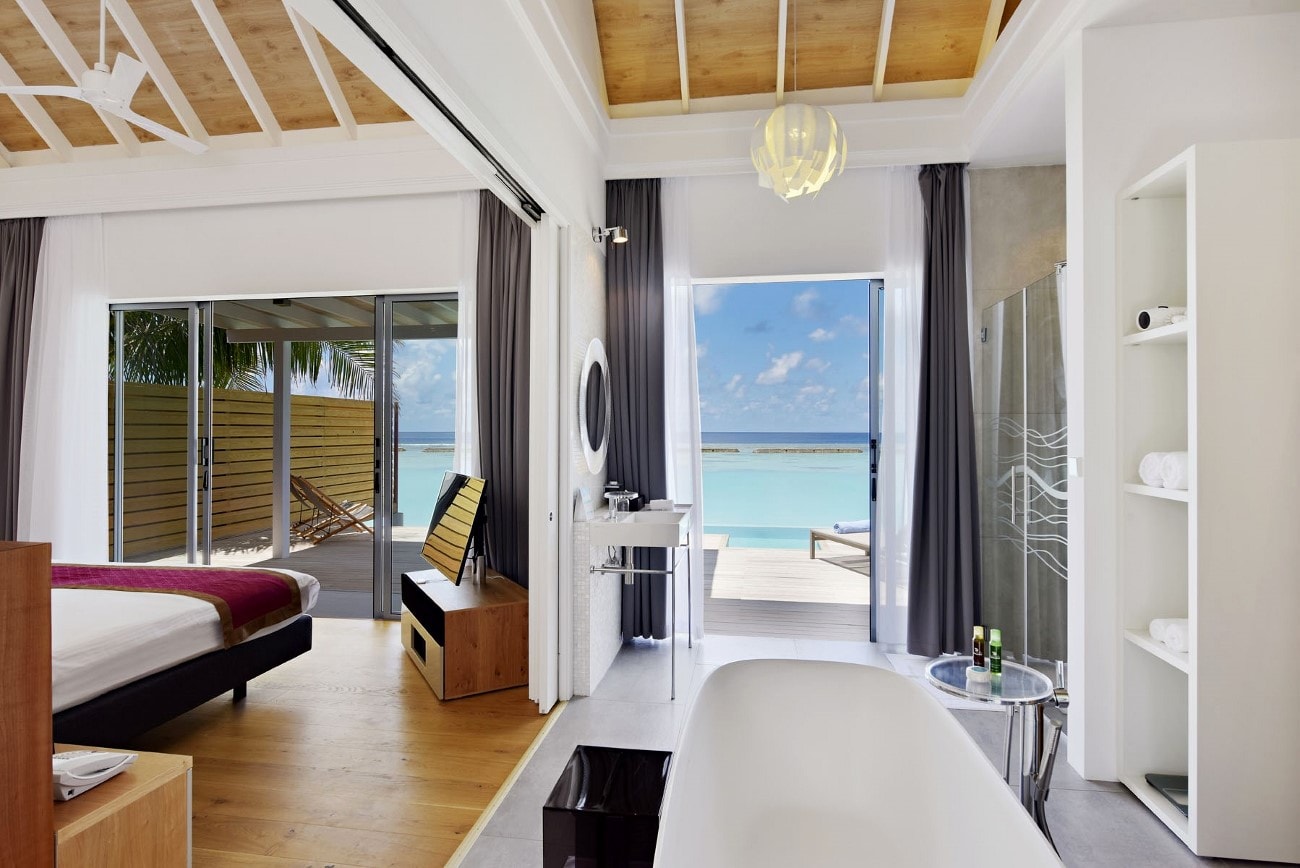 Pool Villa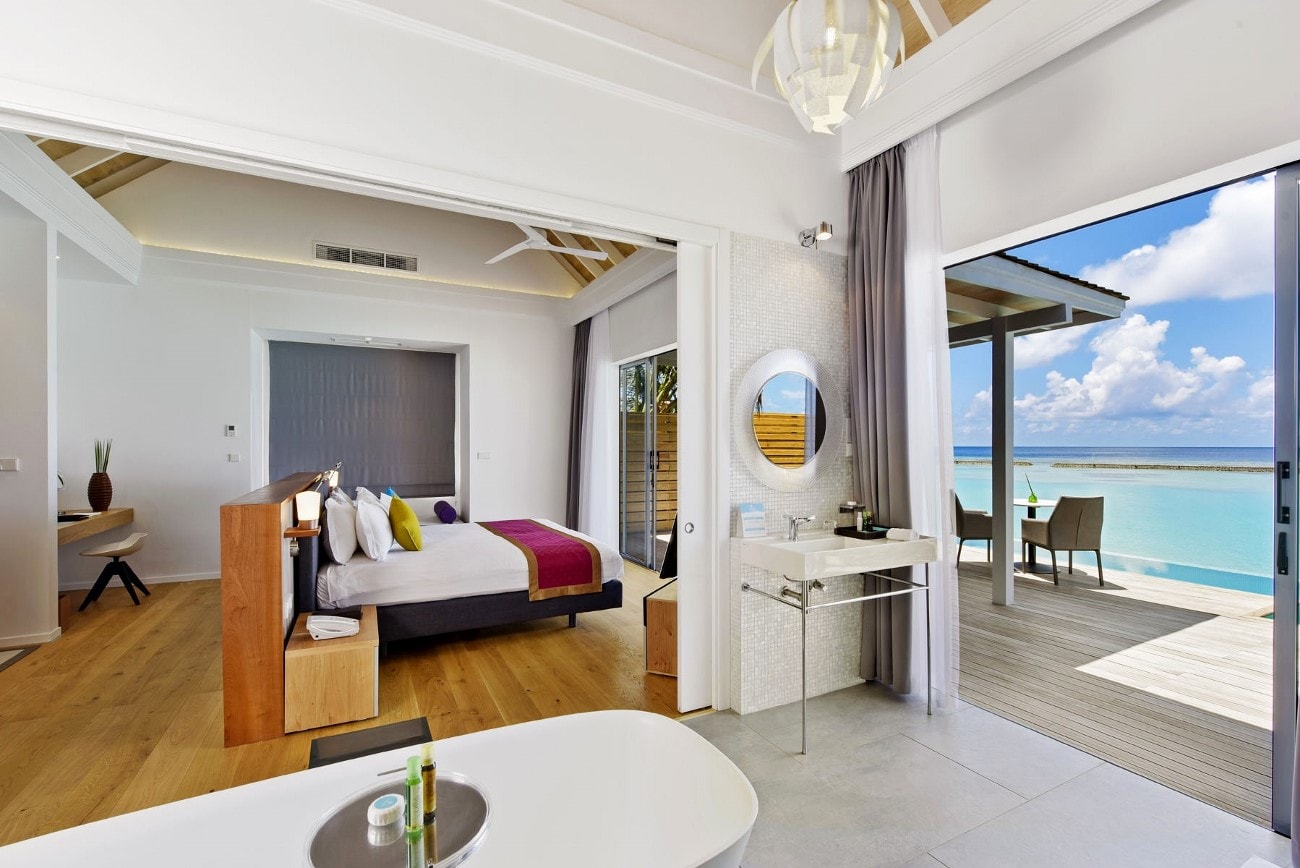 Pool Villa
Other Accommodation Options – luxurious Beach Villas
Besides the splendid water villa options mentioned above, Kuramathi Island Resort also offers a variety of sublime beach villas in varying sizes and styles. Hidden amongst the extensive vegetation of the island, these villas are just a few short steps away from the beach and can cater to a wide range of guests. For instance, the Honeymoon Pool Villa is perfect for couples looking for an intimate and romantic stay while the Two-Bedroom Beach House is extremely ideal for families or friends vacationing together. In addition to these, you also have the choice between the Beach Bungalow, the Superior Beach Villa, and the Deluxe Beach Villa. Ultimately, the choice of stay comes down to your preferences and needs. Either way, Kuramathi Island Resort has it covered for you!
Dining
The dining experience of Kuramathi Island Resort parallels no other. A variety of bars and restaurants offering diverse cuisines are at different locations on the island; complete with exquisite dishes and an assorted collection of wines and alcoholic beverages for your indulgence.
There are three main international buffet restaurants on the island – Haruge, Malaafaiy and Farivalhu – as well as nine different à la carte restaurants showcasing various cuisines. This includes the Island Coffee Shop which offers an international menu along with a selection of delicious Maldivian specialty dishes such as
garudiya
(traditional tuna soup) and
kiru garudiya
(a creamy coconut curry with tuna); Kobe, a Japanese 'teppanyaki' style restaurant where a selection of meats and seafood are cooked together on a common iron plate as a culinary performance in front of you; and The Reef, a seafood restaurant featuring freshly-caught Maldivian fish.
Additionally, there is also the Tandoor Mahal (Indian cuisine with a special focus on traditional tandoor (clay oven) cooking), Siam Garden (Thai cuisine), Palm (Italian specialty dishes and homemade gelato), Island Barbeque (high-quality charcoal-grilled meats and flambé dishes), Duniye (meaning 'world' in Dhivehi, featuring distinctive dishes from all over the world) and Inguru (which means 'ginger' in Dhivehi, showcasing Asian fusion cooking).
Kuramathi also offers you the option of a Private Dining Experience; the Hot Pot & Mongolian Hat with Far Eastern cuisine is ideal for groups while the five-course Lobster Dinner or four-course, candlelit Romance Dinner – both on the edge of the beach – are exclusively designed for couples looking to enjoy a dreamy evening.
There are eight different bars on the island – each with its own distinctive vibe – including the Havana Club Wine & Cigar Bar and the Champagne Loft. However, the jewel of Kuramathi is its decadent Sky Bar; a luxurious space set 7 metres above the sea level, designed to provide ultimate comfort and first-rate service. Revel in the panoramic view of the ocean below as well as the starry Maldivian sky above as you enjoy an intimate and memorable evening with your loved ones.
Recreational Activities
There are numerous recreational activities such as diving, water sports, and nature walk offered at Kuramathi Island Resort for you to enjoy during your stay. The resort has its very own diving school which offers diving courses ranging from beginner to advanced levels. In the same area is the Kuramathi Medical Centre, fully facilitated with a decompression chamber – the largest in the Maldives - to handle any diving-related illnesses. A specialist on diving accidents and emergency medicine and a general practitioner are also on call to attend to any guest's needs.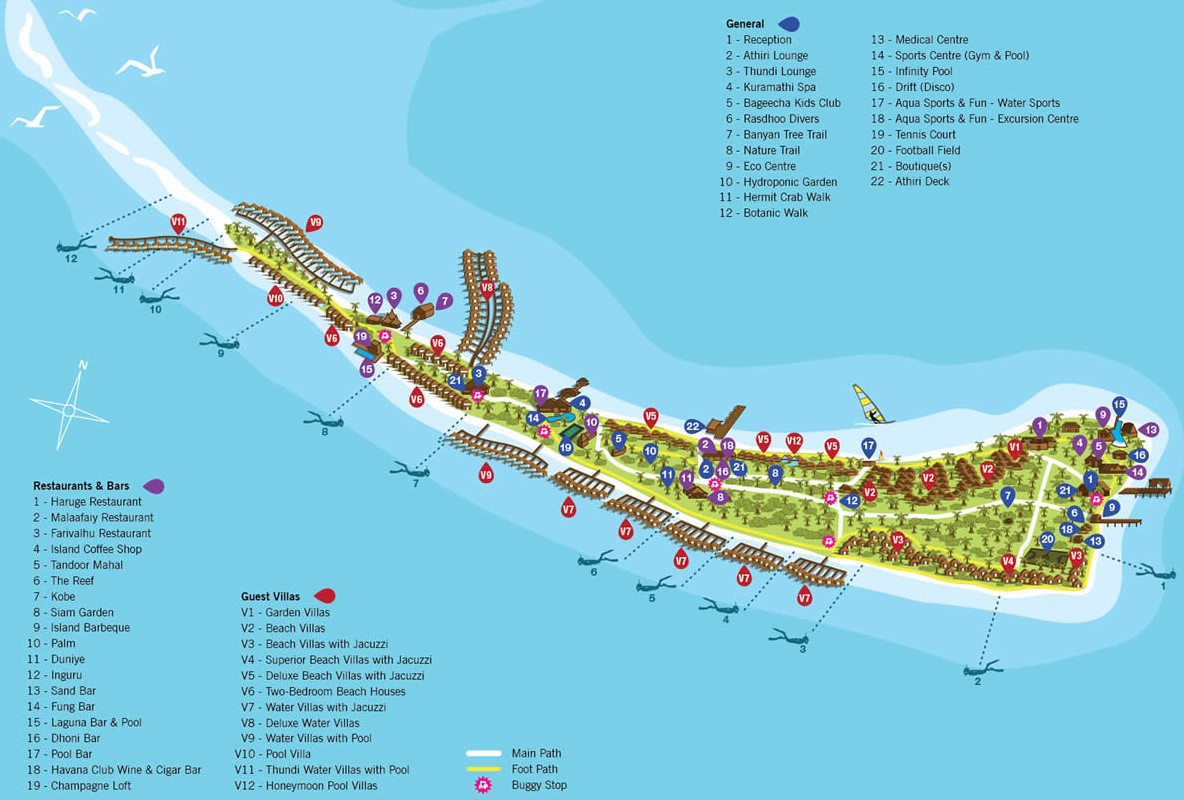 The diving excursions – which are carried out under the guidance of Rasdhoo Divers team – include the Hammerhead Shark Point dive, diving safaris to North Ari Atoll (with a seasonal whale shark area) and night diving. Diving can also be done on the outside reef of the Rasdhoo Atoll, where you will be able to see different types of sharks, hawksbill turtles, barracudas and Napoleons as well as eagle rays, sting rays and manta rays.
For adrenaline junkies, Kuramathi offers a range of aqua sports such as windsurfing, wake boarding and banana boat rides while those looking for a slightly more relaxed time can take part in dinghy and catamaran sailing lessons. Private snorkeling lessons are also provided to guests upon request.
Nature walks along the natural tropical forest area of the island, information about the island's various edible, medicinal and ornamental plants and a tour of the Kuramathi Hydroponics Garden are available to guests as well. Excursions such as Big Game Fishing (with sustainable 'catch and release' policies), Island Hopping, and visits to the nearby island of Rasdhoo and Sunset Cruises are also options for guests looking for a more well-rounded experience.
Bageecha Kids Club
Dedicated to providing an enjoyable vacation for the entire family, Kuramathi Island Resort also caters to the holidaying children coming to their resort. As such, Bageecha Kids Club provides a wholesome facility and fun activities for children of different ages. 'Bageecha' is the Dhivehi name for 'garden' or 'park' and is appropriate for the large kids' area available on the island. Stretching over 530 sqm, the Bageecha includes two indoor play areas, a restroom, an entertainment room and a dining area with adjacent kitchen. The outdoor play area includes a whale seesaw, swing set, sand pit, two splash pads, and a tree house with a large children's swimming pool. Activities such as jewellery making and botanic walks, marine life activities as well as indoor sports (board games, musical chairs, ping pong etc…) and outdoor sports (soccer, badminton, tennis, water polo and more) are available to choose from. Children are encouraged to be curious, to explore and to interact with other children. Activities are conducted according to a two-week schedule, and under the supervision of the Bageecha staff at all times.
The Bageecha Kids Club is open every day from 8:30 am to 7:30 pm with complimentary services for children aged 3-12 years. From 7:30 pm to 12:00 am, Bageecha will only be open as per reservation with additional charges for all the children. During the same hours, a crèche is also open in the club for children aged below 3 years, but extra fees will be required. Babysitting services are available 24/7 for children aged 0-12 years upon request for additional charges as well.
Renewal of Vows service
The exclusive Renewal of Vows service offered at Kuramathi Island Resort is available at two locations: either on the Kuramathi sandbank – with the aquamarine lagoon surrounding you – or on the beautiful sandy beach, beneath the swaying palm trees. Each package includes, but is not limited to, tropical decorations, celebration cake, local finger food and house wine for your guest and a framed wedding photo and certificate along with 24 photographs in a locally made album. You will also be getting a special five-course candlelit dinner with sparkling wine on the beach that night and Breakfast in Bed the next morning. Once your choice is made, sit back and relax while the dedicated Kuramathi staff brings your vision to life. Whether you are looking for a simple service or a slightly more opulent ceremony, Kuramathi offers it all.
Environmental Initiatives
Kuramathi is dedicated to the protection of the island's natural environment, and as such have established certain policies to reduce their carbon footprint. The Eco Centre in Kuramathi, led by a resident marine biologist and horticulturist endeavours to provide guests with information about sustainable environmental practices as well as various marine and botanic exhibits. The resort has a Coral Reef Protection Programme, under which regular reef patrols and clean up sessions are conducted. Guests are also coached on proper snorkelling practices to ensure that the reef remains undamaged. Coral reef research and a coral nursery are also maintained by the Eco Centre as well as the Hydroponic Garden which produces over 500 kilograms of produce per month which is used in the resort's restaurants.
Kuramathi produces its own potable water in glass bottles, which is served to guests as well as the resort team. Refillable containers are increasingly being used for the guests' toiletries while paper straws and served in all bars, reducing the amount of single-use plastics on the island; the plastic waste which is generated is collected and sent to a recycling plant. Organic waste is turned to compost to be used in gardening.
Kuramathi Island Resort ensures that the environment remains protected without compromising the top-of-the-line service provided for you. Whichever type of vacation you are looking for, there is surely no better combination such as this!