My First Scuba Diving Experience. It's In Maldives.
Ever since I started working at resort I had the opportunity to do scuba diving. My first job was receptionist, later I moved to different islands and jobs and studies tourism. All the jobs I filled had one thing in common; I had to communicate with guests, promote in-house sales and enrich guest experience. So, resorts encouraged taking part in various activities, try out different dining options offered to guests. I enjoyed my participation in many of these but did not actually do diving until I met a really friendly instructor at the dive school and his name was Tom. Since I was used to sea life since a toddler I was able tell guests about the underwater world, fish, corals etc.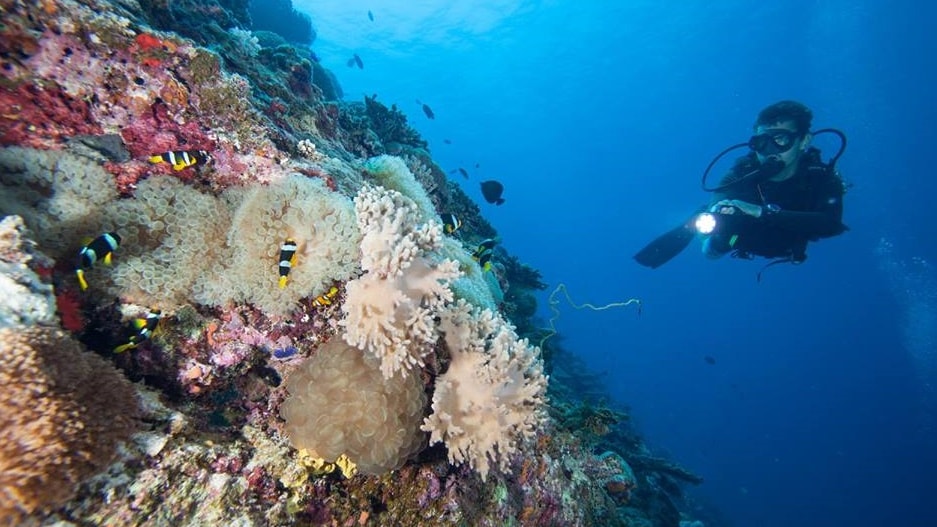 Photo:
Hurawalhi
Island Resort
One day Tom persuaded me to try my first dive. He gave me a briefing which included basic information like emergency protocol, how to communicate underwater etc. Tom wanted to communicate with him constantly to know how I felt. I was actually aware of everything he explained, I was feeling good and excited to try this out. There were about 10 guests, all experienced divers. There are few instructors, one of them was obviously Tom. All boarded a small dhoni, it took about 35 minutes to reach the dive site. On the way the instructors used a small board with drawings and gave a briefing to guests. The briefing included the information of the dive site, current, the point to jump off and the point to get back. After the briefing Tom came to me and explained everything in person.
Once at the dive site, the instructors monitored the conditions and jumped off. I put my gear and jumped off after Tom. The first few seconds in water was actually little nervous. Because I could see I was going down. I could breathe without any problem. I had no water in my mask. So, I felt fine with everything and Tom was beside me asking if I was ok. I gave ok sign with my hand.
Before jumping off to water I held tight on my mask to prevent water getting in, it worked. Also Tom asked me to stay next to him, at the same level.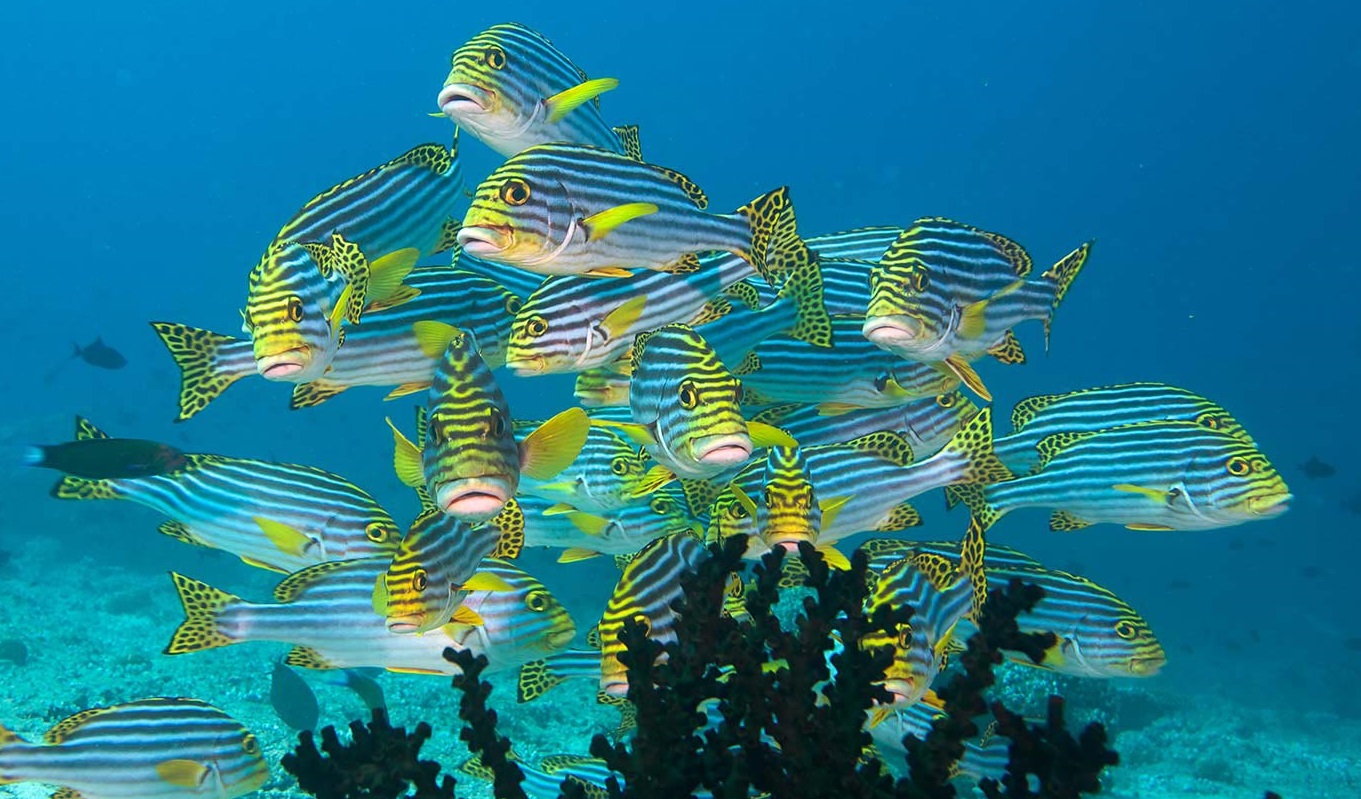 Photo:
Lily Beach
Resort
In minutes I was almost on the sea floor. Current was super strong, that made visibility excellent. Strong current was no stranger to me, though I didn't dive before. Once in the bottom, I could see the wonderful world of the underwater. My perception of diving before actually trying this dive was different. It was awesome. I blamed myself for not doing that before, for so many years. Being an addicted snorkeler I thought I saw everything, I was wrong. When I snorkeled the fish goes away as I went nearer.
That was not the case in diving, I was in the same depth as the fish and they were just inches away from me.
They were not afraid, they were not swimming away. I thought to myself, may be they thought I was another species of fish. When I snorkeled I was on the surface, obviously fish knew I was foreign to them.
I stayed close to Tom at the same depth and both followed the current. We came across different species of fish in front, on the sides, on top of us. We are surrounded by fish. Tom kept checking out on me throughout, I was in total comfort that I wanted to spend few hours, though I had oxygen only for 45 minutes.
Visibility was so good that I did not feel there was any water between me and fish. They were so friendly, sometimes they almost touched my arm. We came across a cave too. It was open from one side and inside was dark as it went deeper but the rims got light and I could see everything. This cave was more attractive than the corals I saw before. There were many varieties of coral in the cave, far more colourful. "What an amazing world", I was thinking to myself. I was enjoying my first scuba dive, but it didn't last long. My 45 minute was quickly over, myself and Tom started coming up slowly. At some depths we had to stay for some minutes, Tom was checking the timing on his computer and I was just following him as we planned.
Soon we were on the surface and dive boat picked us up. There were some drinks and sandwiches. What I liked most was some coconut chips. Once up, Tom asked me about the dive and I told him the whole thing and I told him that I wanted to do the full course, get dive license. In the resort they did the courses for beginners and experienced divers. The license was issued from
PADI
. Being a staff, I had to pay only the certification fee while the whole course was free.
This is my first scuba diving experience. The session was tailored to me. I knew it was different to guests. Because I saw guests in
Bubble Maker course
, they started in swimming pool and went to shallow parts of the lagoon before going to actual deep dive. In the dive centre the instructors were very much open to listen to you, understand you and offer what was most suitable to you. In my case, Tom knew me in person for so many months, he was confident I was good in sea.
There are countless dive sites in the Maldives. If there are many islands there would be more reefs too. If you want to choose a destination with plenty of dive sites check the
Maldives map
for a location that has many islands in close proximity.
My dream dive site is
Hanifaru Bay
in Baa Atoll, but they no longer allow diving there as it is a marine protected area. So, the dream has now switched to a site in
Nooonu Atoll
where many luxury resorts are seen doing dives.
In my next post, I wish to share some safety tips about diving that I think is very important to you. Thank you for reading my story. Give it a SHARE if you liked, your support keeps me on writing about my experiences in the Maldives.