Saudi King Picks One&Only Reethi Rah For His Maldives Holiday
16 MARCH 2017
UPDATE: King Salman Bin Abdulaziz is due to arrive this Saturday (18 March), according to VFP.MV the king will stay at One&Only Reethi Rah. Along with Reethi Rah the king has reserved
Anantara Kihavah
in Baa Atoll and Sheraton Maldives for his entourage.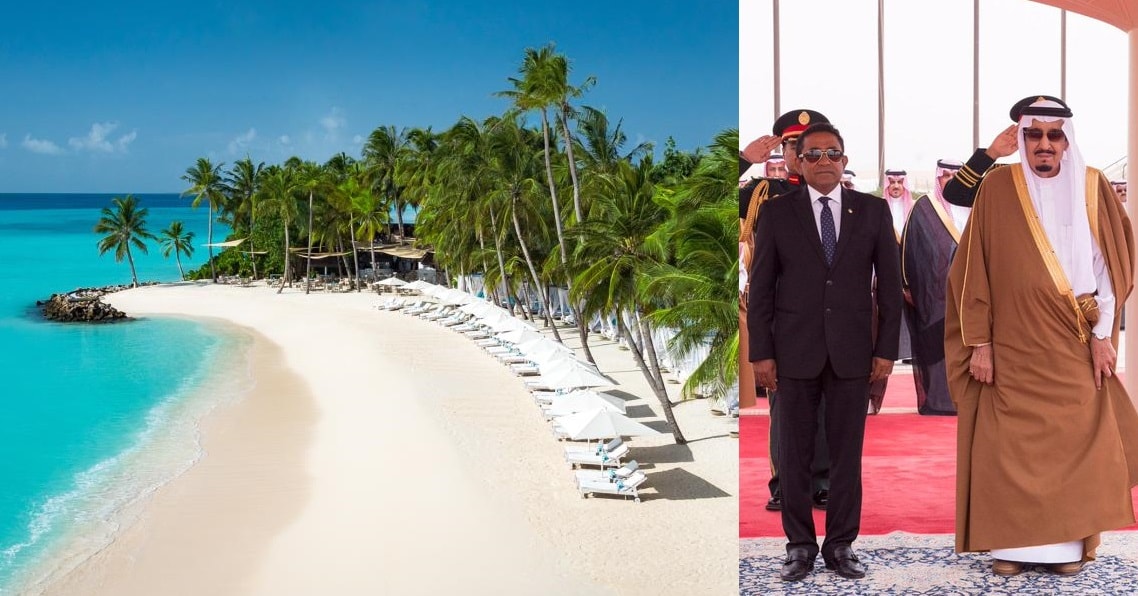 Photo: One&Only Reethi Rah, President Yameen, King Salman
Resort declined to comment when VFP attempted to verify king's reservation at One&Only Reethi Rah. In just 2 days king will arrive Maldives. Maldivian authorities have blockaded several roads while preparations are underway to welcome the king.
22 FEBRUARY 2017
Maldives Finest earlier
reported that Saudi king had booked Maldives resort
for his up coming visit. We have now learnt that he had infact booked entire 3 resorts (yet again) from March 18 to 31. Despite booking 13 nights the king will actually stay for 5 nights and one of these resorts cost $10m.
The three resorts booked for Saudi king is believed to be the same resorts he stayed in 2014; Anantara Dhigu, Anantara Veli and Naladhu Maldives. A cargo flight has already delivered 2 helicopters along with other necessities. The three resorts are in close proximity from each other, just few metres away in the same lagoon.
Maldives map
shows closest local islands are Maafushi and Gulhi.
This time there may be not be
furious guests
who got their bookings cancelled. This trip has been planned way on advance.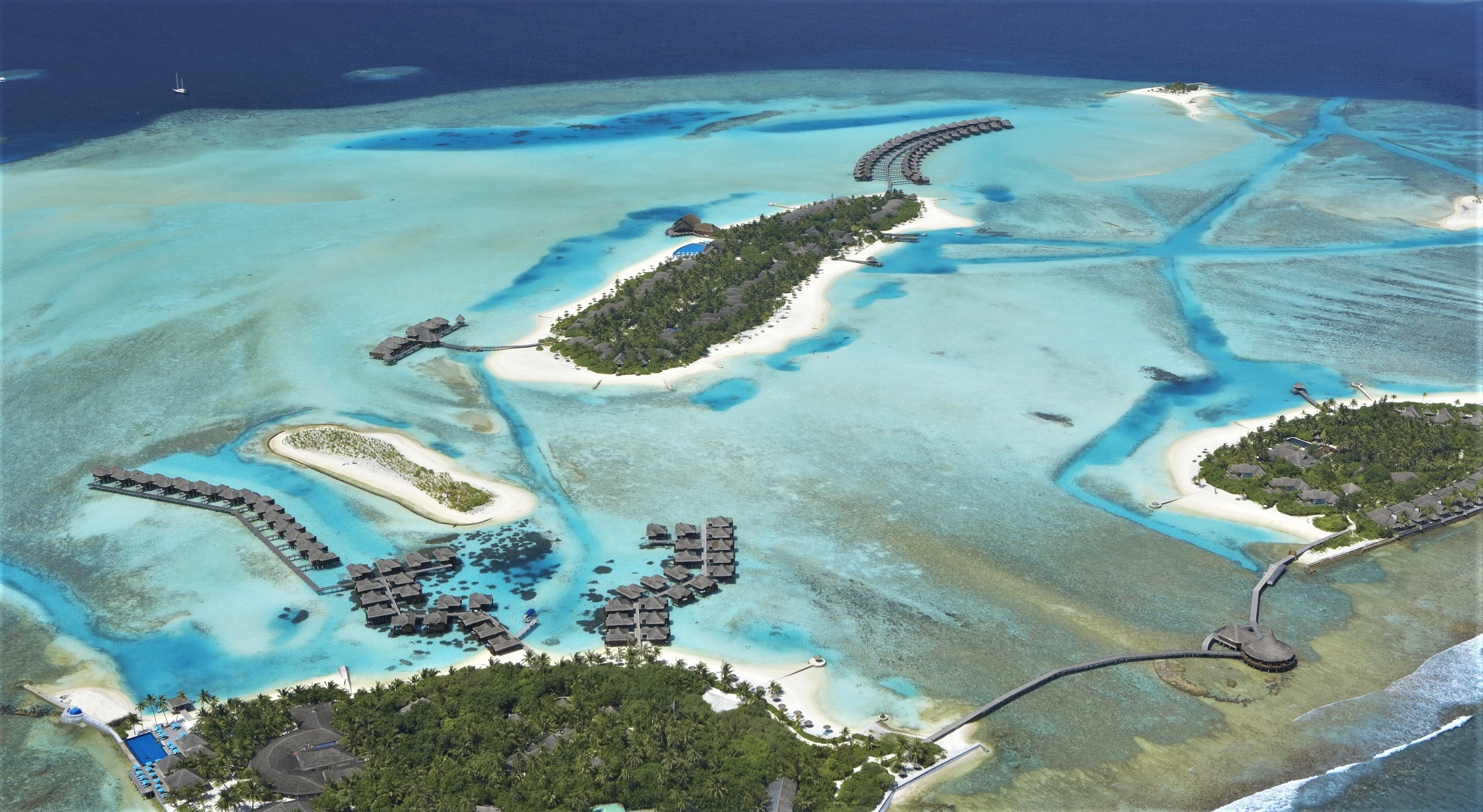 The king's delegation includes his son Crown Prince Mohammad Bin Salman. He is the Deputy Prime Minister and Defence Minister of Saudi Arabia. The delegation is planned to arrive in 5 jets.
According to Saudi Gazette,
King Salman Bin Abdulaziz
will be on an official trip to 5 Asian countries and will be accompanied by an
entourage of 1500 officials
. That many officials are not expected to accompany the king on his way to Maldives.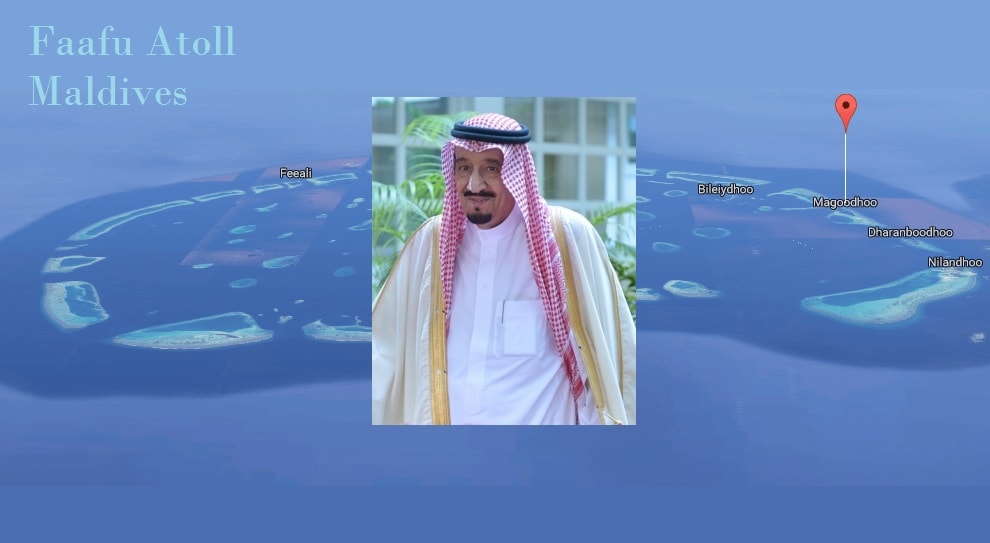 Saudi Arabian officials and Maldives government
had been negotiating a deal that includes
sale of an entire atoll
for 99 years. This atoll has now been identified as Faafu Atoll, there are 18 islands and several lagoons in Faafu Atoll. The deal taking place under Special Economic Zone act which allow leasing islands for up to 99 years followed by permanent ownership given that Maldivian citizens retain 51% share of such project. The deal is believed to be at its final stage.
Business plan for Faafu Atoll
includes a modern city to accommodate upto a million people. Despite Saudi ownership, this will be an international city with all modern facilities including universities, hospitals and leisure arrangements.
Saudi king picks One&Only Maldives for his holiday. #Maldives #Saudi #Arab #KSA #KingSalman #KSA #ReethiRah