Maldives Private Villas For Honeymoon
These are private villas we have selected specifically for honeymoon. Maldives is widely regarded as the most romantic destination in the world and we are pleased to offer holiday packages specifically for honeymooners. The rooms are available for everyone, you are not required to be a honeymooner to book one of these villas. But, non-honeymooners are not entitled for honeymoon package. To activate the package we will need marriage certificate that is less than 6 months to the date of arrival.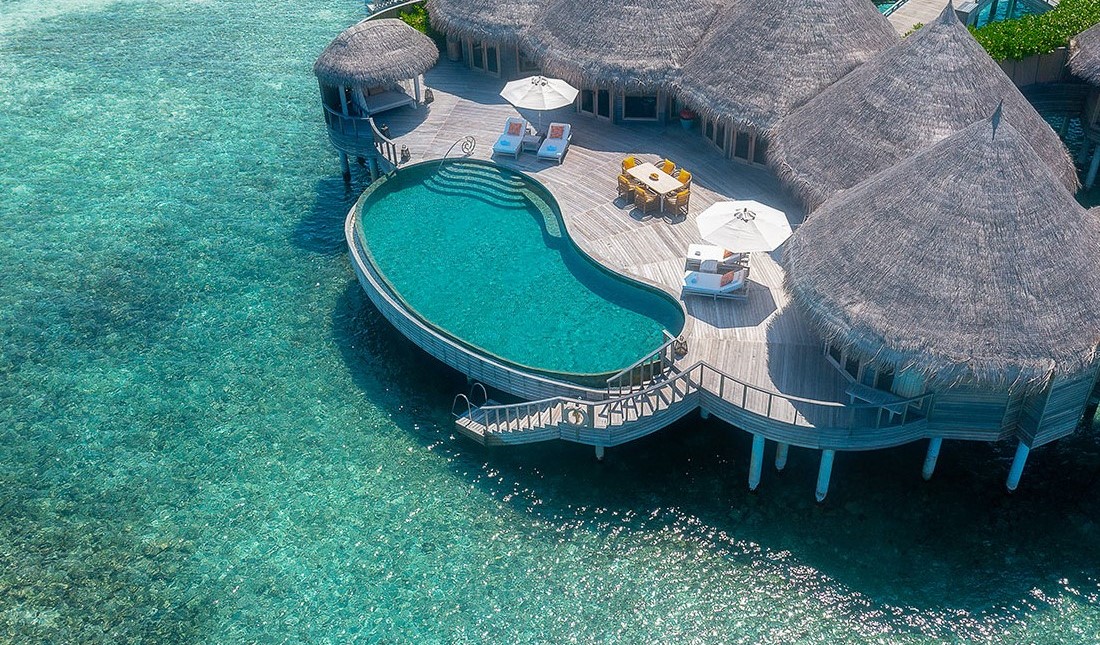 Accommodation is one aspect of your Maldives honeymoon package. There are many other factors we have taken into account while curating this collection of private islands. Maldives Finest (Priority Maldives) is a luxury travel agent and we usually deal with the finest resorts. But, we do understand that different guests would have varying budgets allocated for the honeymoon, so we have included some of the luxury resorts that not the best in terms of luxury but gives great value for money and are considered excellent resorts within five star category. Remember that Maldives is also home to some of the most expensive resorts, exclusive private islands with limited rooms but unlimited facilities and sophistication often come with premium price tag. Under our Price Guarantee Policy, we do compare the price and ensure that every deal or package we offer is competitive, often cheaper than direct-hotel price, in worst case our price will only match up with the hotel website price, in best case scenario our pricing could be 30% cheaper.
Waldorf Astoria Maldives Ithaafushi - Ultraluxury Resort
If budget is not a constraint
we highly recommend Waldorf Astoria
for your Maldives honeymoon. It is a well known brand you can trust and the resort has established itself over the years with reputation for excellent service and guest satisfaction. The island is located in Male' Atoll that is conveniently reachable with luxury yacht, a 40 minute journey is an experience on its own as honeymoon holidays should consist of variety of experiences. You don't know which activity will eventually become your best experience when you reflect on your honeymoon after several decades of living together. Waldorf Astoria is also regarded as a private island, because the lavish villas are designed to let guests enjoy the Maldives in privacy of the villa. There are several facilities included in the villas while personal butler takes care of the services, so you rarely wish to leave your luxury abode.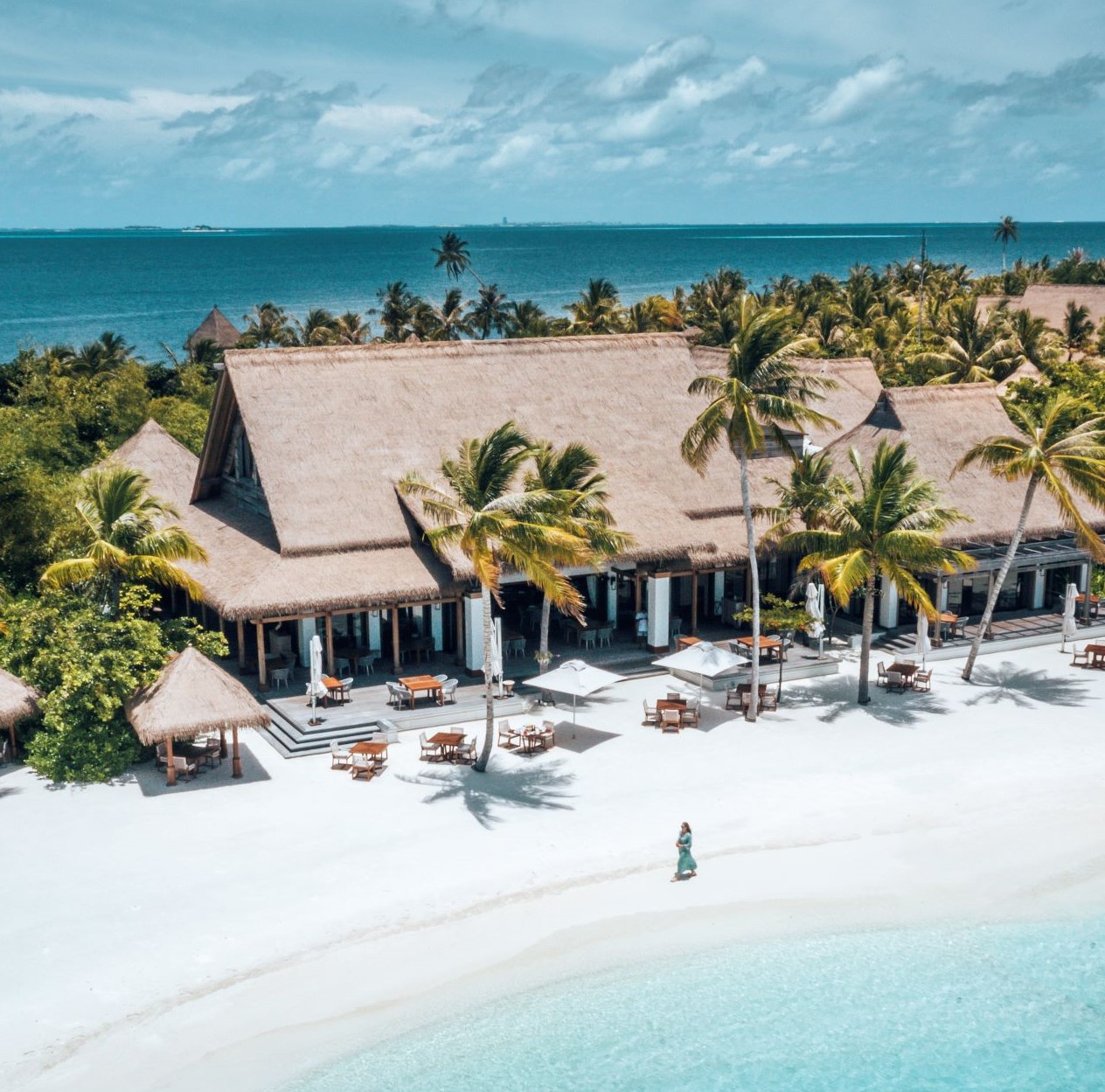 If you prefer a villa by the beach you have 2 options - King Beach Villa With Pool or King Grand Beach Villa With Pool. The rooms are quite similar in all aspects except that the later is more spacious. If your dream is to live overwater there are 2 types of private villas; King Overwater Villa With Pool and King Grand Overwater Villa With Pool. Since the later is more spacious the price is higher. If you are budget conscious you may want to go for the first category and use the saving for other activities of your honeymoon holiday. We will discuss more about the activities.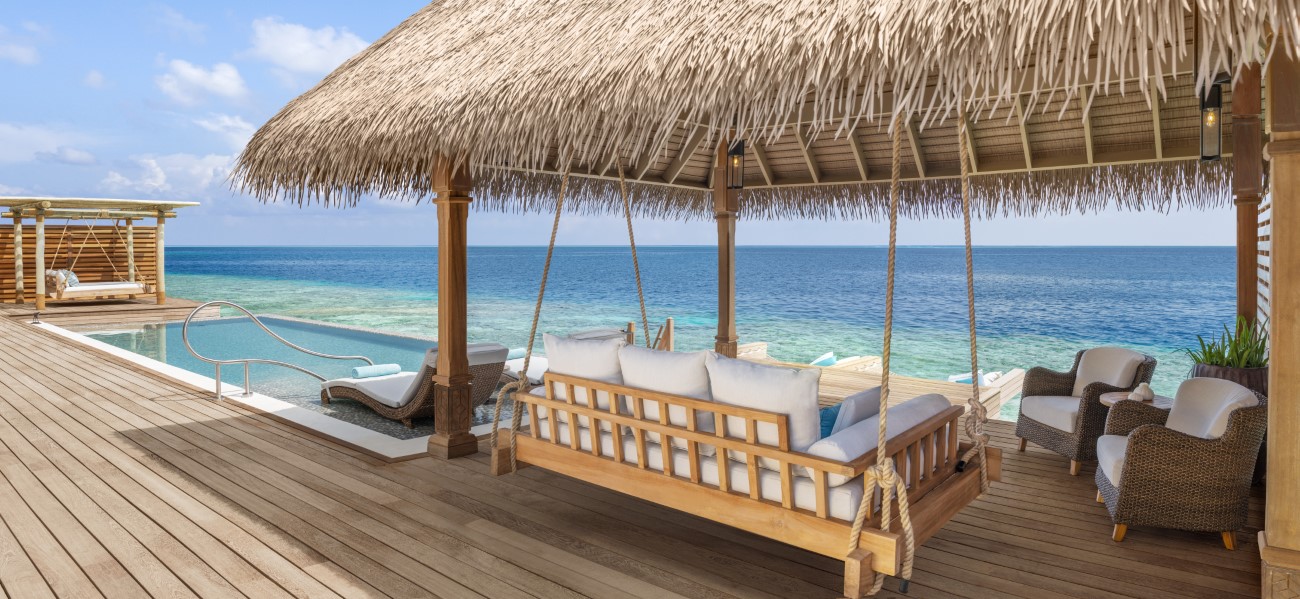 King Reef Villa With Pool or the King Grand Reef Villa With Pool is a semi-water villa, some people may believe it is the best of both worlds. In terms of design, decor and luxury the villas are very similar to other 2 categories. The main difference is location. This is the cheapest accommodation at Waldorf Astoria Maldives. Entrance to the mansion is from the land, the opposite side is located overwater. If you prefer a water villa that is close to restaurant and other facilities on the island this would be the ideal choice. We encourage spending more time in outdoors when you are on honeymoon. Luxury accommodations are something that is quite common in every country, what is special in Maldives is the beautiful nature.
Ultimate Secret Retreat by Soneva
The newest property of Soneva Group is
scheduled to be launched on 10 January 2024
. The hotel chain that started its first resorts in Maldives about 30 years ago have grown tremendously over the years and now operate several hotels in different countries. Soneva is well known for its incredible innovations in luxury tourism. Their most popular resort is Maldives is called Soneva Jani. The new resort is called Soneva Secret and it comes with only 14 villas of which some are located over the crystal clear waters while few are positioned by the beach. Inspired by nature, villas would feature extensive wooden textures and finishing.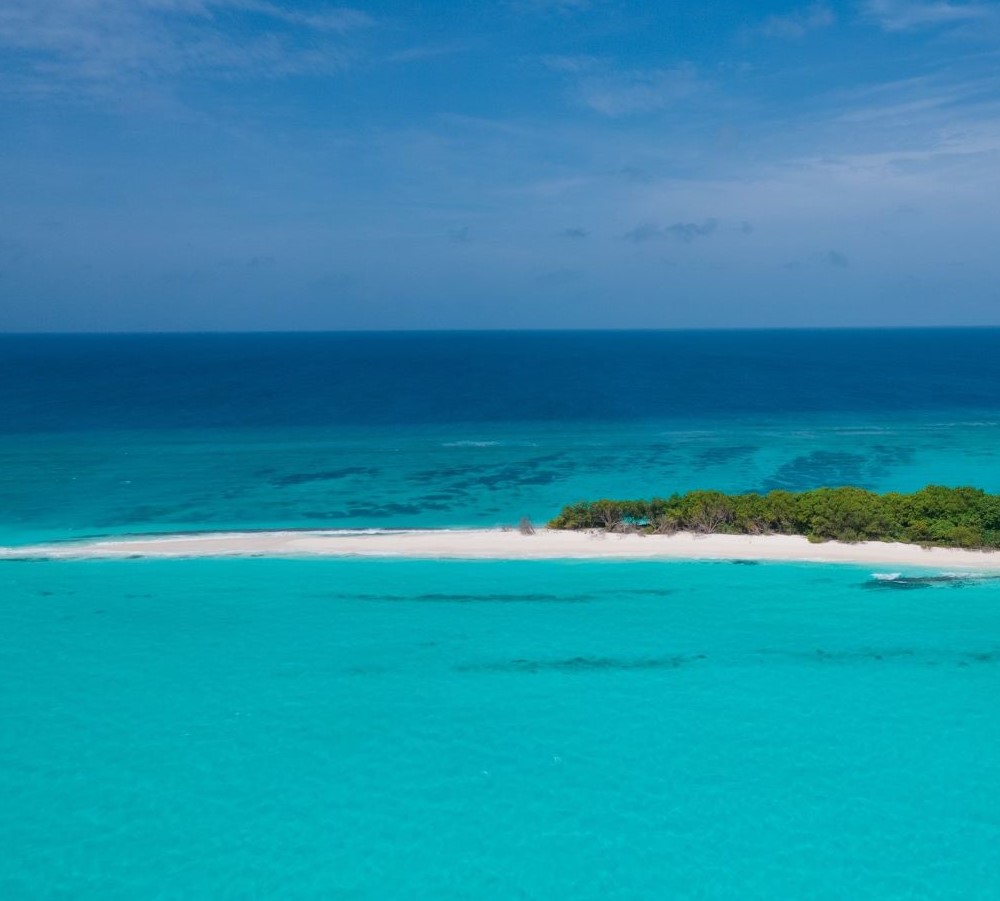 The whole island is designed for private lifestyle. This would be perfect for honeymoon. Each villa would have its own butler and you can have a private chef to cook hot meals right in the villa. There are restaurants in the island if you would enjoy a stroll for a different atmosphere. These villas come with something is very unique and special for honeymoon. The retractable roof lets you do star gazing at night, in comfort of king-size bed. If its a full moon night there could be its brightness in the sky and you could catch that glow while keeping all lights turned off to experience something different. The water slide in the villa is also an enjoyable feature, especially for honeymoon. You would be launching yourself from the upper floor and it gives you awe-inspiring plunge into the clear waters of Maldives.

Unlike Waldorf Astoria, the Soneva Secret is one of the remotest locations in Maldives. It takes a seaplane journey to get there. If you are arriving by private jet you could conveniently land at Maafaru International Airport and take a seaplane from there, otherwise the main Velana International Airport is also an available choice.
The Nautilus Maldives With Luxury Yacht Experience
The tiny private island located in the UNESCO biosphere of Baa Atoll would be a perfect destination for a luxury honeymoon escape. The tiny patch of white sand developed to an island is home to 26 private villas of which some are by the beach while others are located overwater in the lagoon. All accommodations come with private pool. This is the only resort that we know having temperature controlled pools, this is particularly important for honeymoon holidays. Couples spending evenings in the private pool could be lasting memory to reflect later on in life, you can start at sunset and go with the flow.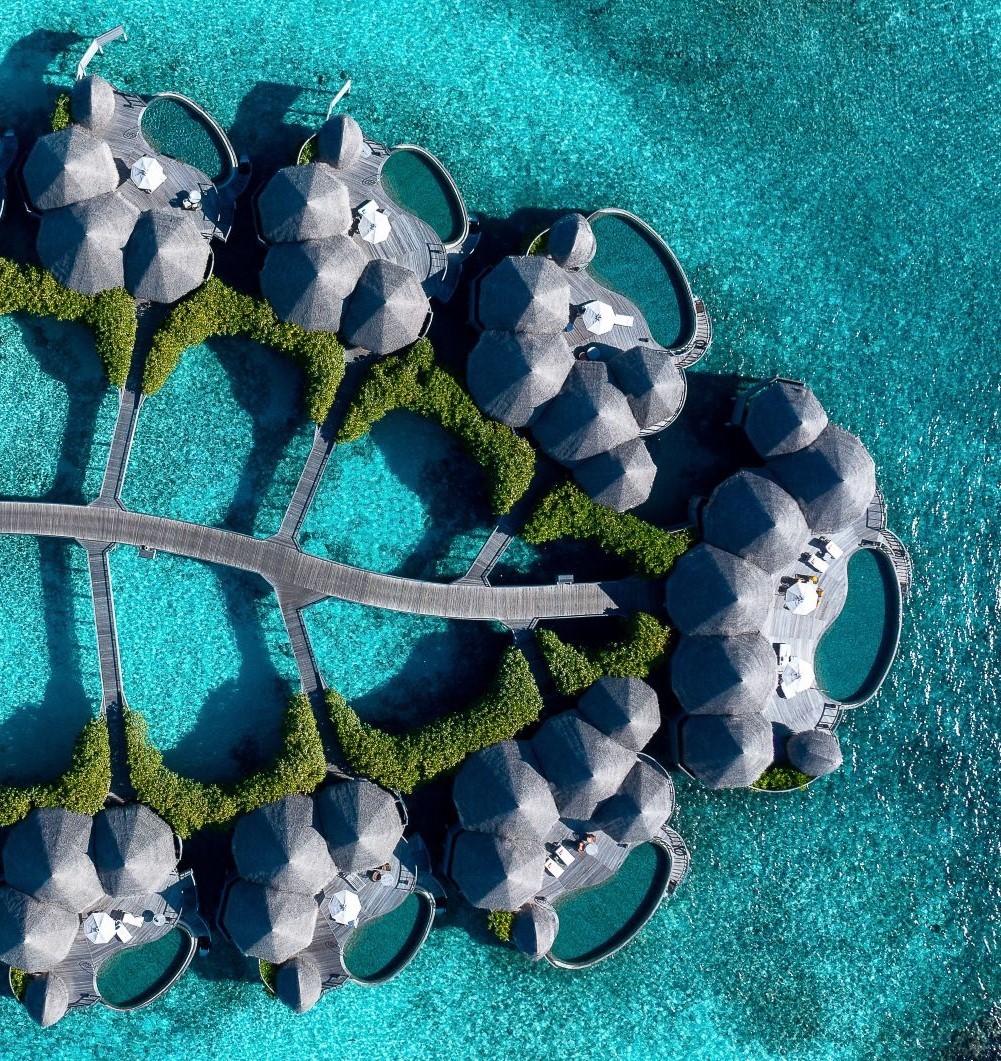 There is a luxury yacht that comes with a spacious bedroom. Private charter aboard the yacht would be a wonderful experience, especially if you never stayed on a yacht. Guests often hire the boat and escape to sunset cruise or dolphin watching. Couple can stay atop the roof while cruising or stay indoors in comfort. Maldives Finest takes the experience further by offering dinner at one of the underwater restaurants. There is one at Anantara Kihavah Villas. But, more attractive is the restaurant at Hurawalhi, it takes about an hour to get this aboard the yacht. While you are on honeymoon you have to do incredible activities and take part in adventures. You can also enjoy a lunch in the underwater restaurant, it is upto your preferences, we can organise the holiday with all details to perfection.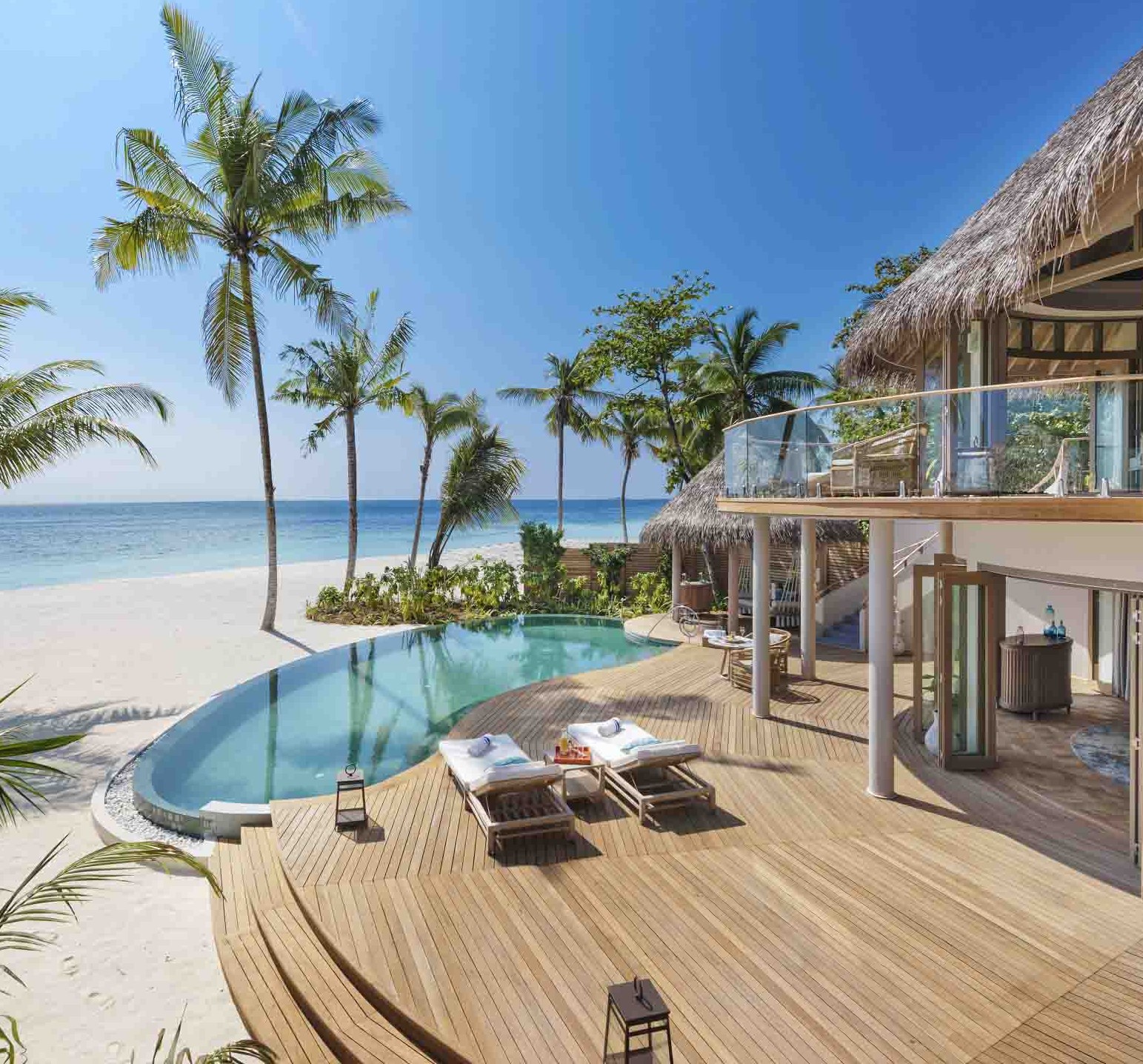 The Nautilus Maldives is known for unscripted dining and activities. You can breakfast for dinner and lunch for breakfast if you wish. You can also have an Indian Shirodhara in the spa at mid night. You write your own honeymoon script when you are at this private island retreat. Restrictions are little, possibilities know no bound, you are free to go with the flow or direct your own fairy tale. Honeymoon means early days of life together. Mood often decides elements of holiday. You have to be in an atmosphere that forgives for changing situations and fluctuating moods, even if does not. There is only one honeymoon, at least for the most couples, so you have only one shot to make it right. If you have chosen Maldives for holiday you have taken a bold step at the right direction. There are reasons that Maldives is called the sunny side of life.
Nova Maldives For Discounted Five Star Villas
Guests who want to sacrifice ultra-luxury for more affordable five star accommodation we present you the Nova Maldives. Located in the heart of Ari Atoll, this is a tiny island with only 76 villas in 10 categories. Despite having known as a classic Maldives resort there is a vibe of private sensation. Villas are either next to the beach or located over the water. Some rooms come with private pool while others give you private jacuzzi, some without either gives lowest in price for guests who seek it.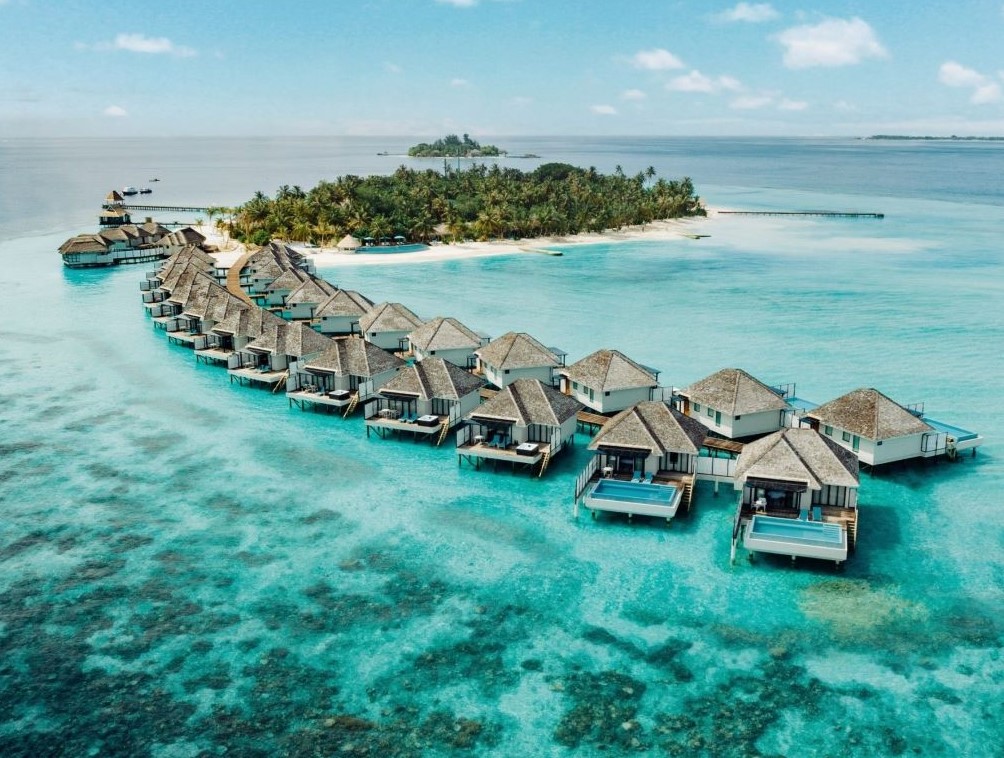 For honeymoon the best accommodation we recommend in Nova Maldives is Water Villa with Private Pool. The water villas are spacious and located in shallow lagoon. Corals around attract fish and it is timeless experience to spend time spotting various fish around in different colours. In some seasons there are school of sardines in the lagoon, especially at the water villas. Sharks keep chasing them all day long and occasionally manage to hunt some.

The seaplane journey to Nova Maldives takes about 25 minutes. The island is located close to a well known whale shark and manta spot. Unlike Hanifaru Bay and the mantas at Dhigurah can be enjoyed all year round. When you are on honeymoon it would be awesome to spend some time with the gentle giants and feel closer to nature.
Underwater Sleeping Experience
Another rare experience available in Maldives is sleeping in the underwater bedroom. There are 2 resorts that have underwater hotel room and both are five star resorts. The 2 bedroom private villa at Conrad Maldives is the most luxurious underwater bedroom in the Maldives. One if the master bedroom, the second is the twin bedroom for children and the third bedroom is located 16 feet below the surface. This masterpiece comes with several luxury facilities including infinity pool, kitchen, gym, Butler Quarter with Security Officer and nanny accommodation. Price for 3 nights in November is $45000, there may be additional charges for meals and transfers based on the stay period. Sleeping with the fish around you, on your honeymoon, is certainly possible.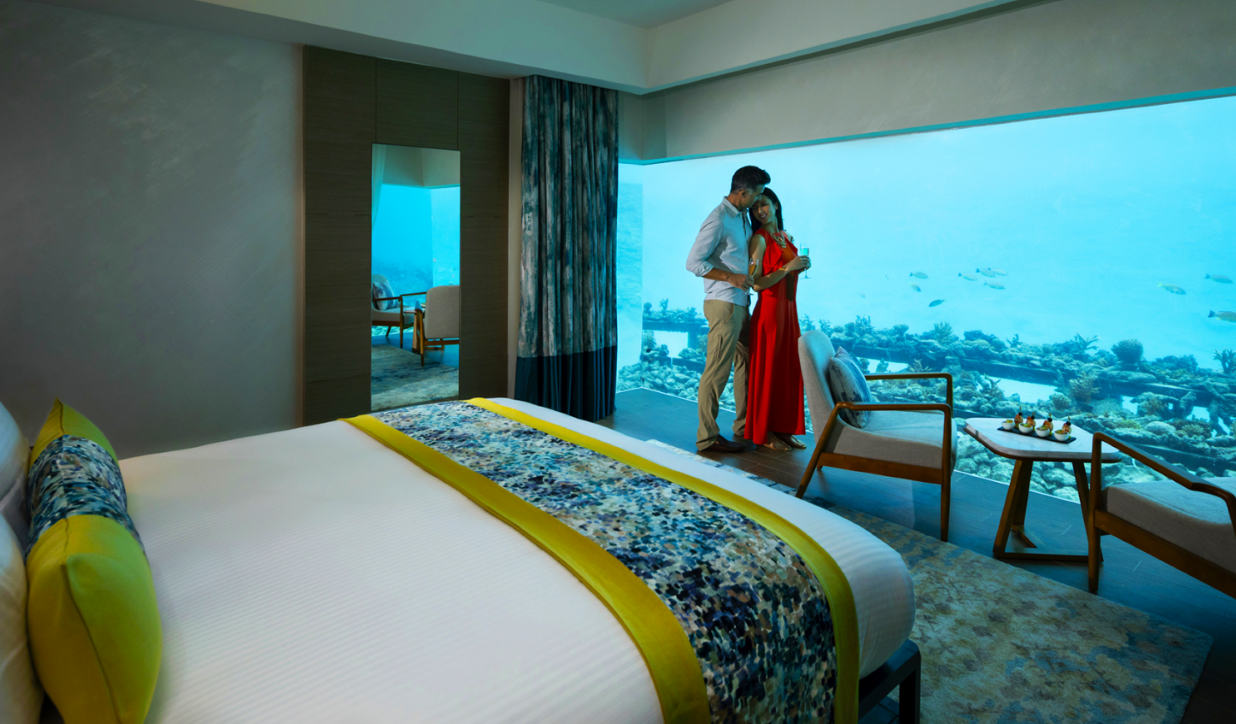 Pullman Maldives Maamutaa offer a
more affordable underwater bedroom
. The private villa comes with 1 master bedroom above the surface, the second bedroom is located underwater. There is infinity pool and butler service to spoil in a luxury escape. Price for 3 nights in November is $8900, we often offer additional discounts which depends on several factors and we can't confirm it in advance.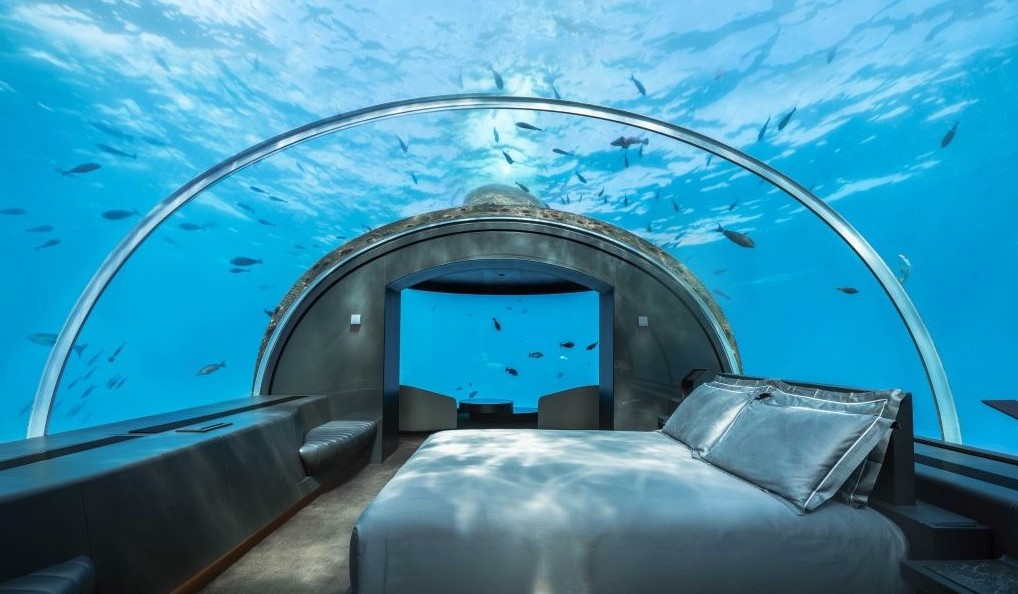 Both hotels are well known for its brand and luxury, Conrad has been in Maldives for several decades, as for Pullman it is newer but well established. Architecture of the underwater room is different in 2 hotels, at Conrad it is an acrylic dome while Pullman underwater room has an acrylic wall on the side. So, the room in Conrad offers more viewing angles and more pricey. If you budget is a constraint you don't have to spend entire honeymoon in the underwater villa, you can combine it with some nights in a beach villa or water bungalow.
Escape To Desert Island
There are 1192 islands in the Maldives and more than 600 are still undeveloped and preserved in their natural conditions. Many resorts offer day trips to such islands. If you are lucky you may be able to secure a private trip for you and your partner. It is usually arranged from resort's watersports centre. A small boat would drop you off at the virgin island with your food, drinks, towels and other essentials. They would come back to get you at pre-arranged time. So, you have some hours to enjoy in privacy and nature. This is like dream for many honeymooners.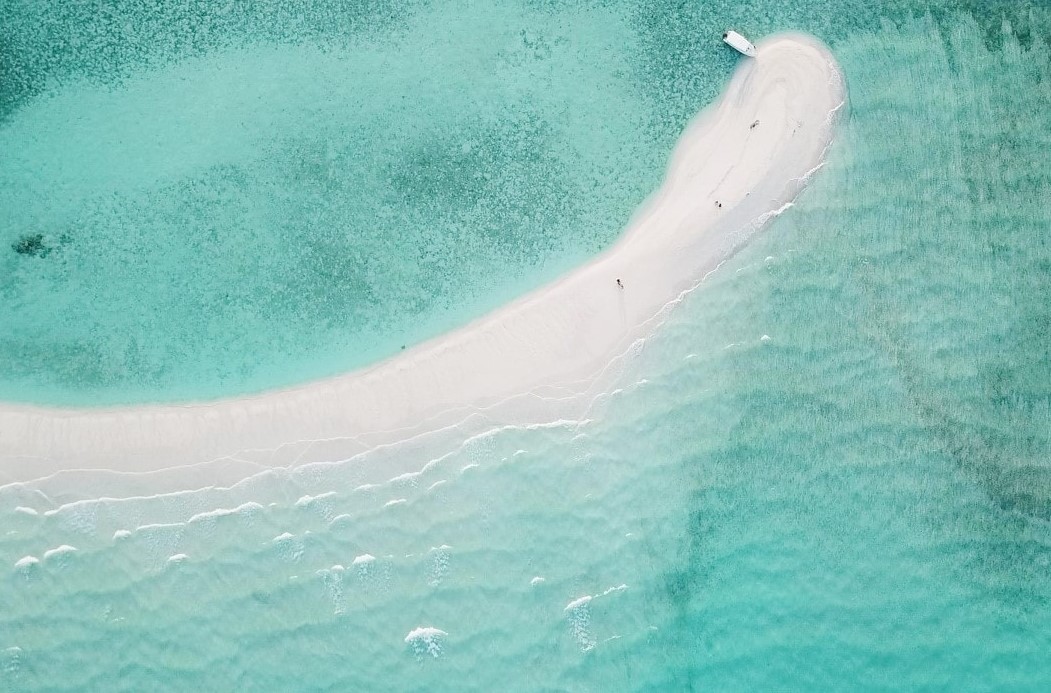 There are some safety aspects you should consider learning. Many virgin islands have reef that is perfect for snorkeling, but you should never attempt to snorkel alone without a guide. In Maldives the sea conditions can change quickly and you would not want to take unwanted risks. If you can plan snorkeling with the guide, so that there would also be a boat around in addition to staying with experience guide who leads the excursion.

While you spend time alone in the virgin island you can be creative. You can explore the island, spend time in shades as well as the sun. Sand art is something you should try even if you are not an artist. On the beach the sand is often soft, you can easily dig up through the sand with bare hand. You could bury your loved partner with only face above the surface. You can draw a mermaid above the body. Take pictures for memories. Honeymoon holiday should be full of picture square moments.
Diving Or Snorkeling Followed By Spa Treatment
Luxury accommodation is just one aspect of your honeymoon. Some of the most beautiful place in the Maldives lies underwater. To discover you have to take part in scuba diving or snorkeling. Many tourists try it for the first time and get addicted and repeatedly keep visiting Maldives. There are reasons that underwater beauty becomes addictive. Scuba diving is an experience that takes you closer to nature at its best. Beginners may do snorkeling which is also exciting. The main difference can be understand when you try the Bubble Makers course. When you are calmly swimming several metres below the surface you would feel that species of fish no longer sees you as a threat. When you are floating on the surface they often keep distance and swim away. The adventure takes place up-close when you do scuba diving. So, it is more fun and more addictive. Snorkelers would spot colourful corals at a distance and scuba diving takes you right beside it.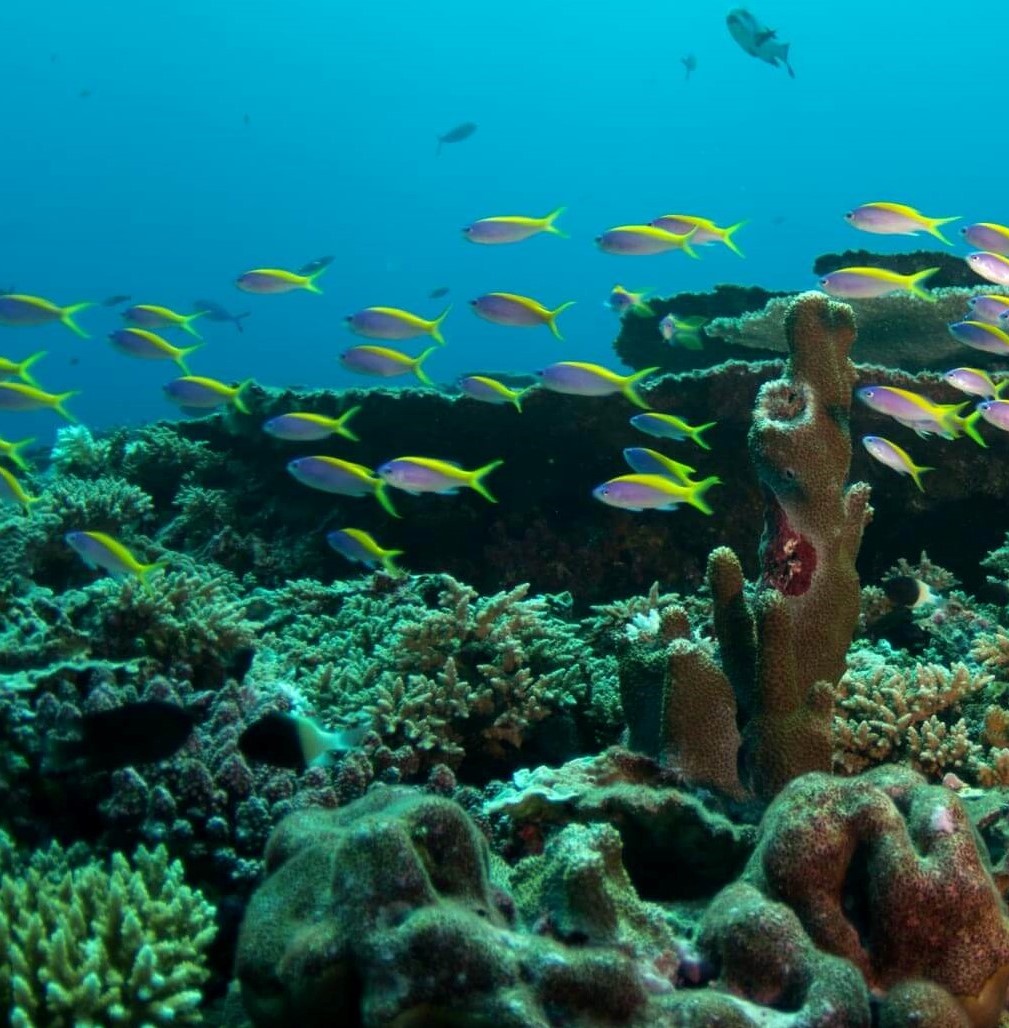 Watersports often leave you exhausted even it is fun. Spa on the resort takes care of rejuvenating your body for the next excitement on your honeymoon itinerary. Full body massage is something you should try after any sports. Many resorts take personal preferences while booking the treatment. If may want to tell the therapists how much pressure you would enjoy the best. If you prefer female or male therapist you can inquire about it as well. Any allergies should be informed prior to treatment.
Maldives Private Villas For Honeymoon #Maldives #Malediven #Maldivas #Maldivler #Amazing #Beaches #Island #Reise #Urlaub #Underwater #Underwaterhotel #Incredible #Breaking #News