5 Tasteful Water Villas For Your Maldives Honeymoon
Looking for a water villa for your honeymoon? Here is a collection of 5 tasteful water villas from different resorts. All are 5 star luxury resorts. Standard amenities are provided in the room even if not mentioned. In this article I look at the unique features and differences while showing you the room at a glance.
Ocean Oasis in W Maldives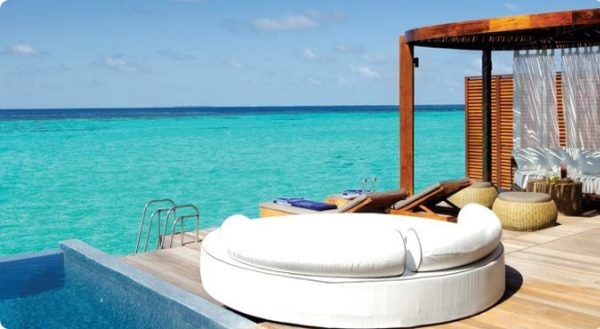 Just open the door and step in. Its your dream bungalow. A huge king size bed gives a glimpse of Indian Ocean through the glass door in front. Once you open that door it is your very private sundeck. Well furnished and tasteful. Many things come in round shape. A large day bed beside the pool is way to exciting. Then its a pair of sun laungers for you to get some tain. On the left side of the sundeck is a uniquely designed private launge. Its all open air. Only a frame of wood lies on top. The whole sundeck gives a wide angle view of the lagoon that fades away into the blue sea.
Ocean Bungalow in Huvanfen Fushi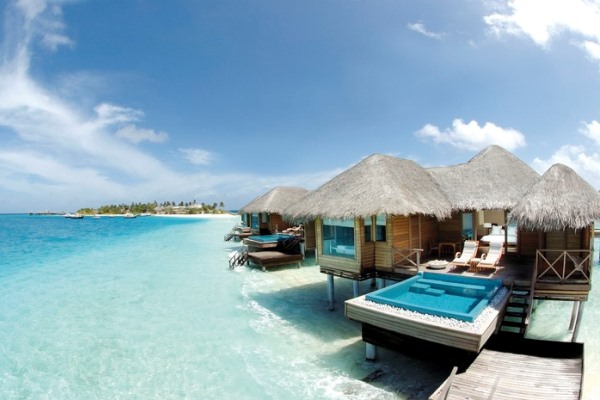 As you step in front it's the sign that read "Marhaba Huvafen Fushi" which means welcome Huvafen Fushi. On the right is bedroom as you open the door. A huge bathroom on the left gives view of the lagoon. The outdoor deck gives access from your bedroom and bathroom. A fresh water plunge pool is a nice place to spend your day. Sun loungers are essential and it sits right beside the pool.
Water Villas in Irufushi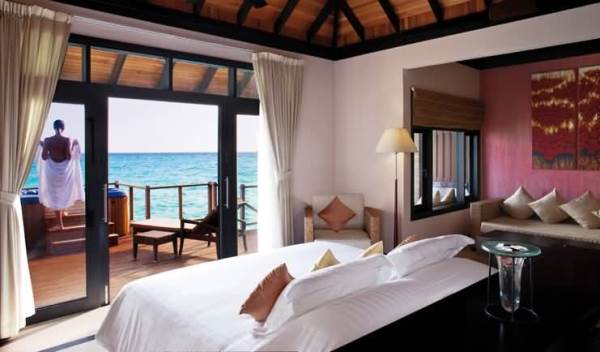 Well designed water villas are definitely tasteful. Near the entrance its your mini-bar, tea and coffee making facilities along with other standard amenities. As you walk-in, it's a large writing desk and you make your turn to right or left. Many glass doors makes you feel a tropical paradise. A large king-size bed sits in the middle facing the glass doors that leads to the deck. Bathroom is luxuriously spacious. Just open the sliding doors and get an unobstructed view of the large lagoon. There is a day bed with two sun loungers. The stairs lead you into the water right from your villa.
Water Villa in Coco Bodu Hithi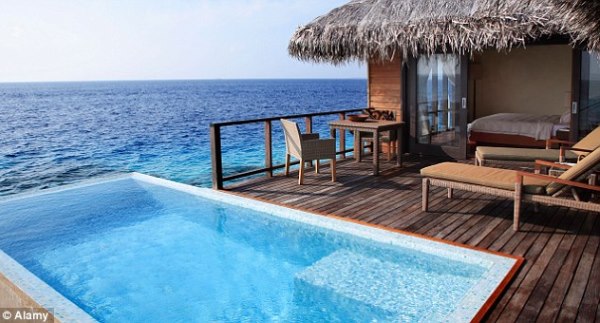 Coco Bodu Hithi, otherwise known as Miss France island, is no stranger for luxury villas. A little similar to Iru Fushi water villas but a more wooden shine on furnishing makes it different. Bed looks comfortable and bathroom comes with a stylish bowl shaped tub. Opening the deck doors show one of the largest day beds. Of cause the pool is amazing. Take the stairs to go down and snorkel. The reef is very close from your water villa.
Water Villa in JA Manafaru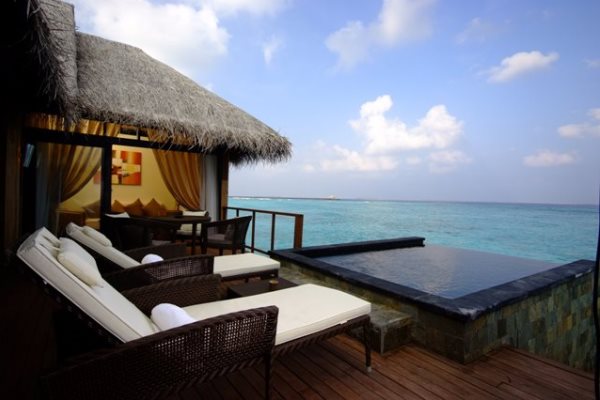 At the entrance is a writing desk. Take turn right or left, bedroom of bathroom. Both are spacious and tastefully luxurious. The black wooden furnishing blends well with the design. Outdoor deck can be conveniently accessed from bedroom or bathroom. The plunge pool is made from black stone. Miles and miles of Indian Ocean is the view. There is a large hammock to enjoy different experience with your partner. Or take the swing on the deck and make it a fairy tale.
5 Tasteful Water Villas For Your Maldives Honeymoon. #maldives #malediven #urlaub #reise #luxury #watervilla