Soneva Secret VIP Deals
Named as Soneva Secret, the most exclusive island under Soneva Group is set to open in January 2024. Privacy being the main concept of the resort there are only 14 villas, including island villas and overwater abodes. This makes it a private island heaven with embedded intelligent luxury and barefoot concept by its owner. This slice of paradise is on Dhipparufushi island in Haa Dhaalu Atoll, the only local island at this remote region is Makunudhoo. Getting to Soneva Secret requires a seaplane transfer either from Velana International Airport or Maafaru Interantional Airport.
Every villa comes with its own dedicated chef and 24/7 butler service, so you need not leave your private abode. If you prefer a casual walk to a restaurant there is an all-day dining outlet. But, the
best dining experience at Soneva Secret
requires you to wear a harness and take flight on a zipline route. Once the platform is reached there is sea view and star gazing with the resident astronomer as part of the culinary journey. The zipline dining platform serves international cuisine, so all guests can take part of the excitement. There are 4 other dining experiences offered by the resort, incuding an ice cream parlor and a chocolate artisan that retains Soneva tradition as they expand into the newest resort.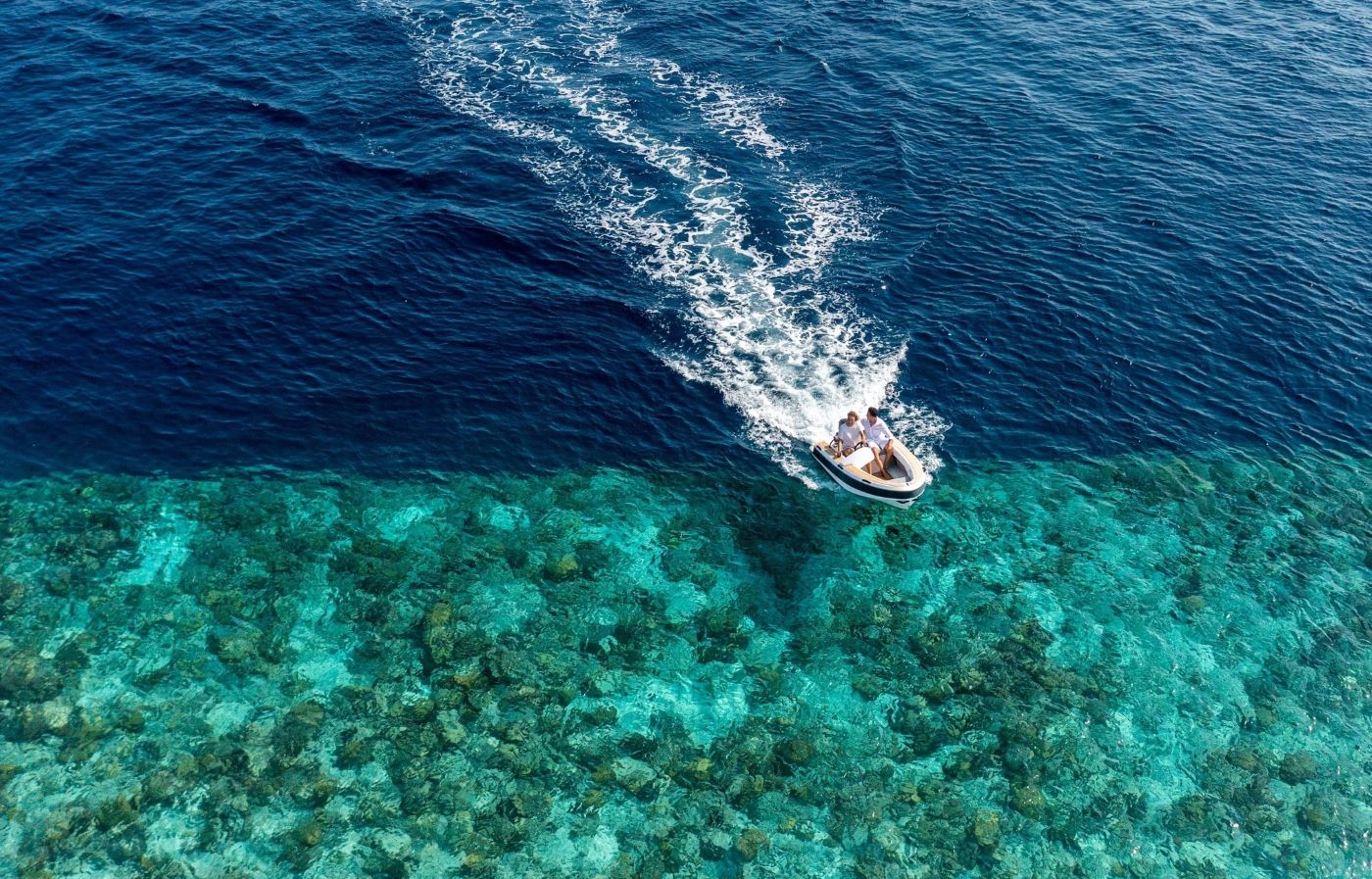 The private island offers 6 different villa categories that include beach villa, water villa and floating villa. All rooms spread across 2 floors with primary living facilities located in the lower floor. Each villa comes with several enhancement facilities such as gym with sea view, dressing room, sunken bathtub, minibar, dining area with pantry. In most villas there is a spa treatment and dining sala (another signature feature from Soneva group) in upper floor. Many accommodation units come with water slide, you can launch from the upper deck. Exact facilities may vary in different categories.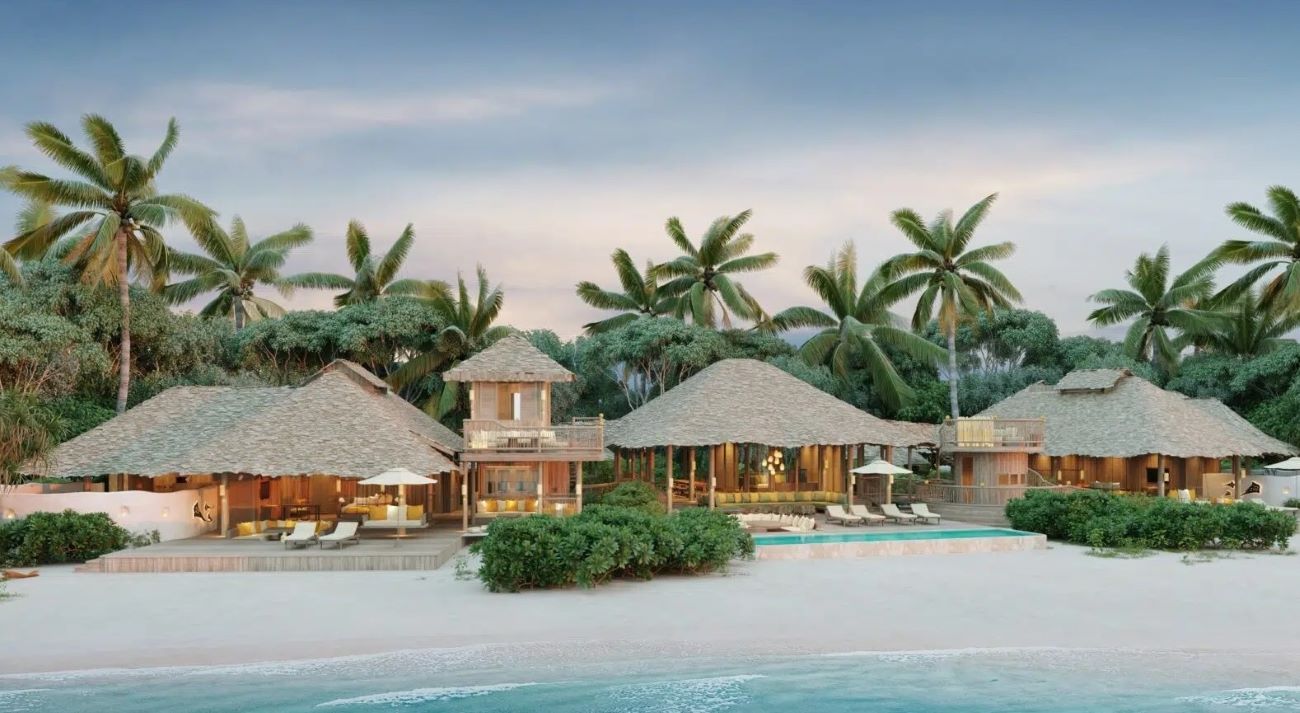 BEACH RESERVE
This expansive and secluded villa comes with 2 bedrooms. Surrounded by tropical gardens the room features multiple lounging concepts, dining and living facilities. Stretched across the beach, this mansion offers beach and ocean view from different locations of the villa including the private pool. Sunkun lounge has direct beach access and dining can be done in harmony of villa or natural ambiance of the outdoors. There are 2 master bedrooms, each with additional children's bedroom located behind with separate bathroom including outdoor shower. The outdoor shower dedicated for master bedroom is more spacious and includes dressing room. The living area is located in the mid-section of the villa, 2 master bedrooms located on each side make facilities conveniently accessible. Pool is located at the centre of this expansive masterpiece of beach living. Spa treatment room and dining sala are located in the upstairs. Dedicated chef and Barefoot Guardian can take excellent care of guests in every aspect. Measuring 1158 sqm or 12465 sqft, this is the biggest villa category at Soneva Secret. It can accommodate upto 4 adults and 4 children.
Price: $16628 Per Night (Excluding taxes and fees)
Travel Period: January 2024
Contact us for additional benefits and details.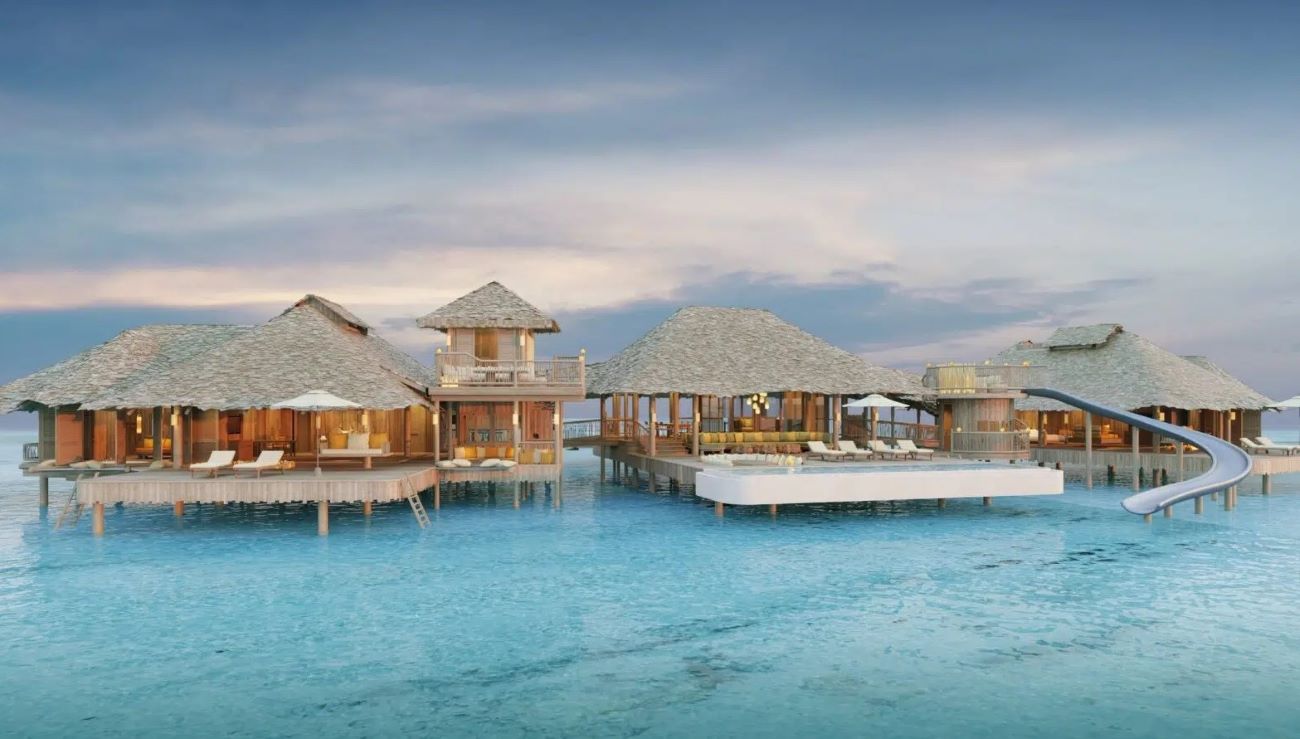 CRUSOE RESERVE
The 2 bedroom overwater villa is well positioned to offer amazing views of the turquoise lagoon that fades into dark blue at a distance. The dining area is located at the centre while bedroom sections are located on both sides. Master bedrooms include several facilities such as study area, gym, TV lounge, swing on the outdoor deck. The private pool is located at the mid-section to enable easy access. There are 2 additional bedrooms for children, comes with double bed with ensuite bathroom in each. Relaxing and lounging facilities vary at different locations of this private abode. In the upper floor there is a dining sala, retractable room compartment that opens up the view from master bedroom in the downstairs. Water slide can be launched from upper floor and plunge takes place next to pool where you can easily get up and repeat the fun until your are satisfied. Size: 1108 sqm or 11926 sqft. It can accommodate 4 adults in 2 master bedrooms, 4 children in 2 additional bedrooms with ensuite bathroom. Dedicated chef with personal butler makes this private water villa perfect for families. while the island offers exciting facilities there is little need to leave comfort of your luxury villa when you have this level of fulfilment in your private sphere of paradise.
Price: $16628 Per Night (Excluding taxes and fees)
Travel Period: January 2024
Contact us for additional benefits and details.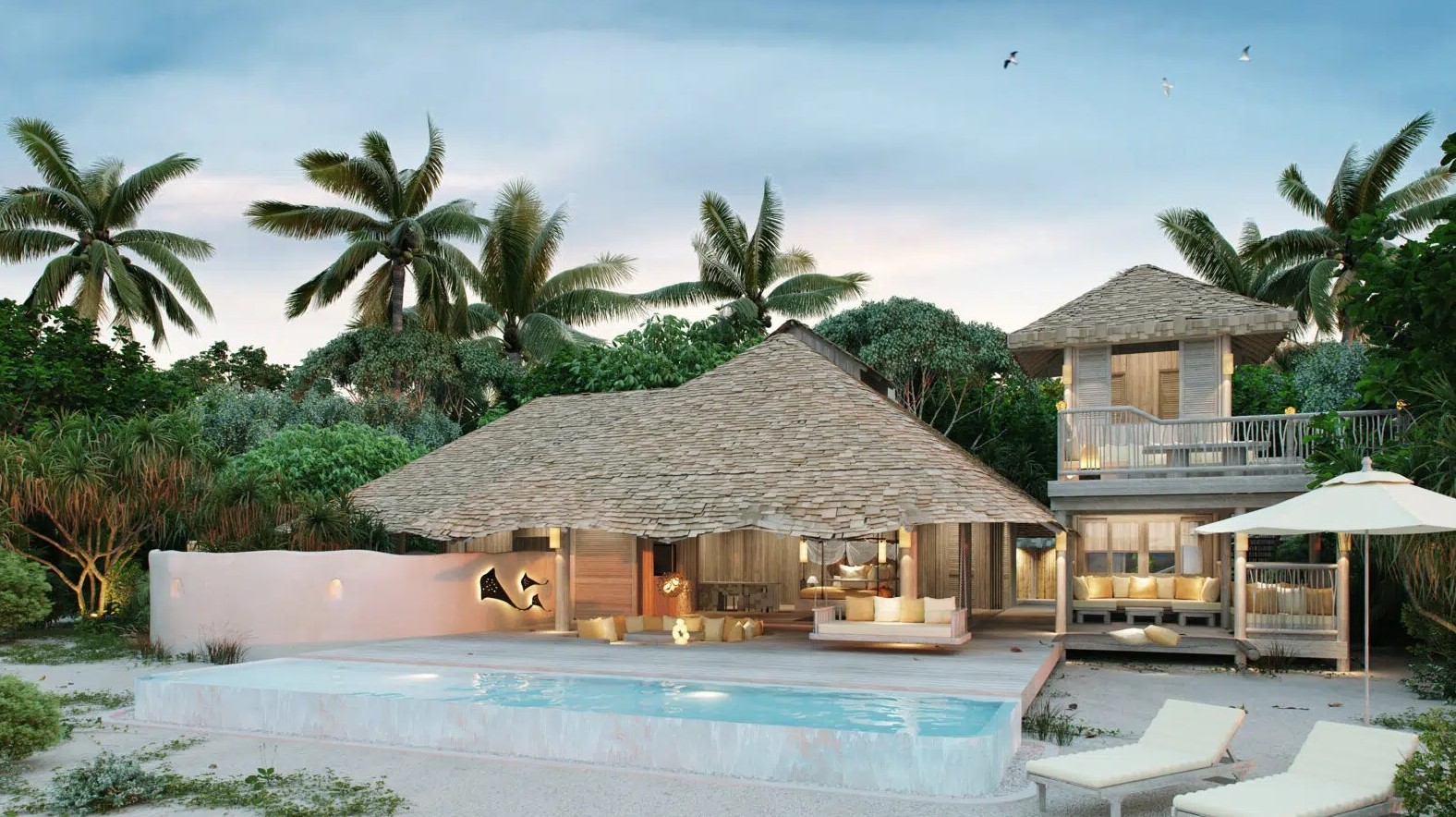 BEACH HIDEAWAY
Surrounded by lush vegetation and white sandy beach this is a private heaven that is perfect for 2 adults and 2 children. The 2-floor design keeps charm of the villa while the outdoor pool enhances overall appeal of the establishment. The outdoor bathroom comes with an additional shower under the sun and dressing room is spacious. Children have their own accommodation behind master bedroom, they too have an outdoor bathroom. Dining facilities including pantry enables the private chef to keep you fulfilled with culinary delights. This is a beach villa that has retractable roof. Size: 448 sqm or 4822 sqft.
Price: $8488 Per Night (Excluding taxes and fees)
Travel Period: January 2024
Contact us for additional benefits and details.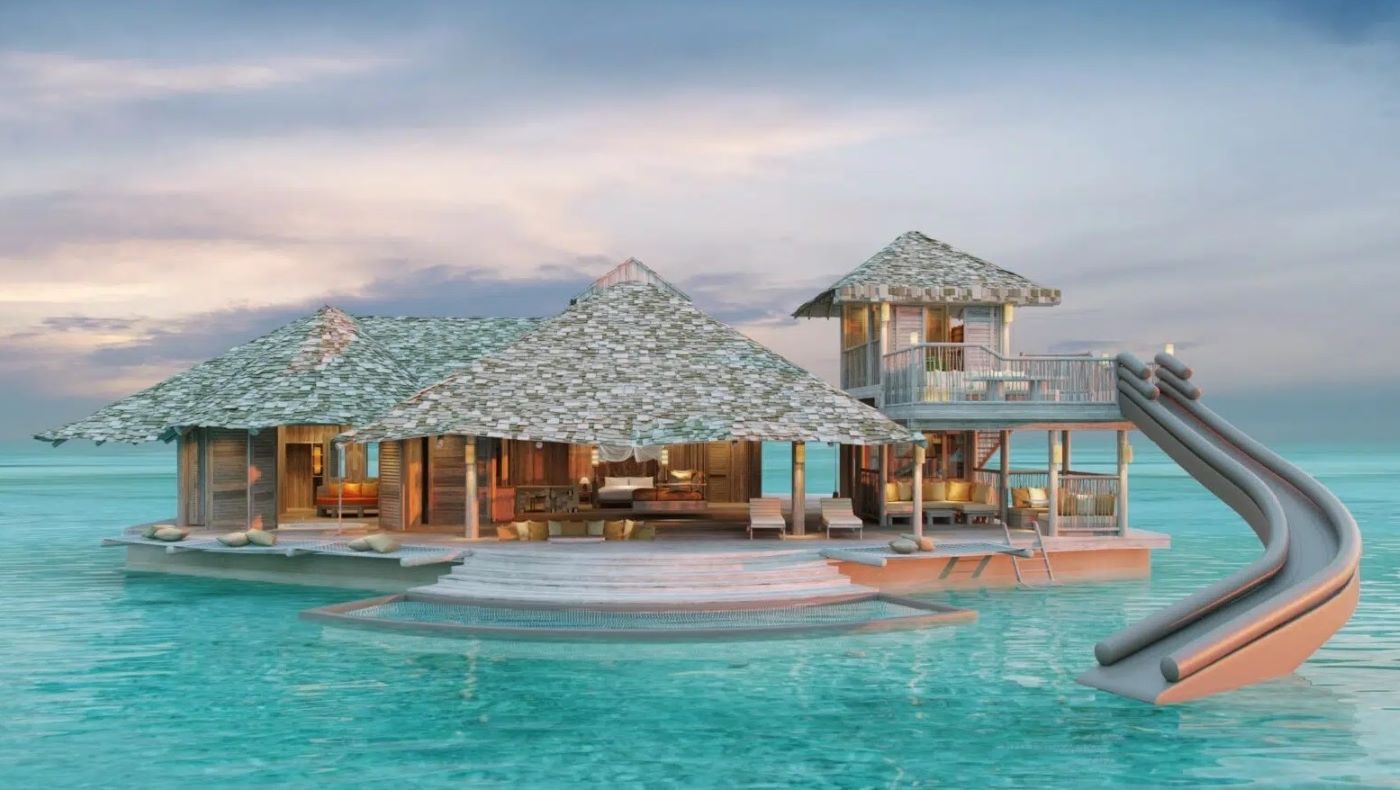 CASTAWAY VILLA
Soneva Secret becomes the first Maldives resort to introduce floating villa with 1 bedroom. The room is segmented to 2 floor with bedroom and bathroom in the lower level. The villa can accommodate additional 2 children. Wave movements often affect boats in the lagoon, but this floating will stays unaffected as it was considered during the building process. Since this is a floating villa there is no jetty that connects the villa to the island, there are tiny shuttle boats that travel in between. Size: 461 sqm or 4962 sqft. Since this is a floating villa the water slide is different from other villas that have fixed base.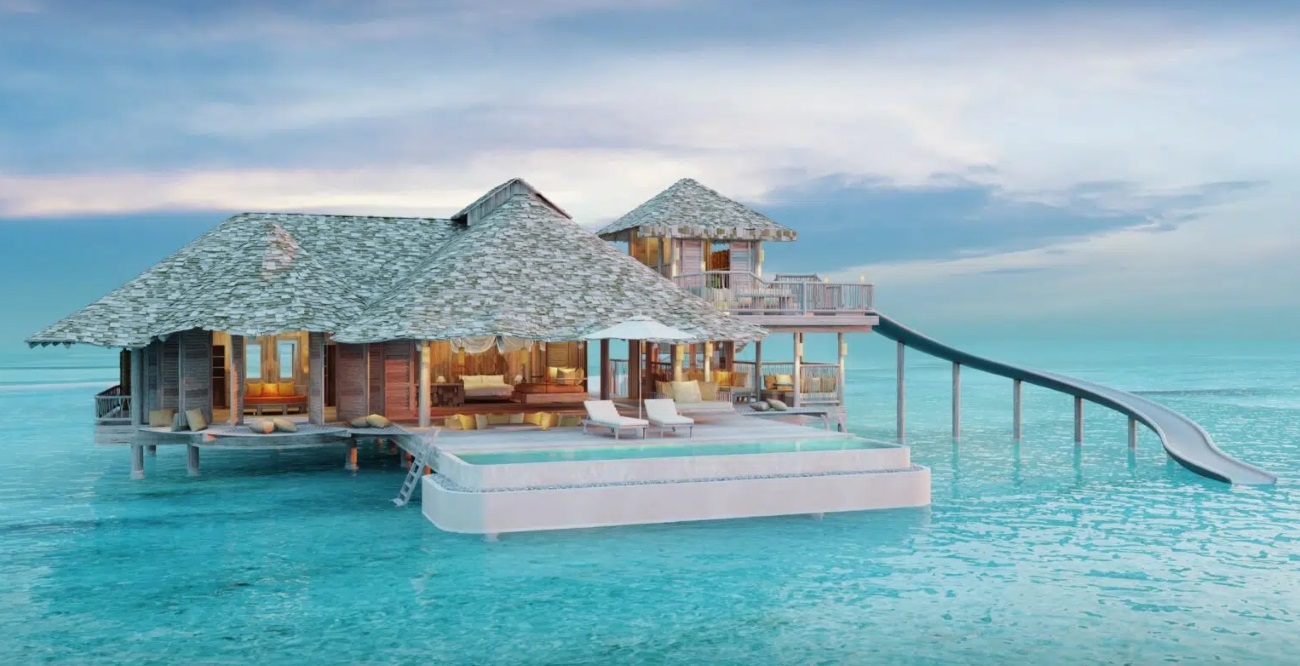 CRUSOE VILLA
The one bedroom water villa with slide is spacious and comes with several lounging facilities and private pool that overlooks the lagoon. The size is same as Castaway Villa, the master bedroom features a retractable roof. This villa is perfect for a couple or family with 2 children as there is an additional room with ensuite bathroom and shower. Size: 461 sqm or 4962 sqft.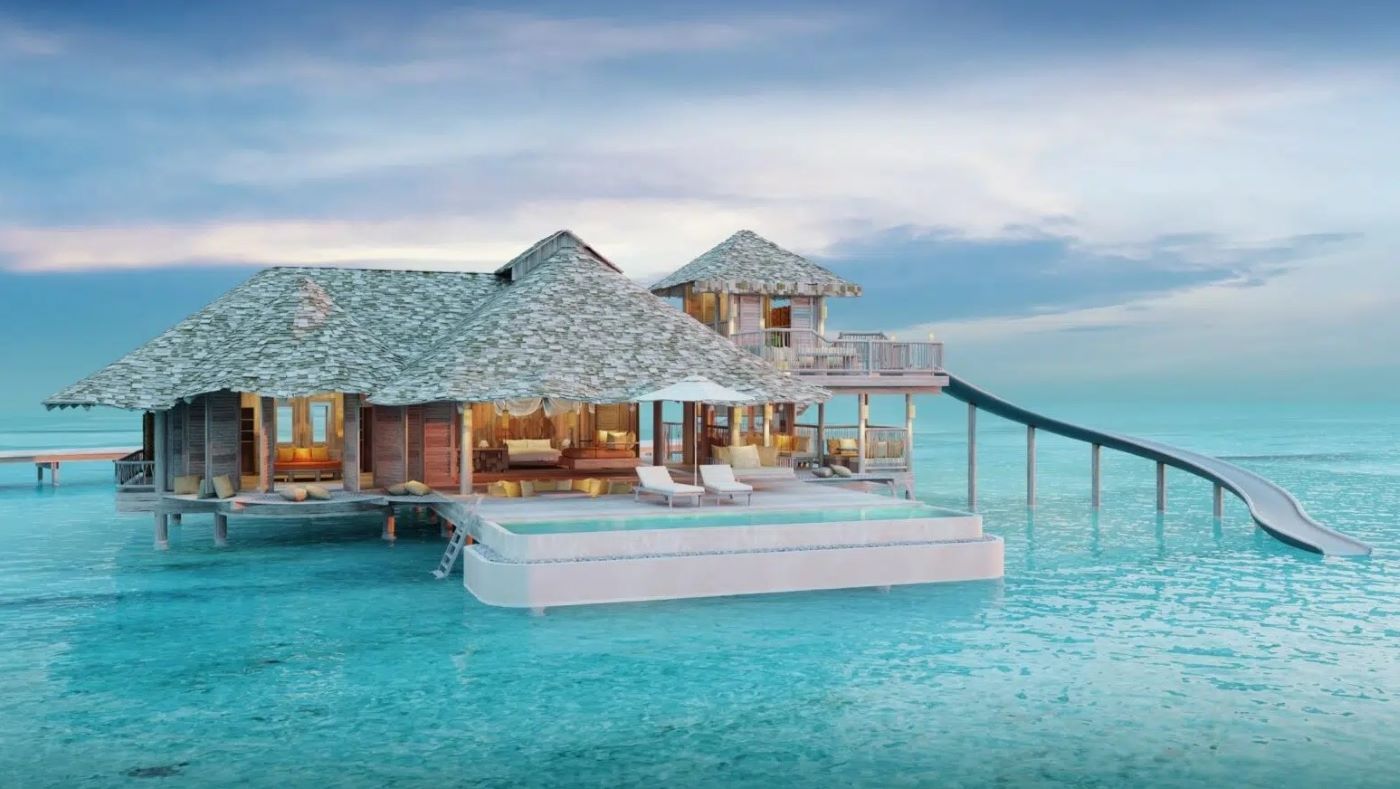 OVERWATER HIDEAWAY
Built on the open plan living concept the villa comes with an expansive master bedroom. A compartment on the roof is retractable on touch of a button as they have in some other Soneva properties. The atmosphere is serene and pleasant for guests who enjoy overwater living. It can accommodate 2 adults in master bedroom and additional 2 children in separate room with ensuite bathroom in each. The study table can be used as a workstation to manage your business affairs remotely. Size: 461 sqm or 4962 sqft.
Price: $8488 Per Night (Excluding taxes and fees)
Travel Period: January 2024
Contact us for additional benefits and details.

Earlier On News: Soneva Secret To Open in January 2024
The operators of Soneva Fushi in Baa Atoll and Soneva Jani in Noonu Atoll has announced opening of their newest property in Haa Dhaalu Atoll. Named as Soneva Secret the resort would be opened in January 2024 on the island of Dhipparufushi. The tourism ministry of Maldives leased the island in 2018 for a period of 50 years for resort development. The island is 8.2 hectares in land size. Official records indicate the island is head-leased to Secret Venture Private Limited. The resort is set to welcome its first guest on 10 January 2024.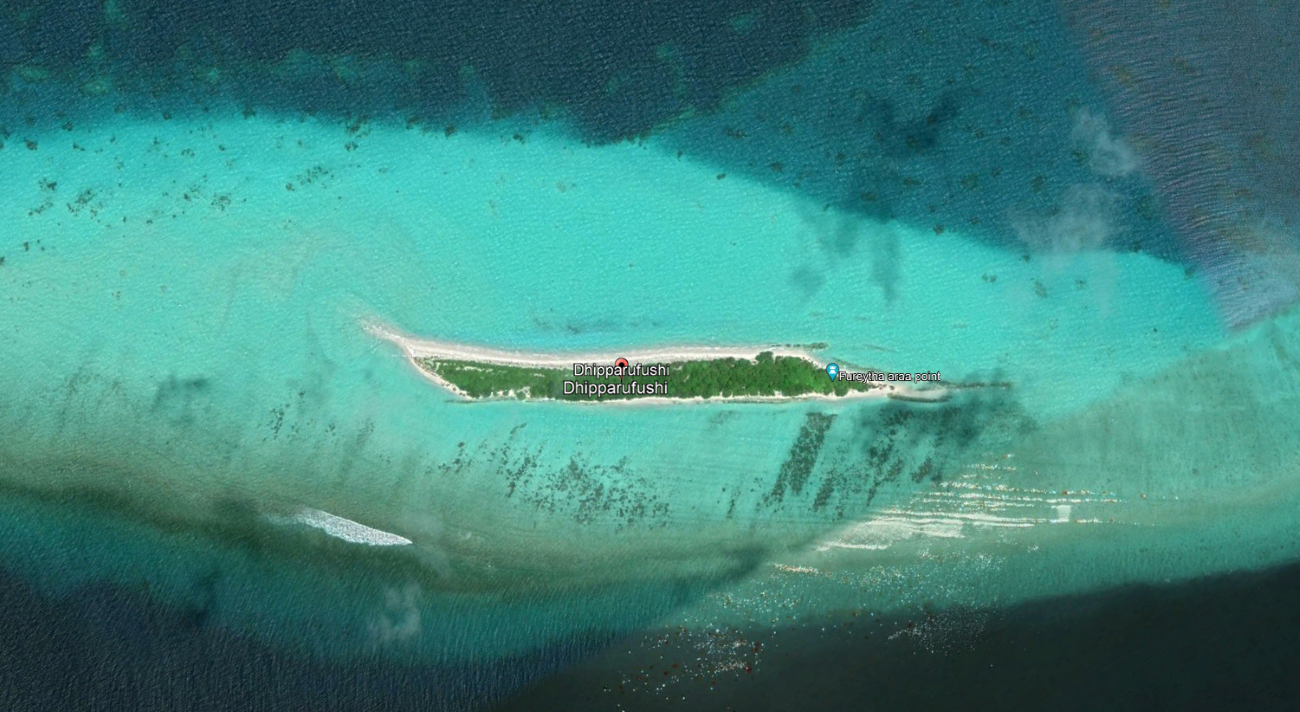 Soneva Secret is located amid a large lagoon near Makunudhoo island in remote parts of Haa Dhaalu Atoll. Earlier this year the government announced new domestic airport development at Makunudhoo. Once in operation it can easily transfer guests to Soneva Secret.
Makunudhoo is geographically known to have situated in its own atoll which is highly rich in biodiversity. The outer reef that is 30 miles long has plenty of space as natural habitat for the marine lives.
Development of ultra-luxury Soneva Secret is estimated to cost $40 million for the development, island acquisition cost remains undisclosed. The villas and residences will offer private experiences at the remote location. An estimated cost of $3 million or more will be spent for each residence. Nature inspired luxury villa are likely to portray wooden textures and natural materials as they in other Soneva properties.
Sonu Shivdasani, the co-founder of Soneva group, provided a glimpse of his secret paradise over a webinar with WGSN in which we said that each villa would have its own private butler and chef de partie. This indicates the villas will come with cooking facilities in each.
Maldives Finest, a local travel specialized in luxury tourism, offers hire of personal chef for short term holidays in some exclusive private islands. Guests can choose their favourite cuisine and Maldives Finest hires from a pool of professional chefs with extensive experience portfolio including cooking to celebrities.
Soneva Group currently owns and operates 2 resorts in Maldives that include Soneva Jani in Noonu Atoll and Soneva Fushi in Baa Atoll. The later was the first resort they opened in Maldives, it was actually the company's first business which they opened in 1995. Its founder, Sonu Shivdasani, is regarded in the tourism industry as the pioneer of ultra-luxury tourism in the Maldives.
Soneva Fushi offers 71 nature-inspired luxury villas. Located next to the local island of Eydhafushi, Soneva Fushi is one of the top resorts near Hanifaru Bay manta spot. The resort offers 28 different room categories and the smallest measures 145 sqm. The Private Reserve is the biggest villa, it measures 3048 sqm in size and there 9 bedrooms.
Soneva Jani is the newest property by the hotel chain. Located in Noonu Atoll, it comes with 58 villas of which 51 are located over the water and remaining 7 on the island. Featured on CNN and Forbes, the island is well known among the luxury travelers and is in high demand throughout the year, both summer and winter. Its unique architecture truly stands out and tastefully appointed villas featuring wooden texture gives the sensation of joyful life moments. Each water villa is built with privacy and breathtaking ocean views. The rooms on the beach are luxurious residences suitable for private beach holidays. Despite being so exclusive in terms of product features the resort also welcomes families. There is a castle-like kids club called Den, it offers variety of activities and fun for kids. Accredited by Worldwide Kids, having this facility enables parents to enjoy themselves out on excursions, spa or just some relaxing by the pool without kids around.
The villa concept and architecture of Soneva Jani proved to be highly successful. So much so that the company built similar villas in their other property in Baa Atoll. Therefore, we are fairly certain that villas in Soneva Secret would resemble something similar. It may be exactly the same in design but with more space in between villa to enhance privacy further. Otherwise, they may be little changes or improvements. Soneva's retractable roof and waterslide are important elements that we expect to be featured in villas of Soneva Secret. The new island does not have much space like Soneva Fushi, otherwise we would anticipate organic farming.