Top Luxury Maldives Private Island For Secret Escapes
Spend your Maldives honeymoon on a private island that only accommodates a couple or one family. It is a dream of many and this could be the best experience you can ever get in Maldives. We are pleased to offer 3 different options that leave no room for strangers to distract you from wonderful memories in paradise. Immerse into a small world of your own. The top luxury and privacy you get on your
Maldives private island experience
would be a last memory and moments filled with joy.
Fourseasons Voavah Private Island
Cheval Blanc Randheli Private Island - 4 Bedrooms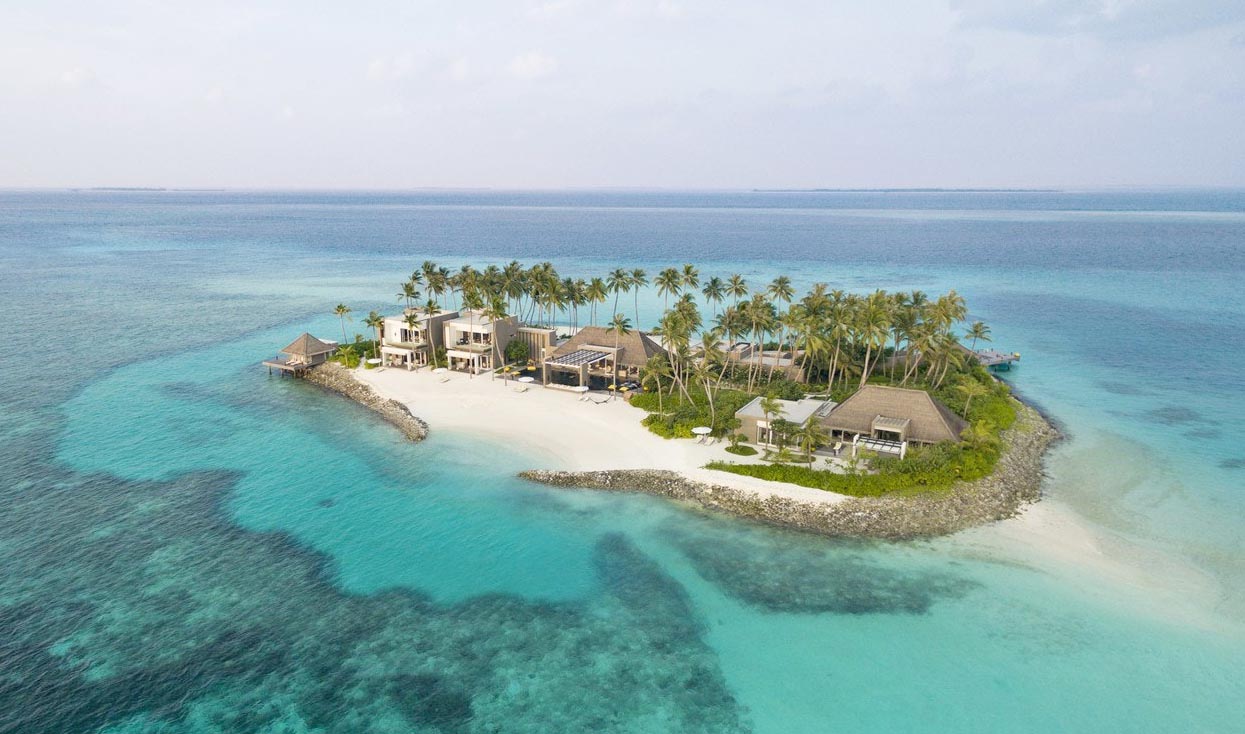 Immerse into a slice of paradise that is own its own little island for one couple or small family that can be accommodated in 4 bedrooms. This private island retreat comes with a large living reception, 25-metre pool and piano to tune your mood that gets you go with the flow. This lavish kingdom of 1000 sqm space is designed for ultimate in privacy without compromising facilities and fulfilment of desires. There is a cinema, spa treatment room and gym, just to mention some facilities for people who like to inquire.
Four Seasons Voavah Private Island - 3 Bedrooms
Romance can never blossom better than spending your honeymoon in a Beach Villa that is located on its own island. Fourseasons Voavah is a private island in Baa Atoll that comes with 3 bedrooms. The Master Suite is perfect for a couple on honeymoon. If you want to plan a family trip there are 2 more bedrooms available. Too many rooms will compromise privacy and freedom, so strangers have no room in this private island. The Voavah island is located on its own lagoon and enjoys great reputation as one of the beautiful private islands in the Maldives. The retreat has a gorgeous beach that encircles the island, there is a charming sand bar that stretches further out from the island.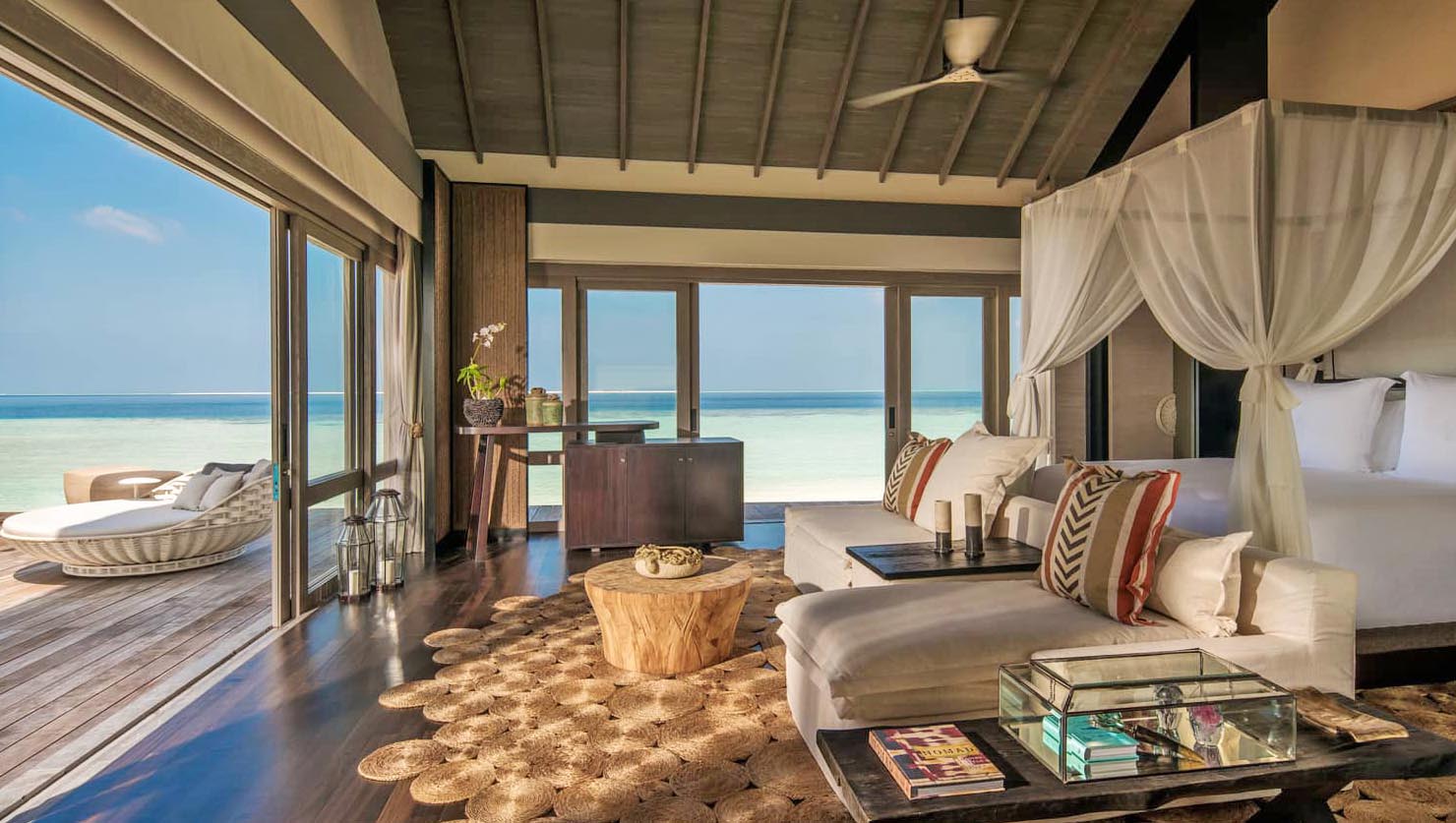 This private island is managed by Fourseasons Landaa Giraavaru
resort
located in the same atoll. There is a 4 km travel distance in between, in case you want to visit to try out of the specialty restaurants. But, there is actually no need for that as almost any type of food can be prepared and delivered to your private island or directly cooked on site.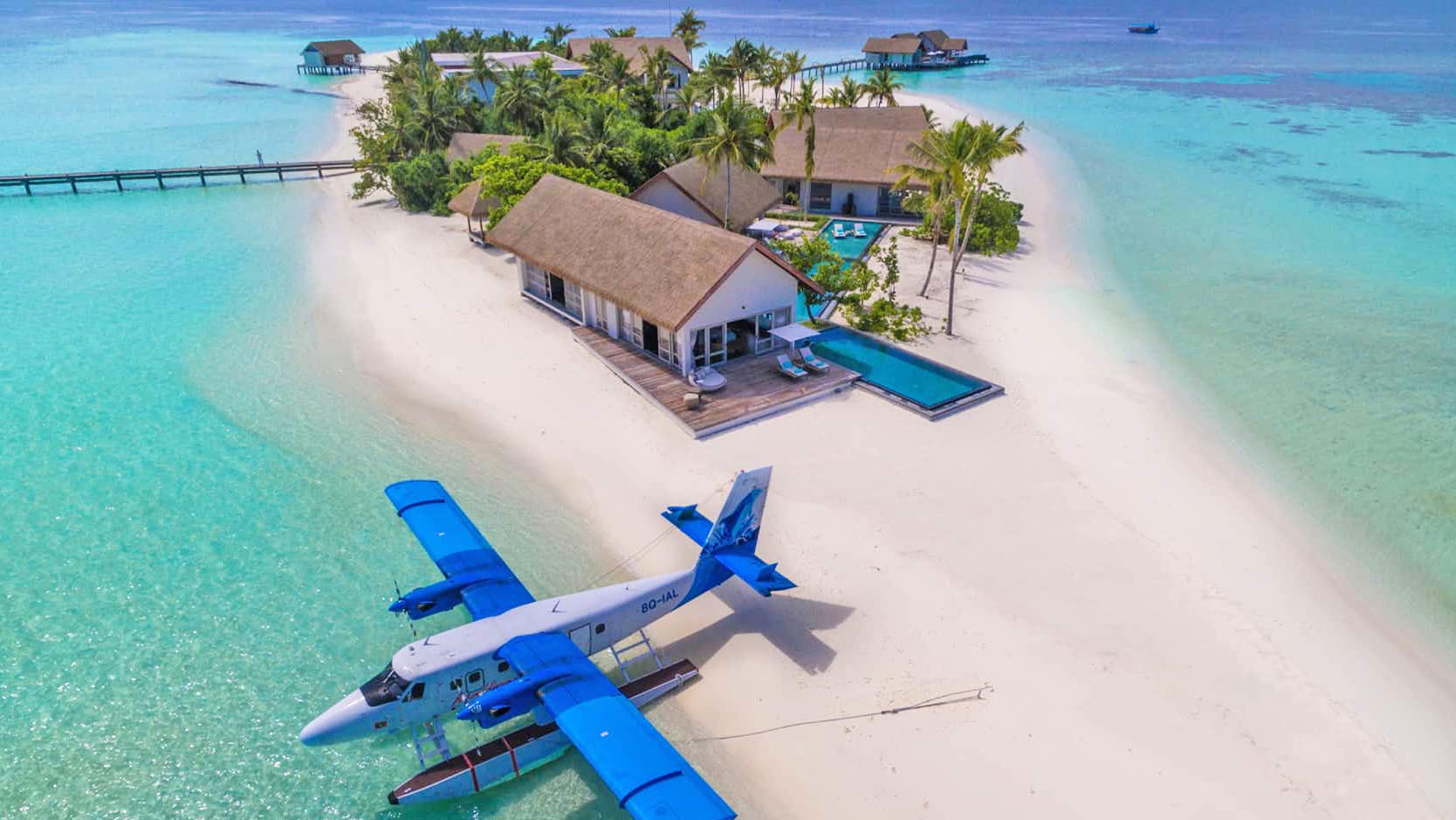 The private island measures 1077 sqm in size, accommodates upto 6 adults and 2 children. There is beach and ocean view from everywhere. Each bedroom comes with ensuite bathroom and an additional garden shower to get the sensation of nature.
There is a sandbank just a kilometre away and resident team of butlers can arrange you dinner over there as you look forward for multiple experience in world's most romantic destination. Voavah private retreat also organises trips to Baathala Island.
Baa Atoll is home to
Hanifaru Bay where manta rays and whale sharks gather
every year on its seasons and can be viewed up close when you snorkel there. This is one of the largest gatherings of mantas in the world. If you are visiting Voavah in manta season you would not want to miss it.
Coco Prive at Kuda Hithi Island - 6 Bedrooms
Well known as one of the first private islands opened in Maldives the resort serves upto 12 guests. There is a Master Residence and 5 guest villas that are designed by Guz Wilkinson. Coco Prive sits in its own lagoon and there are multiple snorkeling spots in the house reef and additional points in close proximity. The island is currently undergoing renovation. Once completed we shall share the new photos.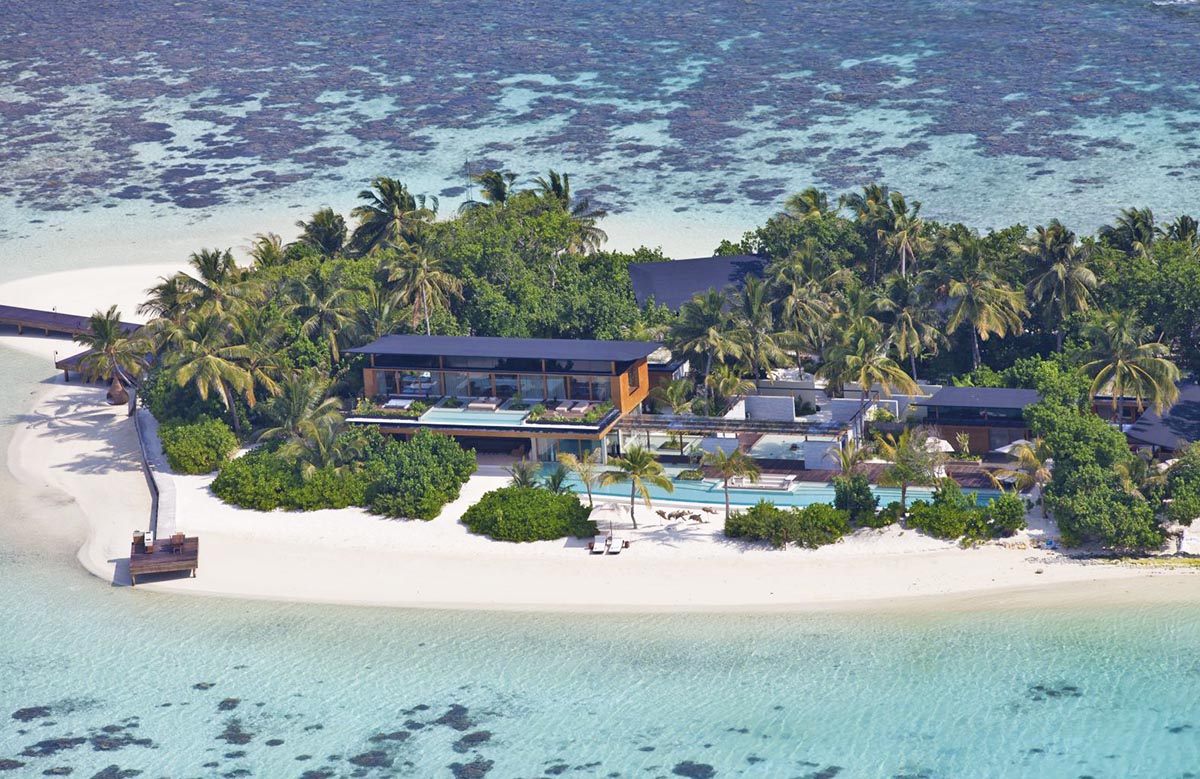 A soft white beach stretches to most areas of the island surrounding while a long jetty takes you to the reef drop off. You can stroll on the beaches or walk to the end of jetty to gaze amazing fish life. Located in Kaafu Atoll, the speedboat transfer takes few minutes from Velana International Airport. The fast-track
VIP service at airport
allows you skip the queue and escape into paradise quickly at comfort.
Kudadoo Maldives With 15 Overwater Residences
Kudadoo Maldives is a tiny island retreat that is perfect for honeymoon holidays. This resort is not designed to host only one couple. The entire island has only 15 rooms which they call residences, 13 comes with 1 bedroom and other 2 residences have 2 bedrooms. Kudadoo may be ideal for large family functions such as weddings, renewal of vows.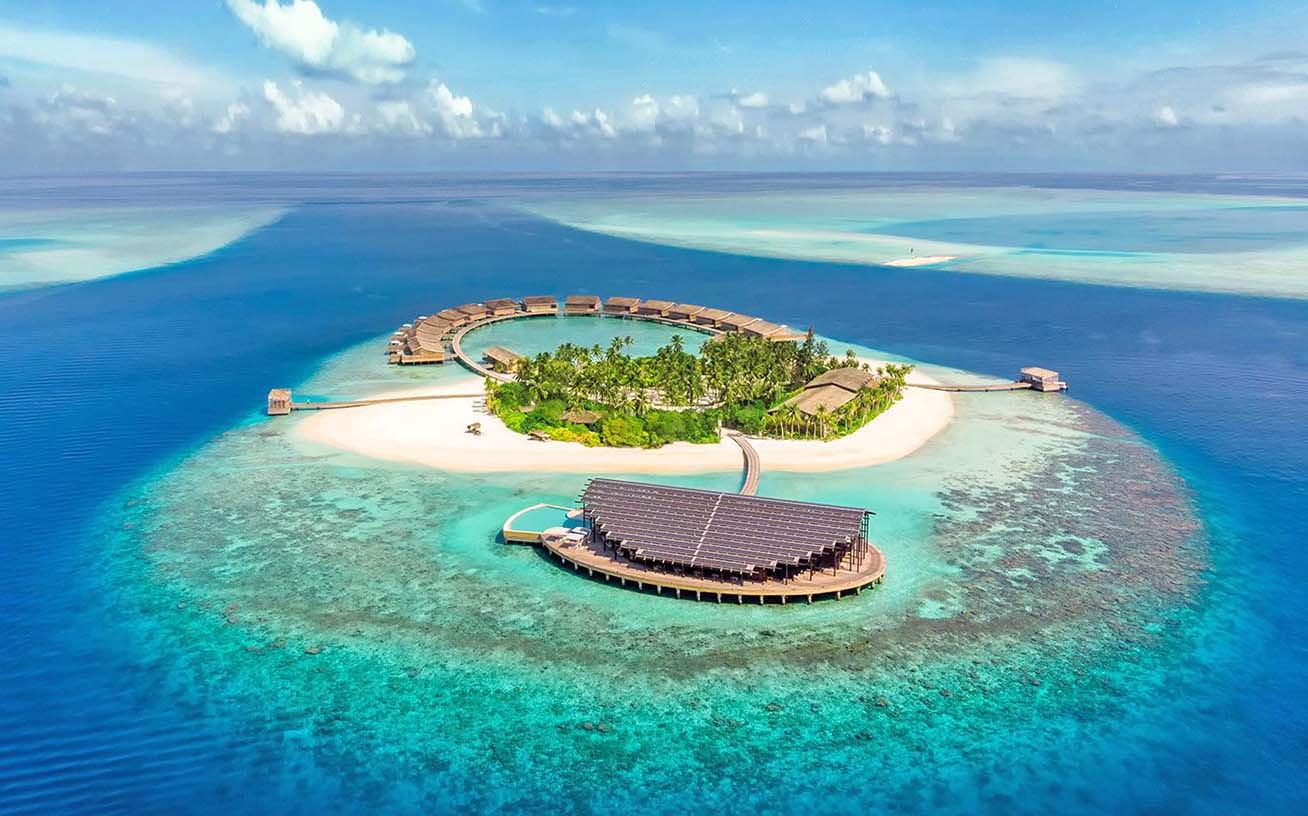 A couple seeking the privacy of entire island it would be relately inexpensive to book Kudadoo compared to much larger islands with several rooms. This tiny patch of paradise is deisgned for extravant luxury and private services.
The resort offers a stressfree All-Inclusive package that goes with the tagline "Anything, Anywhere, Anytime". It is certainly a generaous All-Inclusive package but it does have limitations as resources are limited on planet earth.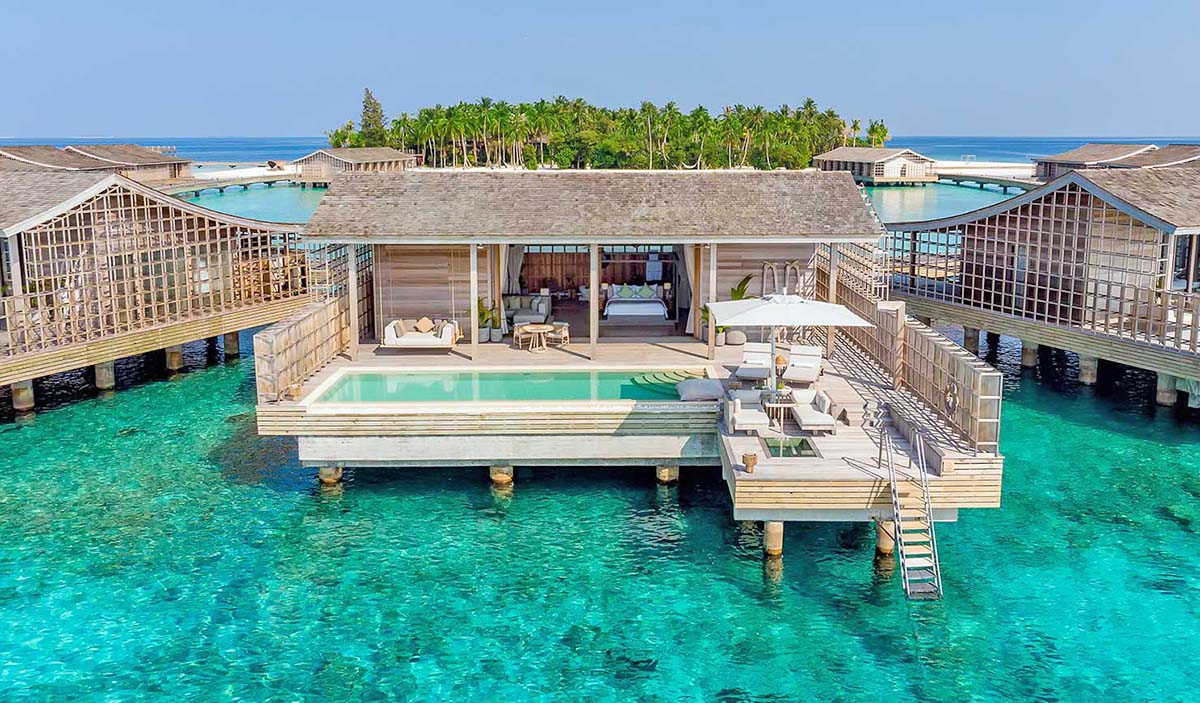 One Bedroom Residence measures 310 sqm in size while the Two Bedroom Residence expands to an area of 390 sqm. Both the room categories are located overwater. The island is so tiny that it does not have space for beach villas. The island offers harmoney in nature with some palm trees and empty spaces with natural vegetation. All the residences come with private infinity pool that measures 44 sqm. Other room faciltiies include IPTV with movies, Netflix, Spotify and latest movies. An overwater restaurant has stacked solar panels to make the island ecofriendly and contrinute to clean energy.
Kudadoo Maldives resort is located near its sister property Hurawalhi. There is an underater restaurant at Hurawalhi that is very appealing. The restaurant is located 5.8 metres below the surface and full glass top allows marine lives to be witnessed in close proximity.
Top Luxury Maldives Private Island For Secret Escapes #Maldives #Malediven #Reise #Urlaub #Мальдивы #Maldivler #Maldivy #MaldivesPrivateIsland #PrivateIsland #MaldivesLuxury #LuxuryMaldives