GoPro Hero 5 Underwater Rig (Frame) For Maldives Photography
12 JUNE 2017
You may be a devoted no-news no-shoe Maldives traveler. But, there are many who love different gadgets. In this post I am going to reveal my personal experience on some of the gadgets and the gadgets I would buy when I have a budget.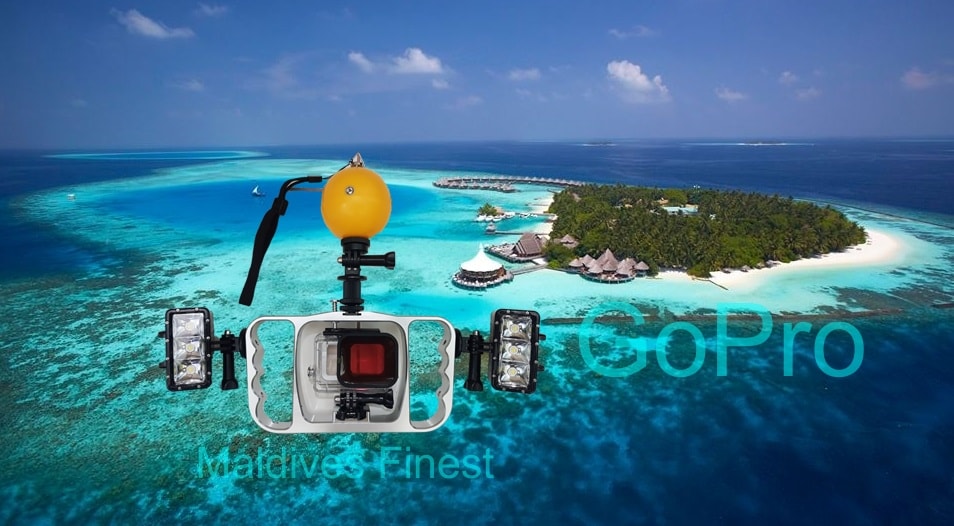 I like snapping pictures. I must confess, I actually have an addiction on this. I use my
Samsung Galaxy S7
which I carry all the time. Once bought a Canon DSLR for better image quality. Guess what? I kept it at home most of the time. Whenever I saw something I liked to capture my camera was not with me. After some months I sold my DSLR camera as I thought was bad investment. Now, for professional photography I just borrow one from my friends.
This year I bought a GoPro Hero 5 Black. I am very happy with this investment. My smartphone is waterproof but I don't take it to water. I believe the level of waterproofing that comes in my phone is only for accidental drops, if I start using it underwater it would develop problems. I have never tested this and I never want to, But IP68 is simply not for using in salt water. At least that is what I believe.
GoPro Hero 5 Black itself is waterproof, you need no housing or Super Suite to get up to 10 metres. That's what they say. For me, I always want to guarantee safety of my equipment. For my GoPro Hero 5 I use third party housing which is much cheaper than the original Super Suite. Third party housing is good enough and high quality. Then I have a rig to mount the camera, underwater lights and a floater. Gopro frame, grip, handle and other names are called for this.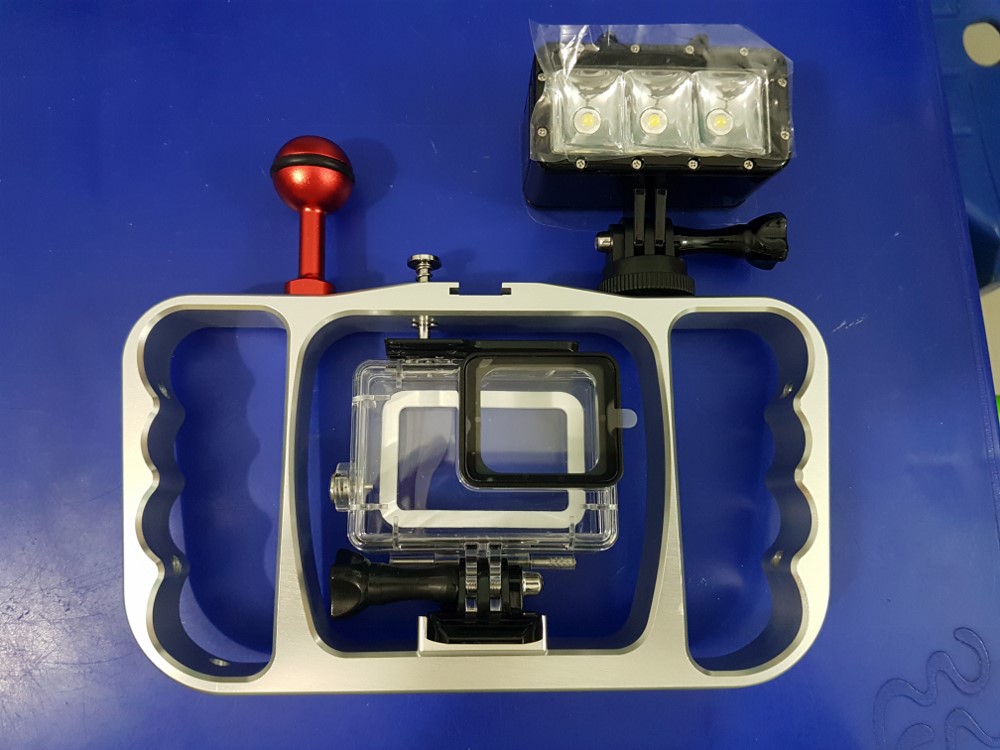 One light is enough to normal use at night but I prefer two lights. If one light I could put it on top. Lights on the sides means it is not comfortable to grip the handle. But, I could sacrifice on comfort to give extra-good lighting and capture perfect shot. This set costs me about $230, I bought parts from different suppliers and assembled at home. The screws used in attaching the parts to rig are also bought separately. It took about 2 months for me to get piece by piece and order what I what I needed next.
Lights on two sides and floater in the middle gives excellent balancing. The floater pushes the rig up. The aluminum rig is considerably heavy and pushes the right down. These two forces make the camera stay upright perfectly balanced. If you leave it on the surface it goes down, up to some depth and stays at that level without going all the way down to sea floor. I have not figured out the exact depth but it's about 5 - 15 meters. Sometimes I use one light, at night I prefer two but one is enough as well.
If you not a
scuba diver
and want to capture the deep you can attach a string to the floater and drop the camera down. Of cause you have to push record button before dropping and figure out the scenes while you stay on the surface. I think you could easily do this for up to 10 meters. Too deep means difficult to focus the camera to right spots you want to capture. If you want to turn the camera you need to attach 2 strings on 2 sides of the rig. If you want to tilt camera up and down while keeping it in same depth you need another string in the middle. I have not done this but I believe you can do this. I always dive and capture shots the way I want, it gives all the freedom to capture perfect shots. The only limitation is the time you spend underwater.
These underwater lights last for an hour at full power, on power saving mode they get close to 2 hours. I prefer full power mode as I do not compromise on quality.
The lights are good for day time use as well. When you are at 25 metres it gets little darker and sometimes you come across caves that are pitch black. Extra lighting helps reveal best colours in the underwater world.
GoPro Hero 5 Black is gives quality that is close to some of the best DSLR cameras with underwater housing. When I get a good budget I would buy a Sony A7Rii which gives great dynamic range.
Gimbal is an essential part of the camera to shoot the island, interior and exterior. Videos become much smoother and high quality. I consider this absolutely essential, unless you are doing for Instagram fun.
Despite having a GoPro I snap more photos with my phone. Battery drains quite fast, a single charge lasts only for a day. When you are in Maldives you may have planned activities such as dolphin trips or an escape to an uninhabited island. You do not want your smartphone be dead. So, always carry power bank when you are travelling and keep it fully charged. My power bank had saved my life lot of times.
If you are really into photography, for business or just out of passion, you also need a drone. I use Phantom 3 which is very intelligent and captures high quality videos and still photos. There are many videos on YouTube about this. When I have budget I am planning to buy GoPro drone to attach my GoPro Hero 5. Their drone is called Karma.
If you are visiting Maldives and want to have this rig please contact us on advance. We can buy the parts and assemble the full system.
GoPro Hero 5 Underwater Rig (Frame) For Maldives Photography. #Gopro #Hero5 #Photography #Underwater #Scuba #Diving