4 Maldives Resorts With Water Slide In The Villa
Water slides are not only for kids and these Maldives villas are popular among honeymoon couples and families. For people who love water villa there are 2 options. Other two are beach villas. To get a water slide you need not comprise the type of villa you want. But, these are all luxury five star resorts. There is no four star resort that offer villas with water slides, not even a public water slide. One of the resorts need to fix a water slide in the main pool, so everyone can enjoy.
Private Reserve at Gili Lankanfushi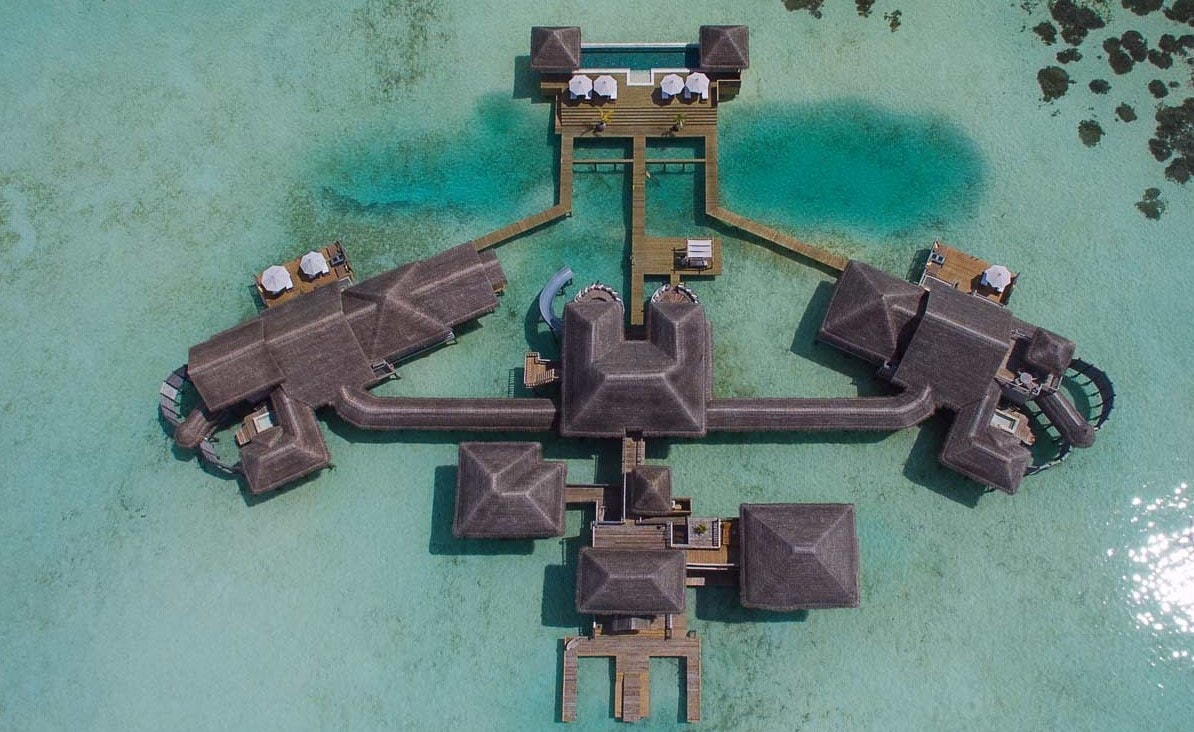 Built on 1700 sqm the Private Reserve in Gili Lankanfushi is widely known as the world's largest water villa. This giant abode has 2 Master Suites, one with one bed room and another with two bedrooms. The very front part of the structure is the swimming pool and sun deck. Pathway leads to both left and right, on each side there is a Master Suite.
Mid-section of the structure is dedicated for entertainment lounge. There is a water slides that drops you in a private lagoon. Yes, it's a private lagoon area amid Private Reserve. Various facilities are built around this lagoon area, giving much needed privacy for ultimate indulgence.
To attend all your wishes there is a personal butler living in your abode. Named Mr. Friday, he has his own room next another living area, kitchen and spa. All these facilities are on the ground floor.
When you go upstairs there is a gym that could be converted to Nanny's room if you have todlers to be looked after while you enjoy your holiday. There is also a library and games room. Diving Pavilion on upstairs is an amazing spot feast under the stars while staring at the Indian Ocean on a full moon night.
Private Ocean Retreat at Ozen Reserve Vittaveli
Private Ocean Retreat
is a lavish kingdom secluded from rest of the resort. Built over the water, these villas have no jetty that leads the way to the resort, instead there is a shuttle boat to take you back and forth whenever you wish. This is the ultimate in privacy and freedom to inhale peace in your own secluded paradise. Developed by Jumeirah, Vittaveli is one of the finest resorts near Male', it takes just 20 minutes by speedboat from Velana International Airport and it is home to countless superyachts that anchor at the resort to enjoy its lavish lifestyle.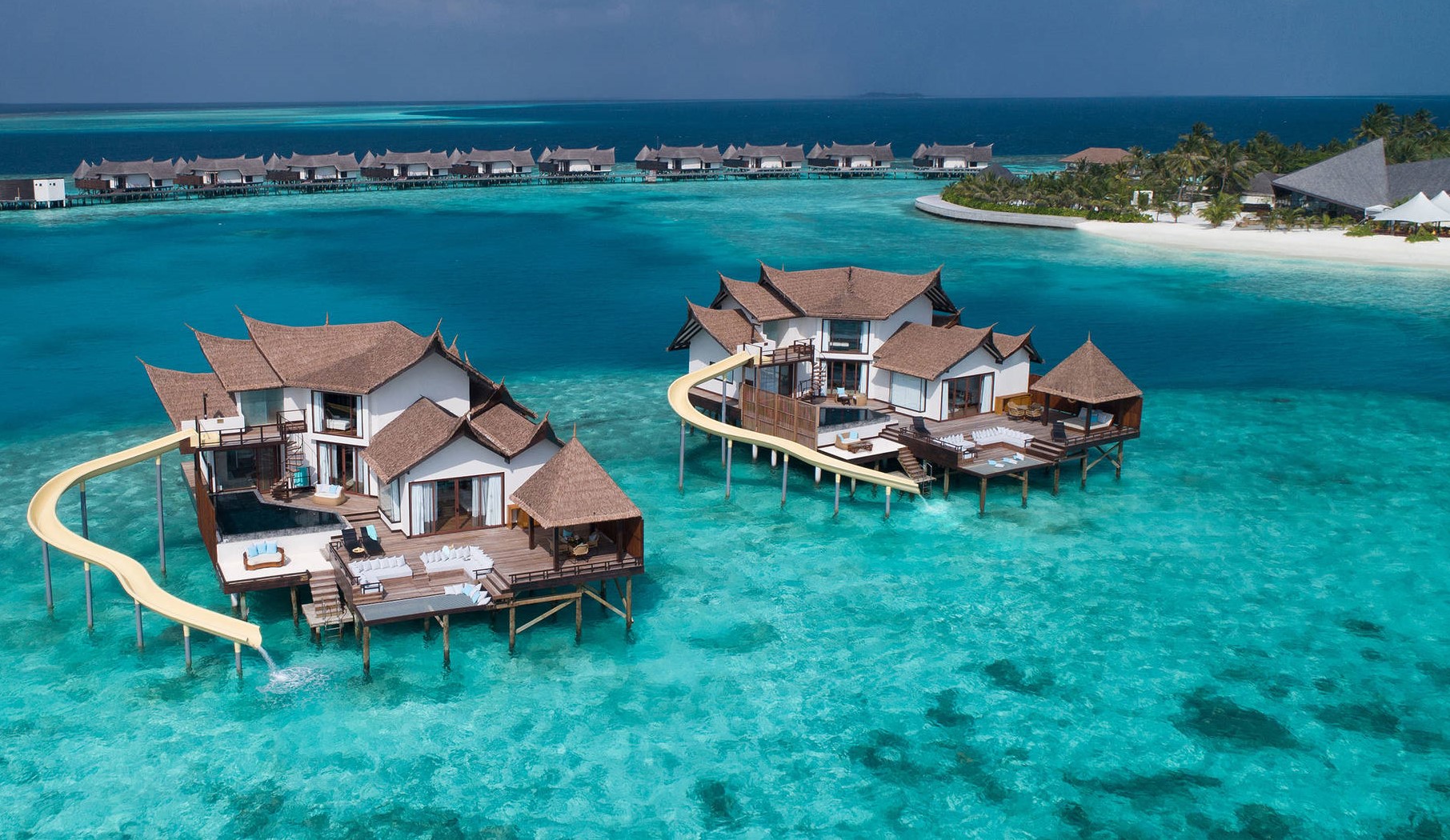 This two-floor lavish water villa at Ozen Reserve Vittaveli comes with a private water silde. Take the outdoor spiral stairs to access the second floor, turn on the water and and just slide through. Don't forget to wear lifejacket if you are not a confident swimmer. You will land in the crytal clear water and there is a ladder to go up and repeat timeless fun in secluation and luxury. These villas come with 2 bedrooms, perfect for couples on honeymoon and families with kids. It is not ideal to accommodate infants and young children.
Infinity Pool Ocean Villa With Slide at Ozen Reserver Vittaveli
Ozen Reserve Vittaveli offers another choice for guests who look for private water slides. The Infinity Pool Ocean Villa With Slide looks simiar to Private Ocean Retreats, only little smaller in size and there is jetty connecting villa to the resort. The water slide attached to the room is slightly smaller in these villas when you compare with Private Ocean Retreats. The single-bedroom villas give access to the slide by spiral stairs leading to an alevated deck at the rooftop.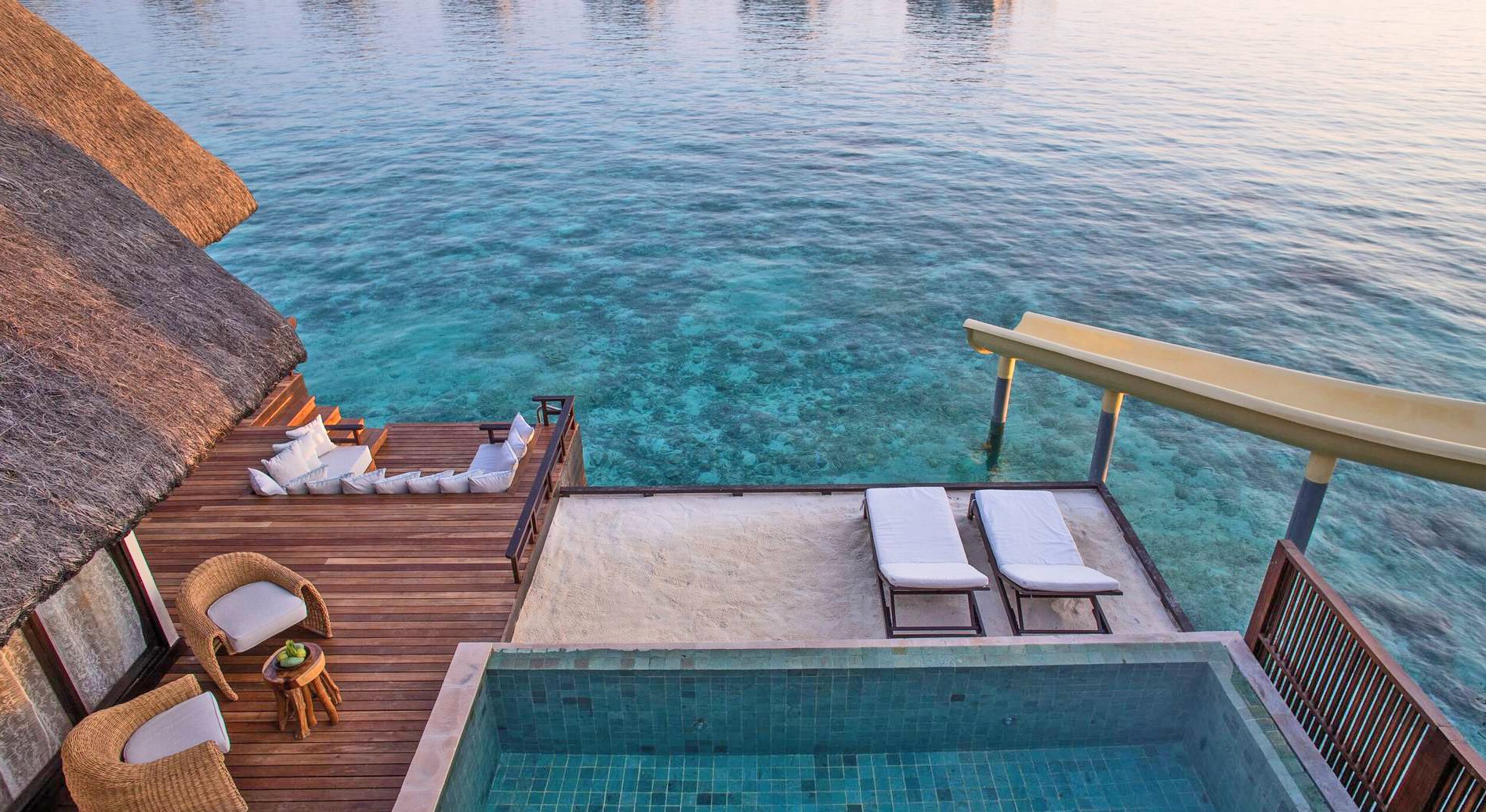 There is an outdoor retreat area for lounging with drinks, this could be perfect place to spark unforgettable memories of a honeymoon holiday. Private sun loungers are placed on a small section of beach made on the deck. Even if you live over the water you can still feel the exotic nature of the Maldives when you walk barefoot on the sand. If you want more the villas are conveniently accessible to the resort by wooden jetties, go to the island and walk around.
Soneva Fushi Private Reserve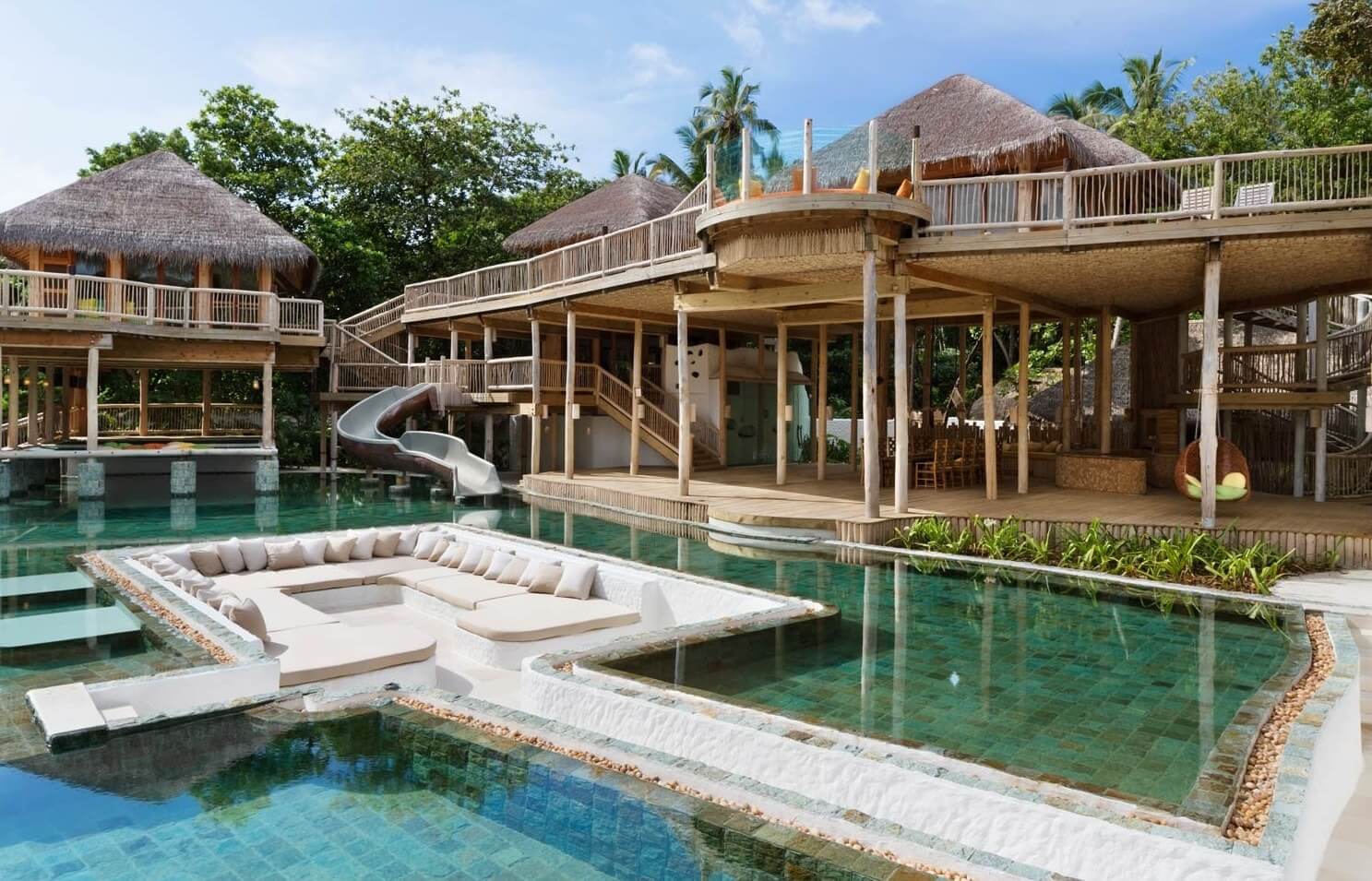 This beach villa is humongous and comes with a water slide. There are 9 bedrooms (yes nine) and occupies an area of 5540 sqm. There is everything you need; children's bedroom, private pool, spa, sauna, steam room, fitness centre. One of the highlights of this villa is the lounge that is located inside the pool. This place is perfect for dining in groups. Wonderful memories be made in places like this.
The water slide not being very high up, makes this ideal for kids. There is easy to access to get up as stairs are right next to it. Kids would want to repeat what they love. The designers may have considered this factor and put the stairs so they can enjoy sliding over and over again.
Soneva Fushi Villa 15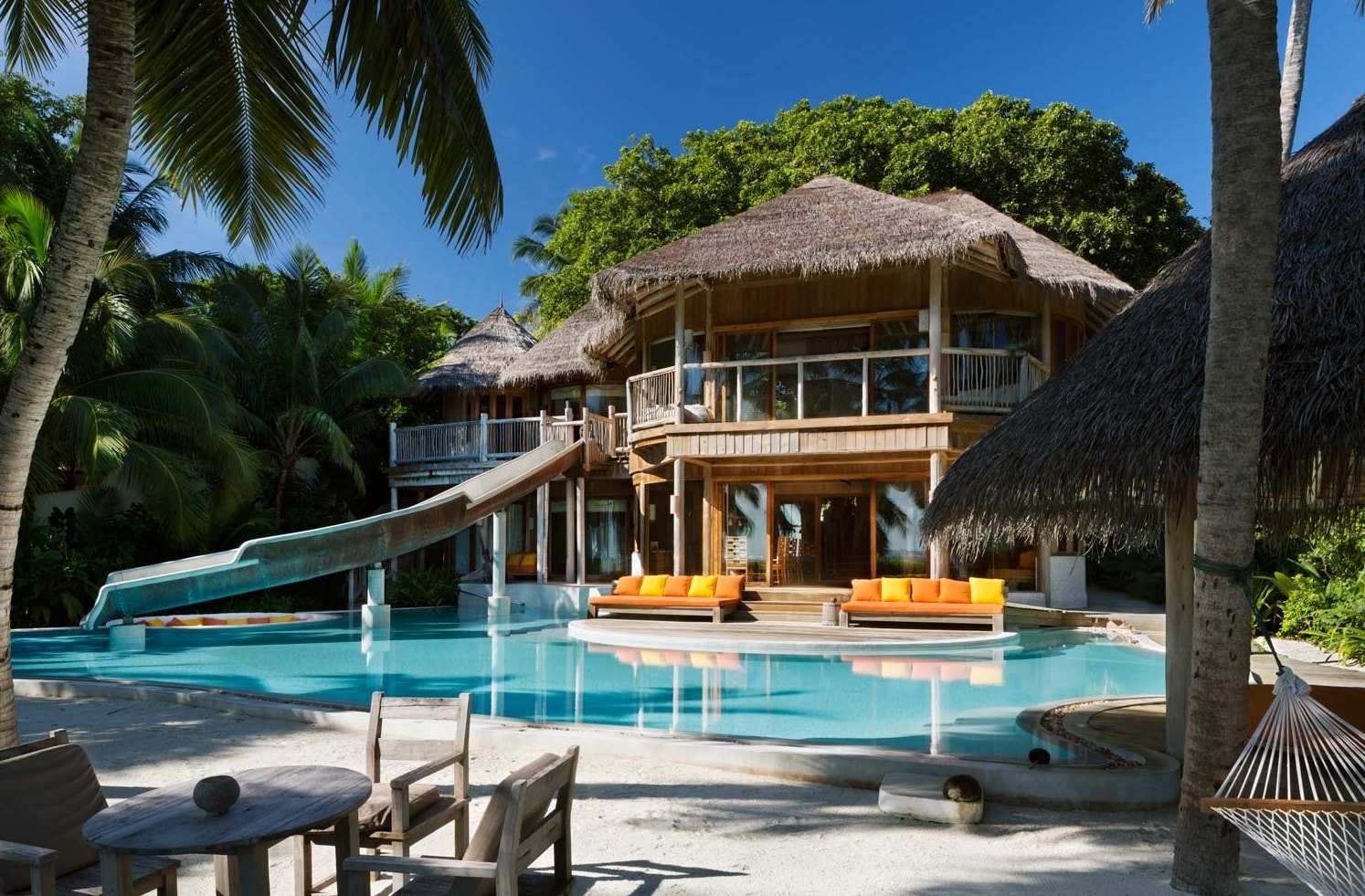 This one has 4 bedrooms and comes with a water slide too. Villa 15 is the name given to this beach villa. It occupies an area of 2375 sqm and is another giant villa anywhere in the Maldives. This villa is built on the idea of self-sustenance, meaning everything you would want is provided in the villa. If not, your personal butler is there to get you anything that you wish.
Soneva Jani Water Villa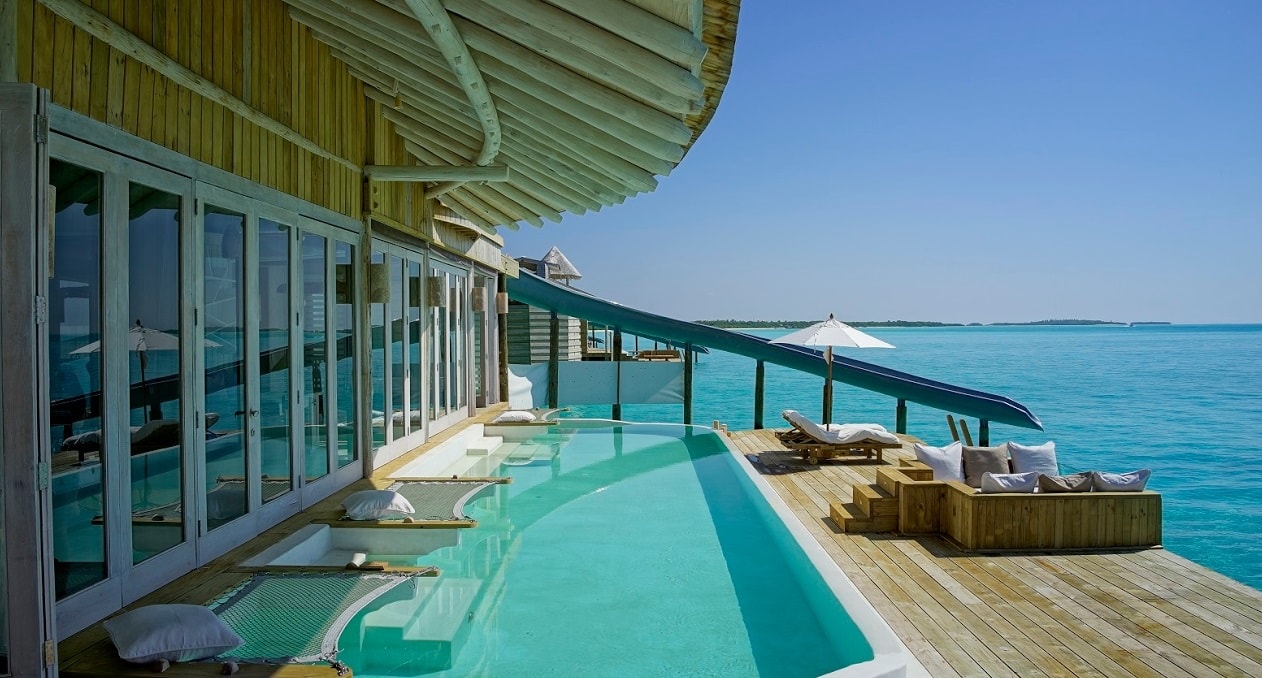 All the water villas at Soneva Jani comes with water slide. Get in and enjoy the fun of being throw in to clear lagoon that had been preserved for thousands of years before this island become a resort in the recent years. Soneva resort have a nation-wide reputation for being nature friendly. Most of the interior and exterior comes with rustic finishing that is just wonderful. These luxury villas have a high demand. Few months back I visited Noonu Atoll and met the colleagues working here, the island enjoys full or near full occupancy through the year.
Oh yes, these little pool hammocks look gorgeous. Something new to Maldives. You want to be in the sun or the shade? Choose the time of day to your liking. Even in the sun if you want to cool down just make few turns and you will land in the pool. If you think that would be too cool, just dip the feet. Please don't dip the head (:D).
4 Maldives Resorts With Water Slide In The Villa. #Maldives #Malediven #Waterpark #waterslide #fun #honeymoon
Maldives Water Park
Private Ocean Retreat with Water Slide at Ozen Reserve Vittaveli Maldives
Soneva Jani in Noonu Atoll takes luxury to next level