Private Ocean Retreat With Water Slide At Ozen Reserve Vittaveli Maldives
05 JUNE 2020
Private Ocean Retreat that comes with its water slide at Ozen Reserve Vittaveli Maldives took the term "paradise" to heart and puts the other villas, properties and resorts to shame. This unbelievably lavish villa really does feel like as if it's a small captured piece of heaven with an enchanting otherworldly charm that'll have you confusing reality and fantasy. So, what exactly makes this specific residence so special?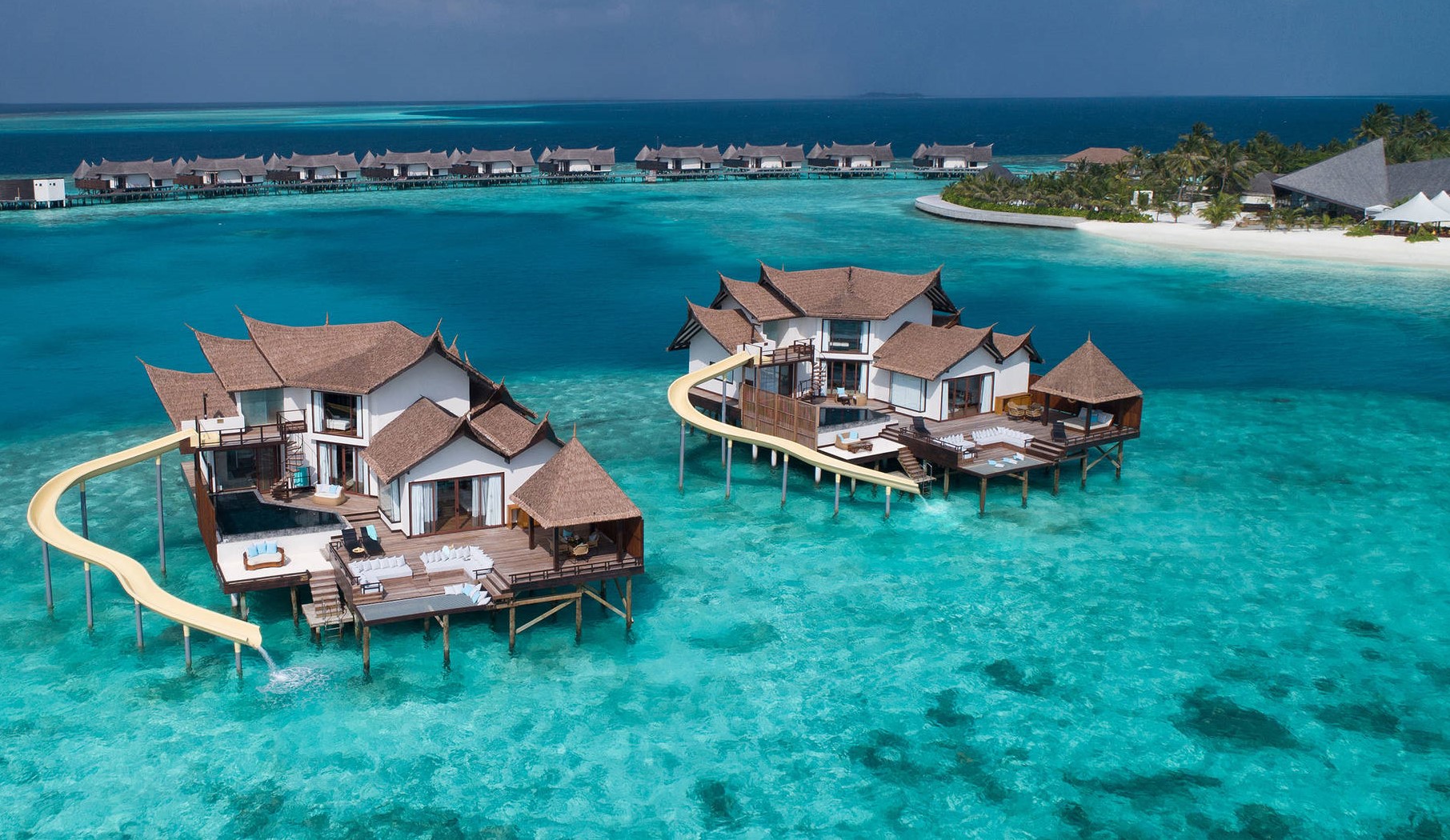 The villa comprises of a main structure that is of two floors, another room attached in the lower floor, an extended deck that outlines both structures and of course the
water slide
that can be accessed on the deck from the second floor. There's a master bedroom is on the top floor and there's another bedroom in the lower floor each with separate toilets, a separate living space and a walk-in closet as well as many glass windows and doors throughout. Not to mention that everything about this villa is huge. This is the closest thing to a mansion perched on water that you will ever find.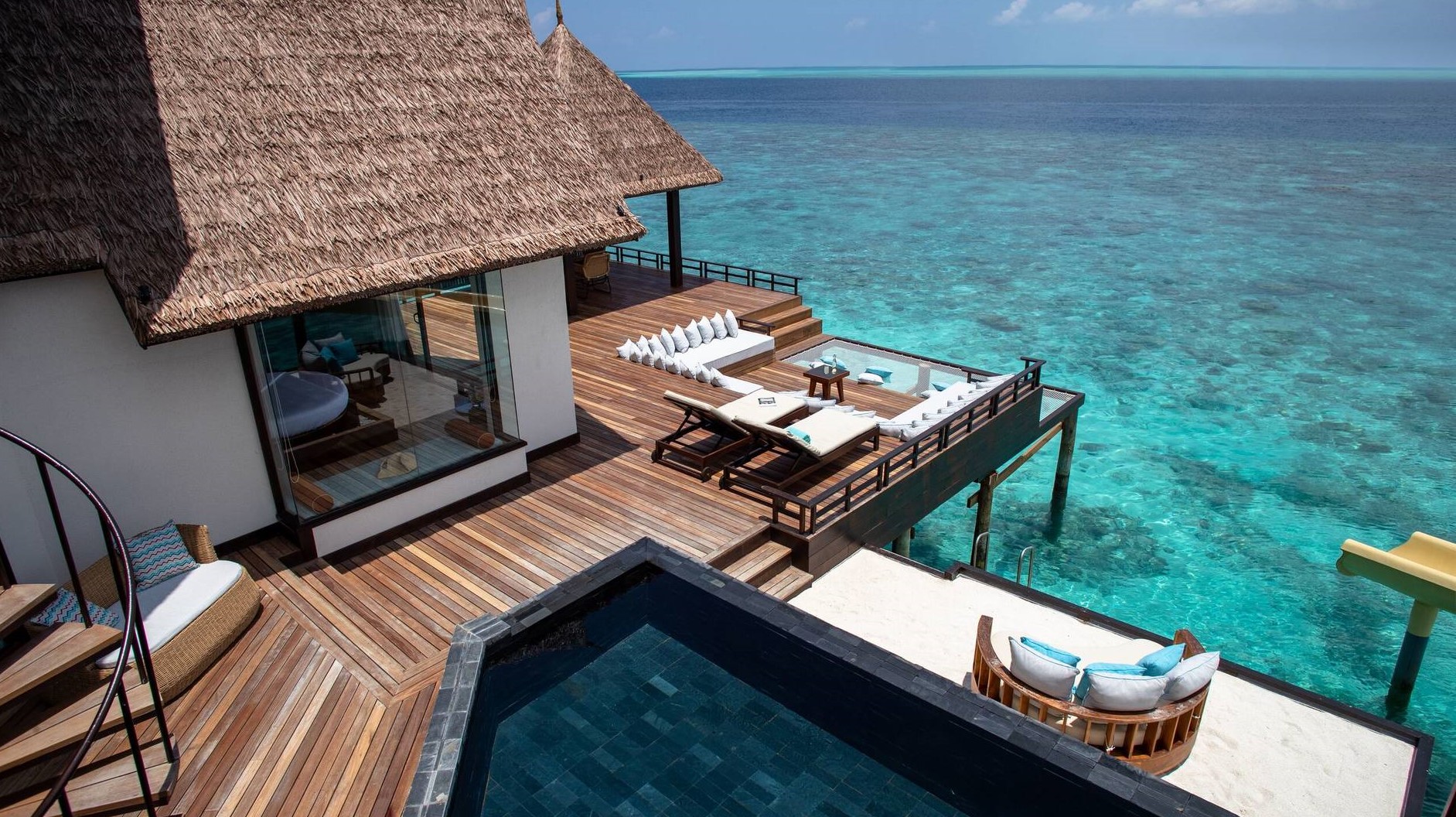 The thing about this private retreat is that even though the approach is obviously a chic rustic villa with a thatched roof, it has taken a slightly different approach to it. The many rooms and the unique thatch roofs that point upwards at the tips has contrast really well with the pristine mainly white exterior of the villa. The glass windows and doors have a wooden outline and only embellish the color scheme. It's both luxurious and rustic, but the emphasis is on luxurious.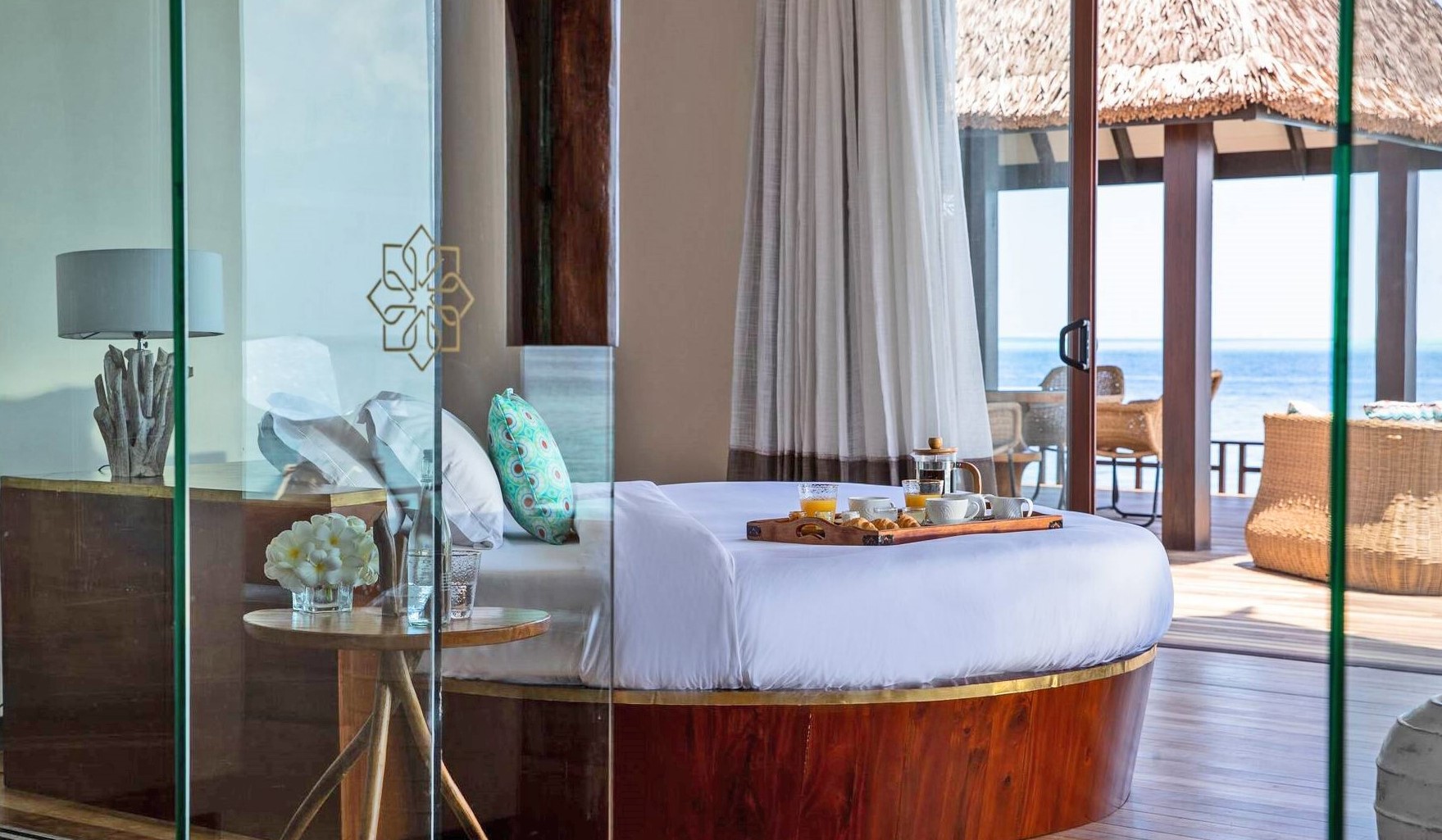 These villas are very well refurbished with the classic rustic charm embellished by the wooden décor, lintels and various ornaments throughout. The master bedroom on the second floor is the main highlight, just gorgeous with a king size bed with a beautiful star shaped skylight right above equipped with curtains to provide full privacy. Don't forget the elevated view that you get from the full door sized glass window of the unforgettable and breathtaking ocean.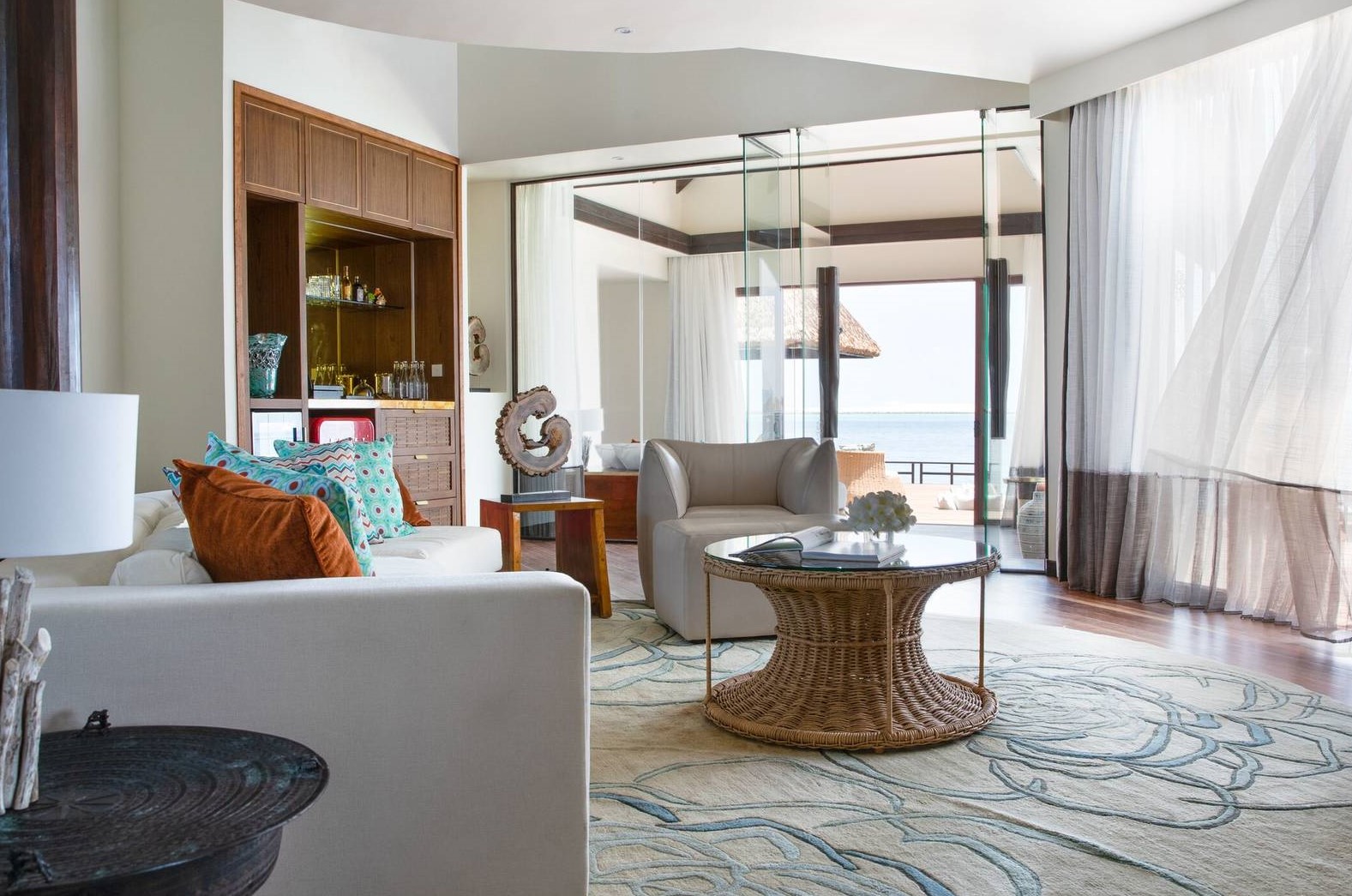 The bedroom second bedroom is quite charming too, connected directly to the living space. Both of them have beautiful vernacular wood carvings and decorations as well as sofas and colorful pillows that creates an enthralling atmosphere throughout the whole villa. There's a walk-in closet as well as an in villa private bar and a full-sized wine fridge.
Let's start with the extended deck that is so huge it counts as a room all by itself. Moreover, it comes with the classic infinity pool on the right side (secluded by a wooden screen) for you to enjoy the view as well as multiple outdoor seating (more like lounging) options. There's one right in front of the pool and if you keep going there's a few steps which leads you down to a stairway that lets you take a dip in the water, or go for a snorkel whenever you fancy.
If you don't take the stairs and go the other way, there's sunbeds for you, two outdoor couches stacked with pillows and in front of that is an overwater hammock netting. If that's not enough there's some more plush couches on the other side which is shaded by a thatched roof. Additionally, there's stairs from which you can access the deck that's attached to the water slide.
There's More?
Want to be pampered? Transform spaces inside the villa into chic spa treatment areas. Yoga sessions and personal training sessions for the fitness fanatics living in paradise can are also available. If the aforementioned private bar and wine fridge isn't enough, there's also a personal butler on call 24/7 that takes care of everything. Romantic flower-petal bath, arranging sandbank adventures or a private seven-course gourmet dinner cooked by a personal chef. It is truly luxury incarnate. If you haven't been wowed by now, then there's nothing that could faze you. These villas are quite unique, and flawless in every aspect and angle you an think of. There are quite a few of these one-of-a-kind residences that are floating mansions in their own right, and they can only be found in the hidden gem that is Ozen Reserve Vittaveli Maldives.  
Ozen Reserve Vittaveli
On google maps, Ozen Reserve is classified as a hotel, which is a complete understatement. It is a luxurious, five-pearl private island resort that takes up the entirety of the Bolifushi Island and has suites that dot the lagoon surrounding the island. The resort marries traditional Maldivian architecture, mesmerizing ocean views, and elegant interiors. Built in the style of a traditional Maldives village, the property maintained the essence of the island group, while adding luxe touches such as a beautiful large pool, restaurants on white-sand beaches, and suites and a spa that are placed directly over the water. Moreover, there are only 89 unforgettable over-the-ocean suites or on-land villas meaning it doesn't even get that crowded.
Although it's only a 20-minute boat ride from the airport, the island is quite isolated, with every other island also 20 minutes away. The resort is jam-packed with activities, a necessity since the closest island is a 20-minute boat ride away. Guests can make use of the diving center, spa, fitness center, yoga classes, four restaurants, a bar, and a gorgeous outdoor pool. Hot breakfasts and Wi-Fi are free, but boat transfers cost extra. The hotel looks like a romantic escape, but it is family friendly.  
Other Accommodations Options2> Infinity Pool Ocean Villa with Slide The smaller, less luxurious (only relatively) but still lavish cousin of the private ocean retreat with the water slide. These villas are quite elegant and uniquely designed with the classic Maldivian village but completely draped in luxury. What sets this apart from the other ocean villas is of course the water slide which you can access from an elevated deck.



The exteriors include extended seating areas and glass bottom floors, with overwater hammocks completing blissful outdoor relaxation. The interiors have a fresh look too, and have been enhanced by a new color palette, inspired by the warm Maldivian sunsets and sparkling turquoise lagoon. The additional windows add an airy touch and bring the beautiful outdoors in, and whilst the resort offers ten food and beverage outlets, the in-villa private bar means guests may simply choose to stay in the luxurious surroundings of their island hideaway.



Beach Villas and Suites A Maldivian resort wouldn't be complete without its villas and suites lining the beach and the island. The variants of these beach villas include the ones facing sunset, the sunrise (the villas) and the two-bedroom ones(both the villas and suites). Don't forget that all of them have pools and every imaginable luxury you can think of. Air-conditioning, flat-screen TVs, Nespresso machines, kettles, minibars, and free Wi-Fi are also provided Due to wooden floors, predominantly white and cream color schemes, and architecture like that of a Maldivian village, these villas give off a luxe, airy, and relaxing vibe.

  Royal Residence The ocean retreat might be mentioned in the beginning have been the focal point of this article, but let it be said that is' not the main highlight of Ozen Reserve Vittaveli. That would be the Royal Residence, the ridiculously lavish property of a staggering 35000 square meters. That's basically two thirds of a football pitch!

This property is a private five-bedroom villa. More like mansion pretending to be a villa! Simply put, if you're looking for unabashed beachfront luxury, this villa is a perfect for you. It is set on a private stretch of white sand beach and features a private jetty you can be sure you'll be arriving in style.

The villa has every luxury you can imagine – and then some. From two private pools to an over-water bar and from a private LifeFitness™ gym to an exclusive Talise™ spa, this villa is more like a very luxurious village that caters to families and groups looking to indulge in five-star tropical luxury. The Ozen Reserve Vittaveli Royal Residence can accommodate up to a staggering 14 guests.

MY Vittaveli Superyacht Want to explore tropical paradise in luxury? Looking to separate a special occasion? This accommodation option is an honorable mention as it's basically the very luxe, alternate Maldivian experience that you didn't know you wanted or haven't thought of yet. Set sail from the resort's sparkling blue lagoon on an overnight trip and enjoy four hours cruising around the idyllic Indian Ocean. Enjoy a BBQ dinner on a deserted island, try a fishing trip or discover the underwater world on a snorkeling excursion. You can also go on a full day cruise if you want, it's all up to you. Moreover, go snorkeling or dive into the deep to meet some Manta Rays while at it.

Restaurants & Bars There are several dining options on-site, starting with a free hot breakfast buffet every morning. The destination dining option means staff will set up a meal wherever you are. On the beach, by the pool, in the pool, and even in the rooms. Swarma, An inspired Indian dining experience where innovation shapes every culinary creation, while the indoor Samsara serves international and Asian cuisine. Fenesse is an overwater restaurant with endless ocean views where classic and contemporary French cuisine married and Cyan is where you appreciate the sparkling Indian Ocean from a private overview terrace while dining.

Mu Beach Bar & Grill has a beachside location and B4R is a lively bar that provides an assortment of drinks. There's also the Cuvee Wine Library which is a treasure trove for epicureans, offering delicious dishes and an expertly curated wine list.

  Features & Facilities The features and facilities found throughout the island are designed to keep guests cheerful, occupied, and relaxed on the private island. Though every villa and suite have their own private pool, the resort also has a large, geometric pool that overlooks the ocean and is surrounded by wooden sundecks, cabanas, and padded loungers. In addition to the pool, there is a private beach and diving center from where guests can scuba dive and explore six different shipwrecks in the immediate ocean area. Additionally, there's a semi-submarine coral trip available as well as watersports with free snorkel gear. The fitness center also overlooks the ocean and the room is filled with cardio and weight-training equipment. Fitness classes and outdoor yoga are on offer, plus bikes are available to borrow.

The Talinese Spa Relax in the Talise Spa and choose from their extensive selection of wellness programmes featuring organic global products and signature treatments exclusive to Ozen Reserve Vittaveli. Moreover, the therapists there create their own unique 100% pure coconut oil harvested from the island and you even buy your own bottle for yourself in the boutique. The spa offers romantic bath menus, couple treatments as well as mother-daughter and father-daughter packages as well for some family bonding.

  Kuda Koli Kids Club Although the resort looks more like the romantic getaway for couples, it is actually pretty child free. One would argue that being kid friendly is actually for the couple as well, as they can leave the little ones to enjoy at the resorts own Kuda Koli Kids Club catering to children from three years and above. Each and every activity promises fun, and are educational as well. They also include exciting options such as stingray feeding, treasure hunts, arts and crafts and Junior Coral Ranger Sessions where kids can learn about the importance of conservation and plant their own corals. The Kids Club also features a family and children's pool consistently monitored by a lifeguard for your peace of mind. Babysitting services are available upon request.

Private Ocean Retreat with Water Slide at Ozen Reserve Vittaveli Maldives #Maldives #Ozen #OzenReserve #Vittaveli #Luxury