22 Things To Do At Velaa Private Island
Maldives Resort Ranking indicates Velaa Private Island is undoubtedly one of the best resortsin Maldives. At the time of writing this post Velaa ranks at #1 in the Maldives. Owned by a Czech billionaire, Velaa is among the very few islands that were exclusively booked for a private holiday and is well known for maintaining its class and appeal in the luxury traval atmosphere.
In Maldives there are many well known international brands such as One&Only, Four Seasons, Conrad Hotels, but Velaa has beaten them all in the quest of becoming
best resort in Maldives
. Having this achieved we thought to write about the activities you can do at Velaa Private Island.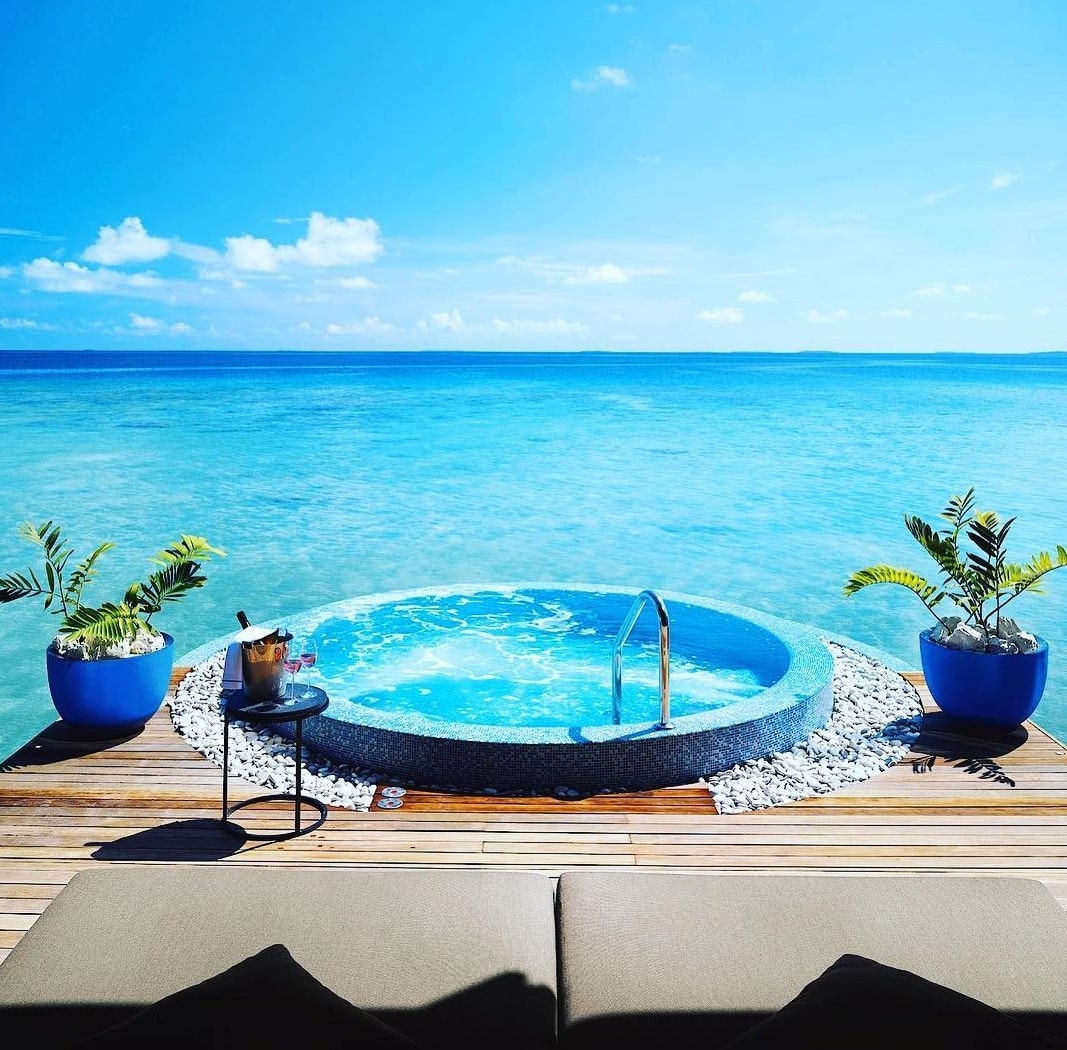 1. Outdoor Jacuzzi
Not many resorts come with a well positioned outdoor jacuzzi like this. When you are at Velaa Private Island you should spend some time relaxing in this while enjoying the breath-taking view of the lagoon that fades away into the Indian Ocean at a distance.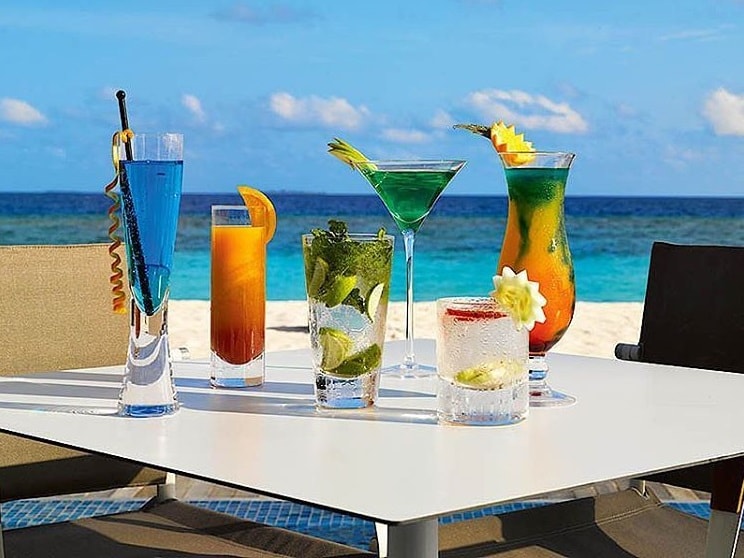 2. Drinks
Velaa is well known for out standing guest satisfaction. Because the resort offers everything to go with the flow. There is an amazing collection of drinks to grab and enjoy at any location that suits your mood. Be it a colourful cocktail or a classic mocktail Velaa serves some of the world's finest. Sunset is a precious time to stare at horizon, otherwise may be dolphins far away in the ocean that you may be spot.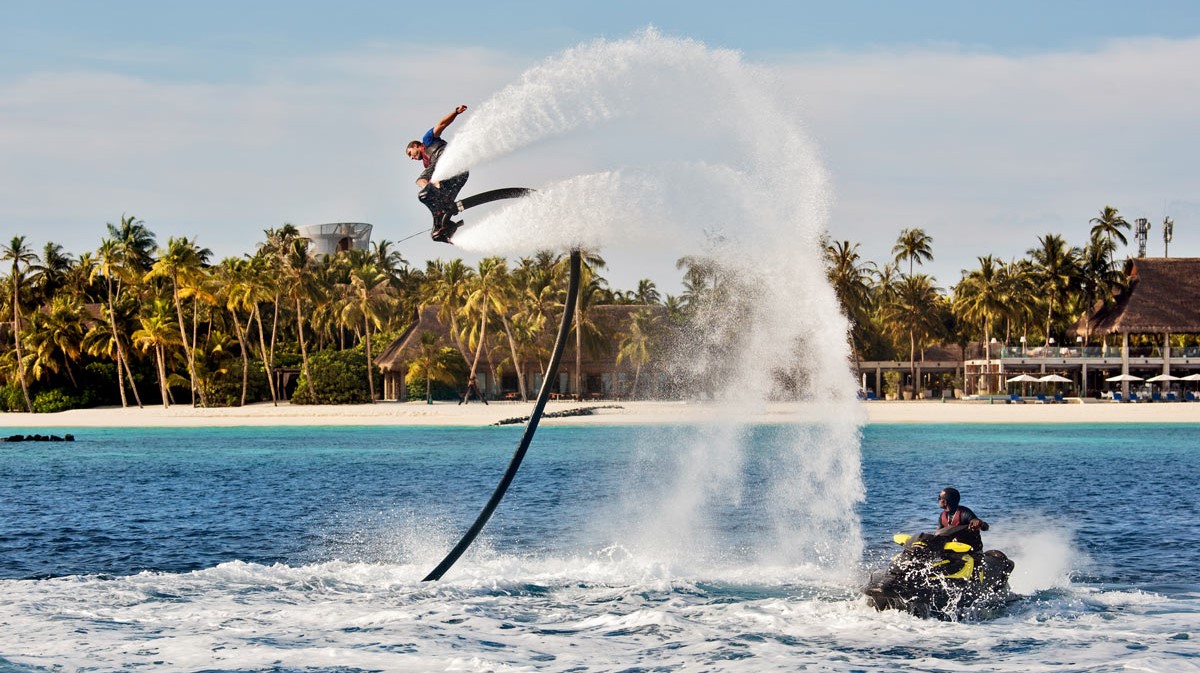 3. Flyboarding
Not everyone is a pro like this. But you can definitely give a try. It is fun and exciting. Do you believe you can fly? Velaa Private Island offers a variety of watersports and flyboarding is a unique activity that you may have never tried before. New activities create wonderful memories in paradise.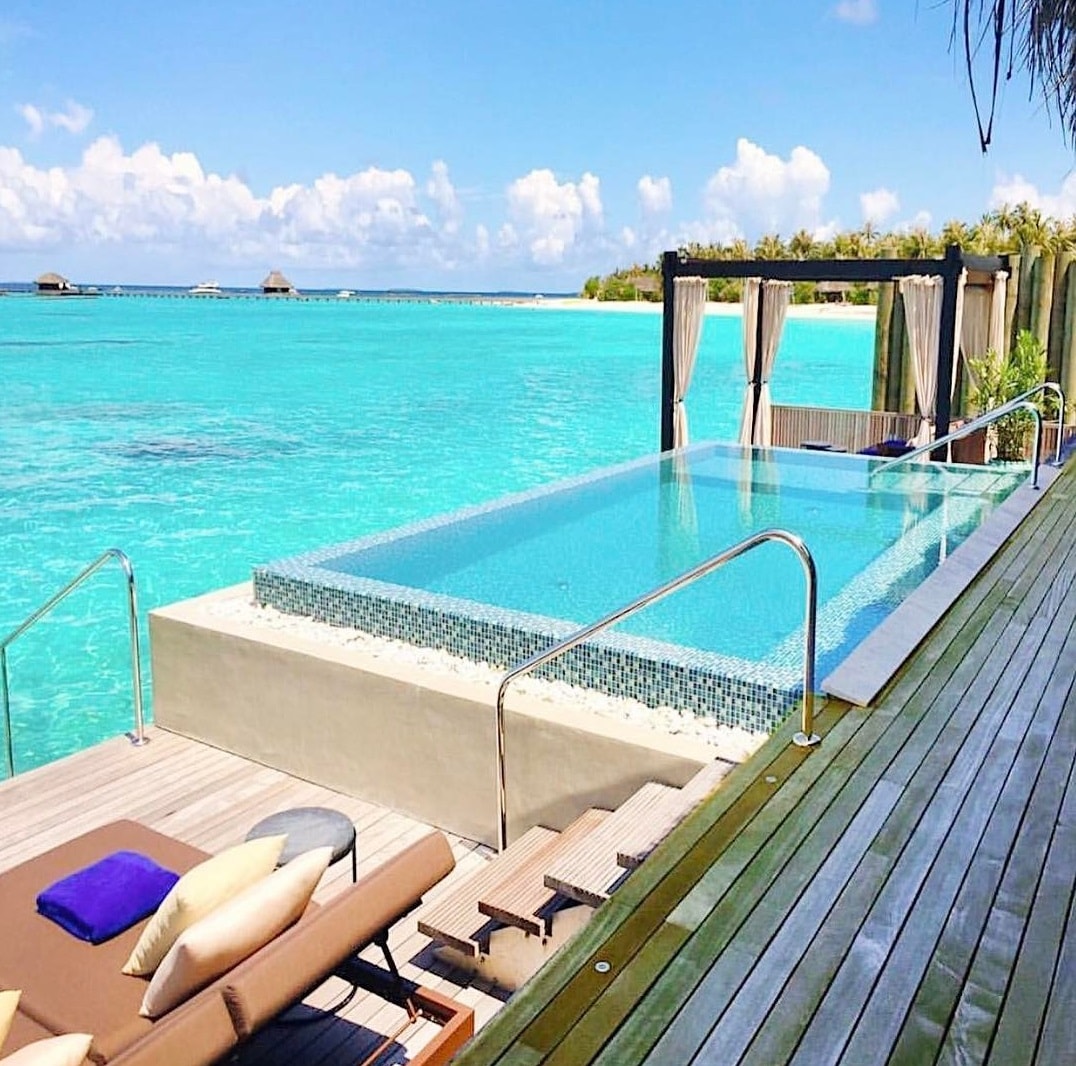 4. The water villa pool
Sometimes the best thing to do is to do nothing. A spot like this could help you unwind and relax yourself. Velaa Private Island comes with great locations to indulge, but a striking view like this cannot be observed in every spot. Just relax and listen to the emptiness of nature as you glance the pristine lagoon and beach at the distance. There may be some sea birds at times that chirp and breaking the nature's calmn for good.
5. Golf
Large part of the small island is occupied a golf course that gives a stunning view while players enjoy the game. Enjoying a variety of things could be an enriching experience. While watersports are great you could also take time to enjoy in land, views are different but pleaesing the senses. If you are lucky there could be a visiting coach during your stay. Velaa is among the very resorts in Maldives that offer this activity.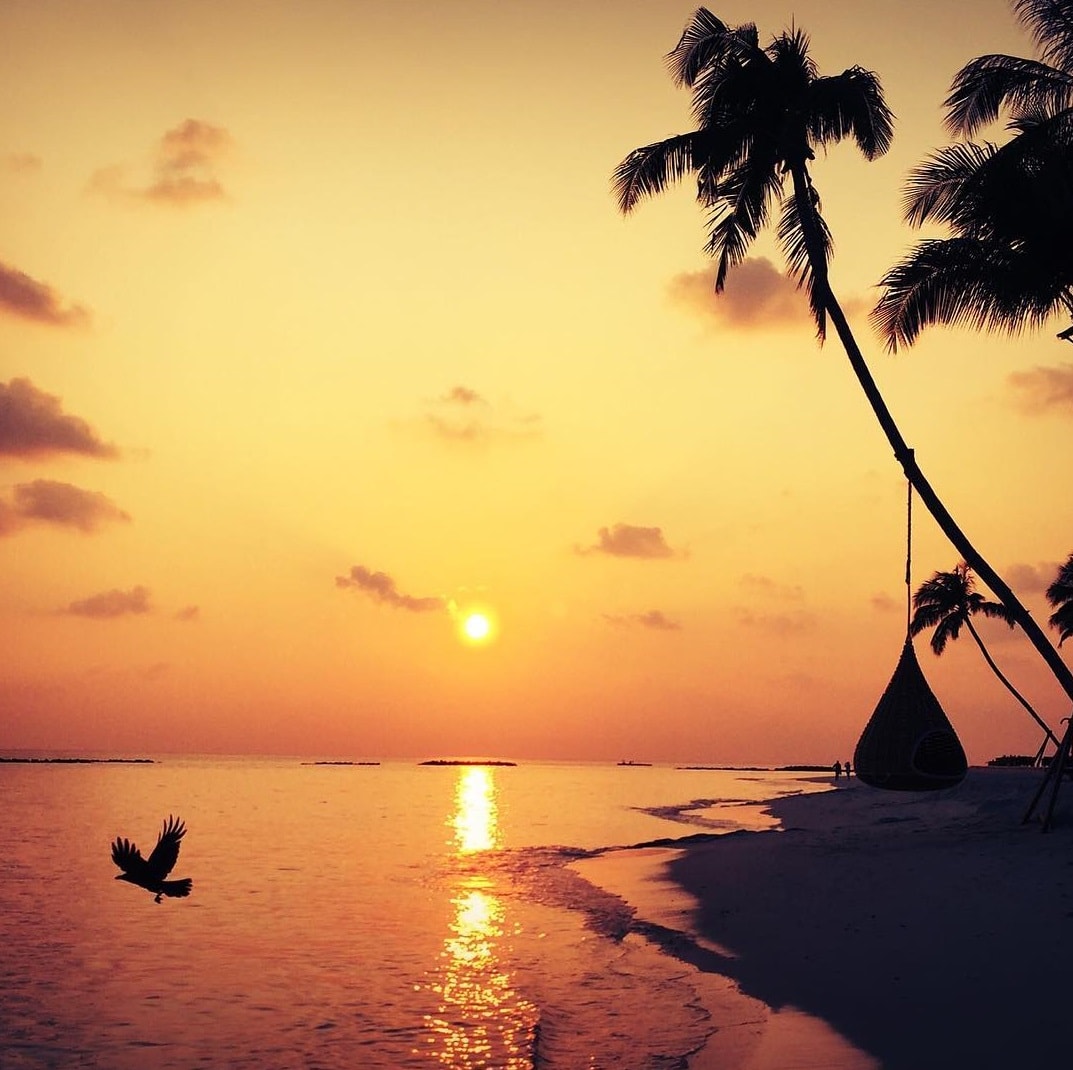 6. Sunrise
Sunrise and sunsets are breath-taking in the Maldives. Do spent some time looking at the spectacular sun that is surrounded by clouds of different shapes and pleasing colours. Don't forget your drinks. Grey herons huge birds that constantly keep looking for prey, they start early in the morning and it is a pleasant sight while your enjoy sunrise in the Maldives. If you want to do meditation or yoga just go with the flow.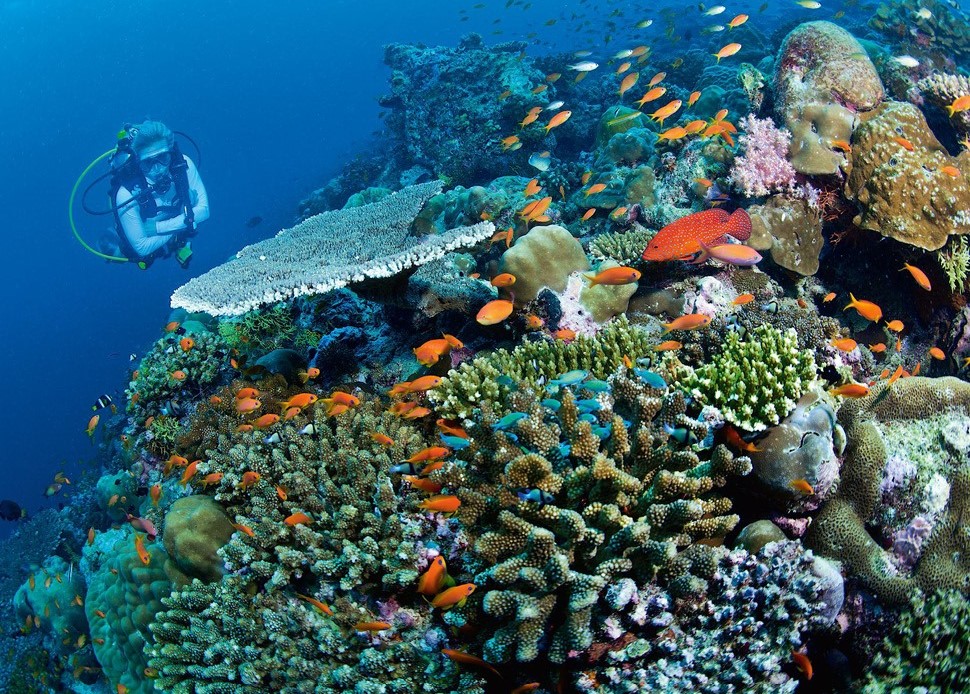 7. Scuba Diving
There are many reefs in
Noonu Atoll
that are rich in colourful coral and its inhabitants. Diving is fun and addictive. Some say the most beautiful things in the world are underwater. Go there and explore. The house reef and lagoon of Maafaru island is a guaranteed place to spot turtles. Manadhoo house reef is well known for manta rays and sharks.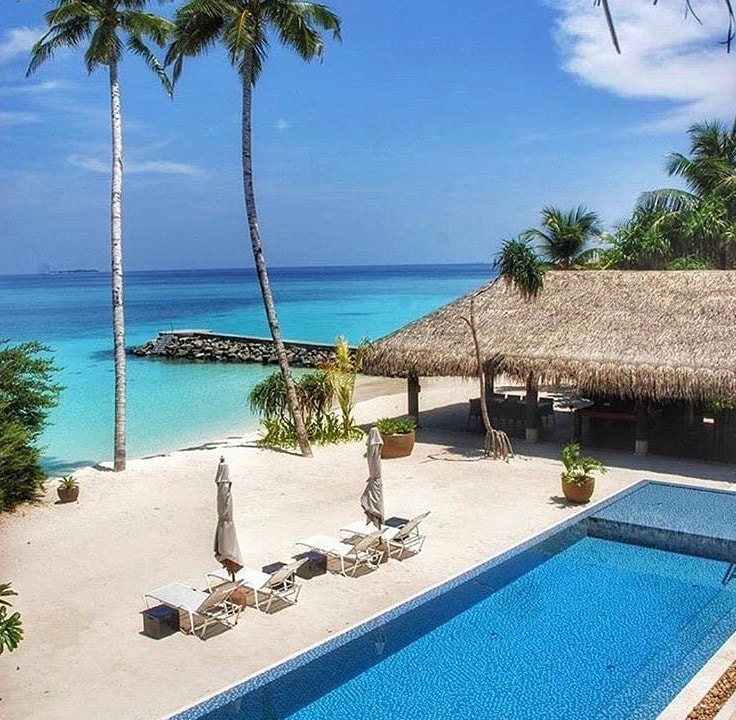 8. View from Beach Villa
Another location that gives you a striking view is from your Beach Villa. A generous size of breach front pool with palm trees around is a relaxing atmosphere to spend time without having to go anywhere. Forget your slippers and walk barefoot to feel that nature. From time to time you can plunge into the lagoon or your private pool.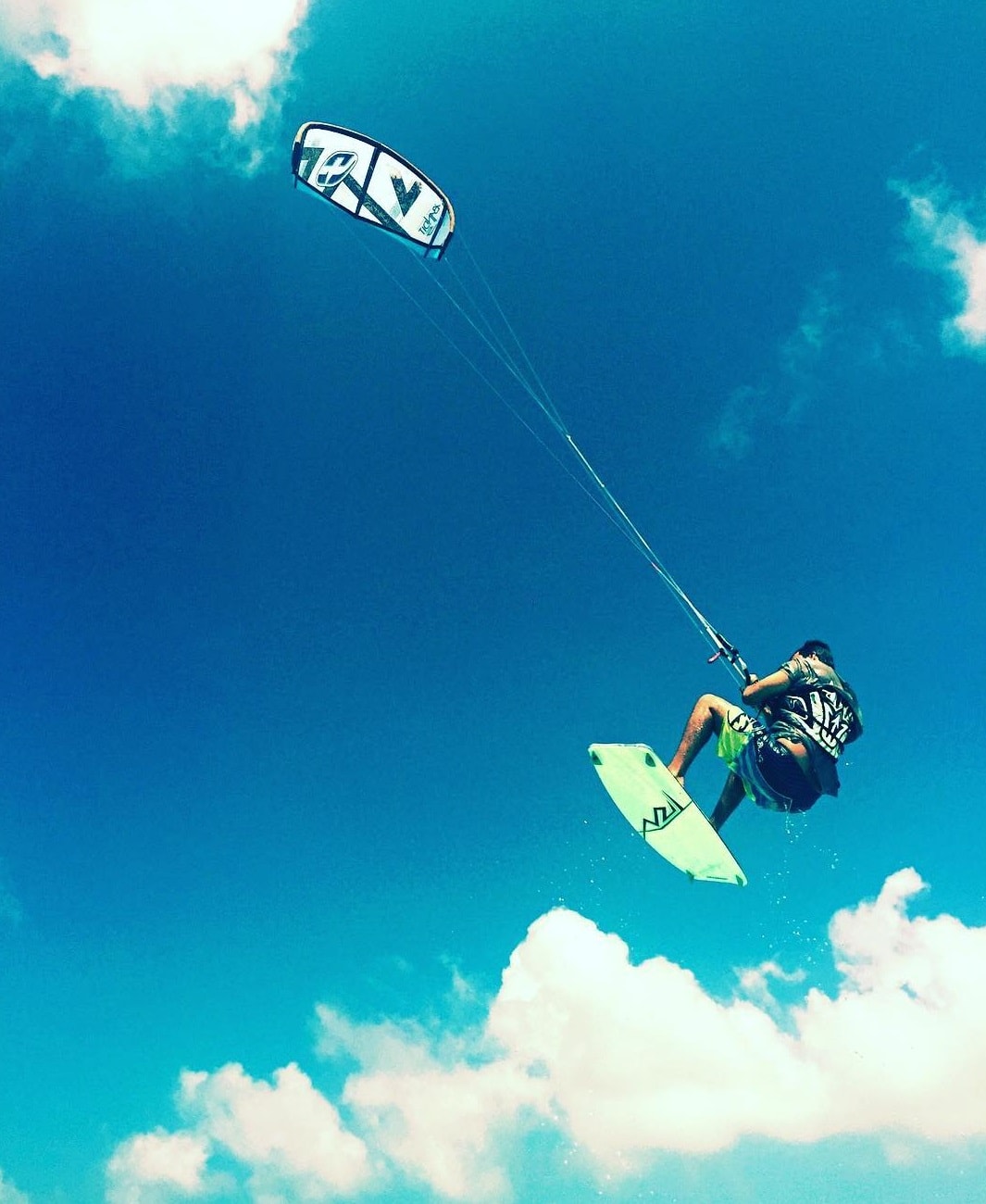 9. Kytesurfing
Not everyone likes motorized sports. On a good windy day kytesurfing could be addictive to spend whole day out in the lagoon. Watersports instructors will brief you about the safety, including boat movements at some locations, to the most part it's just you and freedom to enjoy. Getting your kyte hung on a coconut tree would be a bad landing.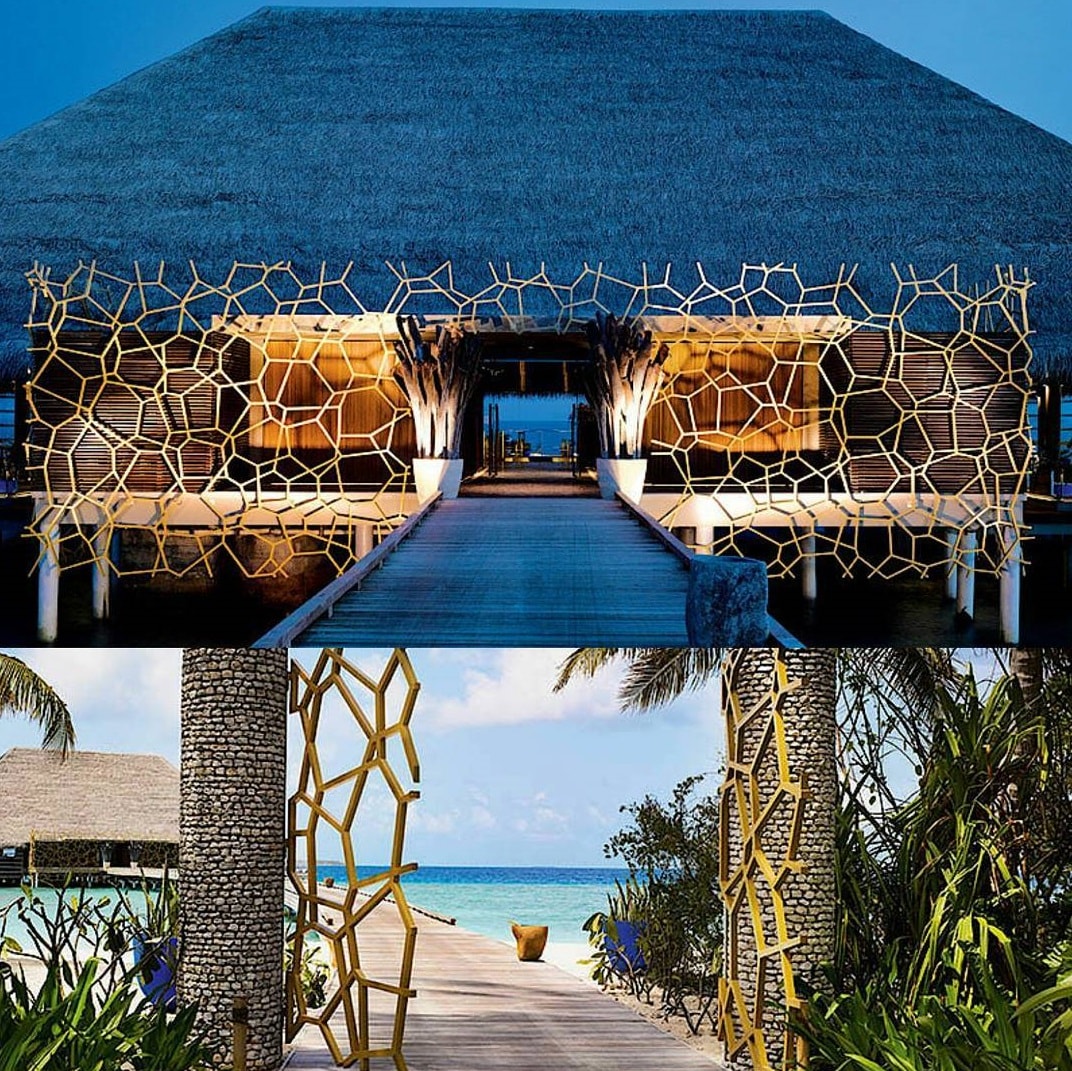 10. Fine dining
Athiri the main restaurant offers an attractive array of foods to enjoy on your luxury holiday. Aragu is the fine dining restaurant in the lagoon. Try Aragu at least once during your stay. Reserve a table for two and enjoy a romantic dinner. In fine weather there should be a cooling breeze to keep you in nature's comfort.
11. Private Yacht
Photo by Nasruali: Ancient kings of Maldives used to travel in yachts like this. Now you can try this masterpiece of traditional architecture at Velaa Private Island. You can also do fishing or dolphin watching right on this yacht.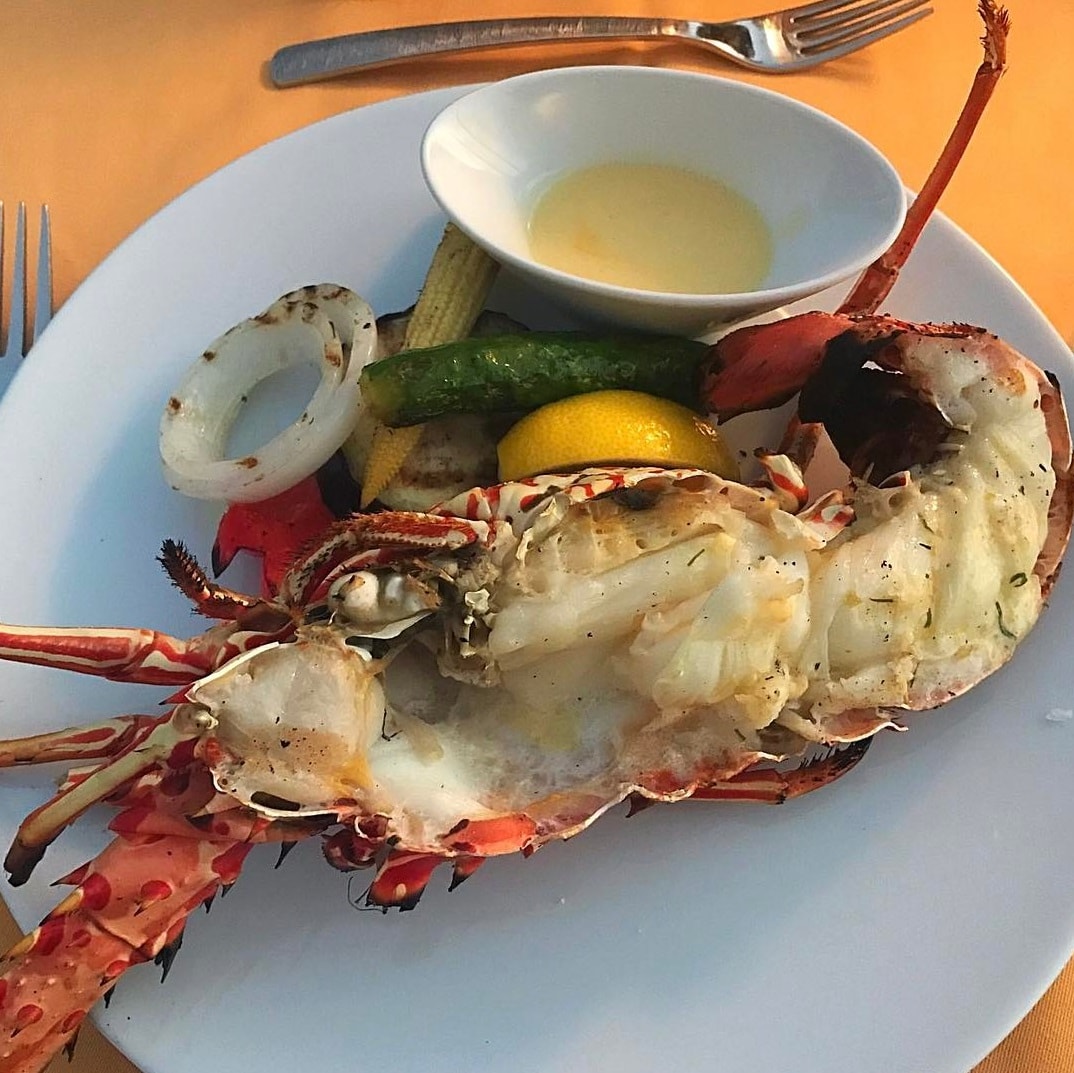 12. Maldivian lobster
Photo by Elen.elba: Velaa buys fresh lobsters from local fisherman. Book a lobster dinner on the beach and enjoy with your loved one. Remember that these were caught in the clear waters of the Maldives, not in murky ponds of commercial farms in Thailand. Enjoy nature's taste and rich flavour.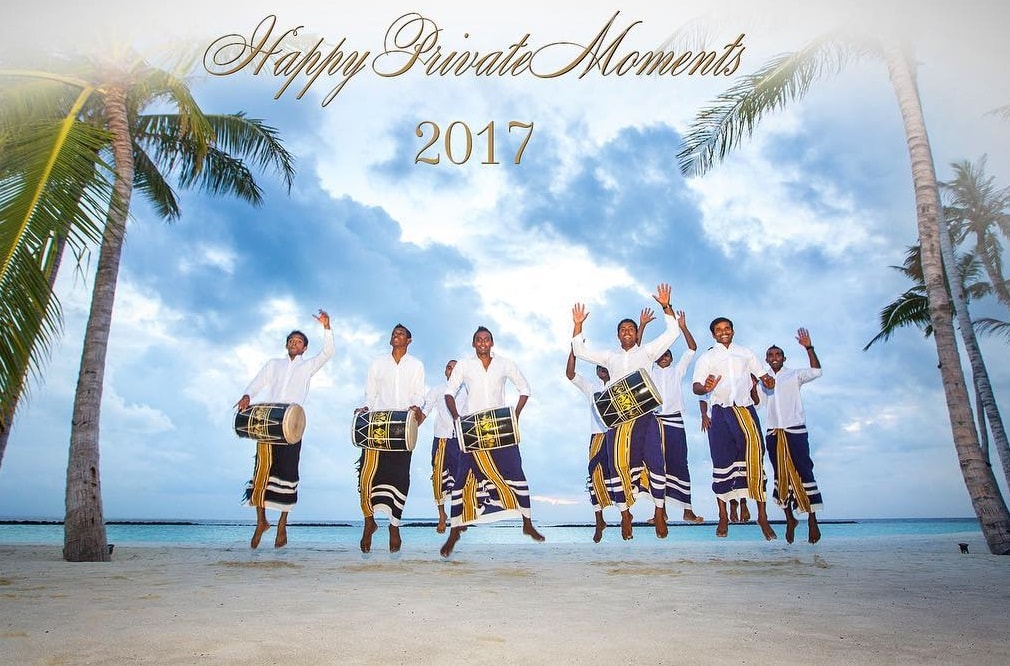 13. Local music
Bodu Beru is the traditional drum music and it is on your evening entertainment that rotates over the week. Don't be afraid to catch up the steps and dance with the local performers. It just takes a while if you try and your movements will do just fine. Sip your favourite drink as you enjoy local entertainment.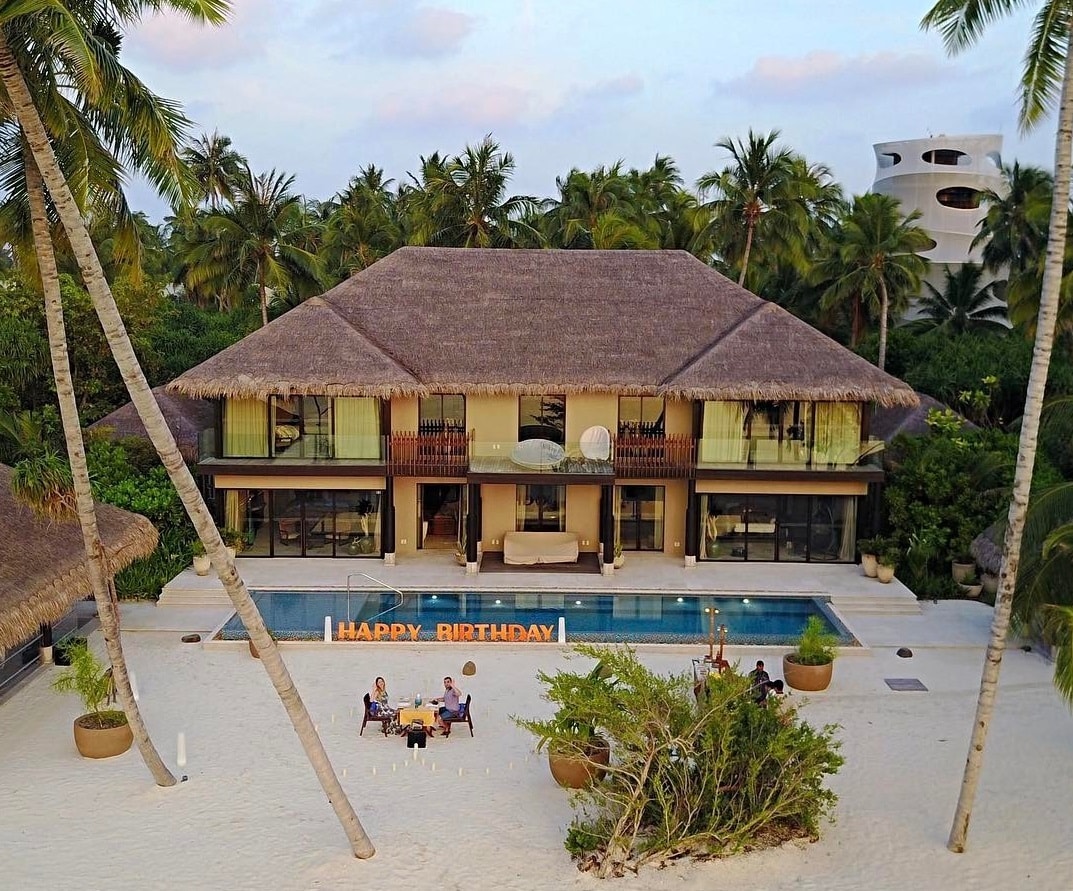 14. Celebrations
Photo by Elena.elba: Best way to celebrate birthday or anniversary is to have a private dinner on the beach. Extra long and slow evening would be perfect to let nature witness your timeless moments. You coud order some flowers beforehand or be creative to surprice your spouse. Remember that is a wonderful spot to reflect the good times of life.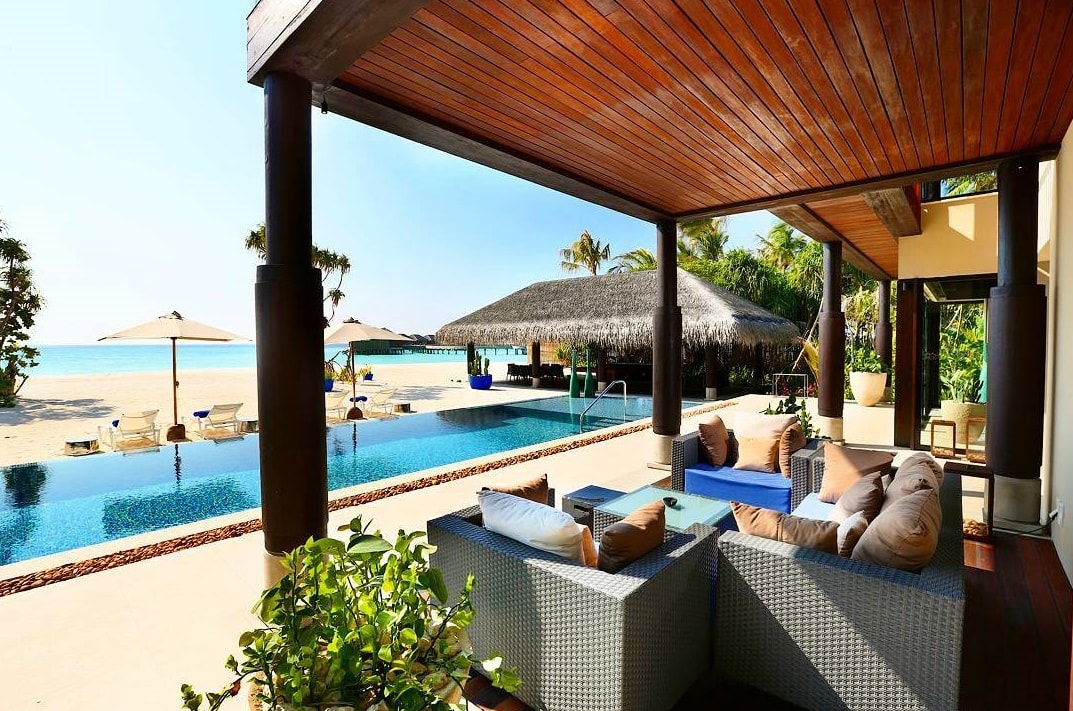 15. Lounging
In Velaa there are several spots that are ideal to spend your time. This is your Beach Villa lounge area. Grab a story book and enjoy. This is a nice location that is perfect for Instagram or just chat with friends. But, too much distraction is not ideal when you are in paradise.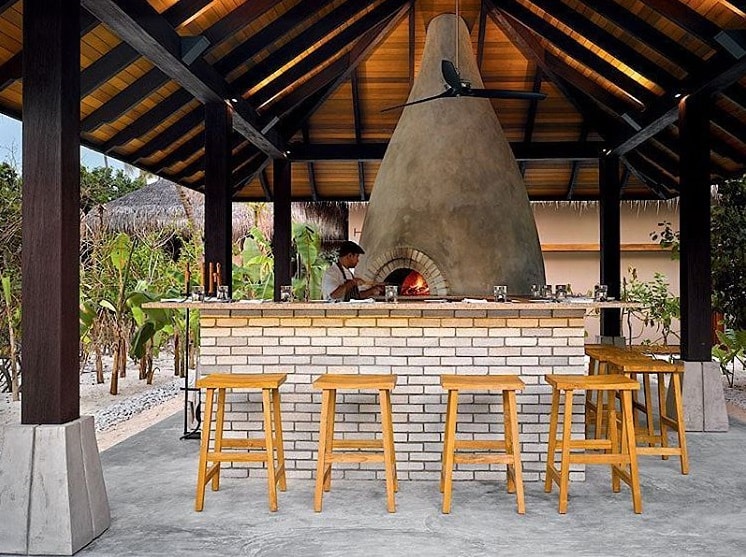 16. Pizzeria
If you want to go light on your lunch try this pizzeria and it is certainly not the usual pizza you get elsewhere. Remember that Velaa is one of world's finest destinations and they won't keep a food outlet open like this unless it comes with best in quality and satisfaction. At the centre is a wooden stove for natural flavour.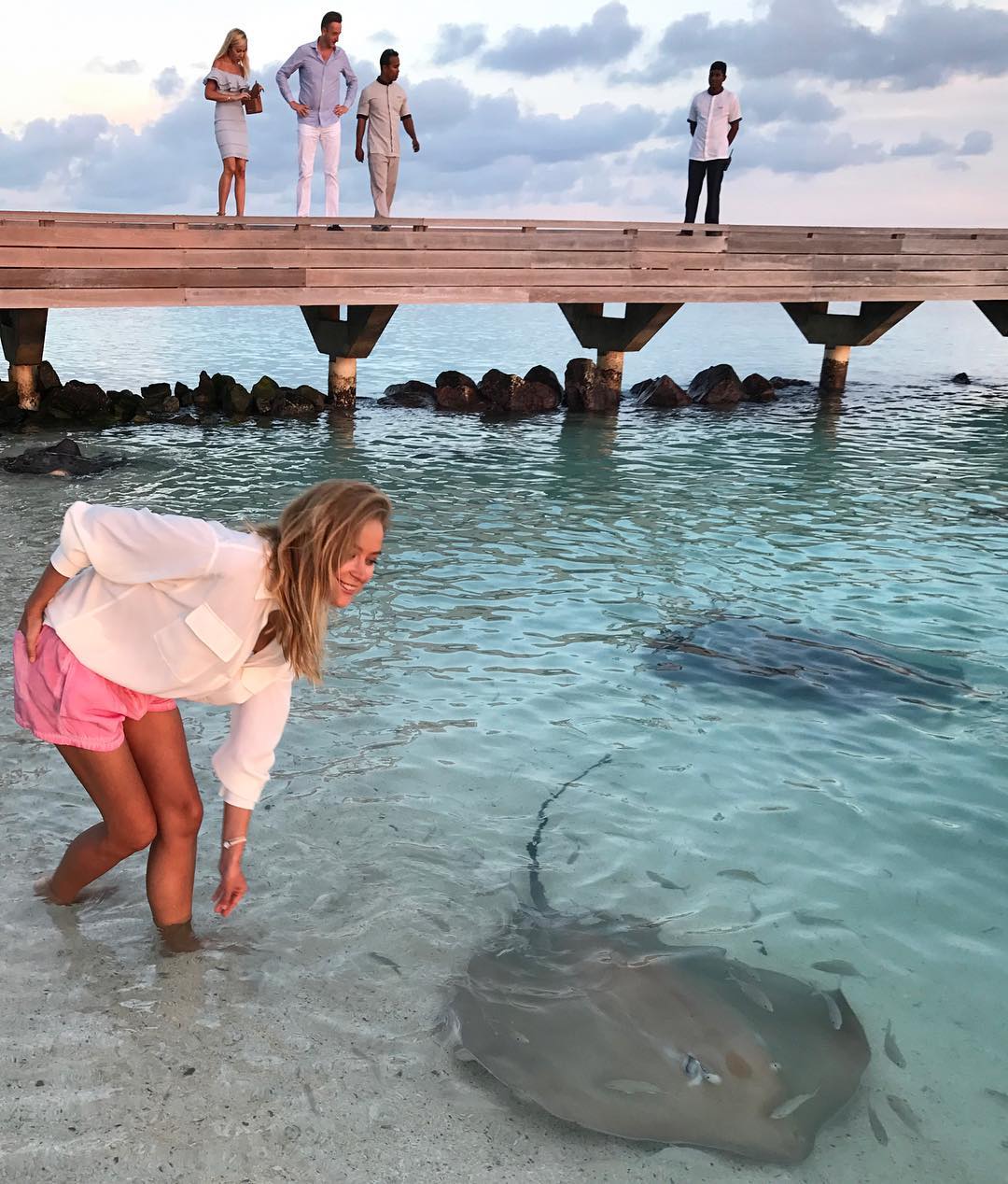 17. Feeding stingrays
Photo by Vika_1979: There is a pontoon who feed stingrays everyday. It is an amazing sight when the stingrays come so close and feed on pontoon's hand. This
fish is regarded as dangerous
and you should be careful to not pose a threat to them.
18. Jetski
Do you fancy high speed rides? Get on one of these and you will be riding at crazy speed. A day out in the sea is a good fun time, alone or with your partner. Some people may prefer choppy waters for some flyover moves while others like smooth rides. How about trying both conditions? Riding on rough waves may need some skill or at least some experience. But, some days the sea is so smooth and peaceful. A joyful sport on such a day would be to have some fun with jetski, esepcially taking some sharp turns as the beast reaches near top speed. But, you have to start slowly and gain confidence before going for fiece maneuvers. Rushing for adrenaline too quickly is risky business. Remember that you are in real life, not in James Bond movie.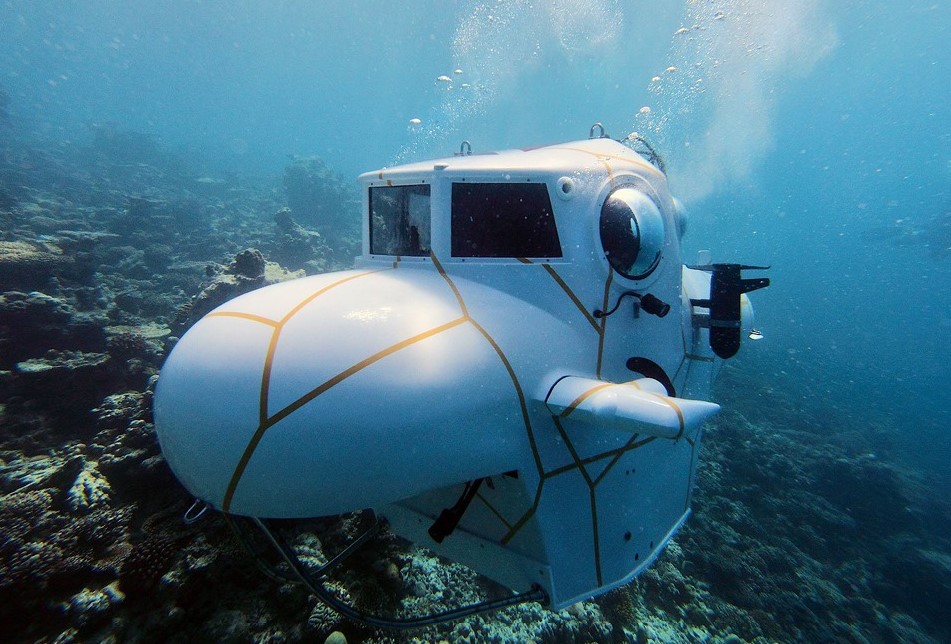 19. Submarine
Scuba diving is an awesome activity that could get very addictive. But, it is not for everyone. There are guests who are not comfortable to do diving despite despite so much excitement to discover beauty of the underwater world. This mini-submarine at Velaa enables just that and it does not go too deep as it is a casual tour, not extreme sport that comes with wanted risks. Scuba diving fanatics could also enjoy a memotable moment with the loved one without getting wet. On board the submarine you can discover reefs quickly. This experience is not same as snorkeling. You can try both to understand.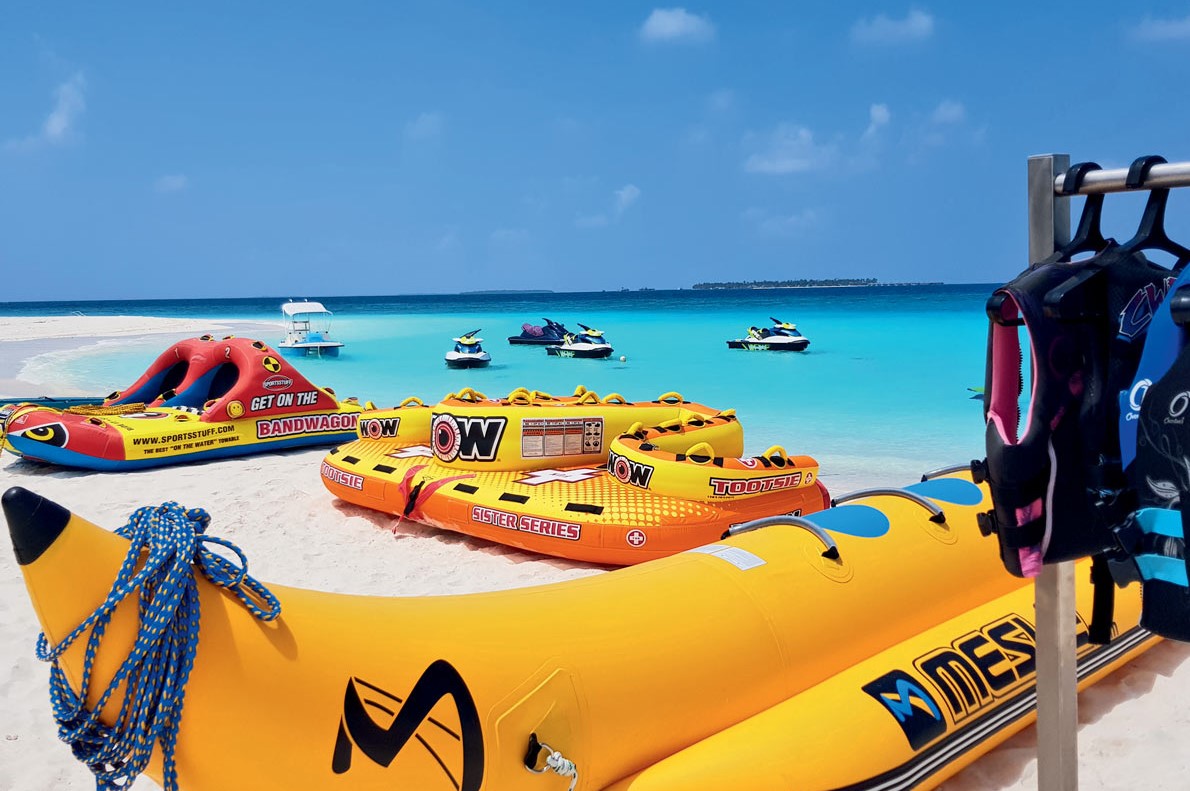 20. Fun Tube Or Banana Rides
It would be unfair to complete a family vacation at Velaa Private Island without taking kids for a fun tube ride, you can also choose the classic banana if you wish. A variety of floating inflatables pulled by high speed jetski or speedboat is thrilling sport that has been popular in the Maldives for decades. While the water sports instructors understand the limits, you can also tell them the thrill you have in mind. A little bit of adventure and fun should never be missed on a family getaway.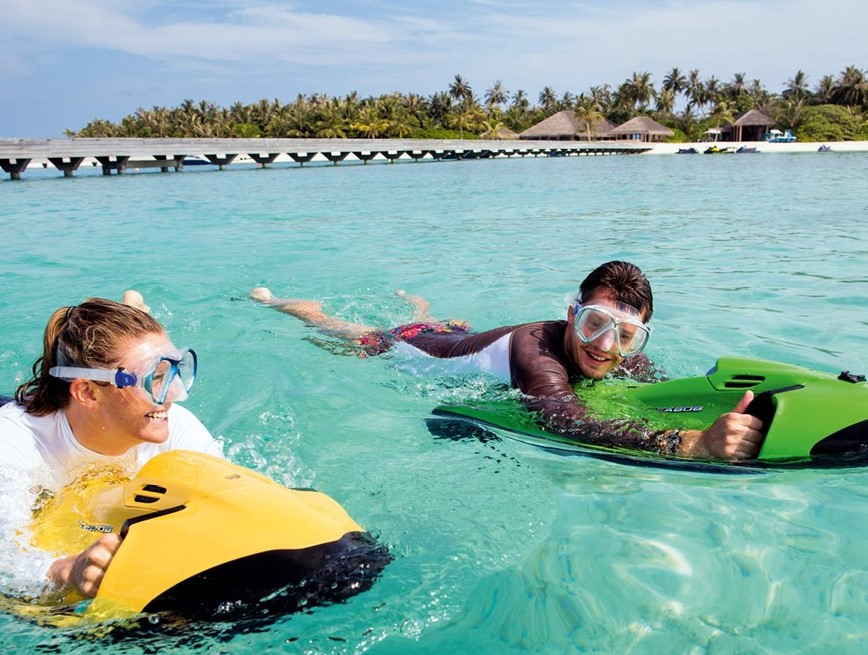 21. Scooter Snorkeling
Regular snorkeling is sometimes tiring and sometimes the sea currents are too strong. Snorkeling on scooter is the solution. No matter how confident you are, never go alone. Weather conditions are very unpredictable in Maldives and sea currents often change quickly. Scooter snorkeling lets you do the activity at ease and access remote areas of the reef.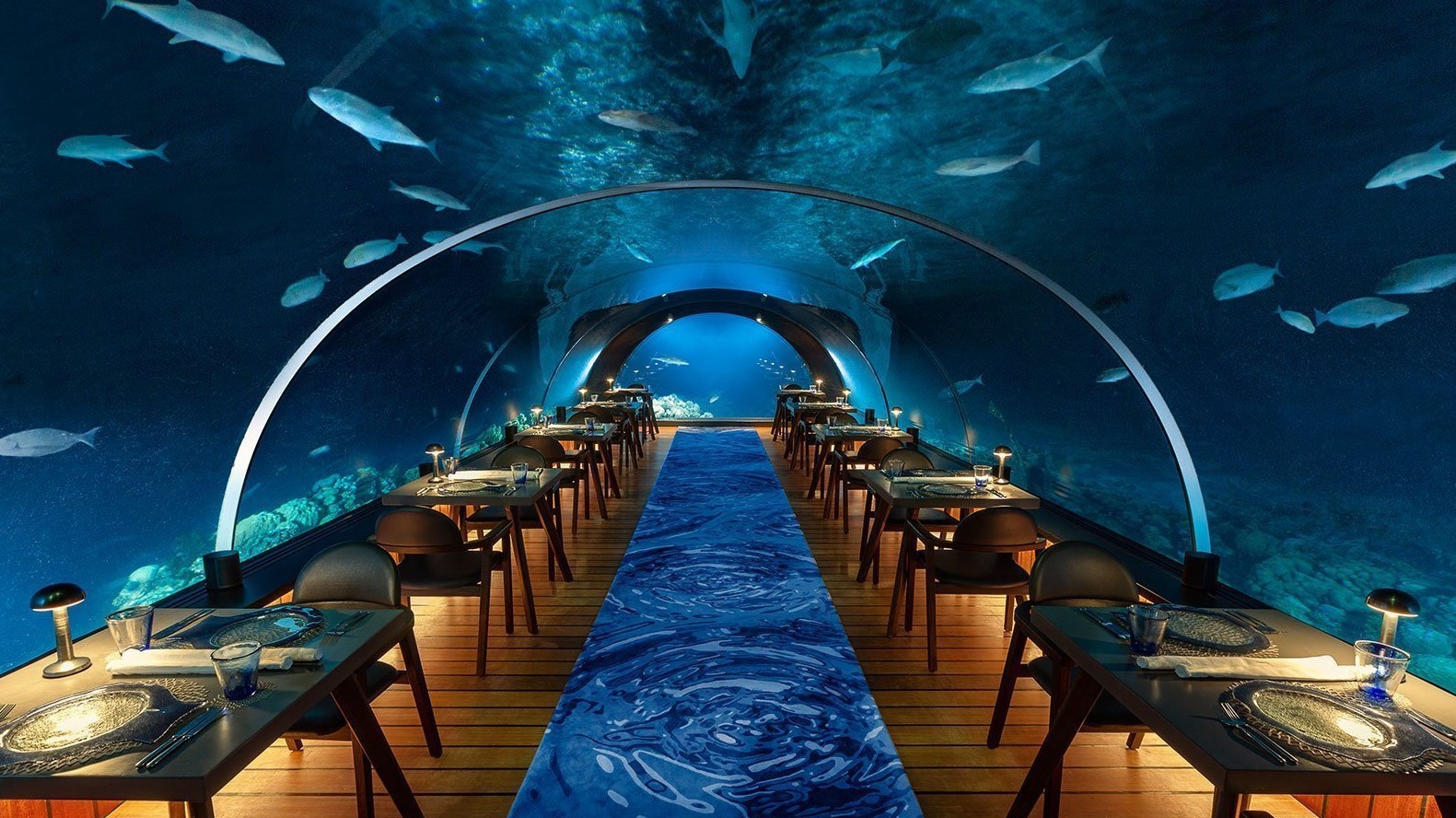 22. Underwater Restaurant
There is no underwater restaurant at Velaa and resort does not offer this activity. However, Maldives Finest (Priority Maldives), as luxury travel agent, cannot miss this amazing attraction. You can book a package with us and we can include a dinner or lunch in underwater restaurant. It takes about 30 minutes by luxury yacht to reach this attraction. We will ensure you have a table reserved for you.
All our deals to Velaa Private Island includes:
VIP airport service to skip the immigration queue and proceed directly to lounge. Included for arrival.
Special vehicle to transport guest from lounge to seaplane terminal where another lounge will be arranged
Full buffet breakfast in resort
Welcome drink upon arrival at resort
Non-motorized watersport activities
Personal butler in resort
Maldives Finest will assist for special requests such as buying medication or gifts from Male' City
Price is inclusive of all applicable taxes, service charge
Airport transfer by seaplane included for 2 guests
Vacation Packages By Maldives Finest
Travel period: June - October 2023
Stay: 7 nights
Taxes and other charges included in price

Sunrise Water Villa with Pool: $17680
Beach Pool Villa: $18956
Sunset Deluxe Water Pool Villa: $20551
Beach Pool House: $46709

For every inquiry we apply the latest deals to either match or beat the resort direct rates. Plus, you can enjoy high attentive assistance and other local-agent advantages. Want to enjoy 2 resorts on one trip? No problem. Contact us to plan an amazing holiday.
22 Things To Do At Velaa Private Island. #Maldives #Velaa #VelaaPrivateIsland #Malediven #Luxury #Urlaub