Life And Luxury Of Top Baa Atoll Resorts
Baa atoll is the crowning jewel when it comes to marine life in the Maldives. Not only that, but it has also gotten quite refined throughout the years, especially with respect to tourism. The atoll is considered globally significant and distinguished in terms of its biodiversity and it's a testament of the high diversity of marine species within the Maldives.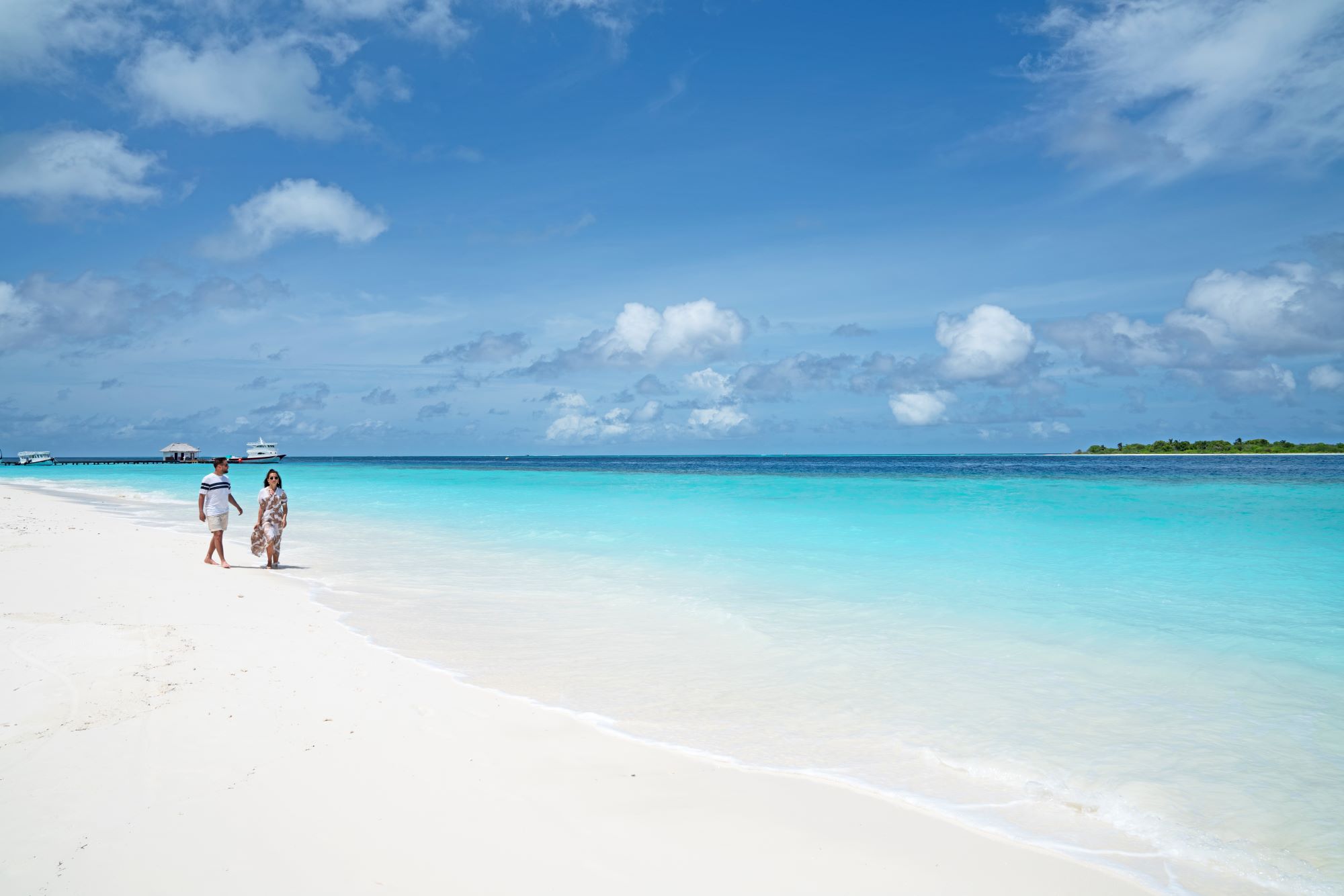 Kihaa Maldives
When UNESCO profiled the Baa Atoll Biosphere, they found that the atoll supports on the largest groups of coral reefs throughout the whole Indian ocean and plays a major role as the stepping stone involved in the transport planktonic larvae and reef organisms from both the western and eastern sides of the Indian Ocean. In addition to the corals, the atoll consists of several habitats that support the high biodiversity such as seagrass beds, mangroves and islands.
Due to the numerous coral reefs, swim throughs and caves scattered throughout the baa atoll it is an absolutely stunning place for diving and snorkeling enthusiasts alike. Not to mention the unbelievable thilas, especially the legendary Hanifaru Bay which is the most sought-after spot throughout the whole of Maldives. There is nothing quite like the horde of Manta Rays and Whale Sharks that you can view there. The atoll is also home to a lot of threatened and endangered marine life. Since it's designation as a UNESCO Biosphere Reserve, there are a lot of activities that are prohibited within the area, making it even more of a treasure.
One may think that the tourism might be inhibited due to the conservative efforts. The opposite has proven to be true as tourism has flourished and in fact, the area is in the countries prime zone. Moreover, as time passed tourism became only more refined in Baa Atoll, as
lots of resorts
capitalized on the jaw-dropping scenery awe-inspiring backdrops that the atoll provides. Some of these resorts happen to be super luxurious and lavish, while at the same time maintaining eco-friendly standards and approaches. Additionally, they also have easy access to some of the best dive sites and excursions that Maldives has to offer. Here are a few of the best luxury private island resorts located inside the UNESCO Biosphere Reserve. Most of them are just a 30-minute seaplane ride that's bound to mesmerize you even before you get to the resort. 
The Nautilus Maldives
This bohemian hideaway located on the island of Thiladhoo defines the very essence of luxury tropical vacation, with its highly personalized and immensely private accommodation, its unique concept featuring timeless and no schedules and its astonishingly lavish design.
Nautilus Maldives
is one of the top luxury retreats in the Maldives.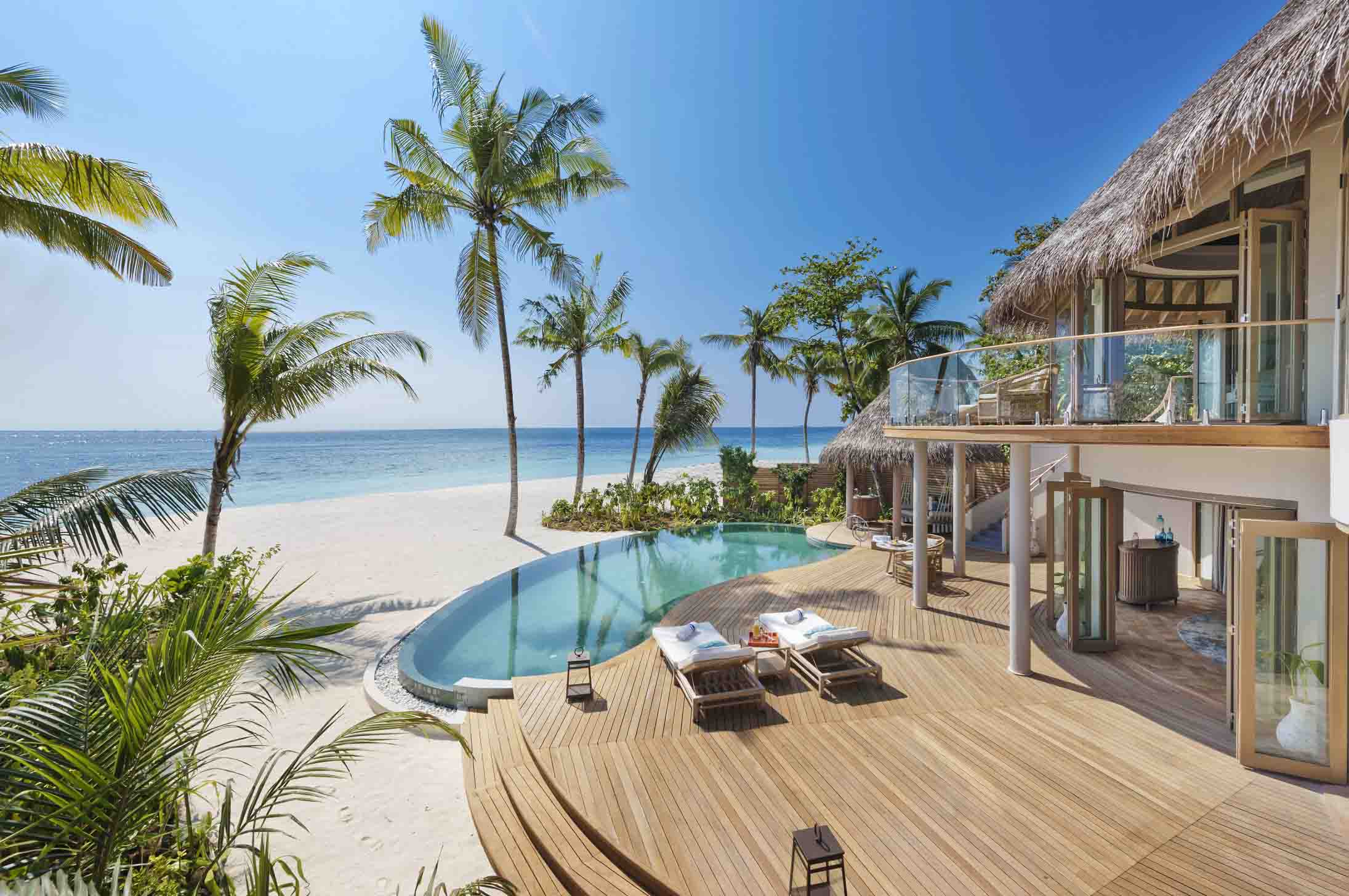 It is one of the more recent resorts that was opened in 2019 after extremely careful planning and precision. With just 26 -beach and ocean houses and more an emphasis on the "Luxury" part of the whole luxury private island concept. The nice aspect of this resort is its bohemian approach where everything is tailored to each guest, no schedules, no opening times for restaurants and facilities providing an extremely liberating sense of freedom.
Accommodations and recommendations
Every single one of the 26 residences on this resort are all astonishingly sequestered and provides the most premium privacy. They all come with a private saltwater pool, a furnished sundeck, out-of-this-world ocean views and a private butler. There's eight Ocean Houses, nine Beach Houses, three Beach Residences and two double-bedroomed Beach Residences. For those seeking true lavishness, there's The Nautilus Retreat and The Nautilus Mansion with Private Pool.
However, for the average tourist looking for a wonderful time in a luxe tropical haven without who'd prefer not to break the bank, the best choice of accommodation would be one of the Ocean Houses. These residences are pure bohemian bliss poised are over the lagoon, both custom-furnished and richly decorated. Each of these beach residences feature curved walls and living spaces that recall the organic form of the nautilus shell, with hand-picked décor infusing each space with a charming atmosphere. However, the defining feature of the Ocean Houses is the glass-floor panel. It is just a mesmerizing touch to this lavish villa.  
Dining Options
There's a very unique approach taken when it comes to dining, at The Nautilus. There's no opening or closing times to restaurants so you can basically eat whatever you want, whenever you want. Yes, this includes destination dining as well as in-villa dining. There's an Arabic and Mediterranean restaurant called Zeytoun, Ocaso which features Japanese and Latin-American dishes and there's Thyme which is an international restaurant. There's also a poolside bar called Naiboli that feature unforgettable free-flow canapes.
Diving and watersports
Explore Baa Atoll with all the time in the world. The onsite AquaNautica PADI dive center offers access to more than 30 world-class sites within close reach – the renowned
Hanifaru Bay
just a short speedboat ride away. Additionally, a house reef sits meters from shore, cruises, fishing expeditions, sunset sailing, complimentary non-motorized water sports are perfect for free-spirited forays into the blue.
Experience Hanifaru Bay manta season and commune with the majestic manta rays. You can join them in their own whirling dervish – a timeless dance they've performed here for ages. Their marine biology team will guide you to waters where these gentle giants swim in seemingly choreographed arcs, and you can join in the dance equipped with a snorkel and fins. There's nothing quite as fulfilling as taking part in a rite of nature that's as old as time itself.  
Milaidhoo Maldives
This charming little island resort is an amazing getaway destination for couples and is one is the traveler's favorites and most highly reviewed on basically every travel site out there. A single bad remark is more or less impossible to find. It competes with every tourism giant and huge private island resort by enchanting the tourists with its unique identity and character.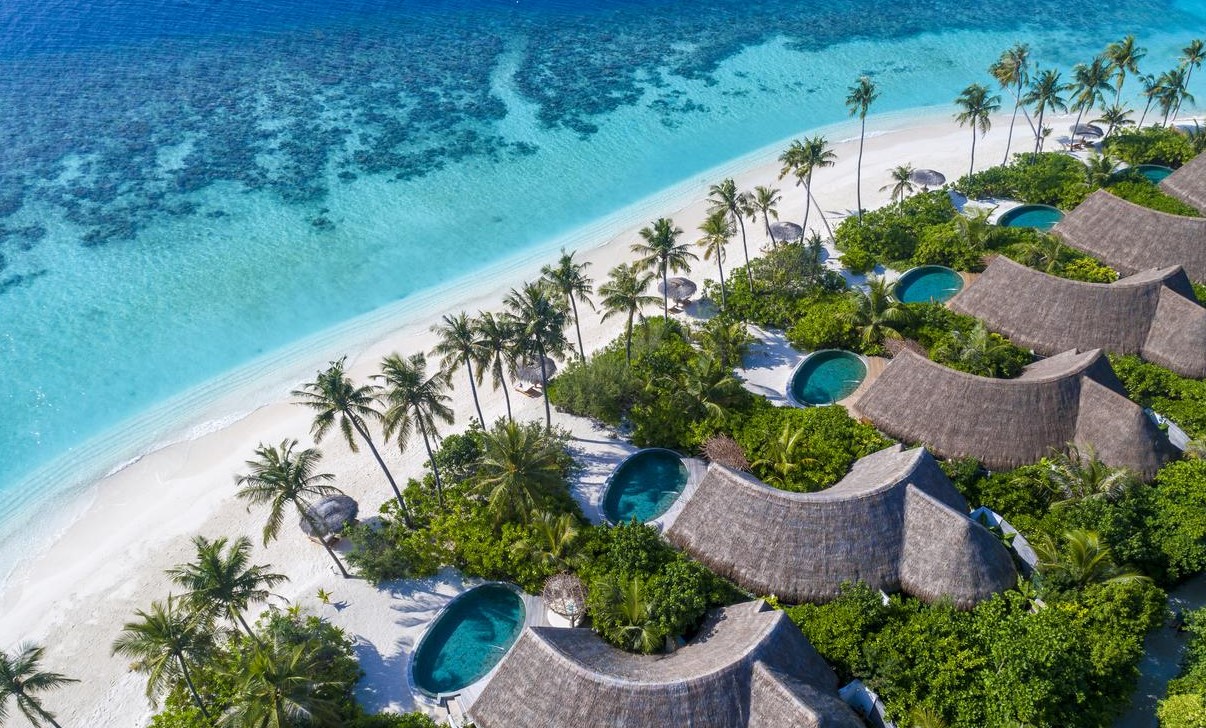 Each and every tourist gets to live an extremely authentic and intimate island life experience that is the very essence of a tropical holiday in paradise. The architecture has a local touch as the resort's been designed by a Maldivian and has a central theme that revolves around the local heritage and exclusive privacy. There are three staff members and a butler that's assigned to each guest to ensure every comfort and convenience.
Villa Categories
The island resort prides itself for being a small one. There are just a total of 50 residences and villas that either line the beach or are in stilts, overlooking the lagoon. There are 29 spacious Water Pool Villas and 18 elegant Beach Pool Villas lines up on the beach. Each one comes with an oversized pool that's probably the biggest private pool you'd get with a villa in Maldives, a huge sundeck and lovely custom furnished, spacious rooms. Each and every suite at
Milaidhoo
Island follows the concept of outdoor living with vast open spaces. Of course, like with every resort there are residences for the high rollers as well. There are two gigantic Beach Residences and an unbelievable Ocean Residence. They are more or less mansions in their own right.
Although overwater villas are always considered the better options at resorts, this in not the case at Milaidhoo Island. This isn't because the Water Pool Villas aren't amazing, but because the Beach Pool Villas are just simply one of a kind! Guests who've stayed at the resort always describe as the Beach Pool Villas as just way more spacious and superior and some even went as far as to call it a "resort within a resort". This is probably because it is slightly larger and has a ceiling and the architecture and interior design is a bit more appealing.
Dining Experiences
The resort wouldn't be the traveler's pick if it didn't take food and cuisine seriously. Just like everything else on Milaidhoo Island, quality is prioritized over quantity with just three restaurants and two bars bound to give you unforgettable experiences. There's Ocean, where breakfast is buffet style with a la carte options. This large-scale buffet's spread is remarkably international with a lot of western dishes. The must-try is Ba'theli, the resort's signature Resturant and Bar where you'll have your most memorable meal. After all, what could beat the a Maldivian restaurant that's literally hosted inside a traditional dhoni. One of the most authentic fine dining experiences you could have in Maldives. There's the Shoreline Grill for barbeque enthusiasts that also features a wine room. Additionally, there's the Compass Pool Bar to enjoy sunsets while basking in pool enjoying a cocktail. Finally, there's also special dining options such as destination dining and their unique 'mood dining' concept.
Underwater
There's an experienced diving team that have the keys to the best dive sites in the atoll and welcome everyone, from novices making their first dive to experts logging their 1000th dive. Milaidhoo island feature's a five star PADI dive center that offers house reef diving, boat diving, private diving, night diving, fluo night dives, Manta Ray diving and nitrox. PADI Five Star Dive Resorts are committed to providing quality diver training and continuing education programs that include dive experiences and environmental awareness. Additionally, there are two resident marine biologists that'll teach and show you about the incredible wildlife in the area that make it a UNESCO biosphere.
Soneva Fushi
Take off your shoes at the resort that invented and set the barefoot luxury resort trend. This is the original "no news, no shoes" retreat. Not only that, but the resort seems to be super eco-friendly and sustainable. This ultra-boutique property is designed with only natural materials that blends into the environment and even has its own vegetable garden, a recycling center, power plant and a glass-blowing studio to turn waste into works of art. Moreover, it is an eco-chi jungle hideaway with villa's straight out of Robinson Crusoe's pipe dream. So, cast off your worries along with your shoes since you won't need them in this laid-back playground with a stellar spa, beautiful house-reef and a butler to arrange you every comfort and convenience.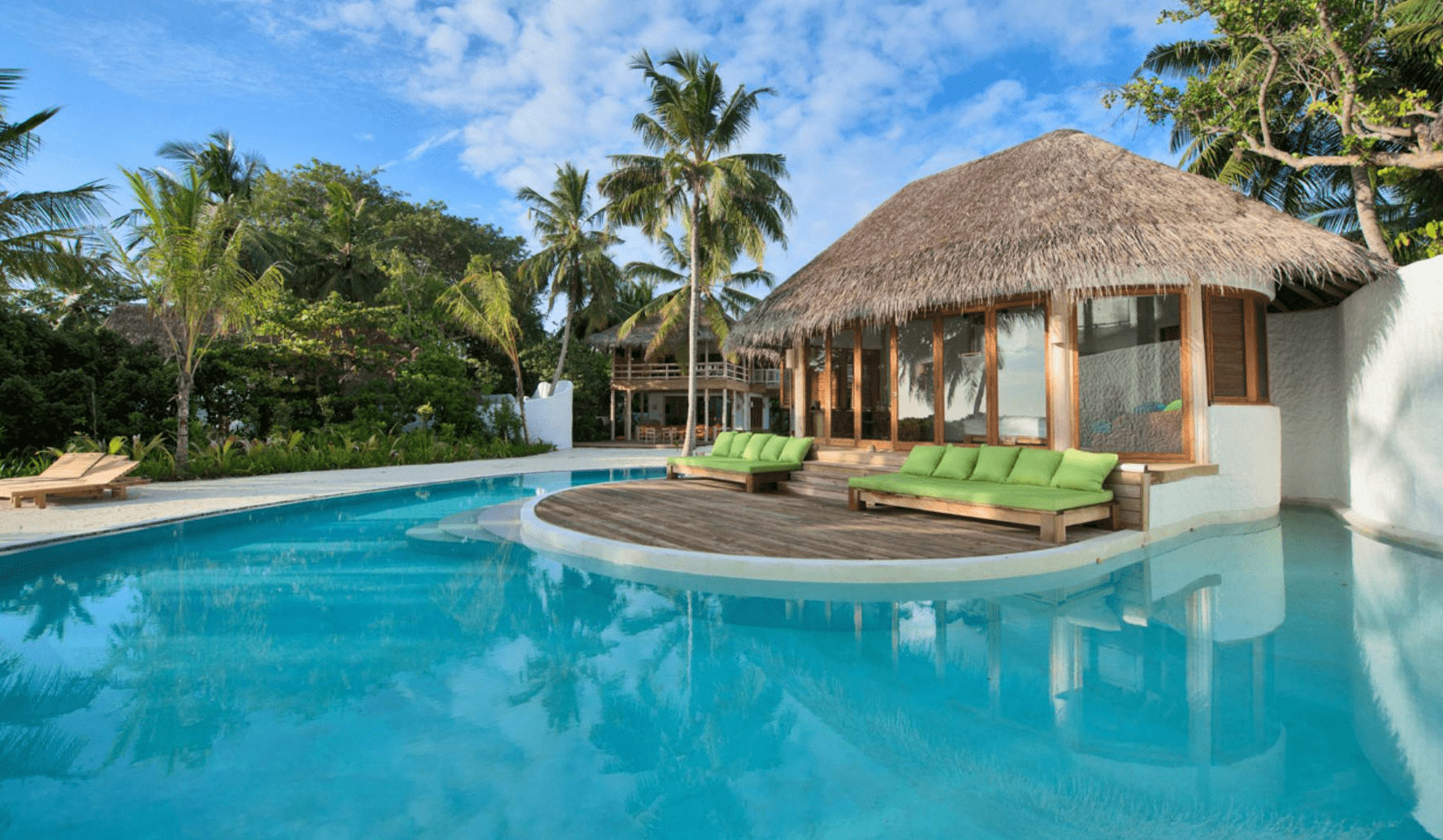 Room Categories
The resort features astonishingly chic and eco-friendly accommodation options with thatched roof lining the beach, inside the island standing on stilts and overlooking the lagoon. Soneva Fushi is a resort that spoils you for choice when it comes to where you stay. There are a lot of classifications to get into, but when it comes down to it there's the villas facing the sunset, and the ones facing the sunrise. Robinson Crusoe style villas, huge decks, pools and an almost intimate atmosphere and feeling of exclusion that will rival any other experience you can get in Maldives.
The villas on the sunset side are for the snorkelers and divers with three house reef access points and likelihood of seeing dolphins. Those looking for privacy should opt for the villas on the sunrise side as it offers unobstructed views of the endless sea, the closest just a speck on the horizon.  
Gastronomy
When it comes to the dining experience at this luxury resort, it is simply unrivaled when it comes to quality as well as quantity. In fact, most guests who go there are often completely overwhelmed for choice. In addition to destination and in-villa dining, there are dedicated rooms for cheese, chocolate, ice cream and charcuterie in the two-story overwater structure, Out of the Blue. Mihiree Mithaa provides one of the biggest buffets you'll ever see and Down to Earth features International and South Asian dishes that are meant to be shared. There's a sushi counter called So Hands On, a Chinese Kitchen, Fresh in the Garden, and Sobah's. There are quite a few bars, such as By the Bar, Bar(a)bara and The Wine Cellar.
Soleni Dive Centre
With more than 30 spectacular dive sites rich with marine life near the resort and multi-lingual PADI instructors, Soneva Fushi is the perfect destination to explore the awe-inspiring wonders of the ocean.
Snorkel the Baa Atoll in search of Manta Rays in Hanifaru Bay, which has one of the world's largest populations of Manta Rays. Conditions permitting, fortunate guests might get to see hundreds of Mantas as they gorge themselves on plankton. There are several locations where Mantas can be spotted, so the itinerary may vary. If there are no Mantas, the Marine Biologist will take you to another beautiful snorkeling spot.  
Four Seasons at Landaa Giraavaru
Unlike the other resorts in this list which are all about personal, small-scale, tailored experiences, Four Seasons at Landaa Giraavaru is on the opposite end of the spectrum. This paradise hideaway is where luxury, seclusion and majestic natural beauty come together. This massive resort with its 102 thatched roof villas sprawls over the 44-acre island and the large lagoon it's nestled in. One of the older resorts that opened in 2004, you can sense the refined and sophisticated atmosphere and gives you a feel of real tropical grandeur. There's a coconut boulevard, a long sandy path with towering coconut palms on both sides. There's also an ayurvedic spa that's a destination all on its own and a pioneering marine research center.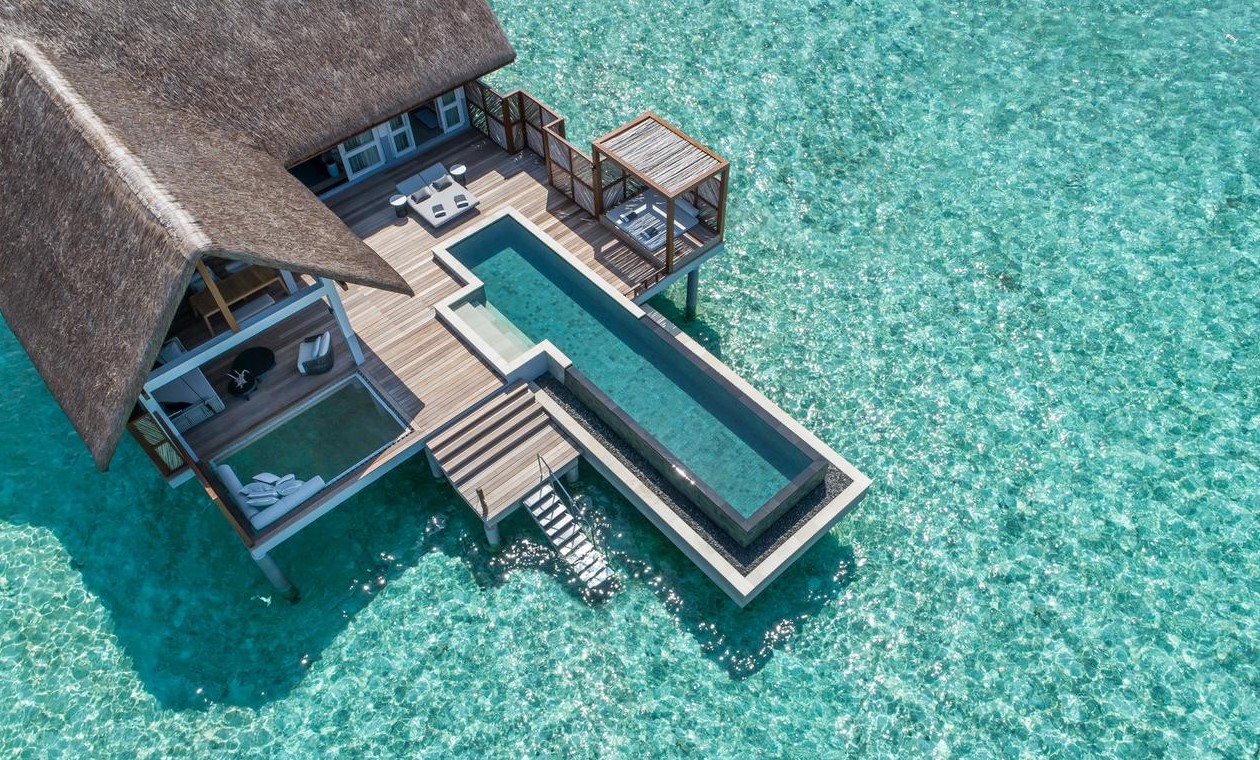 Accommodation and Recommendations
All 102 villas and bungalows are spacious, with the classic thatch roofs, plush beds and cozy living areas. They also have coral walls, like the ancient Maldivians used to build their houses. This is a nice touch to the architecture that adds more depth and authenticity to the experience. The interior is contemporary in style, decorated with turquoise and sandy hues and the bathrooms have both indoor and outdoor showers with twin vanities. The decks are huge with lots of options to lounge on and there's a large infinity pool that stretches out. These are probably some of the longest infinity pools that comes with a private villa in Maldives. Water Bungalows and Water Villas have staircases that lead directly into the ocean. There are also multiple bedroomed family variants villas as well along with two-bedroomed suites for those who want some extra privacy and seclusion. The biggest and most luxurious property would be the Royal Beach Villa.
For those who are on a budget, and would prefer more privacy the Beach Villas with Pool is the best choice. If you're looking for the quintessential overwater experience, then the Water Villas are your best bet but due to the way the villas are built it might not be as private and secluded as you like. So if you want the overwater experience and premium privacy go for the Water Suites as they are way larger and provide a much better feeling of seclusion.
Dining Facilities
Four seasons is very well-known for it's focus on food and has four outstanding restaurants each with its own appeal and distinct charm and feature's unbelievable exclusive private dining experiences as well. So, start your culinary journey by having your breakfast at Café Landaa where you'll probably experience the biggest international breakfast buffet in Maldives. For lunch, head to Blu, an Italian contemporary restaurant built in Riviera style overlooking a huge infinity pool. Enjoy Italian specialties, like burrata salad, pan-seared reef fish and prosciutto pizza. Moreover, it also feature's a stylish bar. If you're in the mood for a good barbeque then head to the Fuego Grill, which specializes in fresh seafood, prime-cut meats and Asian dishes. Lastly, there's Al Barakat, a stylish overwater restaurant that features middle-eastern cuisine with flavors from Armenia, Lebanon and Morocco. On the lower floor of the restaurant is a Shisha Bar where you can enjoy cocktails, Turkish coffee, and shisha. There's also the Seabar which is set on a floating platform and the classic Poolside Bar where you can bask in the pool and sip on hand-crafted cocktails.
Dive Centre
The Resort's PADI Five‐Star IDC Dive Centre is located within steps of the warm, fish‐filled lagoon. It offers the full spectrum of PADI courses: from the Seal Team programme of AquaMissions for children aged 8 and above, through to Master Scuba Diver, the highest non‐ professional ranking in the PADI system.
With thila and channel diving, vibrant coral gardens, abundant fish life, great visibility and warm waters year‐round, the Maldives is one of the world's top diving destinations. Landaa Giraavaru's isolated location in the remote Baa Atoll UNESCO World Biosphere Reserve places guests in close proximity to many virgin dive sites, including over 30 virgin coral gardens. It is also just a short boat ride from renowned manta ray and whale shark hotspots like Hanifaru Bay, Bathalaa island and Veyofushi Reef.
Kihaa Maldives
Located just next to Hanifaru Bay manta point, Kihaa Maldives is an affordable 5 star resort that comes with more than 10 different villa options. Kihaa is home to one of the best beaches in Baa Atoll, it is complimented by 2 different pool; one under the swaying palm trees and the other on the beach with infinity view of the ocean. All the villas have fire-proof synthetic palm leaf roofing. Spacious villas come in exotic designs that perfectly blend with natural vegetation such as palm trees or hibiscus. Beach Villa and Lagoon Prestige Pavilion Beach Villa look very similar in design and size, but they are not exactly same. Lagoon Prestige Pavilion Beach Villas are closer to the beach than the other room category, gives breath-taking view of the beach that overlooks the crystal clear lagoon.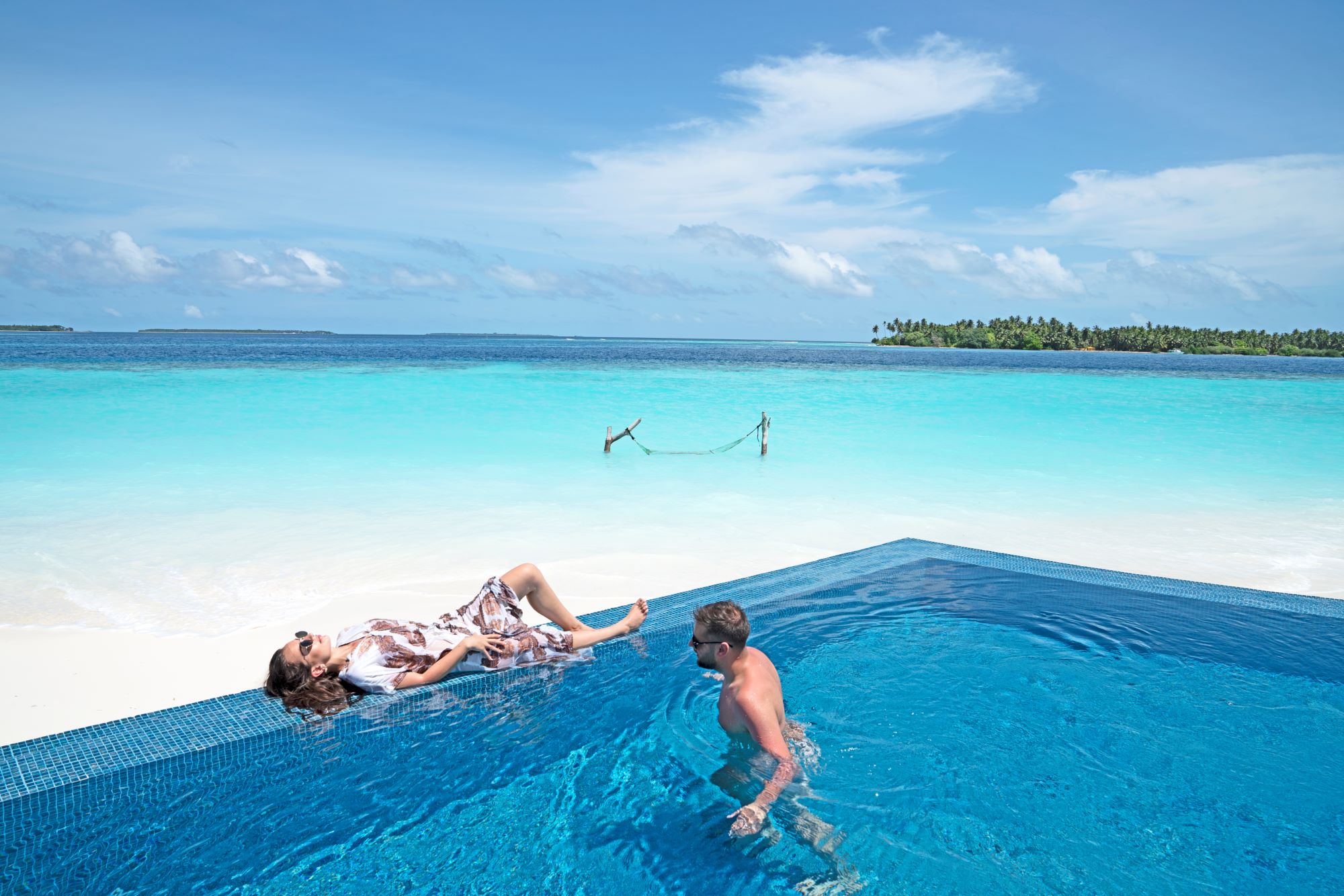 Beach Villa with Private Pool
The resort has recently upgraded some villas, with this there are 2 additional fresh villas available. Beach Villa with Private Pool is located on the sunrise side of the island. The villas look completely new and comes with a huge television and white floor and new furnishing. Bathroom is very exotic and beautiful with an element of Maldivian touch. The private pool is located in the bathroom surrounded by walls to give complete privacy. There is a day bed next to the pool, if you want some fun under the sun.
Beach Suite with Infinity Pool
This is the best single-bedroom room category in Kihaa Maldives. Located on the sunrise side of the island, these villas are right on the edge of the beach. The infinity pool is huge and looks awesome. Next to the pool there is a retreat pavilion with a Maldivian style swing bed and a huge television. From floor to furnishing, every is new in these villas.
Diving and snorkeling
Baa Atoll is renowned for its rich marine life, most importantly the Biosphere Reserve. In manta season most of the guests visiting Kihaa never misses the trip to Hanifau Bay. Kihaa Maldives is the closes resort to this amazing manta point. Since there are so many tourists going on this trip it is highly advisable to book the excursion as soon as possible when you get to the resort. Booking can be done at the dive centre which is managed by Ocean Dimensions. Multi-lingual instructors are professional and helpful. There is a short but interesting briefing on every dive, mostly about safety and what you will see at the reef. Kihaa Maldives has a house reef that is easily accessible, you can jump off from arrival jetty and snorkel upto the next jetty, there are plenty of fish, sometimes you can see turtles. If you have not seen a turtle at house reef you have the chance of seeing it on the snorkeling excursion organized by dive centre.
Life And Luxury Of Top Baa Atoll Resorts #Maldives #BaaAtoll #luxury #luxuryHotels #LuxuryResorts #MaldivesLuxury
Maldives resort starts giving free GoPro Hero 5 Black to all guests
Breakfast Comes Floating In Maldives Luxury Resort
Boat sinks, passengers battle for life in sea