Best Residences At InterContinental Maldives Maamunagau Resort
Visit Intercontinental Maldives Maamunagau Resort to stay in stunning, personalized residences on this exquisite private island. Located ever so flawlessly in the pristine Raa Atoll that is beaming with exotic marine life and where the waters are crystal clear, this gorgeous island is a spectacular 35-minute seaplane ride away if you arrive before 1530hrs. If you are arriving past 1530hrs you would be taking a 20-minute domestic flight combined with a luxury speedboat transfer.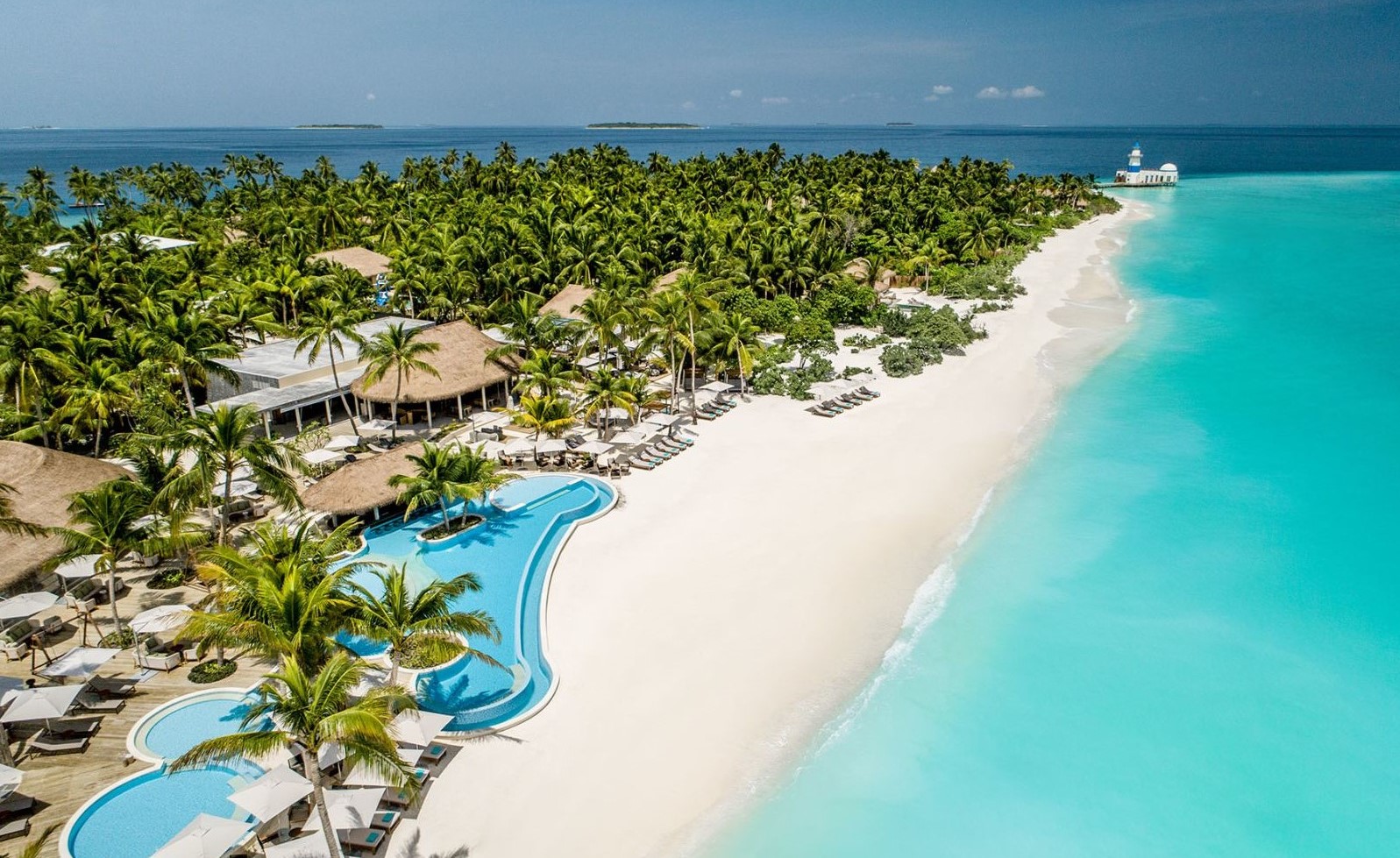 Raa atoll
is famous for its stunning diving sites, sailing, and surfing spots. Popular amongst tourists due to its unique geographical and topographical features, untouched submerged islands, and unexploited dive sites. Due to the unscathed nature of this atoll, countless marine life thrives and these waters.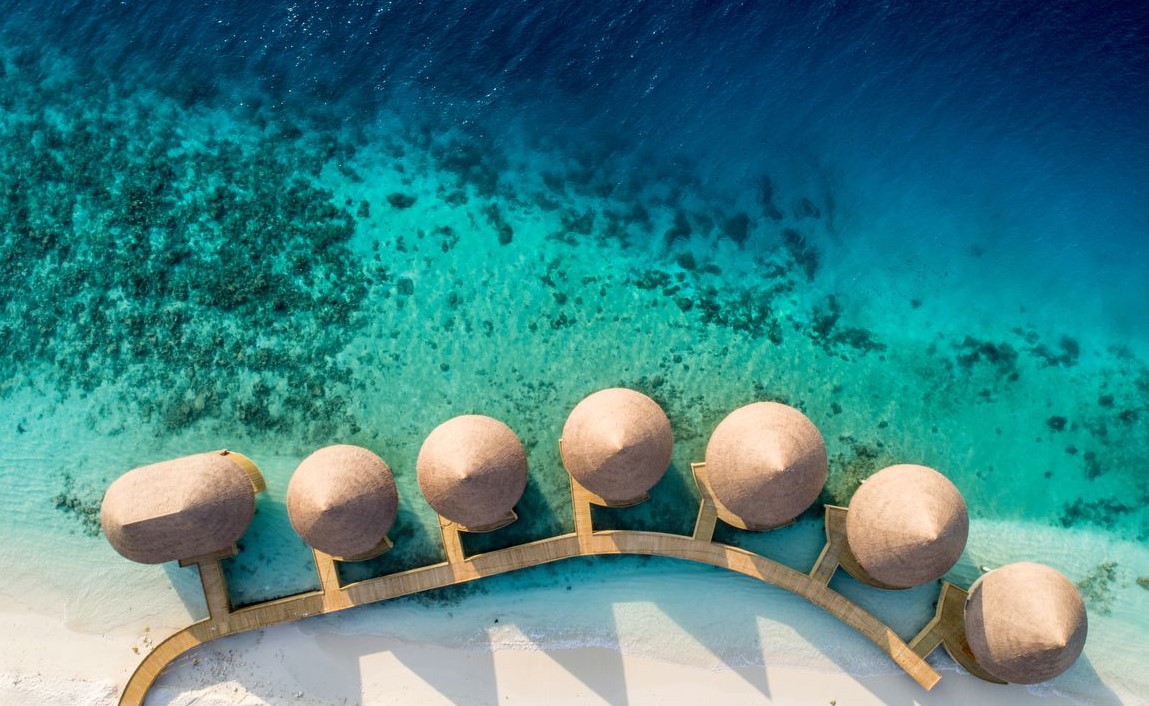 This beautiful island has 81 villas and residences, each with its unique features and designs. What sets this island resort aside from
countless other resorts
is the unmatched residences that are spacious and comes with a personalized touch. The designs focus mainly on convenience with a touch of luxury and utmost privacy. The rooms come with luxury amenities and free snorkeling gear which you have to rent out in most resorts. Let's have a detailed look at the options this island resort has to offer.
2 Bedroom Beachfront Pool Residence
This 460 sqm residence is spread over two floors. Perfect for a couple or a small family as it has a maximum capacity of 2 adults and 2 children. This slice of heaven comes with 2 bedrooms, each with its private bath, indoor and outdoor shower, a spacious living room, an outdoor deck with a private infinity pool.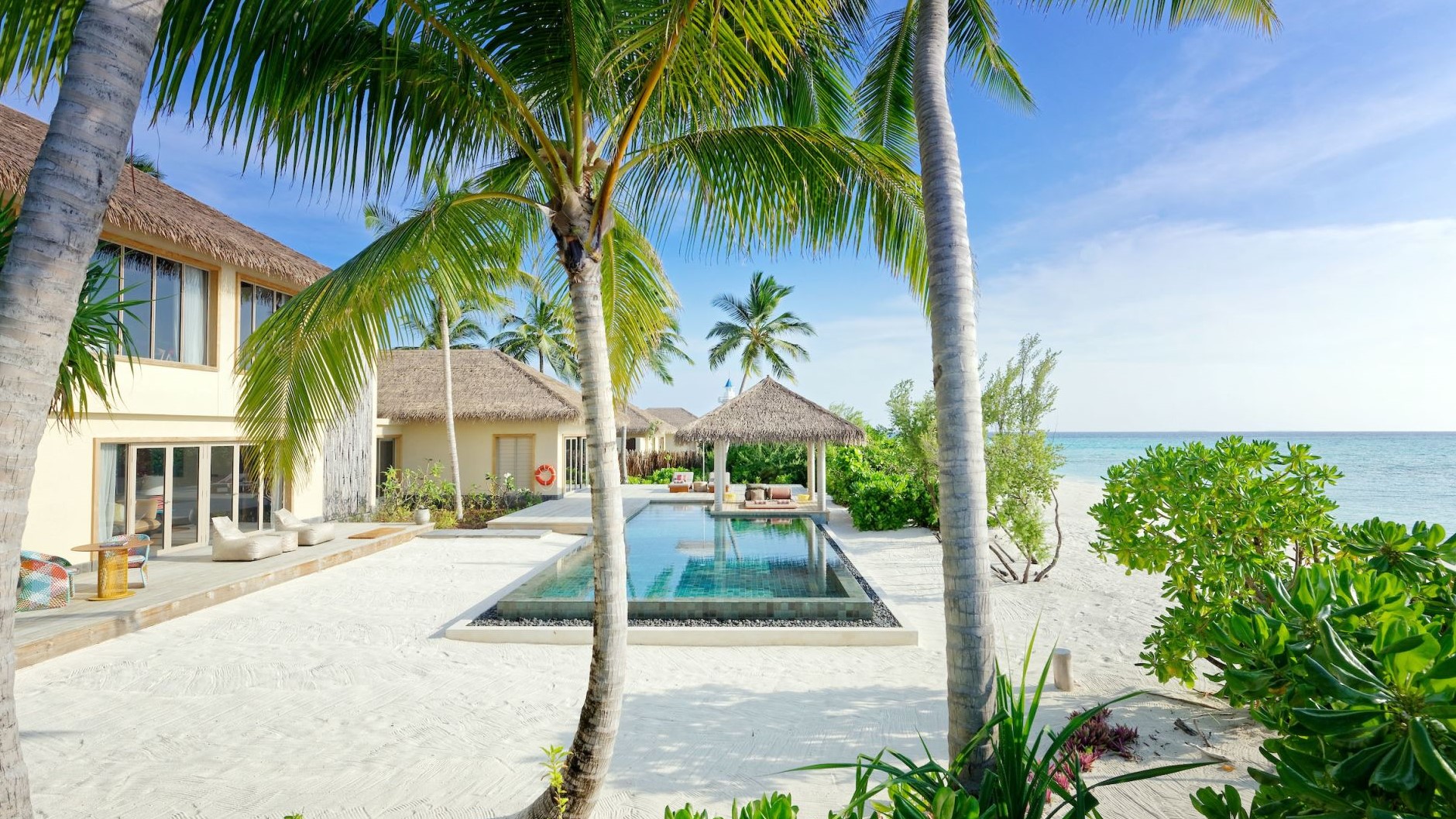 The bathrooms come with luxurious amenities and a spacious bathtub. A gazebo is stationed by the pool so that you can enjoy the tropical sun and the ocean breeze without getting burnt. This residence comes with direct access to the beach that is surrounded by lush tropical vegetation, providing you with utmost privacy. An 'Island Curator' will attend to all your needs so that you do not have to worry about anything during your vacation. This residence gives you uninterrupted views of the white sandy beach and the azure lagoon. Some of the benefits that you get in this residence are daily replenished seasonal fresh fruits apart from the standard coffee, tea, and water. You will also get beach towels, life vests, snorkeling equipment, and if you have a child aged 12 and below they will be provided beach essentials. All of these features are complimentary. Now that is what we call a good deal.
3 Bedroom Royal Beachfront Residence
This residence where luxury, privacy, and nature meets, is larger in size with a total area of 790 sqm. With a maximum capacity of 6 adults and 3 children, this residence would be perfect for a family or group of friends that would like the utmost privacy of an accommodation set deep in lush tropical vegetation and uninterrupted views of the white velvet beach and azure lagoon.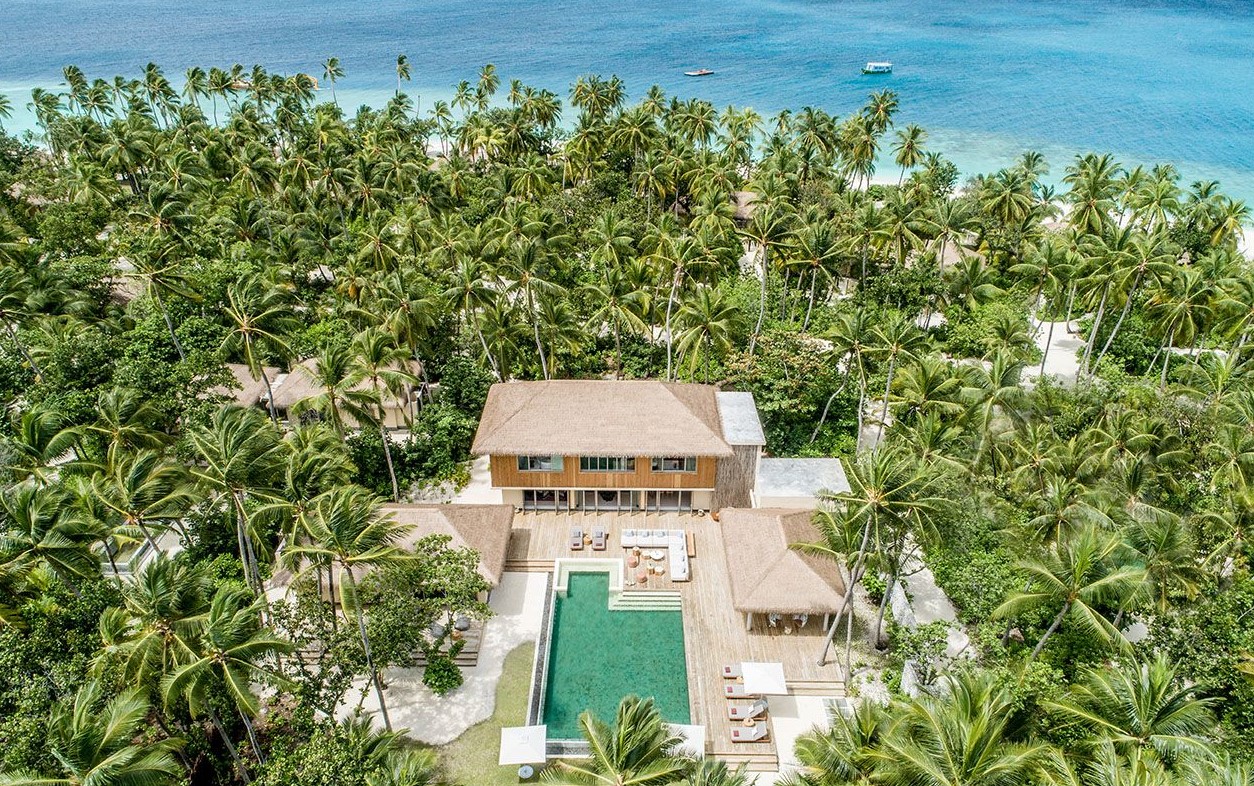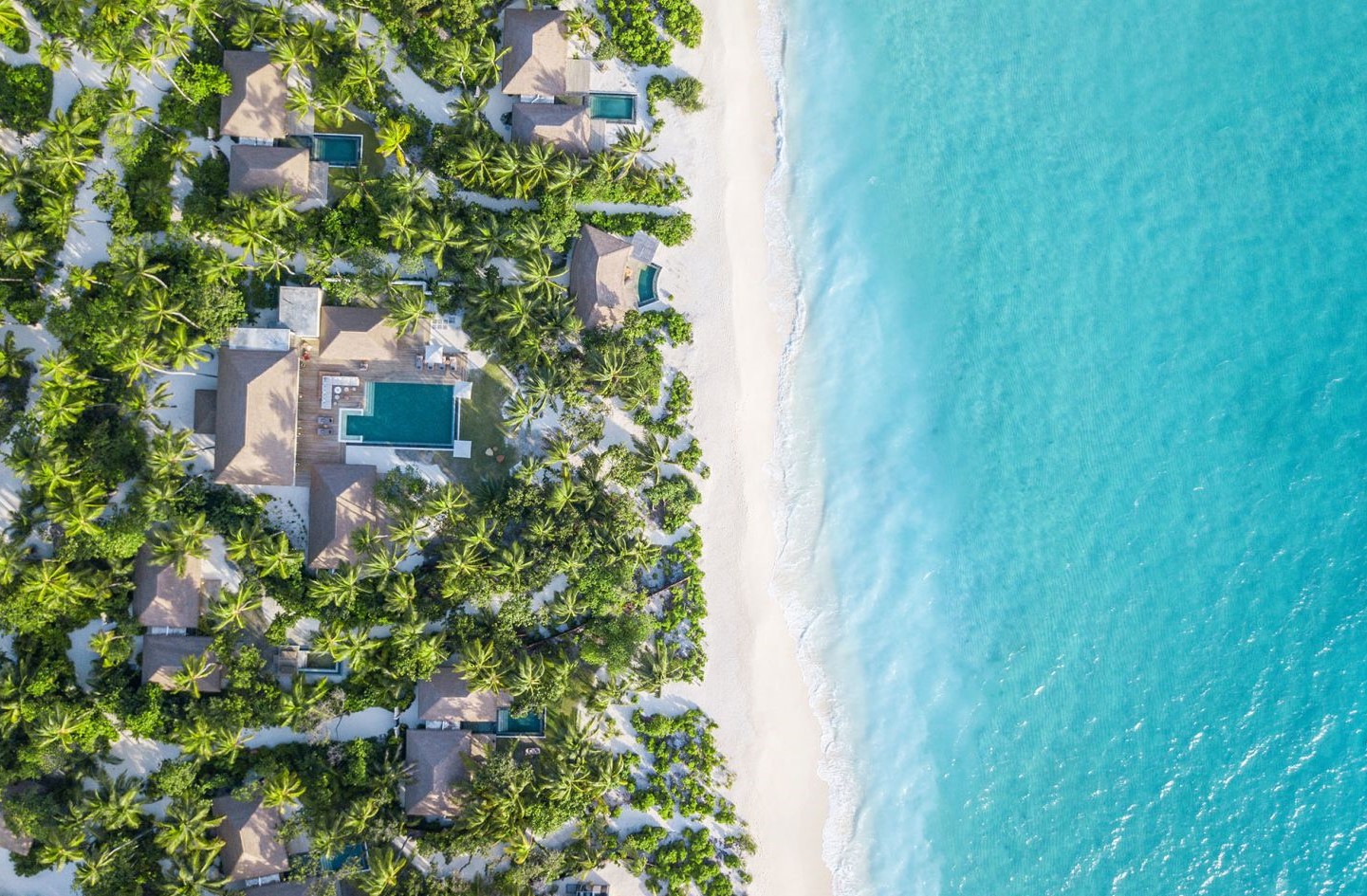 3 BEDROOM ROYAL BEACHFRONT RESIDENCE - AERIAL VIEW
3 BEDROOM ROYAL BEACHFRONT RESIDENCE - POOL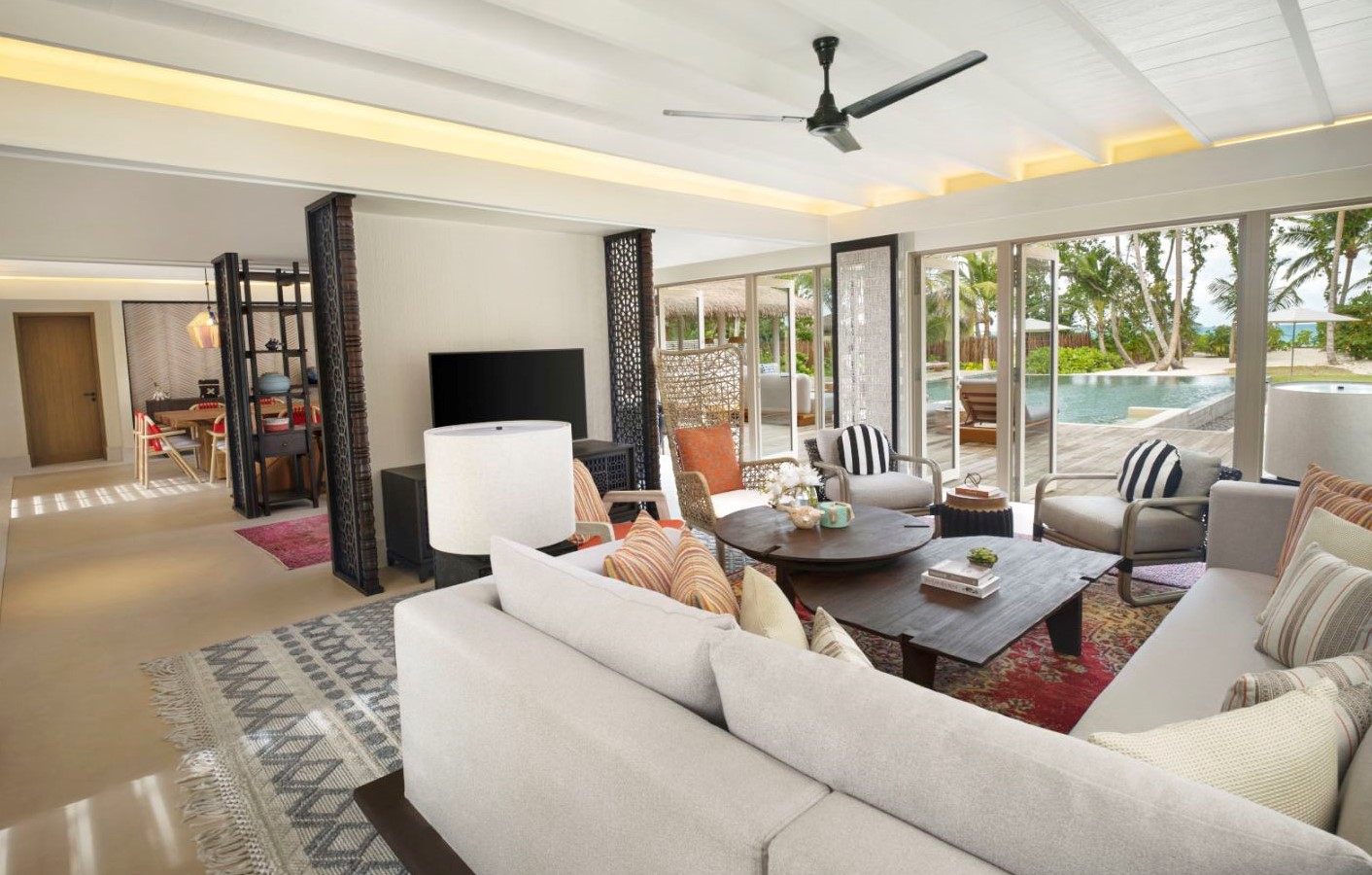 3 BEDROOM ROYAL BEACHFRONT RESIDENCE - LIVING AREA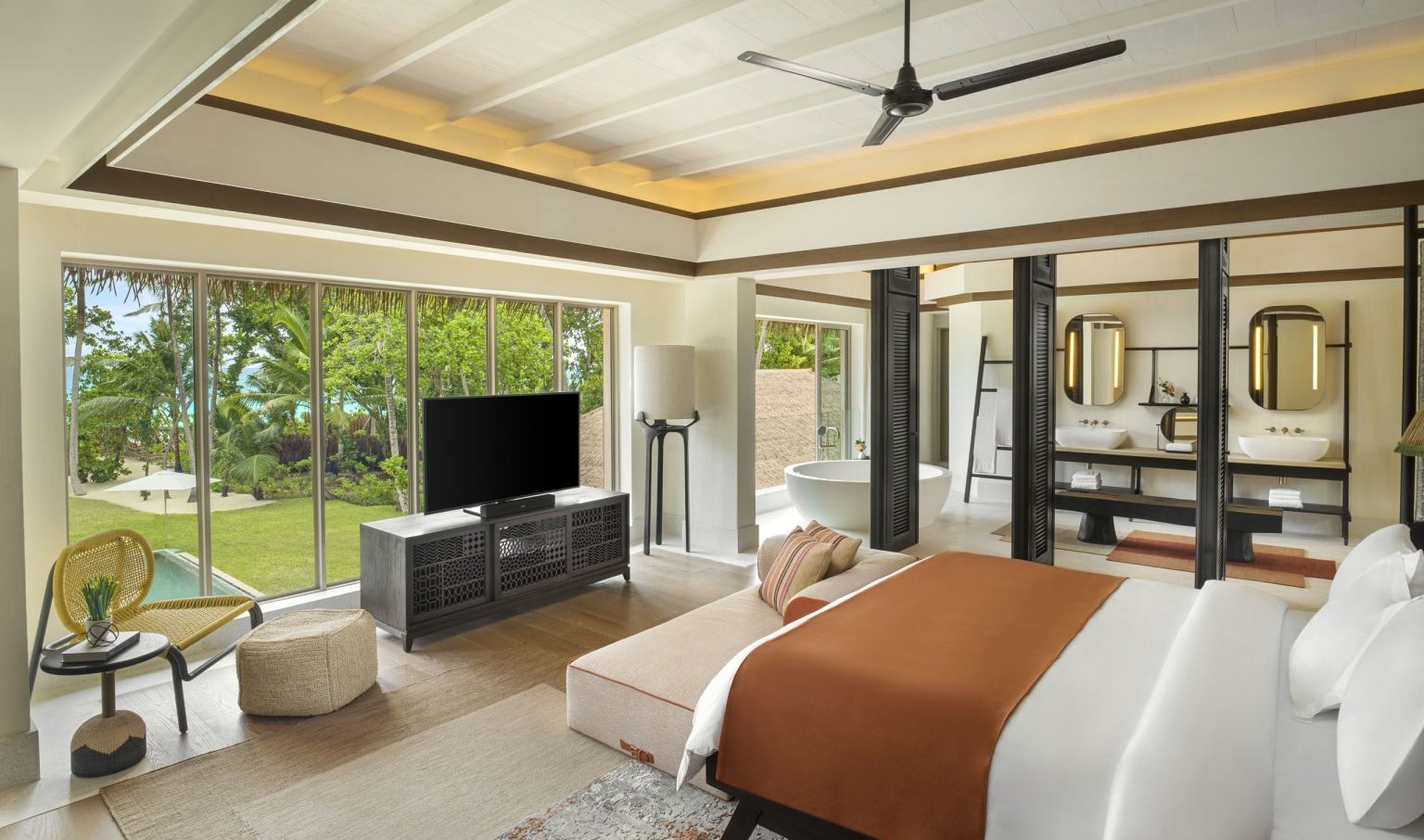 3 BEDROOM ROYAL BEACHFRONT RESIDENCE - MASTER BEDROOM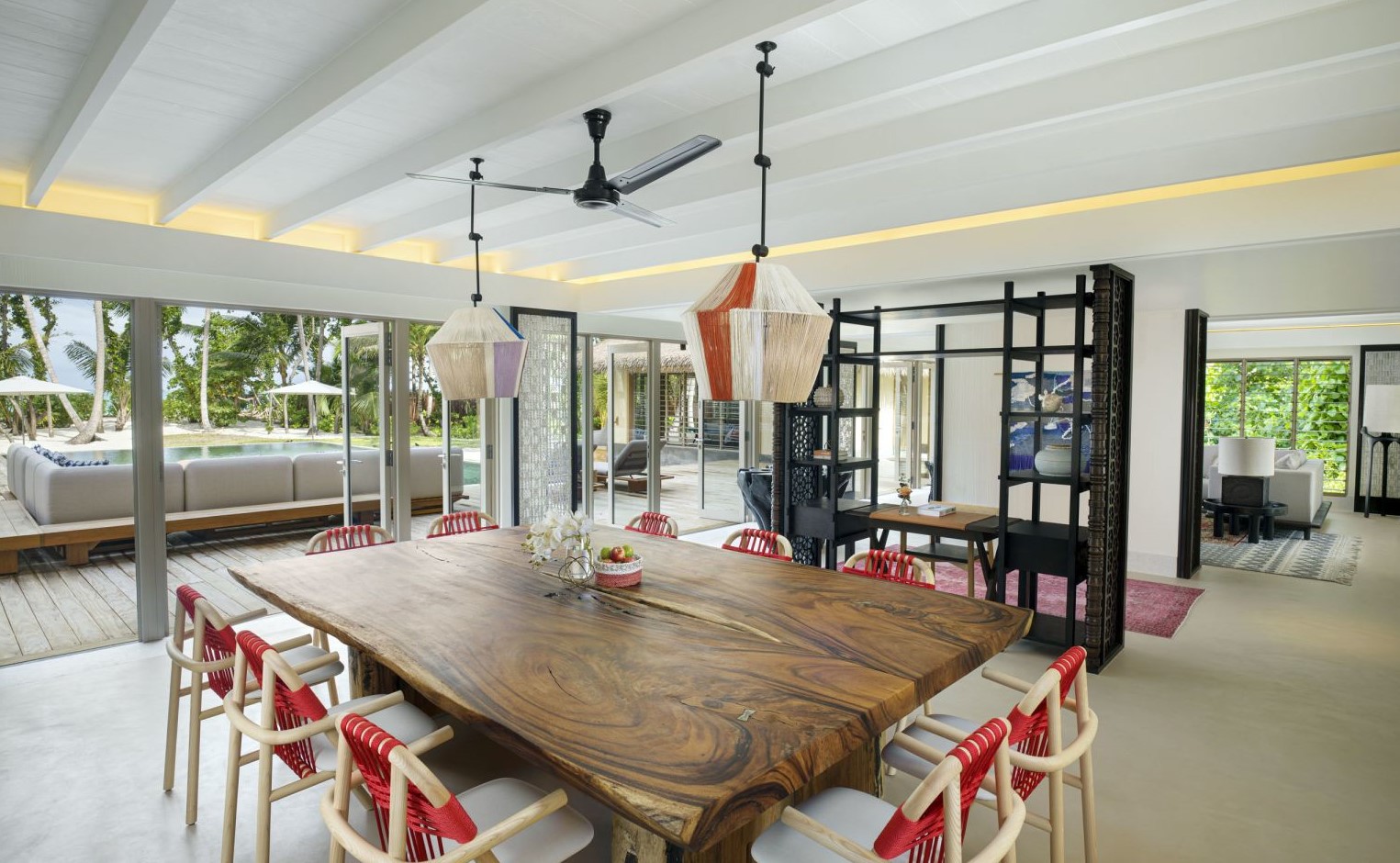 3 BEDROOM ROYAL BEACHFRONT RESIDENCE - DINING AREA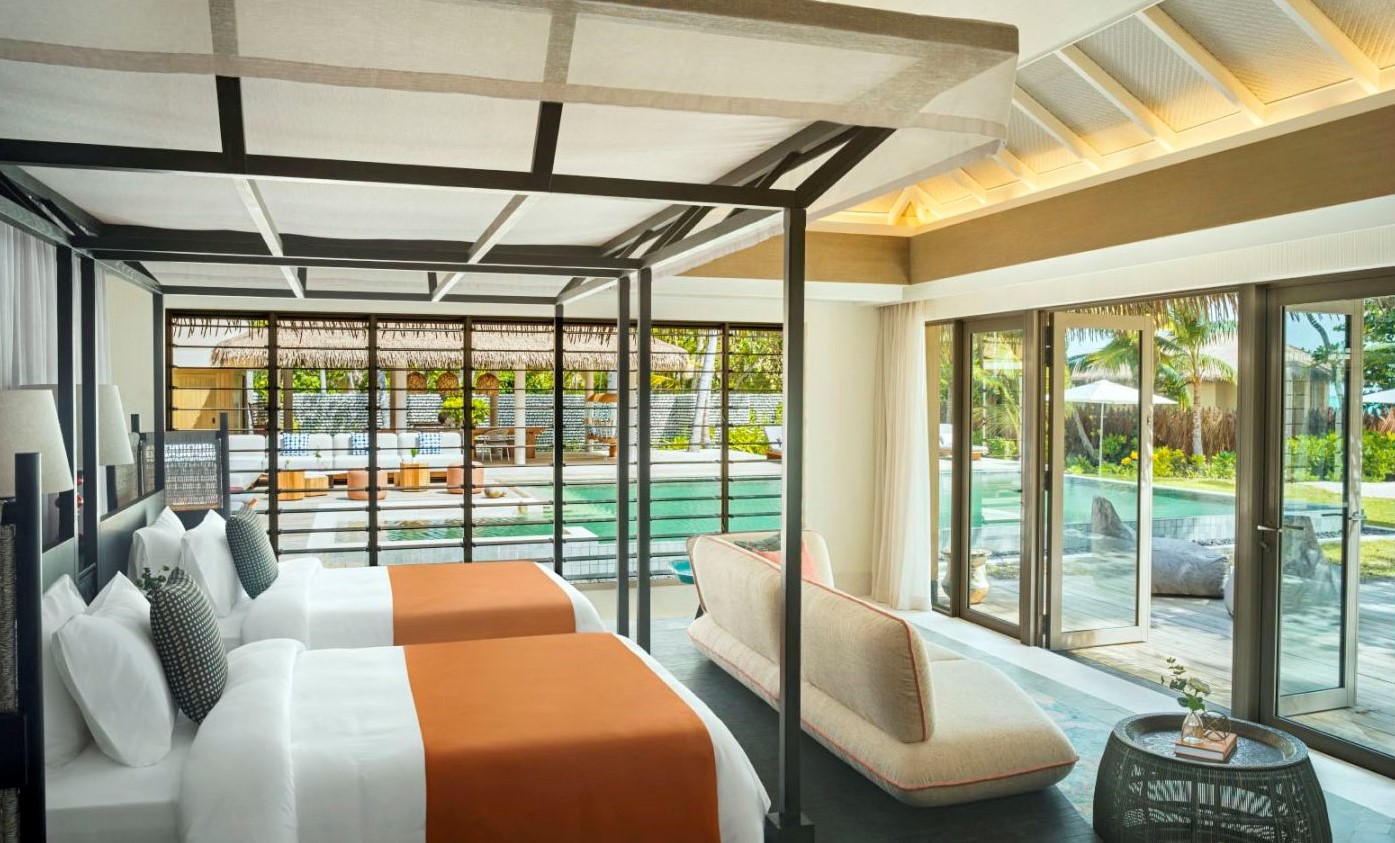 3 BEDROOM ROYAL BEACHFRONT RESIDENCE - SECOND BEDROOM
This residence features three bedrooms, a kitchen, a large pool, and indoor/outdoor living spaces where you can create exceptional memories with your loved ones. Your 'Island Curator' will take care of all your needs and wants and just like the previous villa, this villa also comes with complementary features such as daily replenished fresh fruits, coffee, tea, and water. This residence also comes with a smaller pool with an additional room, although it is smaller in size compared to the main pool. However, it will provide privacy for a couple if you ever need it. If you wish to relax like royalty, you might want to choose this residence for your accommodation.
3 Bedroom Overwater Residence
Feel a sense of floating on the famous azure lagoons of Maldives by staying in this 440 sqm three-bedroom overwater residence. Although it may be smaller than the previous residence, it makes up for it with stunning views of the majestic Indian Ocean and a true sense of a hideaway since it is perched on the lagoon away from the island. With a maximum occupancy of 6 adults, this would be the ultimate stay for a group of friends or a family if you are traveling without children.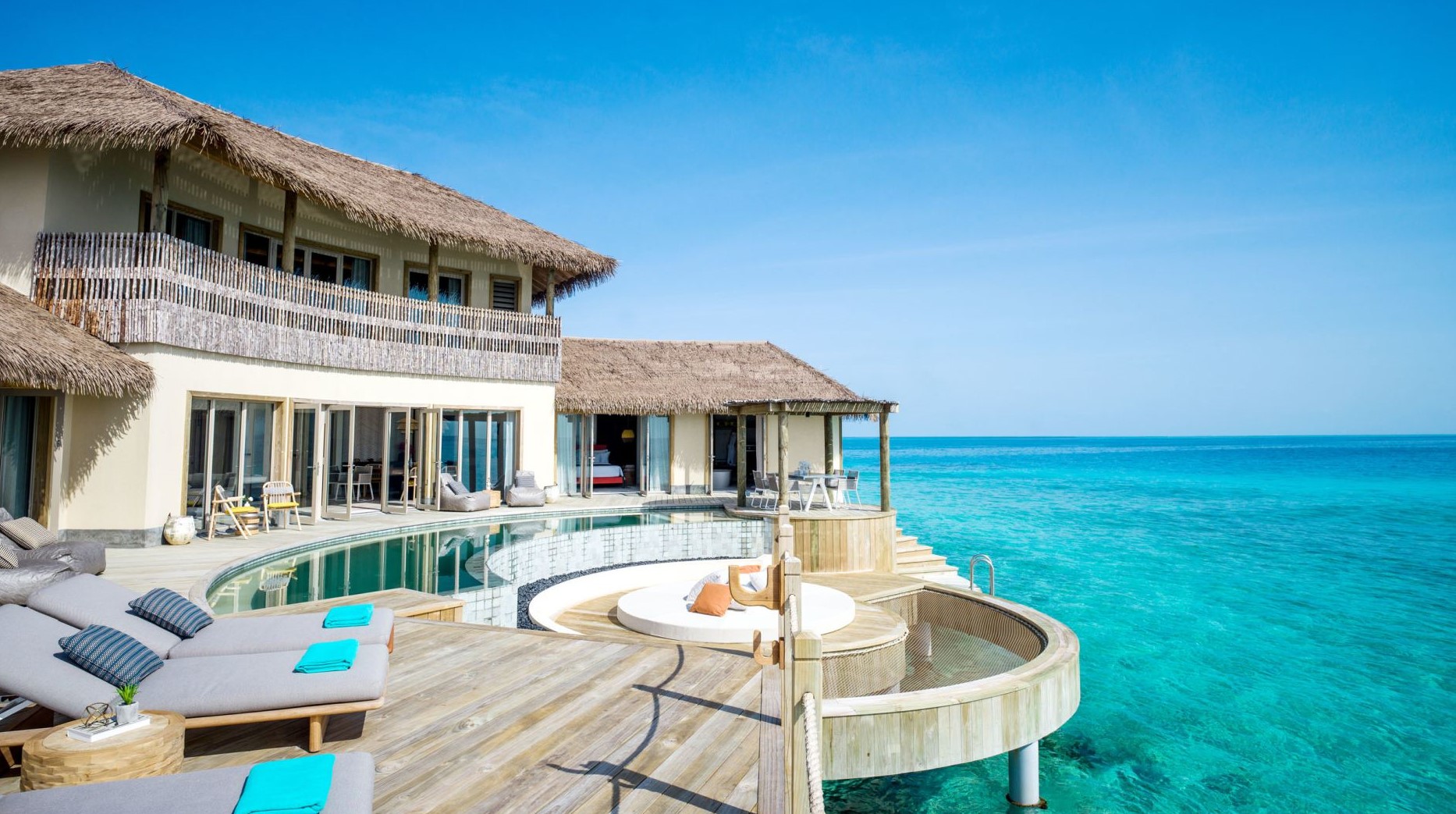 It features three bedrooms, 2 with King-sized beds and one with a twin bed, an open kitchen, a spacious living area, and dining space. Your stay will be made extra special by your 'Island Curator', who will go out of the way to make sure that you make the most of every minute you spend in this gorgeous residence. Each bedroom is facing unending views of the azure lagoon but connected so that you can enjoy fun-filled social time and get the privacy you want when needed.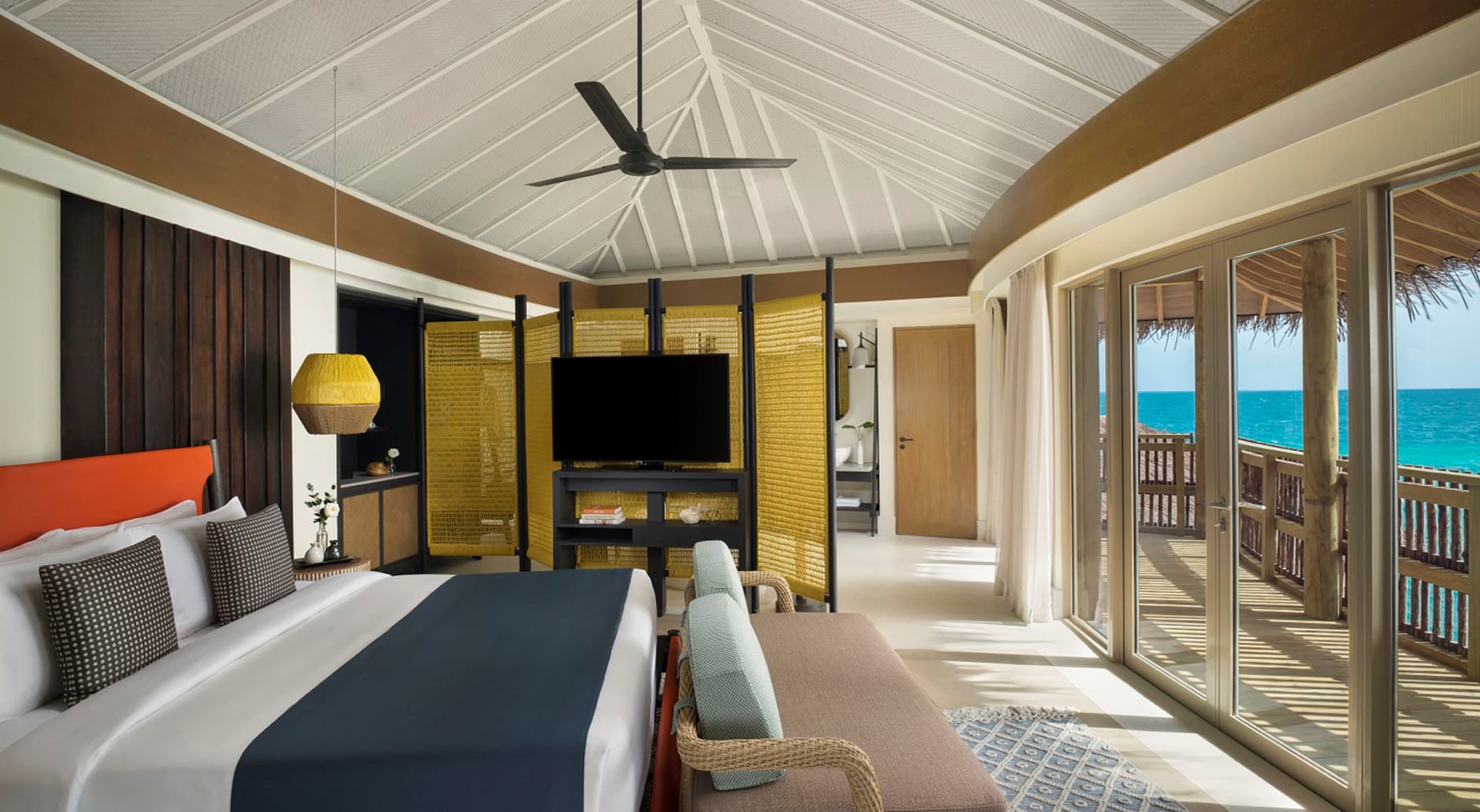 It also comes with a large swimming pool and direct access to the lagoon. You can never have too many options. The bathrooms are spacious and come with a bathtub and luxury amenities. Just like the previous residences, this residence also comes with the same complementary features.
3 Bedroom Lagoon Residence
Larger than the Overwater Residence, with a total area of 500 sqm; this residence comes with three bedrooms, (2 with King-sized beds and one with a twin bed). Perched on at the end of the lagoon, this residence will also provide you with uninterrupted views of the crystal clear waters that join up to the majestic Indian Ocean.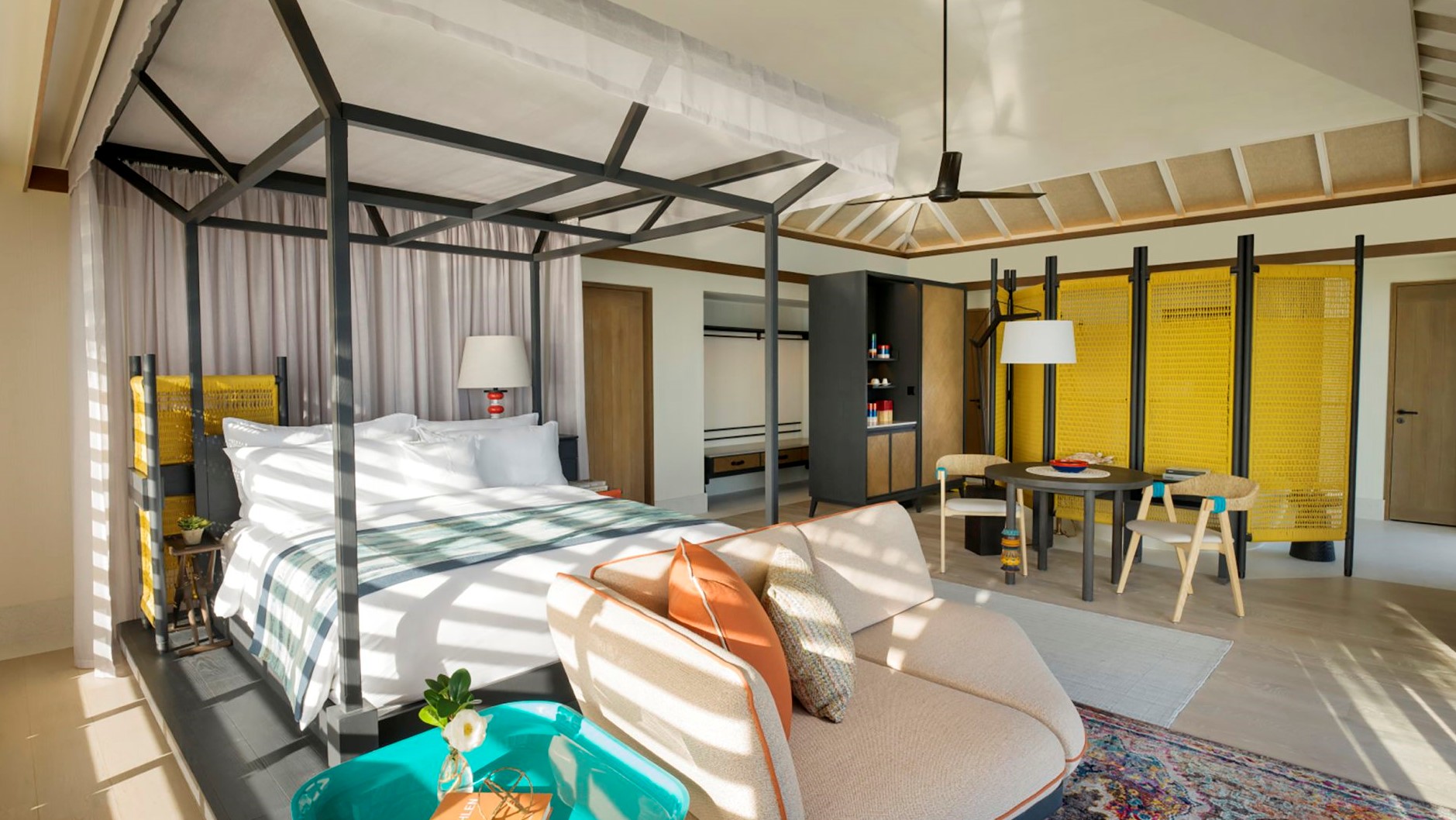 Perfect for groups of friends or families with children, this residence has a maximum occupancy of 6 adults and 3 children. It also comes with a spacious living area and dining area. Comfortable sofas and sun loungers are located at different parts of this residence for you to relax in. Your 'Island Curator' will tailor your holiday according to your needs and wants. This residence also provides all the complimentary features as the other residences.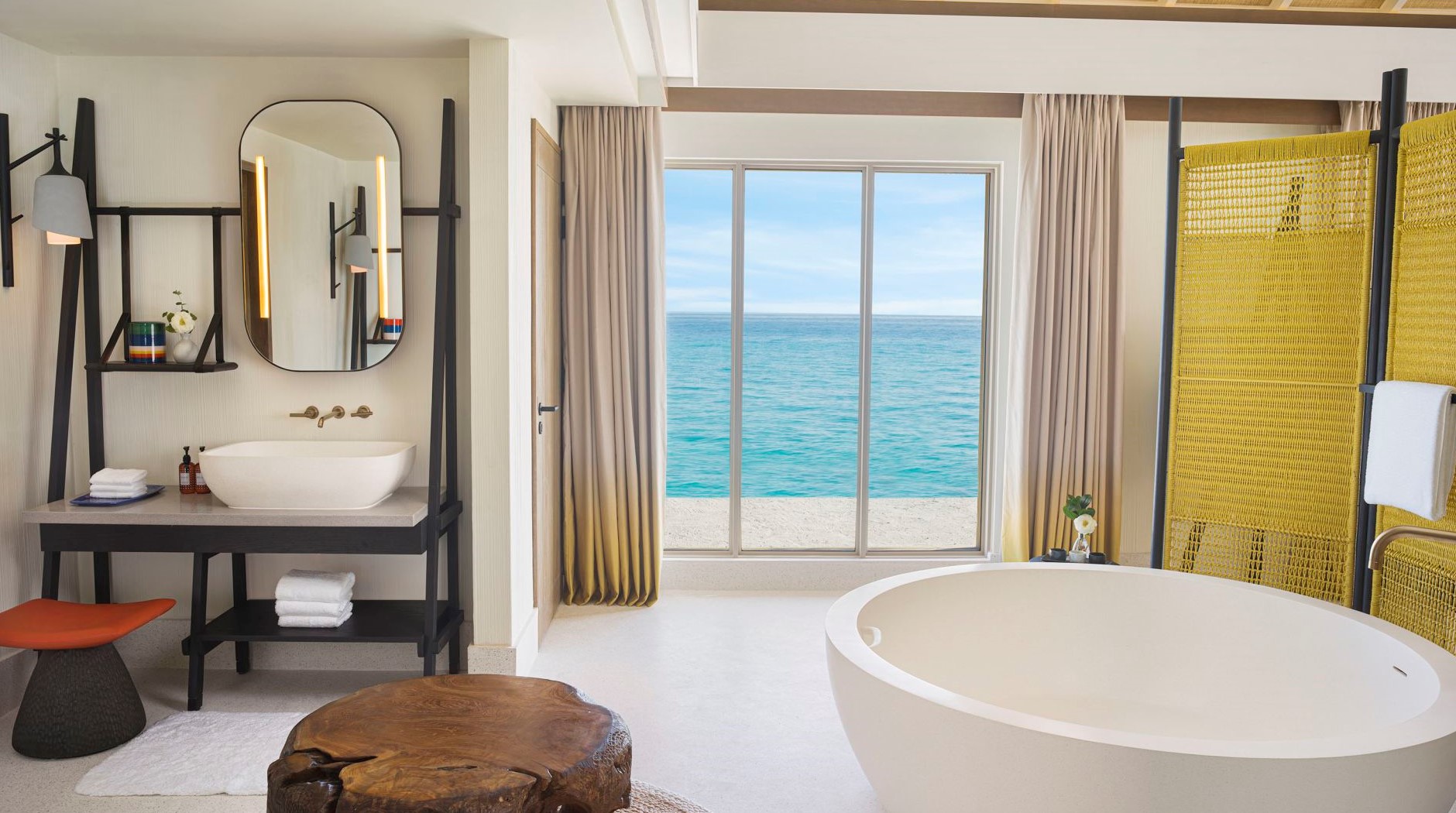 Other Accommodations
Although we highlighted the residences of this beautiful island if you prefer you can also stay at any of the villas this island has to offer. Some options include; a 110 sqm Beach Pool Villa with a maximum capacity of 2 adults and 1 child, a 125 sqm One Bedroom Lagoon Pool Villa with a maximum capacity of 2 adults and 1child, a 100 sqm Sunset Overwater Pool Villa with a maximum capacity of 2 adults, a 125 sqm One Bedroom Sunset Lagoon Pool villa with a maximum capacity of 2 adults and 1 child, a 130 sqm Family Beach Pool Villa with a maximum capacity of 2 adults and 1 child, a 170 sqm One Bedroom Beach Pool Villa with a maximum capacity of 2 adults and 1 child, a 100 sqm Overwater Pool villa with a maximum capacity of 2 adults, a 150 sqm Two Bedroom Family Lagoon Pool Villa with a maximum capacity of 2 adults and 2 children, a 190 sqm Two Bedroom Family Beach Pool Villa with a maximum capacity of 2 adults and 2 children or 300 sqm Two Bedroom Overwater Pool Villa with a maximum capacity of 4 adults. All villas come with complementary features such as snorkeling gear and luxury bathroom amenities. At the end of the day the decision is yours, so pick wisely according to your requirements and desires.
Is It Eco-Friendly?
As we all are aware of the climate change that is transpiring on our planet home, one of the most important questions is whether our vacations are eco-friendly. Sustainable tourism is a major factor for InterContinental Maldives Maamunagau Resort as it is close to the Baa Atolls' UNESCO Biosphere reserve. They work very closely with Manta Trust (a non-profit organization) to create a safe sanctuary for the gentle giants' that is the Manta Ray, right in the resort's lagoon. Coral restoration projects are run by an experienced biologist to monitor and protect the exotic marine flora and fauna the Maldives is famous for. During your stay, the marine biologist will share their wisdom with you to help you get a better understanding of marine life in the Maldives.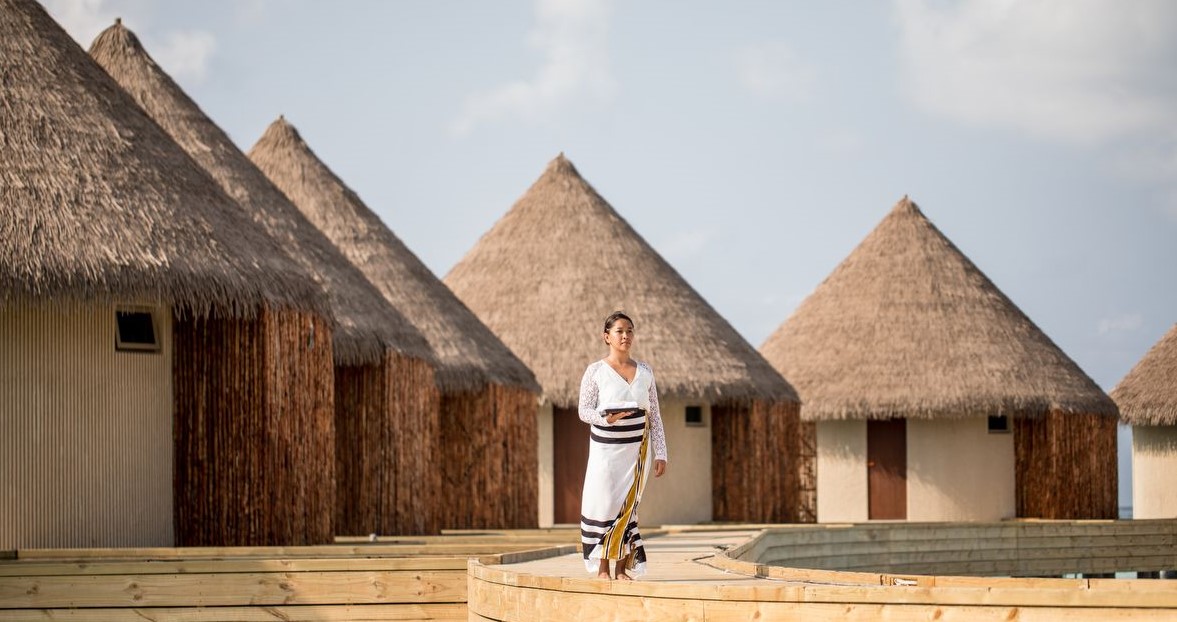 They have also installed solar panels on the roofs of the colleague residence to reduce the carbon footprint by 3,149.280 tons per year. They are also working to implement a glass crushing system that will facilitate them to use crushed glass alongside aggregate in concrete works. They also produce compost from food waste and are committed to reducing plastic by 90% and glass waste by 80%. It is reassuring to know that your stay on this beautiful island will not hurt the planet.
Children Friendly This private island is quite family-friendly. From the accommodations to activities, they have designed everything to suit your family. They have a Planet Trekkers Kids Club that allows your children to discover the deep wonders of the Indian Ocean through games, arts and crafts, and mini expeditions. Any child from ages 4-12 can join this club and will be taken well care of by the experienced staff.
Dining Experiences And Options
Enjoy a gastronomical dining experience at any of the 6 restaurants and bars on this private island. Starting at Café' Umi, an all-day dining restaurant serving dishes inspired by natural and sustainable internal cuisines. They serve breakfast. Lunch and dinner with elevated comfort whether you prefer to enjoy your meal indoors or outdoors. If you want a more private dining experience, you can visit 'Lighthouse' a restaurant that serves Spanish dishes for dinner with a stunning 360 view of the Indian Ocean. It would truly be a fairytale to dine in a lighthouse watching the waves dance along to the rhythm of the ocean as the stars flutter right above you. For seafood lovers, this resort offers you 'Fish Market'; serving Maldivian Seafood blended with the flavors of Southeast Asia. Here you will be able to select your own seafood with the guidance of the highly experienced chefs. This restaurant is a highly sought after location for sunset dining as it only opens for dinner.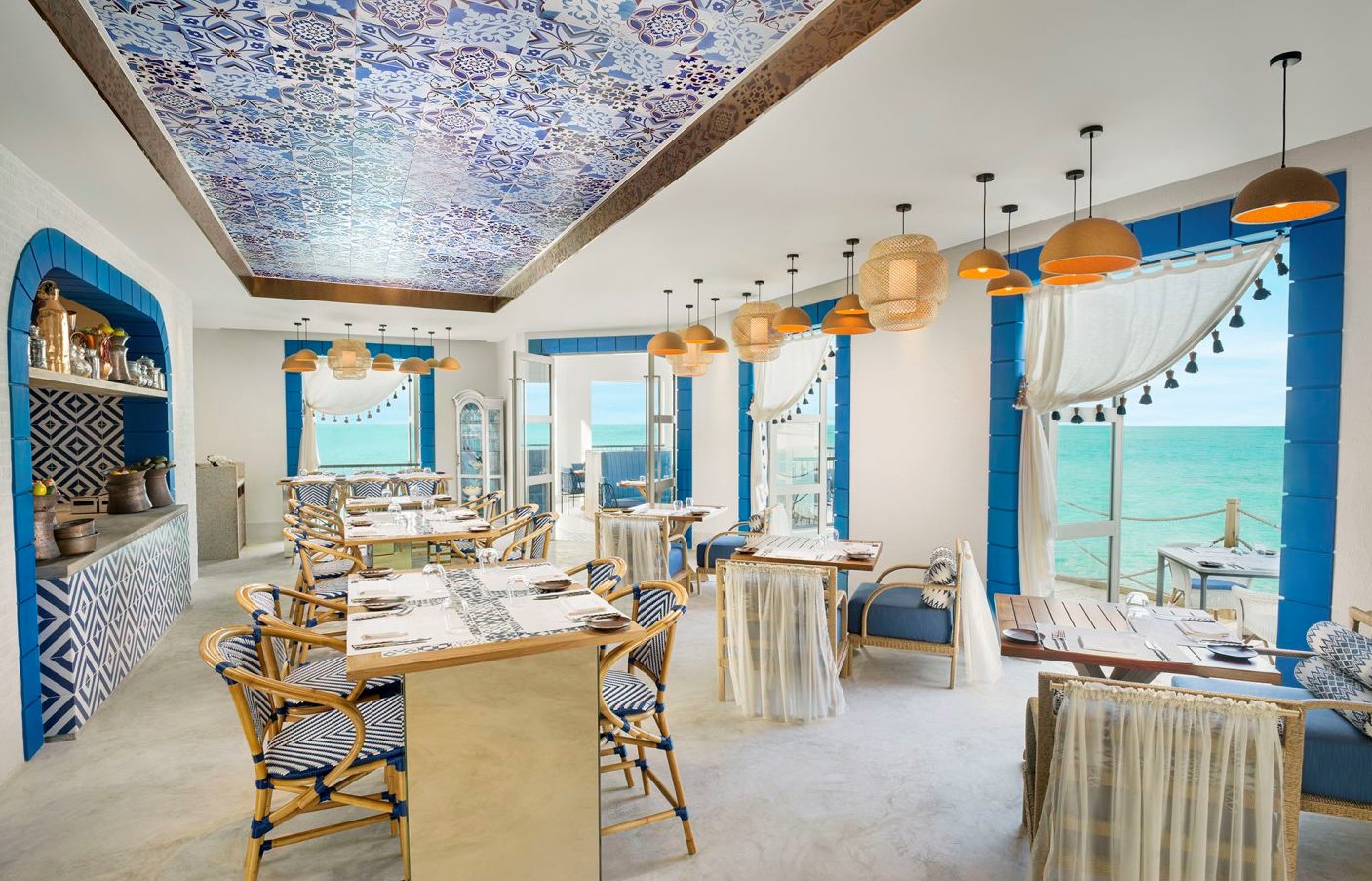 For families, 'The Collective' restaurant would be a wise choice, as it is placed alongside the main pool and gives you mesmerizing views of the beach and ocean. They serve fresh fruit juices, pastries, healthy wraps, pizza and comes with a Gelato Bar. For an adult-only time, you can visit 'The Retreat'; the perfect location for a special moment with your significant other, right at the azure lagoon. In the afternoon you will be served 3-tier exquisite treats and tea or you can choose to sip on an evening cocktail on relaxing swing chairs whilst munching on a small plate of delectable. Your desires will be fulfilled at this restaurant regardless of whether you are having breakfast, afternoon tea, or diner.
There are two bars on this gorgeous island. Visit the Sunset Bar to toast to a fine evening as the tropical sun bids farewell, displaying nature's finest painting on the sky. The playlist is compiled to give you a sense of relaxation as you take in the views of the Majestic Indian Ocean whilst sipping on fine champagne. If you are up for a more fun-filled bar, you can visit the Pool Bar. Set along the main beach and pool, you will get uninterrupted views of the India Ocean as you try out the fine cocktails and fresh juices this bar as to offer.
Verdict
The residences of this beautiful slice of heaven are perfect for groups and families that wish to enjoy social time together with fun-filled activities and also get privacy when needed. From the specially designed residences, dining, and activities; everything is well-tailored to fit your needs and wants. This is where luxury and relaxation come together in a fierce battle to get rid of all your stress and worries to give you a sense of floating as the weight of the world is lifted off your shoulder. Come live your fantasy on this private island filled with magic and wonder as far as the eyes can see. It will make you feel at home right away and make itself into a womb where you can nurture and pamper yourself. Let's write this personalized fairytale at InterContinental Maldives Maamunagau Resort.
Best Residences At InterContinental Maldives Maamunagau Resort. #Maldives #LuxSouthAriAtoll #LuxMaldives #LilyBeach #SunIsland #Diving #Scuba #ScubaDiving
Sea level rise will sink Maldives and the solution is...
Win Maldives Holiday 2014 - Promo ends 14 Dec 2014
Direct flight from Italy to Maldives with Alitalia