Breakfast Comes Floating In Maldives Luxury Resort
Serving breakfast in bed is quite common in luxury resorts. But, the latest trend of having floating breakfast in pool is catching hype across the Maldives. Many tourists find this new dimension of dining a great way to create wonderful memories and the trend is particularly popular among the honeymooners. It's a totally new experience which many of us have never experienced. When you are on honeymoon you want to try something that is different.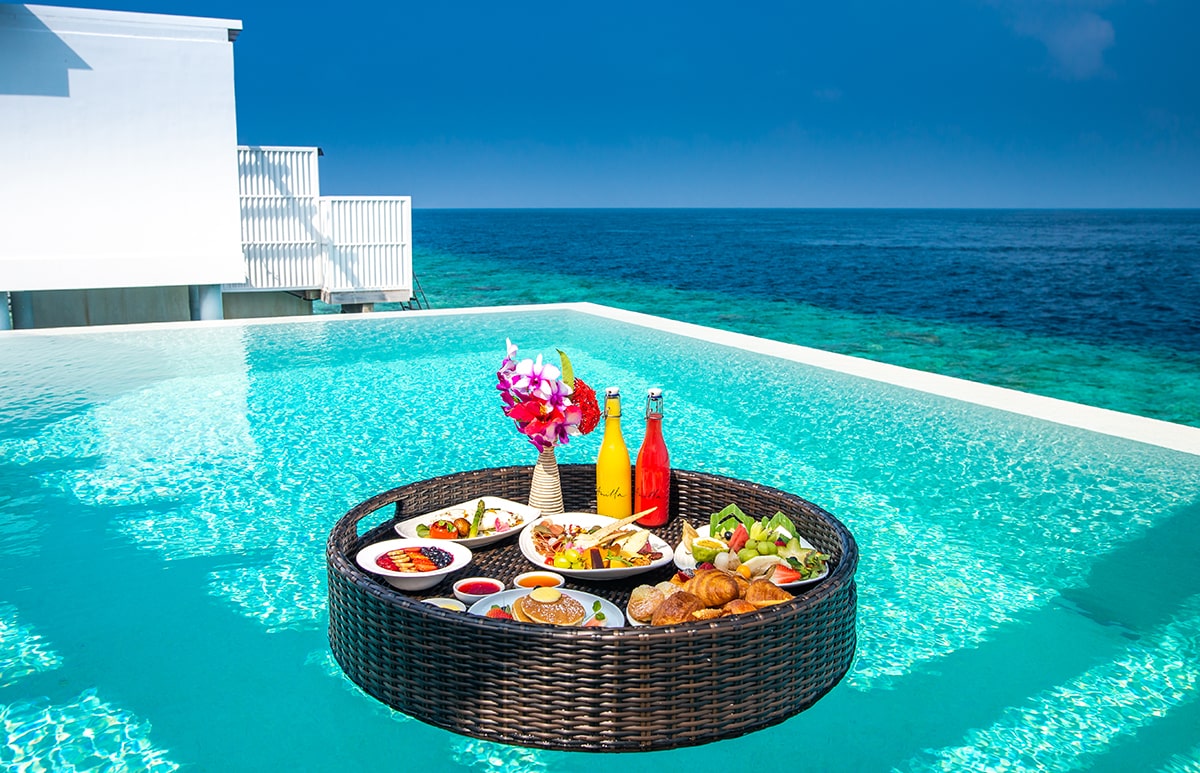 Photo: Floating Breakfast in the Reef Water Pool Villa - Amilla Maldives
This is the floating pool breakfast at Amilla Maldives. Located in the UNESCO Biosphere Reserve of Baa Atoll, it takes only about 25 minutes by seaplane to get there. This island has been known as the hotspot among Hollywood celebrities. The minimalist but spacious villas over the lagoon are ideal for honeymooners. Celebrities mostly choose private beach residences that span from 4 bedrooms to 8 bedrooms. The resort serves floating breakfast to all villa categories. Amilla offers a total of 67 villas and the unique Treetop Pool Villa suspends 12 metres above ground and it comes with a private pool. So, you can enjoy your floating breakfast up in the treetop while gazing nature's life such as flying foxes and birds that live around.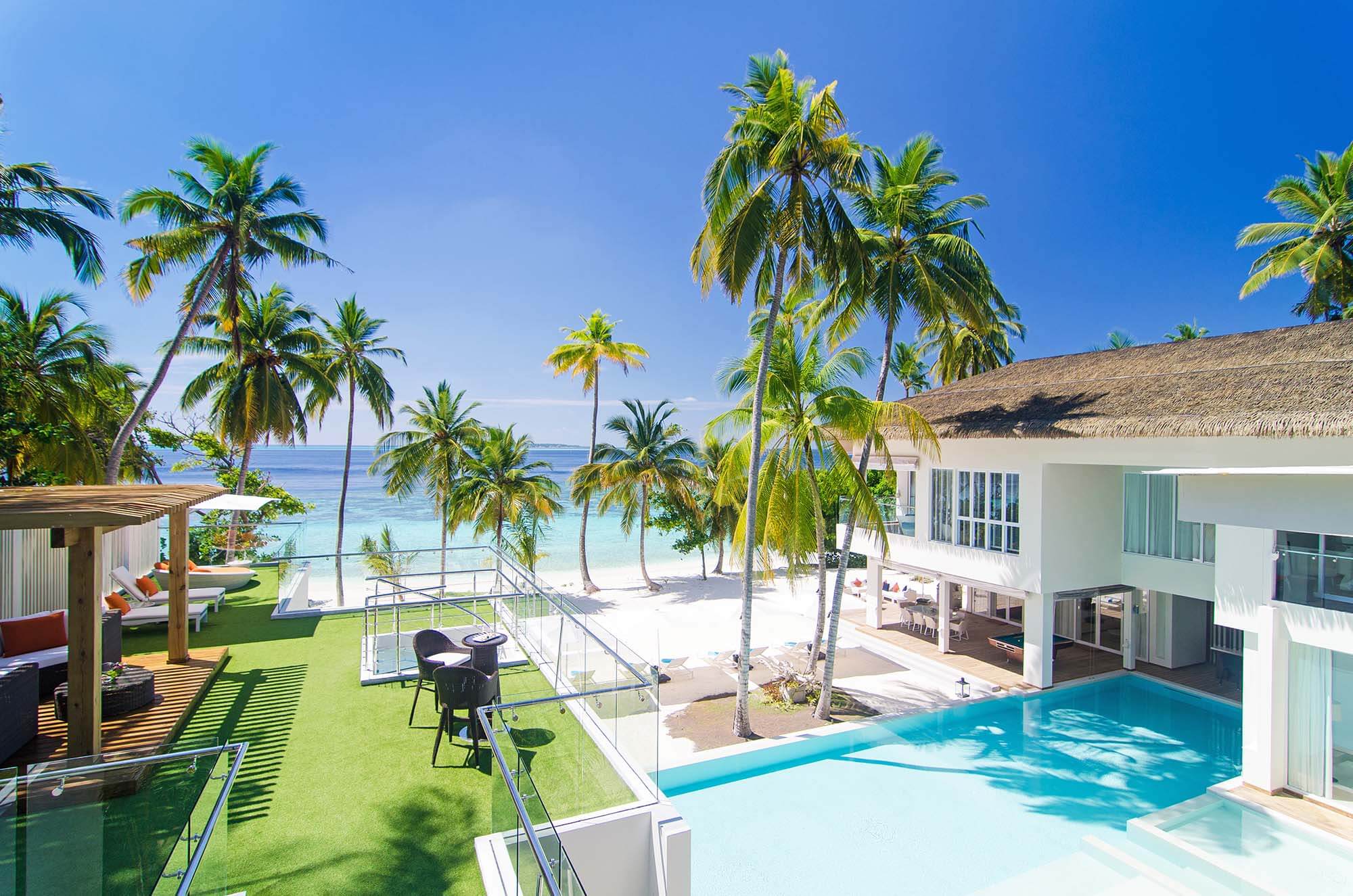 Photo: The Amilla Estate - 6 Bedroom Beach Residence.
Private Residences are the preferred choice among the extravagant class of guests and celebrities, these villas come with multiple bedrooms. When you are in the 6 bedroom villa at
Amilla Maldives
you have quite a few spots for breakfast. One is this prime spot on the terrace that gives a gorgeous view of beach and palm trees and of cause the pool as well. Otherwise you can go down stairs and walk out into the private beach or the pool. Floating breakfast is more of an experience than a new style of dining. Especially when you are in bikini and sunk in the water, watching sunrise or enjoying breath-taking view of the Indian Ocean. Since all this is happening in the privacy of your villa it is totally up to you how you want to enjoy. It could be a great surprise for your partner. If you have not seen this before you might no have clue that your breakfast could this style. Amilla also have few categories of water villas with pool, it would perfect to enjoy floating breakfast in pool over the ocean.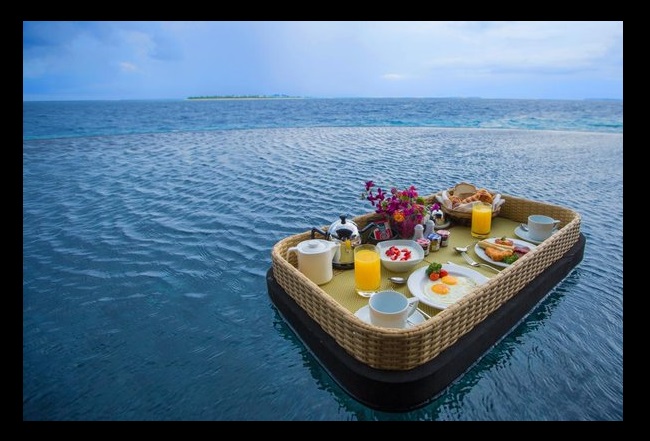 Photo: Floating pool breakfast at JA Manafaru in northern Haa Alifu Atoll.
Prior to this new concept
floating breakfast
you may have been indulging the luxury resorts with breakfast in bed, by the pool or at a secluded locations on the beach. Floating breakfast in pool surpasses all this. This is a new chapter in luxury lifestyle dining.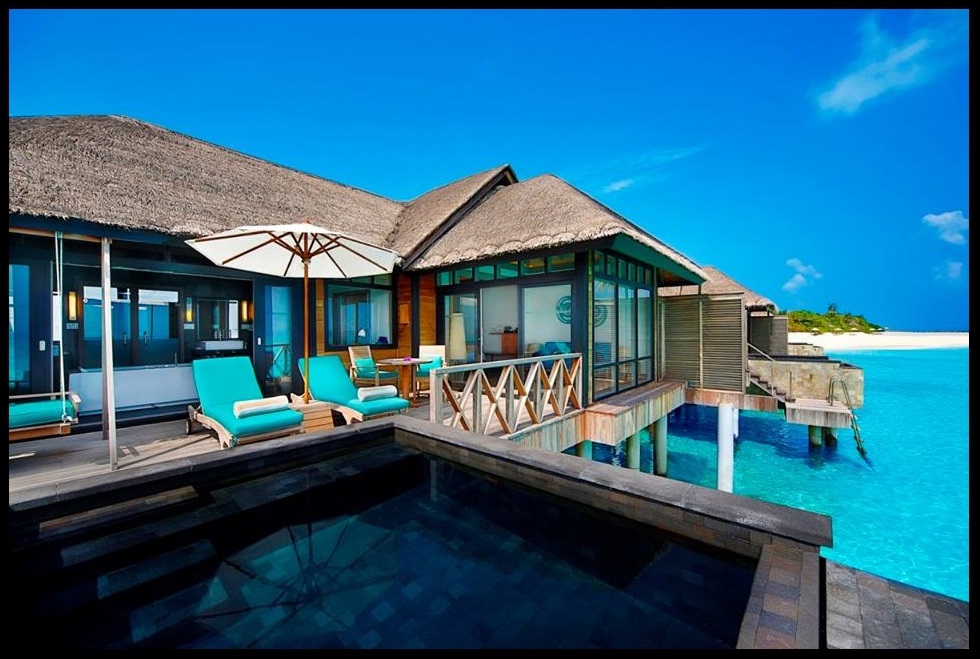 It takes about 75 minutes by direct seaplane to JA Manafaru. A combination of 45 minute domestic flight followed by 40 minute speedboat transfer makes it USD500 per person for return transfer. The lounge in seaplane terminal offers complimentary snacks while you watch television or browse internet from your phone or tablet. Once arrived in the resort there lot of facilities to enjoy. Seven different restaurants ensure you get variety of different but fine cuisines dine. There two additional private islands enable you plan your own fairy tale and surprise your partner. Diving centre and spa should never be forgotten.
Send us a message to book a resort with floating breakfast!
Breakfast Comes Floating In Maldives Luxury Resort. #Maldives #Malediven #Reise #Urlaub #Мальдивы #Maldivler #Maldivy