Simple But Heavenly Maldivian Breakfast For $3
Widely popular breakfast across the country known as Disc Mashuni (pronounced as Disc Mas-huni) is simple to make and heavenly in taste. True authentic Maldivian breakfast contains just two items; naan and tuna salad. But, the ingredients and preparation are not like the ordinary dishes are you are too familiar. The naan that is called Disc is made with flour and grated coconut. It is neither soft nor hard and served hot from flat pan on the stove.
Photo: Maldivian breakfast 'Disc Mashuni'
The tuna salad known as Mashuni is a mix of grated coconut, tuna, chili, onion, curry leaf and salt. Best tuna for this dish is dried tuna or smoked tuna. The canned tuna is easy to get and more common, but not as tasty as others. You do not have to cook Mashuni, just chop everything and mix.
Some may call this Roshi Mashuni as well. But, Roshi is thinner than Disc and you may not have coconut in the naan itself. Roshi Mashuni is also considered a good breakfast but not as good as Disc Mashuni.
If you are staying in capital Male' and want to try this breakfast the best place to go is west harbour area now known as Raaveribe Maizaan. There are many small restaurants on a line and any of those would serve you Disc Mashuni if you go before noon. The authentic Maldivian breakfast is available only at breakfast time and it costs just $3 per person. If you are a tourist make sure you ask price before ordering, always follow the golden rule when you are abroad.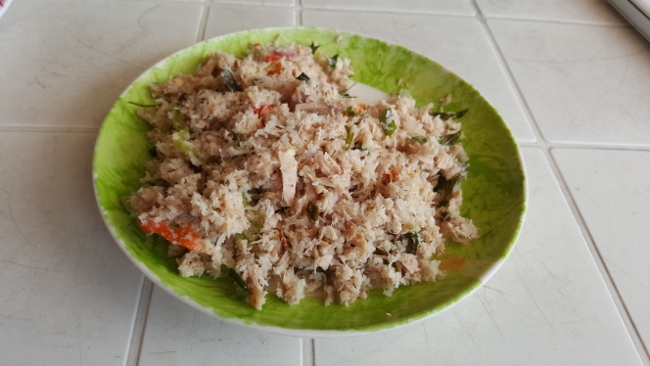 Photo: Mashuni (pronounced as Mas-huni)
Best drink to go with Disc Mashuni is the usual black tea. Fresh juices and other drinks are available but not recommended at all.
Foot outlets at Raaveribe Maizaan are not high class restaurants. The service quality is usually very low. The technique is to call the waiter for anything you need, if you wait for waiter to come and ask you may have to wait for a few hours if not whole day. There are plenty of customers at any given time. These are busy and less expensive places popular among locals. But, Disc Mashuni is something recommendable for tourists as well. Locals know this meal too well, you just have to mention and it is favourite of many.
To my surprise, there are lot of tourists actually asking small hotels and guesthouses to make Disc Mashuni for them. Repeater guests know this too well, especially the ones staying in small hotels or guesthouses. It's just perfect breakfast for anyone. But, Disc must really be sizzling hot.
Now you may be wondering how to eat this naan and salad. This meal is eaten usually by hand. Just tear apart a bite size piece from Disc and place it on top of Mashuni, tighten your fingers from the edges to grab some Mashuni and eat piece by piece. If you do not like touching food with bare hand cutleries can do the job without hassle.
If you like the Maldivian breakfast you may as well want to check out the
floating breakfast
offered in Maldives luxury resorts. This is more of an experience than its taste. But, there are variety of accompaniments and it could be customized for your personal diet preference. Give it a try!