Best Resorts In The South Ari Atoll For Divers
Maldives is an island archipelago with many worlds unto itself, a tropical haven that's sought after by honeymooners, vacationers, divers, surfers and water sports enthusiasts alike. The South Ari Atoll, is the southern side of an atoll ring that nurtured the rise of tourism with its abundance of gorgeous landscapes, unique dive sites and wildlife.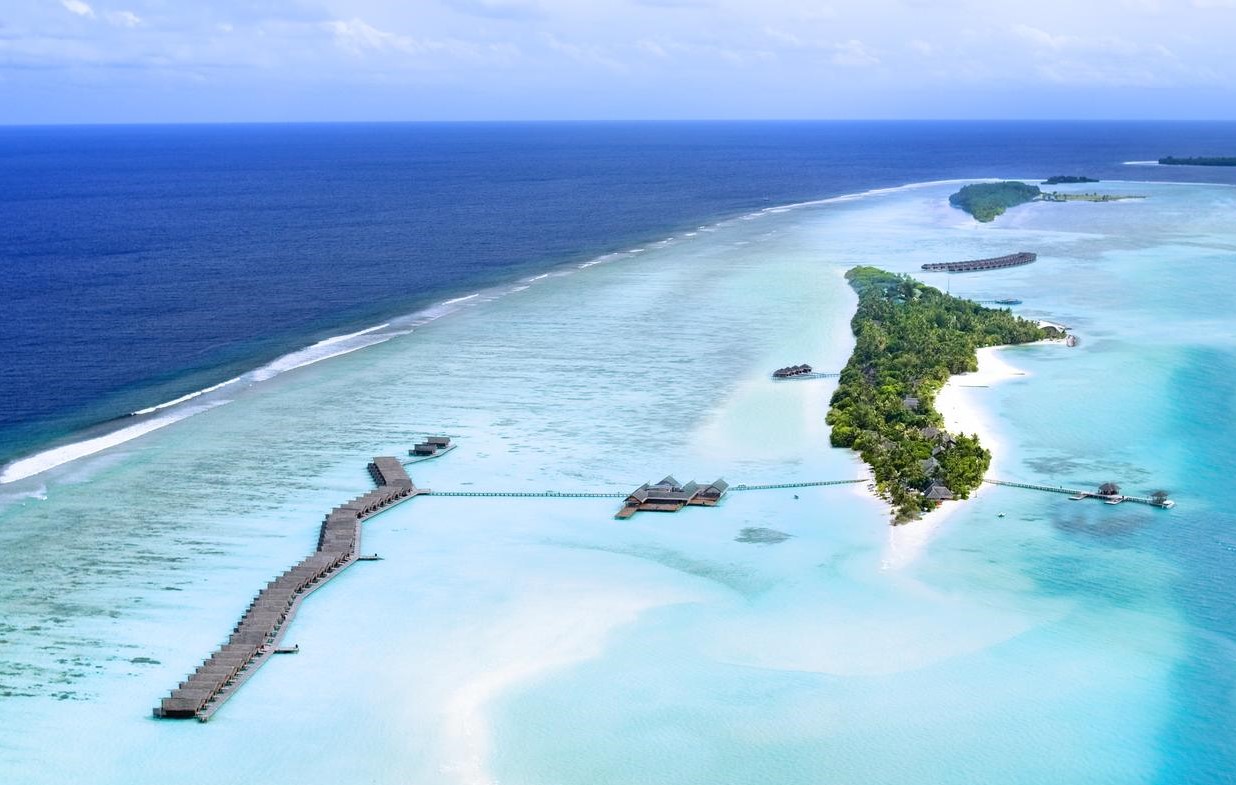 Sure, it might not be worthy of a bioreserve like Baa Atoll but it has quite the collection of reefs and internationally famous dive sites. In fact,
South Ari now has 17 resort islands
, making it the third most developed atoll in terms of resorts, just behind North and South Malé Atolls. The number of resorts is testament to both the ease of access from the international airport, as well as the incredible natural beauty that this atoll is famous for, both above and below the surface of the sea. Here a few of the most sought-after resorts in the island.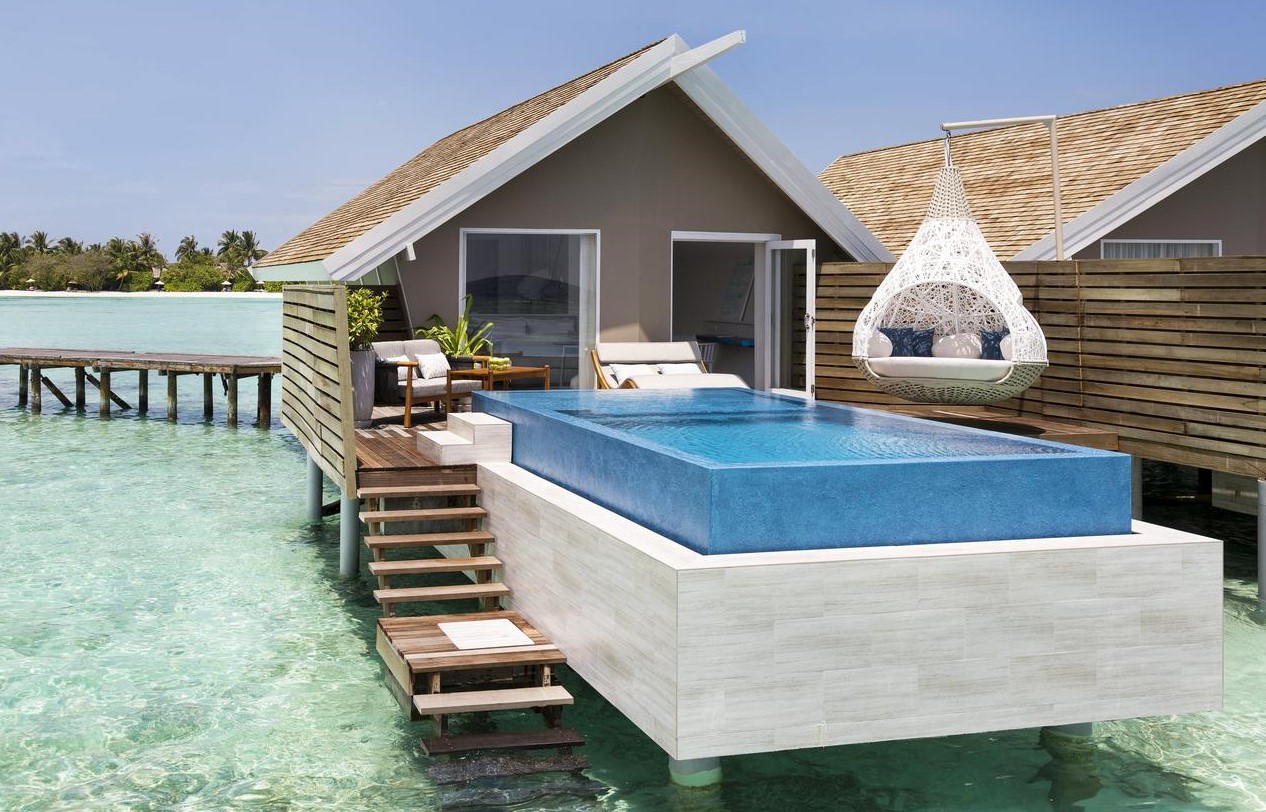 The whole of Ari Atoll is known for its distinct diving experience and there's a general consensus among divers and tourists online that the best diving experience they've had is South Ari Atoll. However, South Ari Atoll isn't the sort that involves classic breathtaking, vibrant coral reefs but something even awe-inspiring. The atoll features dive sites which are perfect for spotting whale sharks, Manta Rays and other marine life. The reefs,
thilas
and channels there are justifiably famous for their unbelievable underwater topography where you can behold dramatic overhangs and canyons draped with vibrant soft corals, along with the abundant and spectacular marine life, including possibilities for some exciting encounters with large pelagic.
Since whale sharks and manta sightings are almost guaranteed all year round,
South Ari is a perfect location
for divers and snorkelers. The dive sites are shallower and easier compared to those in the north so the atoll caters to both beginner and more advanced divers. Add to that the quintessential white sandy islands combined with sparkling lagoons that is the essence of Maldivian scenery and you get the perfect tropical paradise, both above water and below.
Lux South Ari Atoll
This private island atoll is a massive large-scale resort that aims to provide its guests with an authentic experience where they make unforgettable memories. Though this resort may seem like it's one of those cookie-cutter big resorts as it is one of the biggest island resorts in Maldives, be assured that a holiday here is not just another beach holiday. They strive to ensure that your stay is memorable by taking unique approaches to create the special moments that make it so. Appreciate the island-roasted coffee at Café Lux, watch impromptu screenings at the cinema Paradiso or hang your hopes on the magical tree of wishes.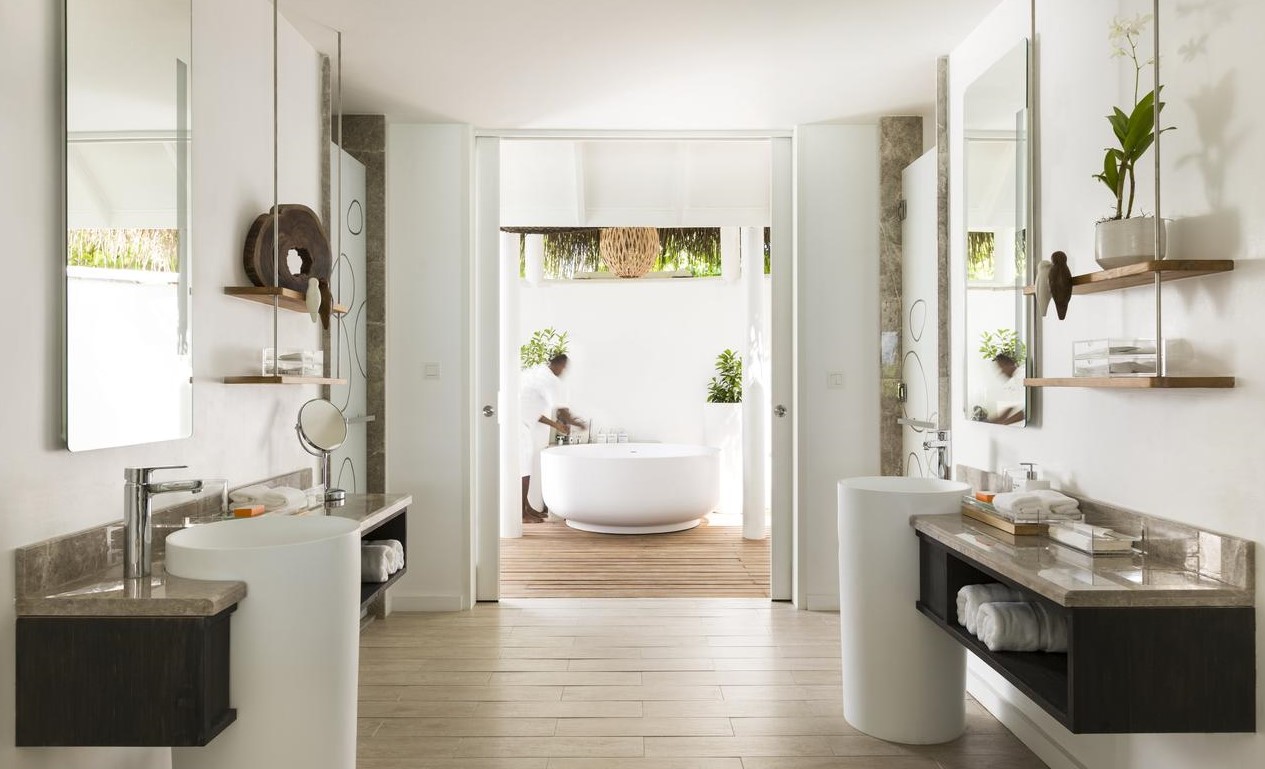 The LUX brand differentiates itself by being more laid back and not taking things too seriously. After all, "light, brighter" is their slogan and this definitely reflects on every aspect of your experience at this hideaway. The island its based is called "Dhidhoofinolhu" and it's 2 Kilometers long and is very thin. It just half an hour seaplane ride away from the international airport. Additionally, LUX is probably one of best lounges at Velana Airport.
Best Villas To Stay
LUX South Ari Atoll is arguably one of the largest resorts in the Maldives, with up to almost 200 villas and pavilions either on the beach or overwater. This means that its maximum capacity is almost around 400 guests so the resort really is on a different scale compared to other resorts in Maldives. There are a few room categories split between the locations of the beach and the lagoon. For the beach lovers and those with small children, there are 48 entry level Beach Pavilions, which are the least spacious rooms relative to the other options available and 45 Beach villas, slightly more spacious. For those who want a beach suite more spacious, along with a pool, there are 12 Beach Pool Villas.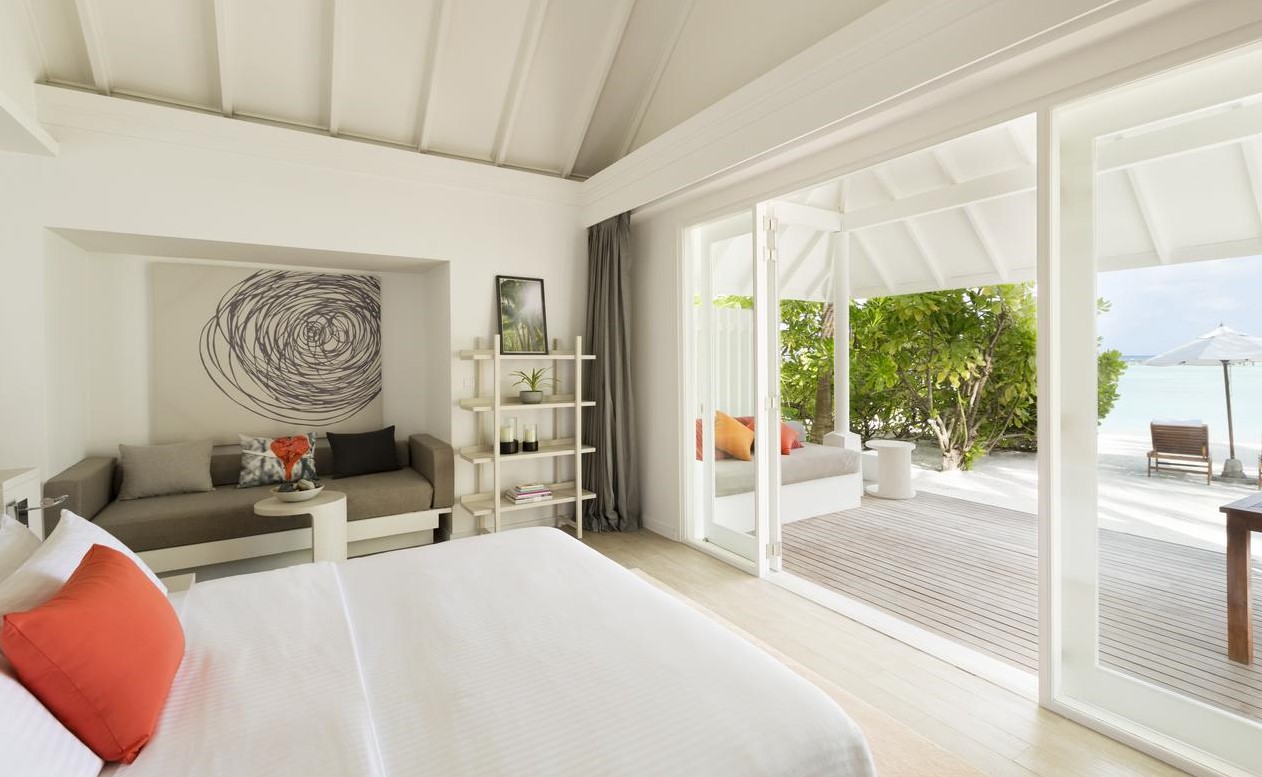 The Water Villas are quite nice if you're looking for the classic overwater villa experience but the outdoor decks are a bit busy and they face either the sunset or sunrise. The ultimate indulgence and the most highly recommended option for honeymooners and couples would be one of the 46 Romantic Pool Villas. Much more spacious, a huge outdoor deck and large plunge pools. The couples can access the water directly through the stairs and the infinity pool offers stunning views of the ocean. Moving up the luxury ladder, there are three huge Temptation Water Pool Villas, twice the size of the Romantic Pool Villas, covering 220 square meters. These are for the couples that are looking to splurge a little extra. Finally, like every resort, there's the ultimate suite which is basically the resort's mansion for two. It is a magnificent luxury villa with a glass floored living room, extensive outdoor terrace and lounge area with infinity pool.
Dining Experience
A resort big enough as this private hideaway needs to have enough dining options and experiences to cater to the vast number of guests it can host. A staggering eight restaurants and five bars, each with its own distinct cuisine, style and atmosphere. For breakfast, you can try either MIXE with its gigantic international breakfast buffet or the East Market where every eastern delicacy and dish is available. Moreover, there's also a bar at the East Market open from 5 PM to Midnight.
There's also Senses, the restaurant featuring middle eastern dishes as well as Indian Ocean favorites. The most premium restaurant would be Umami, that serves Japanese fresh sushi and sashimi along with several sakes and Japanese whiskeys. However, the most popular restaurant is Allegria, the famous Italian Restaurant in a more formal setting.
A restaurant and bar that's open for lunch only near the watersports area in a very informal setting is the Lagoon Bar perched right on the beachside. The Veli Bar is a poolside bar so you can relax while either taking a dip or sunbathing. Finally, there's the Beach Rouge, a bar and restaurant in the middle of island by the water. There's a large indoor and outdoor area under white tented roofs.  
Diving And Snorkeling
The resort has a five-star PADI dive center so that any guests or diving enthusiasts can experience the amazing world below the water. Just 20 minutes away from the National Whale Shark Reserve in Maldives, there's a team at the resort that's specifically for whale shark spotting and takes guests to swim along with the majestic giants. The house reef there is wonderful and there are daily house reef tours as well, where you can spot tropical fish and even sea turtles. There's even a resident marine biologist who leads the trips around the atoll, looking for whale sharks and turtles. This resort is just perfect for snorkelers and diving enthusiasts alike.
Sun Island Resort & Spa
Welcome to the largest resort in Maldives, capable of hosting more than 700 guests! Opened on the October of 1998, this resort will surprise you with it's all inclusive packages and budget friendly approach. Other than the fact that there's no other resort as big as Sun Island, the prices are very low compared to other expensive luxury resorts. If you don't want to break the bank or spend a huge chunk of your life savings but still want to have that dreamy vacation in the Maldivian tropical paradise, this resort was made just for you! Though the resort is not perfect, they certainly deliver their promise of luxury at a budget.
The resort is quite different compared to other resorts as it is quite busy and socializing is more accepted and encouraged. So it is way more family friendly and ideal for active groups or families on a budget but would be everyone's cup of tea. Honeymooners and romantic holiday chasers should probably look elsewhere. Although the resort attracts a budget-conscious, social and active crowd, don't make the mistake of thinking the quality of the experience will be substandard. The island of Nalaguraidhoo is quite long and you can walk, cycle or use a buggy and can be reached by a short 30-minute seaplane ride from the airport.  
Best Villas To Stay
The resort being the biggest in Maldives, it has an unbelievable total of more than 450 villas, with a variety of room types, all dependent on the budget and package you take. Most of the rooms are either Standard Beach Bungalows or Superior Beach Bungalows. Both rooms them are slightly behind the beachfront with dated décor and simple furnishing and tiled floor and around twenty to twenty-five square meters. There are the Sunset Villas which are slightly larger and located on the western side of the island and the Sun Villas inside the island offering a garden instead of a beach setting.
Those who want more space and style should opt for a Water Villa and finally, there are the premium overwater Presidential Suites which are larger than all other accommodation options with wooden floors and wall panels, a recessed ceiling with cornicing, copper, gold and peach striped textiles, work together to give an aristocratic look.
Dining Experience
There are 5 restaurants including a main buffet restaurant and other a la carte options and five bars and a coffee shop. Guests are given cards or bracelets depending on their meal plan and package. The main restaurant is Maaniyaa, a 250-seater beach side restaurant which serves a huge buffet for each meal, everyday where everyone except for those staying at the overwater bungalows can dine at. Those at the Water Bungalows get the same dining options but at the Southern Star Restaurant. There are other a la carte restaurants outside the inclusion which are charged to your room. There's the Sun Star Restaurant specializing in Thai cuisine, the Zero Garden where you can pick your own salad ingredients from the resorts own garden, the Guraamali Island Grill where you can get the best seafood and finally, the resorts own Italian restaurant,
Ristorante Al Pontile
.  
Dive Centre and Watersports
When it comes to diving, Sun Island does not disappoint, featuring the largest dive center in Maldives as well as a priceless location perfect to have the ultimate diving experience that Maldives has to offer. The Dive Oceanus dive shop is PADI-certified and features all things scuba, from lessons to excursions. They make diving a lively and fun experience and a chance to meet other like-minded divers.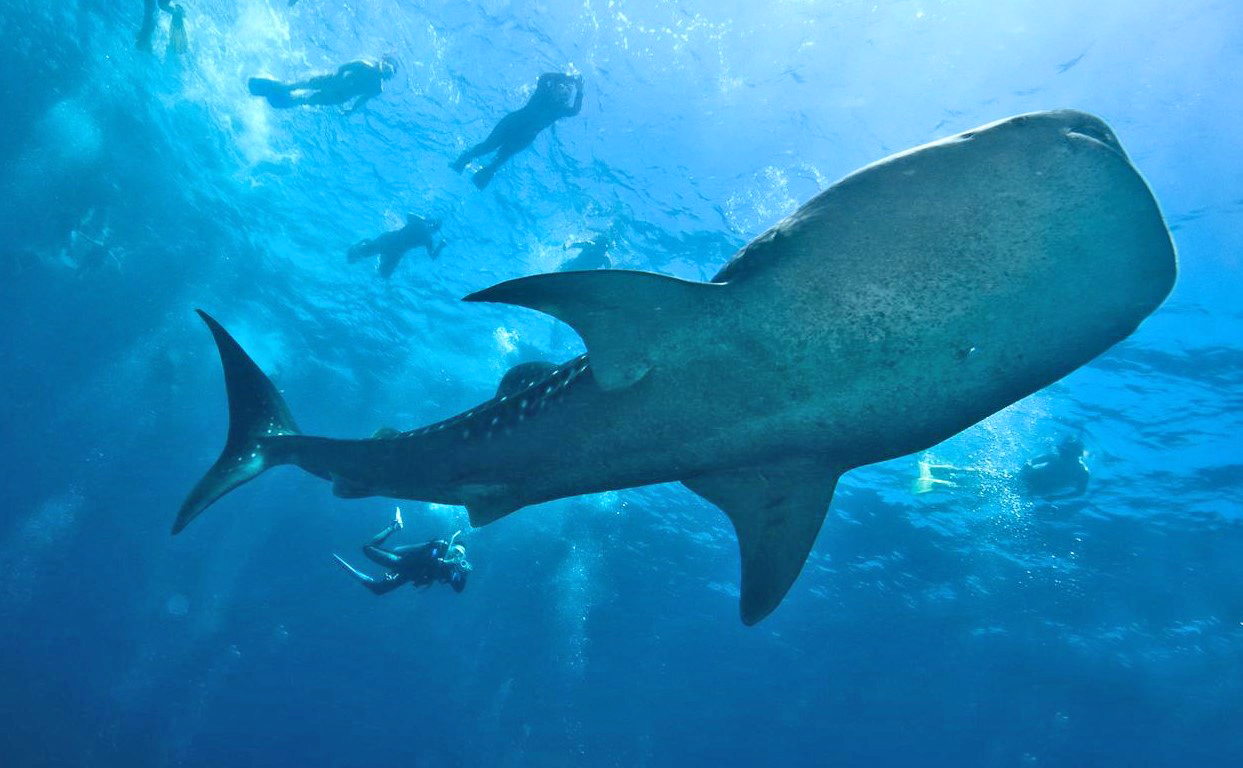 The PADI dive center also organizes snorkeling trips, such as whale shark or manta excursions. Due to the location of the resort, it allows divers a very high chance of encountering whale sharks or manta rays at the right time of year as well as a variety of other marine life, big and small. Even along the house reef, where guests can whale sharks and guitar sharks have been spotted. Manta rays are regular visitors along with stingrays and various other shark species. Don't forget the beautiful corals!
Conrad Maldives Rangali Island
Live the ultimate tropical holiday experience in style and luxury at this unique resort that spans two islands connected by a footbridge. With a picture-perfect resort that gets everything right and an island setting that's as good as it gets, what more could you ask for? The staff are excellent, the villas beautiful and the diving just fantastic. The resort takes the barefoot luxury approach as most of the restaurants and facilities are of toe-in-the-sand variety. The two islands that the island comprises of are called
Rangali Finolhu
and Rangali Island and attracts the luxury chasers such jet setters, business executives and even celebrities.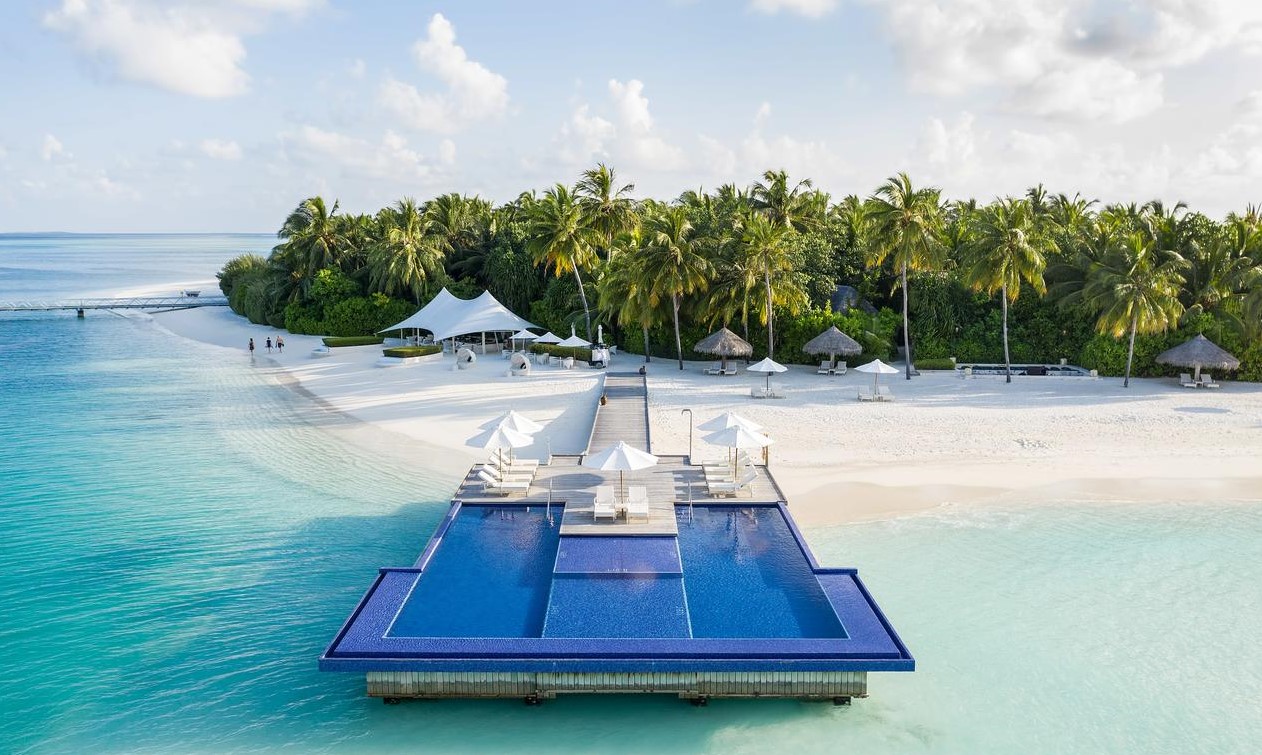 The resort is a 30-minute seaplane journey away from the international airport that takes you straight to the resort jetty. An alternate transport would be taking a domestic flight to Maamingili and then a speedboat to the resort, but this a bit time consuming and not exactly that much cheaper either. If the resort and the backdrop isn't enough, don't forget that this resort is home to the world's first underwater villa, The Muraaka and the first underwater restaurant in the Maldives, Ithaa.  
Best Villas To Stay
Each island has its own variety of distinct accommodation with its specific theme. Rangali Island is an adult only island with 50 romantic water villas with variants that only get more luxurious with each upgrade. The entry level accommodation would be the 28 Water Villas with an ocean view and private sundeck. There's another six Deluxe Water Villas with a jacuzzi on the sundeck and twelve Superior Water Villas much larger than the previous two. If that doesn't sate your luxe taste, there are two Premier Water Villas that are larger and have another jacuzzi in the bathroom and an infinity on the deck. The ultimate suite is the Premier Water Suite, a two-bedroomed haven of opulence standing on stilts in tropical paradise. There are also two Sunset Water Villas set in their own lagoon with glass floored living room, circular rotating bed and private infinity pool.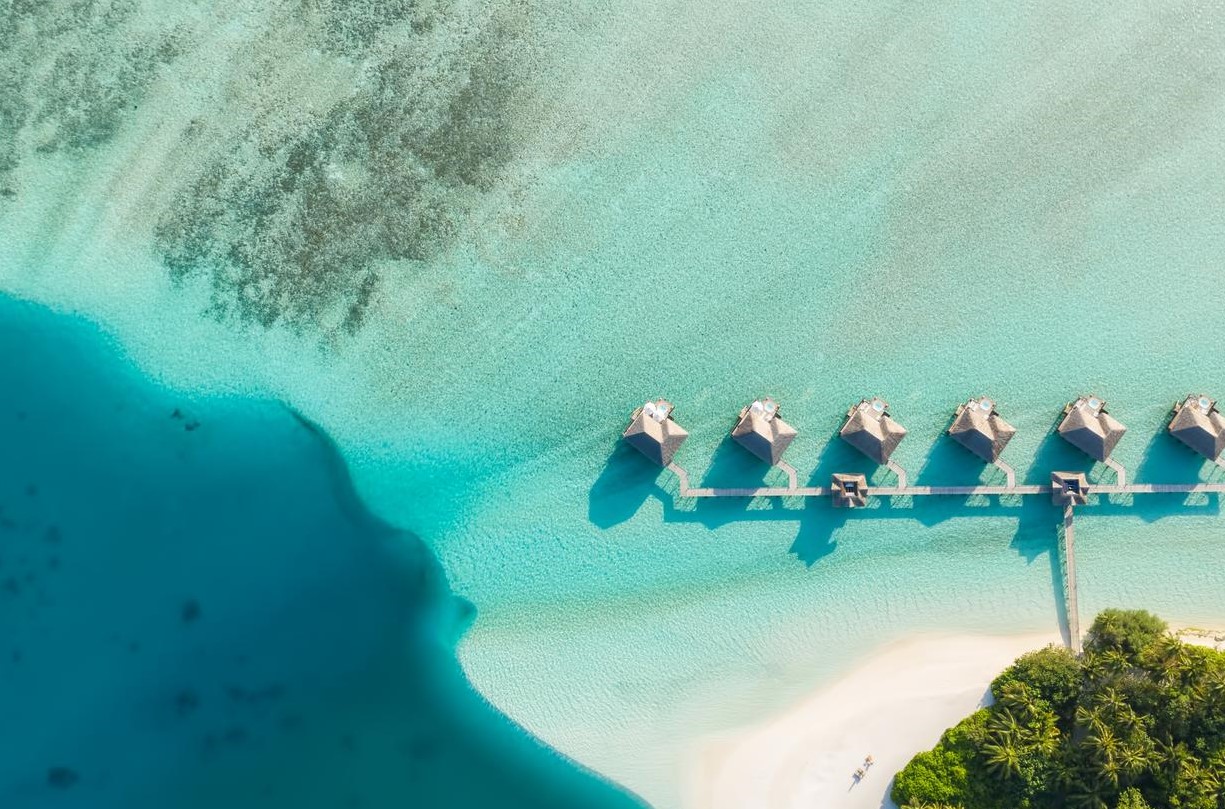 Worry not, the resort is family friendly. In fact, it has a whole island dedicated to accommodate large groups and families. Rangali Finolhu has 35 Beach Villas set in tropical gardens right on the beachfront with outdoor showers. There are 42 upgraded Deluxe Beach Villas which comes with an addition of a private plunge pool. There are two Junior Beach Suites which are even more spacious with a separate living area and two Beach Suites, which are the more upgraded variant of two combined Deluxe Beach Villas. There's even a Spa Retreat on the island, the only one of its kind in Maldives. It features 15 Retreat Water Villas and six Family Water Villas each with its own private spa treatment room.
Dining Experience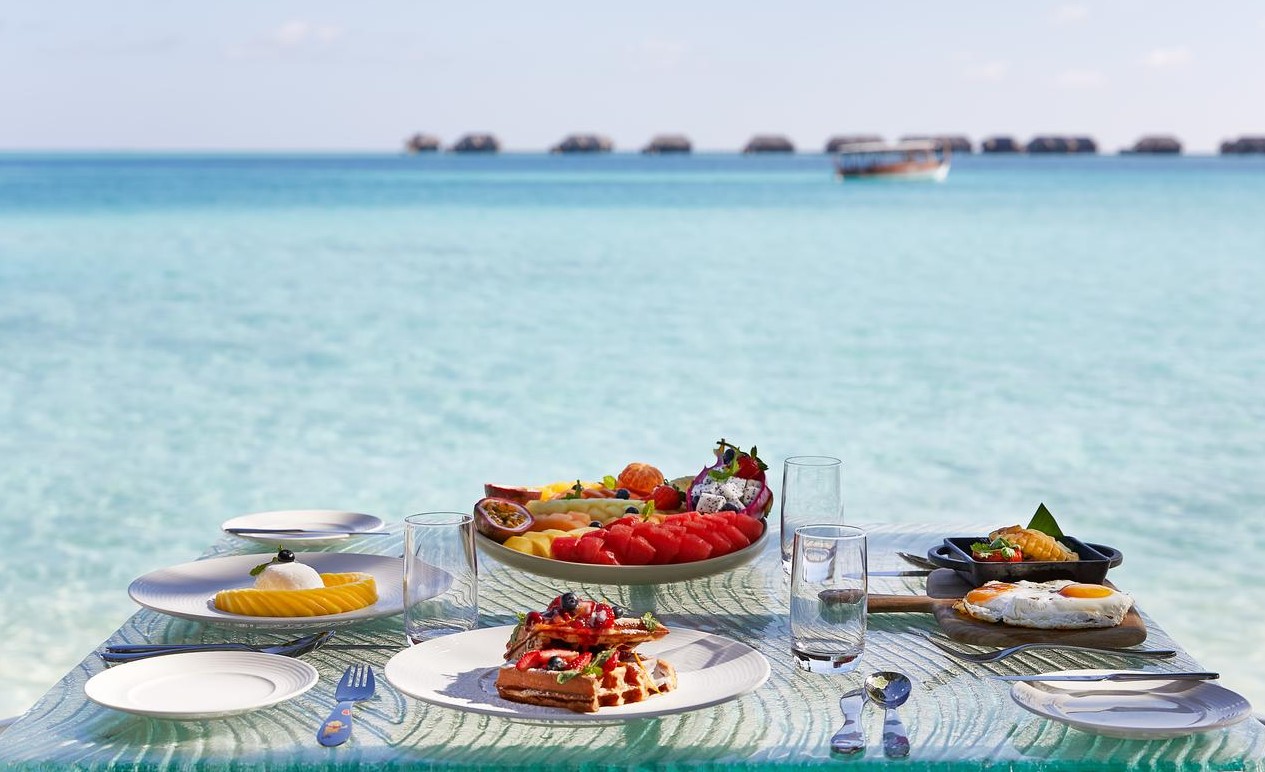 The amount of dining options on the resort is mind-boggling as there are 12 restaurants to choose from. Ithaa is the world's first all-glass underwater restaurant and serves temporary cuisine and there's a wine cellar with over 20,000 collections to choose from. The Koko Grill is open air and features Japanese inspired grilled dishes and the Sunset Grill specializes in seafood. Vilu Restaurant is an a la carte option, Mandhoo Restaurant features Organic Bio-Dynamic cuisine in an overwater setting and the Atoll Market is a sand floored international buffet restaurant.  
Lily Beach Resort & Spa

The property used to be a mid-range property until it had a complete renovation and reopened as a five-pearl property and all inclusive. In fact, Lily Beach is the first five star all-inclusive resort of Maldives. Built in contemporary style with classic colors and a sophisticated but fine vibe with luxe touches. Not exactly the barefoot luxury resort but it has a very casual vibe and the resort guests usually keep to themselves. The island it's nestled in Huvahandhoo, boasts one of the most beautiful house reefs you'll see. To get to the resort, you need to take a 25-minute seaplane ride to a floating ocean dock and a 10-minute slow boat ride where you're offered a skewer with frozen fruits.

Best Villas To Stay

There are 115 villas and 5 categories to choose from. They're all built in a fusion style of contemporary and classic Maldivian architecture creating a very sophisticated and elegant atmosphere. It is a wonderful combination of wood, different kinds of natural stones and modern design, which blend in creatively with the natural surroundings of the island. The Deluxe Water Villas are probably the best option for the average traveler as it spacious, private and a jacuzzi on the deck. For the budgeters, there the entry level Beach Villas and Lagoon Villas with a semi private access to the beach and lagoon. There are six two bedroom Beach Family Villas for larger groups and for the high rollers, there are the Sunset Water Suites, the ultimate accommodation and the pride of the resort.

Dining Experience Lily Maa is the main buffet restaurant where all meals are covered by the all-inclusive plans. The buffet is international and of the highest quality, each day there's a specific cuisine that's focused on. There are other a la carte options which are not included in the all-inclusive plan such as Tamarind which features in Thai and Indian cuisine and the Teppanyaki station. For the best fine dining, head to Les Turquoise D'Aqua which combines award-winning contemporary cuisine presented as a five-course degustation menu with an unrivaled setting beneath the stars.

Diving With OceanPro

With exceptional dive sites in the area Lily Beach has access to more than 40 dive sites. "Ocean Pro" Dive Centre offer theory & practical lessons (English, German, Japanese and French) by a professional European Team of colleagues with knowledge of the best dive sites and wrecks within the vicinity and afar… A choice for everyone, beginners to advance, and all courses are conducted by PADI standards. Children 8-11 years can enjoy the Bubble-makers course.

Best Resorts In The South Ari Atoll For Divers. #Maldives #LuxSouthAriAtoll #LuxMaldives #LilyBeach #SunIsland #Diving #Scuba #ScubaDiving
Lux South Ari Announces Underwater Festival 2016
Northern atolls of the Maldives have lesser rainfall
Whale shark abuse must end everywhere in Maldives