Amilla Fushi Map And Location
This is the official map of
Amilla Fushi
Maldives. On this map the island is facing North East. Arrival jetty is at the bottom with a block of lagoon which is a harbour for the boats, Sunset Bar is the tip of same jetty and parallel to that there is another jetty which leads to the Dive Butler.
Upper side of the map shows Spa Pavilion in green,
Beach House
are on the left.
Ocean Reef House
are located on the North West of the island facing the reef, the opposite side of the same jetty is the location of
Ocean Lagoon House
. There are 10 Lagoon House on the western tip of the island. Between the arrival jetty and Lagoon Houses are several food and beverage outlets.Next to diving jetty there are 5 large residences of different sizes from 4 to 8 bedrooms.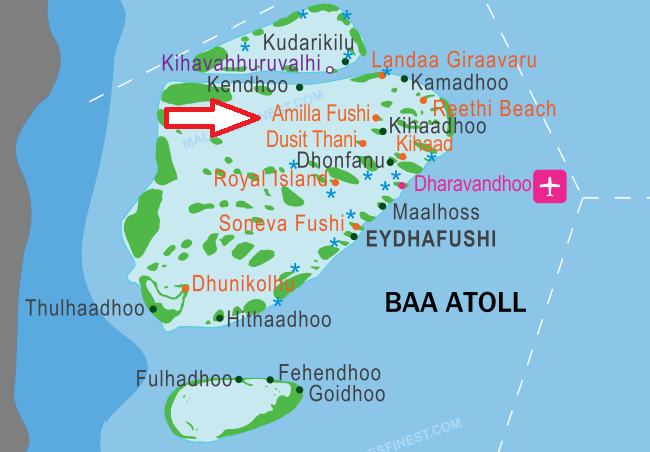 Photo: Map of Baa Atoll with location of Amilla Fushi and other islands around
The
map shows 5 Treehouse
between the Lagoon House and Beach House. There are plenty of unoccupied space on the island and middle of the island is designated for staff accommodation and administrative buildings, next on the right the isolated square is Tanis Courts. Looking at the house reef, map shows both tips marked with strong current, but there is plenty of space for
snorkeling and house reef
is quite large at Amilla Fushi.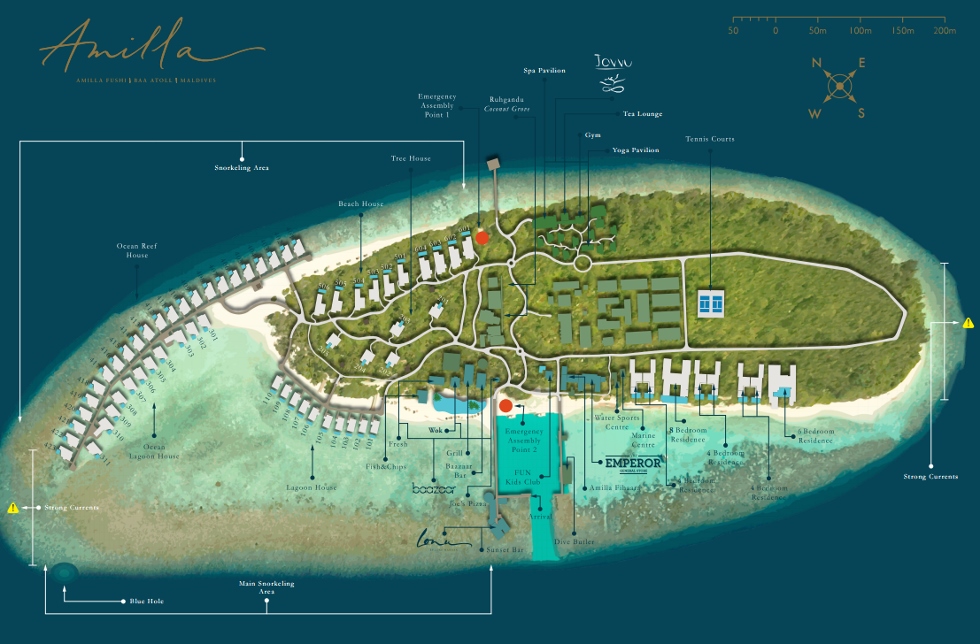 Photo: Amilla Fushi map with all rooms and facilities labelled.