Guest Converts Bathtub To A Fish Tank. How He Caught Fish Is Unthinkable.
10 APRIL 2017
When the host shows you the villa do you expect to hear that bathtub should only be used for bathing? In a recent incident Chinese guest claimed he was never told not to put fish in bathtub. This happened after Room Attendant found his bathtub was converted to a make shift fish tank with live fish swimming in it. Not only that, there were corals too.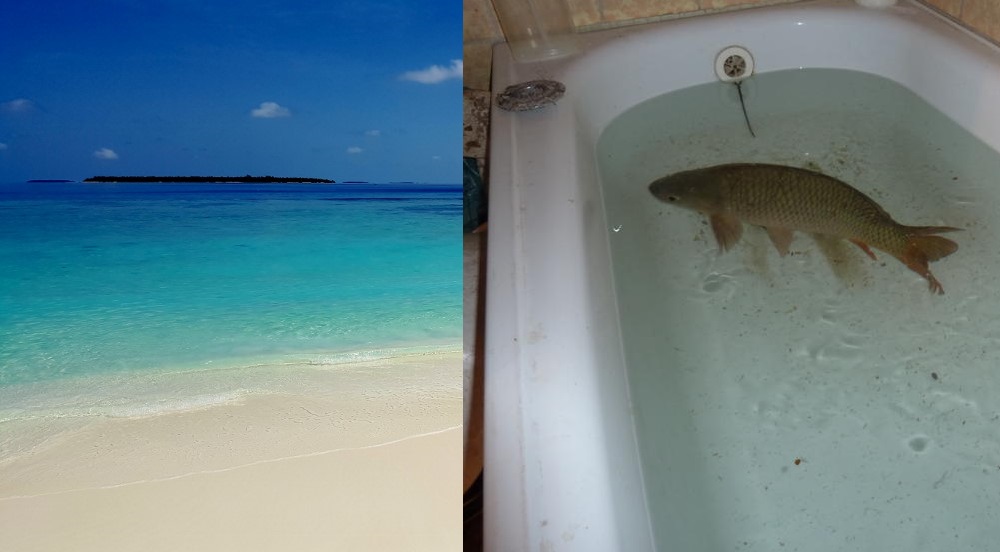 Photo (right) by thefisheriesblog.com: for illustration purpose only
Ziyad, the Room Attendant, started serving villas in the morning. After fishing land villas he moved on to
water villas
assigned for him. In one of those villas he noticed the lampshade of the standing lamp was missing. Finding it little strange he called the maintenance department if they took it for repair. If they in fact took Ziyad wanted it back or he would have to get a replacement from a vacant room. Ziyad kept on servicing the room while maintenance people were checking on the missing lampshade.
After doing the bedding Ziyad went to service the bathroom. Ziyad was blown away by what he just saw. A bathtub with plenty of live fish swimming in it was right there. Upon closer inspection he noticed a
deadly lionfish
among the species in the tub. Ziyad wondered how the guest might have caught all these. Dumb guests were nothing new to Ziyad but this was a whole new level. More than that, Ziyad couldn't figure out how he himself could catch a lionfish without risking his life. He wondered how an inexperienced guest would do that. Still struggling to realise what he saw Ziyad called to his supervisor. While waiting for the supervisor Ziyad kept on cleaning other areas of the room.
Ash tray on the veranda deck was full of cigarette buds. Ziyad emptied it to his trash bag and nicely washed it before putting it back. Cushions were arranged. Everything done on the deck. But then he noticed something unusual, again. There was a rope tied to the railing. Ziyad went to remove it. As he looked down there was the missing lampshade, attached to the rope. As Ziyad pulled it up he saw fish being scooped out. There were some sticks in the bottom of lampshade to block fish from falling down. Ziyad immediately realised this was what the guest was using to catch fish.
Finally the supervisor arrived and the matter was taken to the guest who agreed for everything. In-room compendium said catching fish from the house reef or lagoon was prohibited. Guest was fined for breaching hotel policies. But he said no one told him not to use bathtub to store fish. But then when the staff emptied the tub there were scratches made from sharp coral. Guest got another fine for breaking hotel fixture.
How he caught fish is unthinkable. #Maldives #Malediven #Holiday #Urlaub #Reise #Urlaub #Мальдивы #fishing