Fisherman Catches Rare Fish And It Looks Beautiful
Meganthias Filiferus is an extremely rare fish of which only 2 were reportedly caught across the world. But on November 4th Maldivian fisherman Abdulla Moosa made history by catching 3rd fish off Gaafaru island in Kaafu Atoll. Abdulla said he caught it 200 metres below surface. Finding this fish on his line was a surprising moment for the fisherman who spent over 40 years as a fisherman. He said such a fish was never seen before.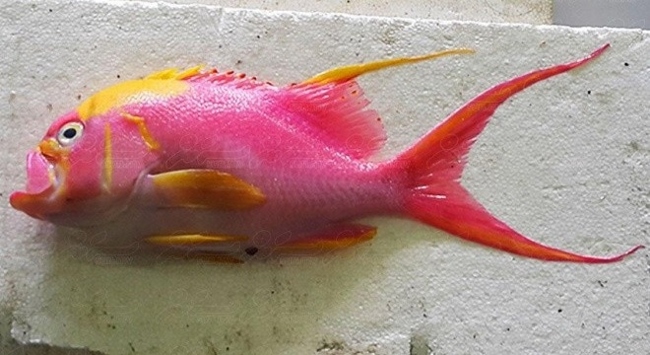 Photo: Meganthias Filiferus caught in Maldives. Photo by Sun.mv
Abdulla first took this rare Meganthias Filiferus to the resort Huvafen Fushi along with another fresh catch. Later he brought it to Male' fish market where it got pictured and news reached officials of Maldives Marine Research Centre who quickly bought it for preservation and research.
The first Meganthias Filiferus was caught in Thailand. Then last year a fisherman from India caught another in Andaman Sea. Now the third one in the Maldives. The fish is believed to be living in depths of 150 – 200 metres. It is vivid pink in colour with some yellow patches on the head. The fish seems more like a cartoon character. It could have been an amazing sight if you saw it while diving. Snorkelers would not see it because it lives too deep.