Coronavirus Covid-19 Updates From Maldives - 30 Room Quarantine Island
17 MARCH 2020
Maldives has taken drastic measures to stop Covid-19 which has infected 13 foreign nationals upto today. Contact trace-backs were done and several locals were tested for Coronavirus but non had turned positive so far. Under new police enforcement tourist guesthouses are not allowed to check-in any new guest from today onwards, inhouse guests can stay in the hotel but cannot move to another island. Workers in resorts were previously banned from leaving the island. Tourists can still come to resort if you manage to gain entry to the Maldives, there are
several nationalities banned entry
due to Corona Virus. Government has today announced closure of some of the offices but advised staff to stay at homes.
B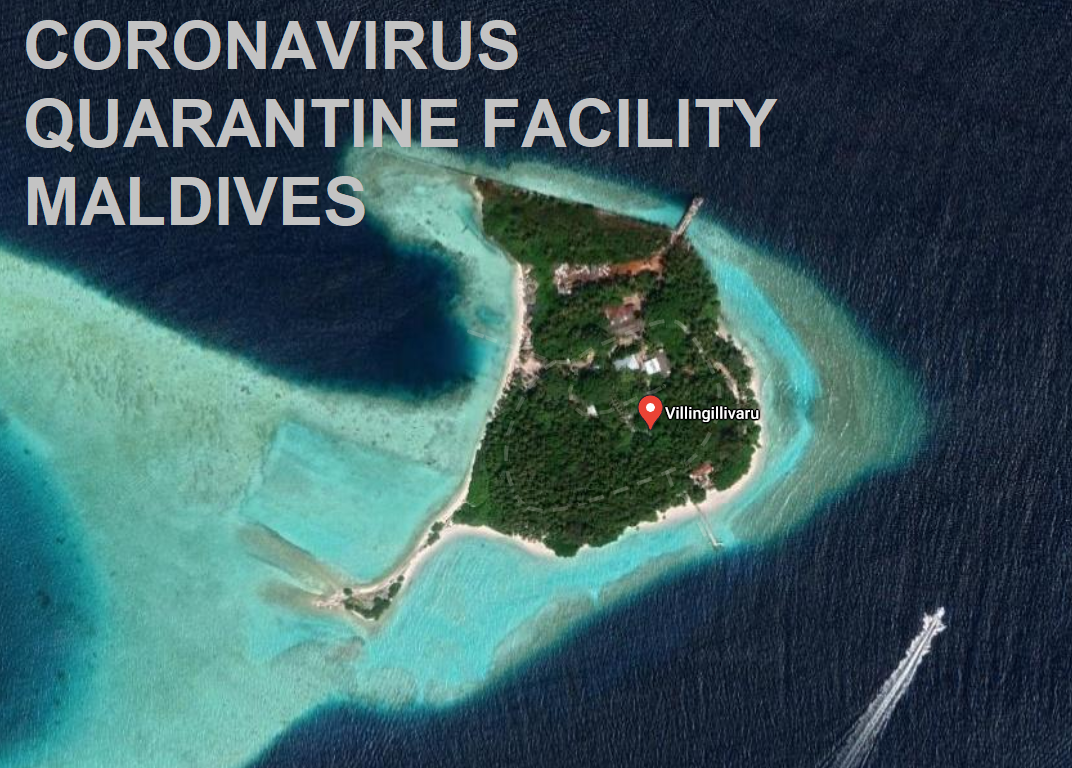 13 March 2020
As of today there were 9 confirmed positive cases of Coronavirus Covid-19 in the Maldives, all are foreign nationals. So far there has been no death due to Covid19 virus. On 11th this month the country declared the state of health emergency in order to control contagious virus spreading globally. Some of the resorts were put on lockdown after discovery of the coronavirus of which some have been released but with strong monitoring procedures in place.
The Minister of Health has yesterday declared State of Public Health Emergency in the Maldives for a period of 30 days. Currently the alert level is on yellow status and daily life of the citizens are normal except that most of the people are taking safety precautions to prevent any possible transfer of virus. The authorities are encouraging citizens to wash hands regularly with soap and water or use hand sanitizer. There is presence ordinary flu in several islands, authorities recommend people with cough and sneezing to stay at home without visiting public places. Even at home people are advised to use face mask or cover mouth and nose with tissue, used tissues should be disposed into a waste bin and hands must be washed. Hospitals have stopped allowing visitors to sick people. To curb the contagious disease the government has temporarily stopped allowing following nationalities into the Maldives.
• China
• Iran
• South Korea
• Italy
• Bangladesh
As of today there were 9 confirmed cases of Coronavirus Covid-19, all of these are foreign nationals. There are 16 people quarantined at
Villivaru island
, another 9 people are isolated in Farukolhu facility.
According to the information released by the national Health Protection Agency a foreign national from Anantara Dhigu resort tested positive for Covid19. It is believed that the resort is currently under lockdown.
On 11 March 2020, the government of Maldives lifted temporary lockdown 3 resorts; Kuredu Island Resort, Sandies Bathala and Kuramathi Maldives. Under the release of restrictive measure the resorts were asked to maintain some cordoned areas for high risk individuals while they undergo testing. The low risk individual are segregated separately into to prevent possibility of virus transfer. The management of the resorts are mandated to monitor and ensure adherence to policies and procedures. All people transferring to or from the island are subjected for screening. Meanwhile the World Health Organisation (WHO) has declared this coronavirus a pandemic which means worldwide spread of a new disease.
9 MARCH 2020
Health officials have so far confirmed 4 people positive for coronavirus Covid-19 from 2 Maldives resorts. Kuredu Maldives and Sandies Bathala were on lockdown as of today. Yesterday the Summer Island Resort was on lockdown to due suspicious cases which the tests later confirmed negative and lockdown was lifted. The four infected people are foreign nationals.
Maldives opens 30 room quarantine facility
The tourism minister Honourable Ali Waheed said on a press briefing yesterday that 30 room quarantine facility had been opened in Villivaru island in Male' Atoll. The minister said it was built for patient convenience with self entertainment facility as people would be totally isolated from each other. The minister emphasized that it would not be a bad experience in case anyone had to be put there. Villivaru island was previously a resort, now closed and possibly under some legal disputes which are not clear.
In case you are thinking that you have got an idea for a free holiday, all patients would be quarantined in the rooms, you will not be allowed to roam around on the white sandy beaches of Villivaru island.
9 March 2020 – Two more confirmed positive from Sandies Bathala Island Resort
Earlier yesterday the media reports said that Sandies Bathala Island Resort was put on lockdown in suspicion of coronavirus known as Covid-19. Today the Health Protection Agency has confirmed 2 foreign nationals turned positive. HPA tweeted that 2 out of 3 samples taken from Bathala tested positive. There was no further information about the name or nationality of the infected people, but Sandies Bathala is well known among the Italians. Bathala is home to one of the best house reefs in Ari Atoll, many resorts around send their guests to Bathala house reef for snorkeling and diving. Kuredu was on lockdown when a guest returned home to discover he was infected with Covid-19. Since then authorities put the island on lockdown and started contact tracing. After tests, 2 foreign nationals were tested positive for coronavirus Covid-19. This was the first discovery of the virus in Maldives.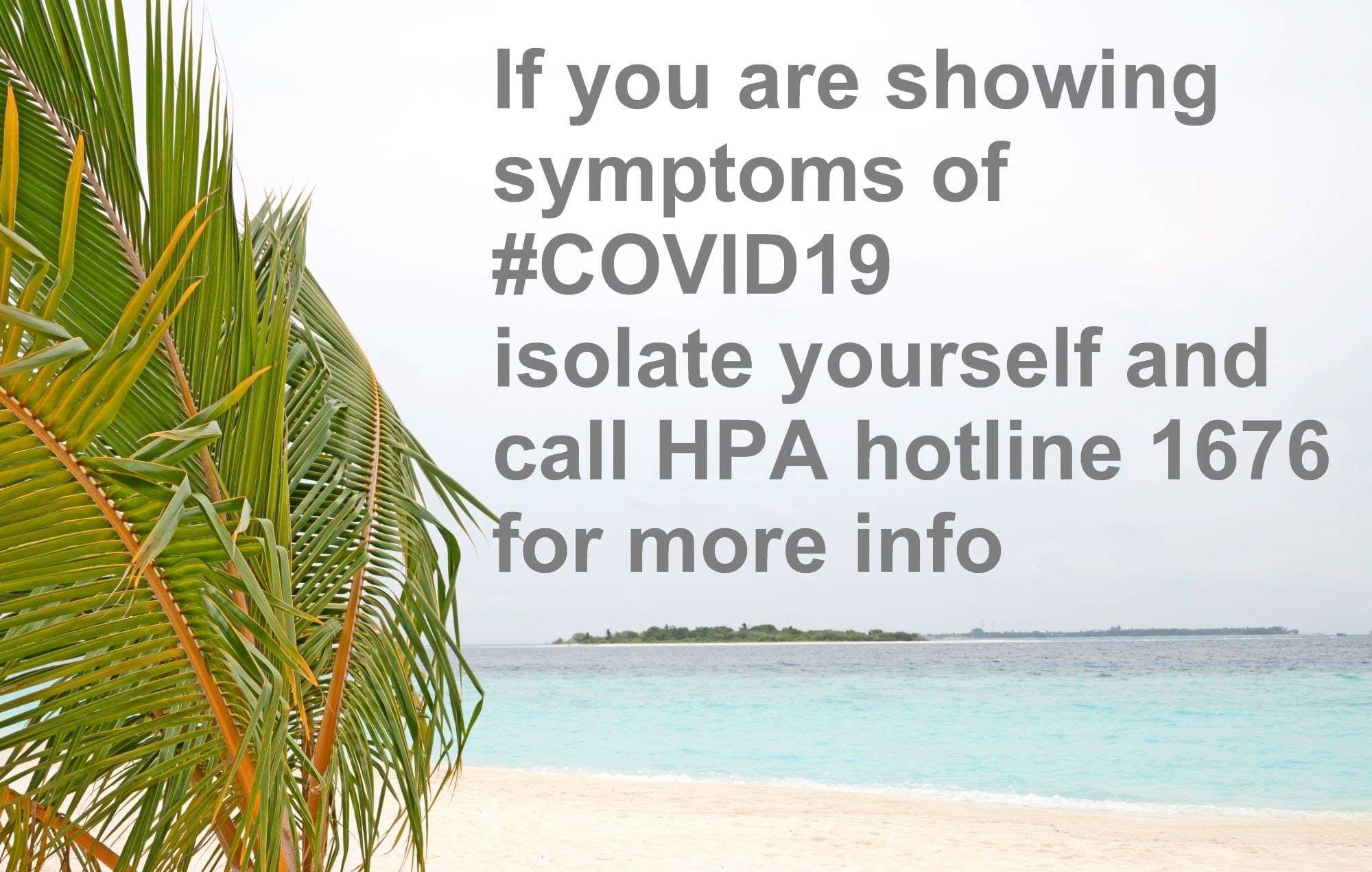 Ministry of Heath and Ministry of Tourism are closely monitoring the conditions, advising the public on precautionary measures. There were some suspicious cases reported to authorities from Summer Island Resort and resort was on lockdown since then. The samples tested negative when the results came and lockdown was lifted.
A circular dated 8 March 2020, released by the Ministry of Tourism and sent to all tourist facilities requests to cancel all excursions to local islands till further notice. Prior to the release of this circular Maldives Finest had received information that some resorts had already cancelled those trips as part of their own precautionary measures.
Last night the Minister of Health Abdulla Ameen said 173 people had been identified from Kuredu for having contact with the 2 infected people from same island, and 93 people had been quarantined in the resort. The number of people quarantined at Bathala Island Resort was 11 as per the minister.
7 March 2020 – Maldives confirms first case for coronavirus covid-19
At a press conference held by the President's Office the Ministry of Health Abdulla Ameen said that two foreign nationals working at Kuredu Island Resort tested positive for coronavirus known as Covid-19. The minister did not reveal their names or nationality but confirmed that they were quarantined and receiving medical care. They were under special monitoring by the health ministry and Health Protection Agency – HPA.
Prior to confirming these positive cases of the contagious disease there were few suspicious people quarantined and tested only to return results negative.
The positive cases of Covid-19 was a trace back made after an Italian tourist was found positive upon his return to his home country, the minister said. The authorities swiftly put the resort under lockdown while further tests were on going to check on staff and guests for any possible infection. As part of the lockdown all transportation were cut off, preventing guests from leaving the resort and new arrivals from stepping into the island.
Apart from Kuredu there were two other resorts under lockdown due to suspected cases put under testing. Summer Island Resort in Kaafu Atoll had 7 people as per media sources. It was unclear how many suspicious cases were found in Sandies Bathala Resort. All the three resorts were on lockdown as of Saturday.
Coronavirus aka Covid-19 is a contagious disease that was first found in Chinese city of Wuhan. It quickly spread to other cities before being discovered in other counties. Its symptoms include fever, cough, shortness of breath, these may appear 2 – 14 days after exposure. People who have been in contact with infected person are at increased risk of getting infected. The virus is also known to have widespread multiplication effect when infected person visits public places such as restaurants, parks, shopping centres where virus transfer happens as the patent touches objects which later on gets touched by others.
Maldives opens 30 room quarantine facility, but do not dream of free holiday just yet. #Maldives #Coronavirus #Covid19 #Covid19Maldives