Dreamy Maldives Wedding On The Sandbank
20 NOVEMBER 2017
Update: We are pleased to announce that we have relocated our wedding venue to another beautiful sandbank in North Ari Atoll. Prior to this change our location was near the capital Male where we faced difficulties to source decoration materials such as palm leaves and exotic flowers. The new location is perfect in every sense. The new sandbank is narrow in shape and very long, about a mile long. In some seasons this long sand bar is spitted into several different sandbanks. It is spotless like heaven and adjoined to lagoons on both sides.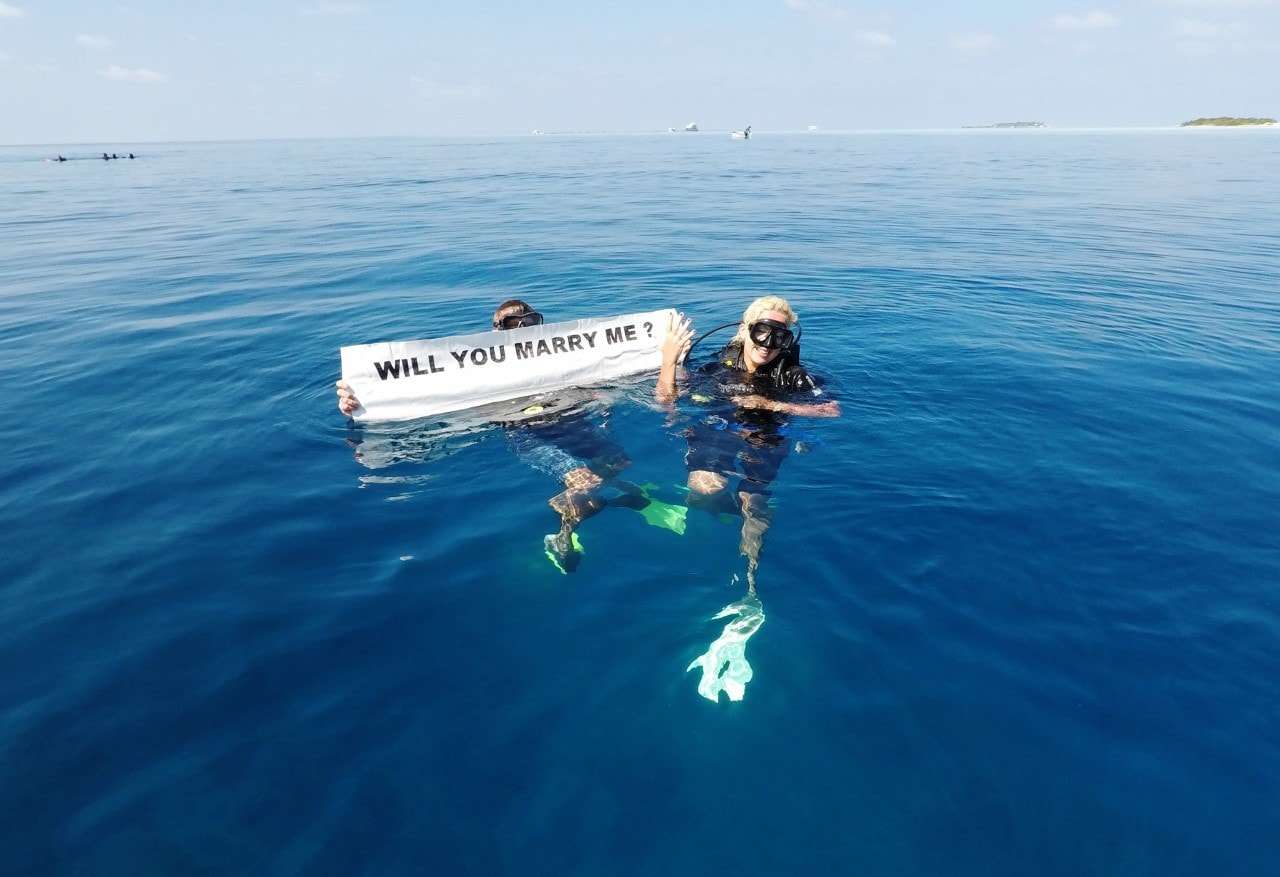 Photo: Underwater surprise proposal on 11 December 2017
The change of wedding venue also makes it better for guests who want to enjoy in resort after the wedding. There two very beautiful resorts near by; Kuramathi and Veligandu Island Resort. The sandbank is about 20 minutes from local island of Thoddoo.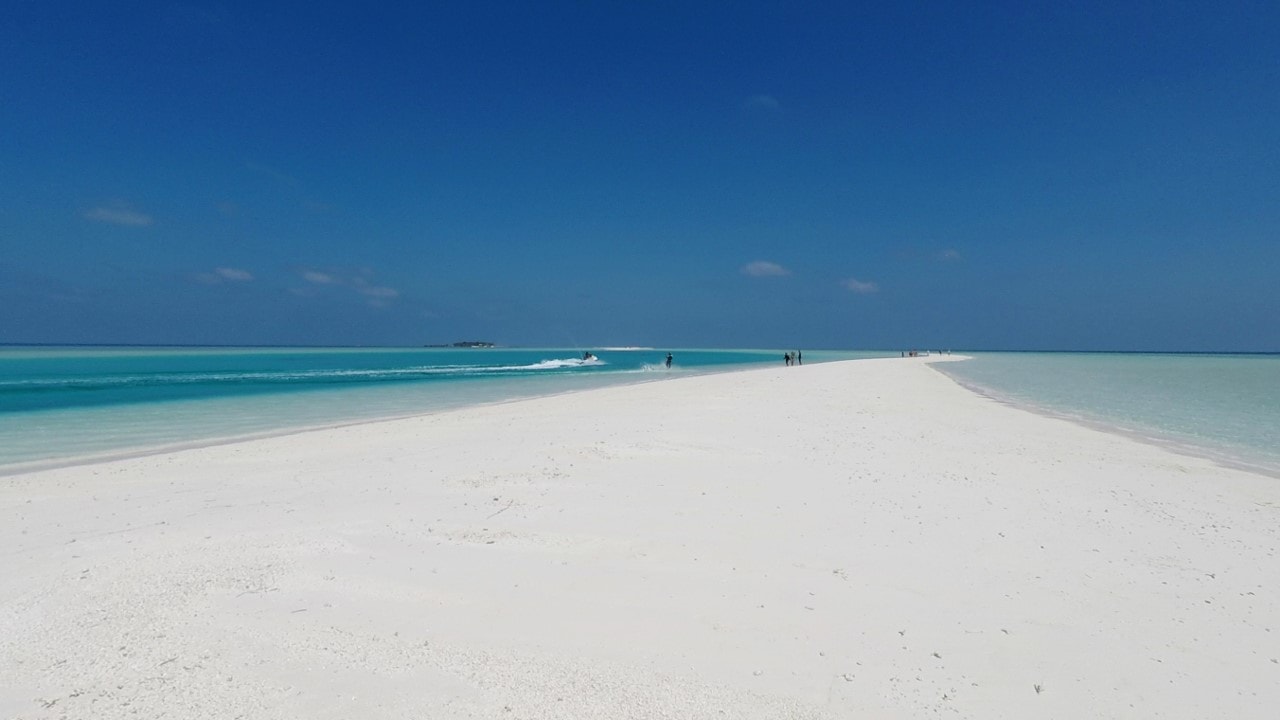 Photo: The new wedding venue
To have this wonderful ceremonial wedding function guests need to stay at Thoddoo Retreat guesthouse on first two nights. To Thoddoo is there is speedboat transfer daily, except Friday, the boat departs from Male' at 1600 hrs.
After spending the first night, following the next day we can conduct wedding ceremony and guests could go to resort on the third day. So, guests spend 2 nights in Thoddoo.
There is no other change in the function. Below details we provided earlier could still be useful for other details of the event.
Symbolic Marriage Function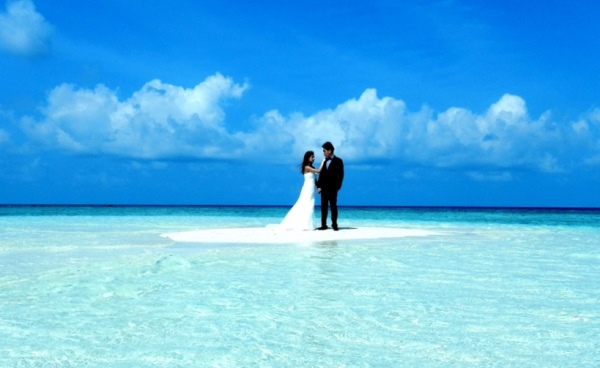 Guests who obtain this service have their official legal marriage in the home country. Our wedding functions are ceremonies to celebrate at a beautiful location. There are 2 sandbanks close to the Male' International Airport (also known as Ibrahim Nasir International Airport) which is your main gateway to the Maldives. Depending on your choice we will organise the ceremony for the perfection. In order to plan everything well we recommend that you consult us prior to booking your holiday. As we are based in the capital of Maldives, you could have your wedding ceremony on the arrival day and go to resort right after ceremony. If your are staying at a resort that is reachable via seaplane then you might have to overnight in city hotel or resort close by.
Renewal of Vows in the Maldives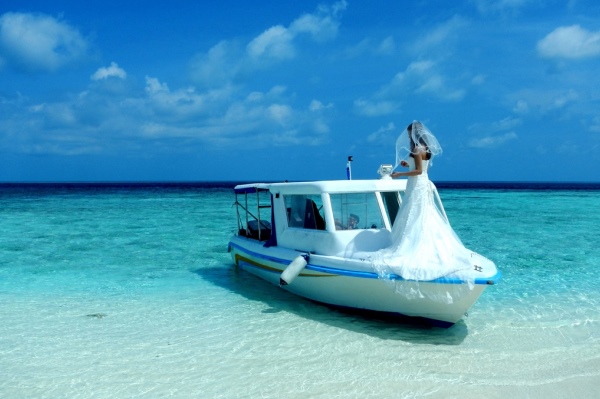 Has it been many years for your marriage? Go for our Renewal of Vows service and refresh the relationship. Make it feel just-married, once again. Go for your second honeymoon. Youthful heart could remain at any age. It is said that some people are young at the age of 80s, and some are old at age of 20. In your life, what you feel and what you think matters. Renewal of Vows are incredibly popular among Europeans. We have had many of these functions. Most of these falls to like 20th year anniversary, 25th or 30th.
Wedding Ceremony Photography
Sandbank wedding package includes professional photography. All our photographers are local professionals. It takes a great deal of experience to capture the perfect short. Its outdoor photography that has many luminous colours. A bright sun is up there, you have to keep that in mind and capture from right direction and angle. Bright day light should not obstruct detail on fine white sand. A clear lagoon fading into turquoise and then to the blue often becomes the backdrop. Bouquet of tropical flowers on the bride's hand should flourish the colors while the smile and beauty resembles feelings of joy and happiness.
The perfect setting and backdrop
In Maldives we do not have green landscapes, lakes or mountains. Instead, pristine beaches with blue ocean fading into the horizon and peaceful sky are a more beautiful setting for your once-in-a-lifetime occasion. The nature's backdrop gives the feel of tranquility while you and your loved ones enjoy the ceremony. After all these will be an amazing collection of pictures for you to go through later and remember the magical moments you had in the world's most romantic destination.
If you want the beach best in Maldives for your wedding ceremony, take note that there are over 1190 islands make it difficult to judge which is the best. If you go to sandbank the beach looks more natural and often pristine. The small patch of sand often submerges in the high tide. Hence, it is like taking a bath. Also the forces of nature moves freely in these environments, adding the natural perfection. Beaches of sandbanks are often more beautiful and attractive than that of islands. That is the reason the sandbank beach weddings are everyone's dream and we put our utmost care to make it happen to perfection. We know how important is this function in your life.
Wedding at Kihaa Maldives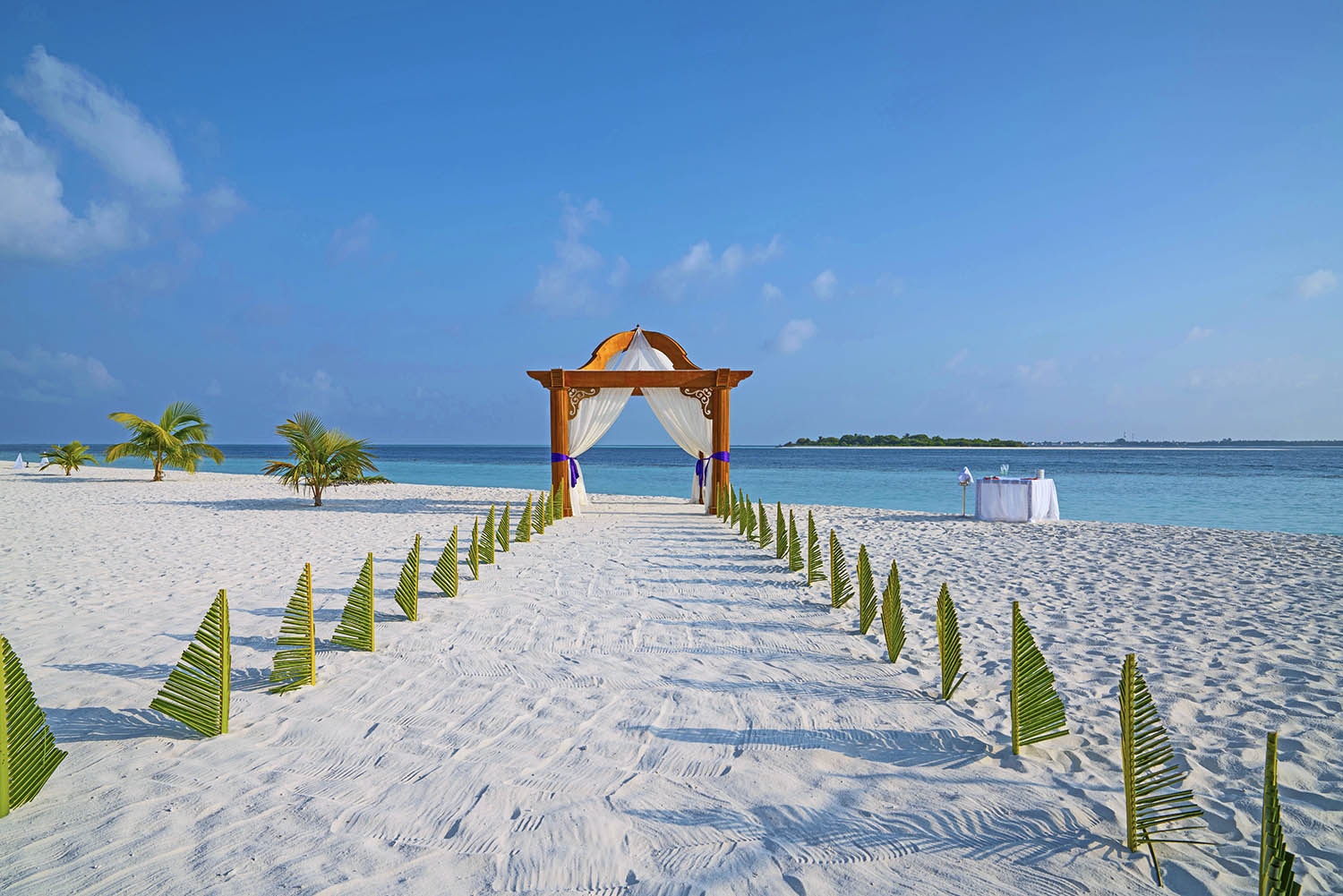 Sandbank weddings are often out of the budget range for some tourists. In case there are resorts that organise wedding on the beach. For example the photo above is the wedding gazebo at Kihaa Maldives, it is located in Baa Atoll and transfers are available day and night as they use the domestic flight. Dharavandhoo domestic airport is just 5 minutes from Kihaa, to fly Dharavandhoo it takes only 25 minutes. The beach at Kihaa Maldives is powdery soft and the lagoon is gin-clear, it is the perfect backdrop of your once-in-a-lifetime event.
Frequently Asked Questions
Even though we are organising the function very well it is important that the clients understand the process. Also, there are areas where we seek guest's preferences. So, here are FAQs to help you plan your wedding.
Should I bring my wedding dress with me when I come Maldives?
So far all our guests bring their own wedding dress. But, we also give the option of getting ourselves from Maldives. As wedding dress is very much to the tastes of guests we encourage guests bring theirs. We wouldnt want to worry if the one we chose might not be very liked by the guests. Wedding dress is most important for the bride. For groom we can always give a traditional sarong and a plain shirt.
Will I get a certificate for my wedding in Maldives?
Yes, we do give our certificate. It has no legal value and officially not a wedding certificate. It is only for the purpose remembering the wedding ceremony.
Will there be a wedding cake?
Yes, part of the ritual is cutting the wedding cake. This segment is right after finishing the vows and exchanging rings. Guests can tell us their favourite colour and we will take it into preferences.
Does it include a dinner?
It depends. If the clients are going to resort right after ceremony we encourage guests to book a special dinner from resort. We will help get this done. Otherwise we will arrange a dinner at special location. We actually like to serve dinner at the sandbank. But, these are very natural places and it is risky for the speedboat transfers, careful maneuvering is required to go through a tiny channel that leads to the sandbank. Otherwise speedboat will get stranded. So, we always leave sandbanks right after sunset, just before it gets dark.
Do you provide beautician for the bride?
If guests like to have a beautician to prepare the bride, we do provide and charge accordingly. We also encourage guests visit a beauty saloon and do facials, manicure etc. It is very much upto the guests to decide and we arrange accordingly.
How do you do photography?
We hire local professionals for the photography. We want the memories to be preserved in form of pictures. Photography is included in the wedding package. The photographers are highly skilled and experienced with Maldivian environment. Some of the photographers are internationally recognised and frequently visit other countries for photography. After finishing the ceremony the photographers take few days to edit the pictures. In that case we could hand over the pictures during departure at the airport.
What if the weather is rainy or windy
Wedding function on the sandbank is very much weather dependent. We always check forecasts and compare it with our local knowledge. Also we keep our guests informed. If it is rainy or too windy we cant have the wedding function. We have to delay for a bright sunny day.
How many weddings have you conducted before?
We have conducted more than 20 functions in the last 2 years time. We are glad that we get nothing but compliments. Its a pride for us. Its our pleasure that we get chance to conduct such an important event in someone else's life. Our happiness is that they will appreciate it for whole life.
Is your wedding vows in English
Yes. Wedding is in English and it is emotional and meaningful. We could say we have mastered the art of delivering vows.
At what time is the actual ceremony and how will I know the timings?
Usually we have the actual ceremony around 16.00hrs. We always give an itinerary for the events and guests can follow that. And we will always be there for your assistance.
Can you help organise a wedding function at a resort?
Absolutely. We initially started this function at a resort and expanded. Today, we do wedding consulting with the resorts and arrange a perfect wedding function for the guests. We take care of all arrangements and collaborate with resorts for delivering the event.
How can I book a sandbank wedding or at resort
For bookings and inquiries please contact us via email or send us an offline message through chat. You can write to info@maldivesfinest.com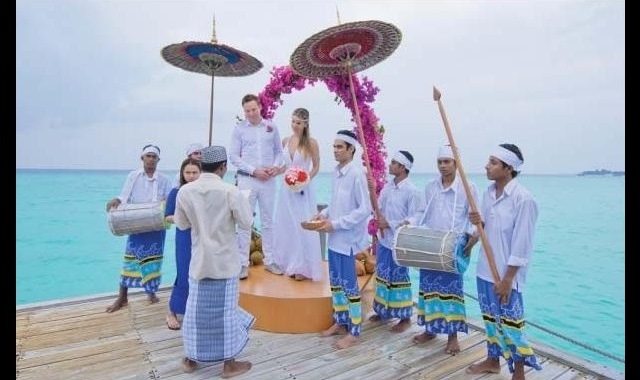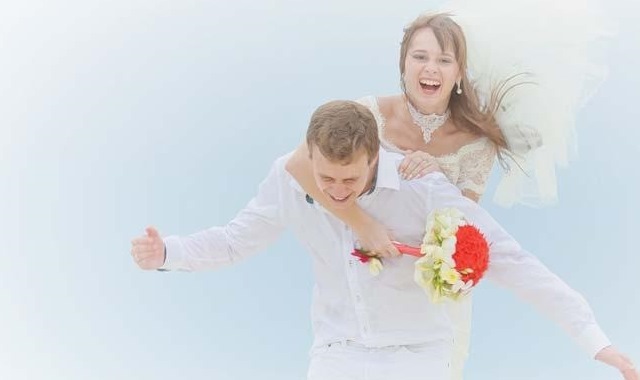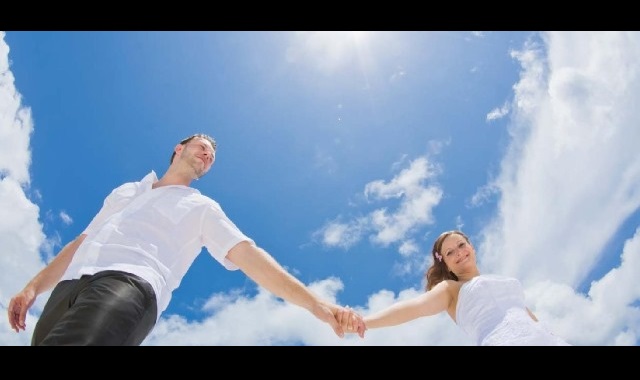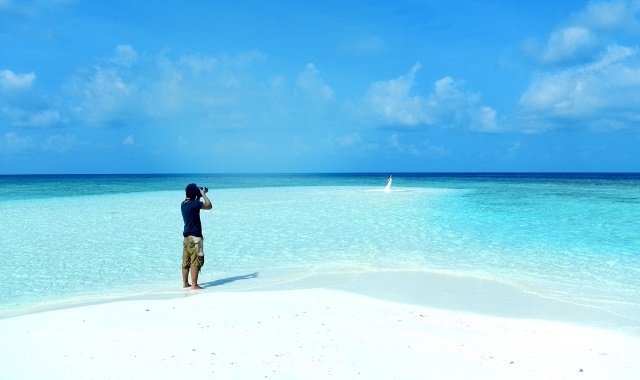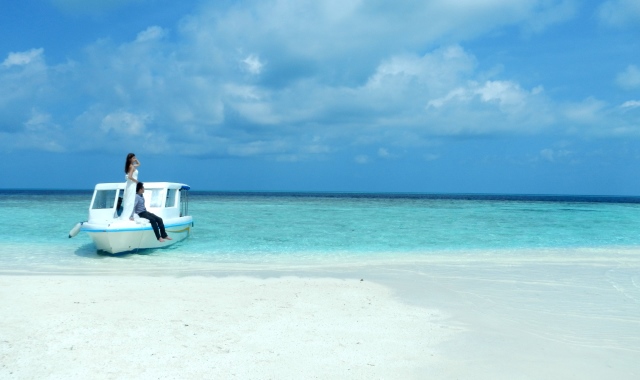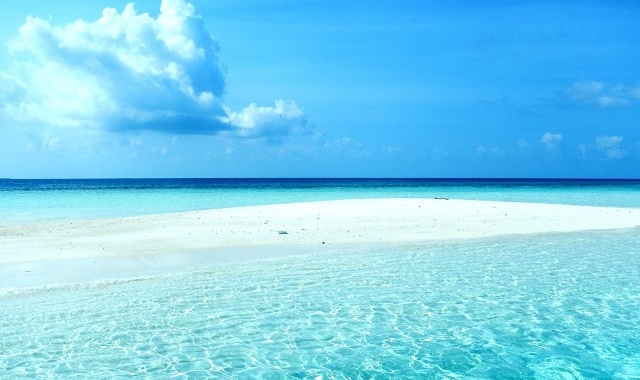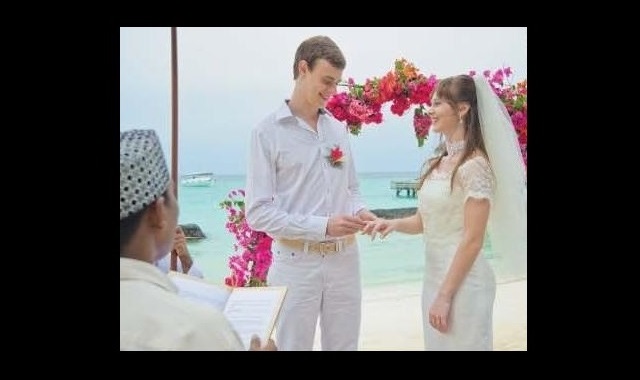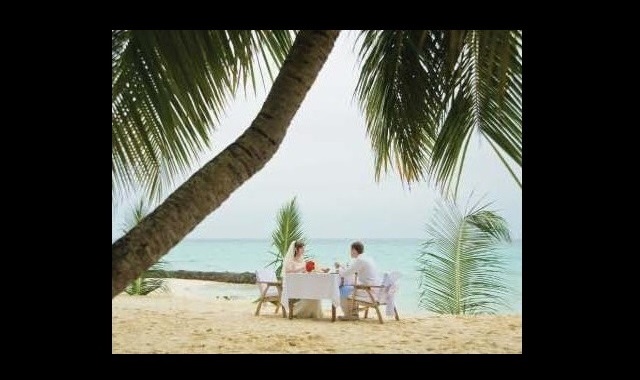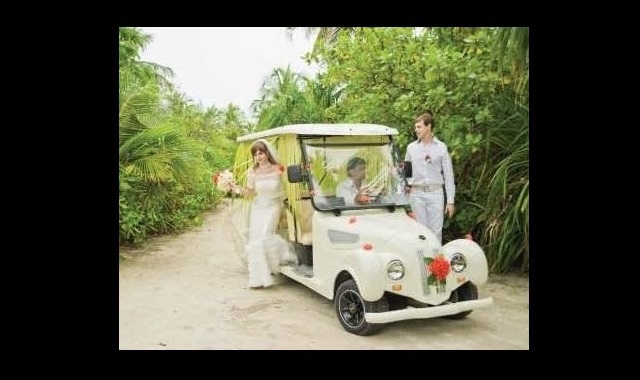 Dreamy Maldives wedding on the sandbank. #Maldives #Malediven #Reise #Urlaub #Мальдивы #Maldivler #wedding #proposal