6 Ways To Surprise Your Girl In Maldives – Make Her Speechless.
Whether you are planning honeymoon in Maldives or taking your girlfriend for a quick getaway in the sunny side of life you may want to surprise your partner. We are going to tell you the most mysterious and unexpected ways you can surprise your wife or girlfriend. You must have already known that girls like surprises. The most unexpected becomes the best and most memorable moment for them. It must hold her spellbound.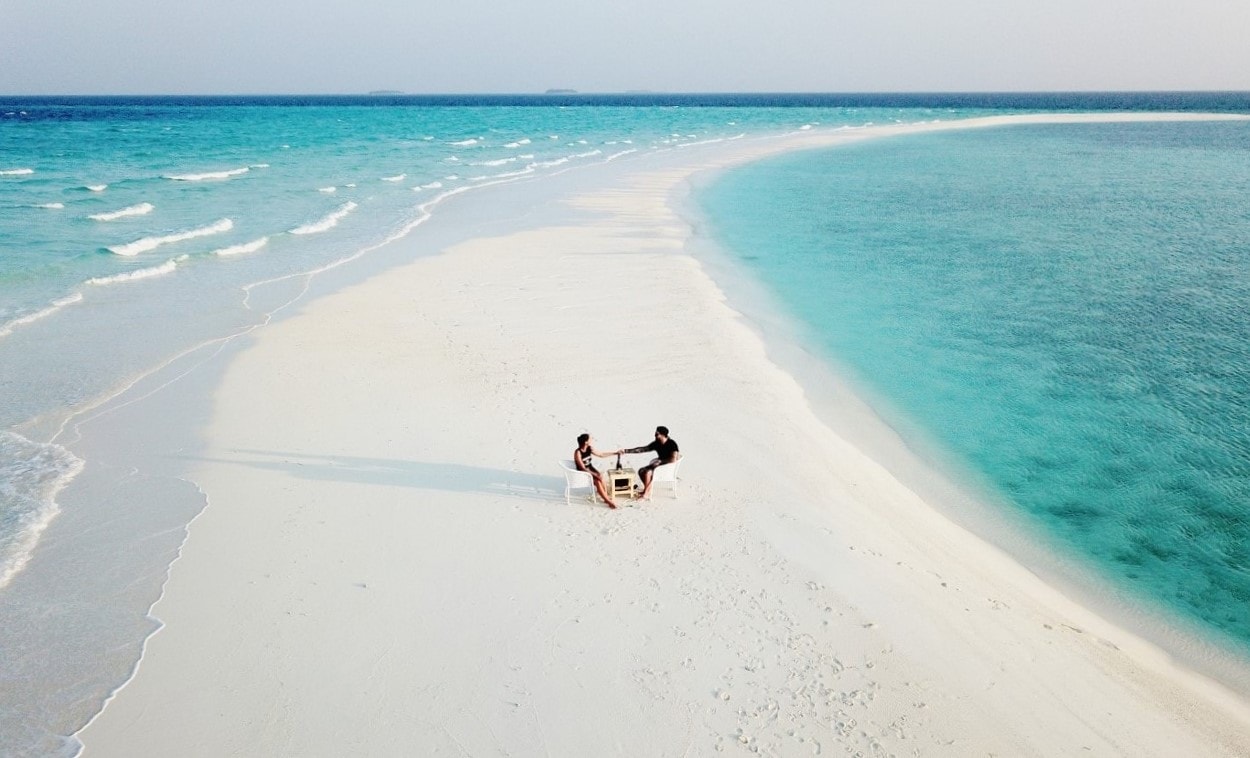 Surprise welcome at Maldives airport
You and your spouse may have travelled a lot, to different countries. Upon arrival you just collect your baggage and proceed though the customs. At the exist there would be your Airport Representative or Tour Guide waiting for you. After greeting you proceed to your chosen hotel. That is the regular procedure in most destinations, including Maldives. So, the first surprise is to arrange a special welcome right here at the airport. When you exit there would be a specially arranged person carrying a flower garland for you and your partner. You partner would certain feel that she is special. The chances of another person offering a flower garland is less than 1%. Let her feel like a queen the moment she steps in paradise.
Full day excursion with a private butler
You may be staying a luxurious hotel that offers everything you could possibly imagine. Beyond that is the Robinson-Crusoe style escape on small boat to experience nature at its best. There should be multiple stopovers for different experiences. You can depart from resort right after breakfast. The first destination could be a snorkeling at remove reef. The locals know amazing locations of reefs, far from islands.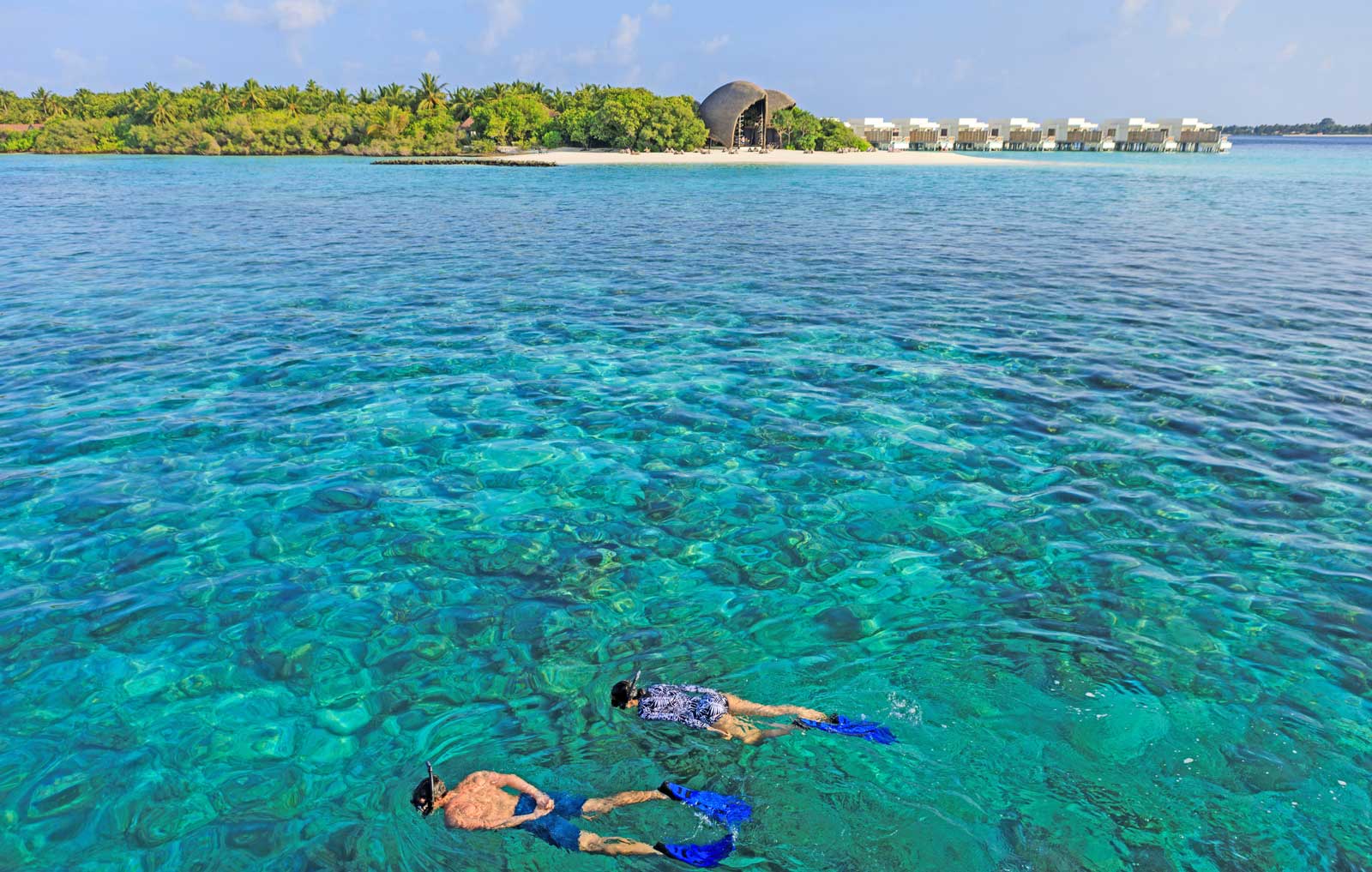 Jumping off the boat and snorkeling for about 30 minutes while the boat stays close is how this part goes. Once back on the boat there has to be something to drink. Some guests like water and soft drinks. I personally like hot soups such as Cream Of Chicken. It is norm to have towels to dry yourself and make comfortable. The next chapter of your mysterious exploration tour could be an uninhabited island or sandbank. Uninhabited islands have few advantages but sandbanks are dreamy. The island would have some trees where you could relax under the shade, whereas the sandbank is just a patch of in the middle of ocean with no trees. Sandbanks are often very tiny, so the boat crew could see you while you spend time with your spouse. If it is an island it often gives you the chance to escape into a corner while boat crew stays on the other wise, so there is great privacy to enjoy both alone. While arranging the trip you could mention the time for lunch and it could be arranged to serve at sandbank or uninhabited island. After the lunch you can return to your private world or go for the next surprise. On the way back it is a chance to see some dolphins. You can't guarantee this as it is nature but in Maldives the locals know great spots where dolphins happen to frequent.
Mysterious sandbank trip without telling her
You can tell her and arrange a dolphin watching trip and secretly arrange sandbank visit right after seeing dolphins. After seeing some dolphins you can signal the boat crew for prearranged sandbank trip. When it gets closer you have to blindfold your girlfriend. So, you would need a piece of cloth for that. Keep your partner blindfolded and carry her out of the boat to the sandbank. Let her stand and open her eyes witness a dream world. This works great. Once we had to arrange this for a marriage proposal and the girl had clue what was going on. Once the fold was removed, she was totally stunned in surprise and his proposal went like a fairy tale.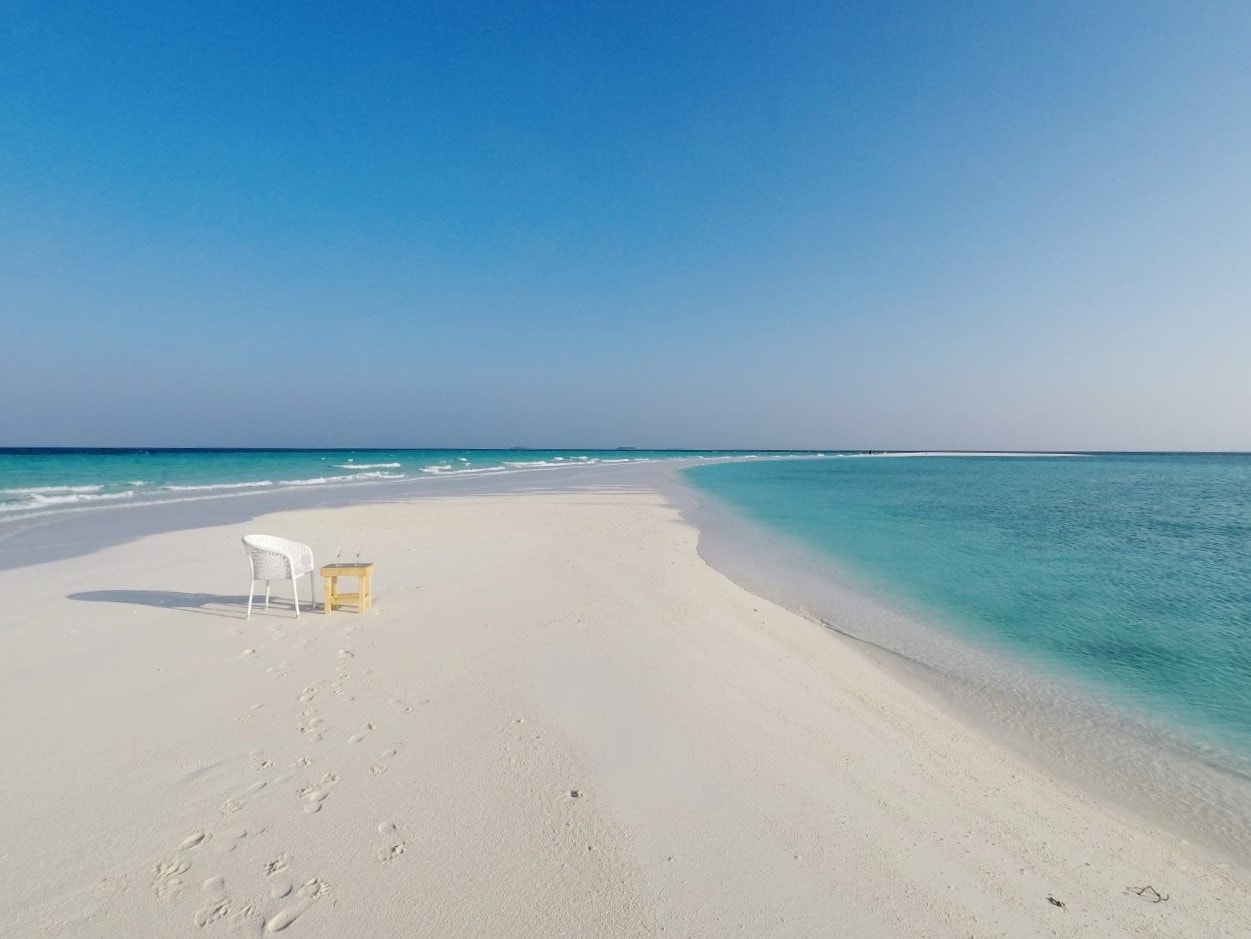 This is photo of a real surprise sandbank trip. The gentleman carried his blindfolded girlfriend to the sandbank and let her sit down in this chair. At that point she may be thinking that they just came back to resort. When she opens her eyes its the unthinkable surprise that never crosses her mind.
A special dinner on the beach without telling her
Amilla Maldives Resort offers Dine-By-Design that gives great options for a once-in-a-lifetime dinner. But the key element is the surprise. Never mention to her about this dinner and plan to dine little early so that it would not be too dark and you may still be able to see some parts of the dim beach.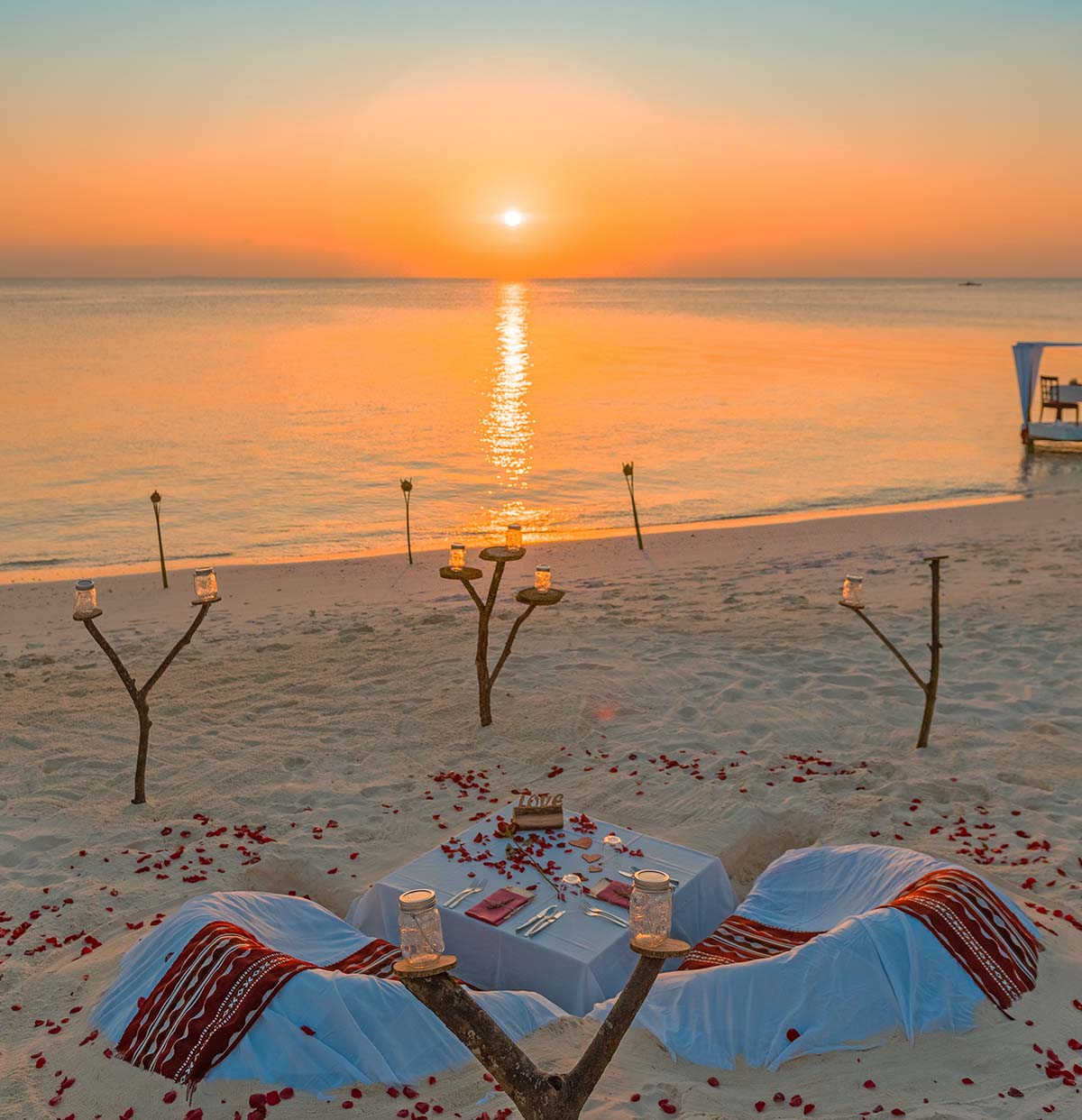 There would be candles to make this event romantic. You can come up with an excuse and get your wife walking to dinner location instead of the restaurant. Only upon arrival at the venue she knows that its made for her. Girls like surprises than anything. This kind of dinners often come with a Set Menu and you have to select the options you want to order. Don't present this menu to your girl. You should do your home work prior to the trip or at least prior to the dinner and fill her favourites on your own.
Send postcard to your girl and family
Most resorts have a boutique shop to buy essentials or gifts, there you can probably find postcards. Buy a few and mail to your spouse's address. It usually takes a month or more, so she will receive it later when she is at home country after the holiday. It is great to receive a reminder of the good times you had in the Maldives. Also, it is important to spread the goodness by selling out postcards to your family and friends. To be romantic is to live the romance in real life. Its not only her who should know how much you love, but the family and friends too. These are the people who have influence into your life, so it is good to let them participate in life's good memories. Alternatively, you can arrange someone from Maldives to mail the postcard with your personal message. That works if you have not done it during your stay. From time to time you can send her different messages through postcard arriving from Maldives, but on your name. This only reminds her of the wonderful time she had with you, in world's most romantic destination.
Underwater in Whale submarine
Did you know that Maldives has the world's largest tourism submarine? Yes, its the Whale Submarine located near capital Male' and easily accessible to tourists. You could get in touch with your resort and arrange it from there, preferably for the departure day from resort. So, you will leave resort some hours earlier based on available transfer options. You will need some kind of explanation to your partner if you want to make it a surprise.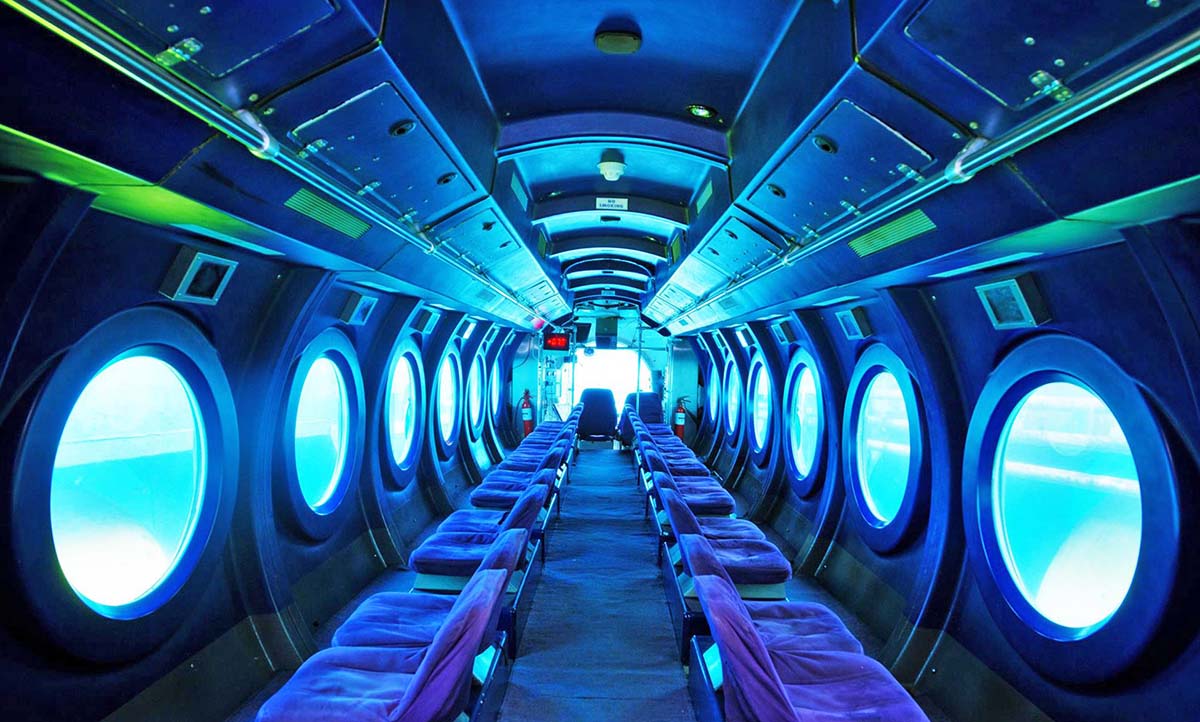 Whale Submarine located near Male'
The submarine company will arrange a boat pickup from Male'. You could easily get her on boat saying its the way back to your airport, then blindfold in midway. Upon reaching the submarine platform you have to get her out while she is blindfolded. It would be little difficult to get her down into the submarine on a ladder but it can be done with help of the crew. You can guide your partner to hold on the railings and take few steps down. Once inside you can let her sit back and relax while the submarine dives down at a reef.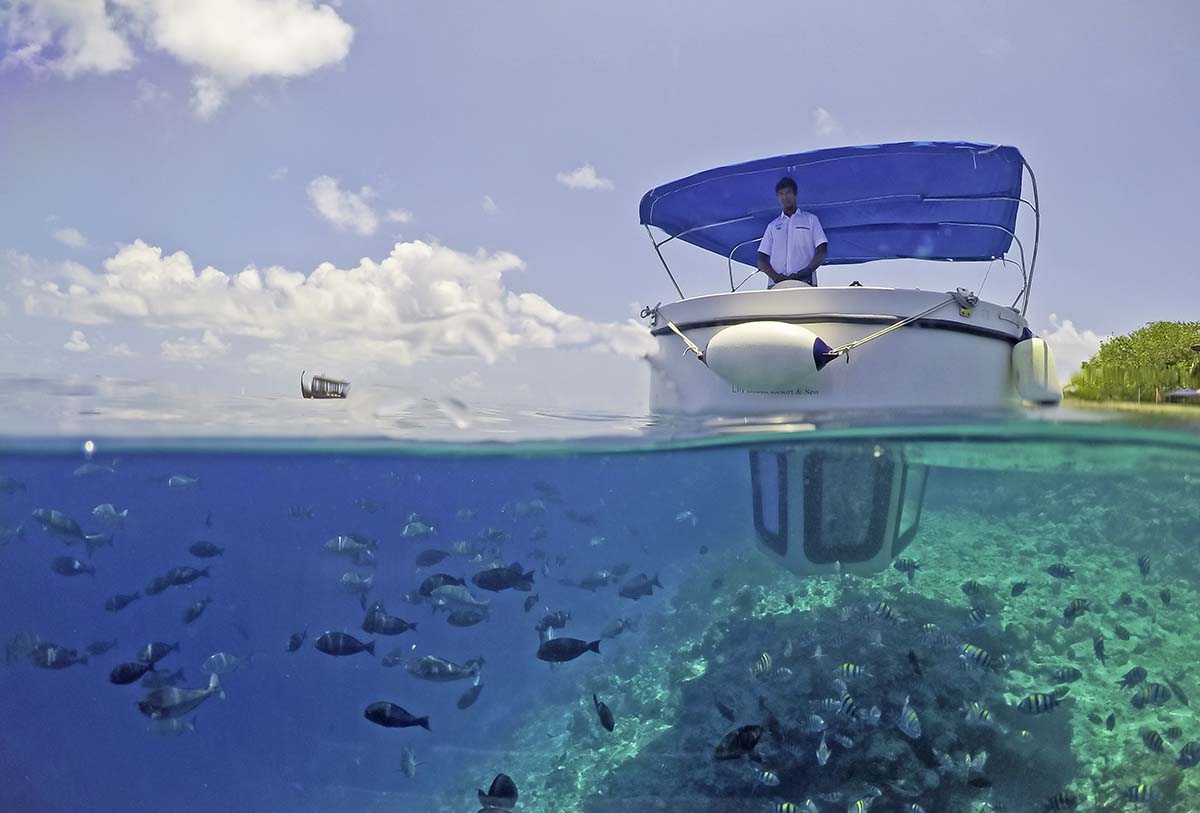 Penguin, the semi-submarine at Amilla Maldives
If the Whale Submarine at Male' is too complicated for you there is another option. It's the semi-submarine at
Amilla Maldives Resort & Residences
located in UNESCO World Biosphere Reserve of Baa Atoll Maldives. This option is failproof as it is located right at the resort. In case of Whale Submarine there are chances that your Airport Transfer may not allow it.
Go for the option is most suitable to you, important element is going underwater without her having a slightest clue. Once there is beautiful scenery with many fish around it is time to remove the blindfold and let her have the biggest surprise ever. It's a new dimension of life's surprises. Not many people go space to experience zero gravity. The other dimension of tourism is underwater, it is certainly affordable, practical and more enjoyable.
You may also like to read about
marriage proposal ideas and locations
within Maldives.
Life's biggest surprises to make your girl speechless. #Maldives #Maldivler #Maldivy #honeymoon #romantic #mysterious #surprise #girlfriend #island #sandbank #private