Shangrila Maldives - Your Own Tailored-Heaven On Earth
26 MAY 2020
Nothing defines elite private hideaway better than a vacation far off from the world at Shangri-La's Villingili Resort and Spa; a hidden pearl stored away near the equator to give you the most exquisite luxury holiday with a feeling that you are far aside from any worry or care in the world.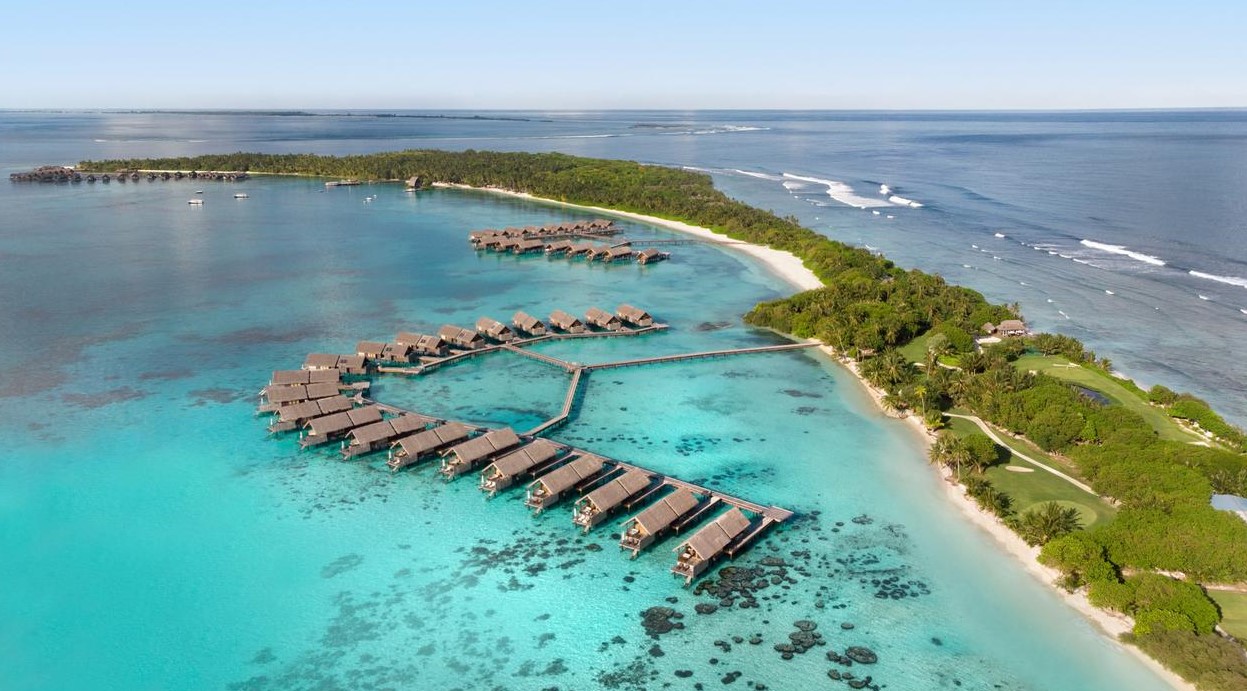 Shangrila's Villingili Resort and Spa, the largest single resort in the Maldives is located on Villingili; an island in the southern most atoll consisting of a chain of islands that resemble a heart when viewed from above. A view you would not miss whilst landing in Gan International Airport. Just a 5 minute ride from Gan International Airport (where you fly in from Velana International Airport in Male' the capital city of Maldives), Shangri-La offers you the perfect epitome of a beachside retreat. Due to the location of the private island it offers you one of a kind experience of private island life. Two kilometres of sandy beaches of Shangri-La's Villingili Resort and Spa layered with crystal clear waters of the Indian Ocean with clear blue skies as the cherry on top and with its friendly, calm and polite staffs await to welcome you with a promise to revitalize all of your senses during your surely unforgettable one of a kind stay. The resort includes 132 villas in 9 different styles from a simple tropical tree house to grand Presidential Villas.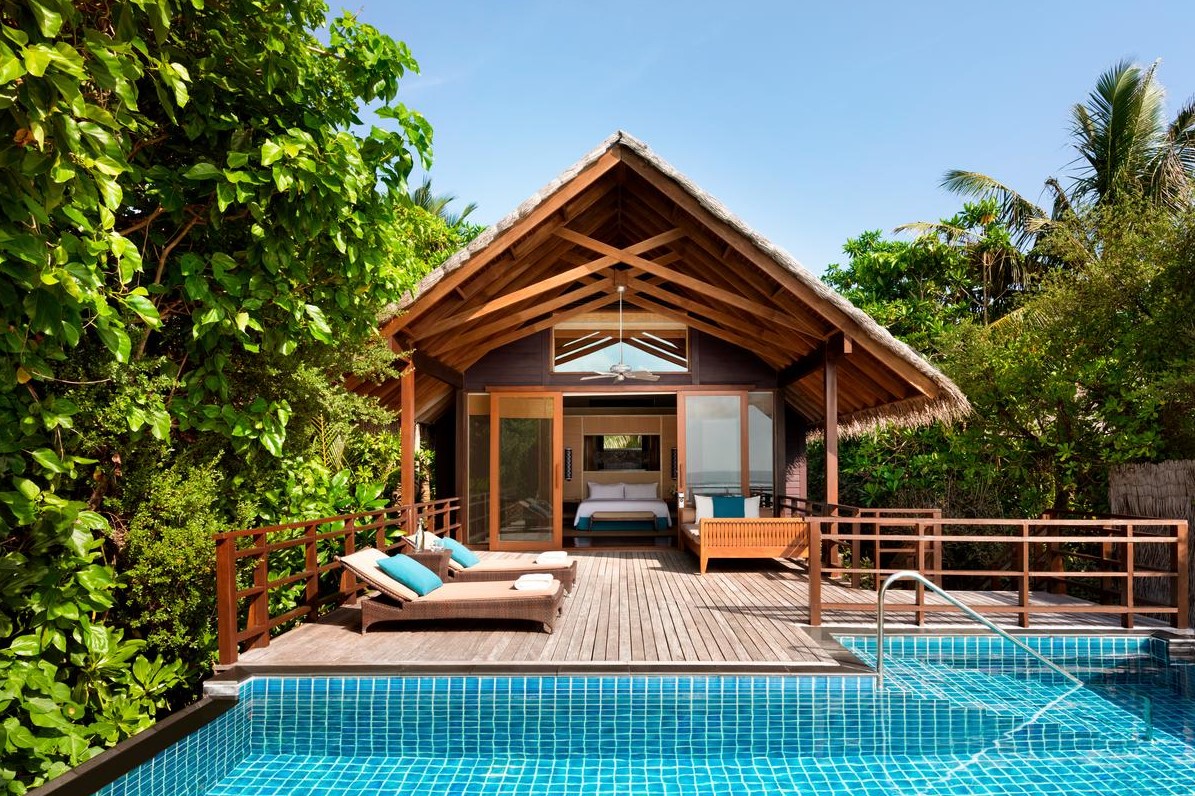 Each villa comes with the usual amenities such as open air and indoor showers, bathtub, internet access, telephone, mini bar, 24 hour in-villa dining, Nespresso machines and many other services.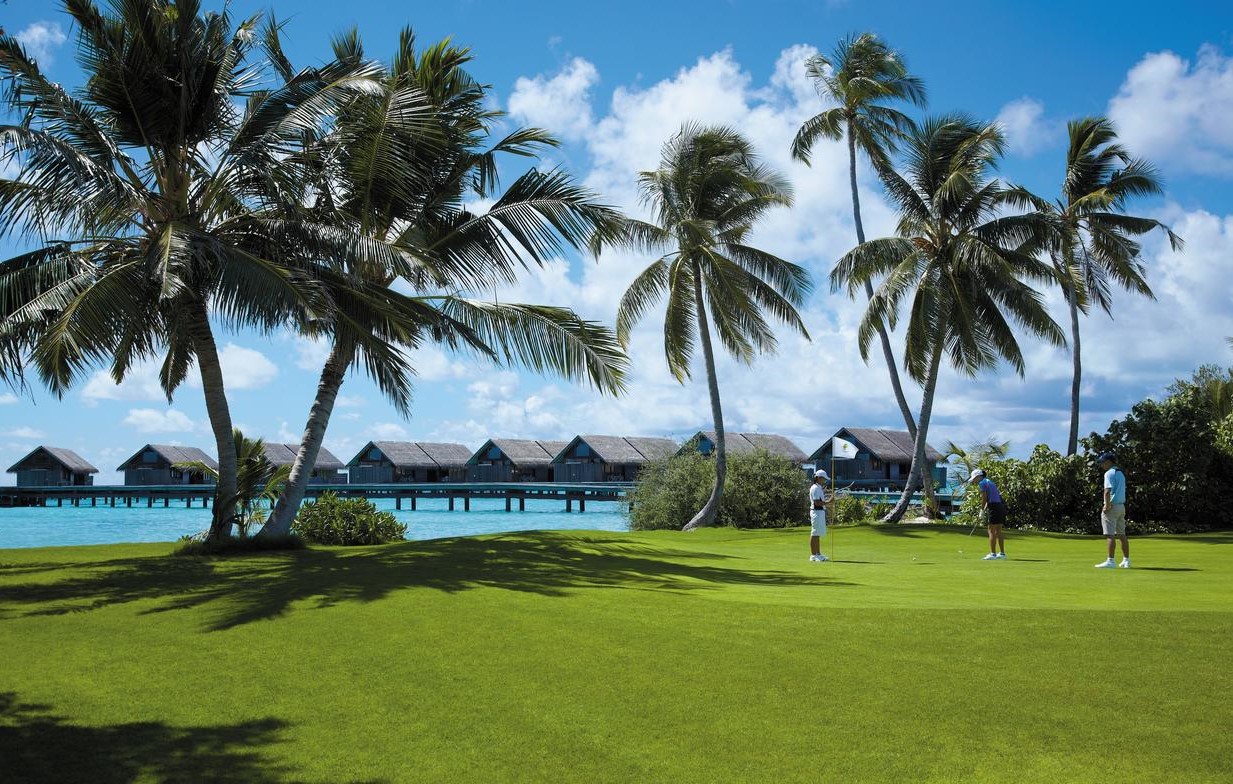 Shangri-La's Villingili Resort and Spa has the only 9-hole golf course in the Maldives which covers seven and a half hectares of the islands most stunning landscape. Complete with par three and par four holes, where not only would you be able to play golf; but you would also be able to stand at the highest point in the Maldives; the five-metre "Mount Villingili". This scenic setting offers you a perfect round along with a fully stocked and equipped Pro Shop for all your needs including clothing and merchandise to remember this once in a life time experience.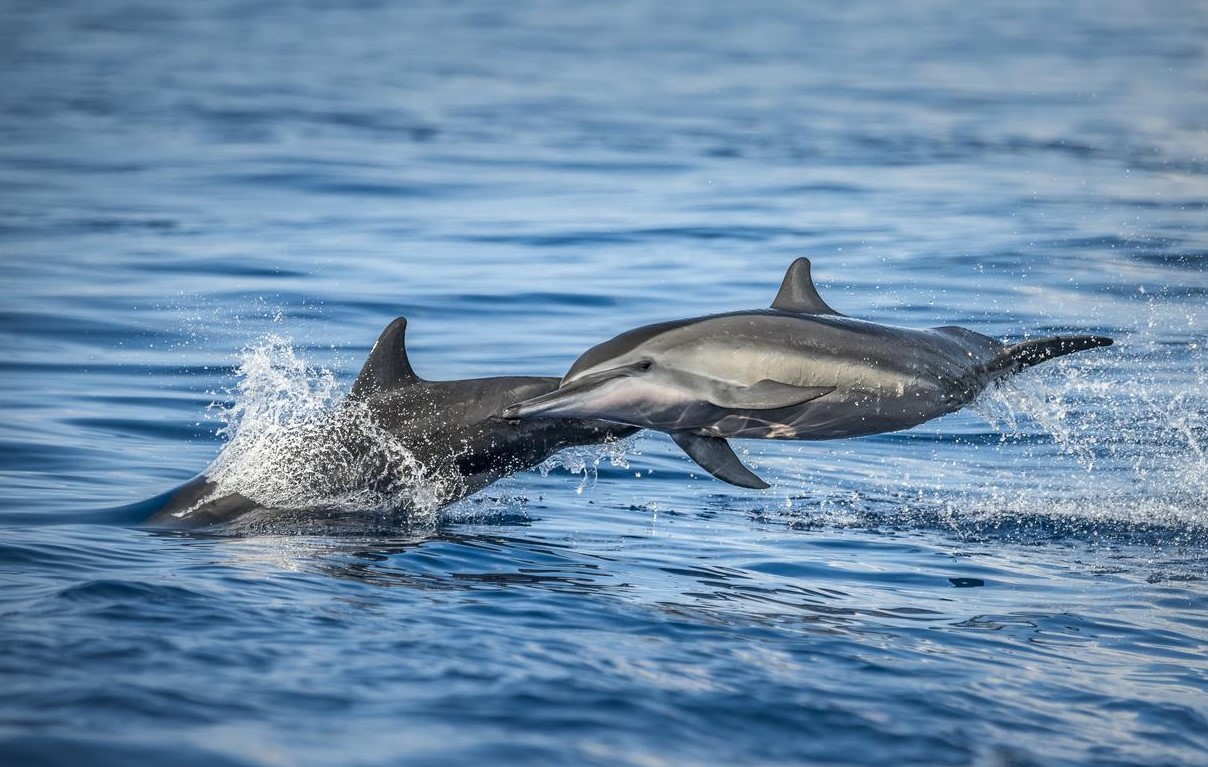 While at the resort don't forget to dip your 'sea legs' into the underwater world of Addu atoll that is a haven for divers. The resort offers diving and snorkeling for all levels of ability. The snorkeling garden close to the resorts shoreline is an ideal site for beginners and children and for advanced divers there are multiple world class diving sites to be explored. The resort offers scuba diving with courses such as: Advanced Open Water Diver, Discovery Scuba Diving, Open Water Diver and Advanced Open Water Diver. One of the sites is the shipwreck of The British Loyalty, a 140 metre cargo ship torpedoed by the Japanese Navy in 1944 where you would be given an escorted dive to see this authentic World War 2 relic that sits 16 to 32 metres below the deep calm water.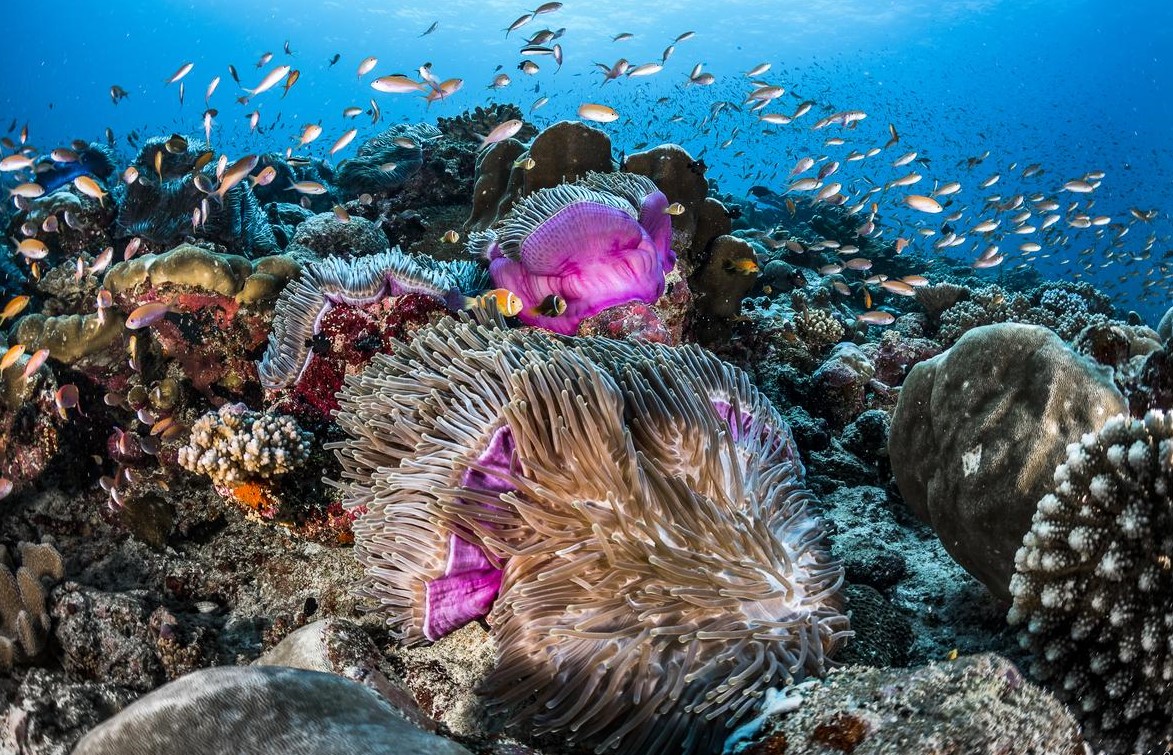 If you would rather explore the marine life within the safety of a boat the resort offers great excursion trips from deep sea fishing, night fishing from the traditional hand line technique (to get the feeling of the Maldivian life from generations ago) to luxury sunset cruise on board the resorts luxury yacht "Horizon". If you are a thrill seeker the resort offers you 'Big Game Fishing' where you can hop on to a well-equipped private boat and go on the hunt for tuna, barracudas and sailfish with the help of experienced crew members. After the catch you will be able to eat your catch prepared by the chef. You would also be able to set out on a Dolphin cruise to view the spinner dolphins living in the area and any other marine animal that you might come across.
The island offers you a tropical forest with naturally formed mangroves and different historical sites scattered throughout for your viewing pleasure. After a long day of activities you will be able to relax the CHI, The Spa at Shangri-La where to get the best of your holiday and unwind.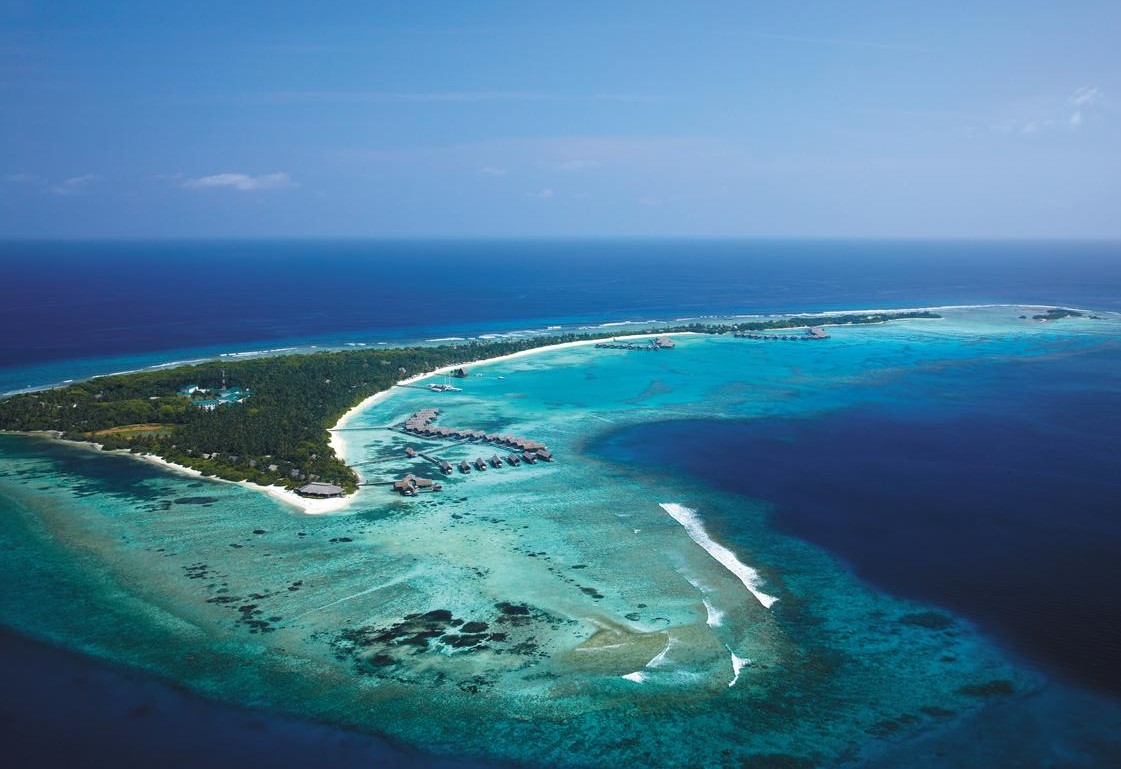 When on holiday no one likes to be bothered with work, however with a busy lifestyle there are instances where it is unavoidable. But no need to panic just yet; because during your stay you would be able to use the 24 hour Business Centre at the resort equipped with internet access, secretarial and courier services, photocopying, fax and equipment rental. Shangri-La has your back from the moment you arrive till your departure.
If you are looking to celebrate your wedded bliss, Shangri-La's Villingili Resort and Spa is the best choice when it comes to catering to your romantic life with its special wedding ceremonies whether you prefer it looking out at the pristine Indian Ocean or aboard a luxury yacht. Your special moment will be treated with a master of ceremony, a candle lit romantic dinner for two, flower arrangements, a professional photo shoot and a variety of other services to make it as special as you.
Shangri-La also caters to families and children with kid's area, Entertainment Centre, supervised children's activities, water sports etc. One thing not to miss the beautiful reef where you can scuba dive or snorkel to see the rich marine life that the reef houses. Dining options in Shangri-La are a plenty, with 3 restaurants and 3 bars to serve you the best there is to offer. 'Javvu' which loosely translates to 'atmosphere' in the local language, located along the coastline shimmering in shades of blue. Javvu serves a variety of international cuisines whilst you enjoy the amazing view of the Indian Ocean. Next we have Dr.Ali's' which is named after a Maldivian doctor who has delighted many with his amazing stories and drool worthy recipes. This restaurant is famous for its Arabic, Indian, and Cantonese/Vietnamese cuisine. Last but not least we have 'Fashala", located on the north end of the island offers local products from neighboring waters and farms exquisitely incorporated into a Mediterranean inspired recipe to give your taste buds a taste it will not forget while you enjoy the calm waters of the lagoon and the Indian Ocean. Combined they give you a first class unforgettable dining experience to tingle your taste buds.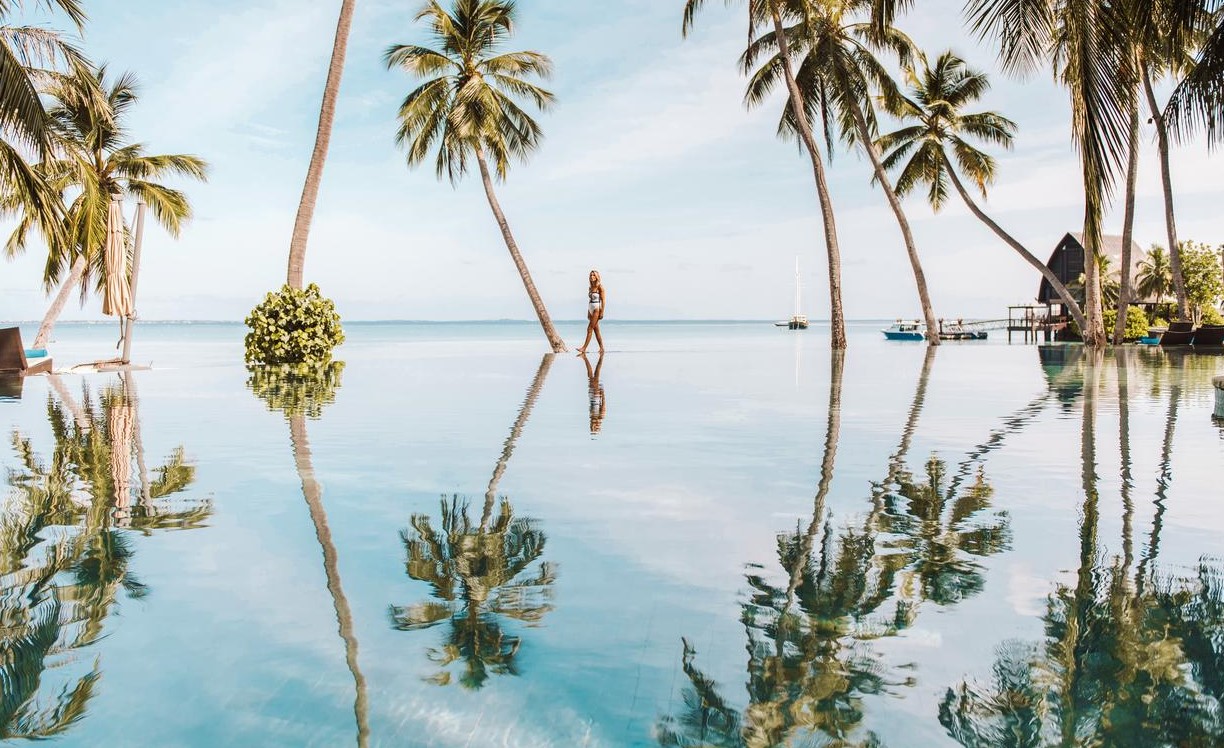 After your meal or whenever you need a refreshing drink you can visit any of the 3 lounges located on the island. 'Endheri' which is "black coral" in the local language offers you healthy drinks and cocktails for you to sip on while you enjoy the calm waters and shades of blue the sea and sky produce. Next we have 'Manzaru' which means 'picture' that offers you an elegant environment for you to relax and sip your cocktail as you listen to a fine collection of music enjoying the sunset and the night. Last we have M-Lounge a trendy beachfront place where you can sip on you cocktail while you watch the sunset and enjoy the night whether it be with wine or champagne to celebrate the night.
Room Categories
Pool Villa
15 units with 133 sqm space in each room.
Deluxe Pool Villa
16 units with 189 sqm space in each room.
Beach Villa
60 units with 166 sqm space in each room.
Water Villa
60 units with 166 sqm space in each room.
Tree House Villa
8 units with 231 sqm space in each room.
Ocean View Villa
8 units with 218 sqm space in each room.
Two Bedroom Beach Villa
10 units with 224 sqm space in each room.
Villa Muthee
1 unit with 570 sqm space in each room.
Villa Laalu
1 units with 957 sqm space in each room.
Excursions
Apart from activities on the resort island itself, the resort offers a wide range of tours to enjoy around the atoll of Addu. It caters to different interest from historical, farming excursions, cycling tours and nature walks led by resort guides that promises that each guest will gain an understanding of local life by those who know it all too well.
Historical Tour
A tour designed to show you the historical remnants of the British occupation of Addu. The British left Addu in the year 1976 and prior to that it was used a naval base during the Second World War. To this day remains of the base and other remains are scattered throughout the atoll and this rich heritage is waiting to be uncovered by you. The duration is 2.5 hours and it costs USD 50 per person.
Meedhoo Farms Tour
Meedhoo is famous for its farmers historically and in the modern day as well. With the introduction of tourism in the atoll it has provided the farmers with a competitive market for their traditional produce. This guided tour of Meedhoo local farms opens an opportunity for you to see first-hand the course of the locally grown produce used in the restaurants which you feast at during your vacation. It takes 3 hours for the trip while the price is fixed at USD 80 per person.
Addu City Tour by Bicycle
Addu city is famous for its people and their hospitality and this tour provides the perfect opportunity to explore the island and see its famous landmarks and highlights of the city. Since Addu City is linked together via a link road you would be able cycle to each island with the assistance of the resorts local guides. The guides promise to give you a truly local view of daily life in the Maldives and how it has changed over the years. You can do this tour within 2.5 hours and enjoy the cheap pricing of just USD 40 per person.
Addu City Tour by Car
If cycling is not your thing there is no need to worry. You would be able to do the tour via car as well with the local guide who will show you around the island and daily life of its residents. This offers you a quick way to see a famous landmarks and the daily life of the people of Addu City in the comfort of the air-conditioned car as Addu has a regular tropical weather and is large in area. The duration is 2.5 hours and price is USD 50 per person.
Villingilli Nature Walk
Villingilli is an island with natural dense vegetation with 12 hectares of rich foliage, tall banyan trees, almost 17000 coconut trees and 45 different species of plants with 3 natural lagoons all with a trial for you to explore. It would be a walk to remember. You would also be able to make a wish on one of the oldest banyan trees as in ancient Hindu Mythology banyan tree represents eternity and the extending trunks symbolize the longevity of life; hence this particular tree is covered with wish ribbons of varying color. Don't forget to make a wish during your stay. It takes 1.5 hours to complete the walk.
Shangri-la hates plastic bottles
Shangri-La is an eco-friendly resort that uses a water-purification system which has helped reduce the consumption of plastic bottles by over 200000 per year. The island resort regularly holds events for beach cleanups and has an Eco Centre that hosts talk about ecology of the island. They also have a team of marine biologist who work on replanting fragmented coral to regenerate reefs. Not only will you be able to donate but you can also actively take part in a coral planting session to leave an ever lasting imprint on the reef and you will receive progress update of your plantation after your departure as well.
Plenty of options for every kind of travaller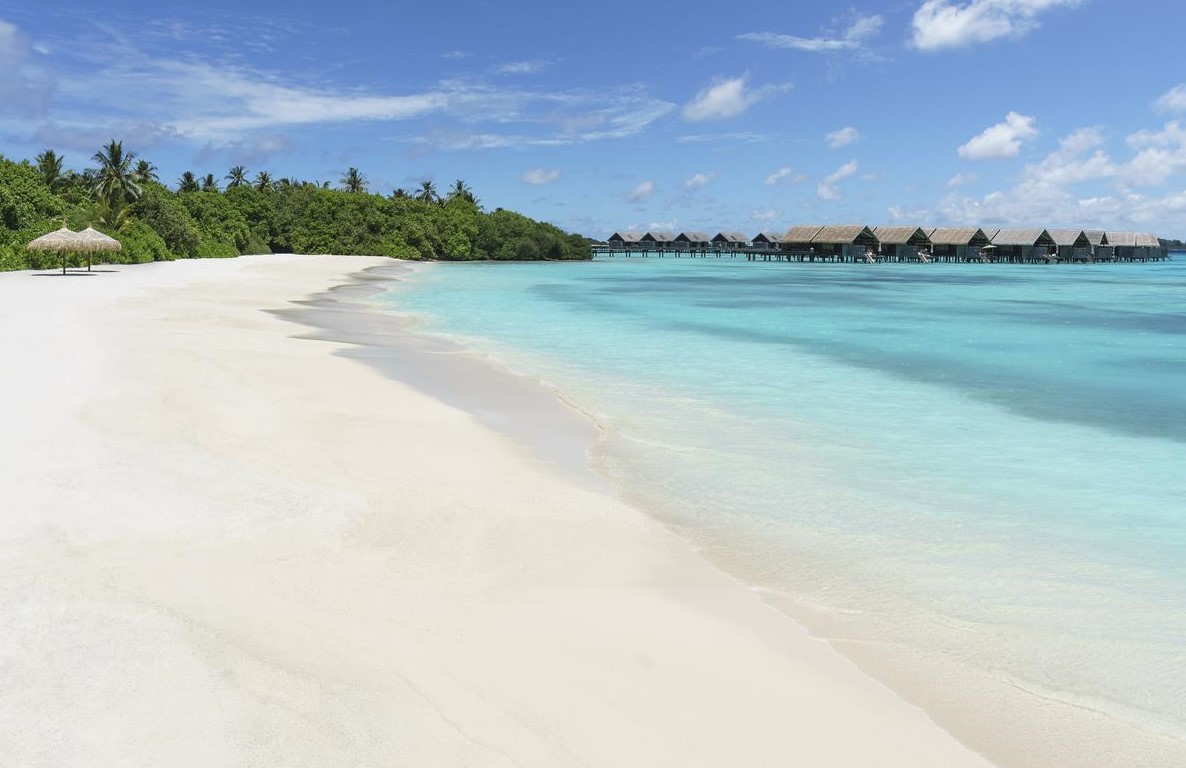 Truly Shangri-La redefines the term 'variety'. Whether you are travelling solo or a couple looking for a romantic getaway or even if you are a family looking for a getaway from the daily hustle and bustle, Shangri-La has all your needs covered; from the moment you arrive at the resort till you depart. With its delicately tailored services, Shangri-La offers you a holiday that will be memorable and leaves you feeling light as the clouds above wanting to come back to once again bath in the crystal clear waters and absorb the tropical sun.
Shangrila Maldives - Your Own Tailored-Heaven On Earth #Maldives #Shangrila #Shangri-la #MaldivesResort #Maldiveshoneymoon
Earth Hour: Maldives to turn off lights and start fireworks
Amazing Tree House Villa At Shangrila Maldives
Maldives luxury resort for private rental - $4m for 4 nights