Some People Are Scared Of Sharks But Not Humans
In Maldives you hardly find anything to be scared of and in the scary things list the top goes to sharks. During my career at resorts I had never come across anything else more scary to guests. For those few guests who are afraid of sharks I wonder why they were not afraid of human beings!
If you are afraid of sharks just because they got teeth, we humans have teeth too. Are you afraid of humans? If no, then take sharks as just another creature that is not constantly looking for humans. Humans look for food to survive, so does sharks but they don't seek humans on purpose. Sharks do not prey on humans. At least that is the case in Maldives. I have never seen or heard of a shark attack on human in the Maldives just to get fed.
The shark attack video we shared on another post
was the result of trying to feed them. There are resorts that do shark feeding, a trained pontoon does the feeding. If you attempt to feed yourself be reminded it involves risk. Sometimes or most of the times you might be lucky to be able to rush to the shore but not always.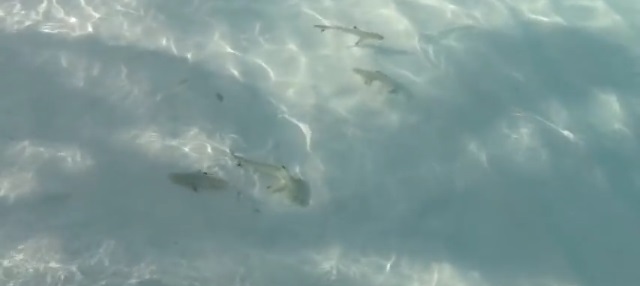 Another shark attack story I got to know happened when a fisherman got a shark on his line. He pulled it onboard, as he tried to unhook the shark bit his arm. Do not attempt to hold shark's tail, it could turn its head and bite you. That's what happened to the fisherman. Mistakes could happen, by any chance if you got a shark while fishing it should be handled by someone who know this creature well. Once you pose a threat to this mighty creature she would get all her defensive tactics to play. A fish out of the water means fighting for life.
In my childhood days I used to go fishing, sometimes I wore snorkeling gears and dropped line down while I watched them grab the bait. In the sea I carried some bait but fish were not attacking me or the bait on my bag. But, in some reefs where fish are very friendly it is possible that fish snatches your baits. So, do not carry any food while snorkeling.
I am writing this post because to me being scared of sharks is silly. While it makes no sense at all, it is a beautiful creature to enjoy seeing in its natural habitat. Swimming by and making crazy turns as you snorkel is very memorable experience.
Among the few people I met who were afraid of sharks actually told me of the movie called Jaws in which humongous sharks prey on humans. Some of the movies, believe it or not, make real life changes. Once I met a woman who refused to fly seaplane because it was too small. I wonder what made her scared of that?! The chartered a speedboat to she spent some hours in the choppy water while she could have flown comfortably enjoying the scenic views.