School Of Sharks Swim In The Shallows. Watch What They Did Next!
Black-tip reef sharks are very common in Maldives. You could see them in the shallow waters of the lagoon and in reefs when your snorkel or dive there. Sharks are absolutely harmless and friendly species in the Maldives. They do come close to people but also keeps distance. They love sardines. If there is a school of them in the lagoon you will probably find sharks roaming around.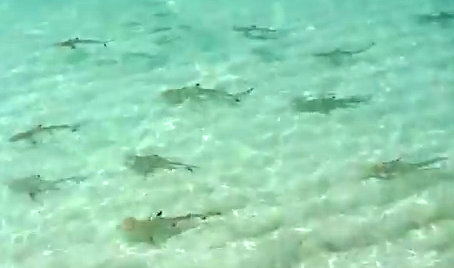 Having spent years observing their behaviour, while working at different resorts, very rarely they succeed catching sardines. If the sardines are very close to shore and then sharks approach in way that fish gets stranded in the shallows it turns out much luck for hungry sharks.
While sharks swim around and through the school of sardines it is often grey herons that take advantage of the scene. They wait on the beach for right moment. Sharks do the work and herons get the fish. Here is a video that shows a school of sharks swim and attach sardines at the shore.