Wedding Proposal On Amazing Sandbank Of Maldives
02 FEBRUARY 2018
Today we organised the wedding proposal of Marc Degelo from Switzerland. He proposed to his girlfriend at the most beautiful setting, just the two of them on a tiny sandbank in the Maldives. I was the organizer from Maldives Finest, even I stayed at a distance, I could hardly seem them. They were on their own, on their private sandbank.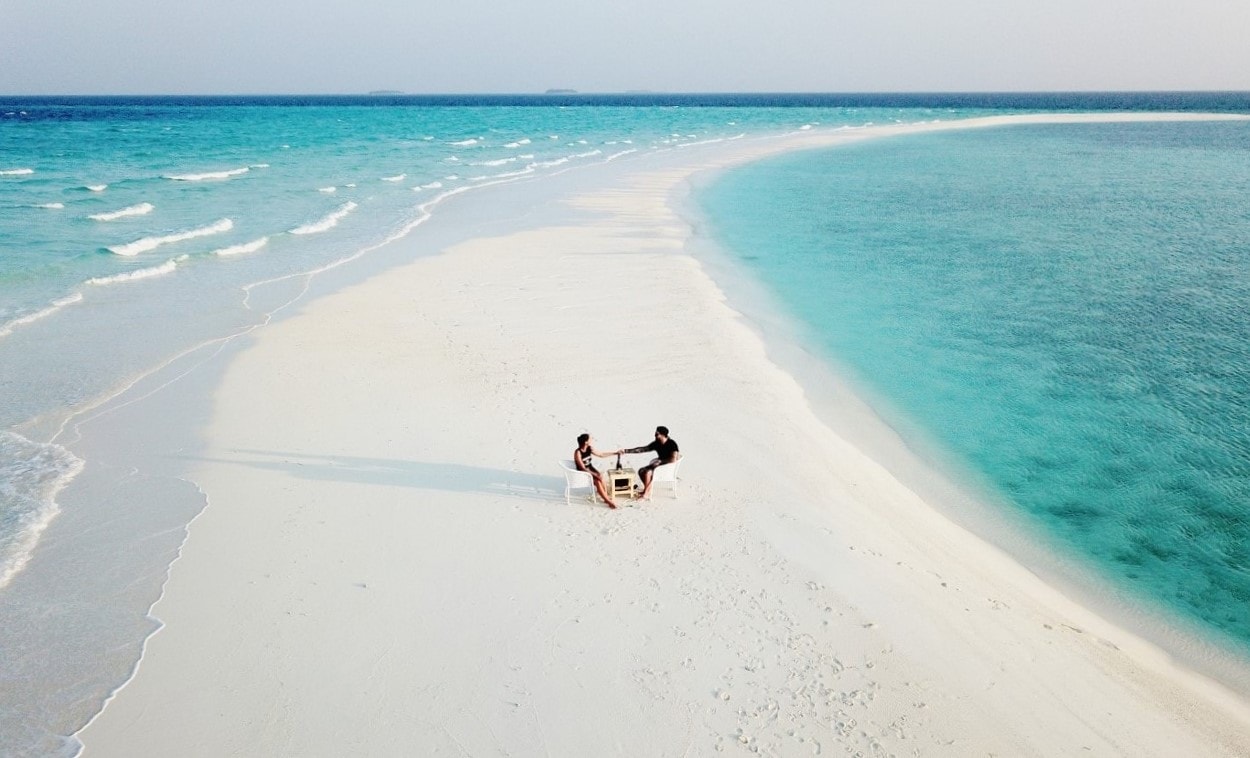 Marc and his girlfriend visited Maldives for holiday and stayed at Paradise Island Resort. His marriage proposal was arranged with way on advance. On their arrival to Maldives, an official from Maldives Finest welcomed them at the airport.
Weddings and proposals
are once-in-a-lifetime event and personally meeting them prior to event gives assurance to guests.
We arranged a cool box with drinks, chairs and a small wooden table. Everything was loaded to speedboat, at 15.15 we departed from Hulhumale'. It took about 15 minutes to reach Paradise Island Resort. When we went guests were already waiting for us on the jetty. They boarded quickly and off we went.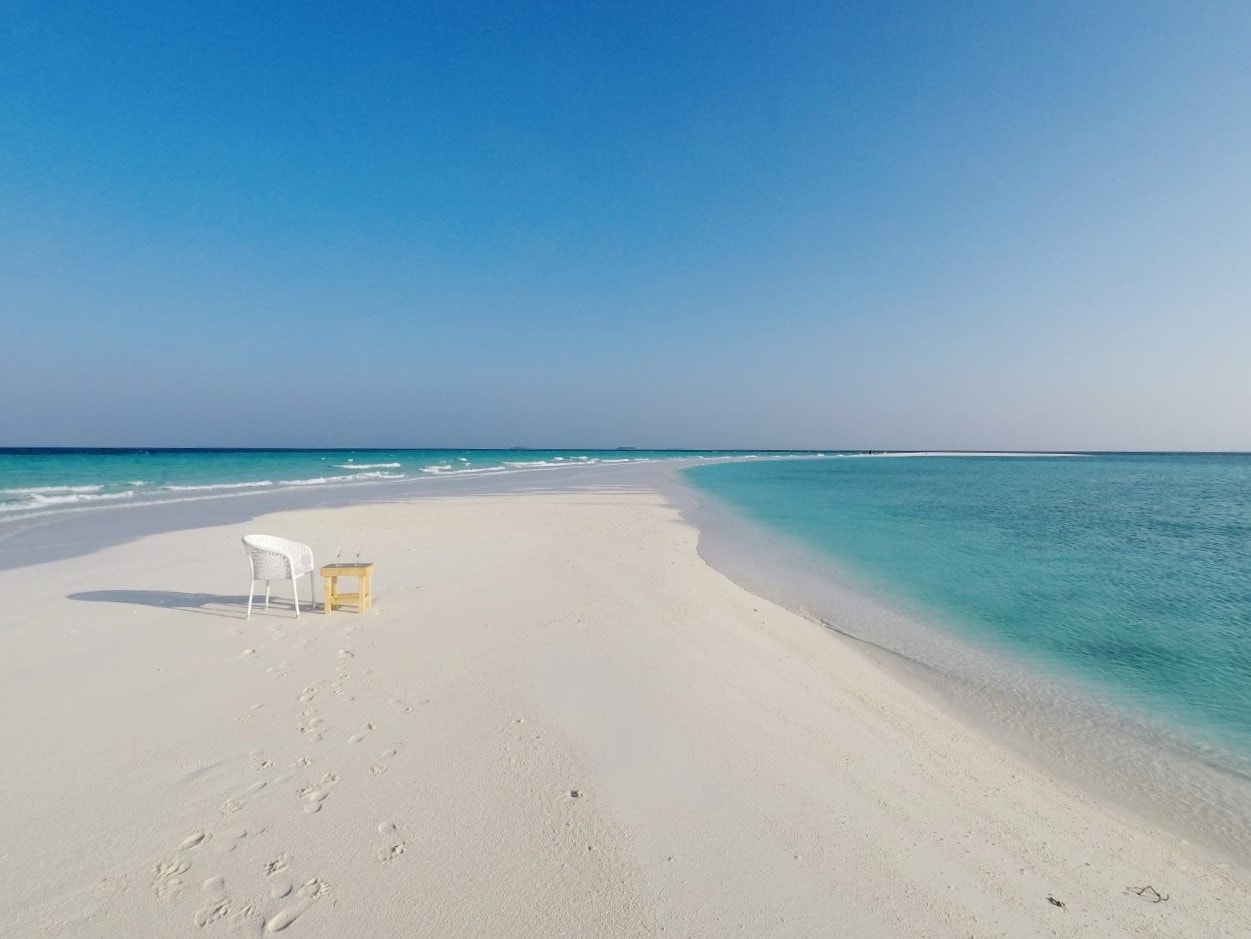 During the trip Marc whispered me that he wants his girlfriend to be blindfolded when it gets close enough to see the sandbank. Since this was already planned I had a piece of cloth just for that. Marc kept talking her diverted her attention from looking ahead. I was already tracking distance to the sandbank with smartphone GPS. It took about 20 minutes to reach the sandbank. When it was time I gave the signal and Marc blindfolded his girlfriend. In few minutes we reached the sandbank. There were two sandbanks connected to each other with a narrow pathway of sand with a foot of water. I have been to this kind of locations over a hundred times but still beauty of the magic view was captivating.
Marc grabbed his blindfolded girlfriend and took her to the sandbank, I started unloading bags and other items. We were on the tiny sandbank. Marc thought the other one was looking even nicer. He grabbed a chair and his drone before walking his girlfriend through the shallow water. In 10 minutes they reached it and the rest was between the two.
In a few minutes our perfect arrangement was little disturbed when another speedboat came in the lagoon and anchored at the sandbank, there were half a dozen or so guests. I was on the other sandbank I could only see figures at a distance. I saw Marc approaching them to talk, the guests stayed in the boat for a while and later went off, may be to another sandbank. Then it was just us on the two sandbanks bridged by a pathway of sand.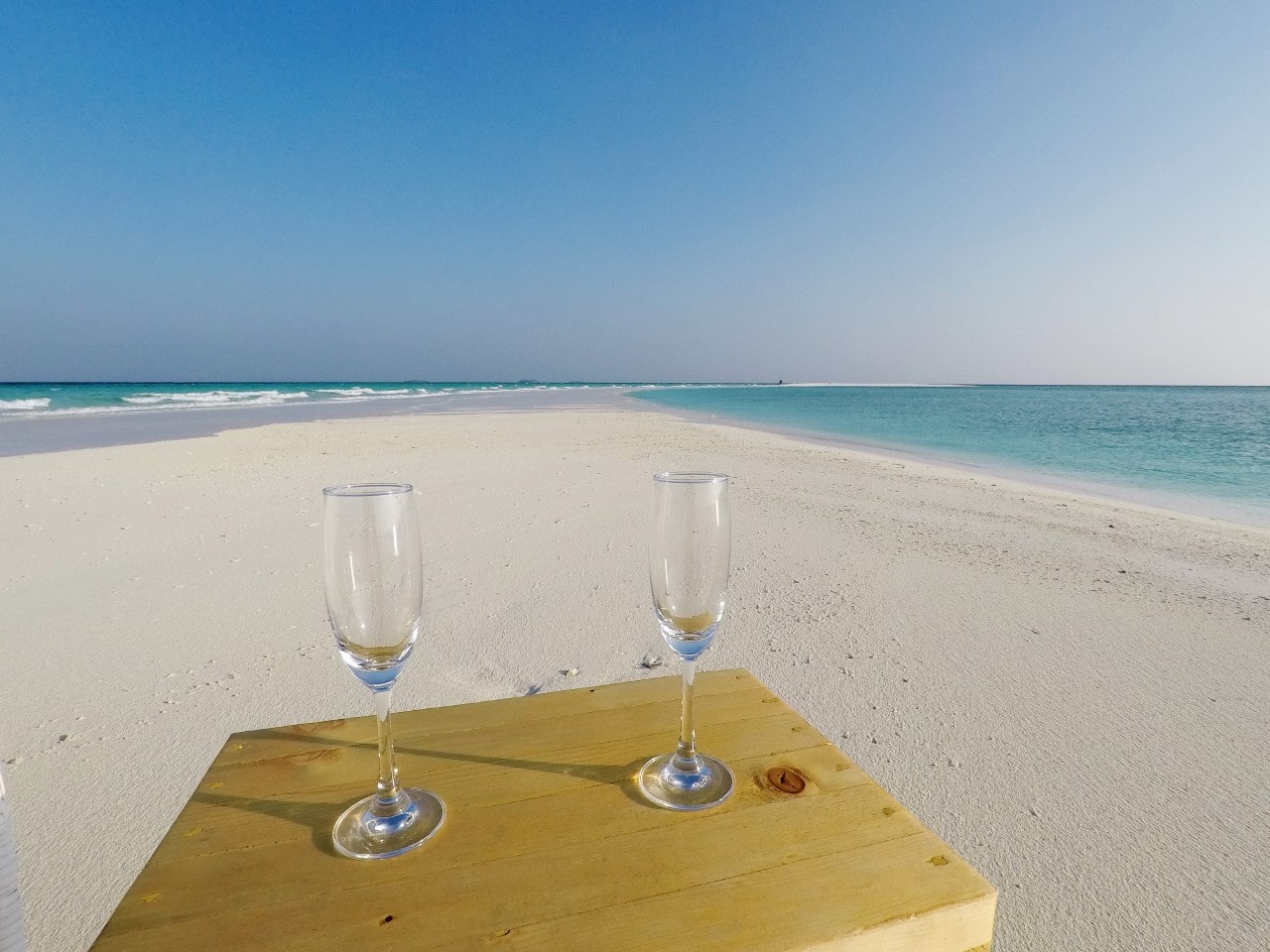 It took about an hour, Marc and his girlfriend were isolated on the sandbank doing carrying on with Marc's proposal. When the guests returned to the sandbank we jumped off from the boat I already had the drinks setup done. They enjoyed their drinks while taking photos and enjoying the magnificent surroundings. Every once in a while there were sea birds flying around. Sun was about to set and I left them enjoy there and walked to second sandbank to snap some pictures for myself. I met some crabs, saw many shells of and then were was a large flock of black terns with few white terns. When I got close the birds flew off and they were all around me. It was an incredible moment.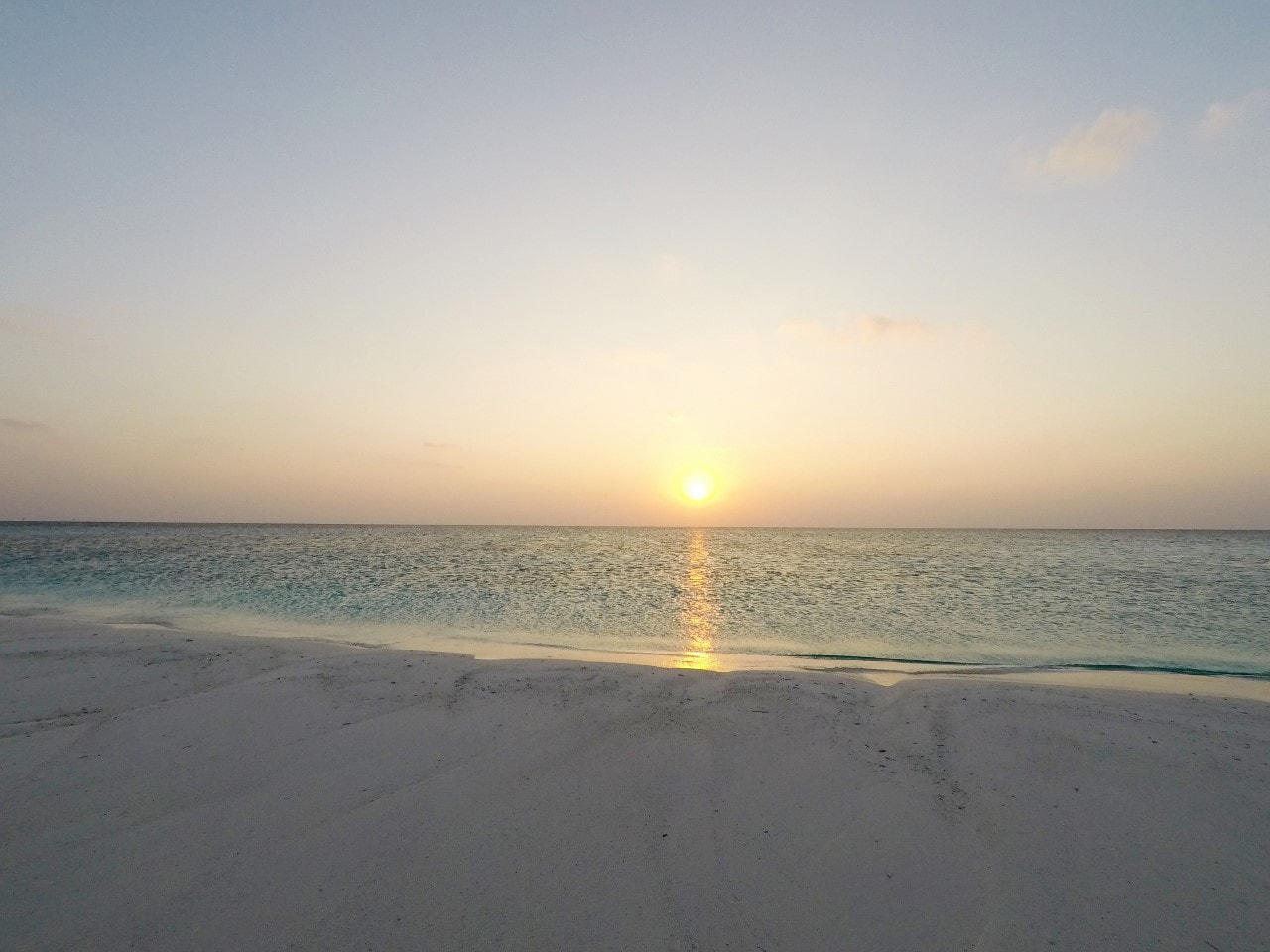 When I returned to the guests the sunset had gone. I started loading the items back to boat and in few minutes the guests boarded the speedboat with drinks still in their hands. Sea was not so smooth today and small speed of ours kept bumping. They finished off the last sips quickly and in some minutes were maneuvered through the lagoon and was in open sea at full speed. We had to travel against the waves and wind, it took twice the time to go back to Paradise Island Resort. Me and the crew shook hands and let the happy guests walk away to enjoy rest of their special day.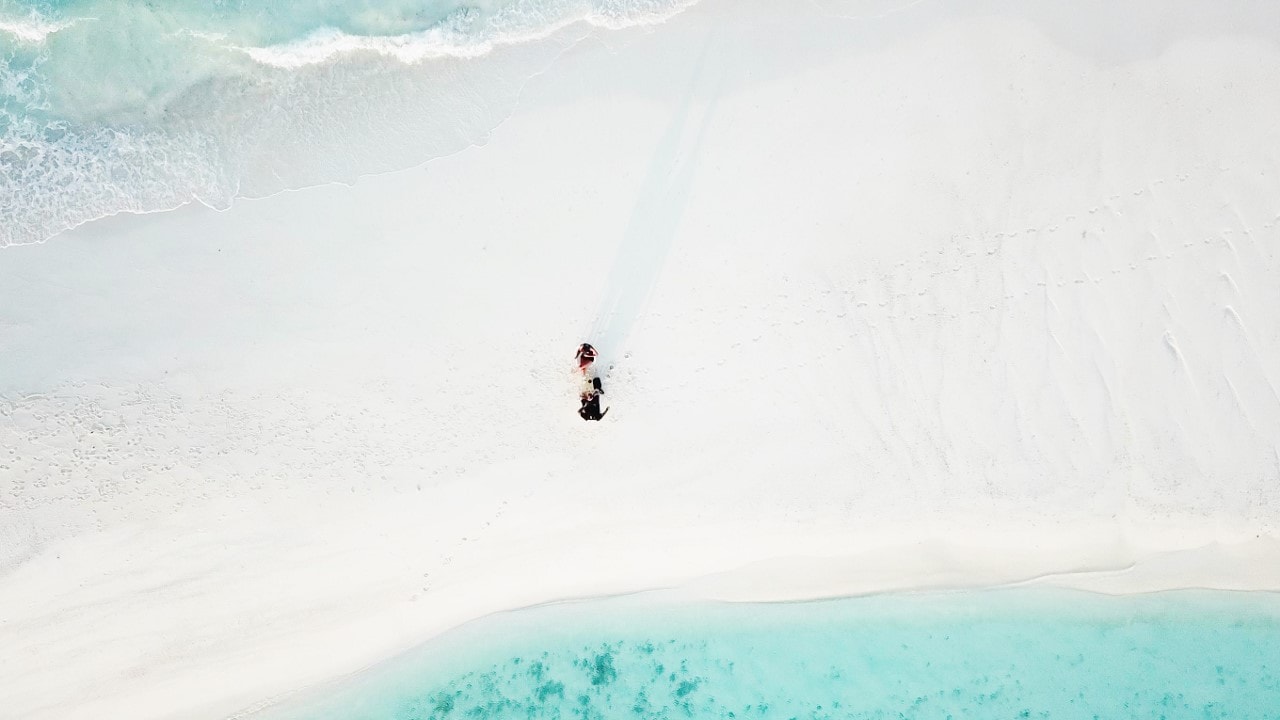 COUPLE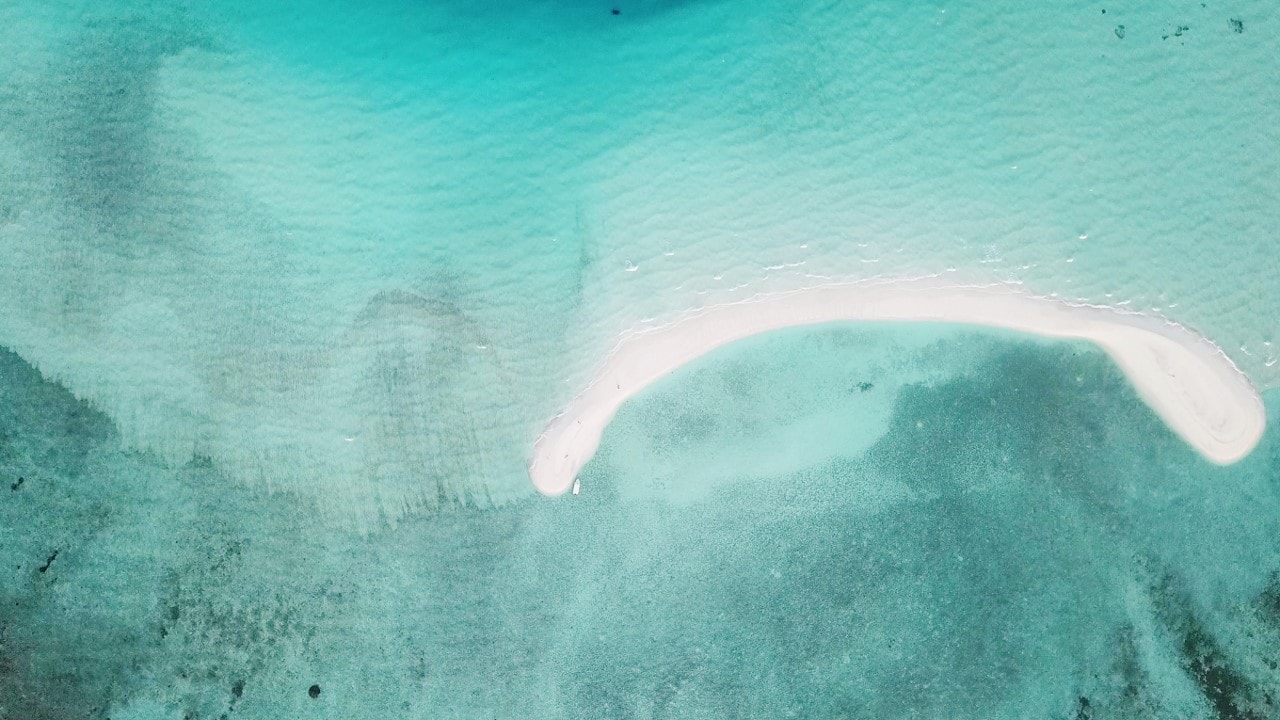 AERIAL VIEW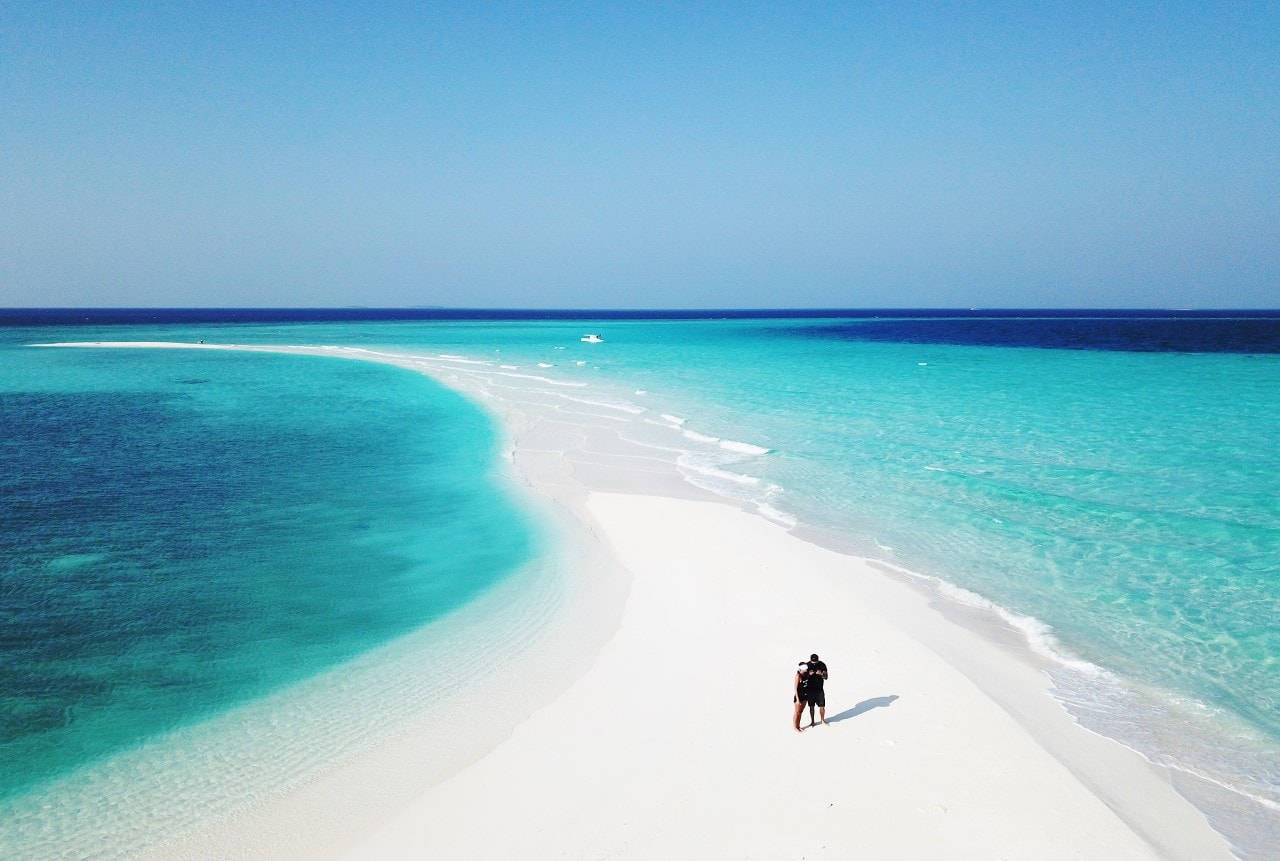 PRIVATE TRIP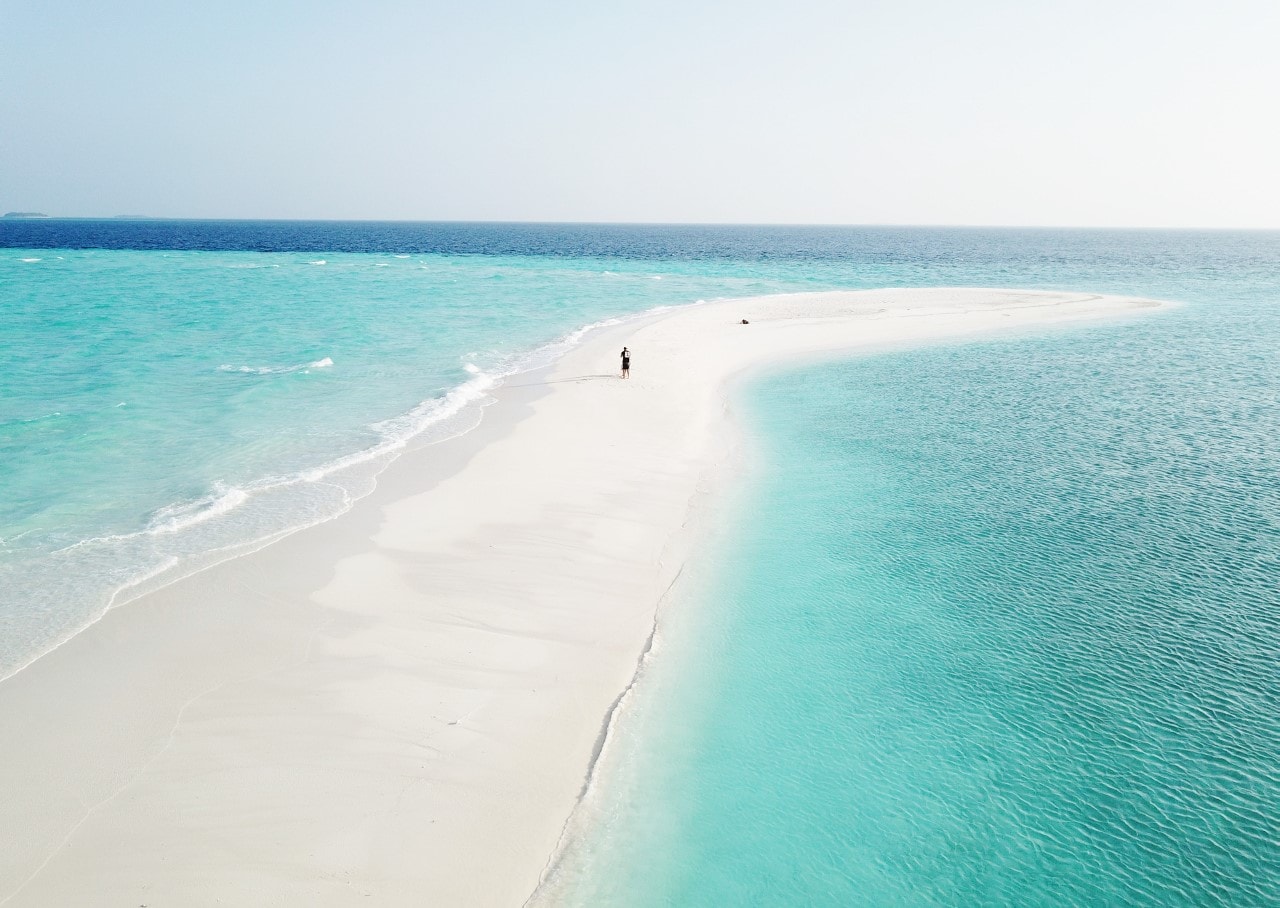 LONG WHITE BEACH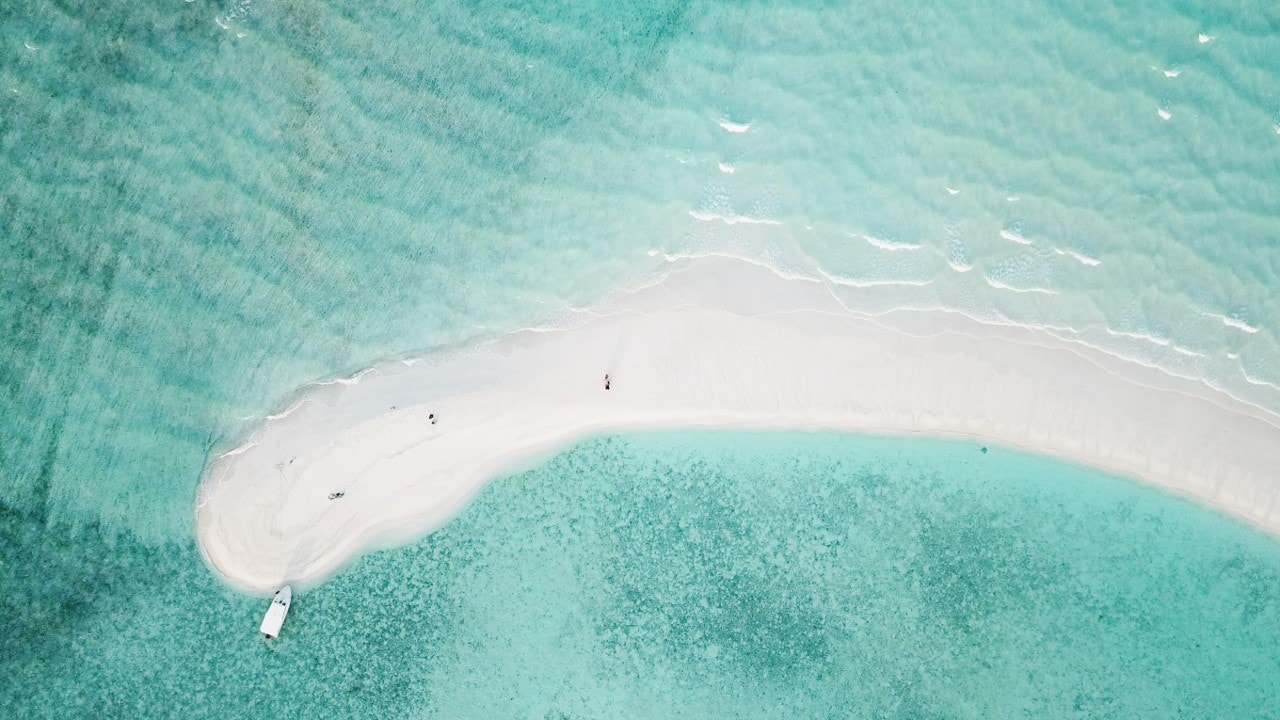 WHITE SAND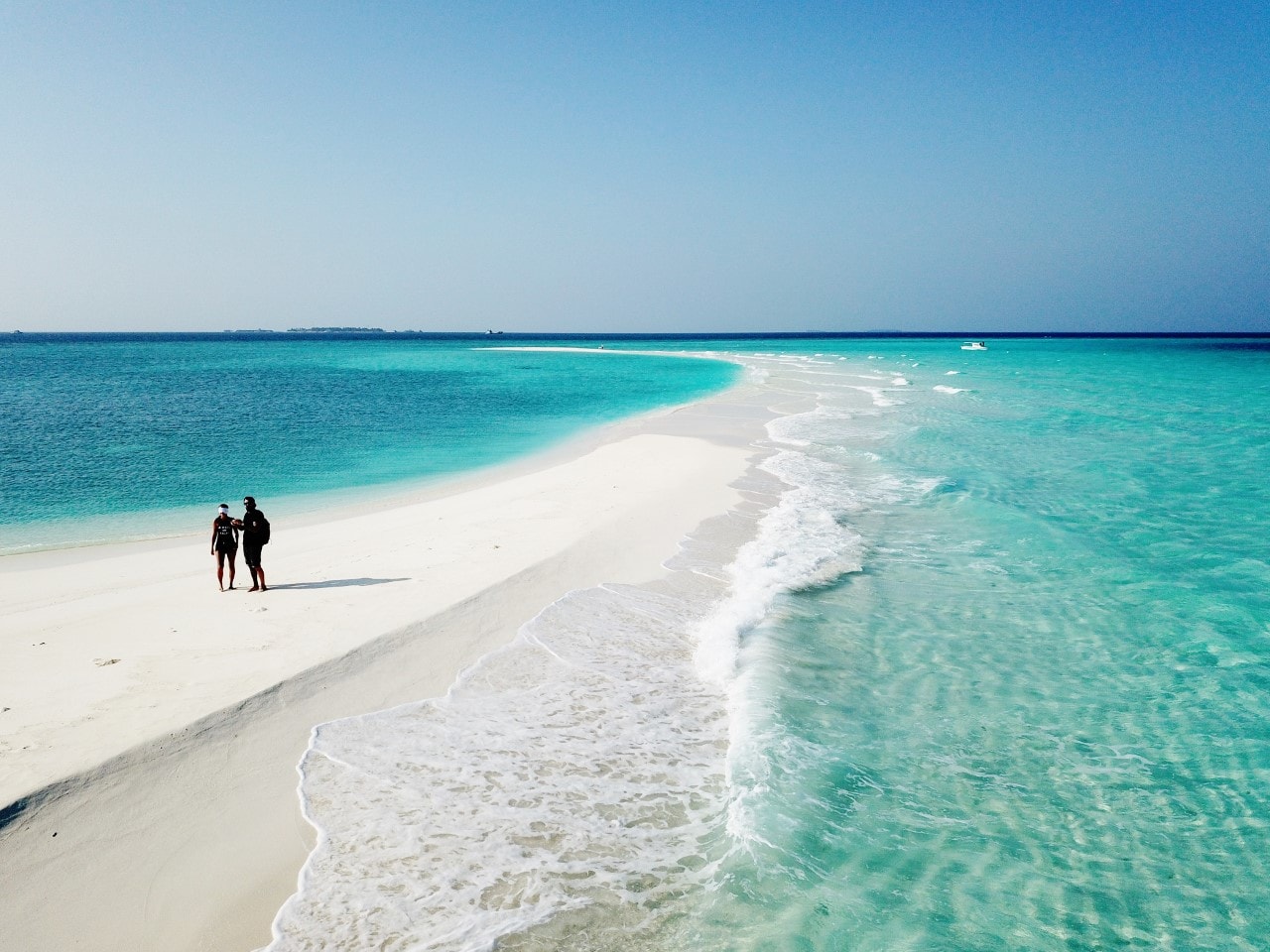 ROMANCE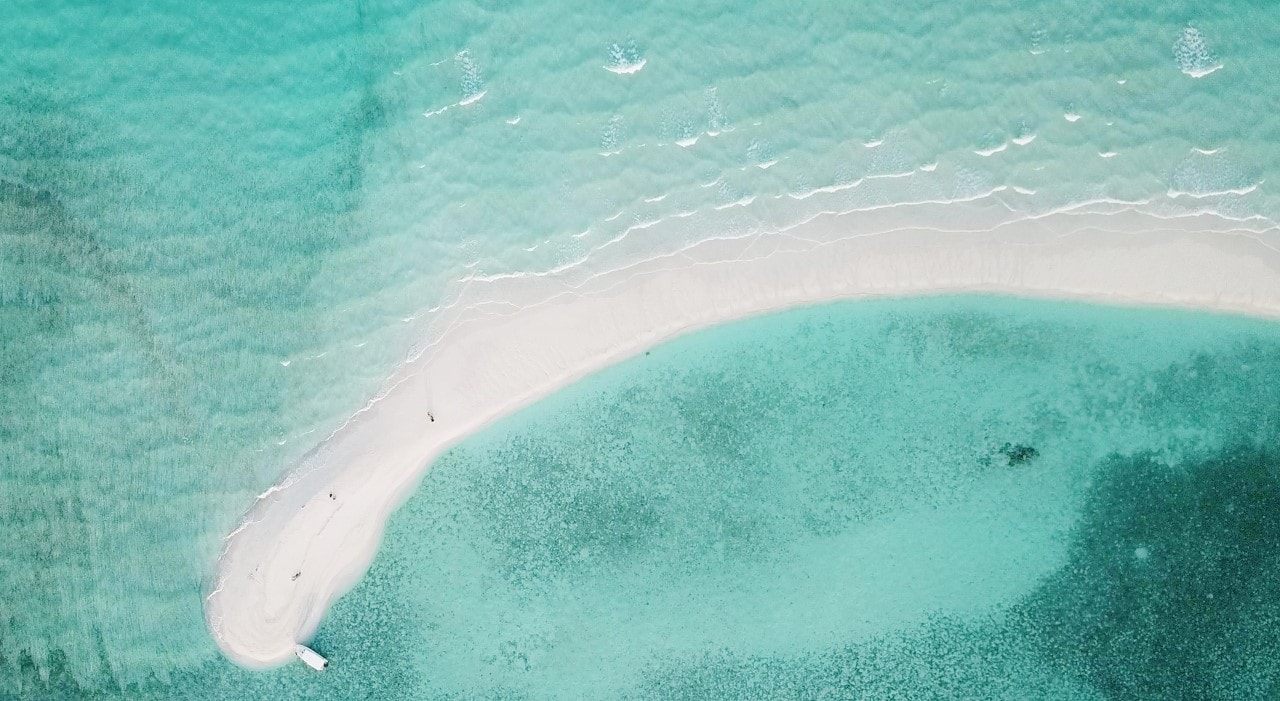 AERIAL VIEW
Wedding Proposal On Amazing Sandbank Of Maldives. #Maldives #Malediven #Reise #Urlaub #Мальдивы #Maldivler #Maldivy #Wedding #Proposal #Girlfriend