Walford Astoria Maldives Ocean Villa With Pool And More
The Stella Maris Ocean Villa with Pool is a hidden gem located in Waldorf Astoria Maldives that'll definitely catch your eye as it defies the mainstream approach for overwater accommodation. It is more or less a freestanding luxurious apartment featuring a large infinity pool spread across the lower deck. Although this one-bedroom duplex has wooden themes throughout, it is very obvious it shares no relation with the traditional hut style villas you can find in Maldives.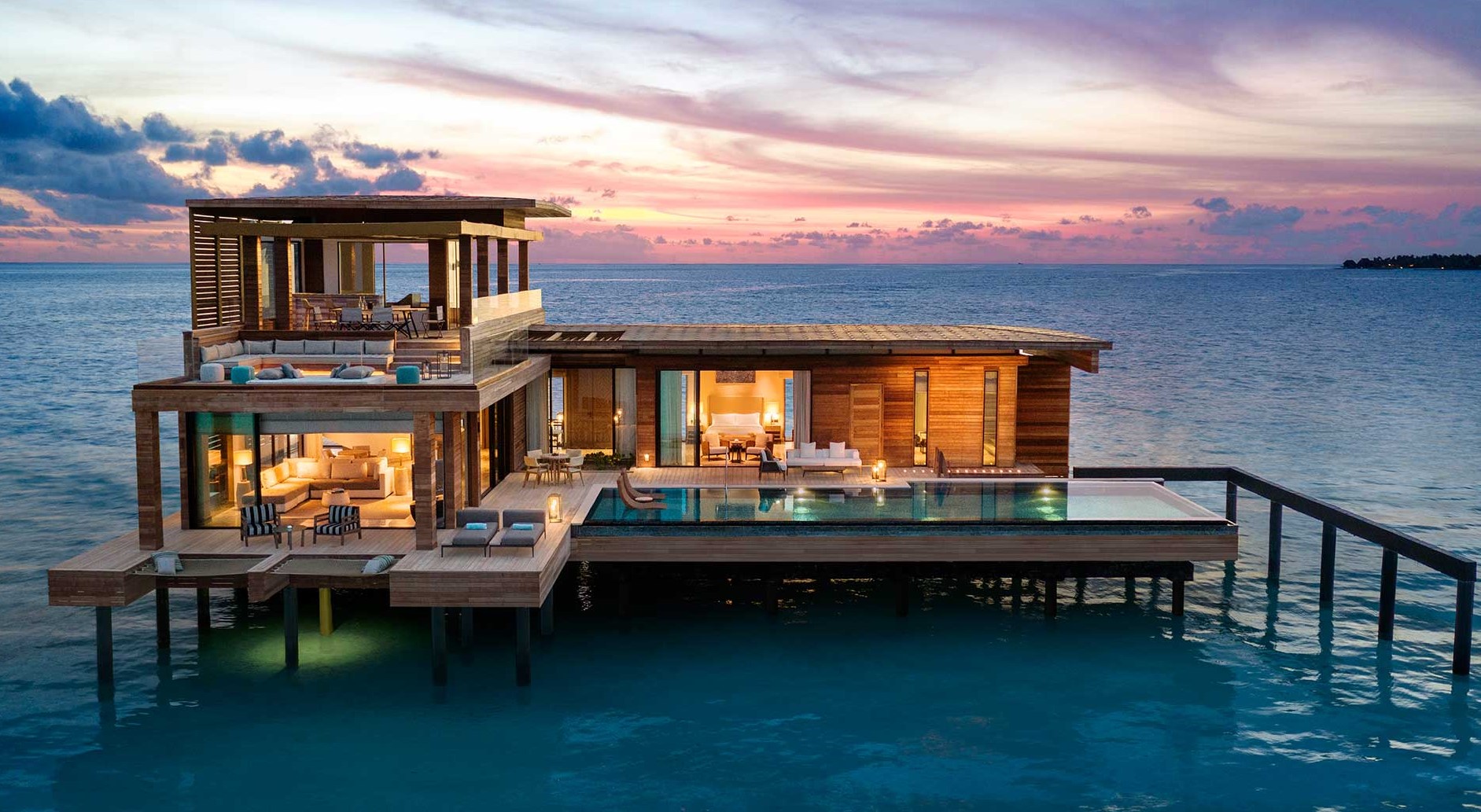 Stretching a staggering 5800 square feet, these huge villas can be occupied by a maximum of 3 adults, describing it as spacious and lavish would be a huge understatement. Moreover, they offer exceptional levels of privacy because they are freestanding and only accessible through a boat ride. Enjoy an intimate seclusion and appreciate the celestial charm of the Maldivian night sky combined the vast Indian Ocean with ample space to unwind and relax.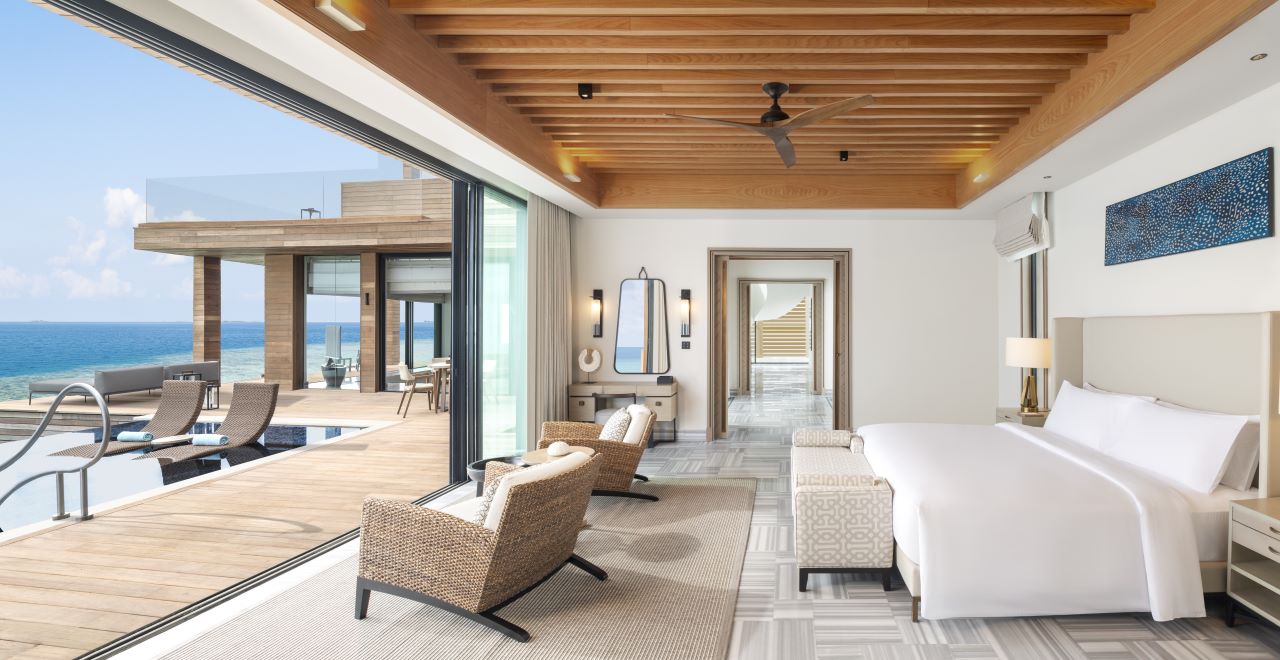 These overwater villas consist of a large bedroom with a sitting area, a spacious indoor dining and living area and a gorgeous bathroom that counts as a room by itself. There are multiple beautiful floor-to-ceiling glass windows on all the sides of the living area and the bedroom. Moreover, there's an upper deck that comprises of a dining space that can be used as a BBQ station with an open-air lounging area with large sofa bed. The lower wooden deck extends from the living space and the bedroom covering a generous area and it comes with a huge infinity pool, hot tub, direct ocean access and overwater hammocks.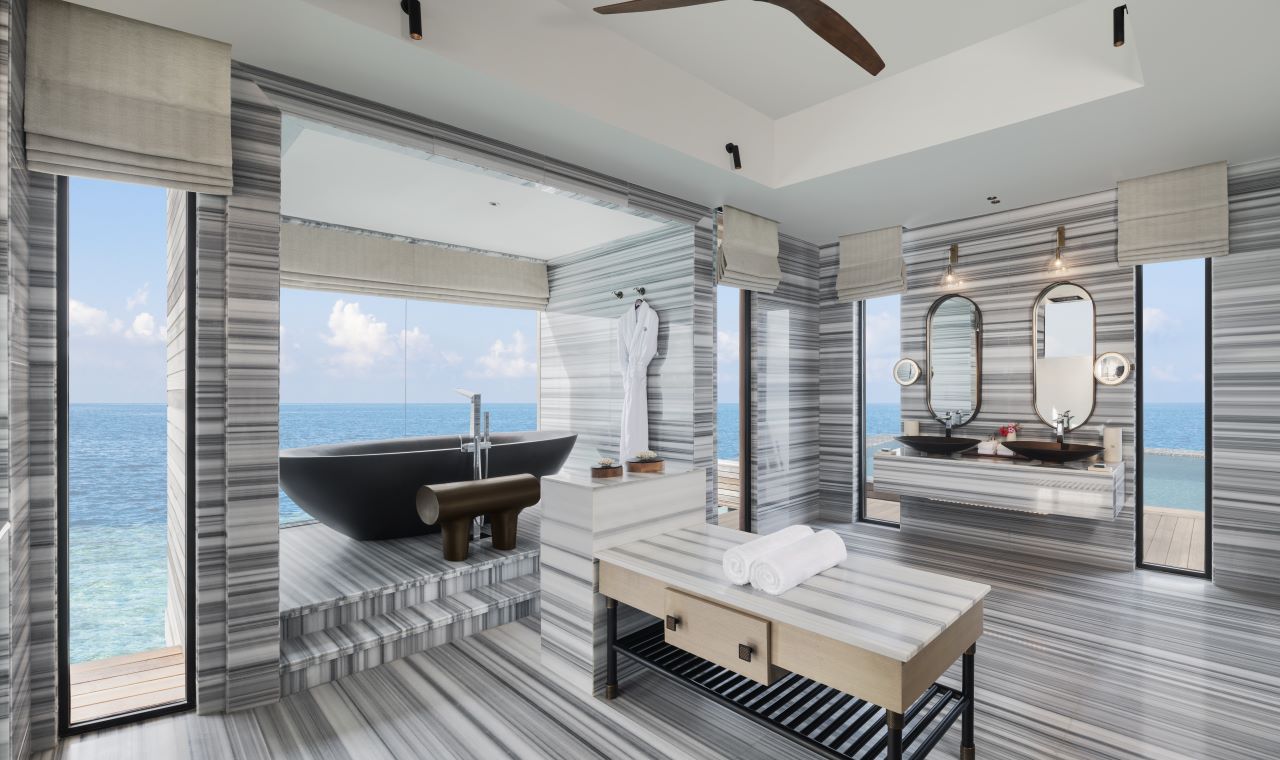 These secluded overwater villas look more like an apartment you can find in a countryside resort or in a large urban city. Of course, the woody and grainy approach gives them a slight rustic charm that goes well the sparkling blue waters that it overlooks. They are duplexes that are longer than they are wide but spacious all the same and the fact that there's no thatched roof and its minimalist wooden look is quite striking when combined with the stunning views of the Indian Ocean. This lavish, romantic retreat looks quite impressive from afar and let's you relax and unwind in Maldives with style.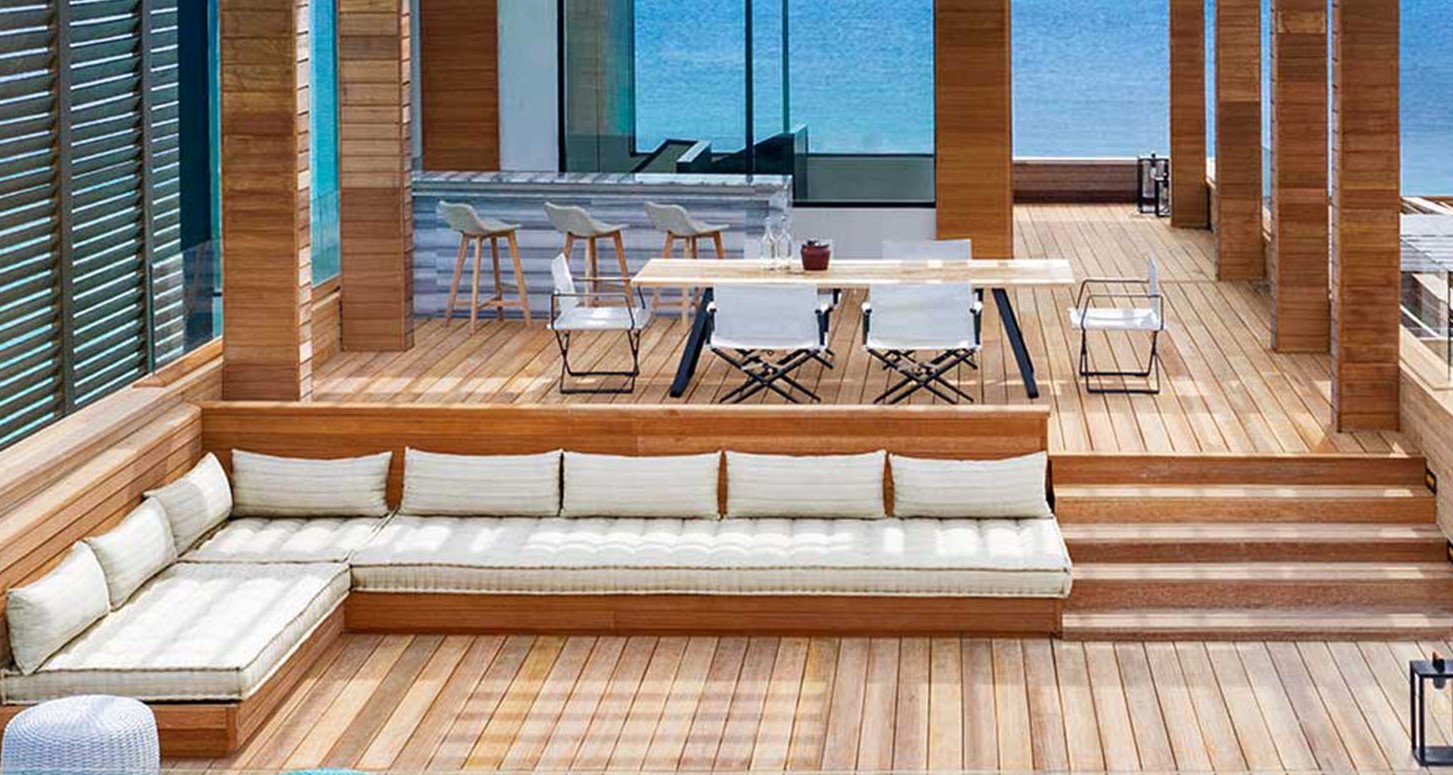 The interior overall is very simplistic and minimalist but quite elegantly designed and has its own unique charm to it. Don't let all the wood on the outside fool you, the inside features a sleek design involving lots of marble and glass. Pristine white walls and the ceiling is fitted with a simple but appealing wooden structure. Plenty of cushions and sofa beds all are scattered through out all the rooms so there's plenty of options to lounge and laze around. There's an elegant curved stairway that leads to the upper deck where you can hire your own bartender or chef to have a BBQ night and dine in a setting with a panoramic view.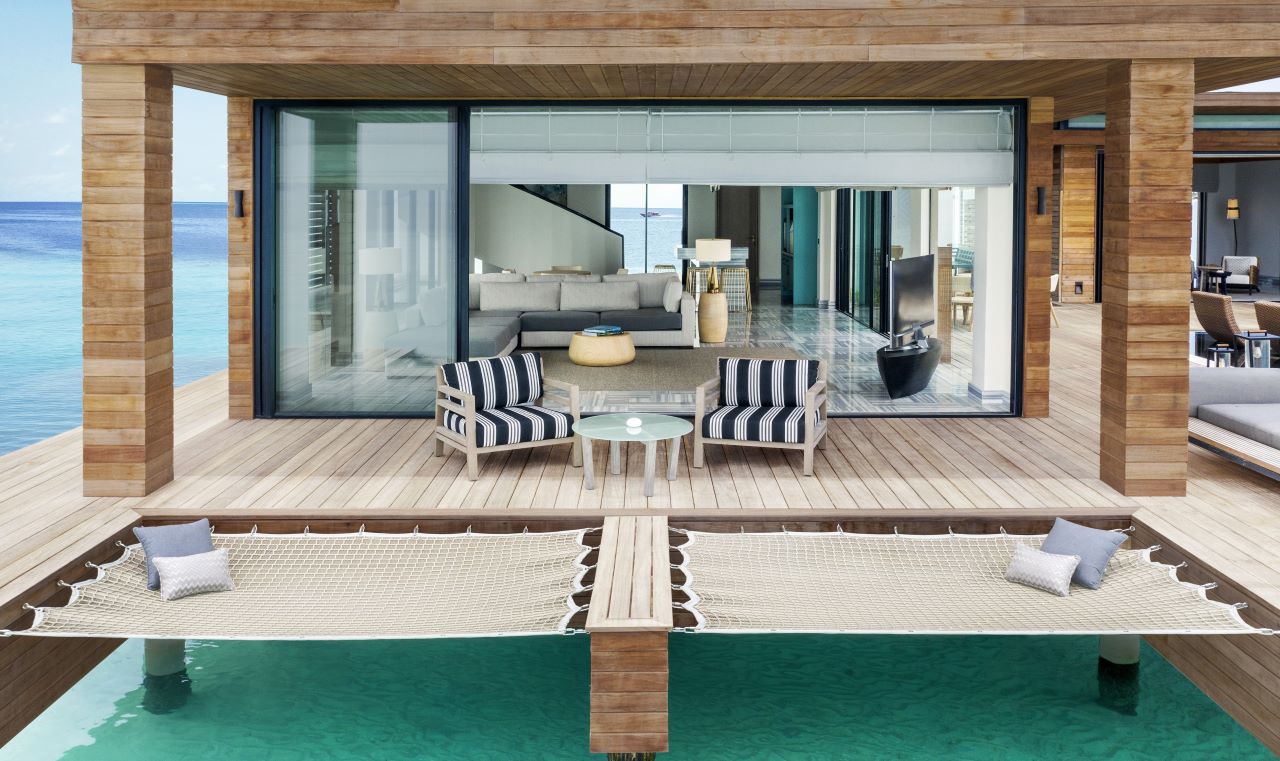 The large ceiling-to-floor windows provide stunning views of the Indian Ocean no matter where you are in the villa whether it's your bedroom, the lavish living room or even the bathroom. In fact, the bathtub is placed right in front of a glass window for you to marvel at the scenery and the bathroom even has an outdoors extension if you want something different.
Of-course, this huge retreat that's a mansion in its own right comes with a concierge that's available at all times whom you can contact very easily. In fact, you can arrange everything at the resort from excursions to dining with the technology at the resort. This means that your experience will be quite smooth as it's user friendly and everything is available with the touch of your fingertips.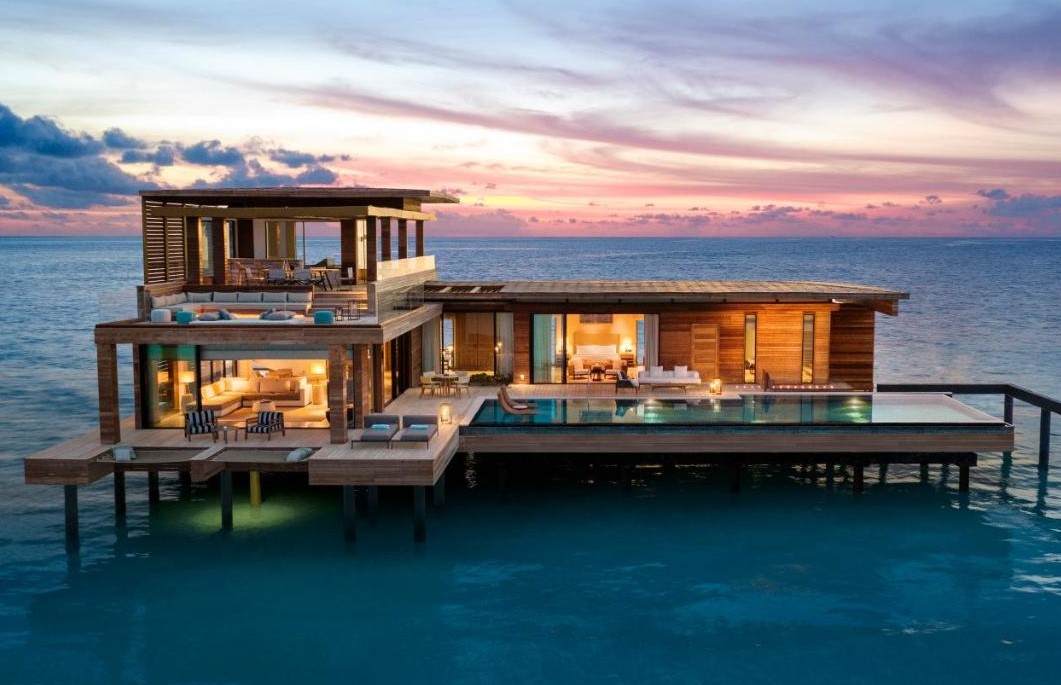 Ocean Villa With Pool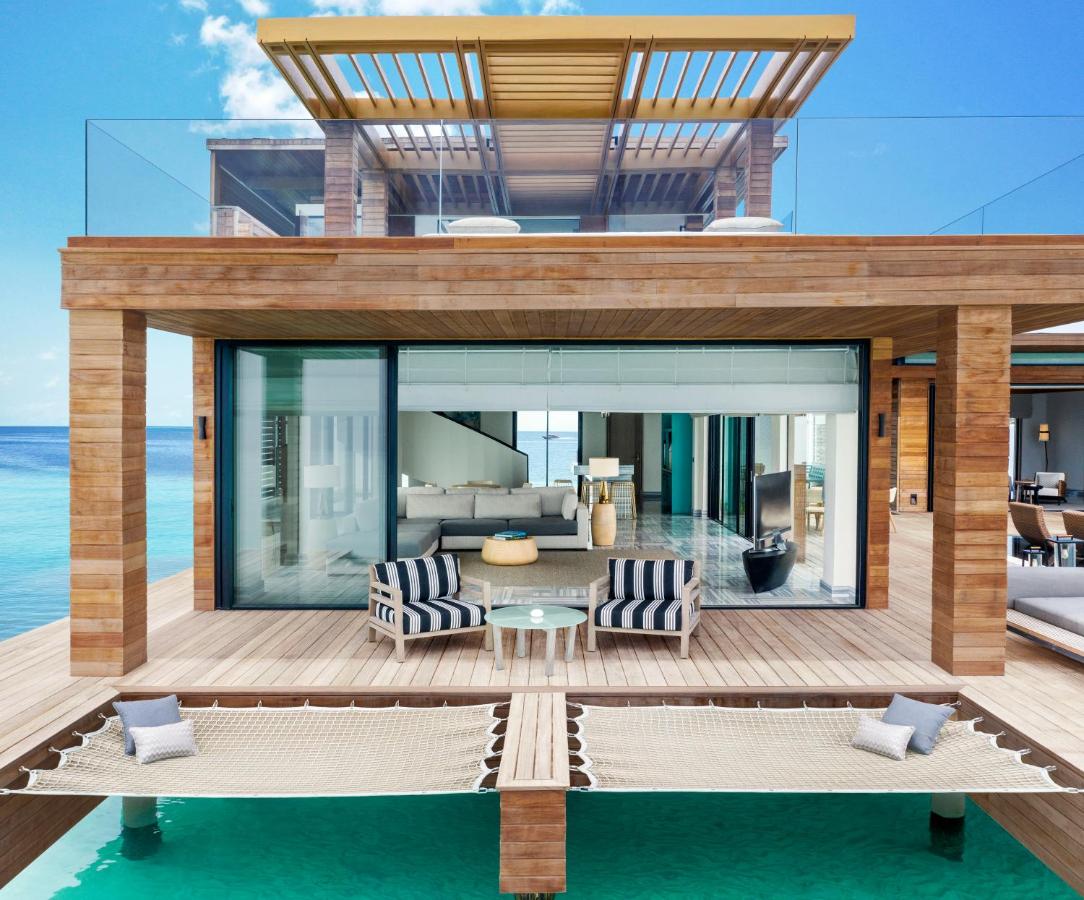 Hammock & Relaxing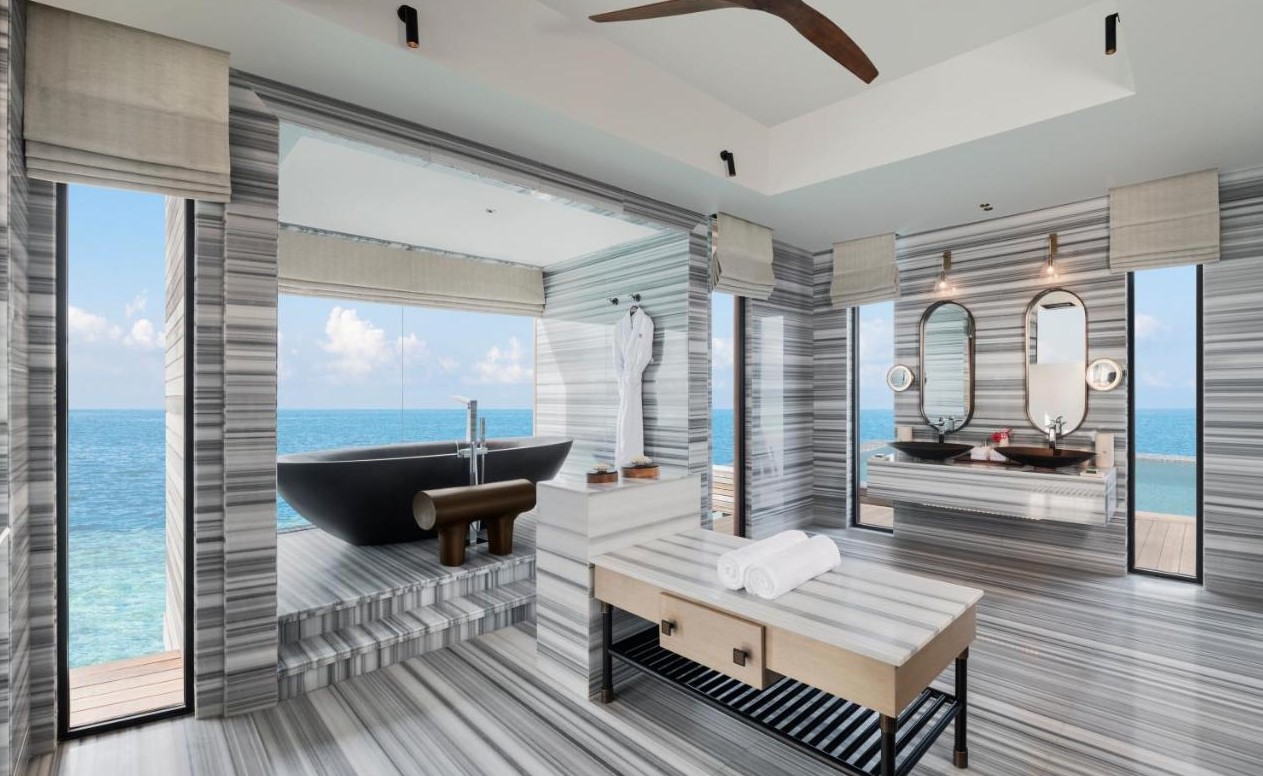 Bathroom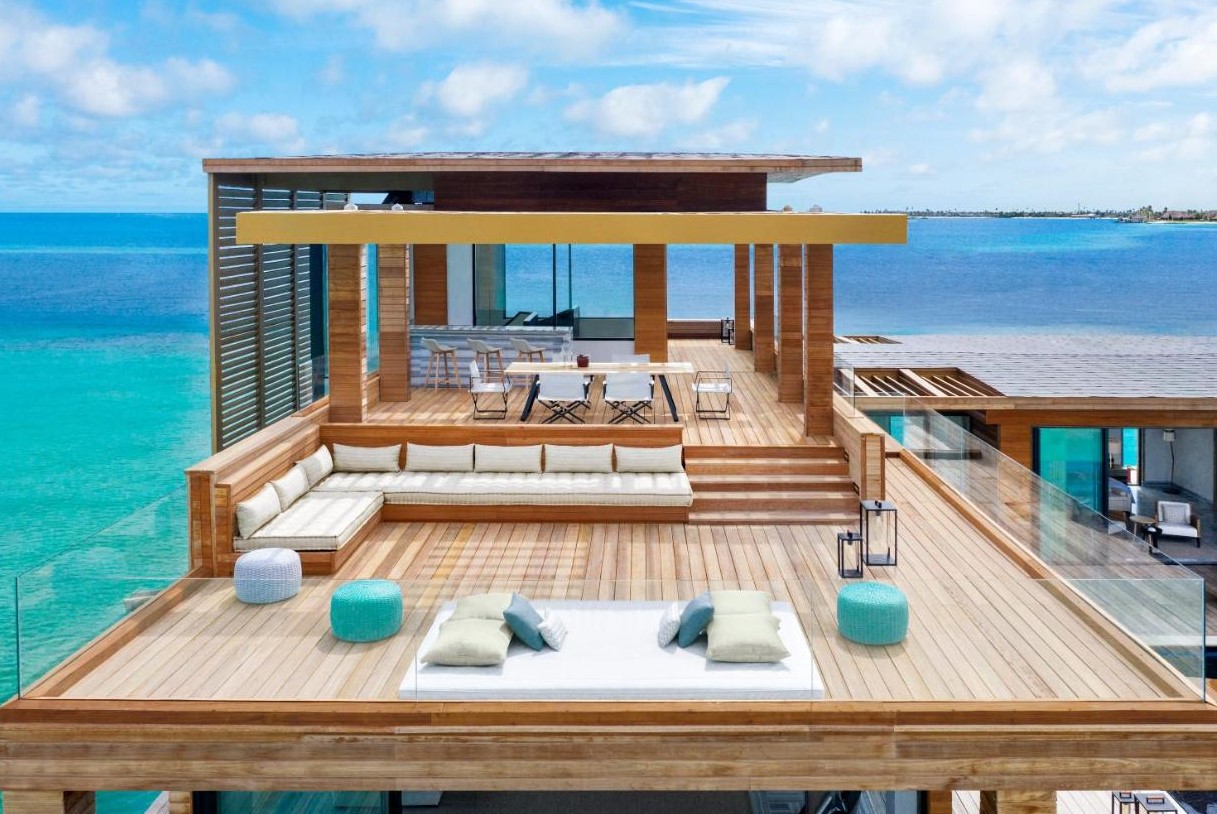 Villa Exterior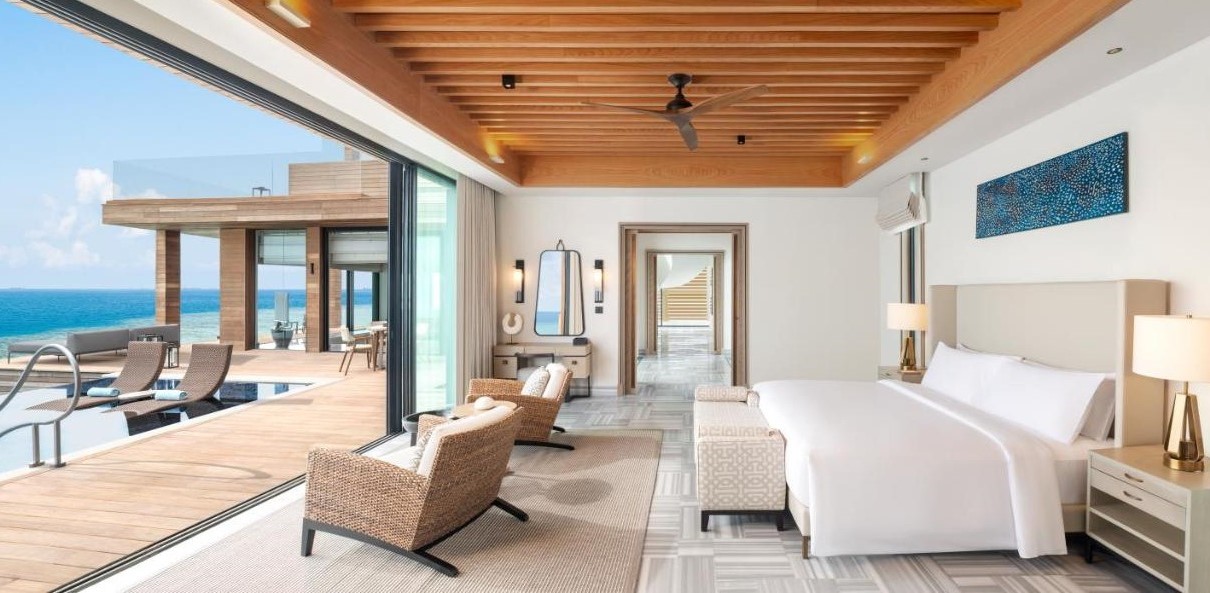 View From Bedroom
Pool View
Waldorf Astoria Maldives Ithaafushi
If you're ready to splurge and spoil yourself, look no further than Waldorf Astoria. This lavish ocean retreat that's available only through a 40-minute luxurious yacht ride spans across three islands takes luxury to the next level with an exclusive-use private island which is a 32,000 square foot sanctuary. If that wasn't enough, this expansive retreat is an all villa resort and every villa featuring its own large infinity pool. So, if there's plenty of opportunity to make serene unforgettable memories in total privacy and seclusion. Waldorf Astoria is very unique it's in approach by the way all of the space around the island is capitalized that leads to an array of beautifully appointed accommodation each with its own special charm and ambiance. Spacious living areas, stylish décor, every amenity with a luxe touch, swimming pools and of course the unbelievably enthralling views that's the core of the Maldivian experience. Moreover, along with the high-end facilities, there are world-class dining options that puts other
resorts and hotels in the Maldives
to shame.
Other Accommodation Options
Ithaafushi Private Island
Although the Stella Marris is striking and unique, it cannot not be called the highlight of Waldorf Astoria. No, that would be Ithaafushi Private Island, the most immersive accommodation option available for those who want to live the Maldivian experience at it's very best. This island sanctuary stretches a staggering 32,000 square feet and is quite literally the epitome of the tropical paradise that you call Maldives. Additionally, it comes with its own crew of dedicated chefs personal concierge team to attend to your every whim and desire. Not only does this exclusive island sanctuary feature a 3-bedroom beach villa, a 2-bedroom over water villa as well as a 4-bedroom residence on the island but also have 5 pools scattered throughout the island and its own private entertainment clubhouse. This island has an enthralling atmosphere and offers a stunning backdrop to the island-chic villas.  
Beach Villas
An island retreat without the classic beach villas would not be a proper island retreat. Waldorf Astoria Ithaafushi has at least 4 different beach villas each with its own distinct style and alluring atmosphere. It goes without saying that each and every villa has all the modern comforts and luxurious, amenities and technology, large infinity pool, extensive deck.
The King Beach Villa is a large delightful villa placed on the beachfront with a spacious bedroom, magnificent bathroom, an extensive wooden deck with a lounge area and a garden. The outdoor terrace features a pool, hammock and sun loungers.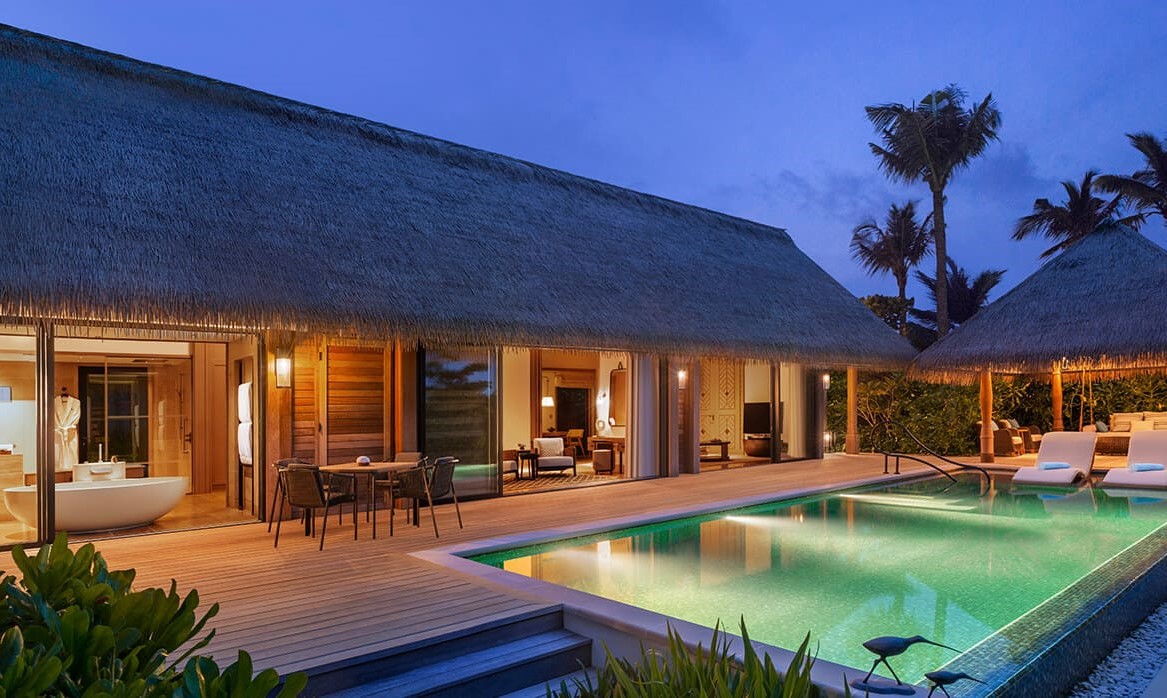 King Grand Beach Villa With Pool
The King Grand Beach Villa has everything the King Beach Villa has and then some more. It is more expansive with a more home-away-from-home approach with its stylish ambience and lavish facilities and its terrace also has its own dining gazebo with a daybed that leads into the garden. A truly relaxing choice.
There other beach villas scattered throughout Waldorf Astoria Ithaafushi are the Two Queen Bedded Beach Villa and the Two Queen Bedded Grand Beach Villa. They're not much different from their King Beach Villa cousins as the only noticeable difference would be that they have 2 queen sized beds instead of one king sized bed in the bedroom. Other than that, even the relationship between the Two Queen Bedded Villa and the Two Queen Bedded Grand Beach villa is basically the same as the King Beach Villa variants.
Beach Suites
Although these are also villas lined up on the beachfront, they're in a completely different class compared it's King and Queen Beach Villas. They are three times the size exponentially more lavish. The island retreat has 3 different suites designed for comfort, luxury and extravagance. It can be said that each of them is a mansion in their own right.
There's the Two Bedroom Beach Villa that stretches 6500 square feet that's meant to accommodate 4 adults and 2 children. Moreover, the generous living space along with the large bedrooms which offer full privacy comes with a personal sitting area as well as full sized windows that offer the enchanting scenery of pure tropical paradise. Outside, there's luxe amounts of space to sunbathe, deflate on the sheltered daybed, dine or relax in the infinity pool as well as direct beach access.
The older, bigger and more spacious brother of the Two Bedroom Beach Villa is the Two Bedroom Grand Beach Villa which are built for 3 adults and 2 children. For families who want to enjoy luxury to the fullest, there's a discreet service quarters and a pantry for immediate assistance. The family area is decked out with an expansive living space and dining room with the best entertainment facilities you can get in the modern world. The two fully appointed have attached bathrooms that are just extravagant. Additionally, there's a tropical garden with an infinity pool, hot tub, a shaded daybed, a dining gazebo and direct beach access.
The two aforementioned suites still aren't big enough to accommodate your friends or family? Then the 3 Bedroom Grand Beach Villa is exactly the accommodation option for you and yours. Built to house 6 adults and 3 children, this a private refuge that's ideal for cherishing the company of your friends and family. The three bedrooms are perfect and offer full privacy and seclusion, to mentioned how lavish they are. The outdoor living space is unbelievable, with a huge tropical garden, two infinity pools, dining gazebos, hammocks, and direct beach access.  
Overwater Villas and Reef Villas
Although there are multiple variants of each villa, the features are the same with a few differences. This does not mean the differences aren't major, as they are the main features and selling points of these villas. Each one is a rustic thatch roofed villa with luxe touches such as generous living spaces and bedrooms, a large infinity pool and extensive wooden decks with hammocks, lounges and day bed everywhere. Every facility and amenity of the modern world is available and to add to that, they are top-notch. So, let's get into the classifications.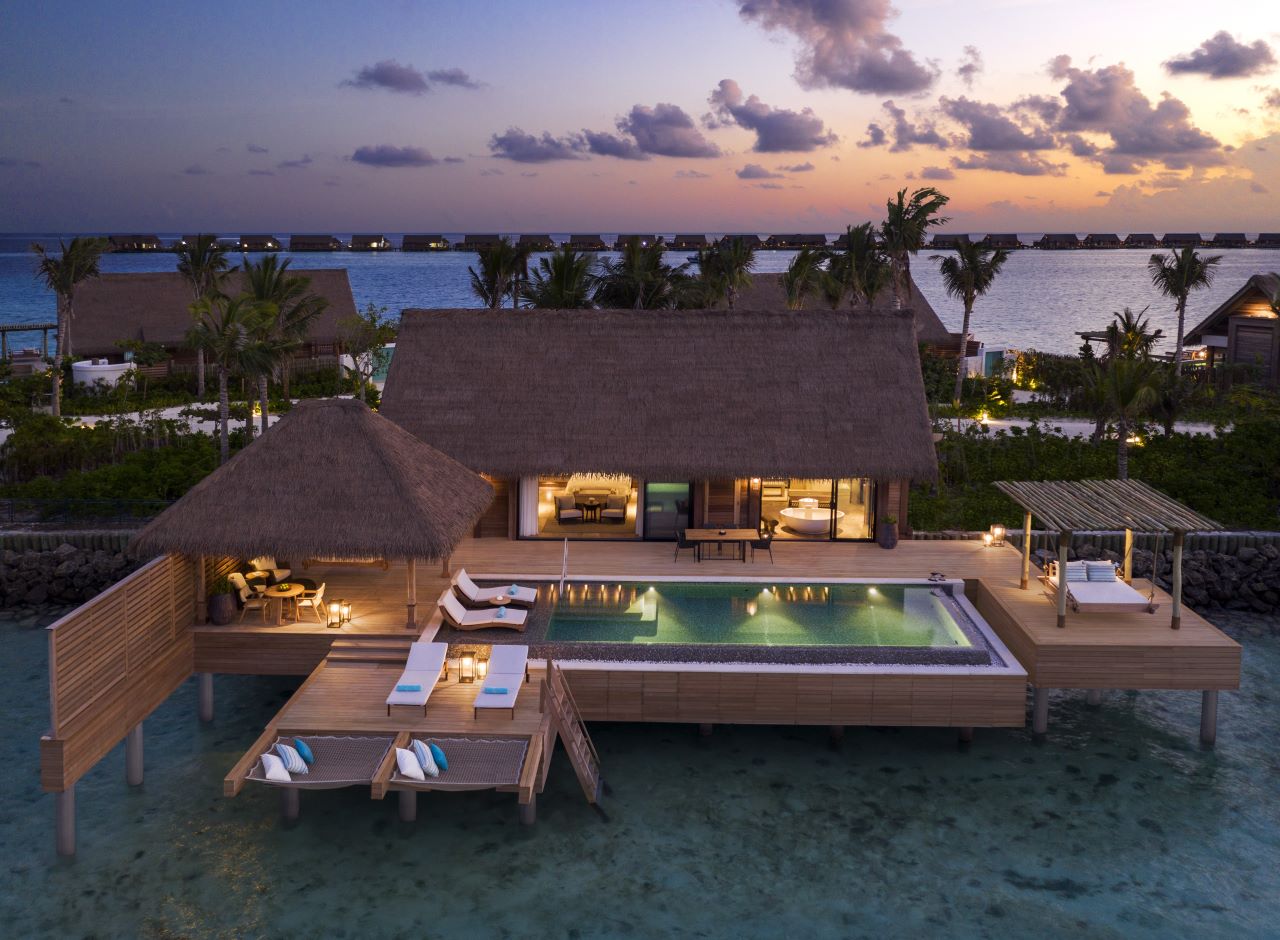 King Reef Villa with Pool
These are luxurious villas accessed via the causeway perched right next to beautiful reef that you can marvel and appreciate. They branch out into King, and Two Queen Bedded Reef Villas. These villas are identical except that the King Reef Villa has one king sized bed in the bedroom while the Two Queen Bedded Reef Villas have two queen sized beds. There are also the Grand versions of both the King Reef Villa and Two Queen Bedded Reef Villa which are basically better, more lavish more luxurious.
There's also another residence placed on the reef. It's in a totally different class compared to the normal Reef Villas. They're the Two Bedroom Reef Villas meant to house a maximum of 4 adults and 2 children. These huge luxurious villas have two fully appointed master bedrooms with attached bathrooms. The extensive wooden deck is designed to keep a whole family occupied and entertained with an infinity pool larger than usual and lots of lounging options.
Finally, there are the numerous overwater Villas scattered throughout the luxurious island retreat. They're not much different from the Reef Villas except that these are placed over the lagoon and there's no view of the reef. Even the variants are exactly the same, with King and Two Queen Bedded Overwater Villas and their upgraded grand versions. Additionally, there are also the Two-Bedroom Overwater Villa as well as the Three Bedroom Overwater Villa that are much larger villas with more master bedrooms meant to accommodate and entertain bigger families.
The Ultimate Dining Experience
The dining at Waldorf Astoria Ithaafushi is extraordinary. It's very likely that the dining experience and options are the perhaps the best in Maldives. For starters, most resorts and retreats in Maldives only have a couple of restaurants and six at most. That's not the case in this special island retreat. There is a total of 11 restaurants for the guests at the resort to dine at. Additionally, destination dining is also available.
Dine in one of seven bamboo nets nested among the rooftops while gazing across the ocean at Terra, or appreciate Levant cuisine in a restaurant that transports you to the middle east, complete with antique décor, artifacts and even imported Lebanese limestone. Do you prefer a cuisine that's further east? Relish contemporary Chinese cuisine with the backdrop of a lagoon the Shanghainese inspired Li Long. Tasting Table is where you can find open-theatre-kitchen counters for breakfast and dinner with an international menu and Tangled is the only restaurant in Maldives where you can find hand pulled noodles and freshly prepared dim sum. The Rock is where the resort has an extensive wine cellar and you can dine at a 200-year old Jarrah wood table and if you want the classic Australian barbeque experience head to The Ledge by Dave Pynt. Glow a garden-to-table concept where you can unwind while enjoying well-being cuisine. Enjoy live music and ocean views at Peacock while appreciating hand-crafted, signature barrel-aged cocktails, wines and tapas.  
Waldorf Astoria Spa
No resort would be complete without a wellness refuse and a spa. This specific wellness refuge boasts the first ever Wellness Concierge Service in the Maldives. They offer customized care and a very personalized approach with the goal of relaxing, rebalancing and results. So, escape from the noise of everyday life in the spa nestled in the botanical gardens.
There's a fitness center for the fitness fanatics who want keep their body in shape during their stay in tropical heaven as well a water sports center that rivals the best resorts in Maldives. There are multiple pools and cabanas located around the Lagoon Pool and Mirror Pool where you can appreciate a chic ambiance with handcrafted cocktails and a resident DJ with live music. The resort is really kid and family friendly with the Young Discovery Park where the young ones can discover endless fun and educational activities. They feature an exciting water recreation area and enriching activities that cater to teens and kids. There's also a tennis court where everyone is welcome and guaranteed a fun training session.
Stella Marris Ocean Villa at Walford Astoria Maldives Ithaafushi #Maldives #HiltonMaldives #WaldorfAstoria #Luxury