3 Most Expensive Resorts In Maldives
Maldives is well known for top luxury resorts, especially for private escapes and honeymoon holidays. But, what is the most expensive resort in the Maldives? For this we have to compare the top international hotel chains that are well known. So, we are going to compare the 3 most expensive resorts we have known - namely St Regis Maldives, Waldorf Astoria Maldives and Ritz Carlton.
St Regis Maldives at Vommuli
St Regis Maldives was opened in 2016. The Garden Villa With Pool is their starting room category and it measures 150 sqm in size, it comes with a 24 sqm private pool amidst the vegetation. Overwater Villa With Pool occupies an area of 182 sqm, comes with private pool and huge panels of glass to give uninterrupted views of the Indian Ocean. The Beach Villa With Pool is very attractive, just few feet from the shoreline, these villas expand to 140 sqm while the pool covers 16 sqm.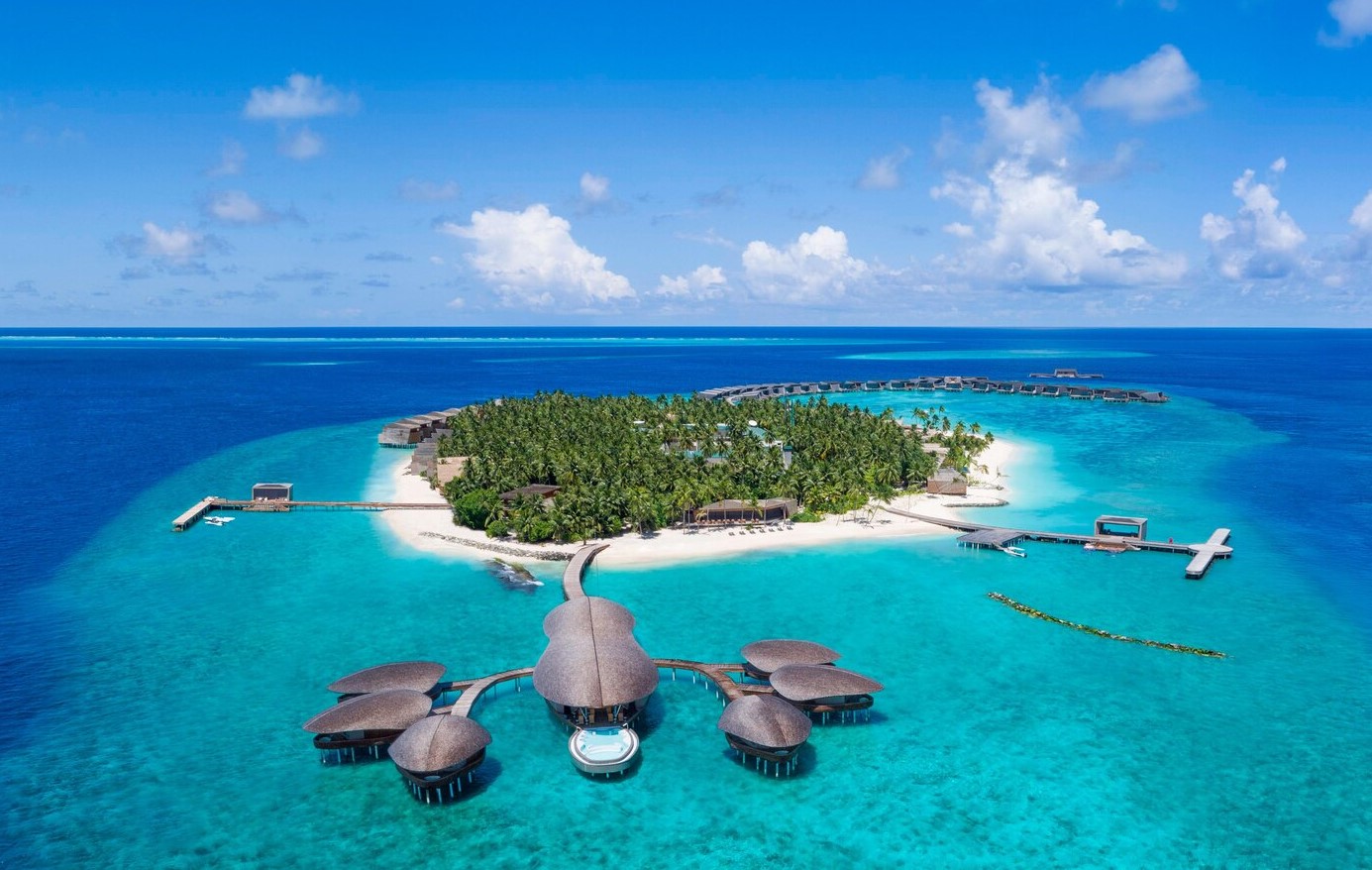 There few other variants of water villa or beach villa ranging from single bedroom to 2 bedrooms. The biggest beach villa t St Regis Maldives is the Caroline Astor Estate, it occupies an area of 620 sqm and comes with 3 bedrooms, staff quarter and separate living area that including dining and cooking facilities. The John Jacob Astor Estate is the biggest villa and it is located overwater. This humongous water villa is 1540 sqm in size and comes with 92 sqm swimming pool. There are 3 bedrooms in this villa. The biggest villa comes wit its own private gym, walk-in closets, show kitchen, private pool, staff quarter, theatre room, spa, jacuzzi whirlpool.
Waldorf Astoria Maldives at Ithaafushi
Opened in 2019, Waldorf Astoria Maldives is regarded as one of the most expensive and luxurious resorts in the Maldives. It is located in South Male' Atoll, it is well known convenient luxury escapes as the yacht transfer takes only 40 minutes from Velana International Airport. The resort offers about 10 different room categories which span from single bedroom to double and exclusive private island available for rental. The smallest room in the island is called King Reef Villa With Pool which measures 279 sqm in size, it comes with day bed and ocean views. The same villa has a different configuration that includes 2 bedrooms, the villa size may also differ but facilities and general concept remains similar. Half of the villa is located on the island and other on the water, close to the reef. King Grand Reef Villa With Pool is bigger version which expands to 319 sqm, it can accommodate 2 adults and 2 children below 12 years. There are also Reef Villas with queen bedding and 2 bedroom villas.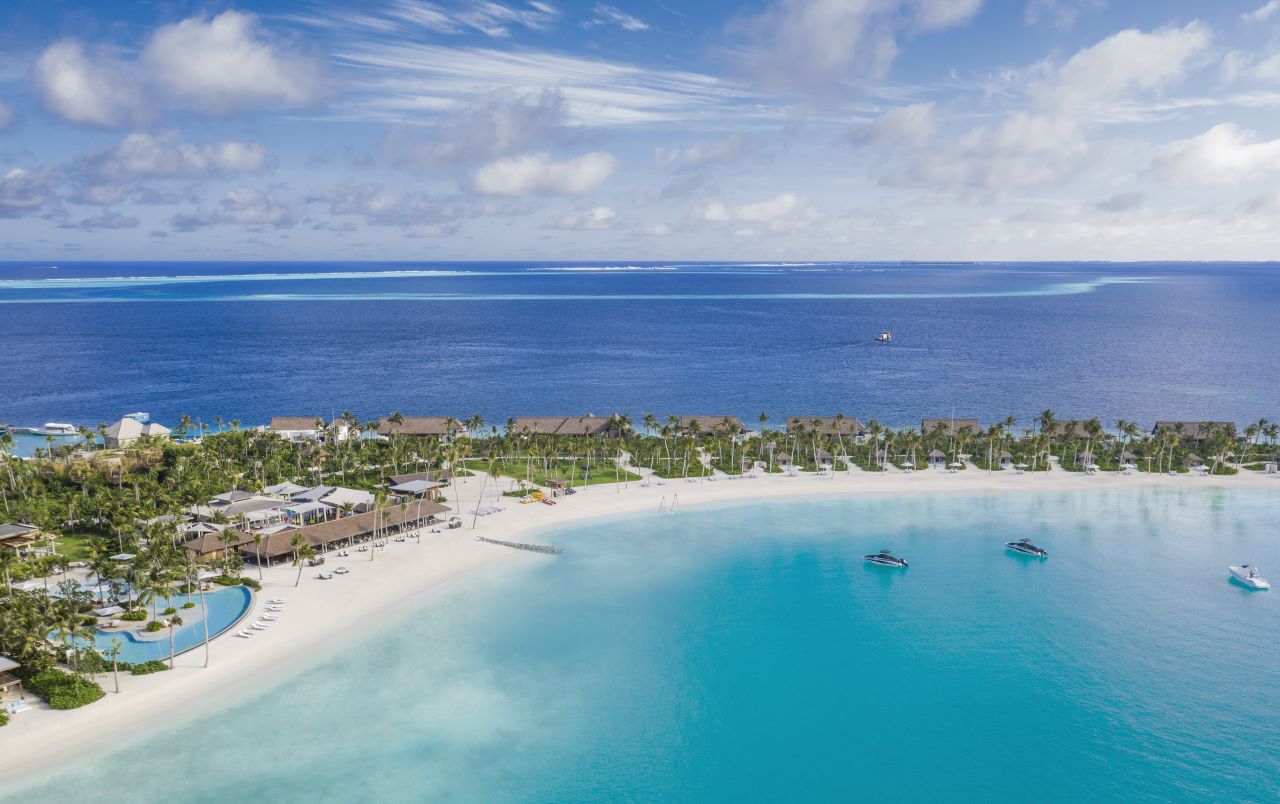 King Beach Villa With Pool occupies an area of 234 sqm, face the beach, offers high privacy with vegetation grown around the villa. There is a day bed and outdoor shower. The ocean views may be obstructed due to growth of vegetation which is also essential to keep privacy while guests enjoy the beach front pool. King Grand Beach Villa With Pool are bigger, they comes with 276 sqm of space with same facilities. Both the villas can accommodate 2 adults and 2 children below 12 years, the later is more ideal for families as they are big. Beach villas are safer for children than water villas, but you have to supervise them to avoid any pool incident. The villa that is configured with 2 queen beds measure 286 sqm in size while the 2 bedroom villa expands to massive 599 sqm. There is also a 3 bedroom villa of the same category that measures 1023 sql in size, it can accommodate a family of 6 adults and 3 children.
King Overwater Villa With Pool is fully situated over the water, sizes vary depending on configuration, it starts with 283 sqm. The glass floor and dressing room makes this category very special. King Grand Overwater Villa With Pool expands to 334 sqm with same facilities as the former. Both can accommodate 2 adults and 2 children below 12 years. These villas offer breathtaking ocean views and outdoor pool is just fantastic to indulge. Queen bedded version of this category has 293 sqm in villa size and 346 in grand version. The 2 bedroom King Overwater Villa With Pool expands to humongous 624 sqm in size to accommodate 4 adults and 2 children, it comes with jacuzzi, dressing room, glass floor and living room. The 3 bedroom version of the same category further expands in size, it occupies 1113 sqm of space over the water while accommodating maximum of 6 adults and 3 children.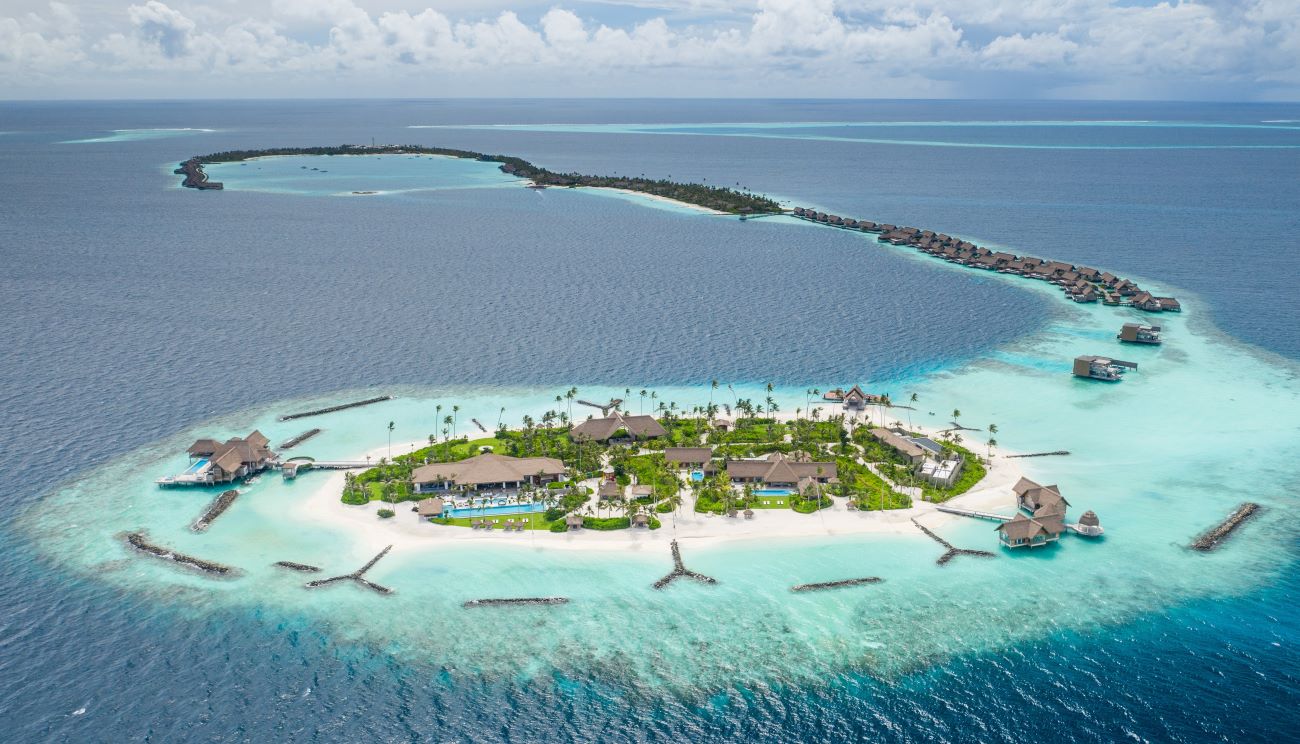 Stella Maris Ocean Villa is a villa isolated in the lagoon, it takes a pontoon boat to get there. Personal butler ensure you are well attended. These villas come with 1 bedroom and features cooking facility and dining area. There is ocean view from the bathroom and outdoor private pool gives plenty of lounging and indulging choices within the villa. The exclusive private island is the finest and most luxurious accommodation offered by Waldorf Astoria Maldives. It has beach villa and a water villa for guests, an extra residential building can accommodate invitees or family members. The private island offers accommodation up to 23 guests in all, there is an entertainment hub for indoor games and get-to-gathers. Spa on the private island ensures comfort and rejuvenation, especially after snorkeling, diving or tennis matches. The private island is not too far from the main resort, it takes only 3 minutes to get there by pontoon boat that is available at all times along with person butlers to ensure comfort and care. The butlers can also arrange guest means in the villa, any beach location of the private island.
Ritz Carlton Maldives at Fari Islands
Opened in 2021, Ritz Carlton Maldives is one of the leading international brands that is recoganised for its environment-friendly aspects while impressive villas on the beach and water comes in spherical appeal. There are 8 room categories in Ritz Carlton and total of 100 villas. Ocean Pool Villa is the starting category that measures 150 sqm. Lagoon Pool Villas are similar but located differently. Beach Pool Villas and Sunset Beach Pool Villas measure 155 sqm in size and comes with 1 bedroom. The Two Bedroom Water Pool Villa and Two Bedroom Beach Pool Villa occupies 400 sqm in villa size, there is also a sunset option for the beach villa.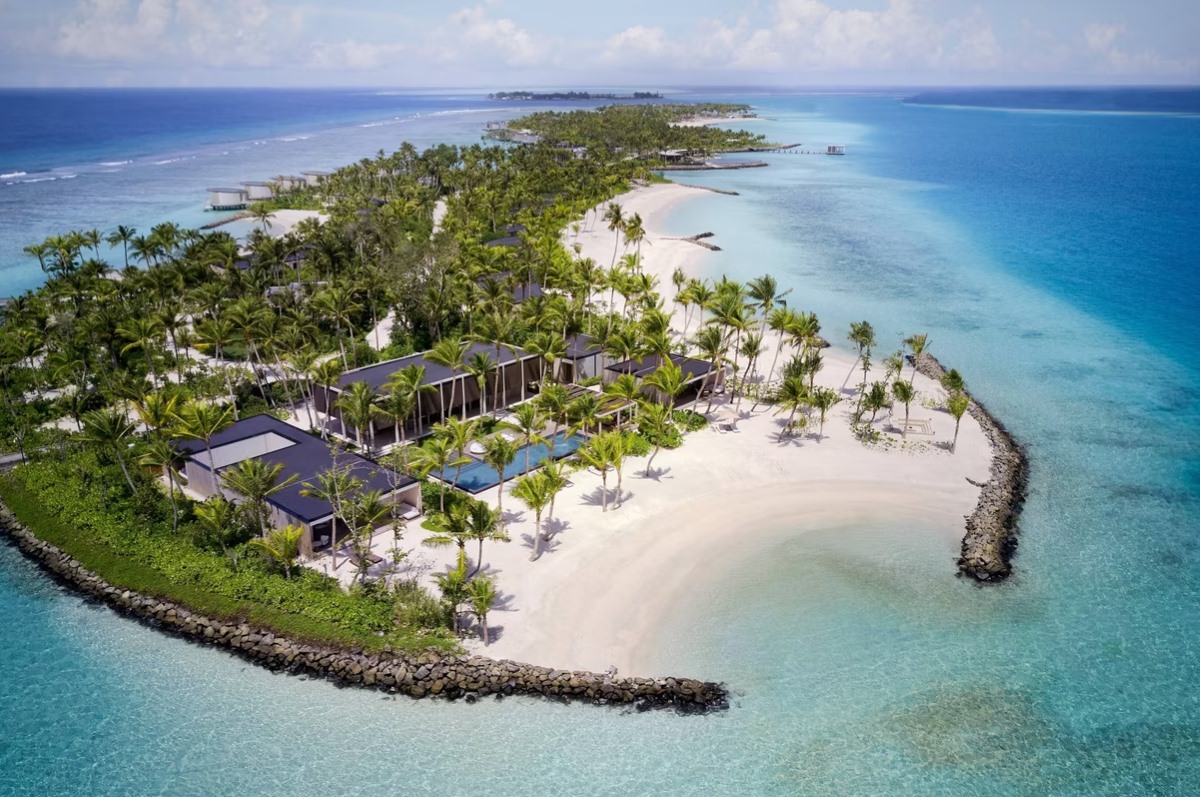 The Ritz Carlton Estate is a massive private residence, it expands to astonishing 1500 sqm. It comes with 2 private pool of which one faces the private beach while the other is located inside the bathroom surrounded by walls to secure 100% privacy. This ultra-luxury villa is located at the corner of the island has its own private beach and lagoon to swim. The villa is spread into 3 different pavilions, each containing a bedroom. The main living area containing dinning area and kitchen. Indoor and outdoor living spaces and lounging facilities gives feel of a small private island.
3 Most Expensive Resorts In Maldives #Maldives #Maldivler #Maldivy #Мальдивы #MaldivesVegetarian #PrivateIsland #PrivateRetreat #RetreatIsland #BeachRetreat