Luxury Water Villas At Four Seasons Resort Maldives Kuda Huraa
Enjoy the finest luxury Maldives has to offer at the elegant water villas at Four Seasons Resort Maldives at Kuda Huraa. Situated on the island of Kuda Huraa in North Male' Atoll, the resort is a five-star establishment, with top-notch villas – both on land and over water – and a myriad of amenities and experiences to choose from.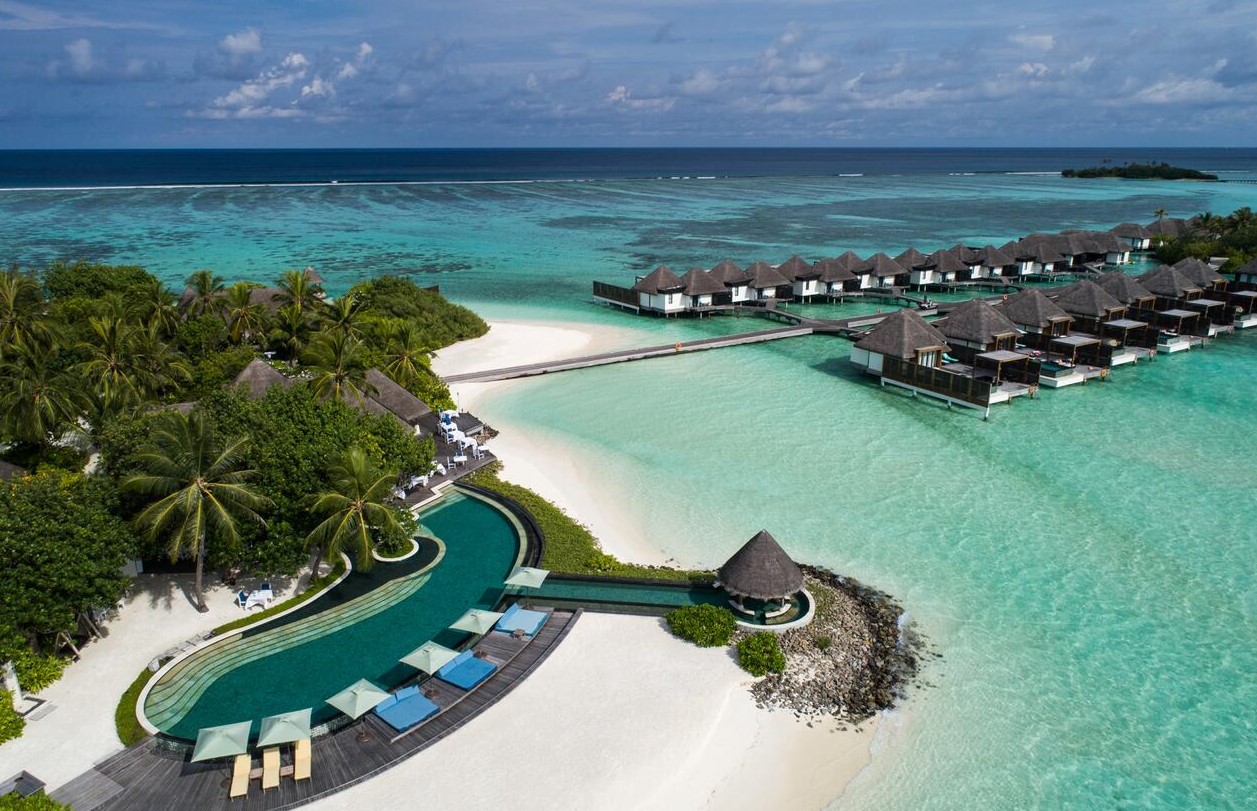 There are over 15 villa categories for accommodation options; from romantic beach bungalow retreats to over water specialty suites for the family, there is something for everyone at this beautiful island. The resort has four restaurants and two bars to choose from, a state-of-the-art spa facility, recreation and water sports centres, tennis courts and a fully-equipped fitness centre with complimentary yoga sessions, group fitness classes and certified personal trainers available on request. There are three pools on the island – the main infinity pool as well as the adjacent children's pool and the Serenity Pool; a free-form pool with an over-sea whirlpool – open for night swimming, exclusively for guests aged 16 years and above. The resort also has a Marine Discovery Centre which conducts marine conservation efforts including sea turtle conservation and coral reef propagation programmes.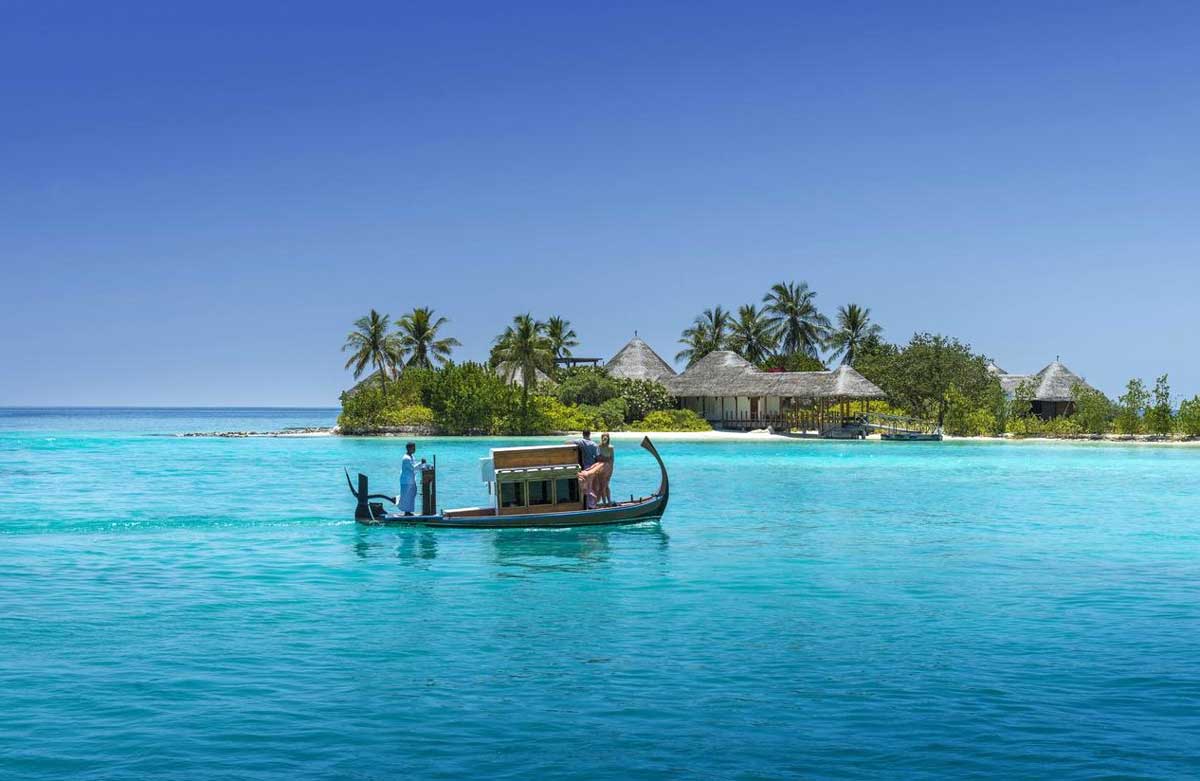 Located just 20 kilometres away from Velana International Airport, the resort is accessible via a 30-minute speedboat ride. Upon arrival at the airport, you will be greeted by a Four Seasons representative who will then escort you to the waiting speedboat. Enjoy the cool sea breeze and the expansive views of the ocean with emerald-topped islands dotted about as you journey to the resort.
Water Villa with Pool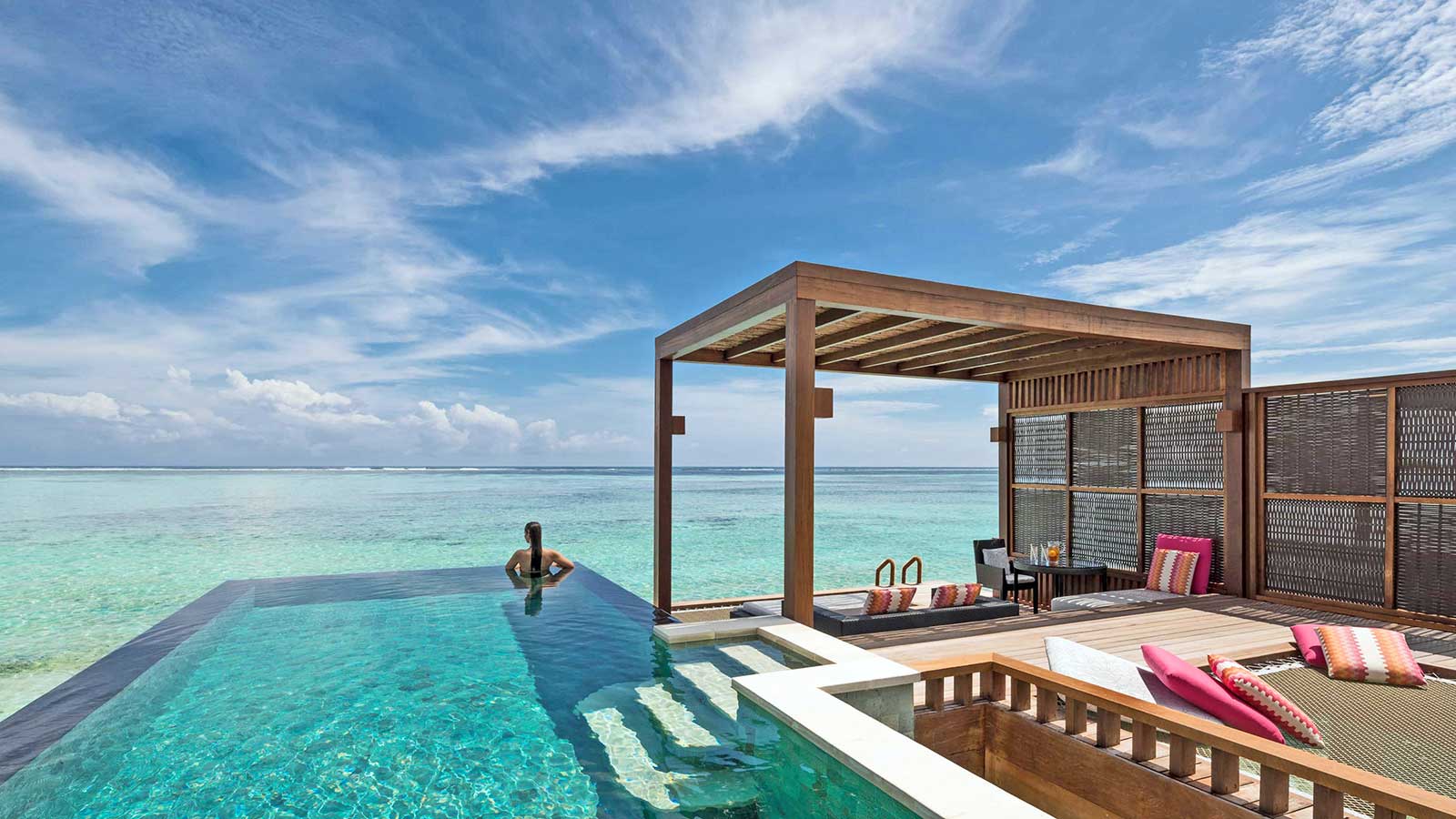 Perched over the sparkling turquoise lagoon of the island, each villa is 70 sqm in size and comes with a spacious bedroom, bathroom and outdoor deck with a private pool. The bedroom features a king-sized bed, an indoor daybed, a walk-in wardrobe and a seating area. Additionally, there is also a plasma TV with satellite channels and an AV system with DVD player and MP3 cable. The bathroom comes with a double vanity, a shower area and a standalone tub overlooking the ocean ahead; complimentary toiletries are also available for you from the acclaimed beauty brand, L'Occitane. The outdoor deck – with direct steps down to the lagoon below – has a lounging area with sun loungers, a sun umbrella and a double hammock while a separate living pavilion features an in-villa dining area, along with an outdoor daybed and an extra hammock.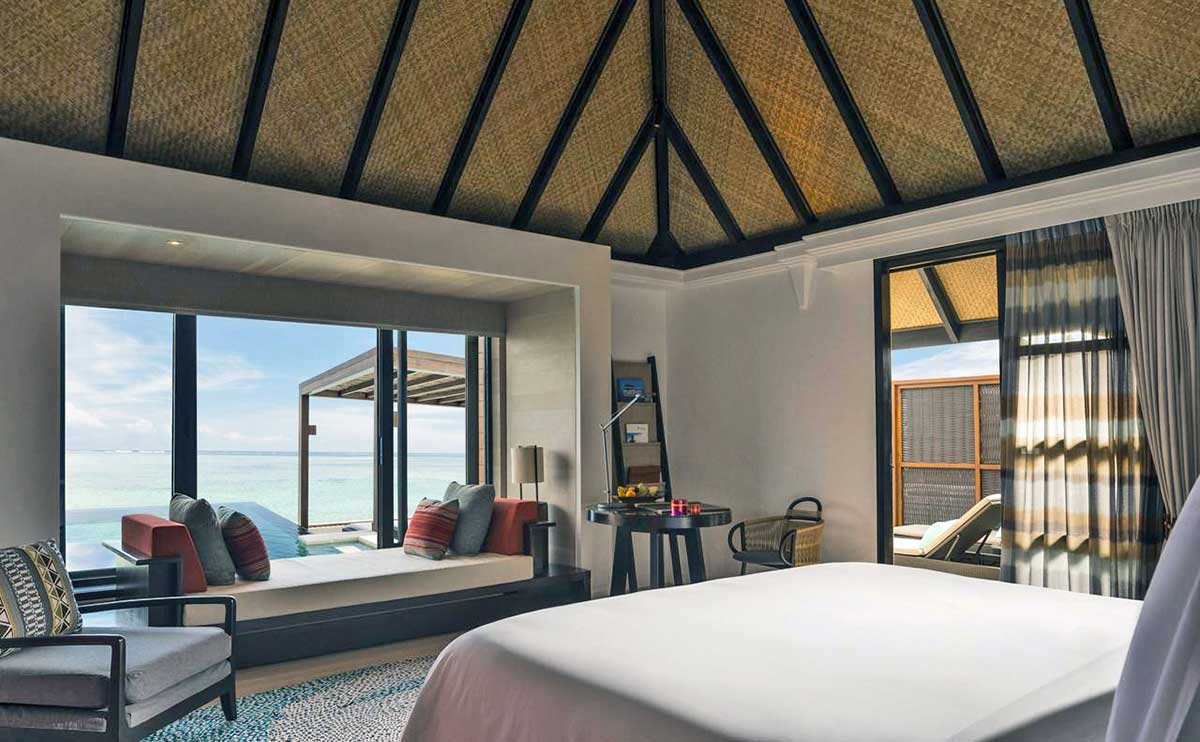 The Water Villa with Pool comes in two categories – the
Sunrise Water Villa with Pool
– with sunrise views – and the
Sunset Water Villa with Pool
, which has sunset ocean views. With the tranquil beauty of the Maldivian seascape surrounding you, these villas are the perfect spot for a romantic retreat with your partner!
Sunrise Family Water Villa with Pool
Situated at the far end of the water villas jetty, these two-bedroom water villas are ideal for families vacationing with children. The villa features a comfortable living area, two bedrooms, a guest powder room (with shower) and an outdoor deck, while also boasting spectacular views of the sun rising over the ocean.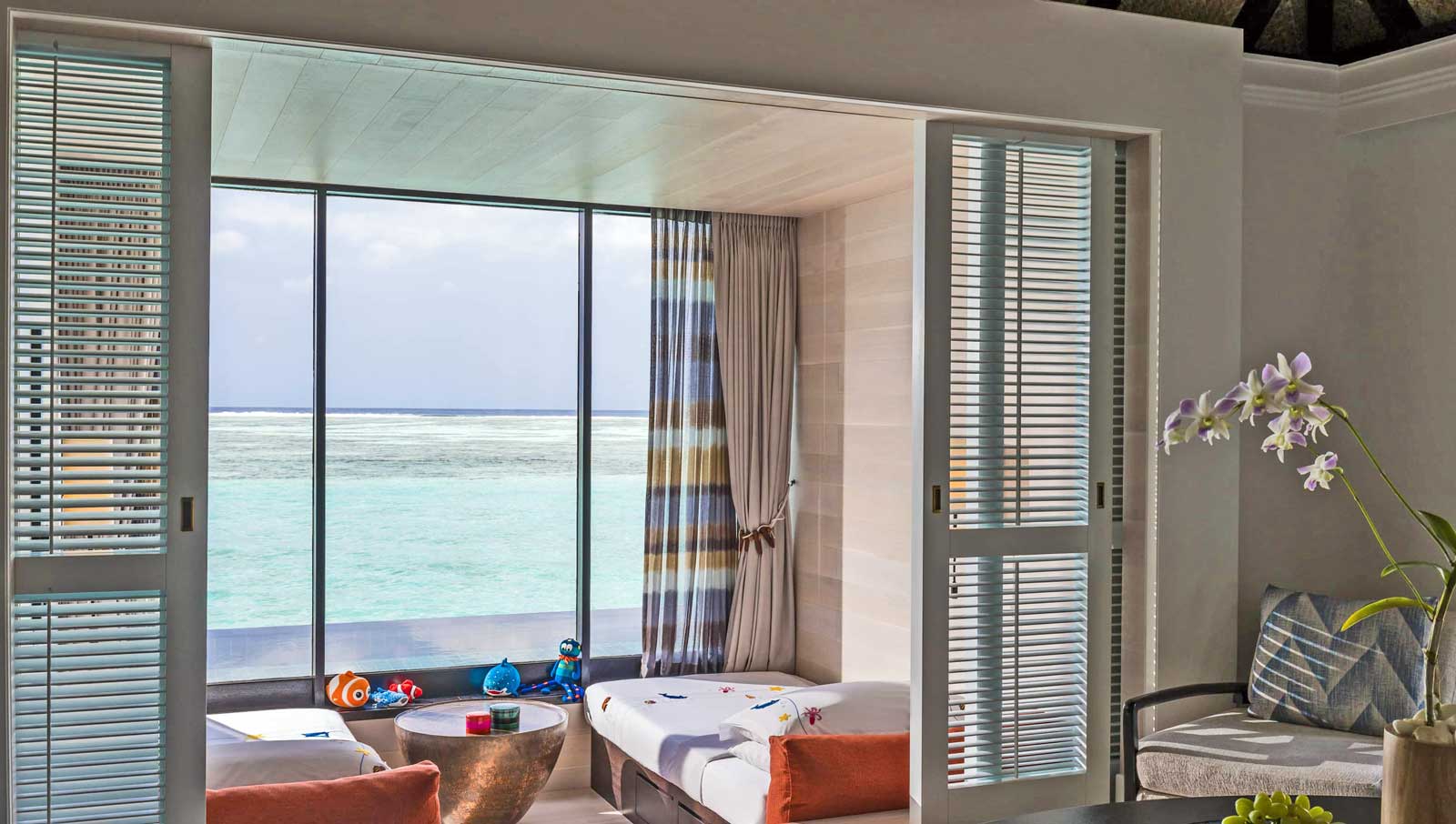 The master bedroom features a king-sized bed, an indoor daybed, a plasma TV with satellite channels and a walk-in wardrobe while the adjoined bathroom has a double vanity and a free-standing bathtub, as well as complimentary L'Occitane toiletries. The second bedroom – suitable for children – has two twin beds with beautiful framed views over the lagoon. The vast outdoor sundeck comes with a private plunge pool and direct steps down to the water below; there is also an outdoor dining area with sun loungers and a sun umbrella as well. Enjoy the warmth of the rising sun; relax by the pool with cooling drinks as your kids splash around in the pool or even play on the outdoor deck!
2 Bedroom Water Suite
As the name denotes, this villa features two bedrooms, a roomy living area with a guest powder room and an outdoor deck with a private plunge pool. Each bedroom has its own turquoise views of the lagoon and a king-sized bed, an indoor daybed and a plasma TV as well as an adjoined bathroom. The outdoor deck has ample space with two sets of sun loungers and sun umbrellas, hammocks, an in-villa dining area and your very own private pool – with sun platforms for the ultimate luxury. The deck also has outdoor showers and direct steps down to the lagoon below for your maximum ease and comfort.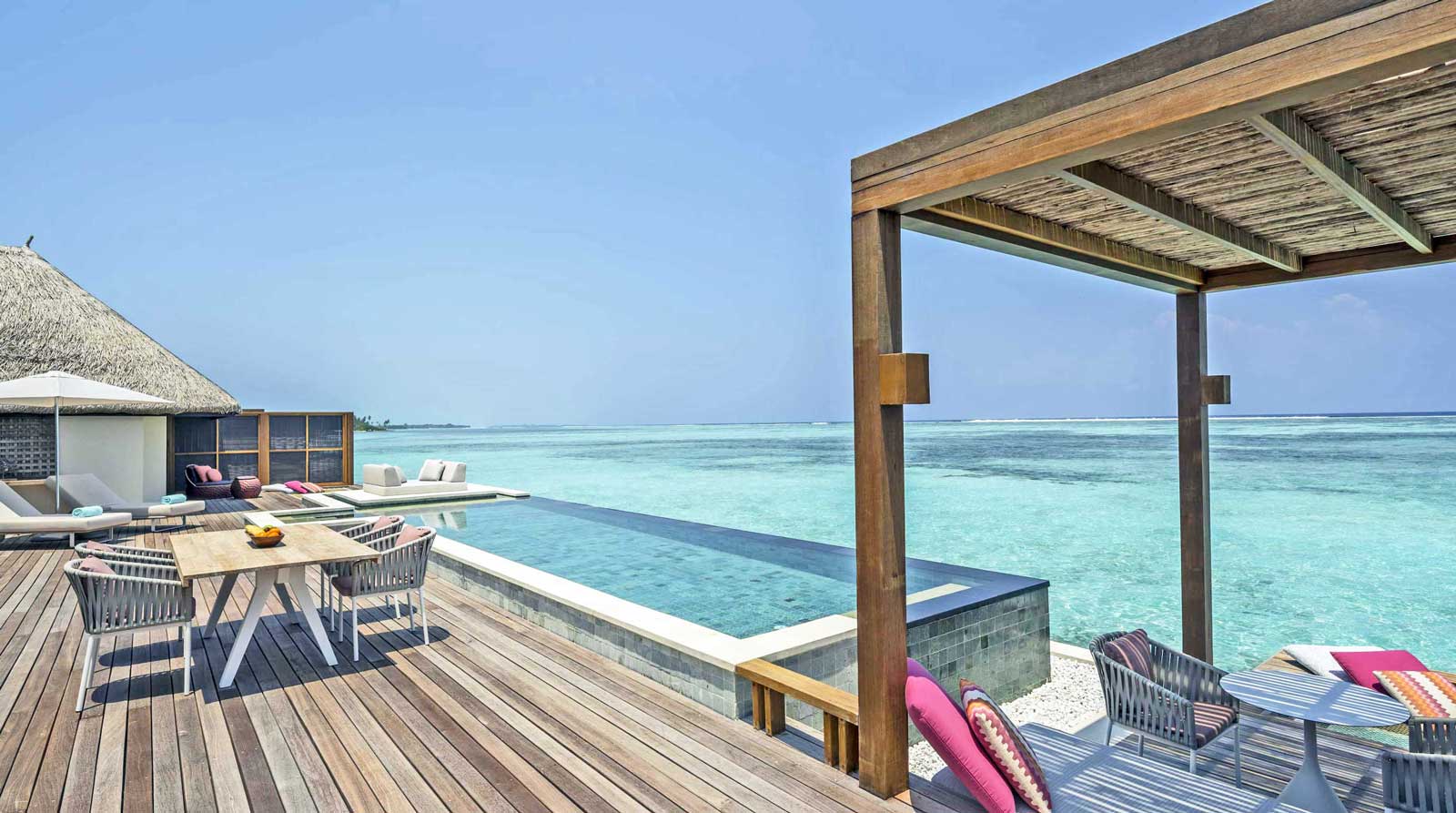 There are two types of Two-Bedroom Water Suites – the
Sunrise Two-Bedroom Water Suite
– a 165 sqm villa with sunrise views – and the
Sunset Two-Bedroom Water Suite
(a 169 sqm villa with sunset views). The Sunset Two-Bedroom Water Suite comes in two different interiors – the Suite 309 and Suite 319, although all villas feature the same amenities and designs. This villa is perfect for couple friends vacationing together; the separate en suite bedrooms as well as the ample sundeck ensures that couples can spend quality time by themselves as well as interact with others during the trip.
3 Bedroom Water Suite
Similar to the Two-Bedroom Water Suite, these villas also come in two categories; the Sunrise Three-Bedroom Water Suite and the Sunset Three-Bedroom Water Suite – each with sunrise and sunset views respectively. However, at a massive 240 sqm in size, these villas are roomier and ideal for a group of friends or extended families travelling together.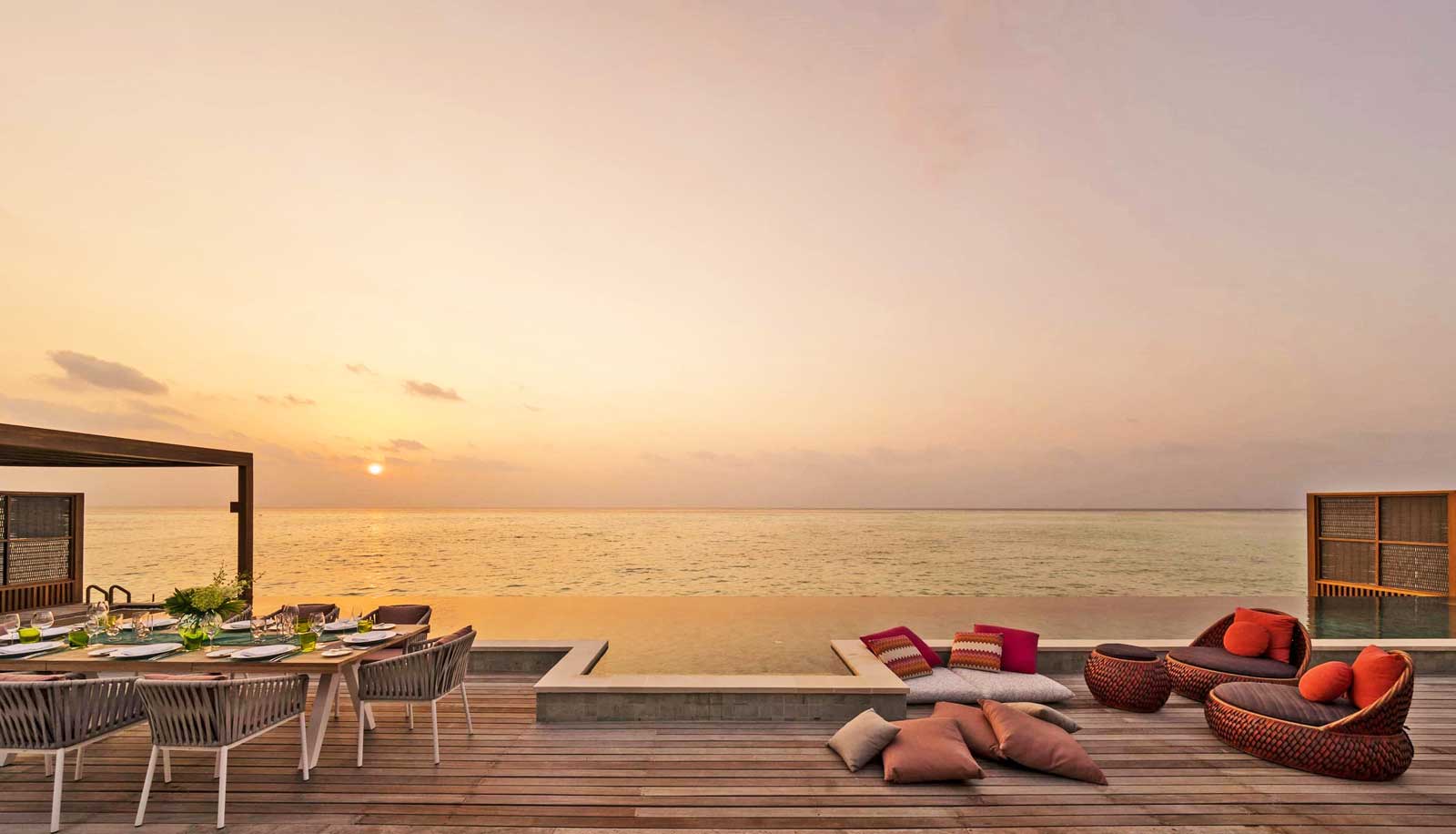 The suite consists of three bedrooms with adjoined bathrooms, a living and dining area with a guest powder room attached and an outdoor sundeck with a private plunge pool. Two of the bedrooms feature king-sized beds while the other one has two twin beds – however, all the rooms have indoor daybeds and plasma TVs with satellite channels. The adjoining bathrooms come with a double vanity, standalone tub as well as an adjacent dressing area with a walk -in wardrobe. The outdoor sundeck – in addition to the plunge pool and direct steps down to the lagoon – is capacious with three sets of sun loungers and sun umbrellas, outdoor showers, a dining area as well as an adjacent living pavilion with hammock.
Other Accommodation Options – Beach Villas
For those who want to enjoy the natural beaches of the Maldives, Four Seasons at Kuda Huraa has a range of beach villas for you to choose from as well. Surrounded by verdant coconut palms all around, these beach villas are quintessential tropical luxury with island-style thatch roofs, striking wooden interiors and private courtyards with outdoor showers. Each villa has direct access to the beach as well as an outdoor terrace and an indulgent dip pool for your pleasure, and is designed to cater to a wide variety of guests.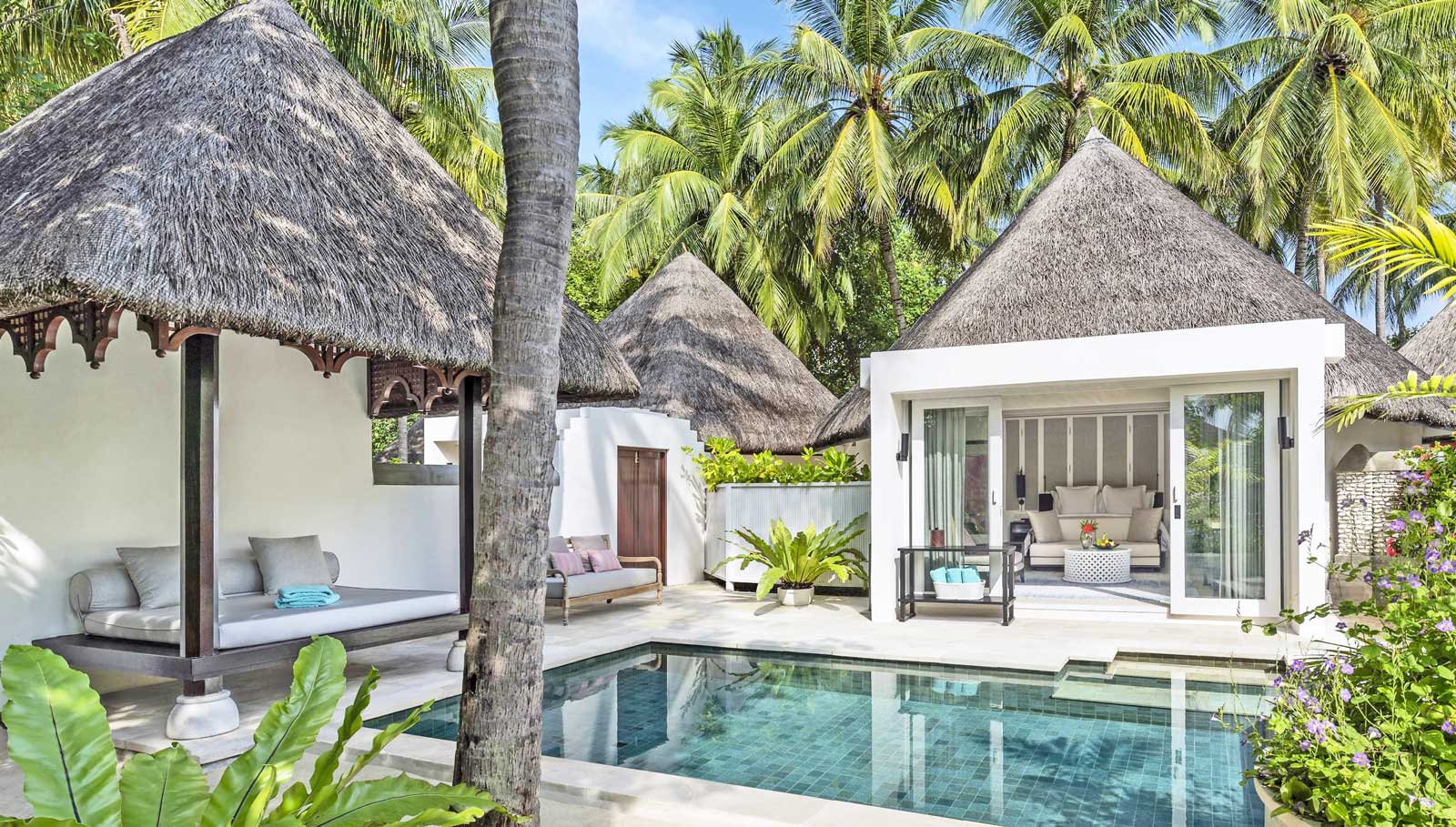 The beach villas offered here include the 45 sqm Beach Pavilion with Pool (45 sqm), Deluxe Beach Pavilion with Pool (55 sqm), the Sunrise Beach Bungalow with Pool, the Sunset Beach Bungalow with Pool (both 63 sqm), the Sunrise Family Beach Bungalow with Pool and the Sunrise Family Beach Bungalow with Pool (each 75 sqm). For vacationers looking for a bigger space, there is the Two-Bedroom Beach Pavilion with Pool (87 sqm) the Two-Bedroom Royal Beach Villa; a 197 sqm villa with two separate, en suite bedrooms – each with its own private courtyard and outdoor shower – and a vast outdoor terrace with a private plunge pool – a true embodiment of island luxury. Ultimately, the choice of stay comes down to your preferences and needs. Either way, Four Seasons at Kuda Huraa has it all for you!
Dining
Four Seasons at Kuda Huraa is dedicated to providing you ultimate dining experiences with a variety of different cuisines. The resort has four restaurants and two bars, each with specially crafted menus of exquisite dishes and drinks, designed to provide you a gastronomic journey like no other.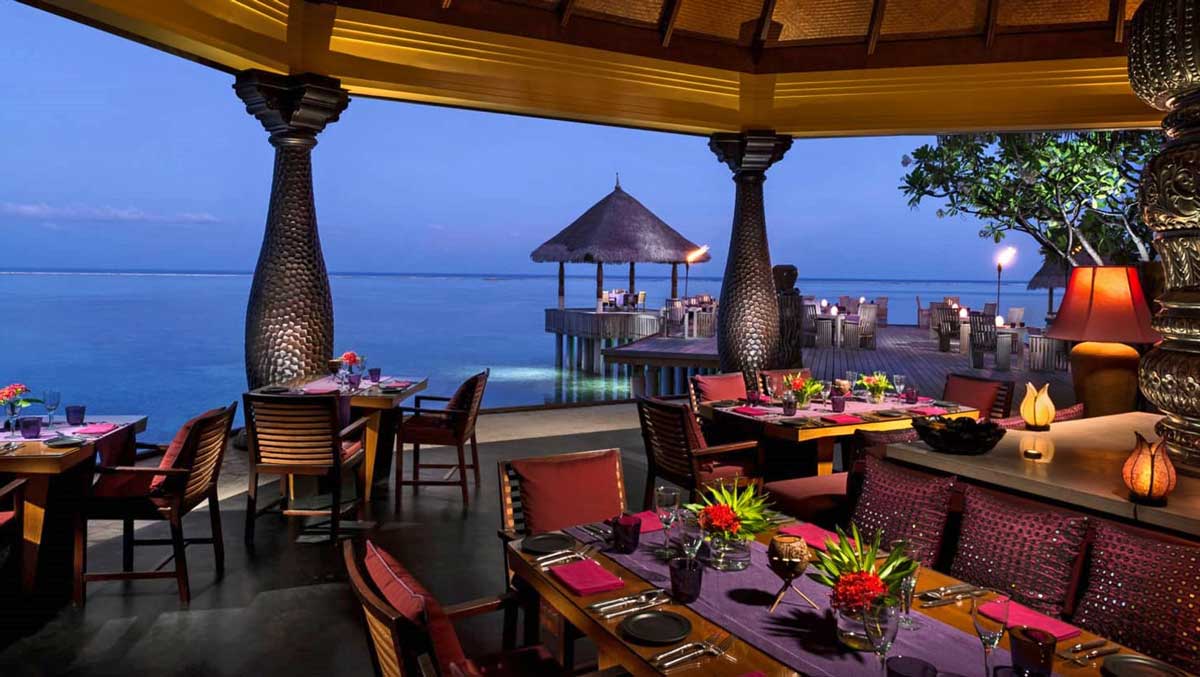 Baraabaru
: Meaning 'excellent' in Dhivehi – showcases Indian cuisine; from traditional dishes such as missi roti and chicken tikka masala to interesting specialty takes such as tandoor tapas, quinoa biriyani and masala chai panna cotta. Alternatively, guests can also opt to try the traditional Indian 'thali' (meaning plate) where numerous small dishes are served together on a platter. For guests who want to immerse themselves further in these flavourful delights, Baraabaru also offers half-day cooking classes with the restaurant's executive chef!
Reef Club
: Open only for lunch and dinner – offers you an assortment of Italian dishes including various antipasti, fresh pasta, authentic wood-fired pizzas and classic Italian desserts such as tiramisu and panna cotta. Situated adjacent to the Serenity Pool, the restaurant has a relaxed tropical feel with thatched roof pavilions, cool-hued interiors and both indoor and outdoor seating options available. On Wednesday nights, Reef Club hosts 'Aragosta Night' where guests can enjoy a selection of delectable seafood and a heavenly dessert buffet!
Café Huraa
: Opened throughout the day for breakfast, lunch and dinner, Café Huraa provides you a wide assortment of delicious dishes for your pleasure. Experience the flavours from all four corners of the world with a mixture of dishes such as hummus and pita bread, miso soup, quesadillas, pizzas, pho and sushi dishes. Additionally, a special children's menu as well as an infant's menu are also available here for young guests.
Kandu Grill
: 'Kandu' means the 'sea' or the 'ocean' in Dhivehi; together, Kandu Grill embodies the food served at the restaurant – seafood and freshly-caught fish from the Maldives as well as exquisite cuts of grilled meats imported from around the world. Indulge in enticing starters such as specially made sashimi from Maldivian fish, working your way through mains such as beef steak or grilled lobster and finishing with absolutely divine desserts such as butterscotch cheesecake and white chocolate fondant!
Sunset Lounge
: Set on a jetty, with the Maldivian seascape surrounding you, the Sunset Lounge is the perfect spot to end the day and relax with your travel partners. Try the specially crafted cocktails with interesting local influences, as well as other alcoholic beverages of your choice. The bar also provides cigars, with appetising snacks, different types of coffees and mocktails available for you as well. On Saturday nights, the Sunset Lounge has shisha nights where different-flavoured shisha pipes are offered along with date and fruit skewers, Turkish delights and Turkish coffee!
Poolside Bar
: Open all throughout the day alongside the main infinity pool, the Poolside Bar serves an assortment of light snacks, delicious desserts and refreshing craft cocktails and mocktails. The bar serves directly to the edge of the pool and the to the sun loungers nearby as well. Round of your pool day with lunch here before having dinner at any one of the amazing resorts on the island – an experience that will surely not disappoint!
Recreational Activities
For guests' entertainment, Four Seasons at Kuda Huraa offers you a variety of exciting activities and excursions for your undertaking such as dolphin watching cruises, turtle and shark snorkel safaris, baby turtle feeding and fishing trips. For the water enthusiasts, the resort's Water Sports Centre provides complimentary snorkelling and windsurfing gear where you can experience a variety of sports including kayaking and catamaran sailing. The extra adventurous can also engage in hydroflight sports with X-jetpacks and Hydrofoils – rising above the ocean like a superhero!
You can also go on dives aboard the 'Askeyra II' – a custom-designed dive boat, fully-equipped with safety and navigation equipment as well as an on-board PADI five-star dive centre. Explore underwater channels with sharks and manta rays as well as brilliant coral overhangs and shipwrecks.
Another interesting activity to try at the resort is surfing; the Surf School run by Tropicsurf (an acclaimed surfing brand from Australia) conducts courses for guests as young as 6 years old. Spend a day cruising the waves and then crash at the Surf Shack with drinks and movies. Do note that the surf season here is from April to October, which is when the waves are at their optimum.
Four Seasons Explorer
The Four Seasons Explorer is the resort's three-deck catamaran, which travels between Kuda Huraa and their sister resort, Four Seasons at Landaa Giraavaru, through the Baa Atoll UNESCO Biosphere Reserve. All-inclusive cruises are available for three, four or even seven nights where guests can relax atop the sea, or go scuba diving or snorkelling as well. Explore stunning underwater caves and canyons, as well as various dive sites such as grey reef shark hotspots, whale shark havens and swim-through tunnels. Each cruise is designed to be fluid as to ensure that you can enjoy the best experiences the Maldives has to offer at any given moment. All cabins aboard the catamaran are the epitome of luxury with all your needed creature comforts such as air-conditioner, refrigerated private bars, flat-screen LCD TVs and en suite bedrooms with separate bathtub and shower area. The vessel has a 22-guest maximum capacity to ensure that each guest's needs are well-taken care of.
Kuda Mas Club – for Children
For younger guests, the Four Seasons Kuda Huraa has the Kuda Mas Club (meaning 'small fish'), open daily from 9:00 am to 5:00 pm. Here, children aged 4-12 years can engage in a variety of fun indoor and outdoor activities, including island gardening, coral painting, and palm leaf folding as well as scavenger hunts and hermit crab races. Moreover, children will also be able to undertake new and educational experiences with cooking classes, mini-spa days, yoga classes with games and songs and interactive sessions on Maldivian culture and history. Baby-sitting services are also available for children aged below 12 years – with extra hourly fees – provided that bookings are made 24 hours in advance.
Whether you are looking for a romantic getaway, a fun-filled holiday with your family or an adventurous vacation with your friends, Four Seasons Maldives at Kuda Huraa has it all!
Luxury Water Villas At Four Seasons Resort Maldives Kuda Huraa. #Maldives #FourSeasons #KudaHuraa #FSKudaHuraa #Malediven #Maldivas #Maldivy
Luxury Water Villas at Four Seasons Resort Maldives Kuda Huraa
Planning To Book Centara Ras Fushi? Read this.
Win Maldives Holiday 2014 - Promo ends 14 Dec 2014