Neem Leaf Powder Becomes Popular In Maldives For Treating Skin Diseases And Beauty
22 JANUARY 2021
Can you imagine the frustration when you spend 10 years without a cure for your skin problem? For such people Neem Leaf Powder is a new hope. After learning its benefits on Youtube a local company has introduced neem powder to the Maldives.
Fezzhotels Private Limited
mainly operate hotels. Fezz Goodness is the company's herbal branch that is available at hotels operated by Fezzhotels. The Covid19 pandemic impacted the business and Fezz diversified its herbal products beyond hotels, into local consumer market. That's when the public learned about the benefits of neem powder.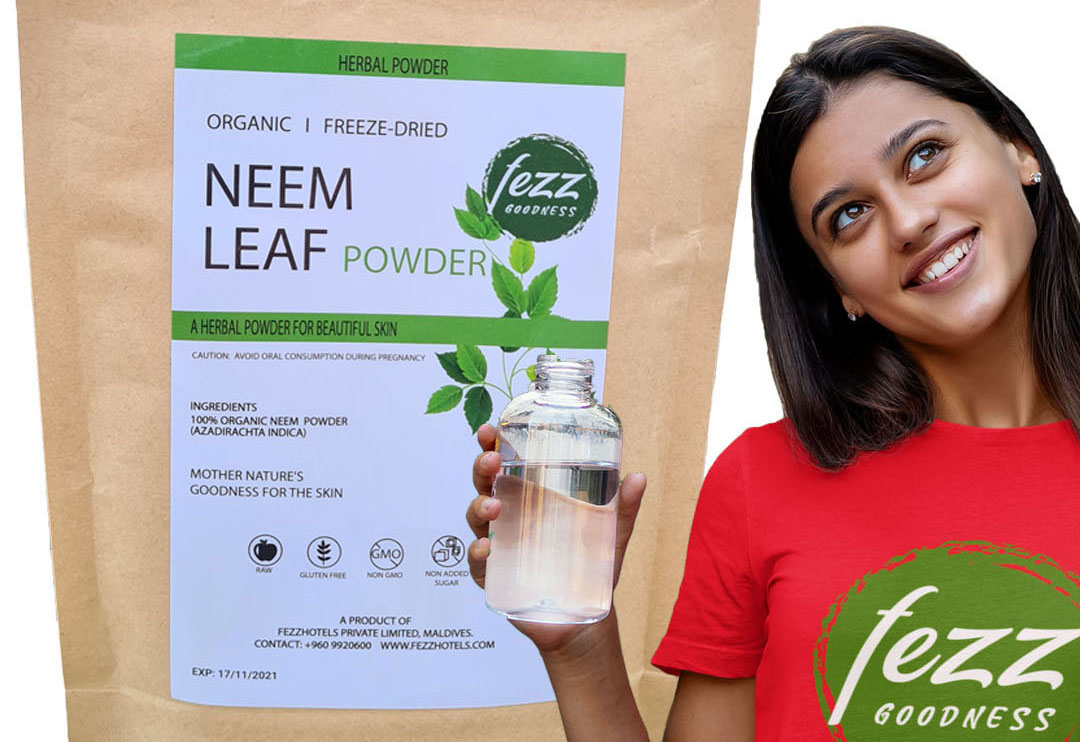 To purchase you can call +960 9920600.

Neem powder is one of the many herbal and beauty products offered by Fezz. Other products include Moringa Leaf Powder, Gotukola powder, Green Juice and Neem Shower Scrub.
The 100%
neem powder sold by Fezz
comes in 100g packets. The powder is dark green in colour, it is of the most bitter ingredients you can find anywhere.
Neem Shower Scrub is the most popular product. It is a package that include 2 bottles of shower gel (each 35ml) and another bottle of neem leaf power. The shower gel that comes with neem scrub is a special one that mild and made specifically for this scrub. It includes coconut oil, another powerful beauty ingredient that is known for its benefits for skin.
The miraculous scrub package gives smoother skin on the first time you use the product. It makes the skin softer and fresher. A natural herbal product giving this amazing result in an instant is just the tip of the iceberg, there are so many other benefits to the skin. Maldives being a tropical climate many people are prone to acnes and neem powder is an anti-pimple herb that is anti-fungal and anti-inflammatory.
Pharmaceutical companies have so far failed to produce a complete workable cure for acne or pimple that works for everyone. There are creams that help certain skin conditions but it appears that these creams react differently for different people. The conclusion is that there are several types of pimples and many people end up hopeless without a cure. One of the customers of Fezz says that she had spent 10 years trying to find a cure for her pimples on the back of her body. She tried Need Shower Scrub and felt the good effect on the first use, but she waited to try the product further. After few days she compared photos of
'Before and After'
which reveals a remarkable difference, in just matter of days. This shows how important it neem power for our lives.
Neem Shower Scrub by Fezz comes with moneyback guarantee. If it does not work for you on first use you can return the product same day and get your money back. In that case, at least 80% of the contents must be remaining and you full get full refund. This is a great assurance for consumers.
How to use Neem Shower Scrub
The scrub pack comes with a card that tells how to use the product. It is very simple. You can just pour some shower gel to your hand and add some scrub powder to it and apply both together on your body and face. Then it needs a good scrub for about 3 - 5 minutes. After that you can just wash off to reveal smoother skin. Instant smoother skin makes this a revolutionary product that is natural.
Order Now
Call 9920600 to place your order.
• Wholesale
• Retail
• Free Delivery to home
Neem Leaf Powder Becomes Popular In Maldives For Treating Skin Diseases And Beauty. #NeemPowder #NeemScrub #SkinCare #Pimples #Acne #Acnes #Pimple #Beauty #Maldives #SkinCareMaldives #MaldivesSkinCare