Ibrahim Nathif From Baros - The Most Outstanding Chef In Maldives
19 AUGUST 2017
Food and Hospitality Asia Maldives (FHAM) exhibition is an eventful happening every year. Part of the exhibition is the International Culinary Challenge, almost all Maldives resorts take part in this contest. This year's exhibition has been particularly special to Baros Maldives. Thirteen chefs from Baros Maldives have won the highest total of medals and awards. That's not all, their chef Ibrahim Nathif won the award of
Most Outstanding Chef In the Maldives
. Nathif also won the
Best Maldivian Chef
award and five gold medals.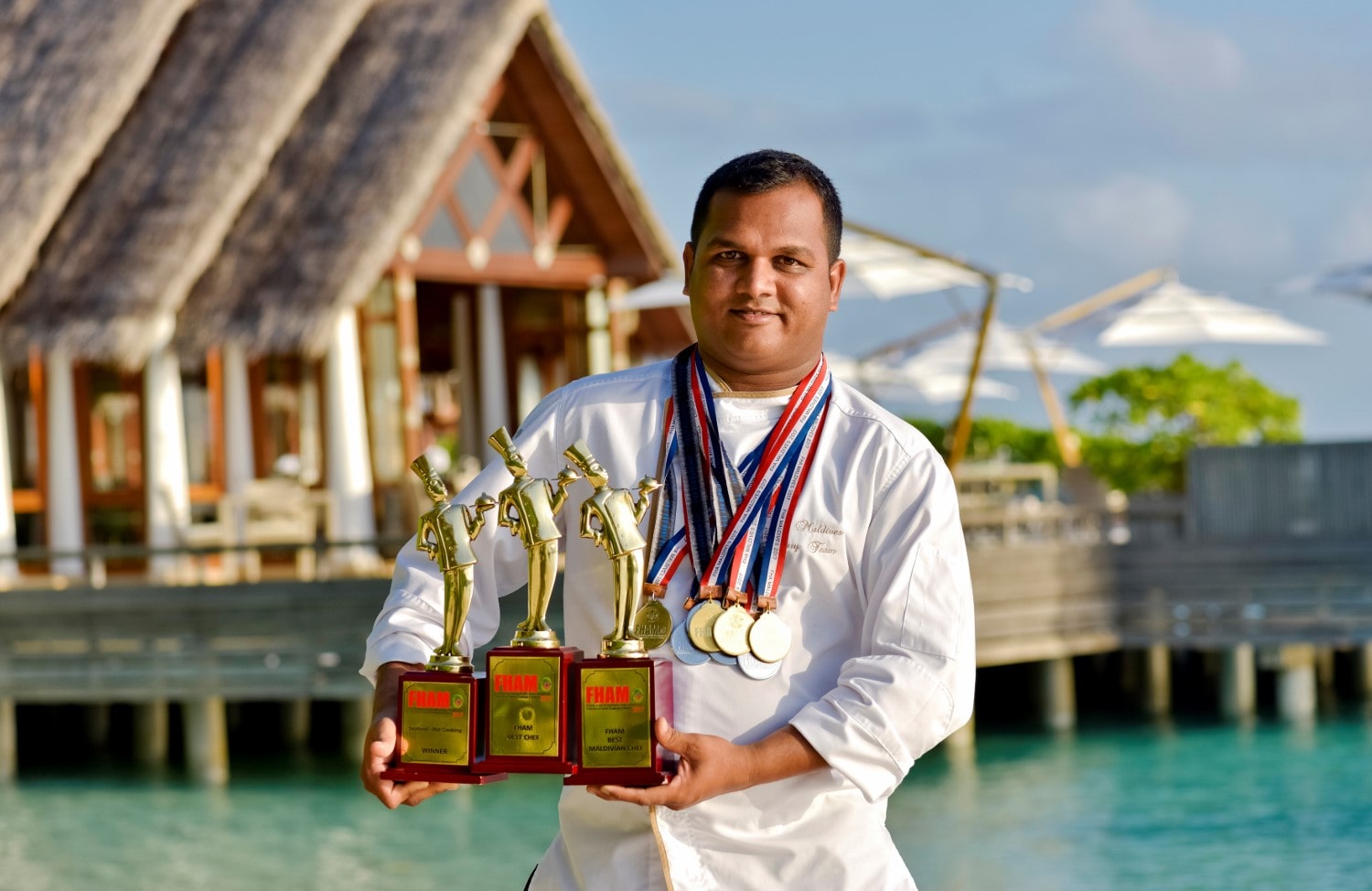 Nathif, 32, has worked at Baros for 13 years and currently cooks in the resort's fine dining Lighthouse Restaurant. As a result of this achievement he has been selected to represent Maldives up-coming Malaysian Culinary Challenge in February 2018.
The Food and Hospitality Asia Maldives (FHAM) – International Culinary Challenge and Exhibition 2017 held in the capital, Male', is held annually for chefs from different resorts to demonstrate their skills before a panel of international judges. A total of 67 resorts in the Maldives represented by 564 competitors took part this year.
Another top award was won by K. Y. M Gunasekara from Baros who emerged as the
Best Young Chef
. He is 24 and has been working at Baros for the last 3 years.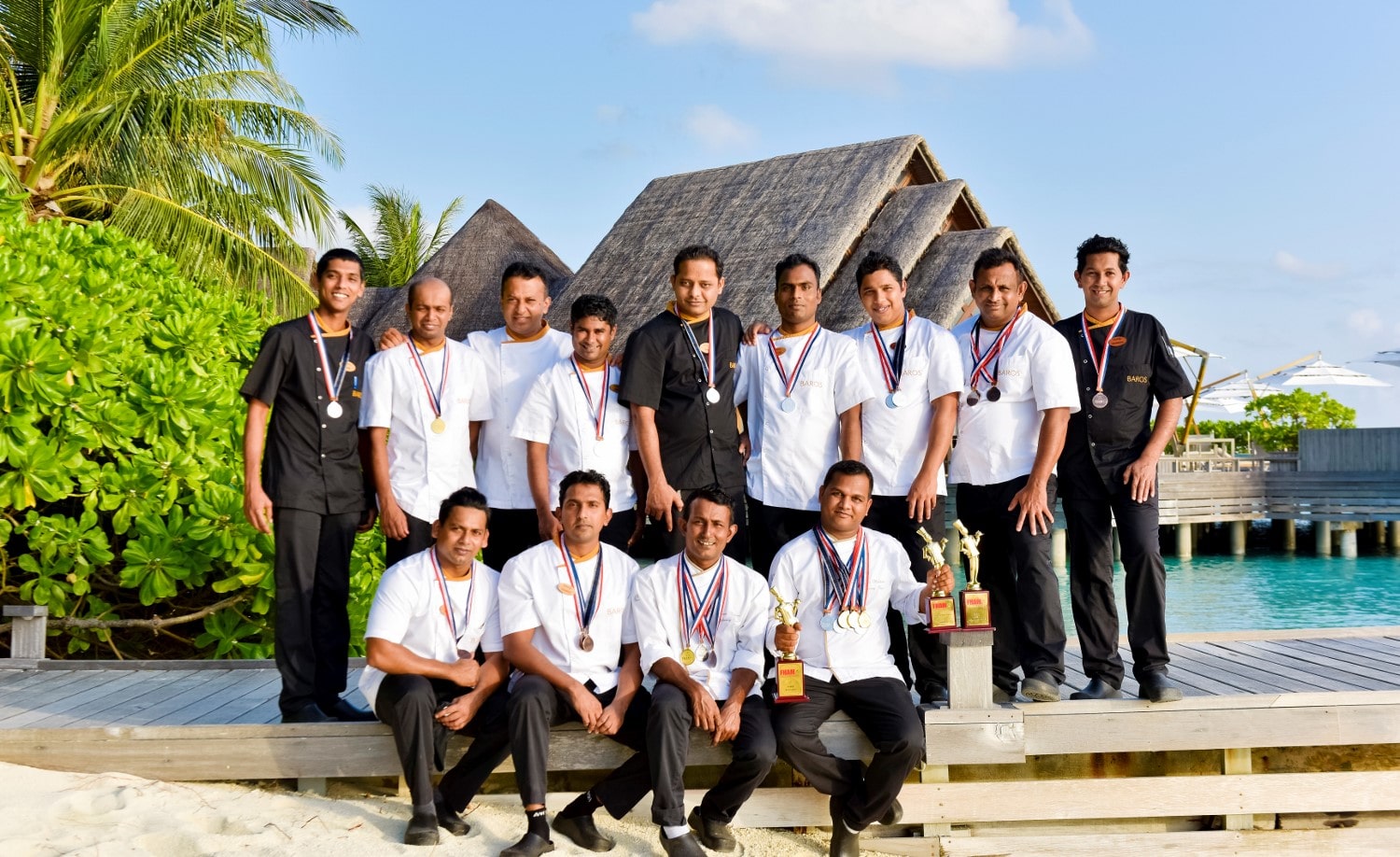 Thirteen chefs from Baros took part in this year's challenge and won a total of 5 gold medals, 12 silver and 8 bronzes. The award winning team of chefs work at three different restaurants in the resort. These included hot cooking of meat, seafood and poultry, biryani, plated desserts, breads and pastries, Maldivian dish and wedding cake.
More than 40 chefs work at Baros Maldives in its three gourmet-standard restaurants as well as catering for off-island dining on a sandbank, lagoon deck or local sailboat (dhoni) cruises. Also available is In Villa Meal Service in each of the resort's 75 elegant overwater and beachside villas. Baros Maldives is a private bijou tropical island only 25 minutes by resort speedboat from the Maldives International Airport.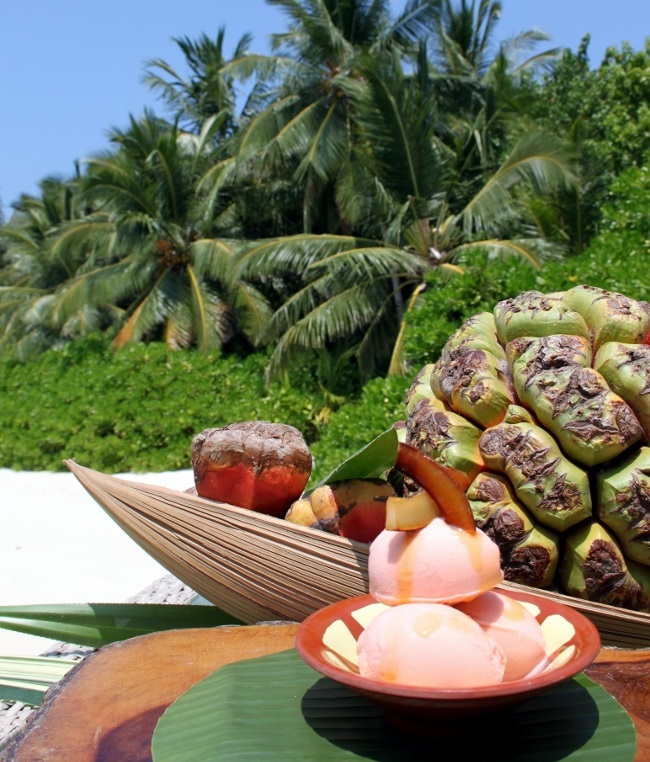 Creative team of chefs from Baros first reached Maldives Finest spotlight when they made
screwpine
ice cream, a flavour that is second to none. Screw pine is an authentic Maldivian fruit that grows naturally in the wild. It is a type of mangrove tree that bears this decision but hard to eat indigenous fruit. This type of thorny mangrove trees usually grow 20 – 50 feet tall, whole tree from trunk to leaves is thorny. A courageous man could climb half way up and poke with a stick to get the fruit or wait down to collect pieces falling from the bunch. It has a very pleasant aroma when the fruit is ripe, you can't get unnoticed if walking down a mangrove tree with ripe Screwpine on it.
Ibrahim Nathif from Baros - Meet the most outstanding chef in Maldives. #Maldives #Malediven #Baros #Chef #Food