Missing Tourists Rescued After 17 Hours In Open Ocean
Maldives Coast Guard has today rescued a missing tourist couple in sea. The couple (reportedly of Chinese national) spent at least 17 hours in sea before being resuced this afternoon. When found they were in an air bed drifting on the surface, 12 miles off Vadoo island.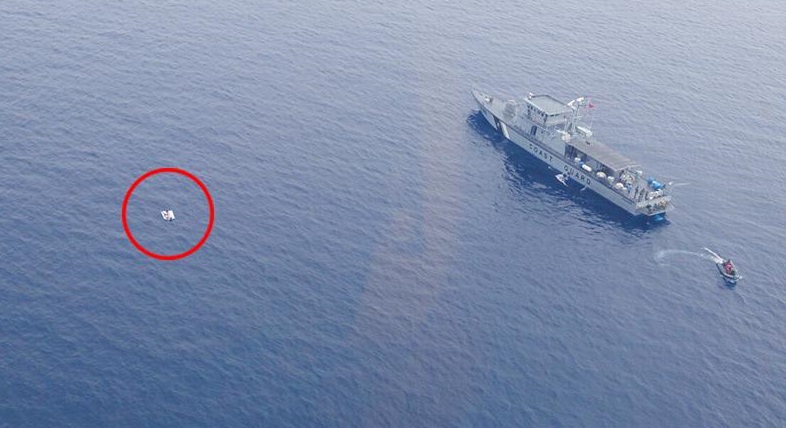 Photo by Coast Guard: Missing tourists being rescued
Last night around 21.00hrs they were reported missing from one of the resorts and Maldives Coast Guard begand search and rescue operations involving several boats and divers. The guests were reportedly seen in the sea with an air bed. But, Coast Guard seems to have attempted to every possibility as their fate was uncertain at that point of time. The night ended fruitless with no sign of them but when it turned to day light the Coast Guard bought in air support and search was continued non-stop.
After hours the missing couple was spotted by a Search & Rescue helicopter around 13:25hrs today and soon rescued to one of the Coast Guard vessels. They were seen lying down in the air bed and drifting at the mercy of waves and ocean currents. Despite several hours in sea they could talk and had no major visible health problem at the time of rescue, needless to mention they would have been weak after so many hours without food.
Past couple of days weather was not pleasant in capital Male', we had few hours of rain daily but it was not windy. In this condition sea would usually be little rough. If it was really rough with strong winds the couple most likely would get fallen off the air bed.
Rough seas, pitch black night and missing in the open ocean makes cocktail of absolute horror. On top of that they might have gotten rain as well while they had nothing to take shelter. A cold and terrifying night even to think about.
Exactly how the tourists ended up in open ocean is uncertain. Usually in resorts if you are close to shore and scream for help there would be someone to hear. It seems they got drifted too far before they realized it.
In resorts tourists are advised of safety in several ways. Despite that, a total prevent of incidents have not been achieved.
In June 2015, we wrote a post about the
importance of safety
under the title "4 Perfect Ways To Spoil Your Maldives Holiday".