Beach Villas At Joali Maldives
03 JUNE 2020
Come fulfill your dream vacation by staying at a highly sought after beach villa at Joali Maldives. Beach villas are the perfect hideout for someone who wants to experience the truly Maldivian dream. Perfectly laid across white sandy beaches that are blanketed by the azure lagoons and surrounded by lush tropical vegetation, these villas are the perfect balance between luxury and nature.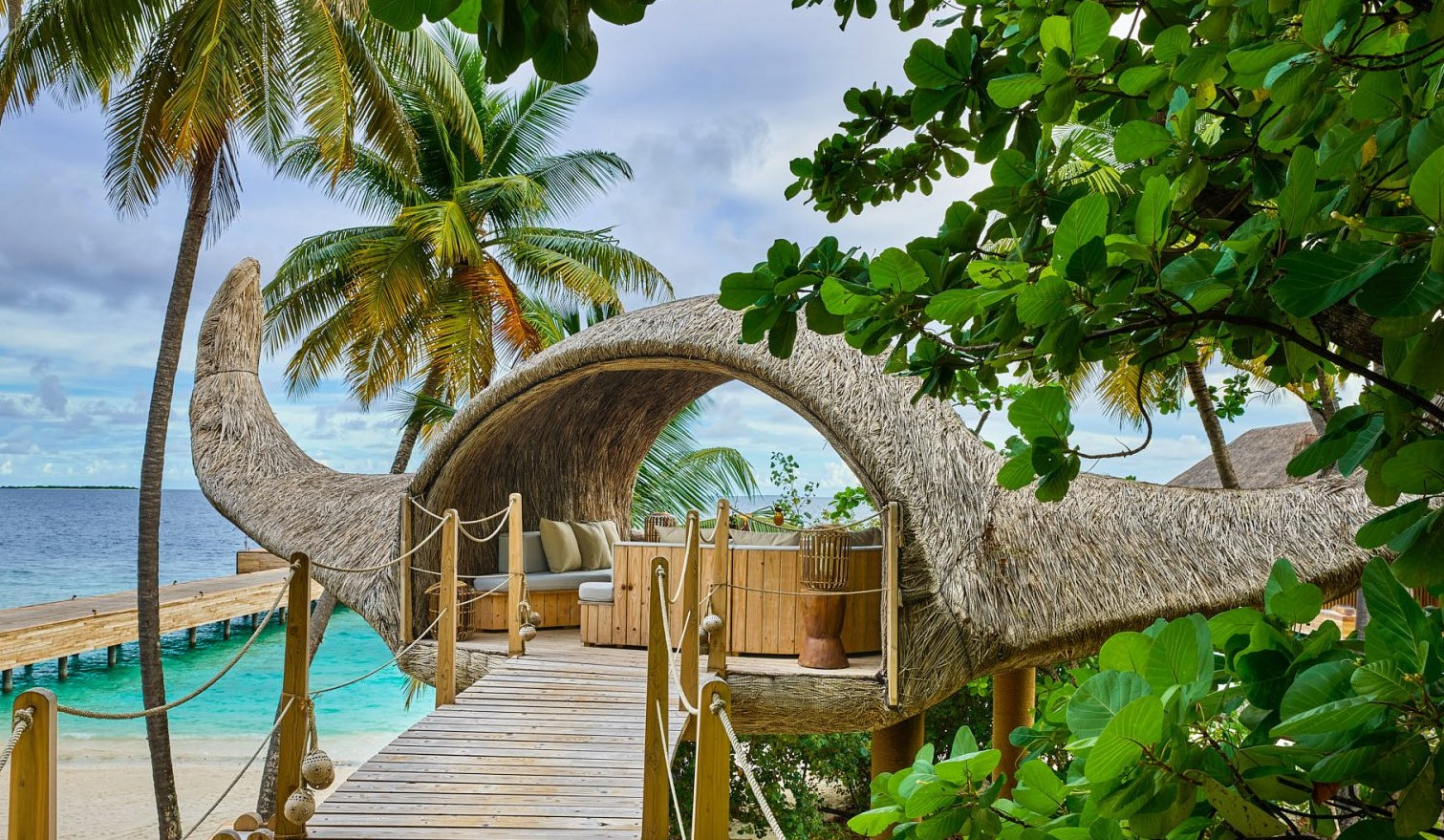 Swinging on a 'Joali' (a type of swing) on the finest white sandy beaches amidst the tall palm trees swaying ever so gently with the ocean breeze is one of the most popular leisure activities in the Maldives. Now imagine staying at a private beach villa on one of the most beautiful islands you will set your eyes on. Joali Maldives brings glamour and sophistication into one picture.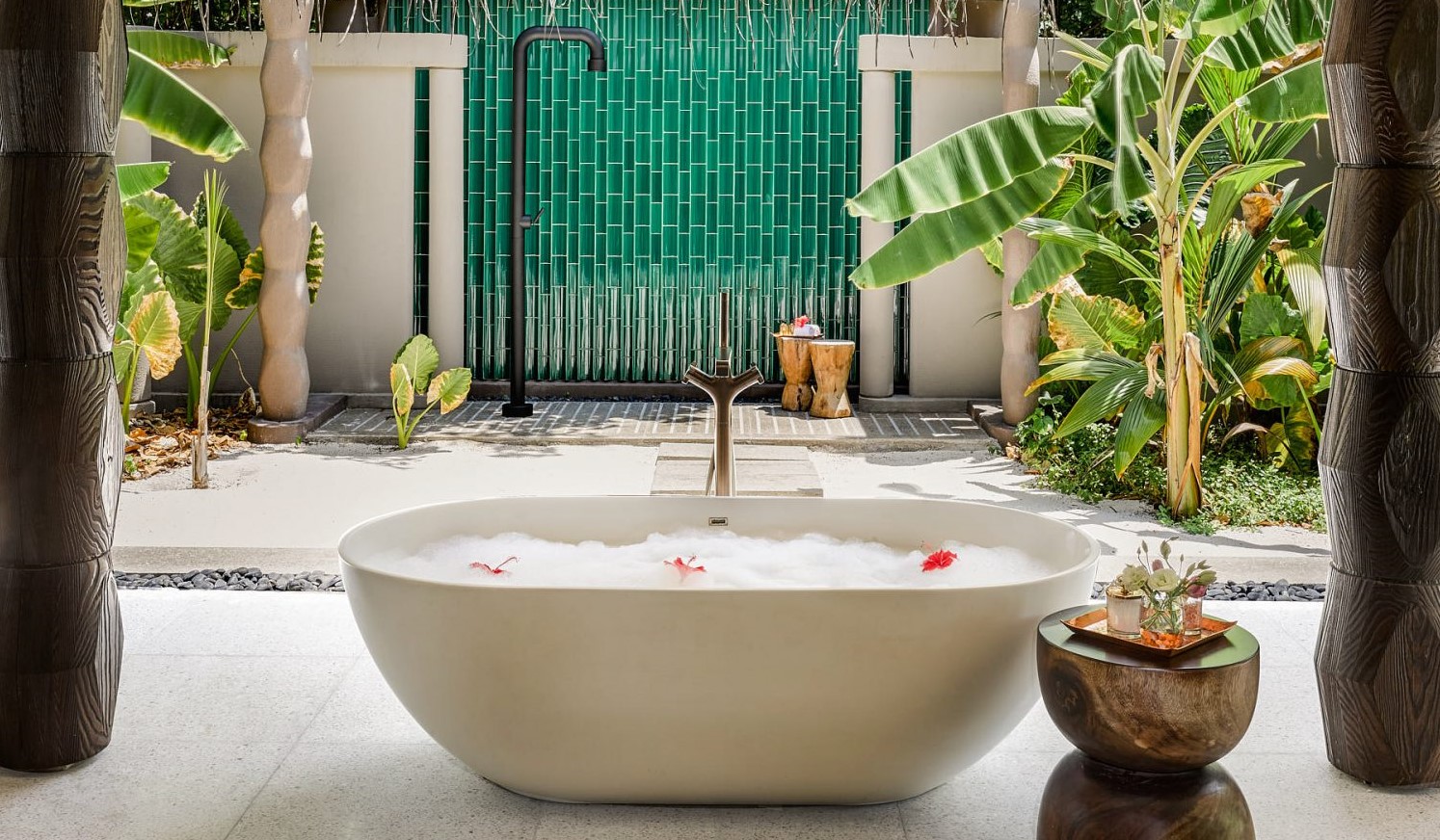 Photo: Beach Villa with Pool
This modern exotic island resort located on Muravandhoo Island of Raa Atoll opened on 1st October 2018, brings you a sense poise with every minute you spend on this piece of heaven. Raa Atoll (loosely translated to 'ring-shaped coral reef) is one of the largest and deepest atolls in the world. This little slice of heaven is situated perfectly in the middle of the Indian Ocean blanketed by milky white beaches and shimmering blue waters that host a splendid number of marine flora and fauna.
This island resort is accessible via three means; seaplane, domestic flight, or a chartered seaplane; each giving you spectacular views of the islands scattered across the background of the majestic Indian Ocean. A seaplane flight typically takes 40 minutes from Velana International Airport directly to this island. On a shared domestic flight, it takes about 35 minutes from Velana International Airport to Ifuru Airport and from there you will take a 15-minute speedboat ride to the resort giving you both an aerial and ground view of the Maldivian seas. It is important to note that domestic flights fly during the night and seaplanes fly only during day time. If you would like to charter a private seaplane you can do so by contacting before your arrival. This flight will also take 40 minutes to reach but with the luxury and comfort of being on a private seaplane.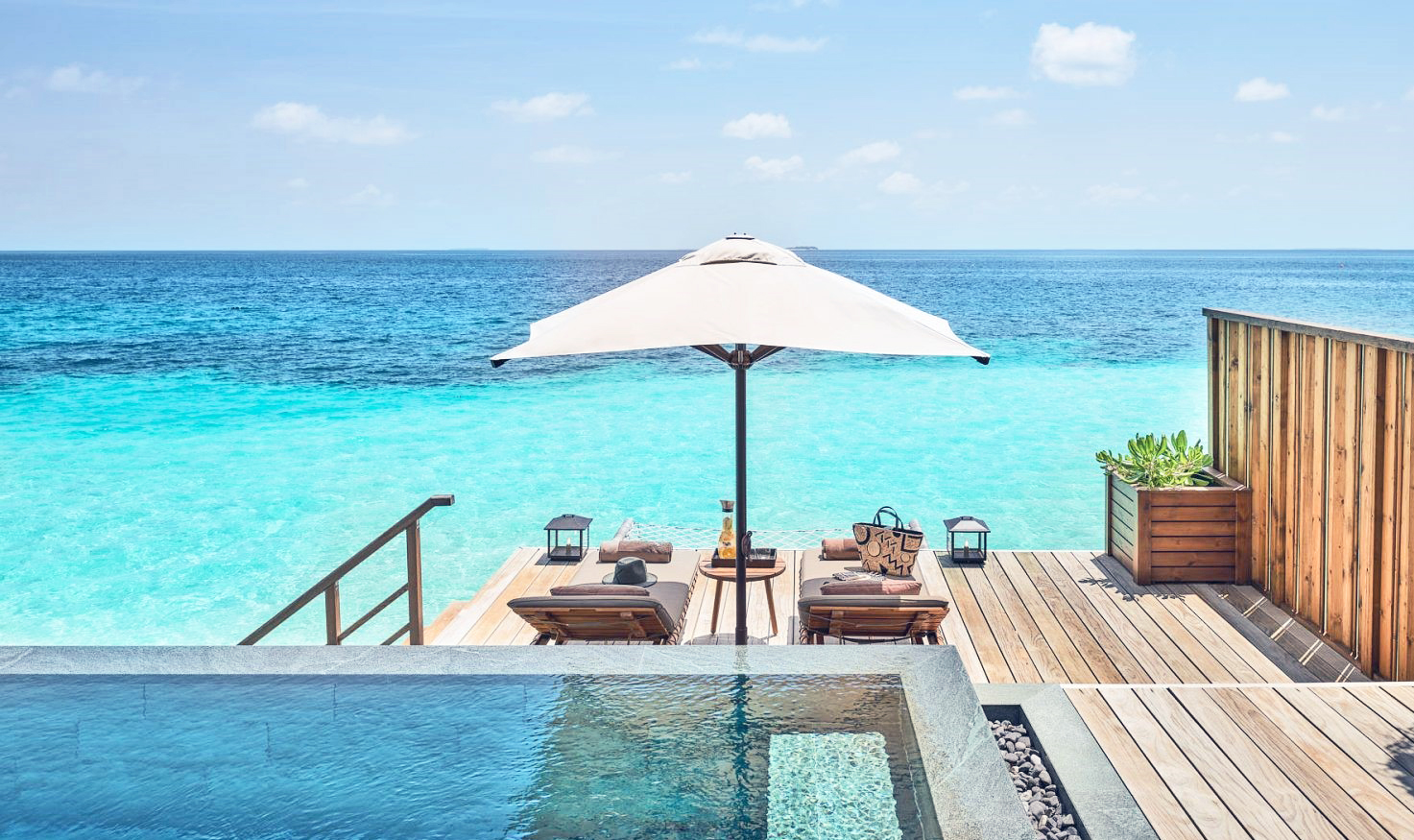 Photo: Water Villa with Pool
Beach villas are highly sought after accommodation on this island nations famous for its white sandy beaches and blue lagoons. Joali Maldives does not come short of providing you with your dream stay in one of its many beach villas. Find out why Joali Maldives is one of the best islands to stay in a beach villa.
Beach Villa with Pool
This 680 square meter villa comes with a multitude of views of the private beach, garden, and ocean views. You will have a hard time picking which view is your favorite. You will be provided with a butler and valet service to take care of all your needs. Your bathroom will be equipped with spa amenities and coveted toiletries.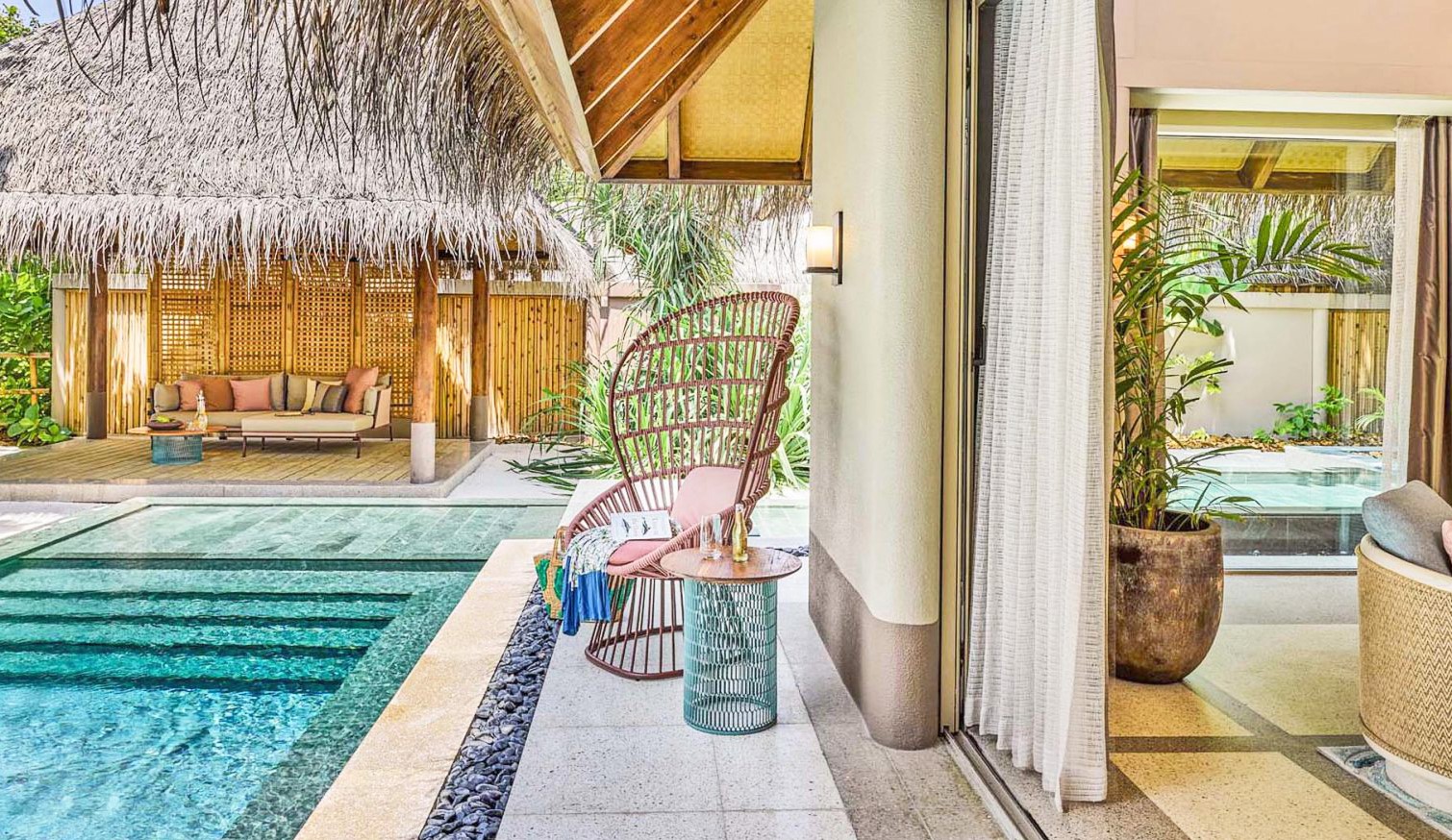 Photo: Beach Villa with Pool
With your private infinity pool that overlooks the ocean, you will be able to send off all your worries and stress to be drowned by the healing waves of the Indian Ocean.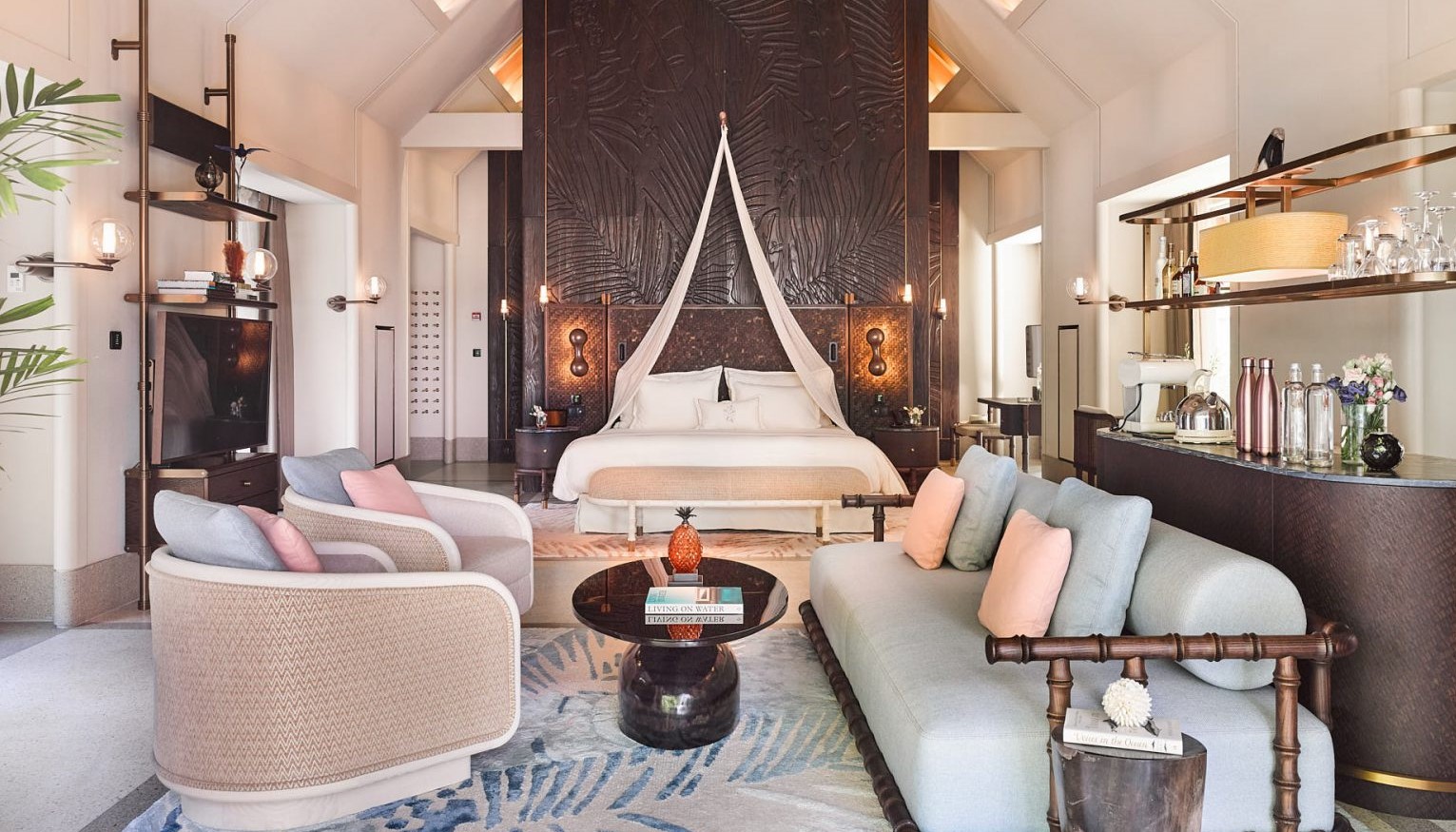 Photo: Beach Villa with Pool
Ample amounts of lush foliage ensure you are provided with maximum privacy whilst you enjoy the sunbeds laid out on the beach or whether you are lounging by the pool enjoying nothing but the calming gentle music played by natures finest musicians. This villa can accommodate up to 3 people, so it is perfect if you are a couple or small family/group traveling together to achieve your dream holidays.
Luxury Beach Villa with Pool
This ultra-luxury, 865 square meter villa is the perfect choice if you are traveling with friends or a medium-size family. It is larger than the standard beach villa giving you ample space to explore and re-energize your senses.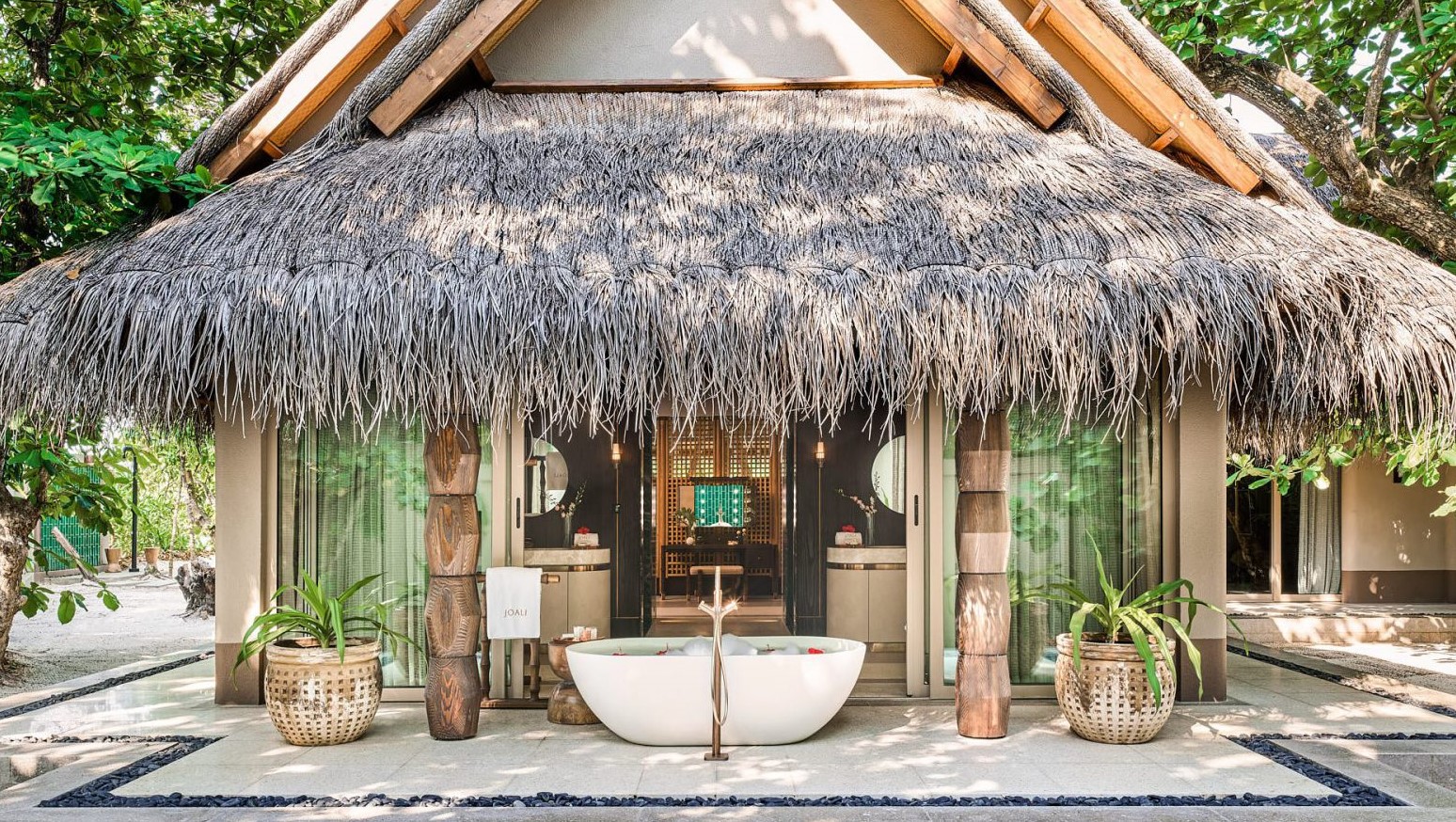 Photo: Luxury Beach Villa with Pool
It can accommodate up to 4 people with ease and plenty of space to explore. With one bedroom and one living room, this villa offers a spacious environment inspired by nature to give you a boost of serotonin. This lavish suite comes with a private infinity pool, overlooking the horizon amidst lush tropical vegetation giving you a rare opportunity to reconnect with nature and to revitalize all of your senses whilst enjoying the wave's crash onto the shore.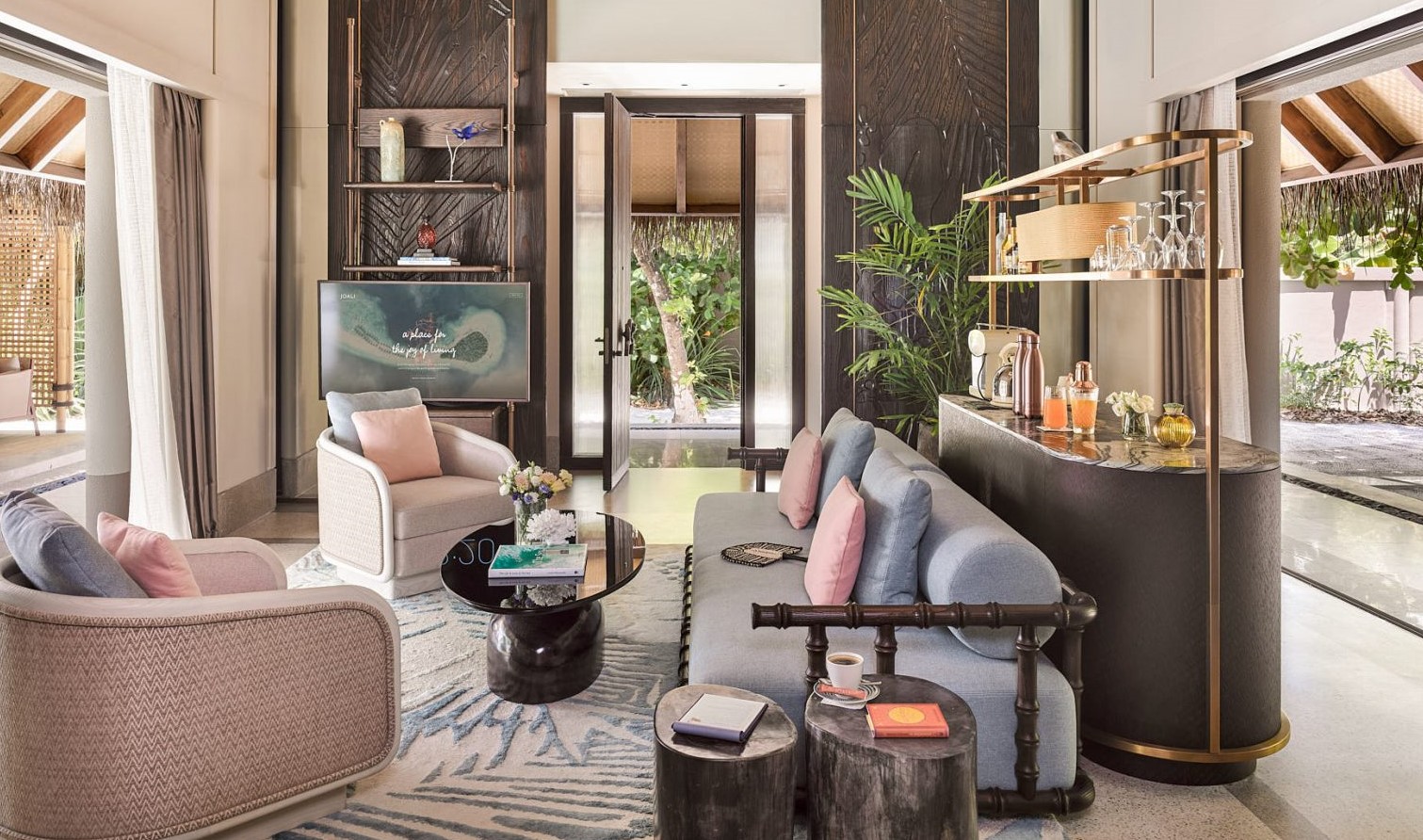 Photo: Luxury Beach Villa with Pool
Four Bedroom Beach Residence with Pool
If you are a medium-sized group of friends or family you might want to pick this 1200 square meter residence that is nestled on the beach. This two-story villa offers you four bedrooms each with their own perfectly designed bathrooms.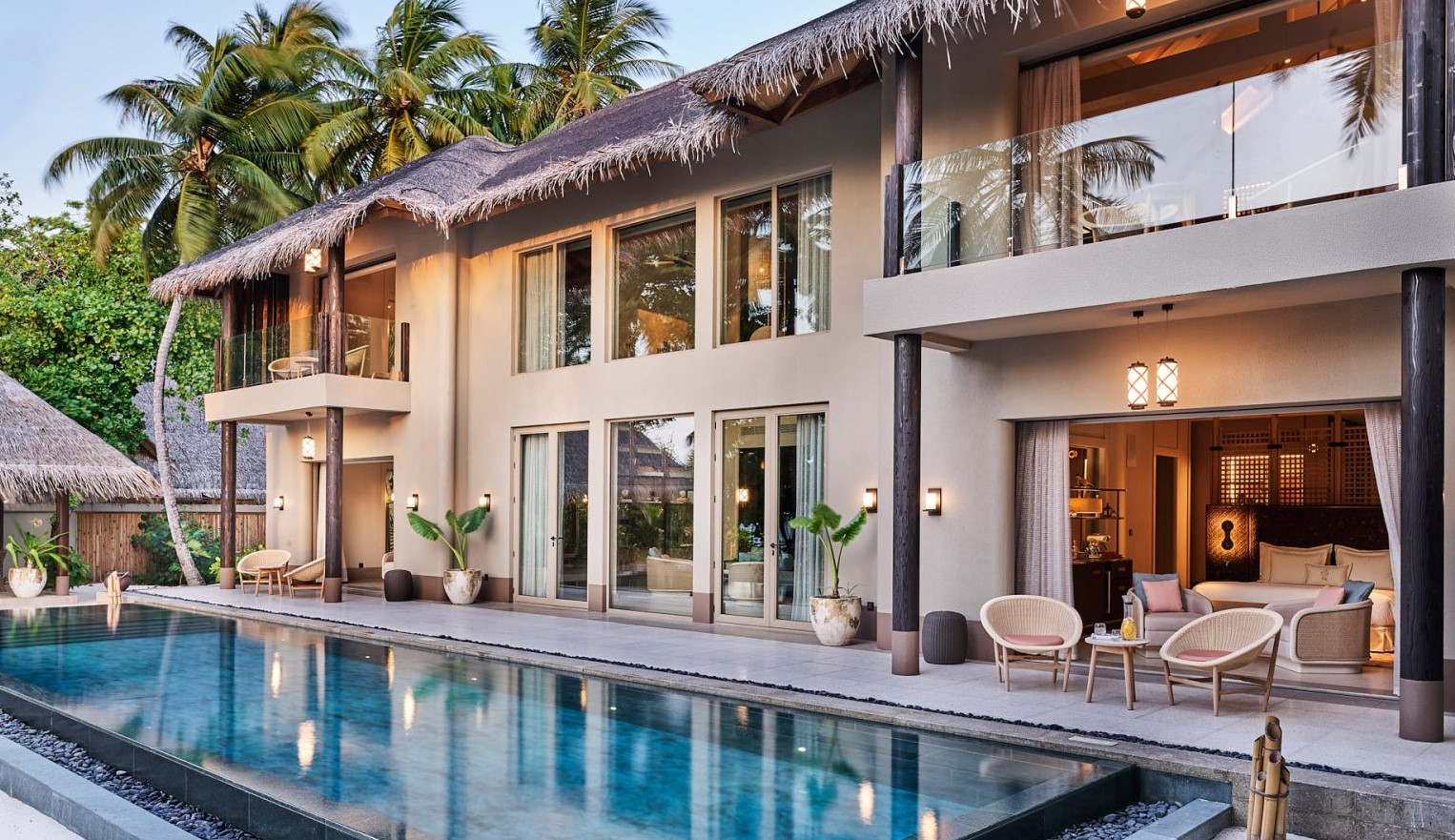 Photo: 4 Bedroom Beach Residence with Pool
will be provided with a butler who will attend to all your needs and a buggy with a driver to take you wherever you may desire on the island. It also comes with a library with handpicked books for the inner bookworm in you to enjoy at this dreamy location.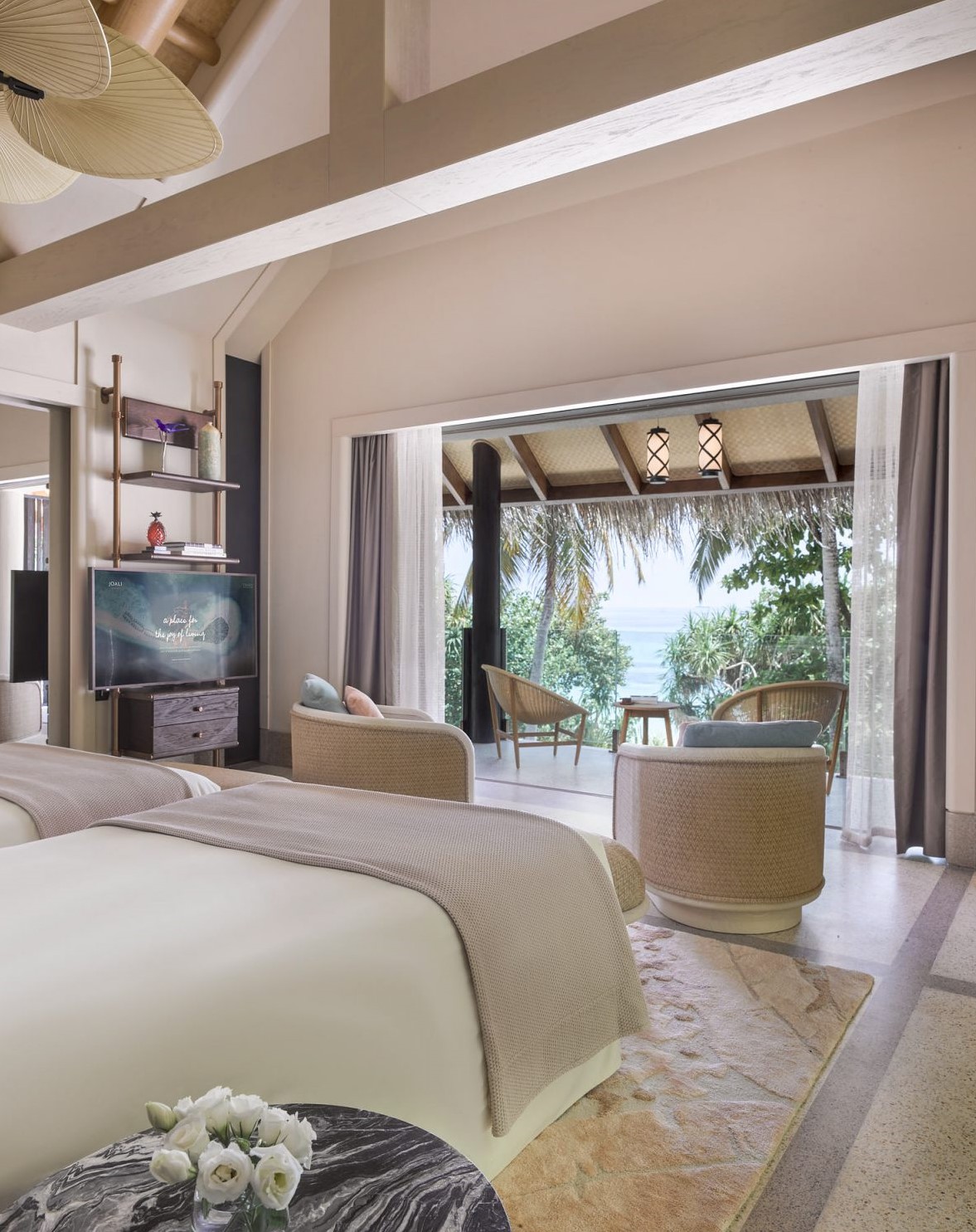 Photo: 4 Bedroom Beach Residence with Pool
Similar to the previous villas, this beautiful beach villa comes with an infinity pool overlooking the never-ending horizon for you get lost into whilst taking a dip.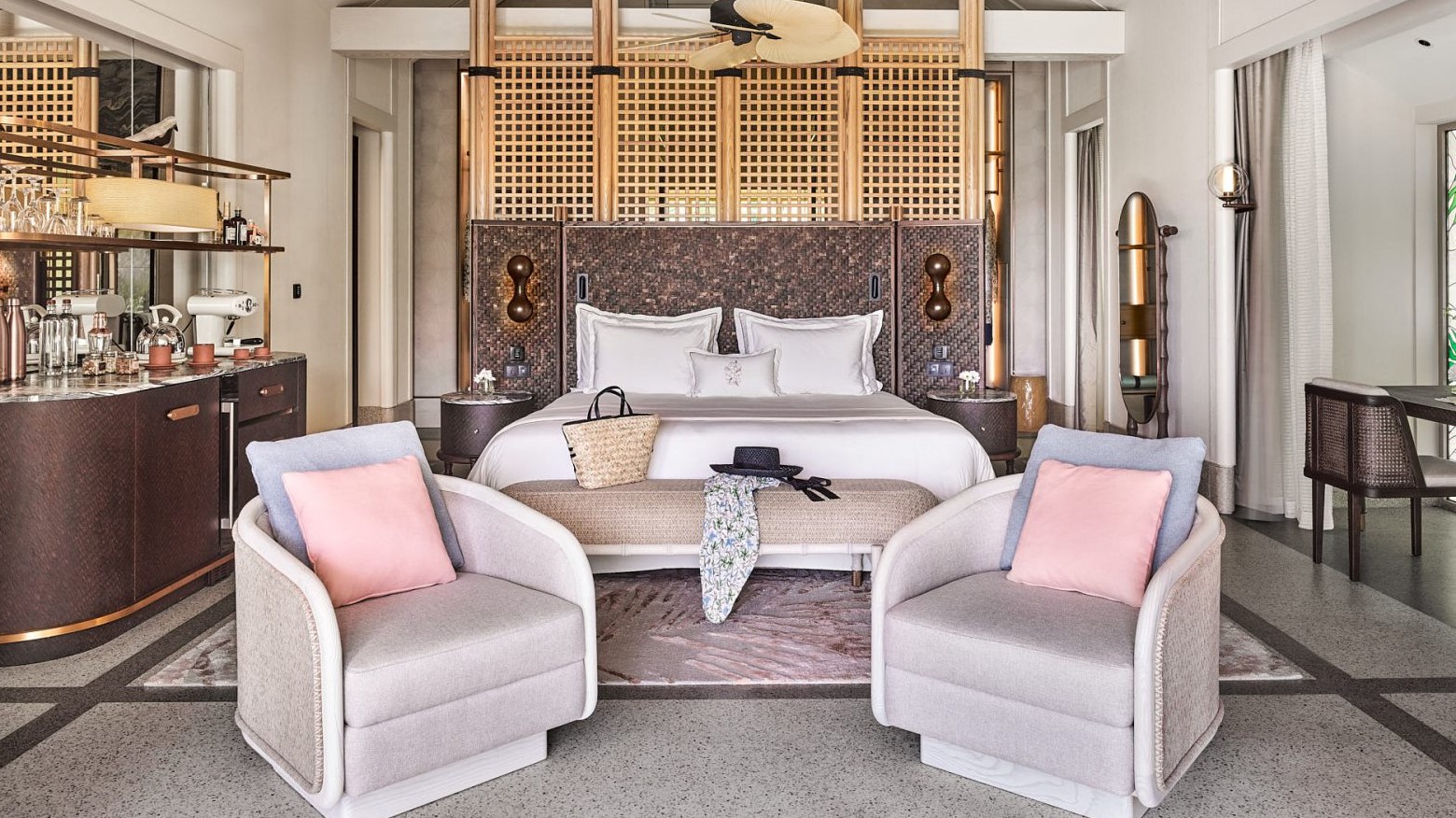 Photo: 4 Bedroom Beach Residence with Pool
Family Beach Villa with Two Pools
This 940 square meter beach villa comes with two pools and ample space capable of accommodating up to 4 people. This makes it a perfect choice for families or small groups traveling together. This suite also offers an infinity pool, private beach garden with a backyard pool, and an outdoor terrace located perfectly on the white sandy beach with a dining area for you to enjoy your meals while you bathe in all that nature has to offer.
Two Bedroom Beach Villa with Pool
This beach villa is the ultimate villa designed especially for families. This villa is capable of accommodating up to 5 people with promising you a safe space where your family can enjoy under one roof.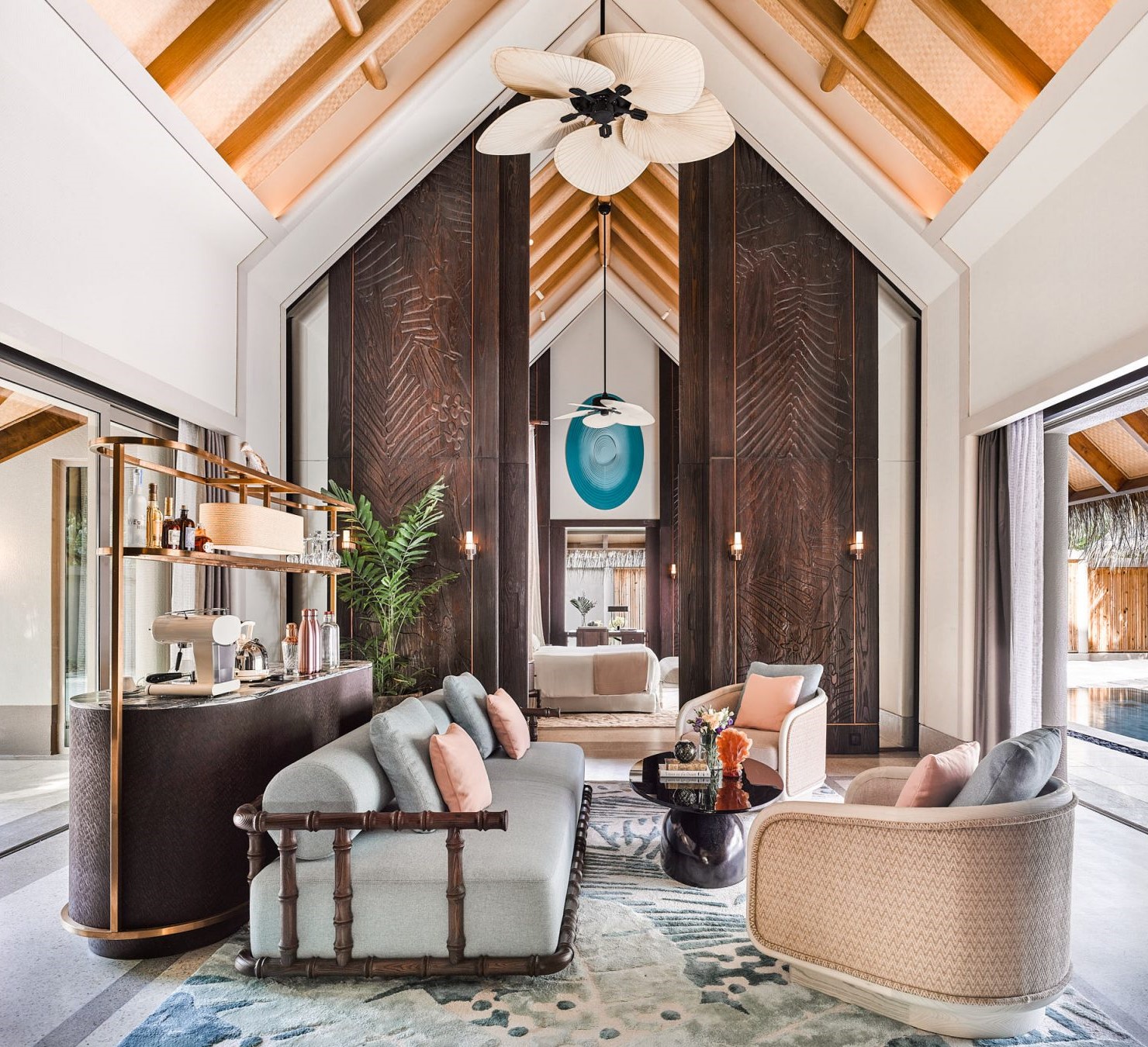 Photo: 2 Beach Villa with Pool
As other beach villas, this villa also comes with an infinity pool and a lounging area beside the pool for you to soak up the tropical sun and cool off in the pool or the blue lagoon; whichever you may prefer. Your family will be able to enjoy your vacation with utmost privacy whilst the highly experienced resort staff work around the clock to ensure all your needs are taken care of.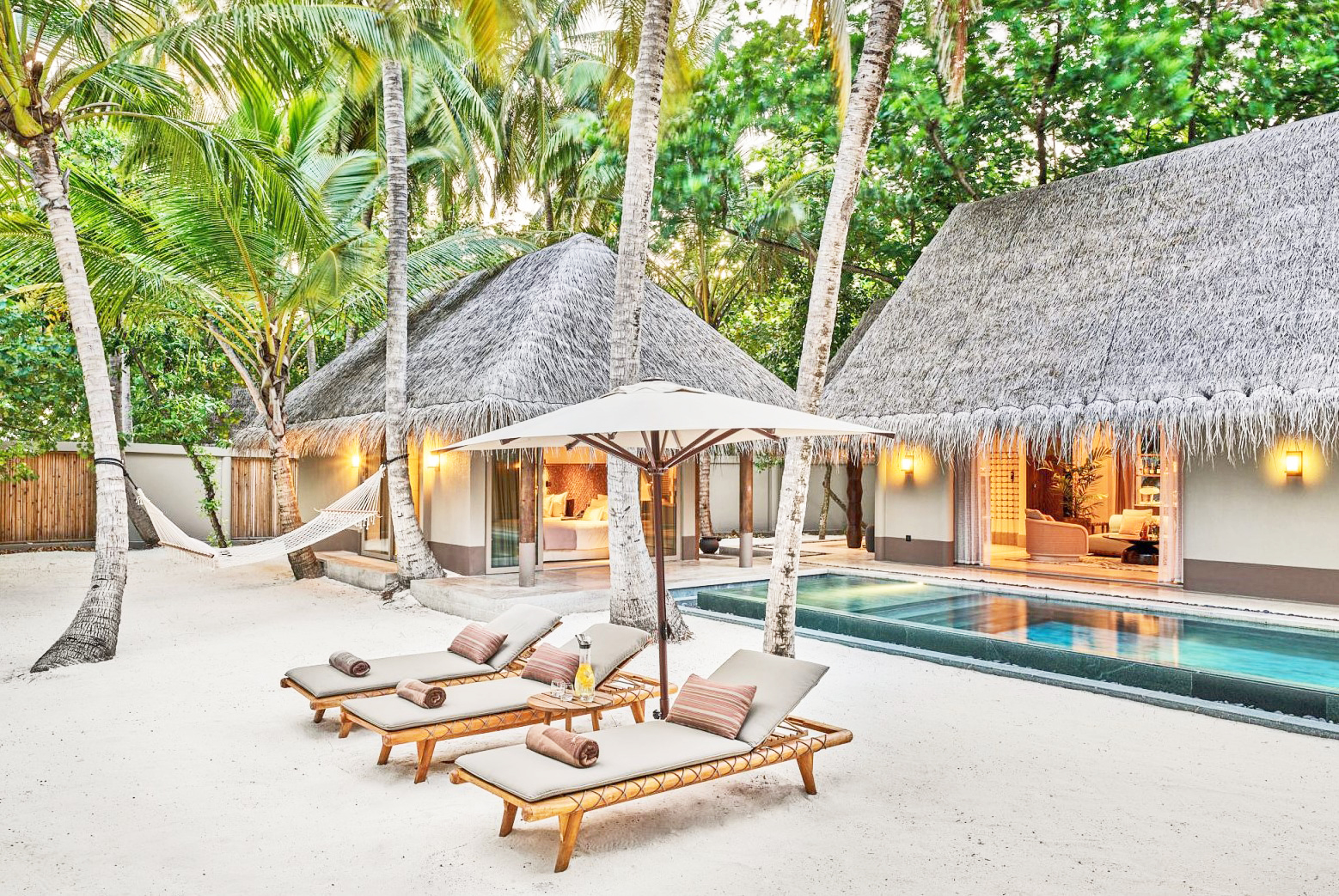 Photo: 2 Beach Villa with Pool
Joali Maldives offers you a variety of choices when it comes to accommodation. Whether you prefer a beach villa or a water villa; you can be guaranteed that your time here will be worth it. When it comes to water villas you have choices from a 240 square meter Water Villa, a 280 square meter Luxury Water Villa, a 240 square meter Sunset Water Villa or a Luxury Sunset Water Villa. The choice boils down to your needs, whether you prefer simplicity or ultra-luxury each villa comes with ample space and its special features at your disposal.
Activities
The Joali Maldives takes pride in offering unique moments and memorable experiences with their wide array of activities for you to choose from. Whether it be sailing on a luxury yacht or swimming with the majestic Manta rays; you will not have a dull moment. You can enjoy the blue waters while jet-skiing or plunging into the ocean brimming with countless marine flora and fauna. You can also visit nearby local islands on a dhoani to give you a first-hand glance at the authentic 'Maldivian' life.
A picture worthy location on this private island is the Manta Ray Tree House, where you can chill amidst the lush tropical vegetation with uninterrupted views of green and blue hues of the island. You can enjoy the tailor-made music and food this great location has to offer within nature.
Apart from adrenaline-filled activities you can also relax and give your body and sense a well-deserved break by visiting 'Espa Spa'. They offer you a well-tailored treatment that will leave you feeling as light as a feather and with skin that radiates under the tropical sun.
One thing that sets Joali Maldives apart from other similar locations is the well-lit tennis courts with professional tennis services by LUX Tennis (a specialist tennis management company that provides professional tennis services to luxury resorts and private clients' worldwide). You can enjoy a fun-filled game against the backdrop of one of the most beautiful locations in this world.
You can treat yourself to some 'me time' by visiting the Hair Lab/Hair Spa on this exotic island. They offer you a wide range of luxury treatments and services. Their well-trained hair-therapist will take care of you from the moment you step into this warm and relaxing environment till you set out the doors to seek the adventure you to the island for.
Kids of Joali
Children often have very different needs and wants compared to adults. At Joali Maldives your children will be taken good care of, with activities such as adventure-filled treasure hunts on this exotic island, native stories told by talented local storytellers, a mini spa day at the Kid's Spa, a little children's kitchen to explore culinary skill and many more fun-filled activities that will keep your children well occupied and gleaming with joy.
An Island for Lovebirds
For lovers, this island has some very special offers to celebrate your love and wedded bliss. A Joali wedding is a dream come true with a selection of different themes for your ceremony, whether it is a boho-chic theme or a rustic theme. Each package comes with several services to ensure you have your dream wedding. You can also host bachelor or bachelorette parties to give one last mighty celebration before they tie the knot of love. With Joali Maldives you are guaranteed a celebration like no other filled with love and great attention to detail.
For honeymooners, you can make your loved one fall head over heels in love with you all over again with this one of a lifetime experience of setting out on a 'Dhoani" (a traditional Maldivian boat) at sunrise with a picnic basket with a befitting breakfast or you can also choose to set out while the tropical sunsets over the horizon while you and your loved one gaze into the colorful display of nature. Whether it be sunrise or sunset you will be able to celebrate your love in this grand gesture not less magical than a fairytale.
Dining
Dining options are aplenty on this exotic island. With four different restaurants, each with their specialty promising to give you a gastronomical experience during your stay. 'Vandhoo Restaurant' offers you a dining experience of Southeast Asian, Chinese, Mediterranean and Levant cuisines whilst 'Bellinis' restaurant offers you authentic Italian fine dining right here in the Maldives. You can also enjoy a wide range of hand-picked wines from across the world at 'Vandhoo Restaurant'.
'Her Kitchen' and 'Soake' are two restaurants not to miss during your stay. You can enjoy local dishes cooked by highly experienced chefs at 'Her Kitchen' and enjoy Japanese Cuisines at 'Soake', both promise to give you a fine dining experience that is unmatched. If you rather dine at the comfort of your villa; destination dining offers you professionally made dishes and memorable culinary experience without having to move a muscle.
During a hot afternoon after being out soaking the tropical sun, come refresh your body with ice-cream and chocolates available at 'Lajoie'; the Joali chocolate and ice-cream store. It promises to satisfy your cravings whether it be with bitter chocolate or sweet vanilla.
Bars
Who would want to miss out on a rare opportunity to relax on the sandy white beach alongside an infinity pool whether it be during the midafternoon or as the sunsets? Come experience this dreamy location whilst sipping on refreshing cocktails and biting down on snacks that hit the right spot. The Mura Bar hosts special surprise event nights such as live performances and sunset rituals, so be on the lookout for these if you ever come down to the bar.
Come enjoy a vacation that will be tailor-made to fit your dreams at Joali Maldives. From luxury rooms to adventurous activities, everything is guaranteed to be of the highest quality and promising to help you reconnect with your soul. Joali Maldives promises to make you feel at home with its highly trained staff and carefully curated environment. Each moment here will be filled with moments that almost dreamlike to ensure that the only blues you will see is the ocean and the sky. So come and experience a slice of heaven on earth.
Check out these 5 Beach Villas at Joali Maldives. #Maldives #Joali #JoaliMaldives #MaldivesHoneymoon #LuxuryMaldives