Gordon Ramsay To Open Restaurant At Thumburi Maldives
The all too familiar celebrity chef Gordon Ramsay has proposed to open a restaurant at Thumburi Island Maldives, Maldives Marketing & Public Relations Corporation - MMPRC - has said. Thumburi located in Laamu Atoll, is leasing 20 plots of land at the beach for guesthouse and city hotel development. Currently the island is uninhabited and once opened in 2016 it will have 20 small properties owned by different individuals and common facilities such as restaurants, utility, watersports, diving, spa will be operated by third party companies. It is expected that the government will invite bids for these services in January 2015.
Gordon Ramsay is the presenter of widely popular cooking show
Hell's Kitchen
and
Master Chef
. His company, Gordon Ramsay Group, operates 24 restaurants in 6 countries, including United Kingdom, America, Italy, Hong Kong and Qatar. Gordon Ramsay also runs a cooking school.
Thumburi Island (often spelled as Thunburi) offers opportunity for small and medium scale investors who are seeking opportunities in the tourism sector. It has been rumoured that proposals have already been submitted for 16 plots. It is believed that some of these proposals are backed by foreigners who want to live in Maldives. Foreign investors often partner with locals and foreign partner gets registered as a company staff which gives him the visa to stay in Maldives.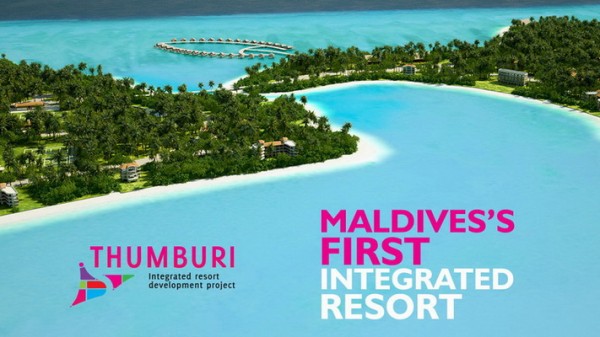 Along with guesthouses the government is also leasing 3 plots of lagoon to develop over-water resorts with 100 Water Bungalows in each.
Thumburi is reachable in about 35 minutes by domestic flight from Male' International Airport to Kadhdhoo Airport, followed by a 15 minute drive from airport and then reach the island by boat in 5 minutes.