Airline Refused To Disclose The Plane's Cargo Manifest And Now Maldives Finds A Possible Bomb On Beach
25 Mar 2014: A suspicious object that is believed to be some kind of bomb has just got washed up on beach in Maldives island. Police media officer said that the villagers of Baarah Island saw this object in the evening and reported immediately. Police went to inspect the suspicious object and now it has been reported to the military. Police further said they have no clue what his object is and it will be investigated by the Maldives National Defence Force.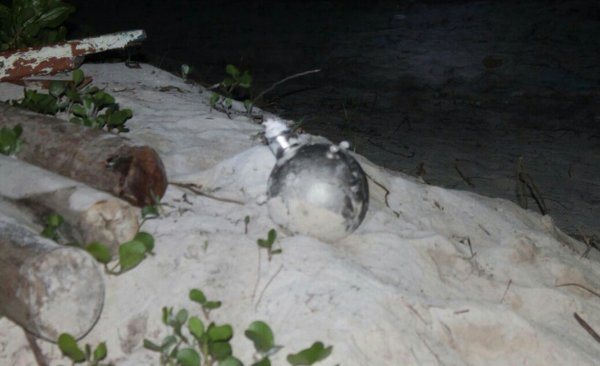 Photo: Suspicious object on the beach in Maldives island
Major Hussain Ali the spokesperson of the Maldives National Defence Force said an unknown object was been washed up on the beach of Baarah and MNDF is on the way to inspect the object. Eye witnesses say the object is likely to be a sea mine while other speculate it is some kind of bomb.
This was spotted a week after an islander from Kudahuvadhoo reported sighting of a low flying plane which authorities said not credible. It is not yet known if this suspicious object has any connection to missing Malaysian Airlines fight MH370. The Malaysian authorities previously refused to publicize the plane's cargo manifest.
This story on local newspaper (non-English):
http://www.haveeru.com.mv/dhivehi/news/152109