Often the Maldives is linked to shimmering blue waters, hot tropical sun, amazing sunsets, and the overall feeling of being a 'paradise' on earth. Due to this reason, one of the most sought after accommodations in the Maldives happens to be Ocean Water Villas. A water villa is an accommodation that is perched above a lagoon that gives you access to the azure lagoons and glistening waters that the Maldives is famous for. Several resorts facilitate a stay in their water villas, which give you a feeling of isolation from the rest of the world (in a good way), unbeatable levels of comfort and service, and stunning views that you would not be able to get from any other type of accommodation.
Some notable services this private island offers include; a 24-hour front desk, a shared lounge, hairdresser, air-conditioned rooms with flat screen TV (including satellite channels), coffee machines in each room, slippers, free toiletries, bathrobes and a wide range of comforting services to make you feel at home. You will have a dedicated and highly trained butler who will cater to each and every whim. The island is well known for personalizing and tailoring your entire experience as you would want it to be.
It is important to note that Velaa Private Island won the leading "Luxury Island Resort' during the 2019 World Luxury Hotel Awards in Finland. They had also won the "Luxury Private Villa' award during the 2018 World Luxury Hotel Awards. Both these awards were won at a 'global' level, giving testament to the level of service and luxury they offer.
On this island with a contemporary design, you will be able to choose from 4 different types of water villas. Each villa is air-conditioned and comes with standard amenities with a touch of luxury. Let's have a detailed look at the wonderful choices of accommodation this private island has to offer.
Sunrise Water Pool Villa
Wake up and soak up the first rays of the tropical sun on this villa that is located along an extended jetty giving you an uninterrupted view of the ocean and the horizon. The overhanging thatch roofs give you shade while you sit in the dining area and the bedroom and bathroom open into the terrace where you can enjoy a swim in the pool and soak in the tropical sun on the sun deck. This villa gives you a sense of privacy as you go about your day till you lay down your head to rest after ending your adventure filled day. They have steps that lead you into the ocean from the terrace which is not something most people get to experience in their lifetime. The azure waters of the Indian Ocean a few feet from your doorstep is a dream most people have. The living room is comfortable and designed around a viewing window set into the floor and the bed is facing the ocean to provide you with privacy and intimacy that you would not find elsewhere. This would the best choice for you if you are a 'Sunrise' person given that you will be able to view the equator sun rise as you lay in bed in complete and utter bliss.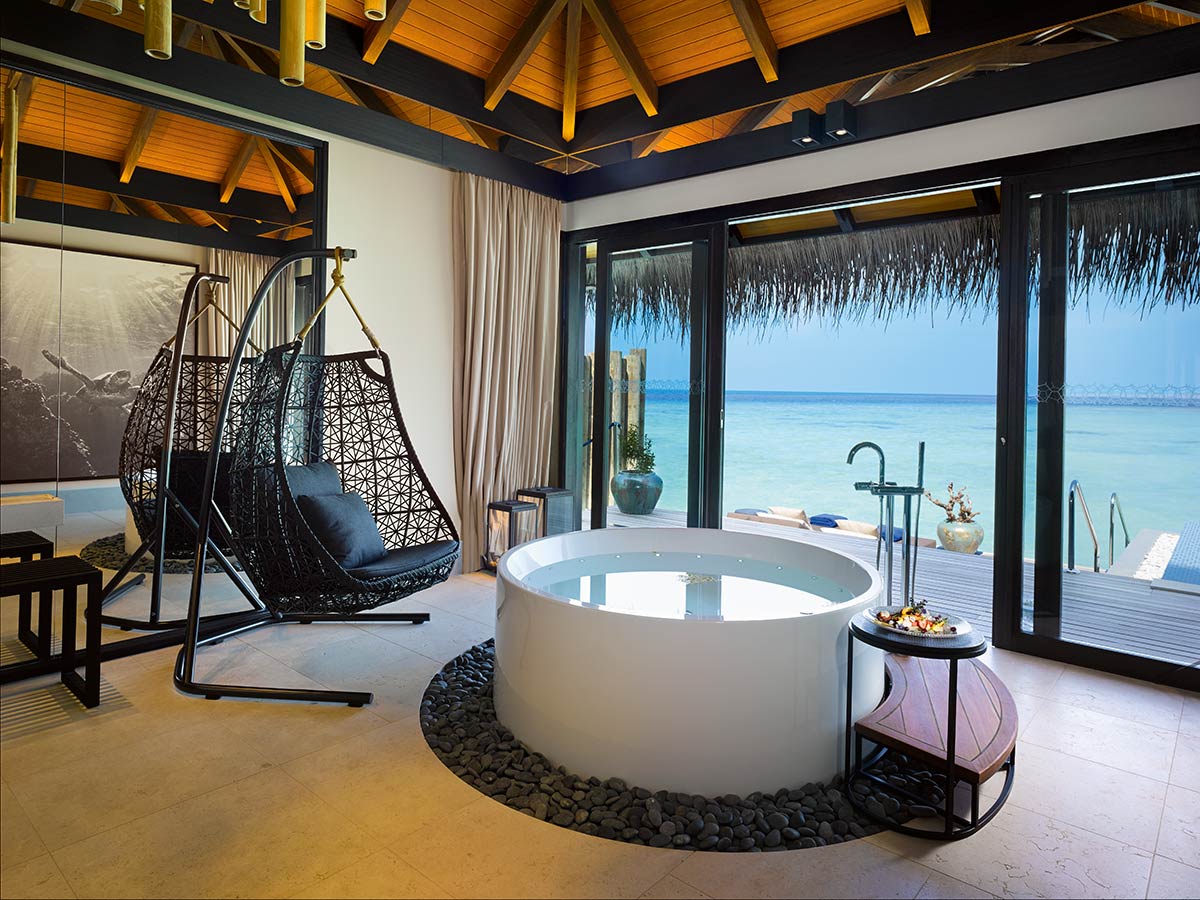 SUNRISE WATER POOL VILLA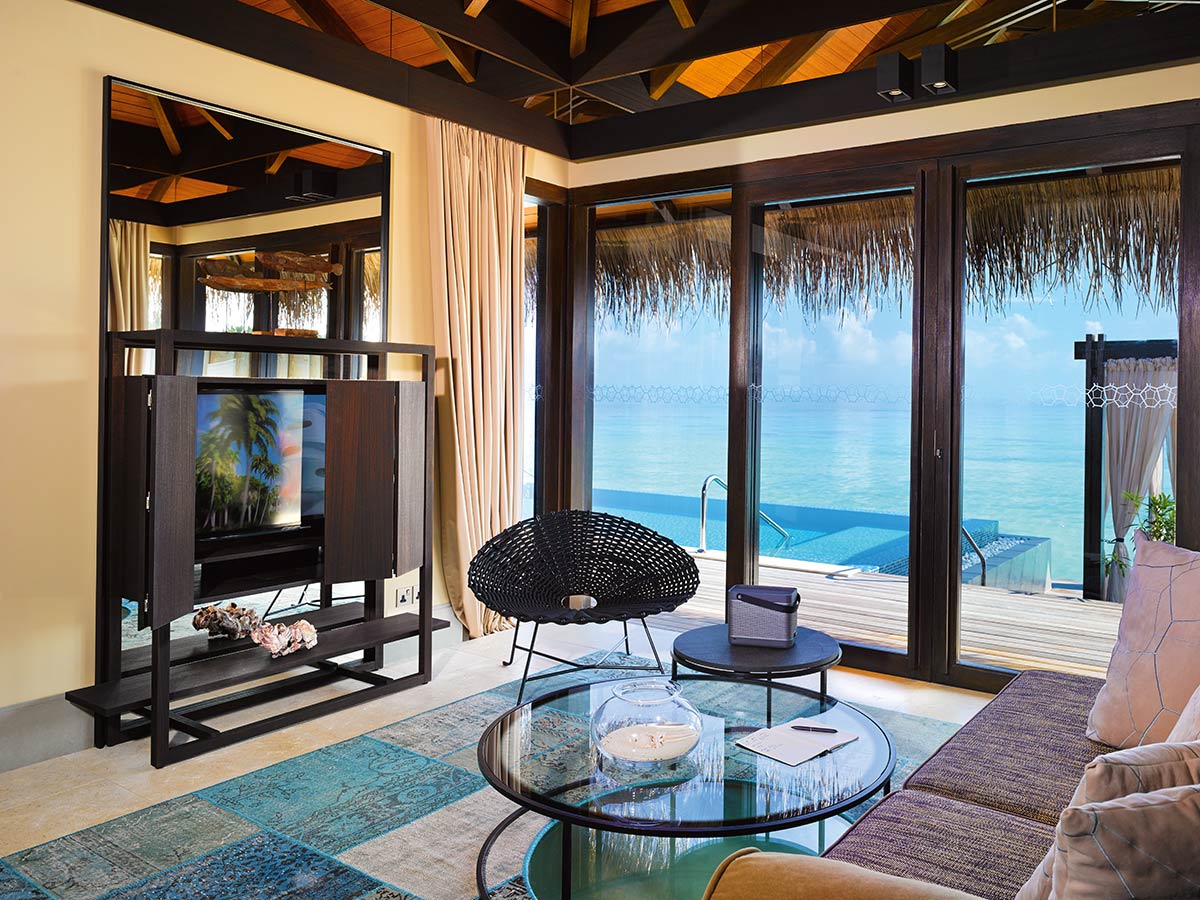 SUNRISE WATER POOL VILLA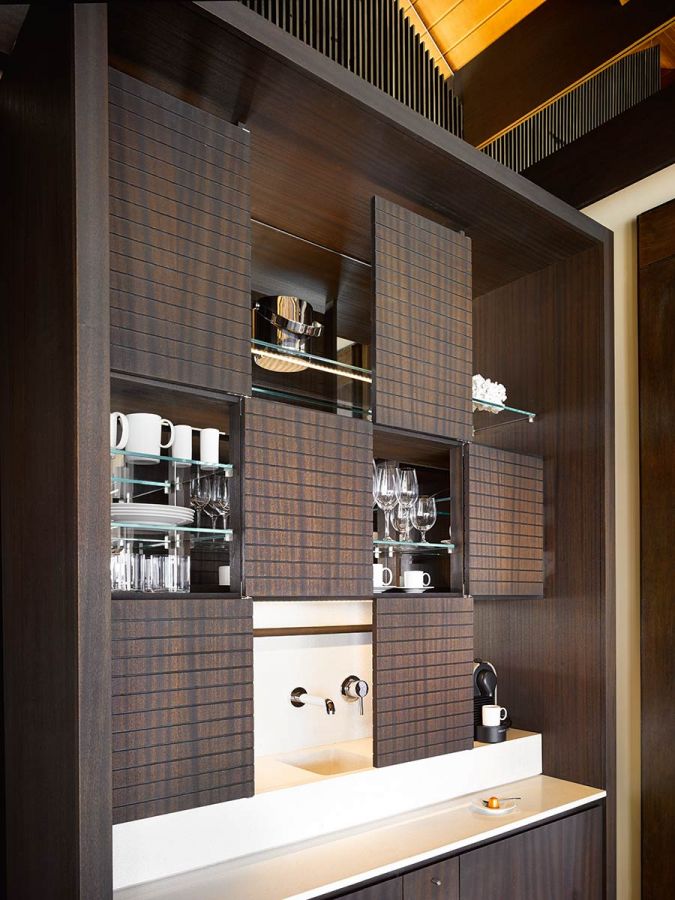 SUNRISE WATER POOL VILLA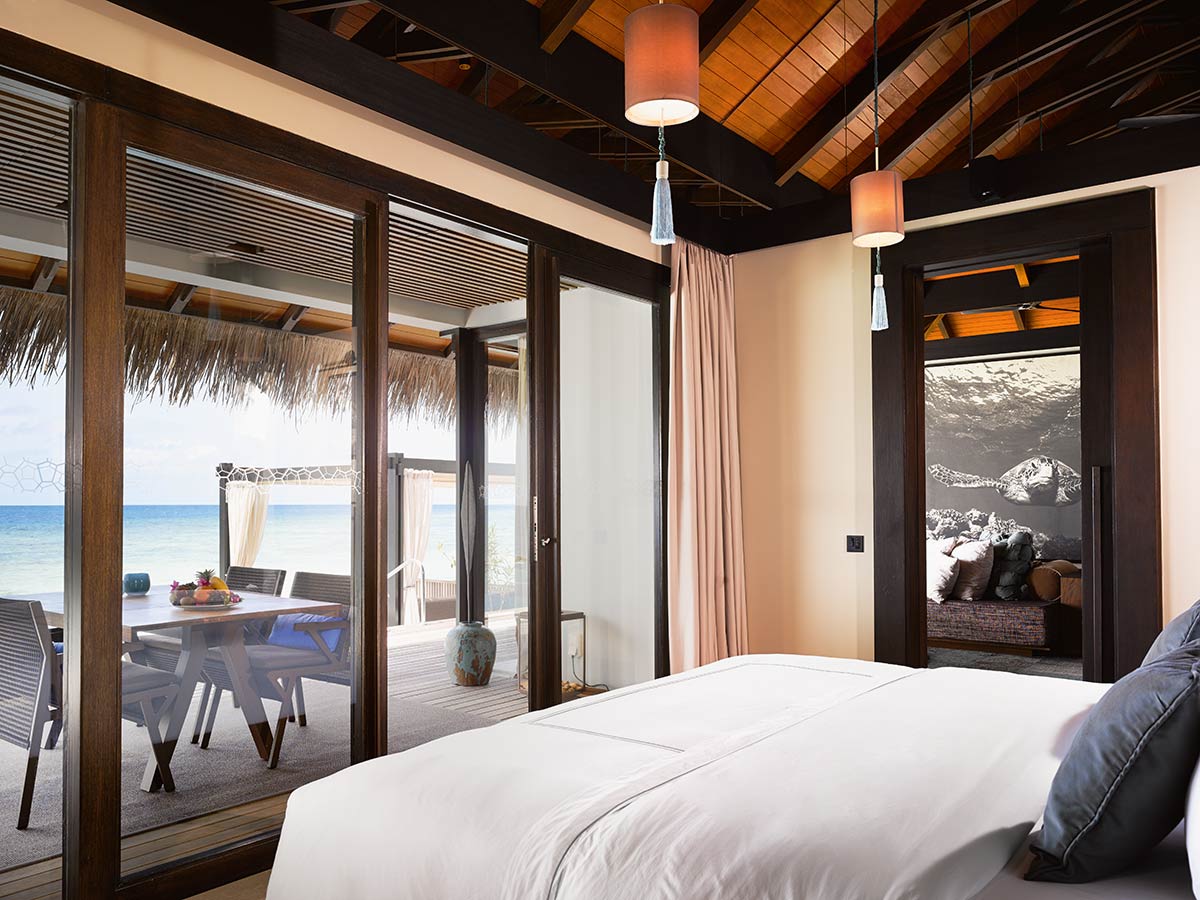 SUNRISE WATER POOL VILLA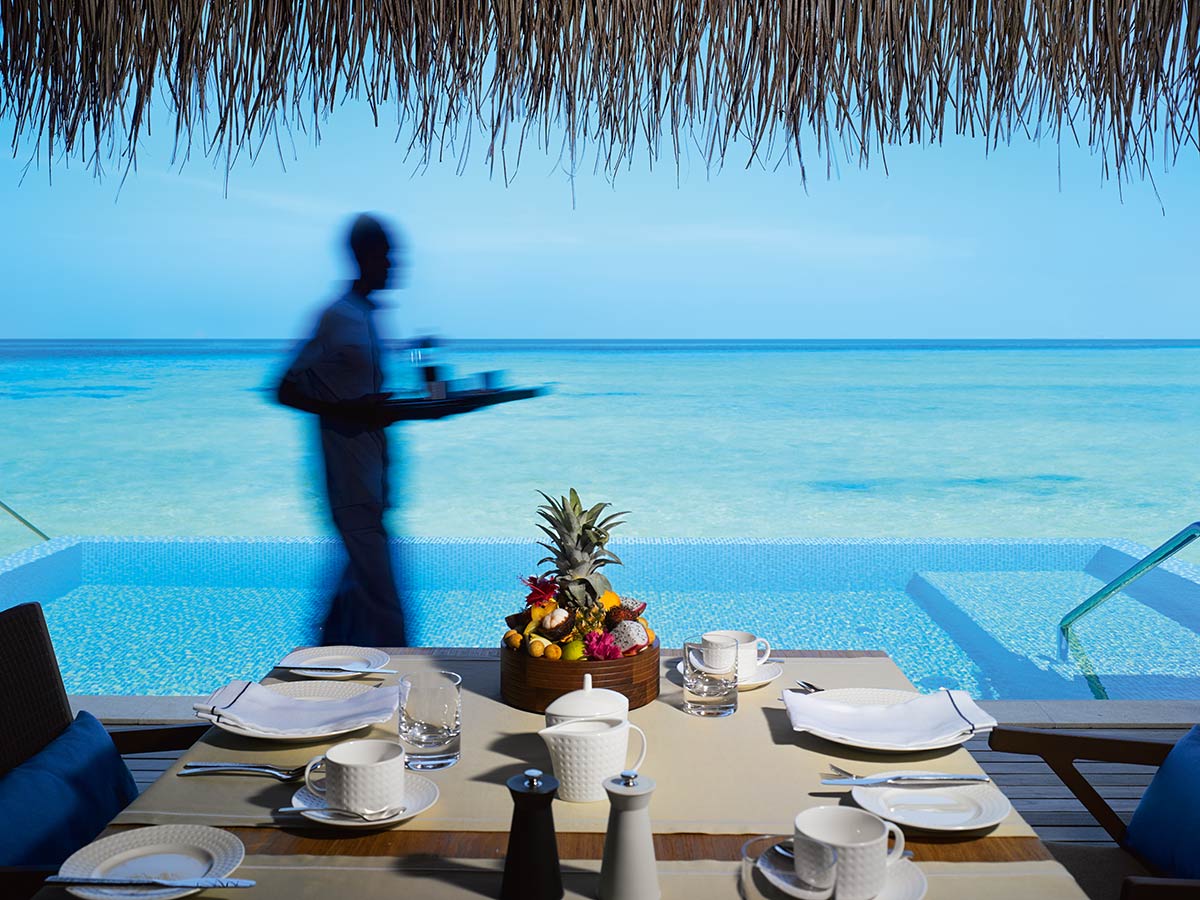 SUNRISE WATER POOL VILLA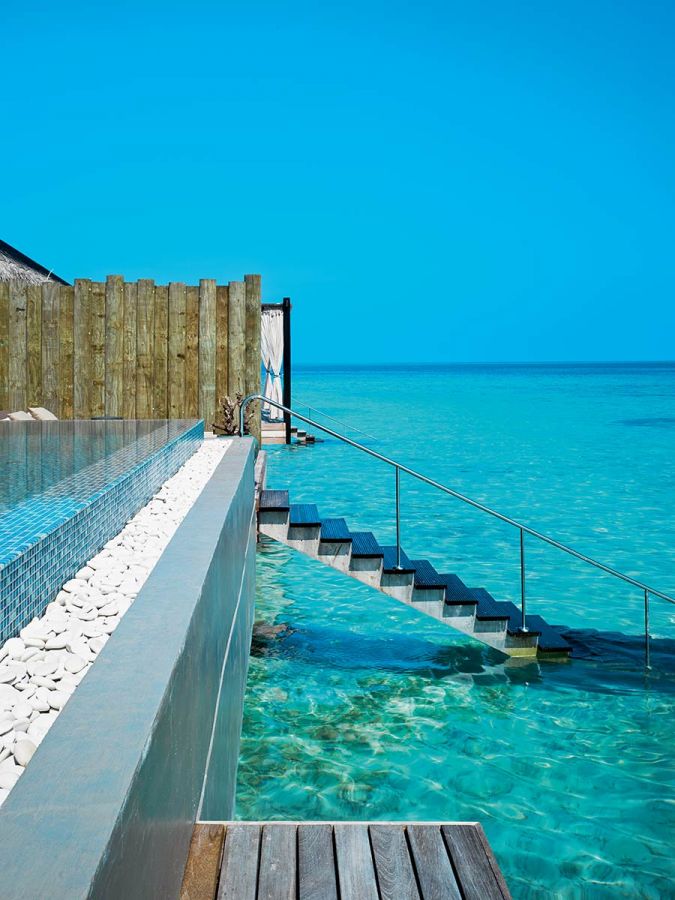 SUNRISE WATER POOL VILLA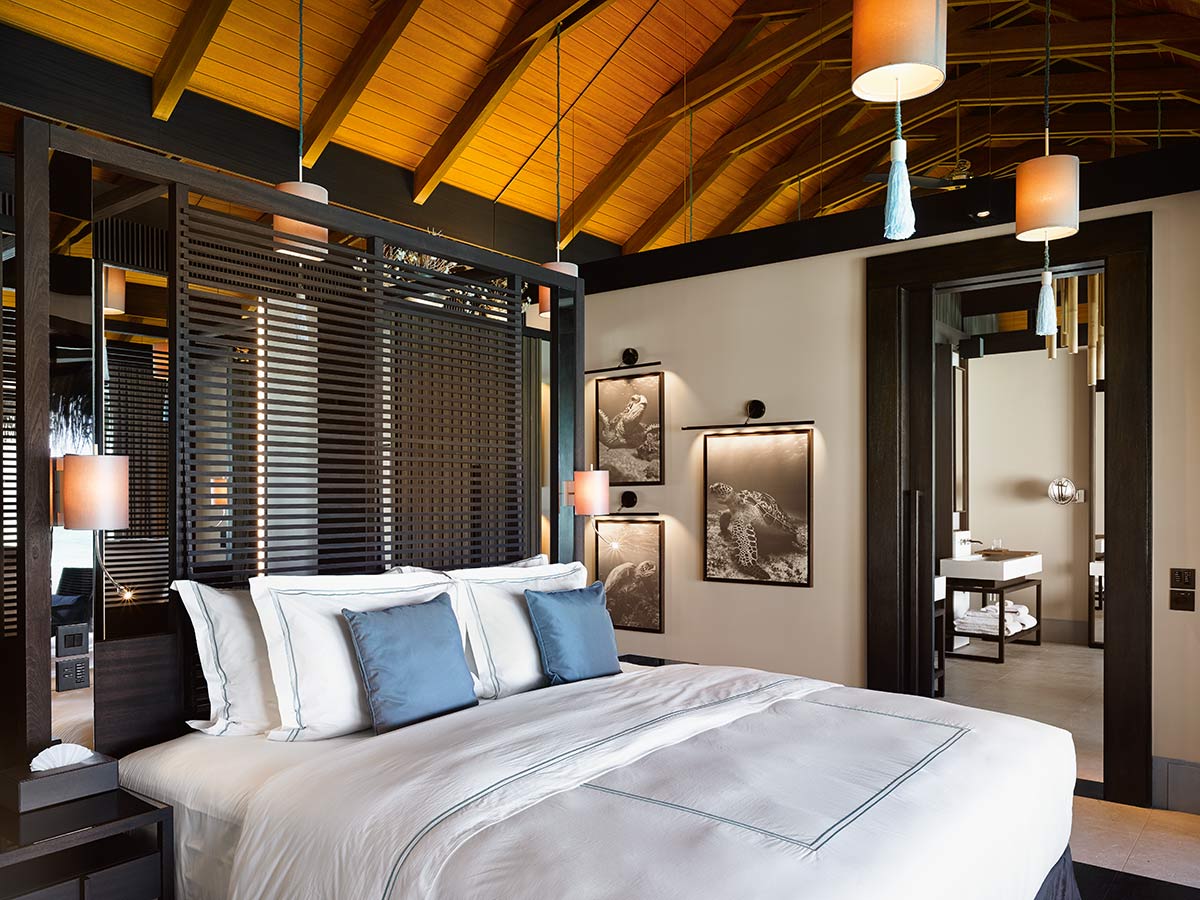 SUNRISE WATER POOL VILLA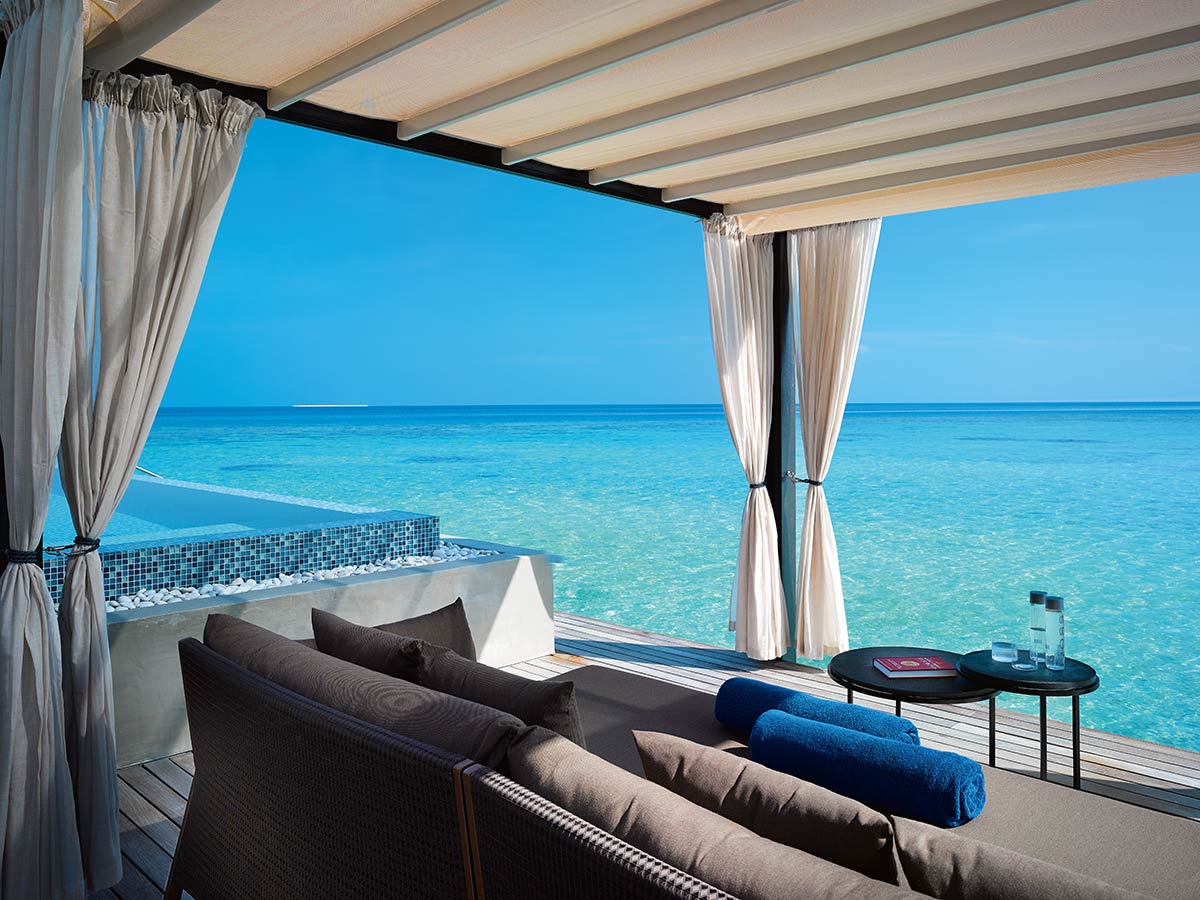 SUNRISE WATER POOL VILLA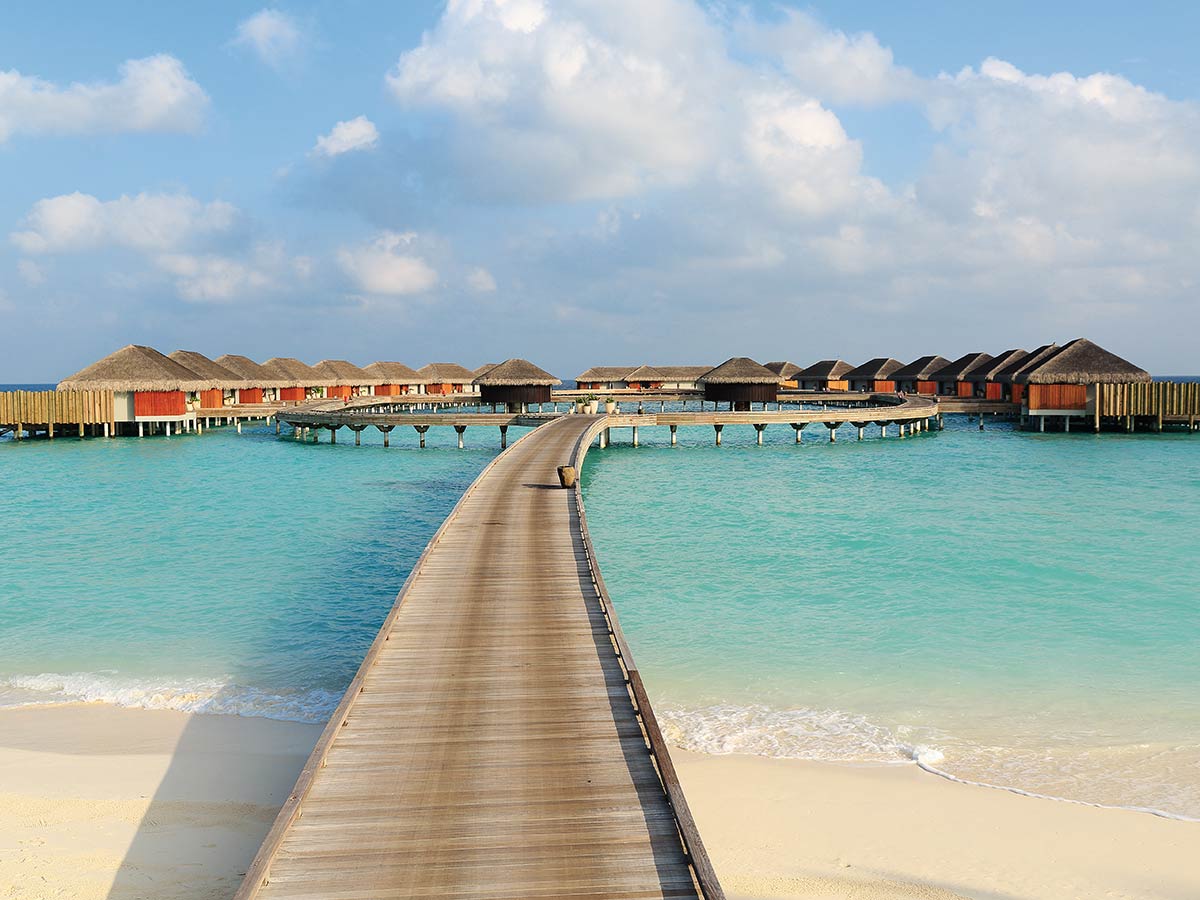 SUNRISE WATER POOL VILLA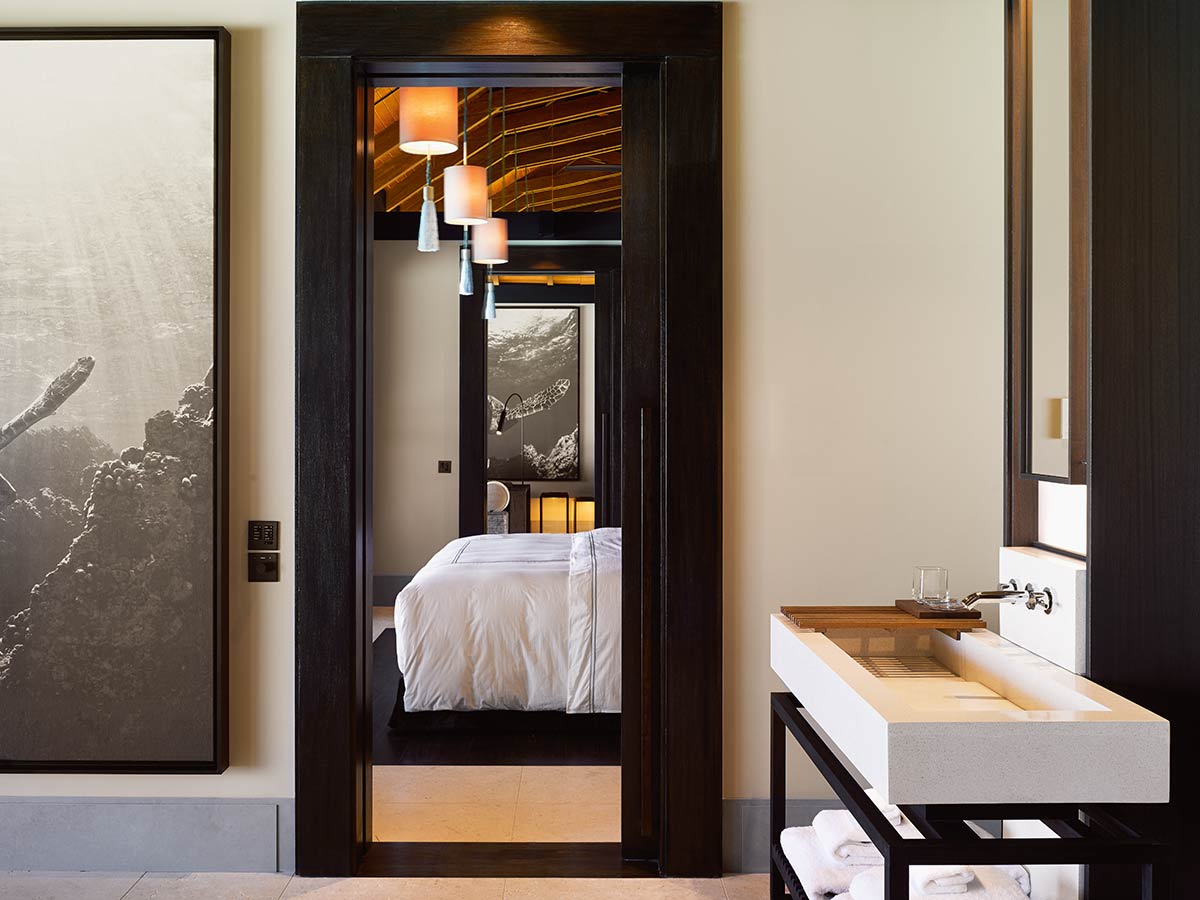 SUNRISE WATER POOL VILLA
Sunset Deluxe Water Pool Villa
As the name suggests this villa is designed to give you the mesmerizing view of the tropical sunset. Inside this villa designed for comfort and privacy, you have a bedroom and a living room that has its very own bar area complete with a private wine fridge, complete with a viewing window set into the floor. Just the sunrise water villa, this villa gives you an uninterrupted ocean view and has thatched roofs to give you shade from the tropical sun and the bedroom and bathroom open onto the terrace which has a pool and a sundeck with steps leading into the ocean. The thing that makes this villa unique is that it is facing the sunset and comes with a daybed mounted with cushions to give you maximum comfort as you catch the final moments of the sun setting along the horizon. What better way to end your day then you watch the sunset from your very own bed, whether you prefer to simply gaze in awe across the horizon or sit down with your loved ones to sip on your favorite cocktail as the sun bids farewell for the day, leaving you to enjoy many other wonderful things the night has to offer.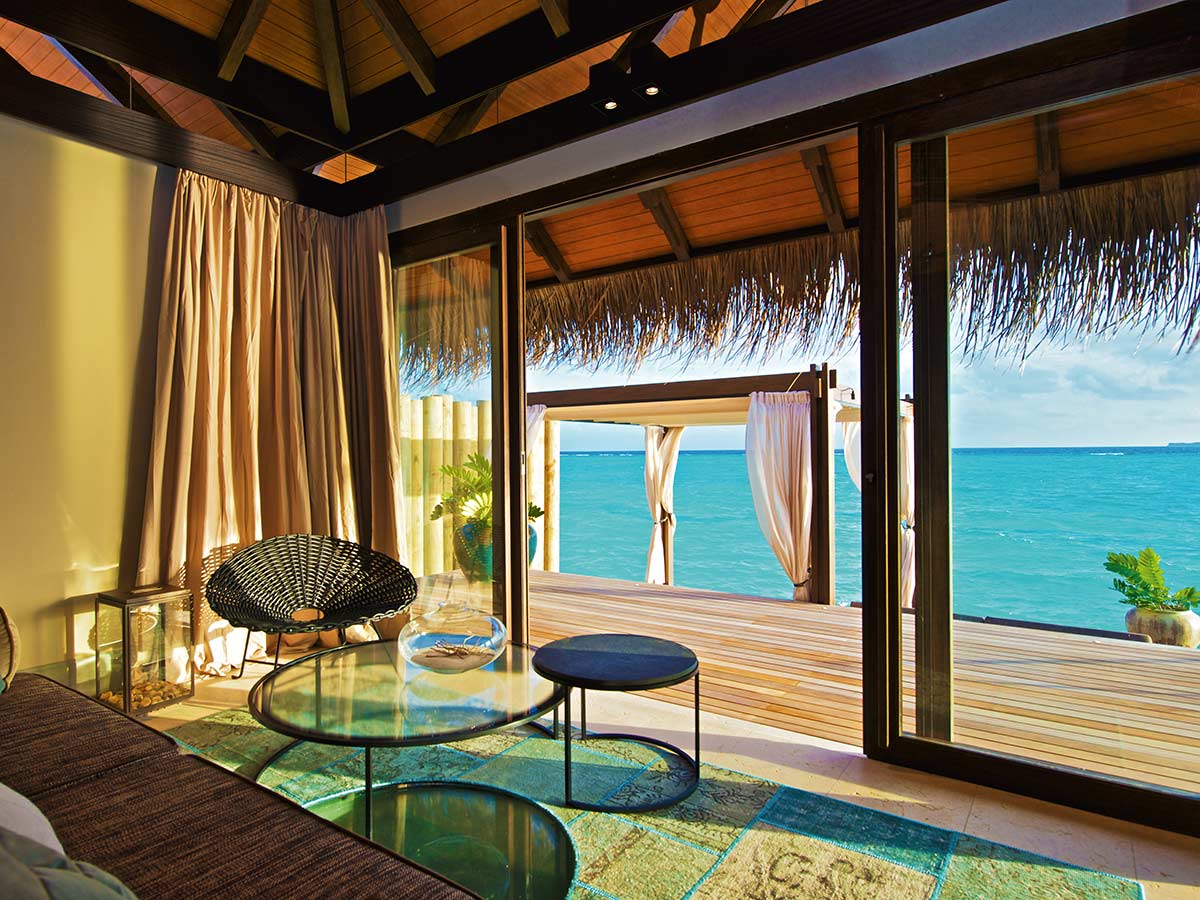 SUNSET DELUXE WATER POOL VILLA
SUNSET DELUXE WATER POOL VILLA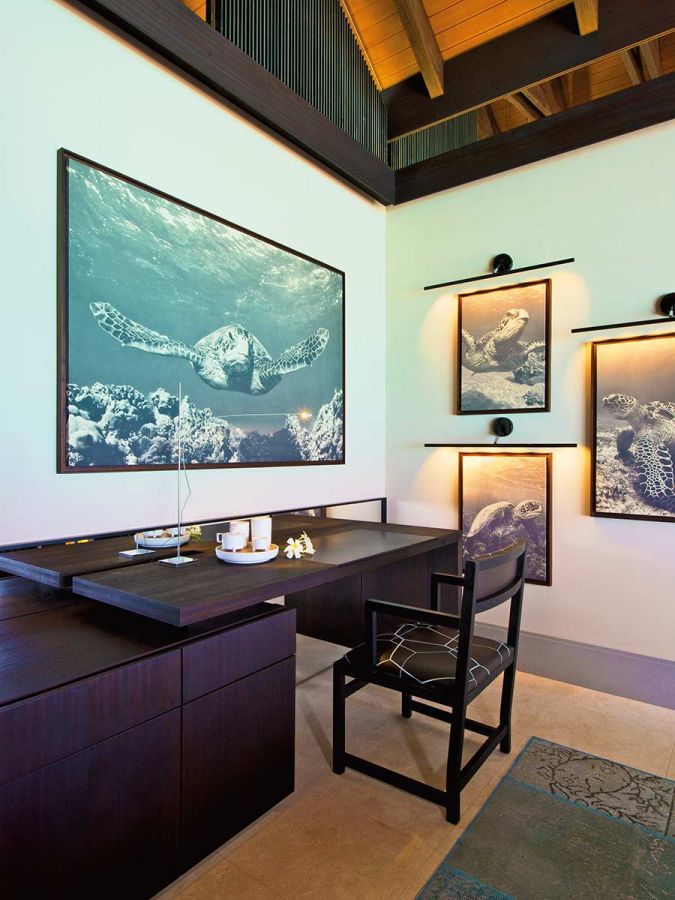 SUNSET DELUXE WATER POOL VILLA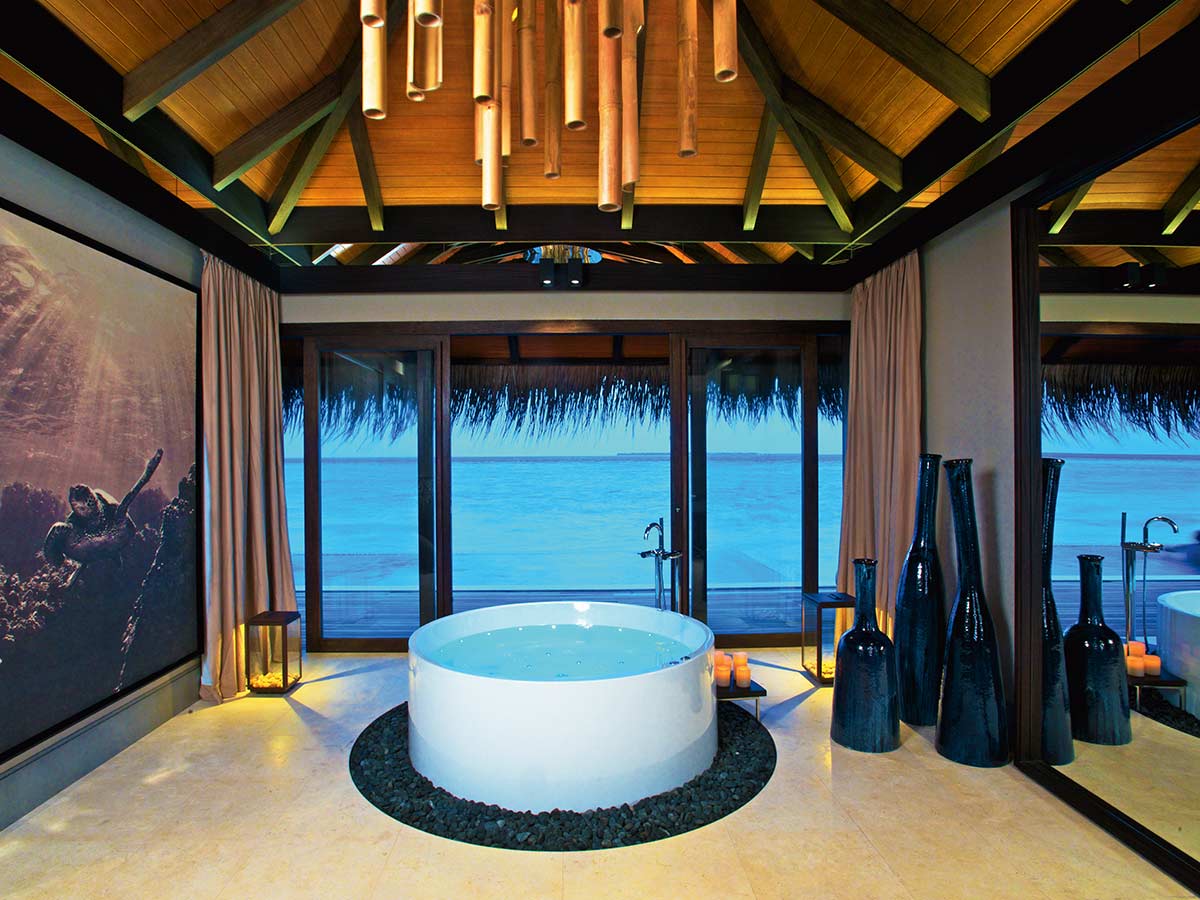 SUNSET DELUXE WATER POOL VILLA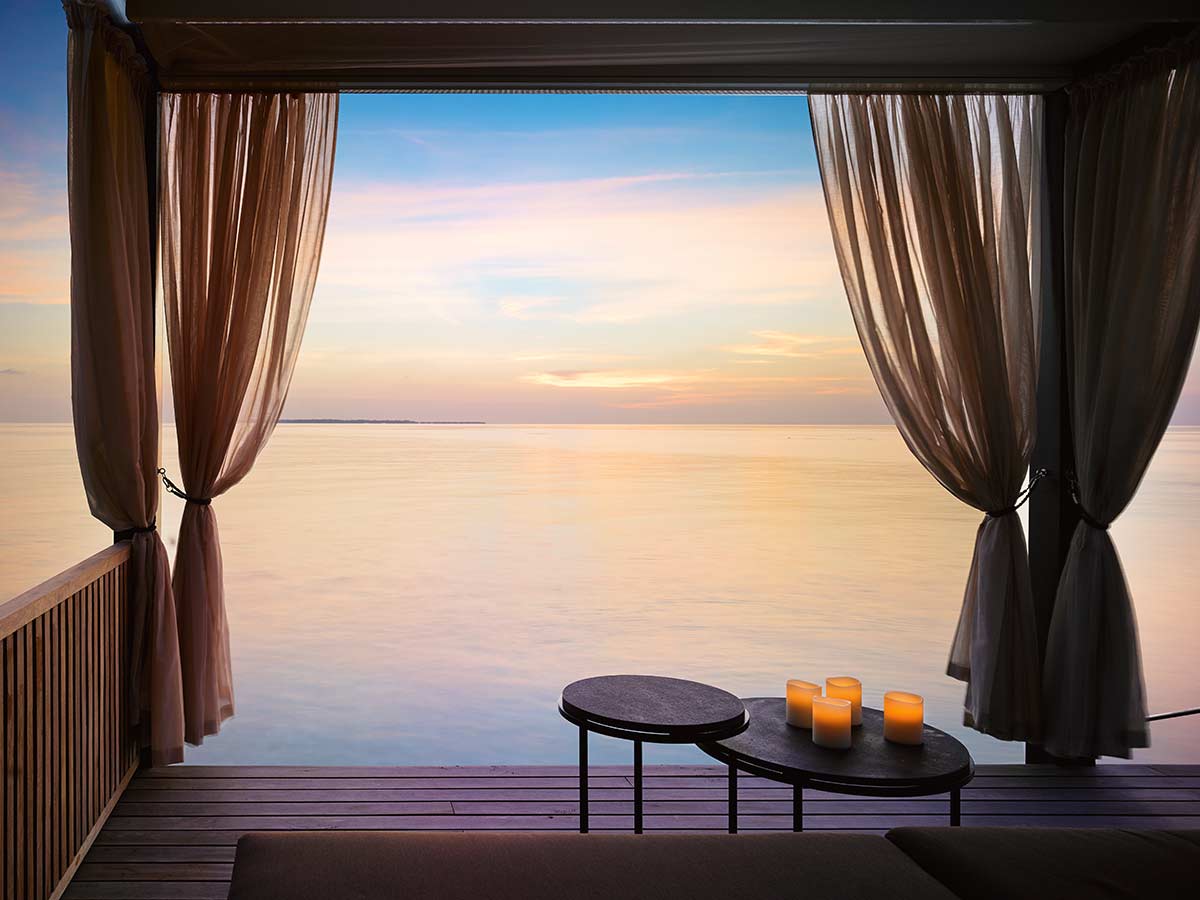 SUNSET DELUXE WATER POOL VILLA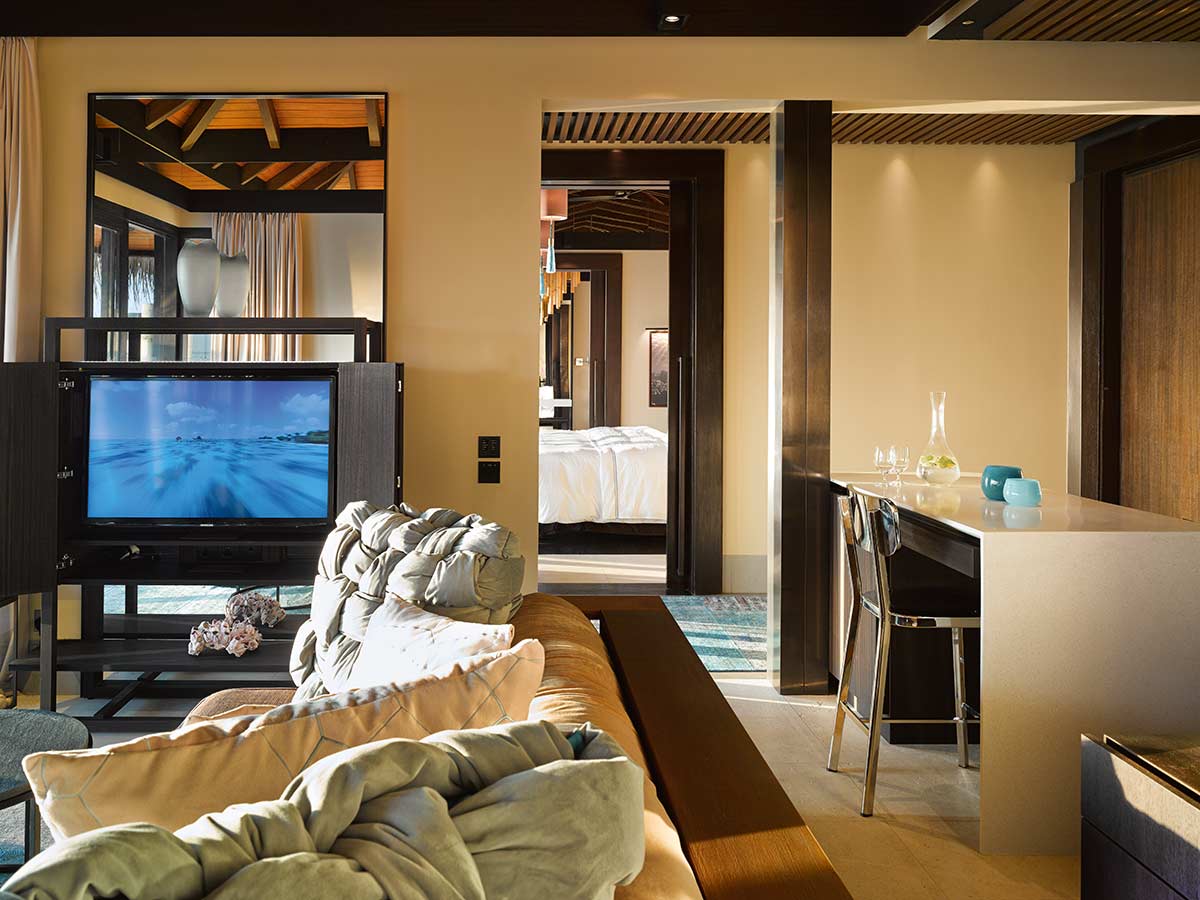 SUNSET DELUXE WATER POOL VILLA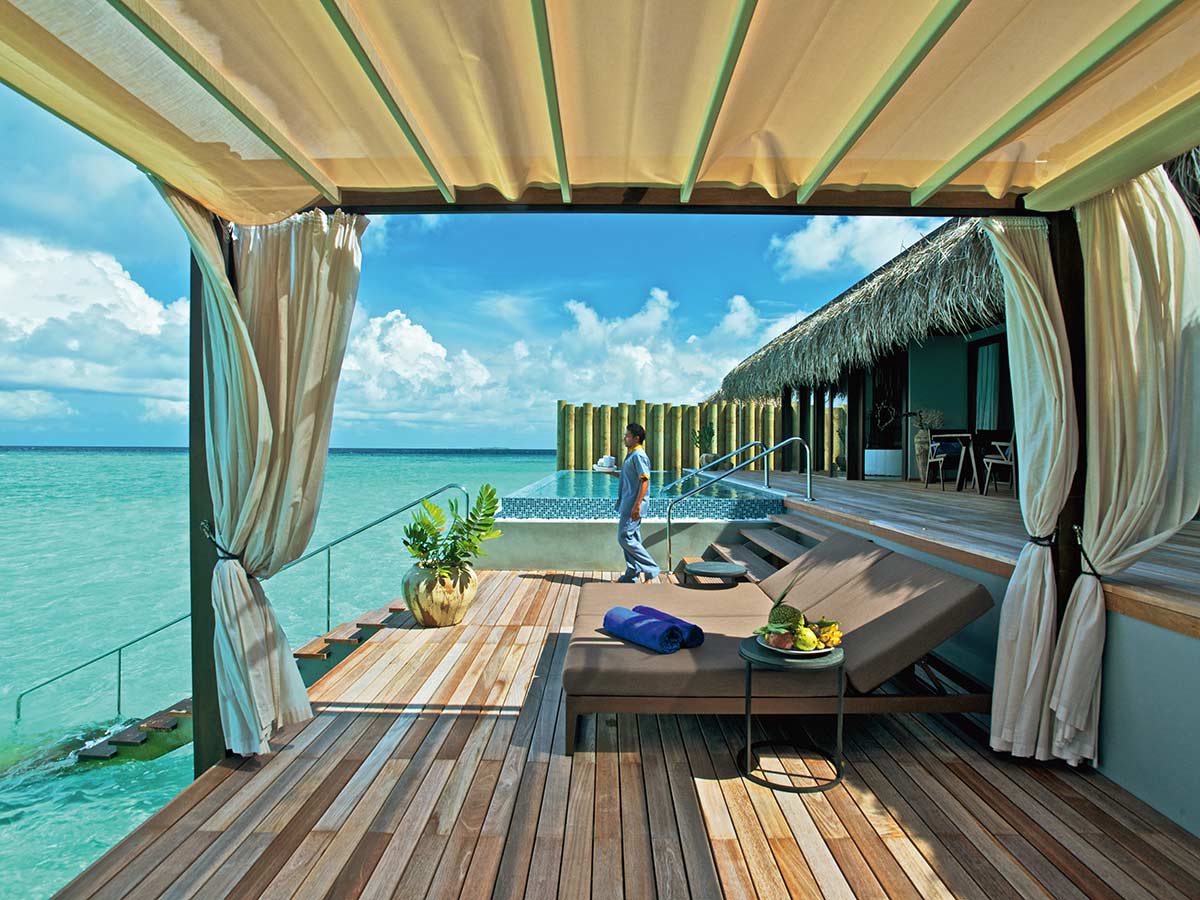 SUNSET DELUXE WATER POOL VILLA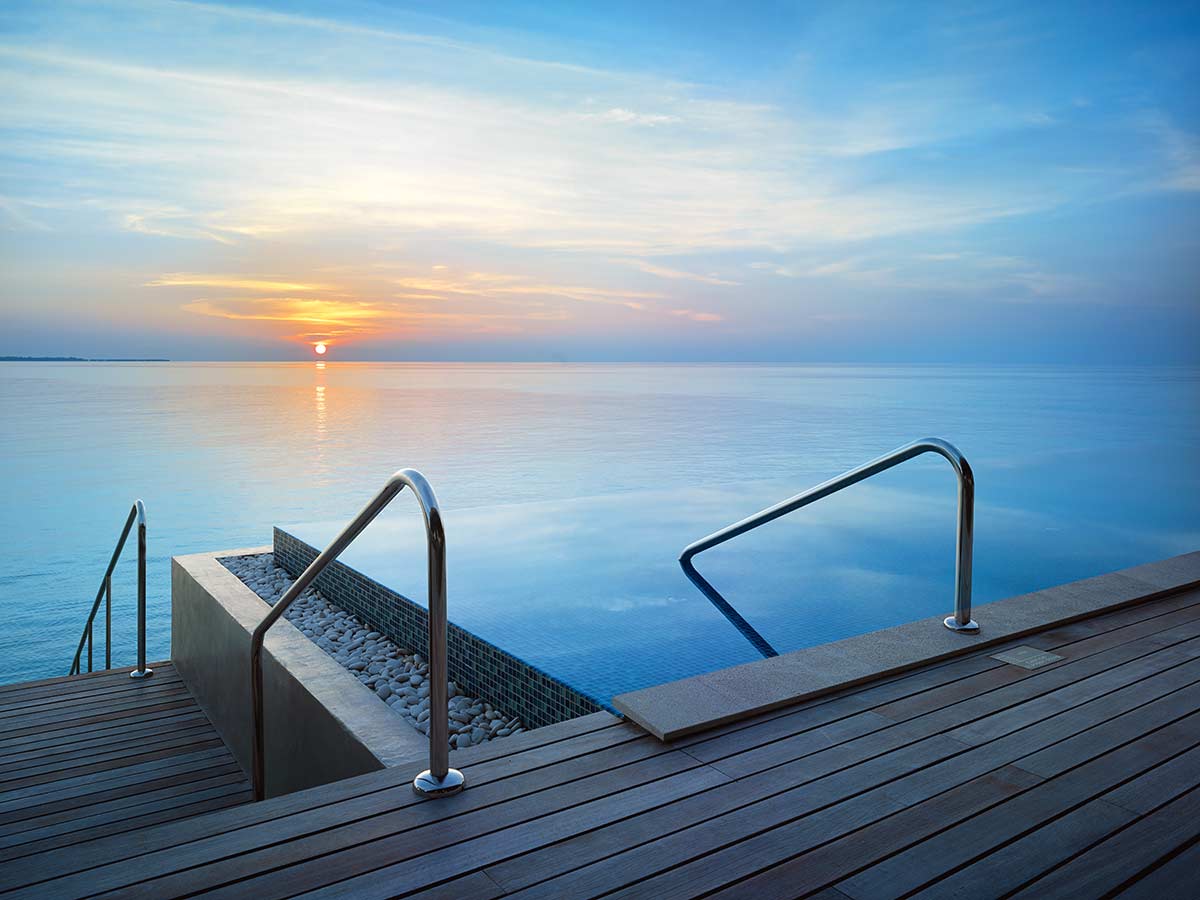 SUNSET DELUXE WATER POOL VILLA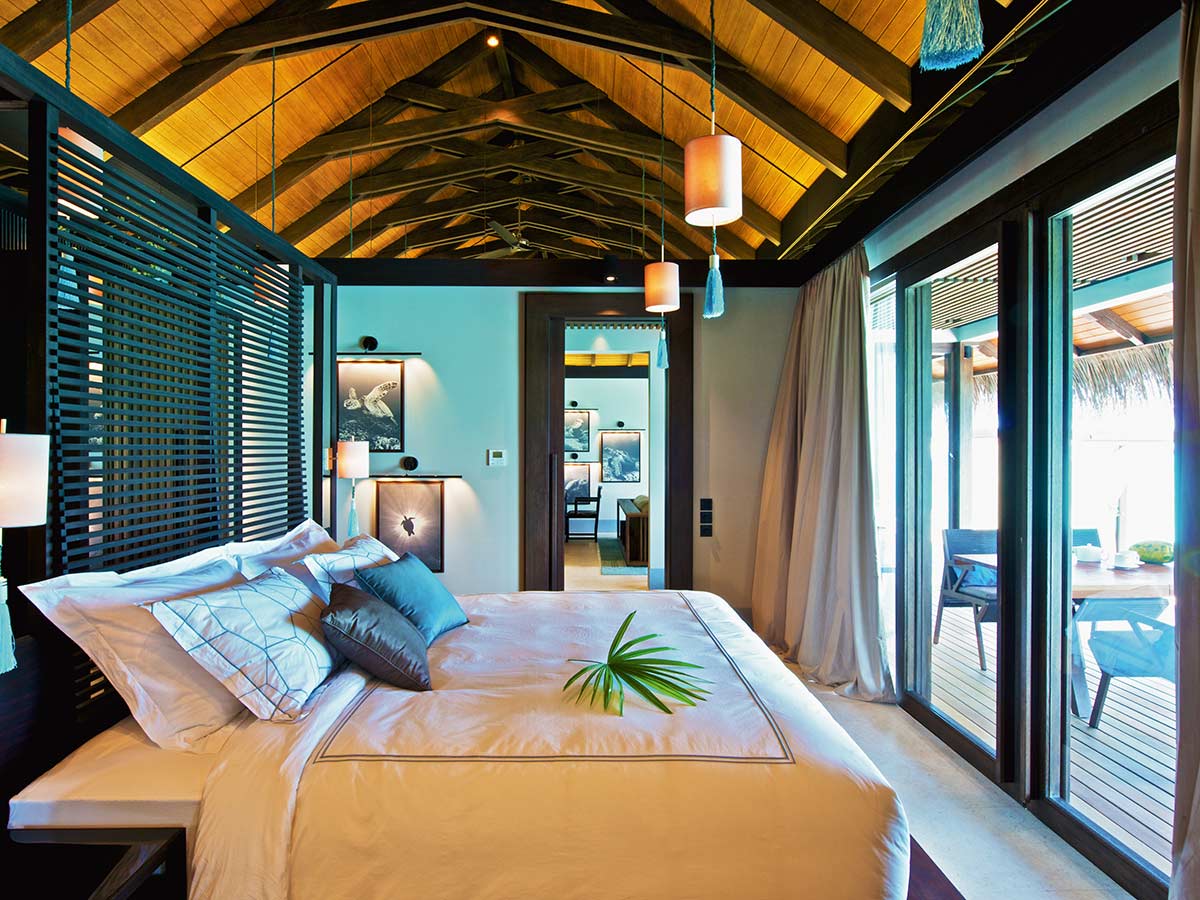 SUNSET DELUXE WATER POOL VILLA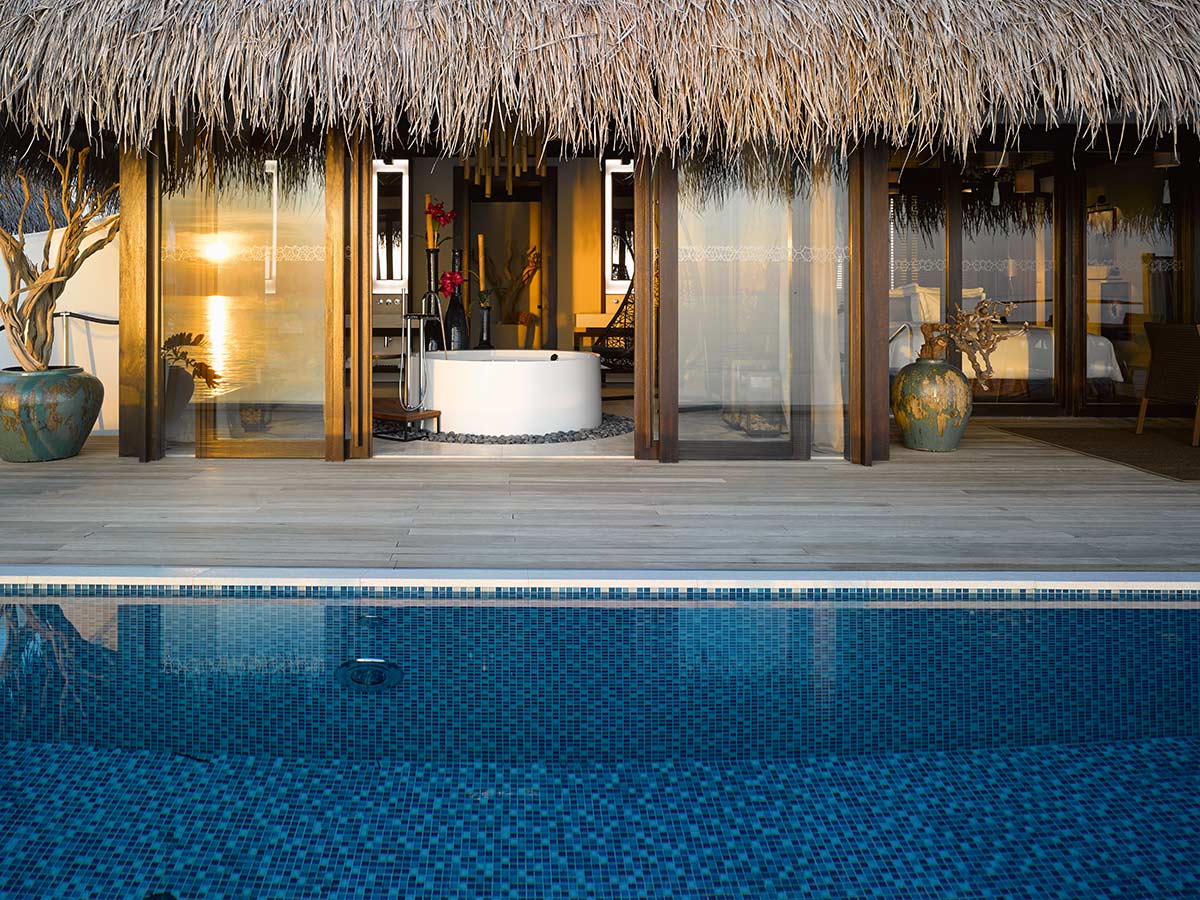 SUNSET DELUXE WATER POOL VILLA
Ocean Pool House
This two-bedroom pool house is perfect for small families or groups traveling together. An exclusive private domain located at the tip of the island with traditional thatched roofs gives you elegant living space with a design specially curated for maximum privacy and comfort. Shutters let the sea breeze flow through to play with your senses while you relax on a deep sofa covered in cushions. You can swim in your private pool and relax on the sun deck with the ocean visible all around you. You will also be able to enjoy two gazebos of choice; one with a sunken hot tub the other with daybeds with plenty of cushions. This villa offers you two spacious bathrooms with circulars baths to give you a refreshing bath after a long day enjoy the shallow calm waters or the pool. This villa will give you a sense of living on the ocean whilst you are surrounded by the blue waters that have a soothing effect on anybody that gazes into it.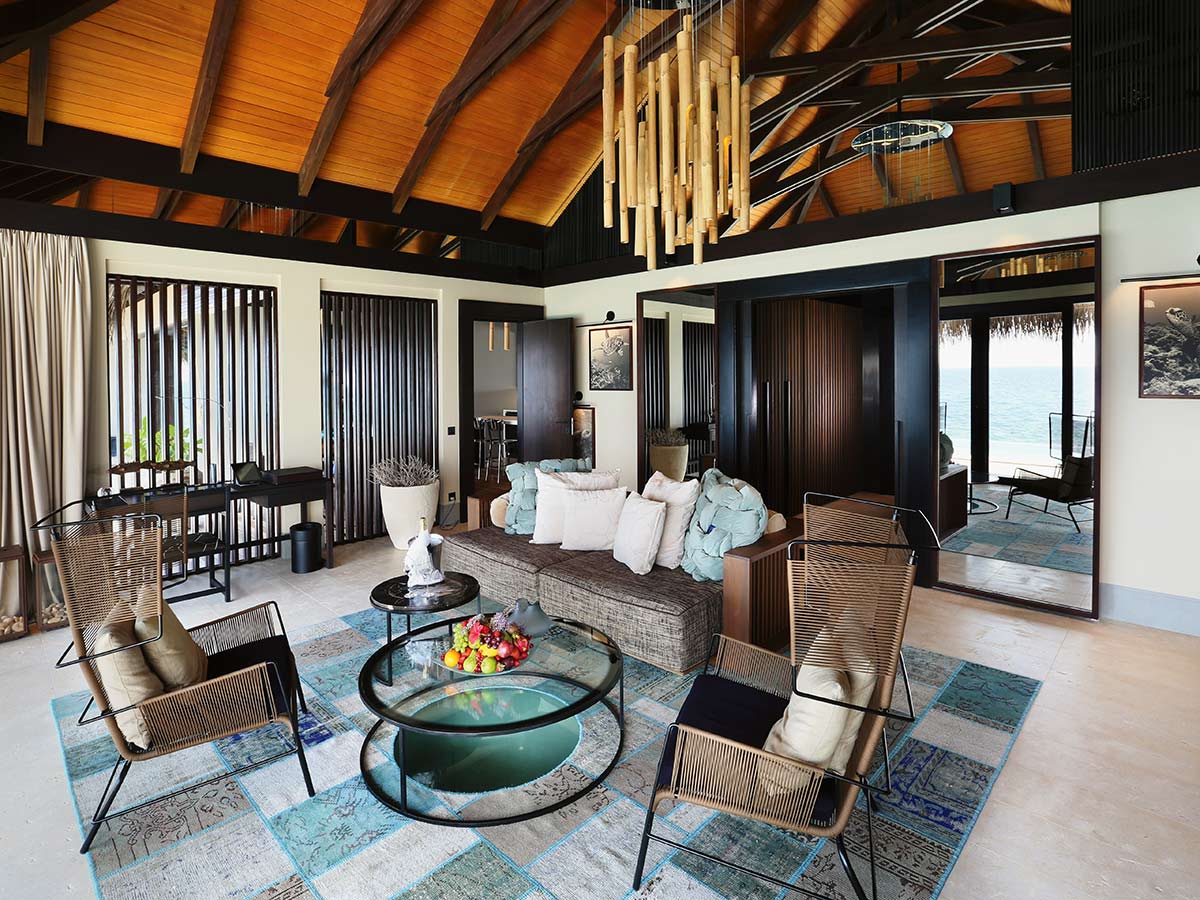 OCEAN POOL HOUSE
OCEAN POOL HOUSE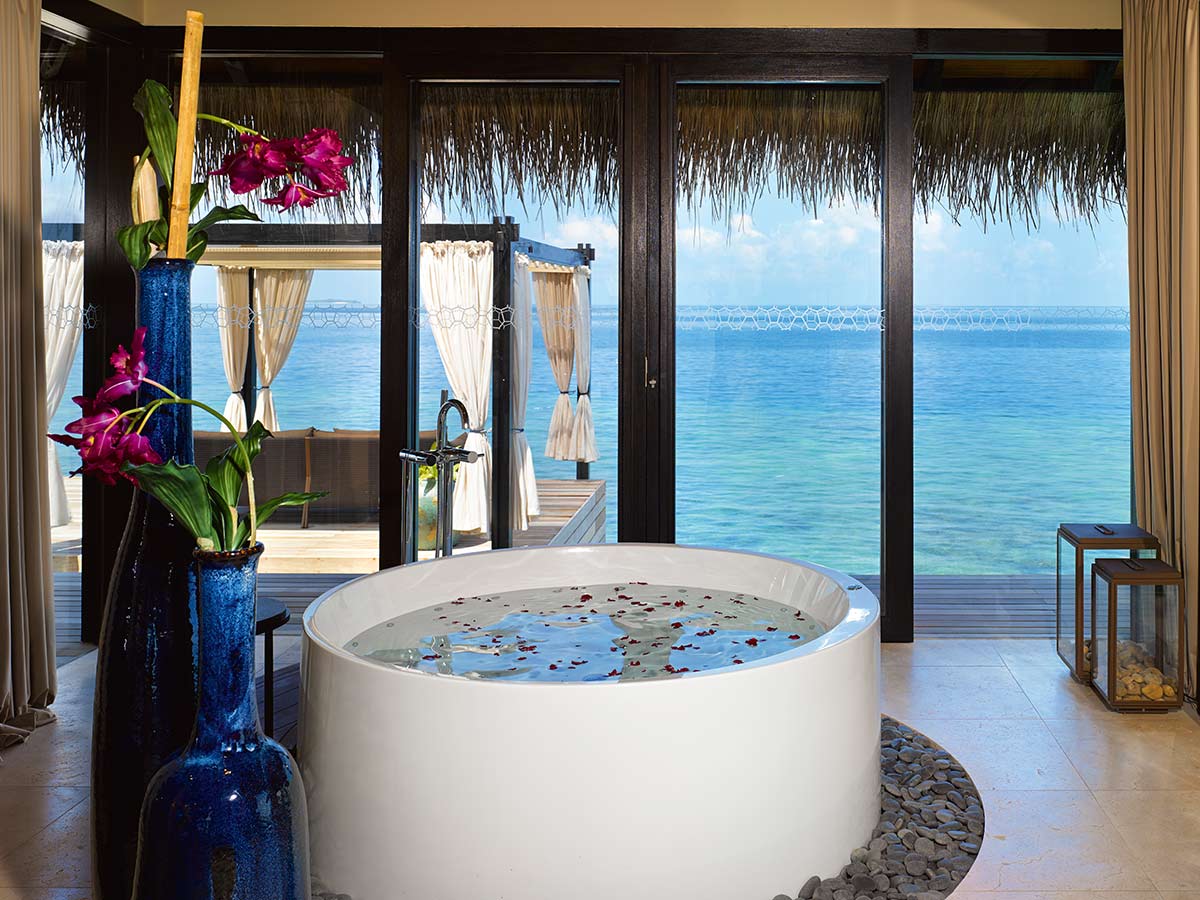 OCEAN POOL HOUSE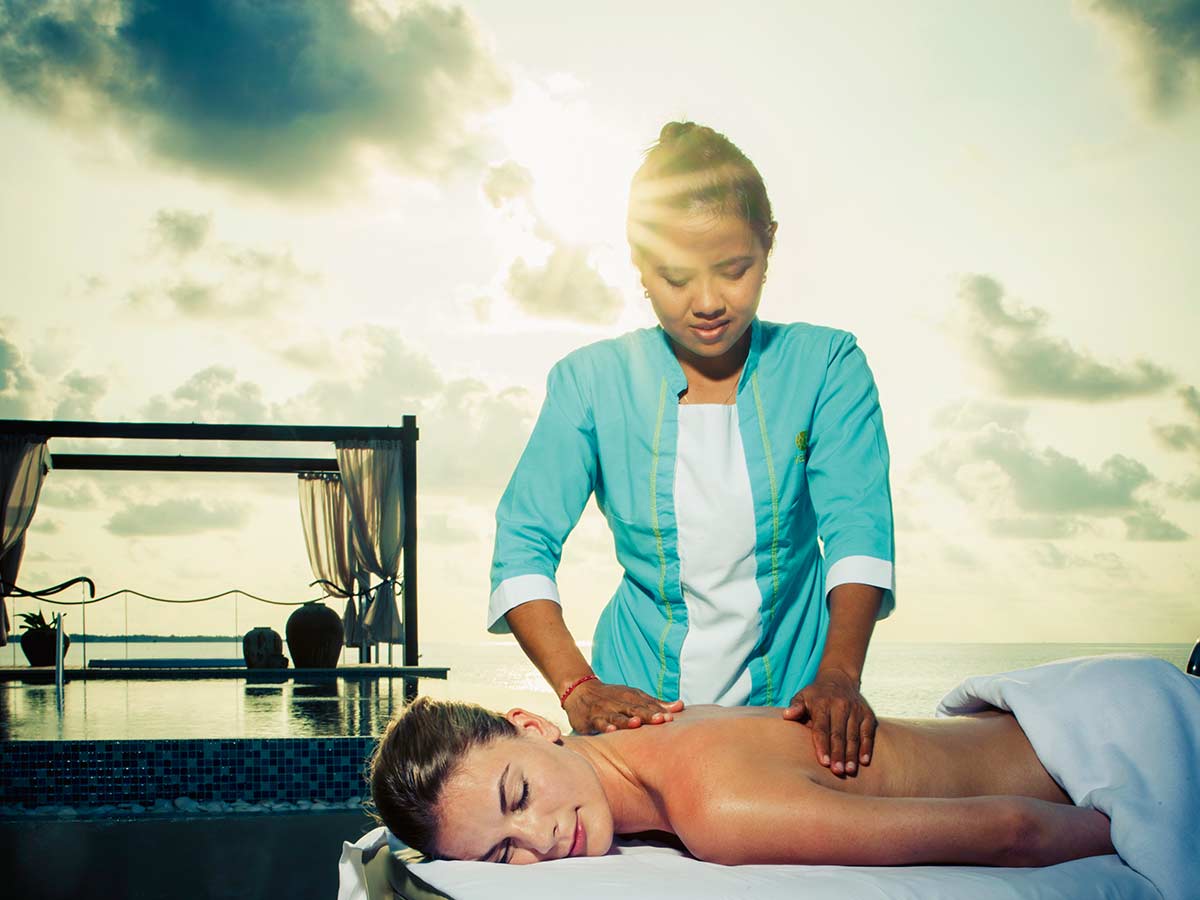 OCEAN POOL HOUSE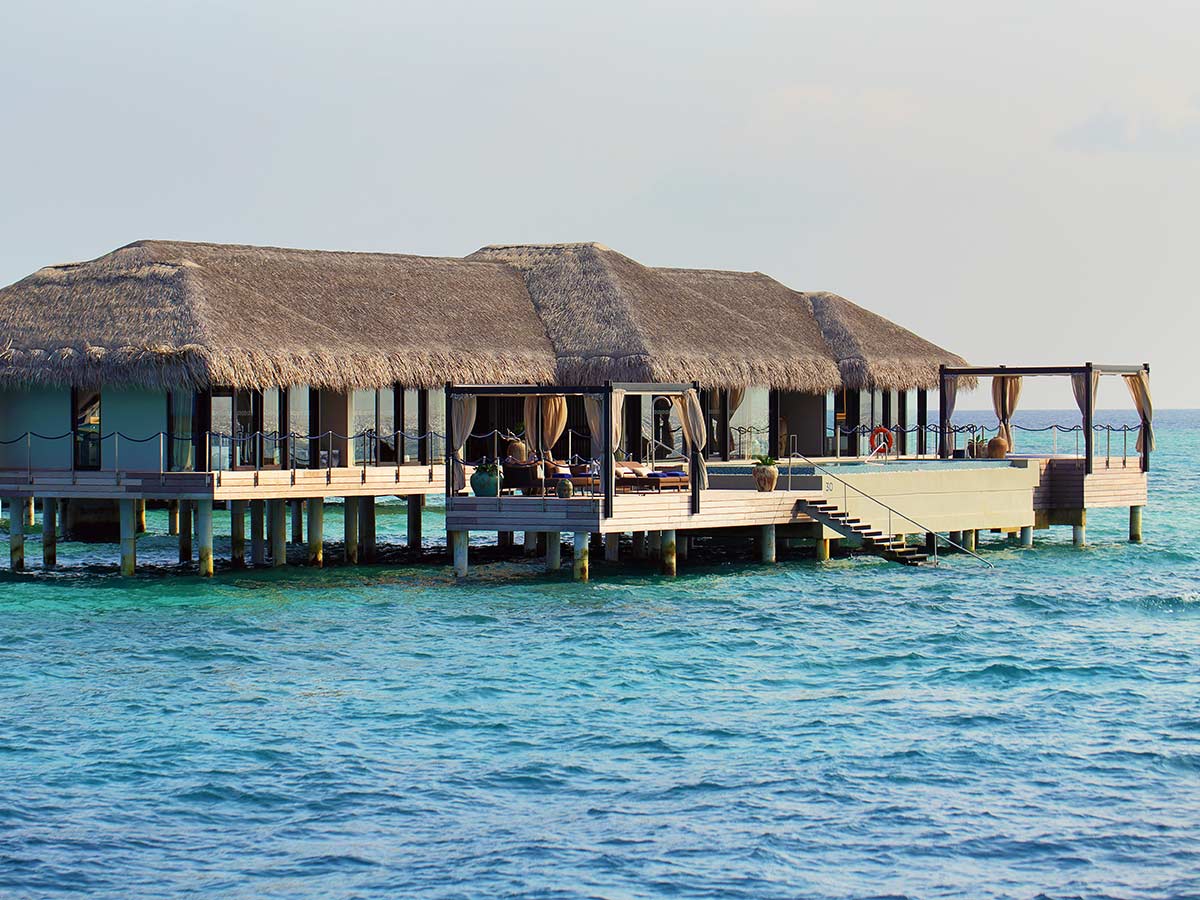 OCEAN POOL HOUSE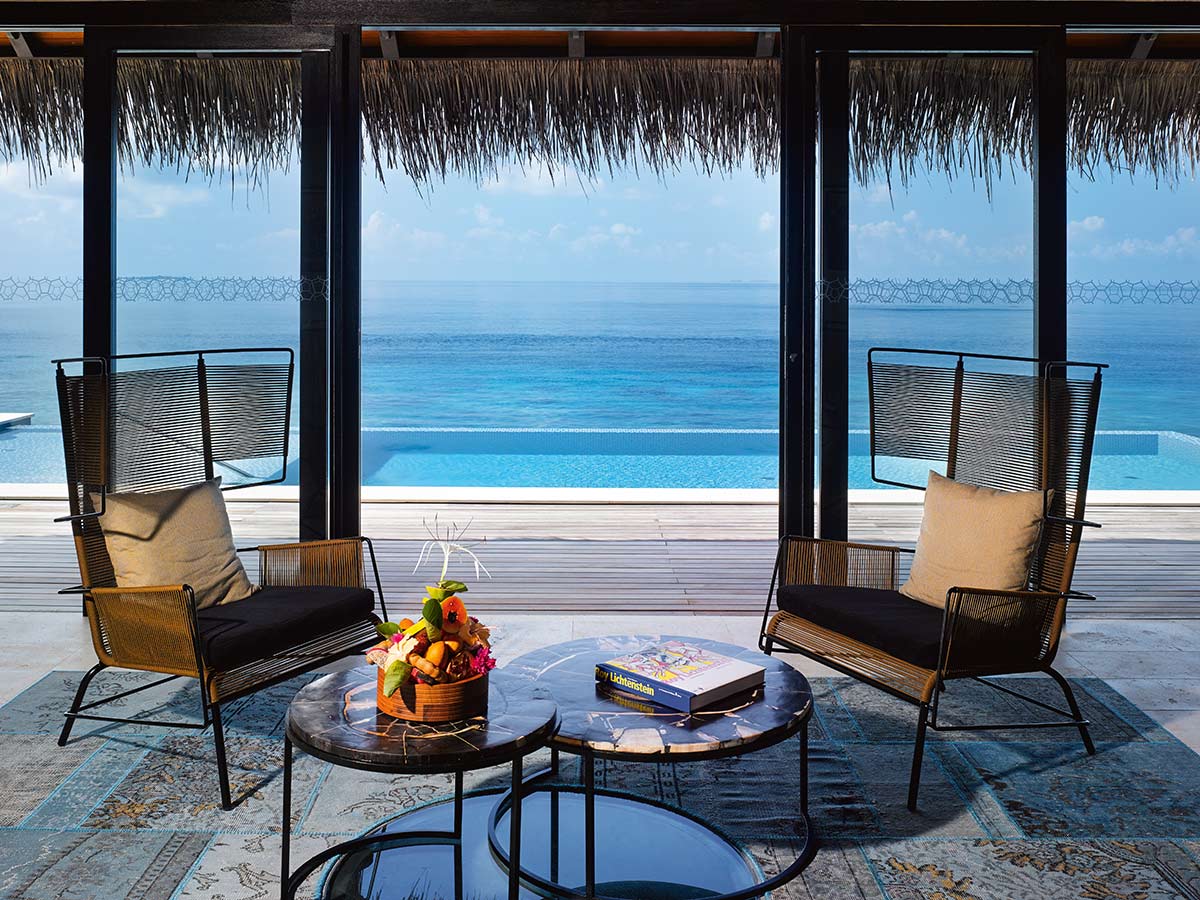 OCEAN POOL HOUSE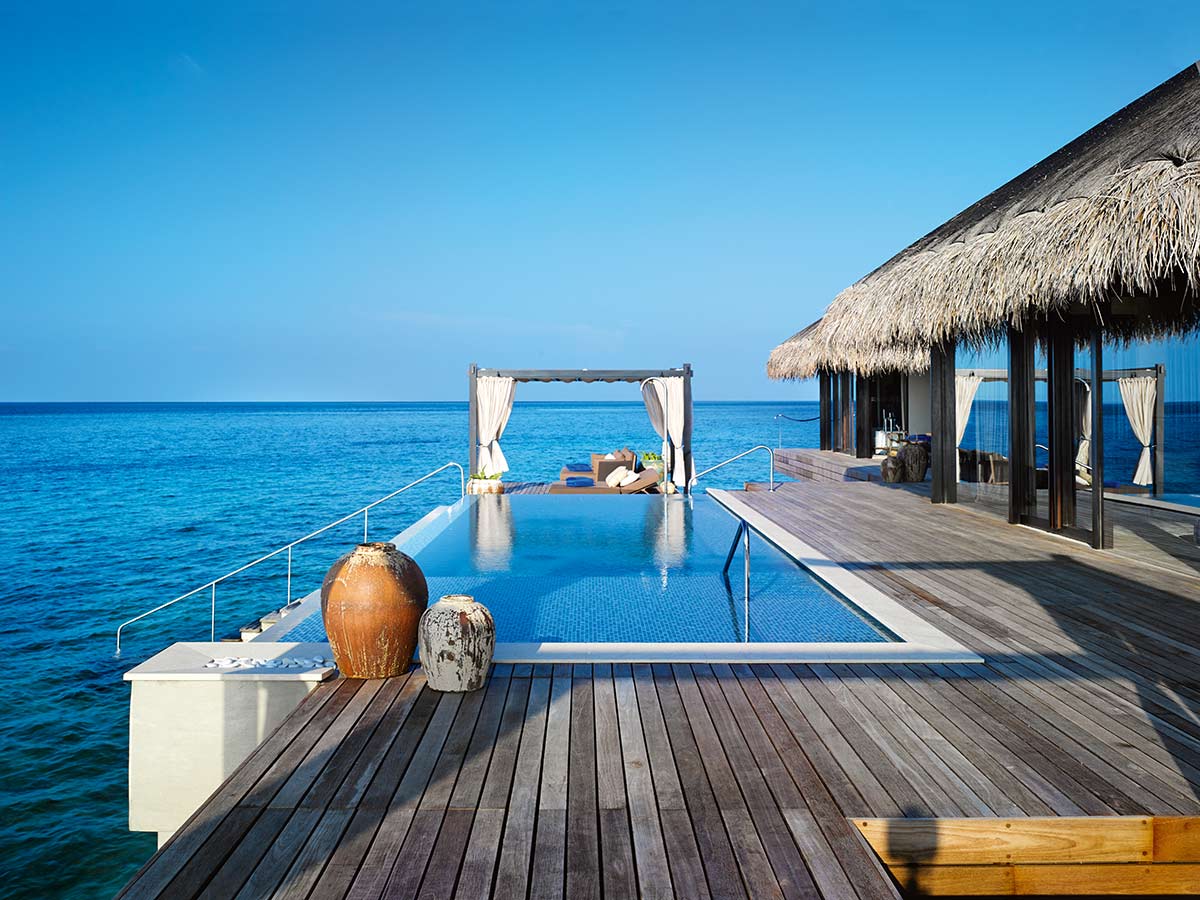 OCEAN POOL HOUSE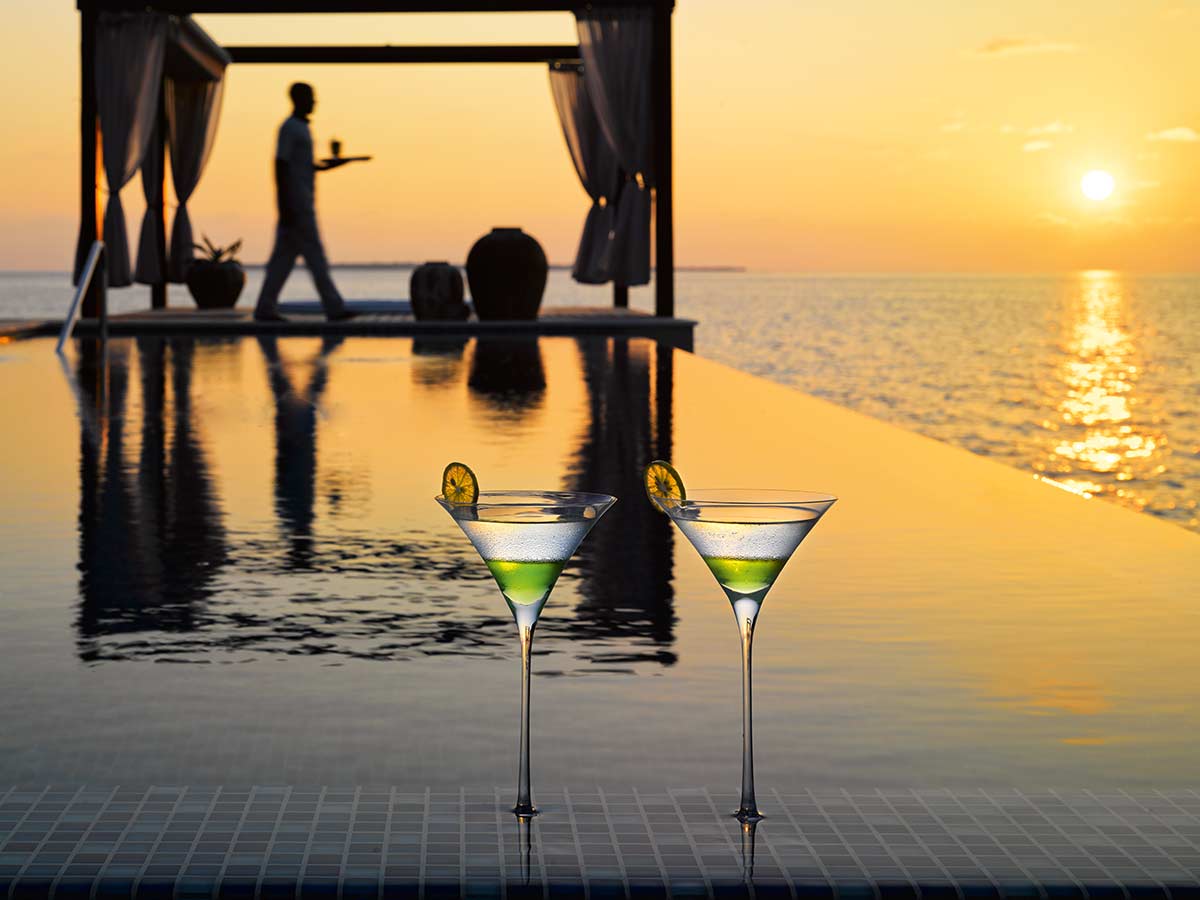 OCEAN POOL HOUSE
OCEAN POOL HOUSE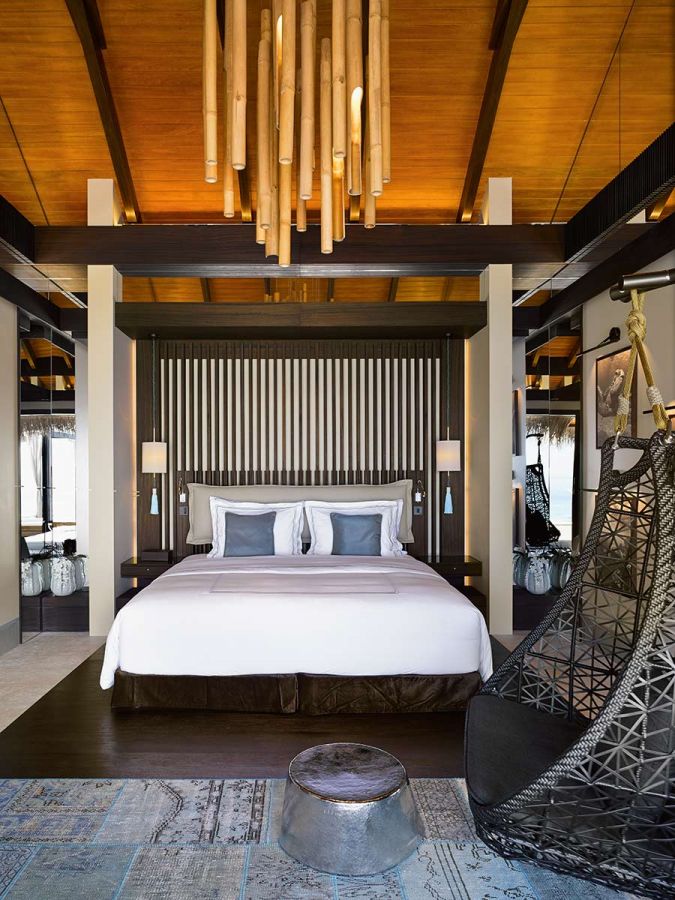 OCEAN POOL HOUSE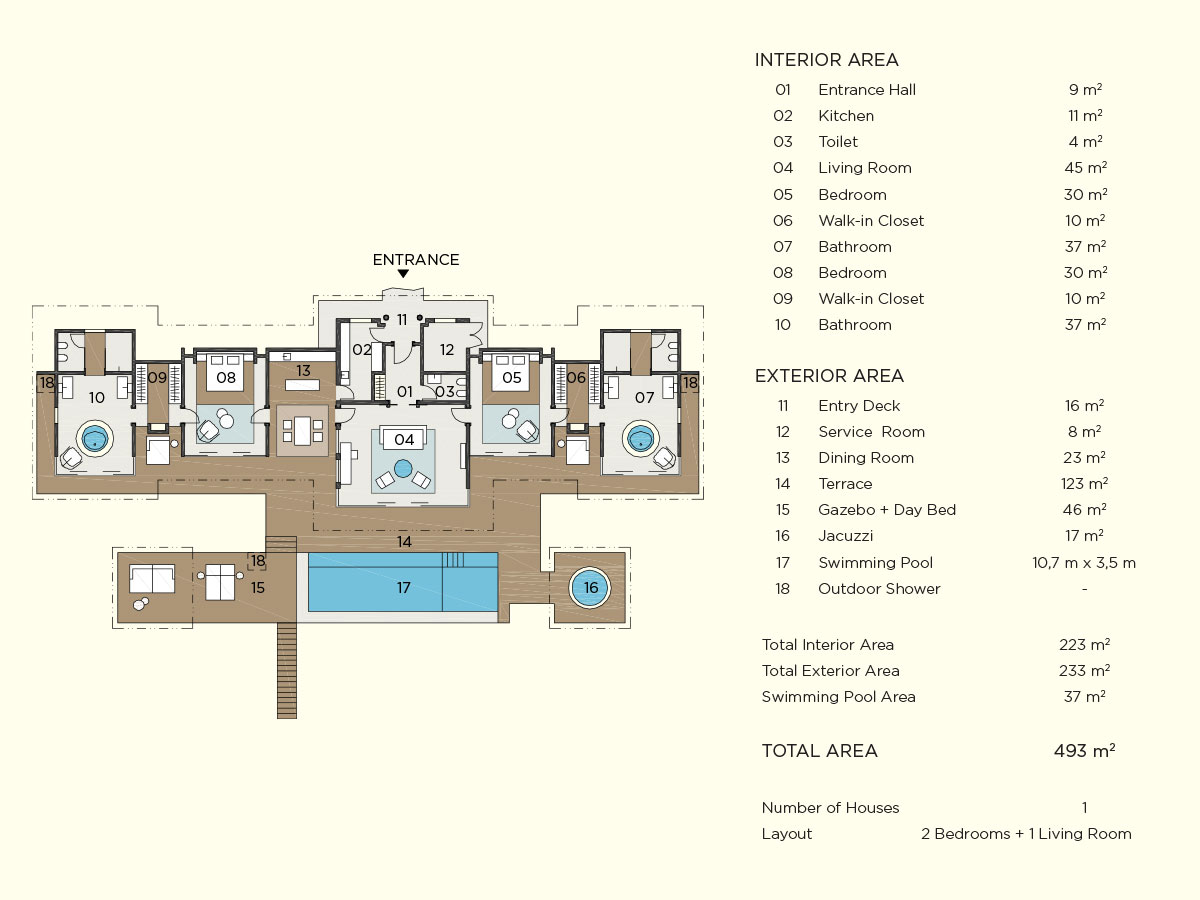 OCEAN POOL HOUSE
Romantic Pool Residence
If you are seeking ultra-luxury and privacy, this Romantic Pool Residence is the best choice. This is the jaw-dropping water villa where many celebrities including Paris Hilton had stayed. This one bedroom, one living room villa is accessible only via a boat is suspended above the lagoon giving you different remarkable views of the Indian Ocean whilst ensuring you are given utmost privacy making it perfect for honeymooners. This villa includes a personal spa, massage room, gym, gazebos with dining tables and day beds, its very own private beach, swimming pool, outdoor shower, and a dining room. Celebrate your love life in this ultra-luxury villa designed with neutral colors and natural material to give off a calm and relaxing ambiance. All the rooms open onto the terrace where the Jacuzzi, pool, sundeck, and sunken bath is located varying degrees of views towards the horizon. You may choose to dine inside or over the water in the dining gazebo that is on its very own jetty facing the horizon where the sunsets. Perfect for celebrating your love life and wedded bliss, this villa will give you a luxurious romantic experience that is no short of a fairytale that most of us dream about. This villa is one that is worth bragging about.
Regardless of which water villa you choose, a stay in any of these villas would be special and worth your money. Velaa Private Island takes pride in giving excellent and well-tailored service with its highly trained staff combined with the exquisite and detailed designs that play with all your senses. One would not want to miss out on this once in a lifetime experience that will be worth every penny you spend.
Things to do at Velaa Private Island
Apart from luxurious rooms, this private islands offers a number of things you can do during your stay. One or two days would not be enough to spend here given the number of activities and facilities they have for you to try out. Whether you are a young or young at heart, whether you are a land creature or an aquatic beast; Velaa Private Island has activities for everyone to enjoy. It promises to vacation for your mind, body, soul, and all of your senses.
This resort island offers a wide array of water sport activities including parasailing, kite surfing, catamaran, jet-ski and stand up paddleboards. These adrenaline filled activities will get your blood and adrenaline pumping and take away all your worries and troubles. With their high tech toys, any of these activities is a sure way to fulfill your adrenaline-fueled dreams.
Noonu atoll is well known for its rich marine biodiversity which includes some of the oceans majestic creatures such as the manta ray, black-spotted stingray, eagle ray, nurse shark, grey reef sharks, and a variety of marine animals. There are various dive sites located nearby Velaa Private Island where you can enjoy the absolute tranquility and weightlessness that the ocean has to offer.
Their covered tennis arena which is protected from the elements allows you to play at any given time of the day. This recreation ground offers many other activities such as squash, badminton, beach volleyball, and a 6-meter climbing wall. Get rid of toxins in your body through sweating by picking up a ball and playing any of these sports that this beautiful scenic island offers.
A sensual glide across the ocean on a luxury traditional batheli (a small traditional Maldivian boat) is exactly the romantic getaway you deserve. They also have a powerful fishing boat, just the kind that most fishing enthusiasts will appreciate. A day spent well with your loved one is arranged with your comfort in mind. From the fishing equipment to the furniture; everything is carefully sorted out. And for those you'd much rather lazy around in fine luxury the prestige 'Velaa' Yacht will accommodate you a day filled with sunbathing and salty hair.
A meaningful location is key in creating the perfect moment a memory that will last a life time. Velana marine fleet has a range of large vessels for any occasion. Whether your desire an exotic deserted island, an immaculate pristine coral reef or to witness an atoll filled with a variety of marine flora and fauna.
Nothing can be even more peaceful and relaxing than a yoga session on an island paradise. The resort also offers meditation and personal training. You get to promote mental focus through stretching breathing balance as you relax your body and mind through collective breathing techniques, postures, and exercise.
A raised-tree meditation platform with views of the golf course and lush island gardens is where the yoga and meditation classes are held or you can choose to experience it while overlooking the beautiful ocean on their beach meditation platform.
Re-energize and improve the tone and strength of your during your vacation as you achieve your personal goals with various fitness options that you get to explore in the island's gym. The gym features the latest 'TechnoGym' fitness equipment and which also includes a Kinesis and Power Plate machine.
One thing that sets Velaa Private Island apart from other resorts is its golf course. This golf course was designed by Jose Maria Olazabal, a renowned golfer known for his short game prowess. This golf course combined with the experience of Velaa Private Island in providing an exemplary service sets out to give you a golfing experience like no other. As they describe themselves, playing here is like "Practice in Paradise". The golf course comes with nine different tees, six greens, seven bunkers, and a wonderful turquoise lake. Velaa Golf Academy by Olazabal will provide you everything to develop your game on this unique island paradise.
Satisfy your inner shopaholic on this island with the highest men's and women's fashion labels, bespoke & edition jewelry collections, lavish accessories, lavish children's assortment, and a full vary of distinctive gifts. For the bookworm in you, you can sit and unwind in this island library with over 1000 carefully chosen books and magazines of varying interest, all organized in a calm interior. You can reconnect with your friends and family back home with their high-speed wireless internet, or simply enjoy a cup of tea while reading a book of your choice on the coziest seats.
Dining Choices
Luxury rooms alone cannot satisfy someone, as M.F.K. Fisher once said "First we eat, then we do everything else". Give your taste buds an experience of a lifetime with different restaurants and bars you can select from on this private island. Each one is designed differently, promising to play with your senses and making sure you are provided with the best food. Velaa Private Island does not shy away when it comes to dining. Every meal, starting from your breakfast to dinner and each sip of the drink you have is made with highly experienced chefs and bartenders. Topmost quality is ensured with every bite and sip to tingle your taste buds and give your body a refreshing boost so that you can go about enjoying your time and taking part in various activities.
'Athiri', a local word for beach offers you a selection of A la carte menu at any time of the day on this stunning beachfront restaurant whilst you enjoy the mesmerizing views. For breakfast, they have a buffet with fresh fruits and a choice of cooked breakfast to suit any mood. Enjoy the pristine blue lagoon and the tropical trees with a signature pizza fresh from a wood-fired oven or watch the sunset across the beach while savoring a selection of their finest specialties prepared specially for you.
'Avi', a local term for 'sunlight' is a spectacular bar set against the backdrop of the mighty Indian Ocean. This is the perfect place to unwind and sip on your favorite cocktails whilst relaxing by the pool. They have their mixologist and live DJ. What's amazing about this bar is the transformation from a casual pool bar at the day to a vibrant cocktail bar by night. At night it gives you an amazing view of the stars above and envelops you in an energy that is hard to describe in words. It is one of those things that you need to experience to truly understand what it feels like.
'Tavaru'; a variant of the word 'Tower" is a restaurant specialized in Teppanyaki grill cuisine. It showcases their chefs' skill and mastery on the Teppanyaki grill plate. This restaurant offers you a break taking view of the beautiful azure waters and the island itself. You can almost touch the stars as you settle down to dinner and watch the theatre of their talented chefs from a front-row seat as they slice, dice, season and create bespoke menus with a unique aptitude and finesse proper beneath your nose apart from the scorching warm iron plates of the Teppanyaki grill.
For the wine enthusiasts, Tavaru hosts the island's extensive wine cellar that is the largest in the Maldives with over five hundred bins. They can offer their guests a very rare possibility to find out gems consisting of the 1956 Domaine de l. A. Romanée Conti "Romanée Conti", rare vintage Salon Champagne, and a centuries-old fortified 1870 Blandy's "Verdelho Solera", their list of wine has some rare gems that come from across the globe.
'Aragu' is the pick if you want to experience a modern twist on European cuisine. They combine the passion for culinary art with awareness and sustainability by favoring carefully chosen organic produce from around the world. It does not get any healthier and authentic as the experience at Aragu. Lavish yourself to the chef's classical culinary techniques coupled with contemporary ideas and carefully selected ingredients with promises to take your gourmet experience to new levels.
CRU is a Champagne Lounge overlooking the crystal clear waters of the majestic Indian Ocean. With its elegant design, you can taste some of the world's finest and rarest champagnes under the guidance of their expert sommeliers. Any time of the day this lounge will give you amazing views to relax and enjoy whilst sipping on your drink.
Choices are abundant on Velaa Private Island. Make sure that you communicate all your needs and wants with your butler so that they can arrange to tailor your vacation according to your needs. If you forget they will always be at your service to cater to your every whim.
Other Accommodations
Apart from water villas, Velaa Private Island offers you 4 different villas. Whether you pick a water villa or a beach villa you will not be disappointed with the hospitality and the service of the friendly staff. Each unique villa comes with its pros and cons. It all depends on what you desire and the island resort will not come short of your expectations.
The Beach Pool Villa is a one-bedroom beachfront villa that gives you a natural vibe with its Mahogany louvered panels, intricate lofty ceiling with teak furniture, and suspended bamboo lights. It comes with its terrace and private pool. In the morning the villa is filled with light but remains shaded and secluded by the cluster of palms. It comes with an indoor bathroom and a spacious outdoor bathroom connected y a garden atrium with daybeds covered by a gazebo. You also get a fine view of the Indian Ocean on the dining area with day beds and swinging chairs.
The Deluxe Beach Pool Villa is a private one-bedroom beachfront villa with a spacious living room, an outdoor terrace, private pool, indoor and outdoor bathrooms. Built similarly to the Beach Pool Villa with natural materials and colors brings you a natural aesthetic with suspended chairs adding a playful element to this villa. The outdoor bath features a big bath and deck with reclining daybeds. During sunset, you would want to be at the dining area by the pool to view the mesmerizing colors that nature displays during a sunset.
The Beach Pool house offers you a panoramic view of the lagoon on its standalone outdoor dining platform. This villa is a two-bedroom beachfront house perfect for families. It comes with a large living area to facilitate a relaxing environment during the day and a social hub in the evening. The living area leads to the kitchen which is complete with bar and high stools, perfect for catering and socializing over snacks and light meals. This villa is placed in lush foliage with gently swaying coconut palms the Maldives is famous for. It brings nature right into your own house giving you a sense of being one with nature. The bedrooms have louvered wood to bring you natural right whilst ensuring maximum privacy. Outside on the spacious terrace, you can take a dip in the large private pool and soak in the tropical sun on the carefully laid out day beds.
Last but not the least we have the Velaa Private Residence, a two-story, four-bedroom ideal for medium to large families and groups. With its elegant and contemporary design and 1350 square meters of private interior and exterior space including two terraces, a pool, and a courtyard offer you a stay incomparable in the Maldives. It is isolated on a private beach to deliver you privacy and comfort in style. Every bedroom faces the vast Indian Ocean across the white sandy beaches the Maldives is well known for. The ground floor bedroom opens onto the pool and the 1st-floor bedroom has spacious balconies. The villa is set out to redefine 'options' when it comes to where you stay. The indoor and outdoor bathrooms are connected into a garden atrium giving you a rustic feeling and being secluded. This villa also comes with two gazebos for dining, relaxing, or playing with a pool that reflects the ever mighty Indian Ocean. It also comes with a gym, spa room, and outdoor living area. "Luxury within nature" is the most simple and perfect way to describe this villa.
Is it children friendly?
If you are traveling with family and children you will have little to worry about during your stay. Velaa Private Island is a wonderland for children with their Kids Club called 'Lha Velaa Club' (which translated to young turtle) that has a large playground, swimming pool all dedicated to children with personal services of their experienced youth carers. Children can enjoy a wide variety of activities to get their energy out or simple wind down with a book and a comfortable bean bag that will provide utmost relations. With these youth carers you can be rest assured that you will be able to enjoy your day without having to worry what your children are up to. You can create wonderful memories for yourself and your children on this magical island whilst ensuring all their needs and wants are taken care of. You can trust Velaa Private Island to take care of both your needs and your children's needs and to ensure you and your family leave with memories they will hold onto for a lifetime. Don't take our word for it; take the words of multiple repeat guests that visit this private island paradise.
Love is in the air
The Maldives is a well sought after destination when it comes to celebrating your wedded bliss. With hundreds of islands to choose from one might wonder what would be the best choice? Whether you are giving it as a gift to your spouse or someone close, selecting the best place to celebrate this very special moment would be a daunting task. But fear not! Velaa Private Island might be the best choice to show someone how special they are to you. With a wide range of villas and services to choose from it is an experience that will have your loved one swooning all over you. It is hard not to feel the love in this private little paradise designed very carefully so that you can have all of your senses immersed with one another and the surrounding.
This ultra-luxury private island will make sure take your celebration is forever etched into your memory with celebration and happiness that someone as special as you deserve.
This resort island caters to weddings and honeymooners alike. With a celebration like no other designed especially for you, walking down an aisle that is filled with fragrant petals on a stunning private sandy beach. After you walk down the aisle you will be showered with confetti under a majestic alter. After your wedding ceremony a banquet befitting your special occasion awaits for you and any guests you may bring. Toast with the finest champagne as chefs prepare an extraordinary barbeque with local delicacies to enjoy during your reception. Every table will be decorated with exquisite flower arrangements complimenting your special day and the beautiful setting. A DJ or a band will play the perfect music for your first dance against the backdrop of the blue shimmering waters and white sandy beaches. If you are looking for the perfect place to celebrate your love, Velaa Private Island is the one for you.
Velaa Private Island sets new standards to 'Ultra Luxury' with is meticulously designed villas, services of highly trained staff, an environment created in conjunction with nature giving you a healing energy and its highly personalized service. Come and experience for yourself the luxury and comfort this piece of private heaven has to offer for you. With Velaa Private Island you are guaranteed to be taken good care of whilst giving you a vacation that will leave you feeling as light as the clouds that float on the blue sky. Watch your ultra-luxury and private vacation dream come true on this beautiful island blessed with white sandy beaches and blue lagoons that will revitalize all your senses.