Top Guesthouses For Budget-friendly Maldives Holidays
30 MAY 2020
The Maldives is well known as a top luxury holiday destination where a lot of celebrities and high profile people often visit. However, did you know you can achieve your holiday dreams in a budget-friendly way? The Maldives caters to people of all ranges and parts of life. Whether you are visiting to satisfy the inner aquatic beast in you, or to shower your loved one with a vacation that includes the world famous white sandy beaches and crystal clear waters or if you are looking for a simple get away with the family to dip yourself in the blue salty waters of the Maldives and tan under the tropical sun. Let's have a look at how to have your dream holiday without having it hurt your wallet.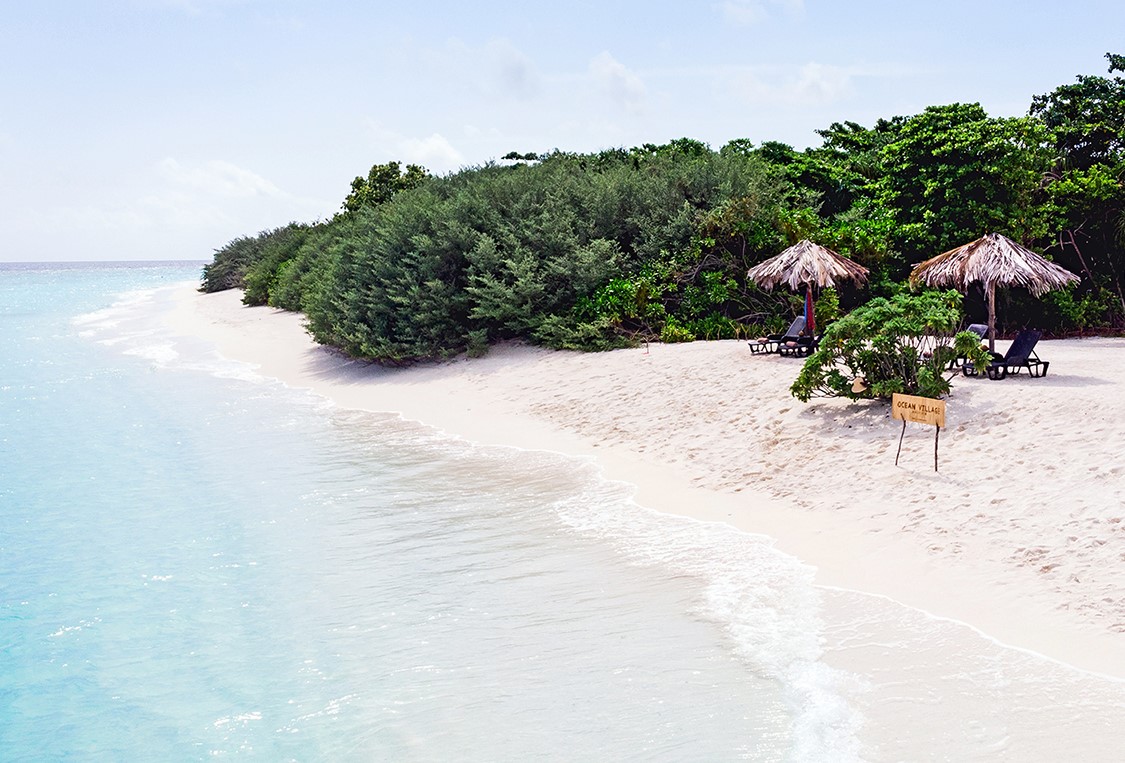 Apart from resort Maldives also has different guest houses in various islands where you can enjoy the same luxury and facilities like a resort. Some of the well-known islands include Maafushi, Dhihfusshi, Guraidhoo, and Kelaa. Whether you are traveling solo, with family, or simply you are just backpacking; there are a variety of guesthouses you can choose to stay in, which will provide you with services similar to top luxury resorts. Most of the guesthouses are more flexible than your average luxury resort as they offer customized plans for each and every visitor.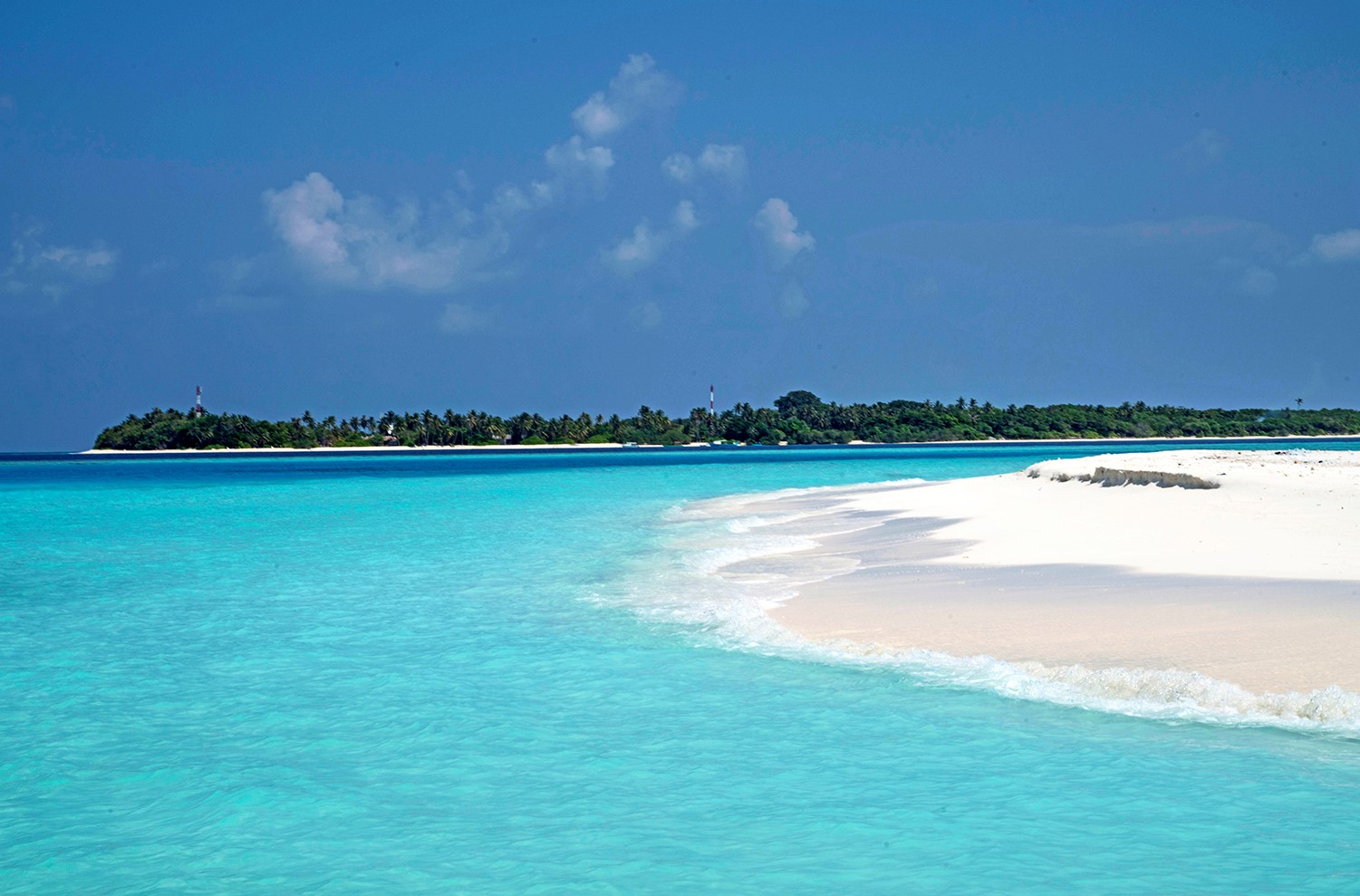 Budget-friendly traveling is an option a lot of tourists are taking now. It offers you an affordable and cost-effective way of traveling and experiencing what a specific location has to offer. When it comes to the Maldives resorts are usually private islands that are designed in a way to give you a luxurious vacation. That might not be everyone's cup of tea. Some of us prefer to see the culture and local life of the places we visit. One way to see an up-close view of the authentic 'Maldivian Life' is to stay at hotels at different islands scattered throughout the Maldivian archipelago. We will have a look at some of the best hotels that provide you with this experience at an affordable rate.
Arena Beach Hotel – Maafushi
One of the acclaimed islands in the Maldives is Maafushi in Kaafu Atoll which is just 30 minutes away from the Capital City of Male' and the airport by speedboat. The island is accessible either by speedboat or ferryboats from both Male' and the airport with tickets costing as cheap as 5 dollars to 10 dollars. When you book the room the hotel will assist you to book the transfer to the island as well. On this island you can find Arena Beach Hotel a hotel under a chain of hotels run by Arena Private Limited; one of the leading hotel management companies in the Maldives. The unique secluded location of this hotel makes it an excellent choice if you want privacy and excellent service.
They have room categories starting from the standard "Deluxe Room" with occupancy for two adults which might be perfect for a solo traveler or a couple. However, this room does not have a balcony like the other rooms. But if you are just going to be using the room as a place to sleep at night and rather enjoy the outside this might be the perfect room for you as it will cost less than a room with a balcony.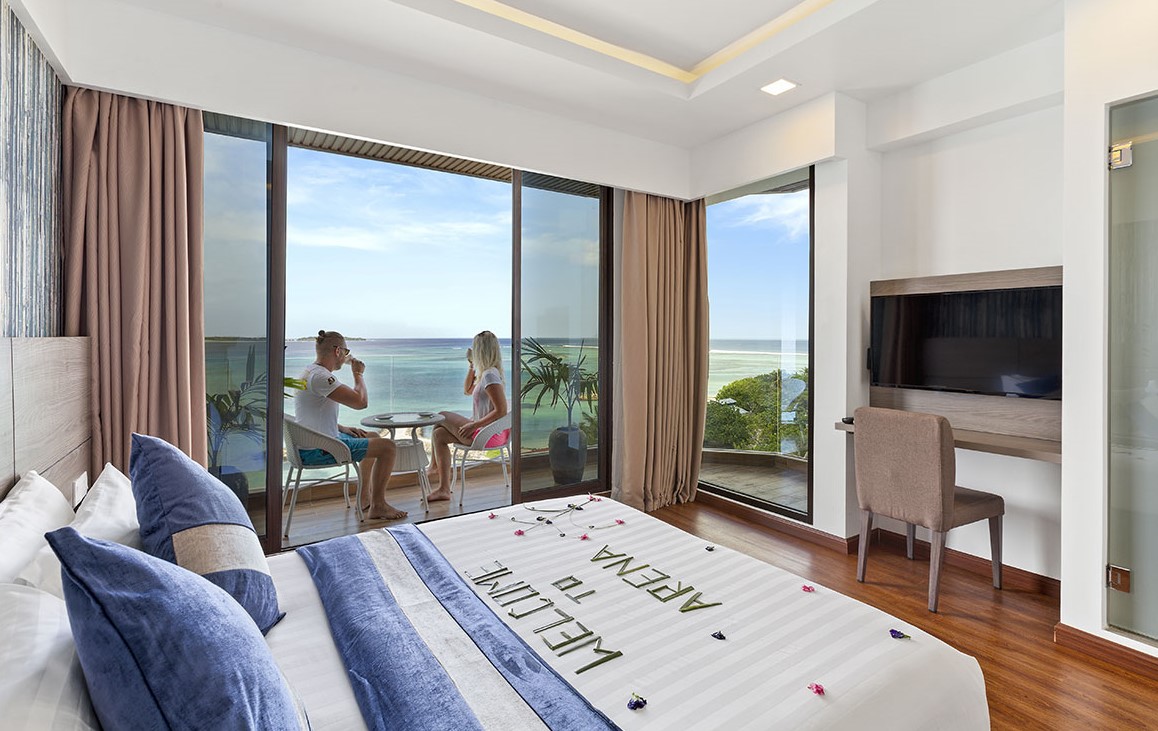 If you are a couple or even if you are traveling solo and require more space and a view then "Deluxe Double Room" with balcony and city view might be the choice for you. This room is bigger than the average 'Deluxe Room' and it has a balcony where you can sit and enjoy the view of the city and its tall coconut palms.
If you crave to see the beautiful shimmering waters of the blue lagoon of Maafushi then you might want to go with the "Deluxe Double" room with sea view that is the same size as a Deluxe Double room with city view but you get a much better and more relaxing view. This room also has an occupancy of 2 adults.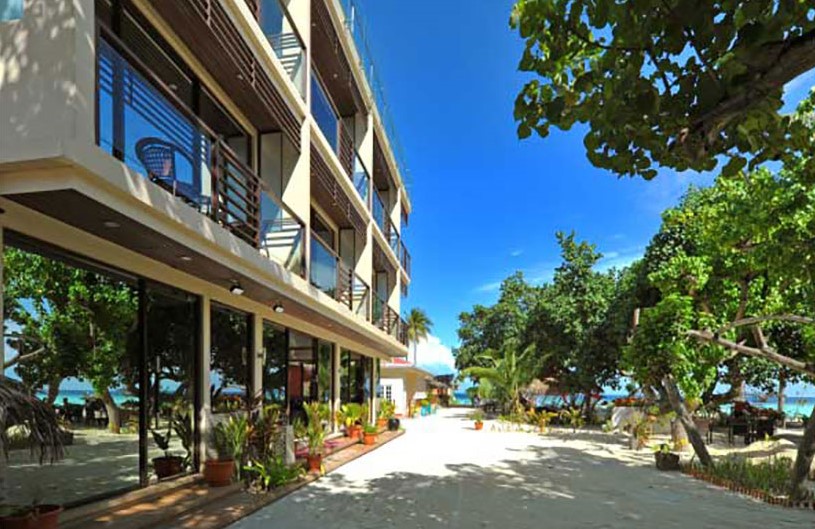 Next, we have the more luxurious and spacious rooms of this hotel. Although they might cost more than the previous rooms they still show mercy on your wallet. "Super Deluxe" sea view room has an occupancy of 3 adults or two adults and 1 child. Bigger in size and with a view of the city and blue waters this room is a perfect choice if you are a small family or a small group traveling together.
"Grand Deluxe Room" a family room that offers you a balcony with sea view which has more space than your standard deluxe room. This room is perfect if you are traveling with family or a group since this room can be occupied by 4 adults or 2 adults and 2 children.
All the rooms come with your standard amenities so if you are looking for a budget getaway or a budget honeymoon this hotel is one of the best choices. They offer different activities including water sports, diving, snorkeling, and tours to nearby resorts. But don't take our word for it; you can visit their website and get more information and get a 360° view and great deals worth your money.
The Home Maldives – Dhiffushi
For the travelers that would rather spend your money on experiences rather than a luxury room, The Home Maldives located on the island of Dhihfusshi would make an excellent choice. This island is accessible via scheduled ferry and speedboat and is a mere 45 minutes via speedboat from Male' or the airport with tickets costing anywhere between 2 dollars and 15 dollars. Dhiffushi is the easternmost island in the Maldives; hence the sun shines its rays onto this island making it a unique aspect of this island.
Although smaller in size compared to the Arena Hotel in Maafushi this hotel would give you an experience worth bragging about. With a local team that focuses on making your holiday as authentically Maldivian as possible, they offer you 4 spacious guest rooms located right across the beach; the home Maldives is one of the cheapest hotels around. This hotel is perfect for solo travelers and couples since they have an occupancy of 2 adults per room. The room comes with standard amenities, free WiFi and air-conditioning. This rustic themed guesthouse is the definition of 'local' as team members work day and night in order to make every minute of your stay memorable and as enjoyable with a variety of activities to tingle your senses.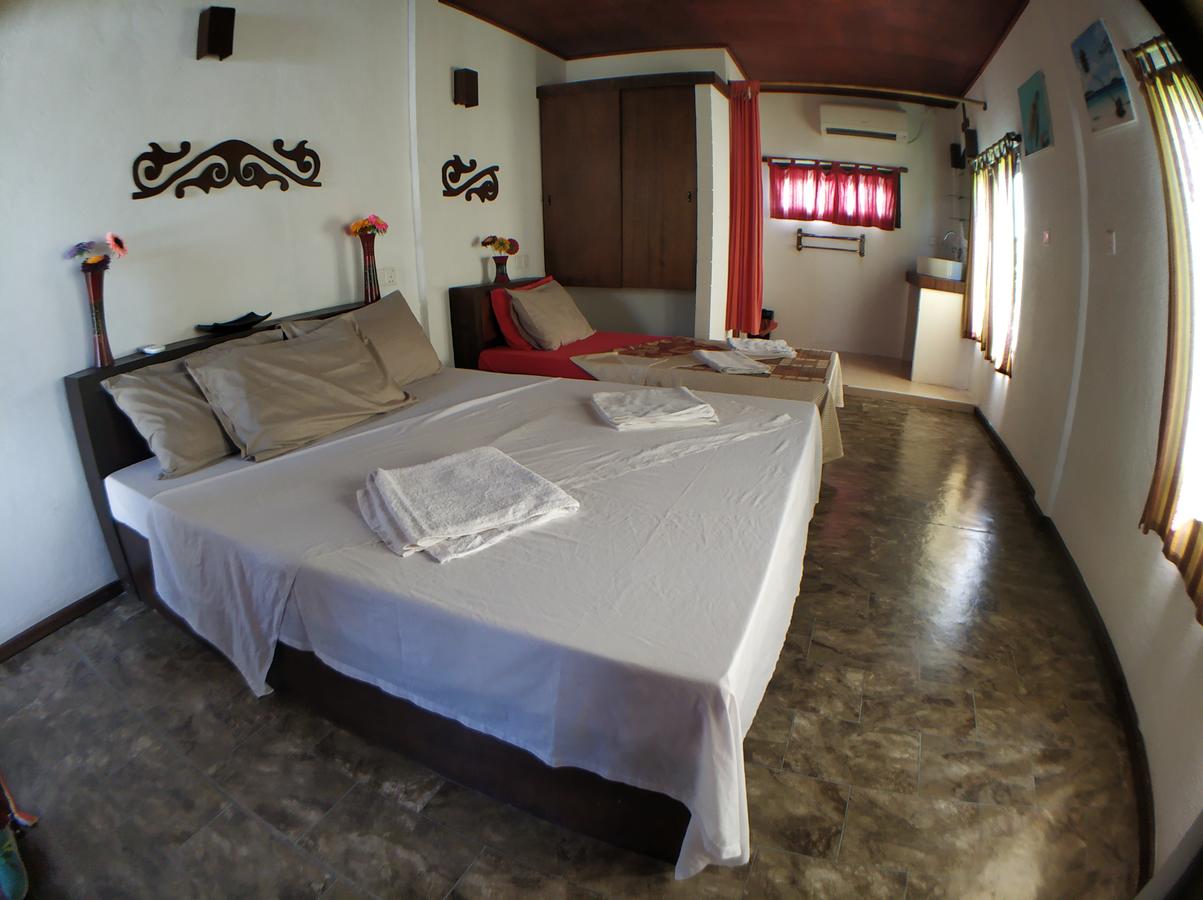 They offer you in-house dining with a wide variety of food to tingle your taste buds and each room comes with the standard amenities. Your stay here will be memorable as the team tailors each guest a unique experience. They offer activities such as a day trip to sandbanks, snorkeling on the reef where you will be able to swim with turtles and dolphins. They also arrange fishing trips where they will prepare your catch for dinner where they host barbeque nights and local music for your entertainment. You would also be able to go hunting for octopus which is an activity a lot of youth take part in. All these activities come at a rate under 30 dollars and the hosts will make sure you get every dollars' worth.
They are well known to customize your holiday for you and this makes up for the lack of luxury compared to the Arena Hotel. They have an Instagram page with stunning pictures and tributes to their visitors whom some have visited multiple times. It is evidence enough for how the team works 24/7 to make your vacation a memorable one for you.
Amber Terrace – Hulhumale'
Next up we have the island of Hulhumale' known as the 'Youth City' this reclaimed island is on the rise when it comes to hosting tourists with a price that is both affordable and worthwhile. This island is accessible by car and bus after arriving in Male' International airport. From several hotels. Amber Terrace is worth mentioning; with rooms costing as little as under 100 dollars including bed & breakfast. This beachfront property is perfect for a cozy stay with a stunning view of the never-ending horizon with nothing to obstruct your view. This hotel has two options when it comes to rooms; 'Double Room' that comes with 1 double bed and occupancy of 2 people. Although it offers fewer amenities as Arena Hotel this room comes with access to the terrace of the building that gives you an amazing view and also a work desk if ever you need to use one. The other option is a 'Deluxe Double Room' that has a king-size bed, occupancy of 2 people, and a balcony overlooking the horizon. WiFi is provided in all the rooms.
The beach is lined up with different huts that provide ample options for sea sports and activities. The hotel itself provided different activities such as snorkeling, diving, and canoeing. There are multiple restaurants to eat from on this island from lunch at Shell Beans (a famous local outlet for delicious food at great prices) to Manhattan Fish Market (an internationally known brand) that delivers a wide array of seafood options along with other exquisite food. The one thing that sets this hotel apart is that it provides a sharing kitchen for your use. It's not every day that a hotel allows you to make your food and do your laundry. Dining is one thing that a lot of money goes to while traveling. However, with this hotel, you can reduce a lot of money you spend on dining by making small meals for yourself for those days where you would rather eat in the comfort of your room.
When you stay at Hulhumale' you have access to the capital city via daily bus or ferry. This gives you an intimate look at the capital city of the Maldives. You will be able to take a tour around the capital city and visit historical and important places in the Maldives. This island is also a great option if you hate traveling via sea as it is accessible via bus and car from the airport.
Akiri Surf Retreat – Thulusdhoo
Another great choice for a budget vacation is the stunning Thulusdhoo Island. Thulusdhoo is an island that is also located in Kaafu Atoll and is accessible via ferry boat and speedboat (taking approx. 30 minutes to reach from Male' City or Male' International Airport). As another island in the Maldives, this island is also well known for its ever so blue clear waters and white sandy beaches. One of the best hotels on this island is the Akiri Surf Retreat. They have 3 rooms in their small guesthouse and provides high-quality service and very personalized hospitality. For surfers, this would be a special island since they have a nearby surfing point called Chickens Surf point which you would have access to surf. Hence the name Akiri Surf Retreat.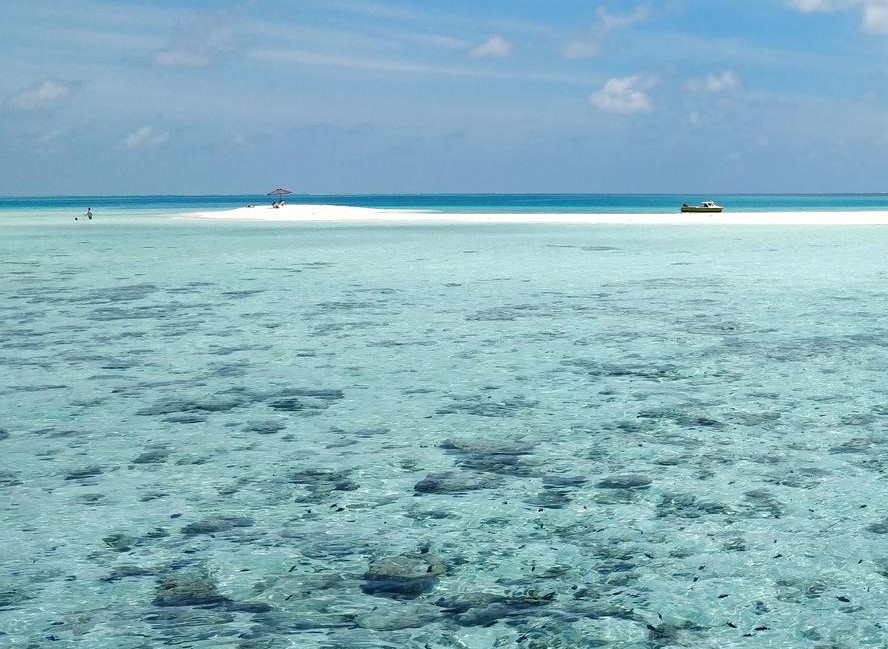 This hotel which is near the bikini beach has two options when it comes to rooms; "Deluxe Twin Room" with 2 single beds and "Deluxe Double Room" with 1 king-size bed, 5 bunk beds, and 1 sofa bed; perfect for a medium-sized family or group. They also provide the 'Three Bedroom House' with 2 queen beds and 1 sofa bed which is perfect for staying in if you are traveling with friends and want to be housed together to maximize the fun you have.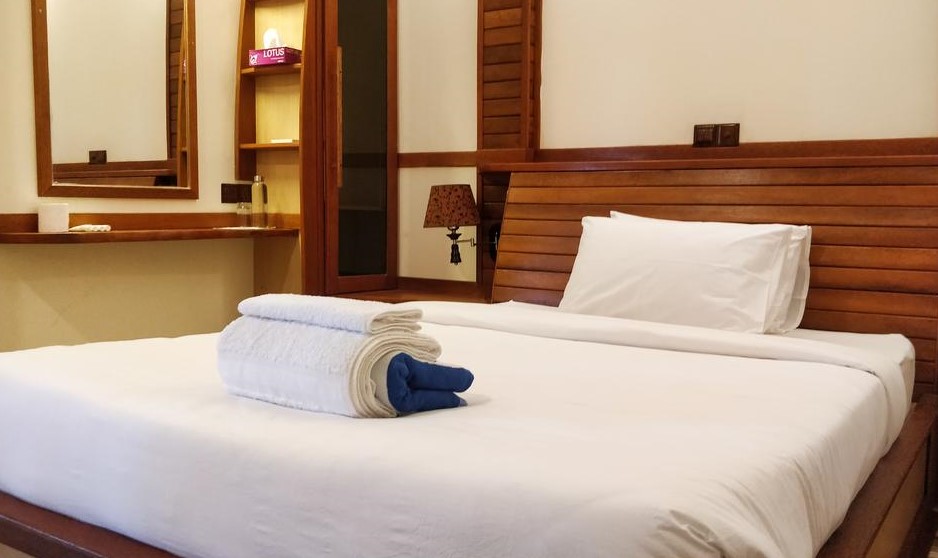 Each room comes with free breakfast, standard amenities, free WiFi, local sim cards, a hot shower, and an open kitchen. This makes up for a great deal for your money. They also allow pets unlike other guesthouses but they advise to give a call ahead to confirm.
The bikini beach allows you privacy while you bathe in the tropical sun and soak in the salty water of the Thulusdhoo lagoon. This is an experience most people only get on private islands. However you can achieve this on this inhabited island without breaking any laws. The beach has a sand walk way that is surrounded by the sea and gives you a picturesque view.
This hotel offers a variety of activities including excursions and water sport activities. You can choose to spend your morning on the sand back, snorkel the beautiful reef of Thulusdhoo which is home to several turtles and sharks, fishing or dolphin watching. Apart from activities on the island, you will also be able to purchase day passes to nearby resorts or take an island-hopping trip to neighboring islands. With a rating of 9.6.10 on the popular website Agoda.com, this hotel gives you your money's worth and will provide a custom-tailored vacation according to your needs.
Sandy Heaven Maldives – Gulhi
For our next choice, we have the island of Gulhi located in Kaafu Atoll, accessible via both ferryboat and speedboat (approx. 30 minutes from Male' City or Male' International Airport). Gulhi is a beautiful island with a bikini beach and sandbank as well. On this island we have the hotel Sandy Heaven Maldives; a great choice for budget travel. This hotel is built with teak panels and coral stone walls with rooms designed and built by local craftsmen. The location of this hotel makes it ideal for beachgoers as it only takes 2 minutes for you to walk to the beach.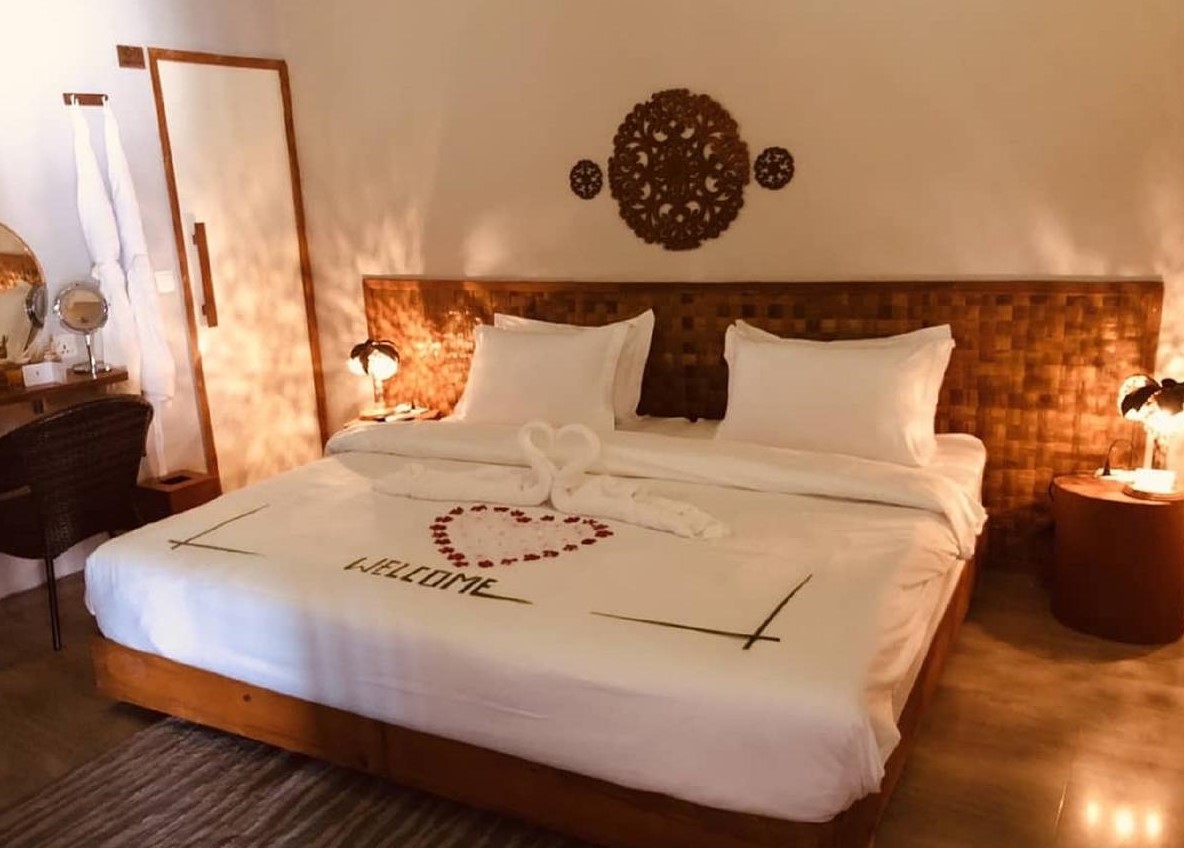 Compared to the smaller hotels in Maafushi, Thulusdhoo and Hulhumale', this hotel has more choices when it comes to rooms. Starting with "Deluxe Balcony Room" that has 2 single beds and gives you a city view, "Deluxe Double" room that has 1 queen bed or 2 single beds (your choice to make) and courtyard view, "Double Room with Balcony" that has 1 queen bed and access to balcony/terrace, "Deluxe Double Room with Side Sea View" that has 1 queen bed and partial sea view, "Balcony Deluxe Twin" that comes with city view and "Large Twin Room" that gives you a sea view. This hotel focuses more on the activities that you can take part in during your stay, after all, who would want to stay inside their room during a visit to the Maldives. Some of the activities include fishing where you would be able to catch and cook your fish. The boat leaves before sunset to find the perfect location and the crew will show you how to use the lines and hooks. Another great activity they offer is Dolphin Watching; Pinner dolphins that gather near the island of Gulhi in thousands have a regular daily routine and this makes it easy to spot them during certain times of the day. The hotel offers you afternoon dolphin excursions and what better places to see them than in their natural habitat. The hotel offers day excursions to nearby resorts of Kandooma, Anantara, and Vadoo resort. This makes it a great option to explore the private luxurious resorts that often come for a hefty amount of money. You will also be able to join dive programs at this hotel starting from Bubble Maker (for ages 8-10), Discover Scuba Diving (for ages 10+), and PADI certification Courses which include Open Water, Advances Open Water, Rescue Diver, and Nitrox courses. The hotel has experts that would help you explore an underwater kingdom hosting corals and a variety of exotic aquatic life.
Snorkeling and surfing are also available on the menu for all ages and skill levels. The team at Sandy Heaven Maldives custom designs these trips with the needs and interests of snorkelers and surfers in mind. They will chart boats exclusively for groups and give you the best sites for you to snorkel and surf. Gulhi has access to three of the most popular surf locations in South Male' Atoll. The optimum time for surfers in May-Oct which is the dry season.
During your stay the hotel provided different delicacies from continental, Italian to Chinese or local. They have chefs that have been trained at internationally recognized institutes you give you a fine dining experience. At Sandy Heaven they have in-house dining services as well. If you prefer a more private customized dinner, Sandy Heavens is at your service; providing romantic and family dinners at the beach or the sandbank so you can enjoy your meal with loved ones at one of the best dining locations an island nation can offer.
Alcohol is prohibited on inhabited islands but this hotel offers you a Floating Bar which is located 15 minutes offshore via boat where it is legal. It is once in a lifetime experience to have a couple of drinks on the open ocean with the sun shining and shimmering blue waters surrounding. This is an experience not to miss during your stay.
Ocean Village Maldives – N.Holhudhoo
Holhudhoo is located in Noonu Atoll known for its idyllic tropical beaches and colorful coral reefs. Famous for this colorful abundant reefs and exotic wildlife, a stay at this beautiful island is guaranteed to be picturesque and mesmerizing. Although this island is far from the Male' International Airport compared to the other islands on this article the extra miles traveling will be worth it once you arrive on this scenic island that gives you a feeling of seclusion you desire.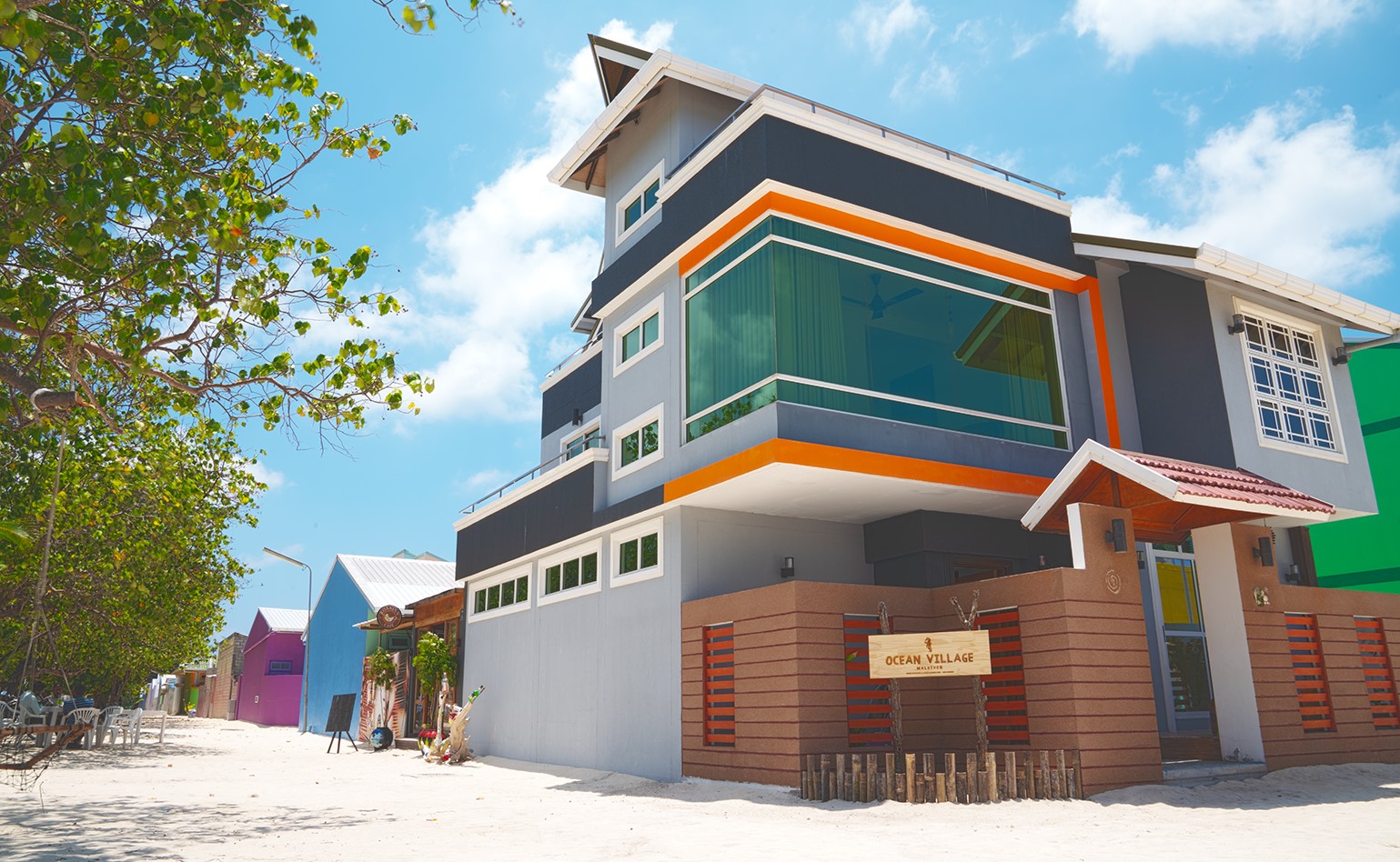 You can stay on this beautiful island at one of the best hotels in the Maldives; Ocean Village Maldives. A sea-view hotel that offers you a vacation like no other with a private retreat on its very own private island which is only 5 minutes away. You can enjoy time at the beach with the utmost privacy. This is a rare opportunity on a budget as most private islands are hosting luxury resorts that have high price ranges compared to these hotels.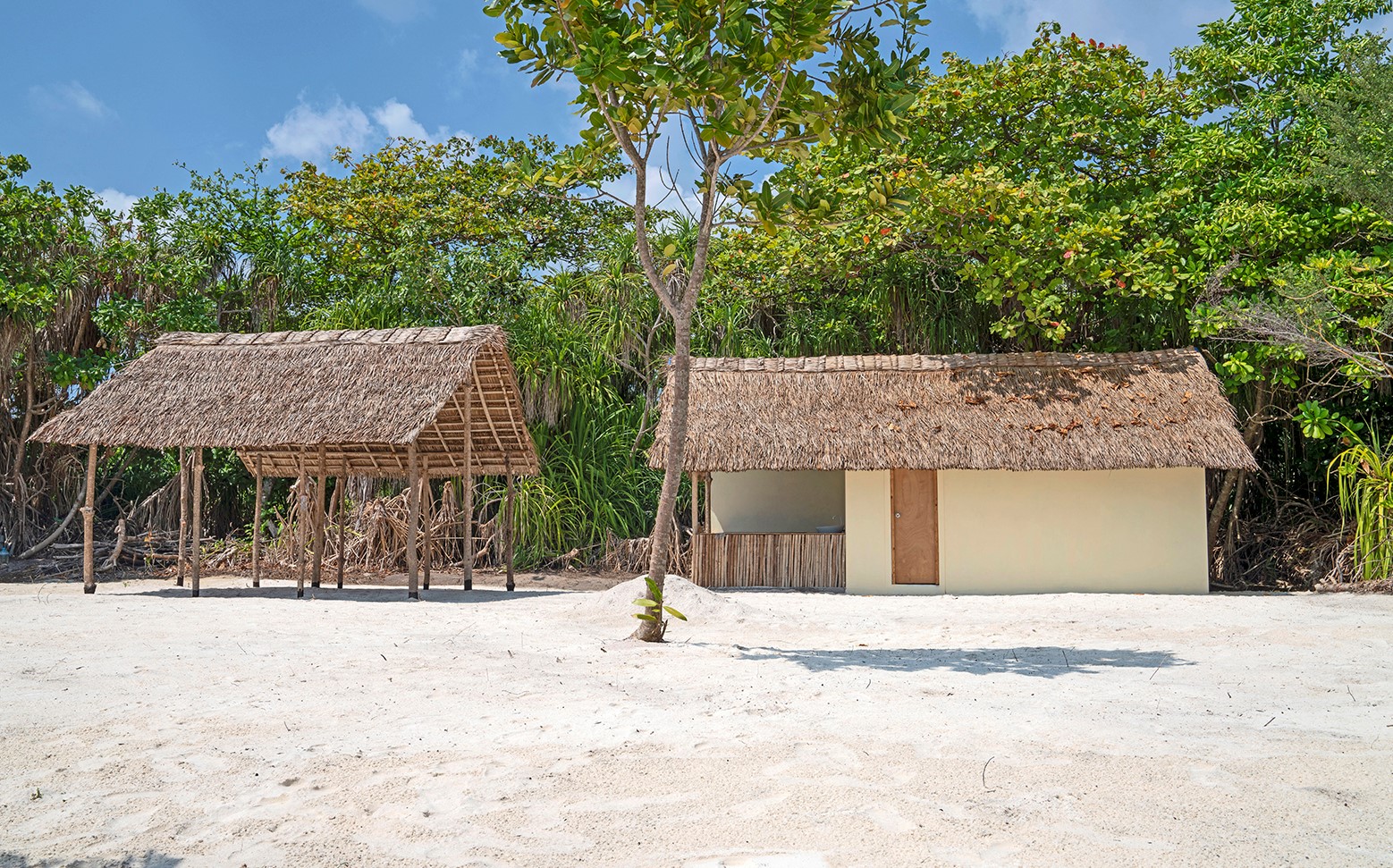 Compared to the previous hotels this hotel is extra special as it comes with its private island and they offer daily trips to the island for you to enjoy the private island which various facilities included to make sure you are well taken care of.
This 3-floor hotel offers you 3 different choices of rooms with rooms as affordable as under 100 dollars that come with standard amenities, free WiFi, and air-conditioning.
Deluxe Room is spacious and comes with a bed and attached bathroom. This is the smallest of all rooms and is perfect if you are traveling solo or as a couple that just would prefer to spend your money on activities rather than the room.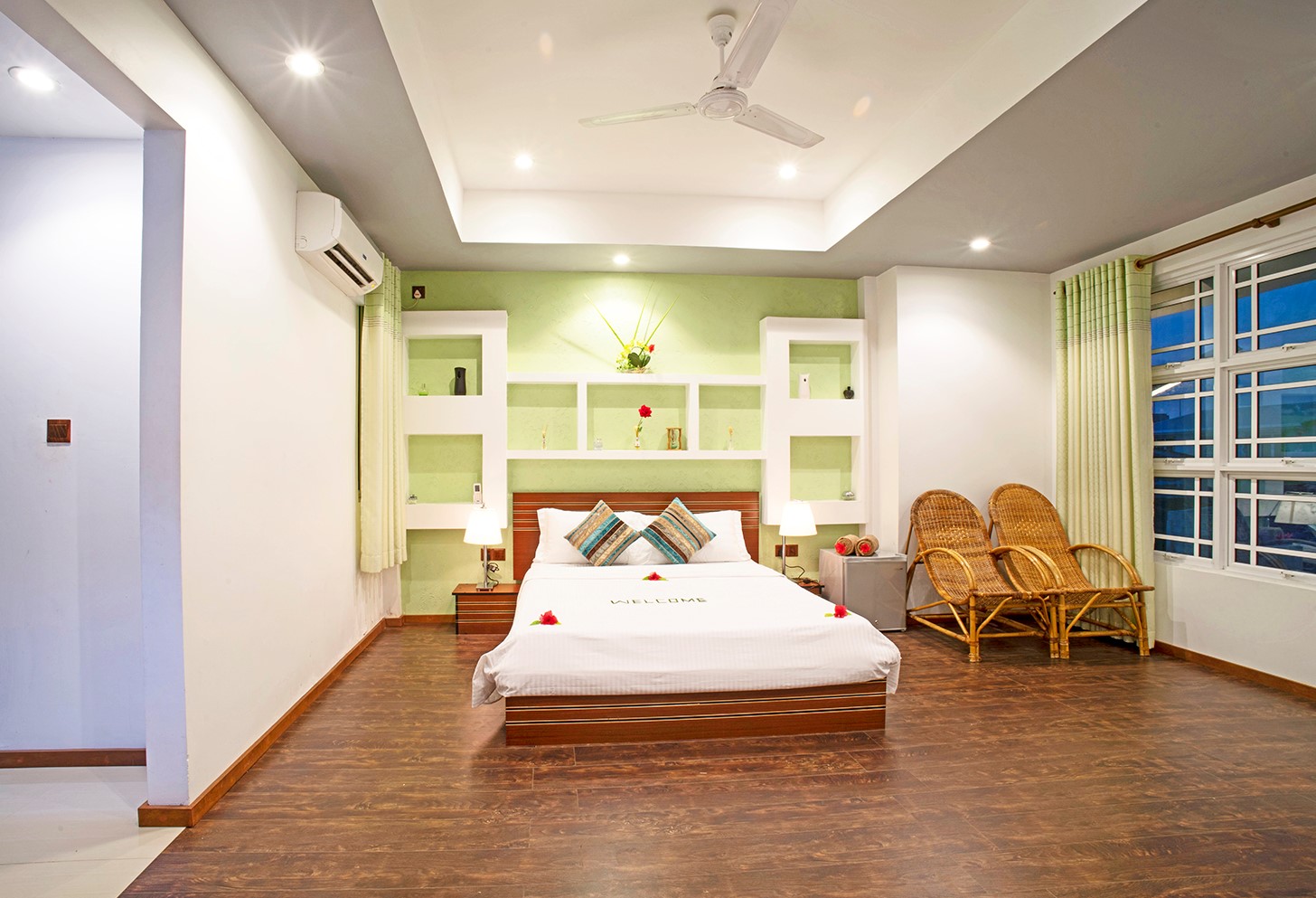 Deluxe Room with Sea view is larger compared to the Deluxe Room and comes with a big wardrobe and a sitting space with a sofa and lounging chairs. This room is ideal if you prefer a bigger space and have a few dollars to spare.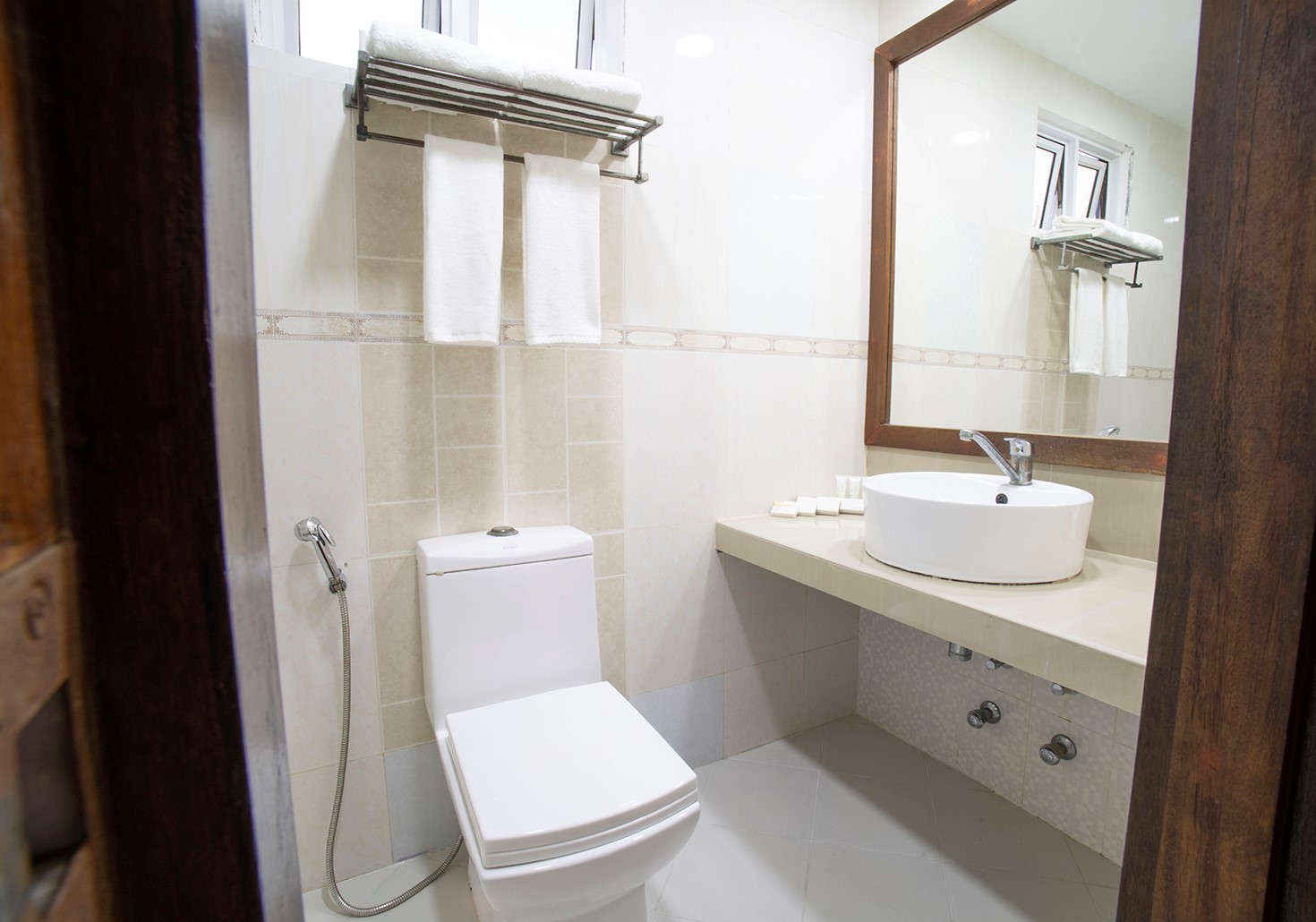 For ultimate luxury and privacy at reach, the hotel offers you The Super Deluxe Room that comes with your private terrace with a stunning view of the shimmering blue coastal waters which you can enjoy while lounging on this spacious terrace. The bathroom is spacious with a bath rub included. This room is the most spacious of all three rooms.
The hotel comes with a dining option downstairs that serves guests and locals. They have a variety of drinks, coffee, snacks, and light meals made on order. Apart from this, the hotel provides breakfast and dinner at the dining area in the hotel with meals as low as 8 dollars. You also have the option of having lunch on the beach during your visit to the private island or any other beach locations. Who would want to miss the ultimate dining experience worth bragging about on your private little island?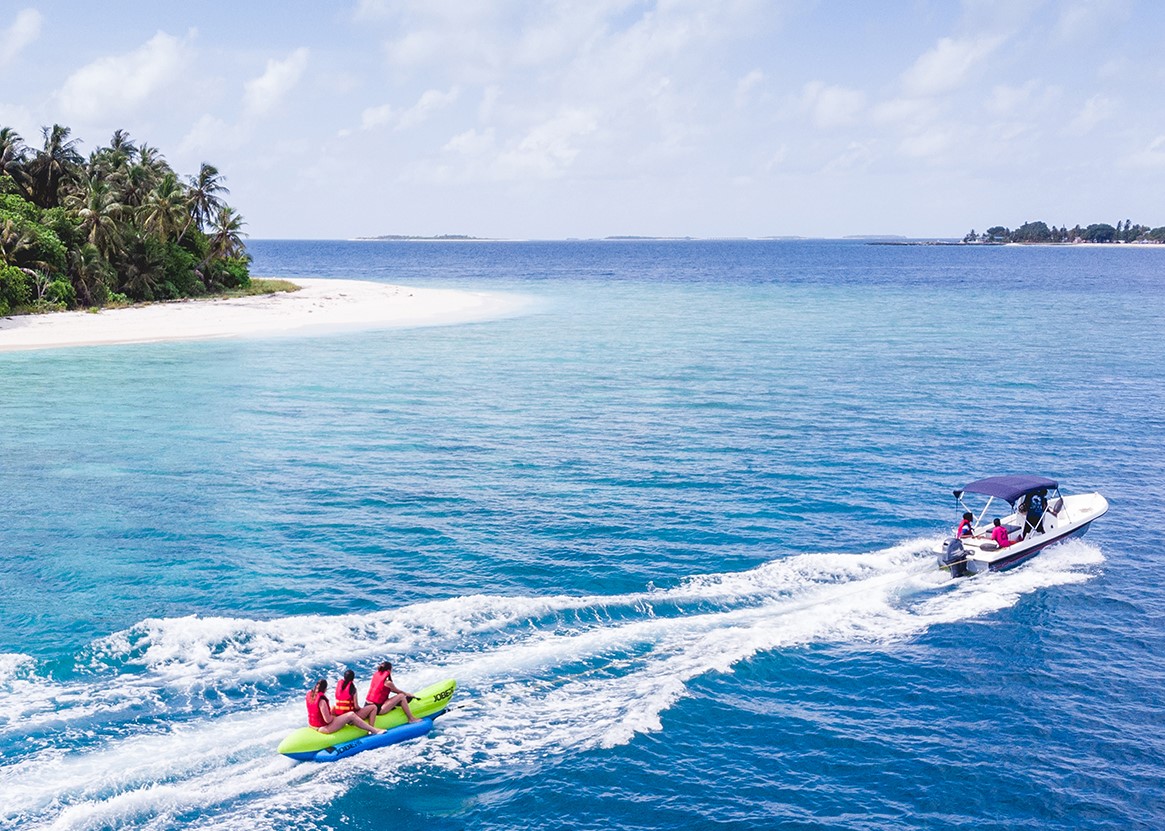 When it comes to activities this hotel is not shy; with snorkeling while on the private island, night fishing, beach fishing, banana riding, and many more. The private island has a reef just a few meters from the shore, hence you will be able to rent gears as low as 8 dollars per day from Seahorse retreat which is on this private island to accommodate your needs. Another great location to snorkel is 'Thaburudhoo Beyru' reef which is a 10-minute ride away via speedboat and is famous for turtle sightings. Other popular reefs nearby include 'Christmas Tree', 'Loafaru' reef, 'Fohdhoo' reef, and many more. Seahorse Retreat will organize snorkeling trips to different locations on different days you give you a new experience every day. Snorkeling trips come for 25 dollars per person; a small price to pay for the once in a lifetime experience of seeing the colorful reef and exotic wildlife.
Ocean Village Maldives also organizes Dolphin Watching trips to give you a close-up experience with these amazing creatures. This is also an amazing way to surprise your loved one as the hotel offers Private Dolphin Watching trips for you and your loved one.
If you are a fan of fishing do not miss out on this great offer of night fishing. The boat leaves at 1730hrs and finds the perfect location to anchor at before sunset. Once the sunset's fishing starts as this is the time when most fishes go out for hunting. The crew will assist you to ensure you have a fun time and that you catch some good fish. These trips come for 25 dollars per person. If you would prefer to be fishing on land the hotel offers you beach fishing. For 10 dollars you will be provided with a Jigging Rod with rapalas and you would be able to start fishing right at the beach. They will also cook it for you in the way you prefer if you manage to catch any.
One of the most exciting sea sport is Banana Riding. This is a great activity for a group or a family traveling together as it can be occupied by a maximum of 3 people. You can choose the duration of the ride from 15 minutes to 30 minutes.
Sandbanks are a beautiful creation of nature. The sandbanks at the Maldives with its white sand is one to brag about. The hotel will arrange a trip to nearby sandbank which is a mere 10 minutes away. However, you must know there are no trees to provide you with shade on the island so don't forget to take your hat, shades, and sunscreen to enjoy this bliss of pure nature. The sandbank also has a house reef that you can snorkel at during the visit.
As most visitors prefer to wear bikinis the hotel advises you to wear a bikini on the bikini beach at the Private Island; as there is a dress code to adhere to while staying at inhabited islands. However this will not stop you from having fun and having a vacation to remember.
Cheap holidays with wonderful memories
The Maldivian experience does not have to hurt your bank account. By making certain choices you will be able to get that full authentic experience at an affordable price whilst making priceless memories. From choosing where you stay to dining options, and small things like booking tickets prior, booking during off-peak season (when prices are usually dropped) you will be able to save a lot of money and get that once in a lifetime Maldivian experience. Apart from these hotels, there is a wide range of hotels on different islands to choose from. These are some of the best-known hotels but you can choose from any hotel on an island that you think would be the best fit for you. Truly a vacation to the Maldives can be a dream that is reachable for everyone and anyone. You can be guaranteed that your needs and wants will be met and your vacation will be tailored to your liking to make sure every dollar you spend is worth it.
"Take you vacation, you can always make money but you can't always make memories". A famous quote that signifies the importance of taking a vacation but with what you have read you will be able to take that vacation and save some money in the meantime.
Top Guesthouses for budget-friendly Maldives holidays. #Maldives #Guesthouse #BudgetMaldives #MaldivesHoliday #MaldivesGuesthouse