Solar Energy Powers Up Entire Island In Maldives
Gasfinolhu Island Resort in the Maldives has shut down all its power generators. Thanks to 6000 square metres of solar panels that generate 1.6 megawatt of electricity daily. The solar panels are fixed in the roof that runs above the jetty in the lagoon and some of the pathways in the island. Power generating solar panels also mean the shade for people walking beneath.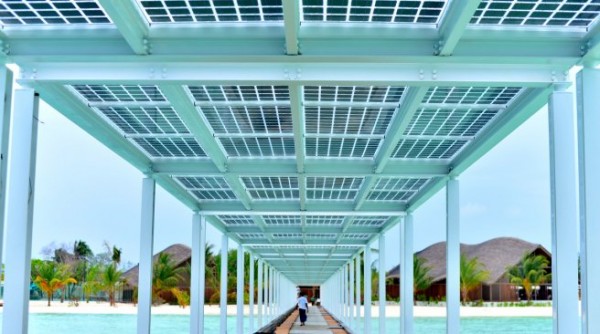 This is the first time a Maldives resort is powered entirely by renewable energy.
Champa Hussain Afeef the Chairman of Champa Hotels & Resorts expressed his enthusiasm for innovations in the tourist industry. He said it was a great satisfaction to shut down all generators and power up the island with only clean energy of the sun. Afeef further said that he spent 2 years on the project.
The project that costs $6m will take about 7 years to recover the investment and the lifespan may go up to 20 years in total.
In 2010 Maldives announced the plan to become carbon neutral by 2020 and introduction of solar energy to the tourist industry of Maldives is likely to become trend of the eco-friendly island destination in the Indian Ocean.