Trans Maldivian Seaplane Sinks At Kanifushi
21 Sep 2015: Amid bad weather across Maldives a seaplane from Trans Maldivian has got half
sunk into the water
. There were no passengers on board at the time of incident. After yesterday's operation the aircraft was moored at Kanifushi Island Resort for overnight shutdown. The staff of Kanifushi woke up this morning to the plane half sunk. The security officers at night shift apparently did not notice, usually its pitch black in the dark and you don't a thing. Trans Maldivian, the world's largest seaplane operator, has sent a team to save the plane.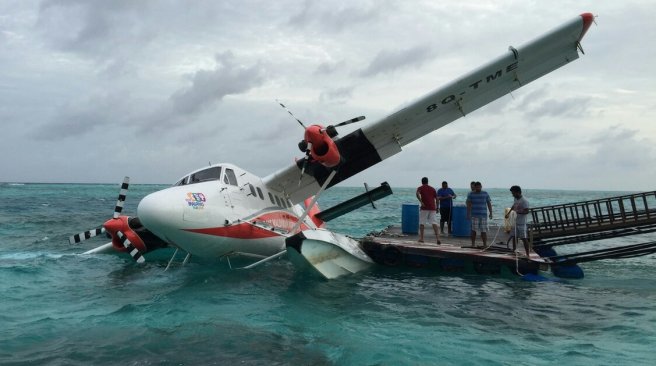 Photo: Trans Maldivian seaplane half sank at Kanifushi Island Resort, Maldives
It seems one of the floaters sank, the other one is still afloat keeping most of the part still above water. The reason for the floater to sink is not known as yet, but bad weather may be to blame. Some people said the waves lapped over the floater and leaked into the compartments through the cap. If so, why not the other floater? The floaters are segmented to multiple compartments to prevent sinking if one got water in, so why many, if not all, got flooded all together? It is a series of questions rising at this point, we have to wait for the company to shed more light, if it would, to understand the cause of incident.