Tranquil Water Villa At Noku Maldives
Come enjoy the tranquil beauty of the Maldivian islands at the splendid water villas at Noku Maldives. Situated on the island of Kudafunafaru in Noonu Atoll, Noku Maldives is a beautiful tropical sanctuary, complete with pristine beaches and sparkling azure waters all around.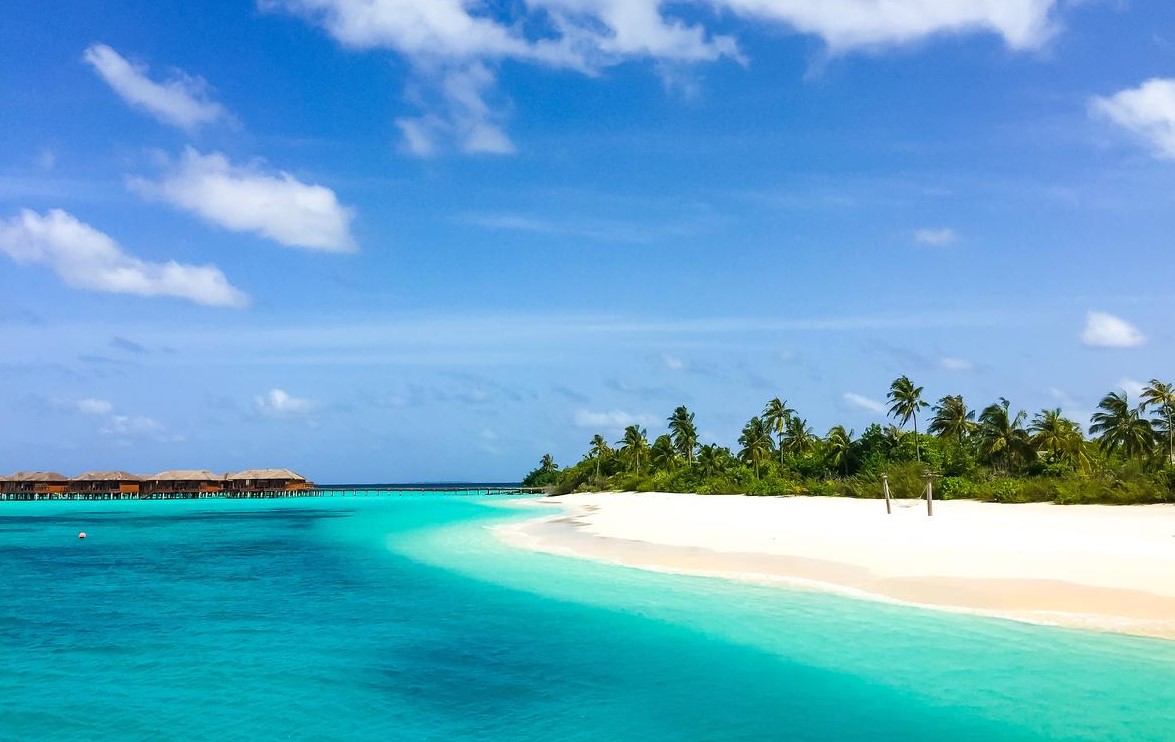 The island is 700 metres in length and has 50 villas – 20 beach villas and 30 over-water villas – for you to choose from, each with a wide variety of amenities. There are also two contemporary restaurants and two bars, a fully-equipped gym, a diving and water sports centre and a marvellous infinity pool overlooking the ocean. For ultimate relaxation, the resort also has a spa and wellness centre – Noku Spa – with six double treatment suites and a yoga pavilion offering different massages and treatments as well as yoga classes. There is also a gift shop – "Nice Things" on the island featuring chic Maldives-inspired designs for you to take back as souvenirs. For guests with children, the resort offers babysitting and childcare services at an added charge.
An extremely noteworthy point about Noku Maldives is the resort's extreme focus on sustainable and environment-friendly practices. As such, the resort has a no-plastic policy; they use straws made from twisted leaves and glass-bottled drinks, as well as recycled clay containers for bathroom toiletries. There is also a hydroponics garden on the island which provides produce.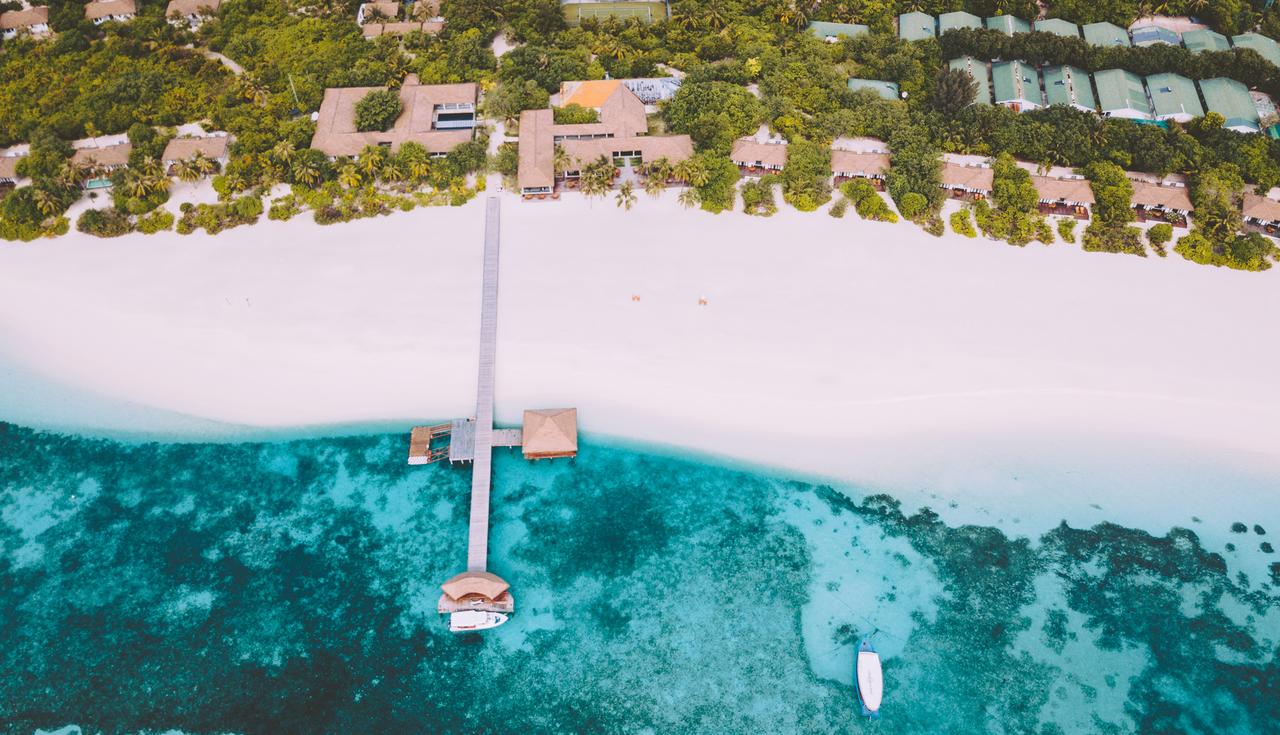 To get to the island, you can take two routes. The direct route by Trans Maldivian Airways (TMA) is from Velana International Airport and takes approximately 45 minutes. The second route is a 40-minute transfer by Maldivian Airlines to the domestic airport at the island of Maafaru in Noonu atoll, followed by a 15-minute speedboat ride to the resort. During the flight, you will be able to see a stunning bird's eye view of the natural atolls of the Maldives, set against the turquoise backdrop of the Indian Ocean; a sight which absolutely should not be missed!
Water Villa
Perched over the sparkling lagoon of the island, this villa is a cool 186 sqm in size, and features a vast bedroom, bathroom and outdoor deck. The bedroom consists of a king-sized bed, a seating area and a soft minibar with snacks, inclusive of your stay. The bathroom is spacious and airy with both indoor and outdoor showers, a double vanity and a standalone bathtub offering a panoramic view of the ocean. There is also a window seat overlooking the ocean – in the short hallway between the bedroom and the bathroom – perfect for enjoying your morning coffee! The expansive outdoor deck – with direct steps down to the lagoon – has sun loungers, a sun umbrella, an outdoor daybed and a dining area for in-villa dining.
Start your day with a refreshing swim - where you might even see some colourful fishes – followed with a relaxing bout of sun lounging, and finishing off with a delicious dinner under the starry Maldivian sky; all in the comfort of your very own water villa.
Water Pool Villa
Guests looking for more privacy can opt for Noku Maldives' Water Pool Villa, situated a bit further away from the main island, nearer to the edge of the lagoon. This over-the-water suite comes complete with a roomy bedroom, bathroom and outdoor sundeck with a private plunge pool. At one end of the villa is the bedroom with its king-sized bed, seating area and complimentary soft minibar with snacks. The other end features the villa's semi-open bathroom with indoor and outdoor showers, a double vanity and an elegant standalone tub from where you can relax while enjoying the view of the azure seas ahead of you. Another beautiful spot to savour the view is the window seat in the short hallway between your bedroom and bathroom. The outdoor sundeck of this villa features a dining area for in-villa dining, a sun umbrella and sun loungers, as well as your own private pool. There are also direct steps down to the sparkling lagoon below. Jump from the pool to the sea and back again at your leisure while experiencing the warm Maldivian sun and cool azure waters – a flawless combination!
Water Sunset Pool Villa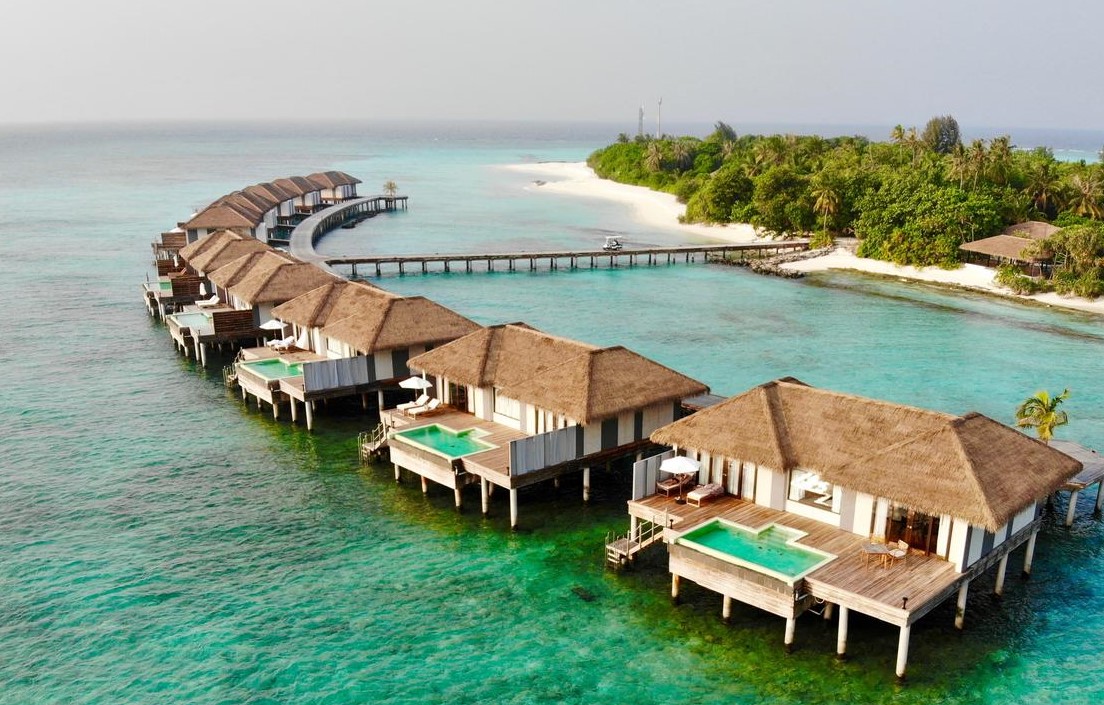 The Water Sunset Pool Villa is similar in size and interior to the Water Pool Villa with an expansive bedroom, bathroom and outdoor sundeck with private pool. However, the added advantage of this villa is the vibrant view it offers you of the sun setting over the Indian Ocean! The bedroom features a king-sized bed, a seating area and a complimentary soft minibar while the bathroom has both indoor and outdoor showers, a double vanity and a freestanding bathtub. The outdoor sundeck comes with sun loungers, dining area and private pool, as well as direct steps down to the lagoon. Sunbathe during the day and cool off in your private pool while enjoying the beautiful Maldivian sunset – guaranteed to be an experience you will fondly reminiscence about for years to come!
Charming Beach Villas – Alternative Accommodation Options
Besides the exquisite water villa options mentioned above, Noku Maldives also has a range of superb beach villas for you to choose from. Nestled within the lush greenery of the island, these villas with their distinctive thatched roofs, panoramic ocean views and direct beach access are the embodiment of tropical island luxury.
For those looking for an intimate stay, Noku Maldives offers the 175 sqm Beach Villa, a one-bedroom villa with an airy bathroom and expansive outdoor sundeck. There is also the Beach Pool Villa and the Beach Sunset Pool Villa – each 220 sqm and offering dazzling sunrise and sunset views respectively. In addition to the spacious bedroom, bathroom and outdoor deck, these villas also come with a private pool. On the other hand, for those who are travelling with friends and family, Noku Maldives has the Beach Two-Bedroom Pool Retreat; a whopping 400 sqm two-bedroom villa, complete with two mirrored bedrooms and bathrooms as well as a shared outdoor sundeck with a plunge pool.
Dining Options
There are two restaurants and two bars on the resort – each offering a contemporary take on international dishes as well as a marvellous collection of wines and alcoholic beverages.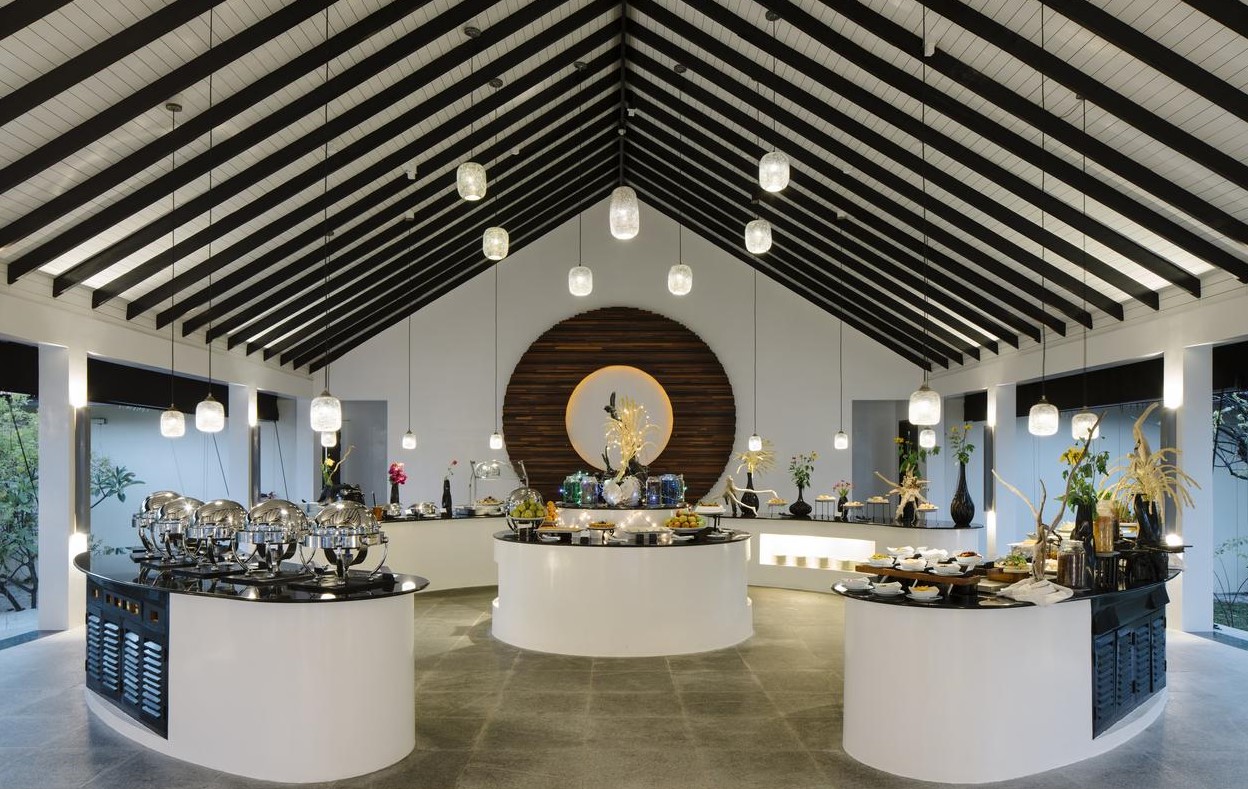 Palms Restaurant
Located on the beachfront, Palms Restaurant is the main restaurant at Noku Maldives. The restaurant offers an array of international dishes for breakfast, lunch and dinner, made from locally sourced produce and served à la carte style. With its distinct wooden interiors, thatched roofs, and both indoor and outdoor seating, Palms Restaurant aims to provide you not only delectable dishes, but also an alluring ambiance to complement it.
Palms Bar
Palms Bar offers you a variety of delightful drinks concocted with a mixture of Eastern and Western elements kept in mind. This open space bar – with its cushy sofas and contrasting black and white interior – is the perfect place to end the night after a full day of activities on the island.
Thari Restaurant
This Asian fusion restaurant offers you a variety of eclectic dishes from Maldivian, Thai, Japanese and Singaporean cuisines; countries where Noku hotels are located. The executive chef and the staff are more than willing to accommodate any and all dietary requirements or preferences you might have, ensuring that you have a superb experience. Be ready for a culinary and sensory journey like no other with these delectable dishes prepared specially for you.
Thari Bar
Complement sunbathing mornings and afternoons by the pool with a selection of cocktails from the Thari Bar. You can opt to enjoy a drink in the pool, while taking in the beautiful scenic view of the Indian Ocean ahead of you, or opt for a drink in the bar itself – a relaxing haven with its cool interior, comfortable sofas and swing chairs.
Private Dining Options
Private dining options are offered at Noku Maldives from in-villa dining services to specially crafted dining packages. Dine on the beach underneath a canopy of stars or at sunset on an exquisite sandbank, complete with delicious dishes made by the resort's specialty chefs; surely the ultimate way to enjoy a romantic and intimate dinner with your partner.
Recreational Activities
Noku Maldives offers you a variety of activities to enjoy on the island, from diving and water sports activities to various excursions and resort activities, the resort has something for everyone. The Noku Dive and Water Sports Centres are run by Sub Oceanic, a locally owned brand, specialising in the operation and management of scuba diving and water sports establishments. Under them, the resort offers you an extensive range of diving experiences – for both beginners and veterans – as well as different water sports and excursions. Noonu Atoll – where Noku Maldives is located – is famous for its incredible marine life and colourful schools of fishes. The reefs in this part of the Maldives are largely untouched with healthy coral populations, diverse wildlife and tropical fauna; over 30 amazing dive spots are here for divers and snorkellers alike to enjoy. This is also where you will find the world-famous dive site 'Orimas Thila,' well-known for its grey reef sharks which can grow to over 10 ft long in length! Some other marine life you might also encounter are schools of batfish and barracudas, as well as eagle rays, parrotfish and angelfish. The dive centre offers diving lessons for both first-time adults and children as well as beginner and advanced courses in PADI certification. Make sure to not miss this incredible opportunity of a lifetime to enjoy the beautiful underwater sights of the Maldives.
Additionally, Sub Oceanic also offers a range of water sports and excursions – from catamaran sailing, kayaking and canoeing around the reef to jet skiing, water skiing, waterboarding, knee boarding and banana boat riding. For those seeking an adrenaline rush, go ahead and take a ride on the fun tubes which include donut and raptor inflatables.
There are also various excursions provided by the resort, from short sunset cruises and dolphin sighting cruises to snorkelling excursions to nearby reefs. You can also sail on a 'dhoni' (a Maldivian wooden boat) to explore deserted islands, to go island hopping to nearby islands to experience the local culture or even go on fishing excursions to experience traditional Maldivian fishing with hand lines and raw fishing bait.
Some of the resort activities offered on the island include 'boduberu,' a traditional Maldivian dance, as well as movie nights on the beach. However, one of the most anticipated evening activities is the fish feeding by the staff at the jetty. You will be served local tea with traditional Maldivian short eats as you watch the amazing sight of blue trevally and black tip reef sharks come to feed. Noku Maldives is suitable for both honeymooners and couples looking for an intimate getaway as well as friends and family travelling together for quality time. With a range of stay options, delicious dishes and a hoard of activities to do, Noku Maldives ensures that your vacation is both a luxurious and adventurous affair – something to remember forever.
Tranquil Water Villa at Noku Maldives #Maldives #NokuMaldives #RoxyMaldives #NoonuAtoll #LuxuryHotels #LuxuryMaldives