7 Beach Villas At Emerald Maldives Resort
A shiny new diamond in the garland of islands that is the Maldives, Emerald Maldives Resort & Spa is a new 5-star Deluxe All-Inclusive Resort that is part of the leading hotels in the world. These beach villas in this resort are designed using natural materials such as bamboo, stones, and Langhi Langhi Leaves. The special part about this resort is that it focuses on energy efficiency and environmental preservation.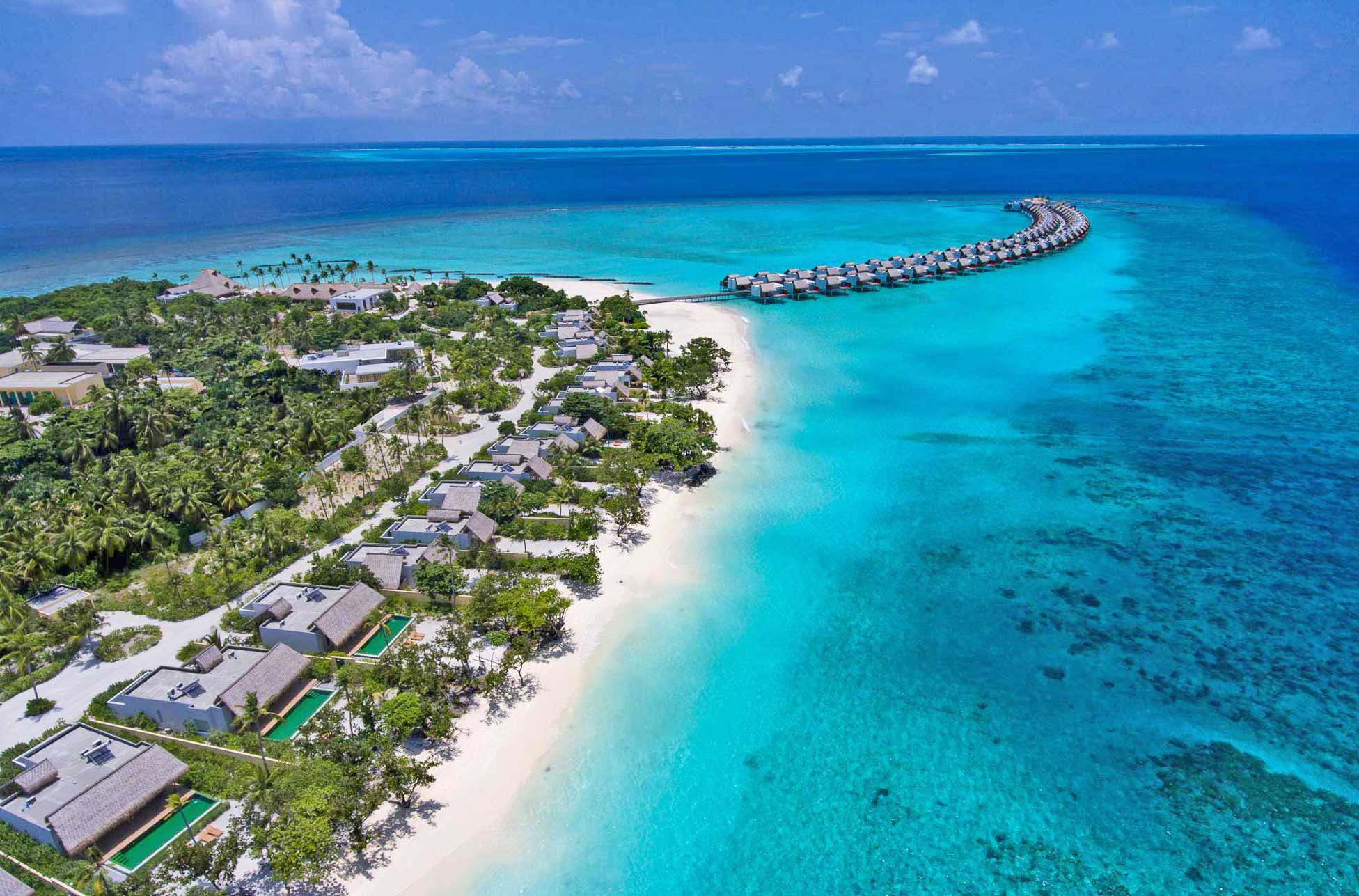 This beautiful island resort is located in Raa Atoll, accessible via two options; a scenic 40-minute seaplane transfer from Velana International Airport, or a combination of a domestic flight from Velana International Airport to Ifuru Domestic Airport and a 15-minute speedboat transfer from there onwards. Seaplanes only fly during the day time so if you are arriving on an evening flight you can opt for the domestic flight. You might want to choose the day time seaplane transfer as it gives you an amazing view of the islands scattered on the Indian Ocean; a view that will add beauty to your dreamy vacation to the Maldives.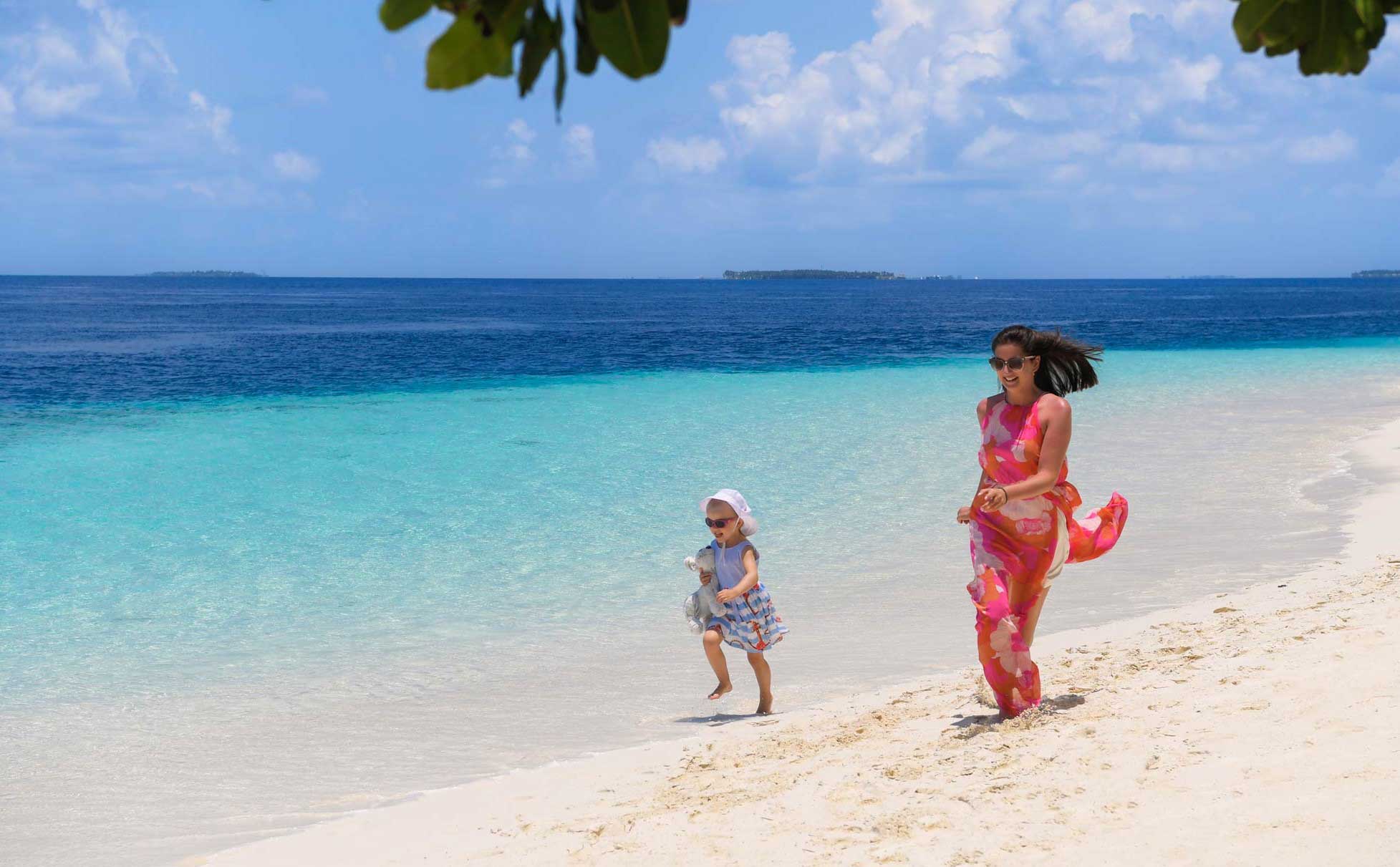 This private island has a 1.5 km stretch of white sandy beaches featuring 120 villas; 60 of which are on the island and 60 on the blue lagoon. All villas are built to perfectly blend in with the natural environment. This contemporary-style tropical villas are elegant, cozy, and provide an environment where you can create unforgettable memories. Each villa comes with standard amenities such as flat-screen TV, indoor and outdoor showers, spacious bathtubs, dressing room, walk-in closet, air-conditioning, working desk, and free Wi-Fi. Let's have a detailed look at the beautiful beach villas on this island.
Beach Villa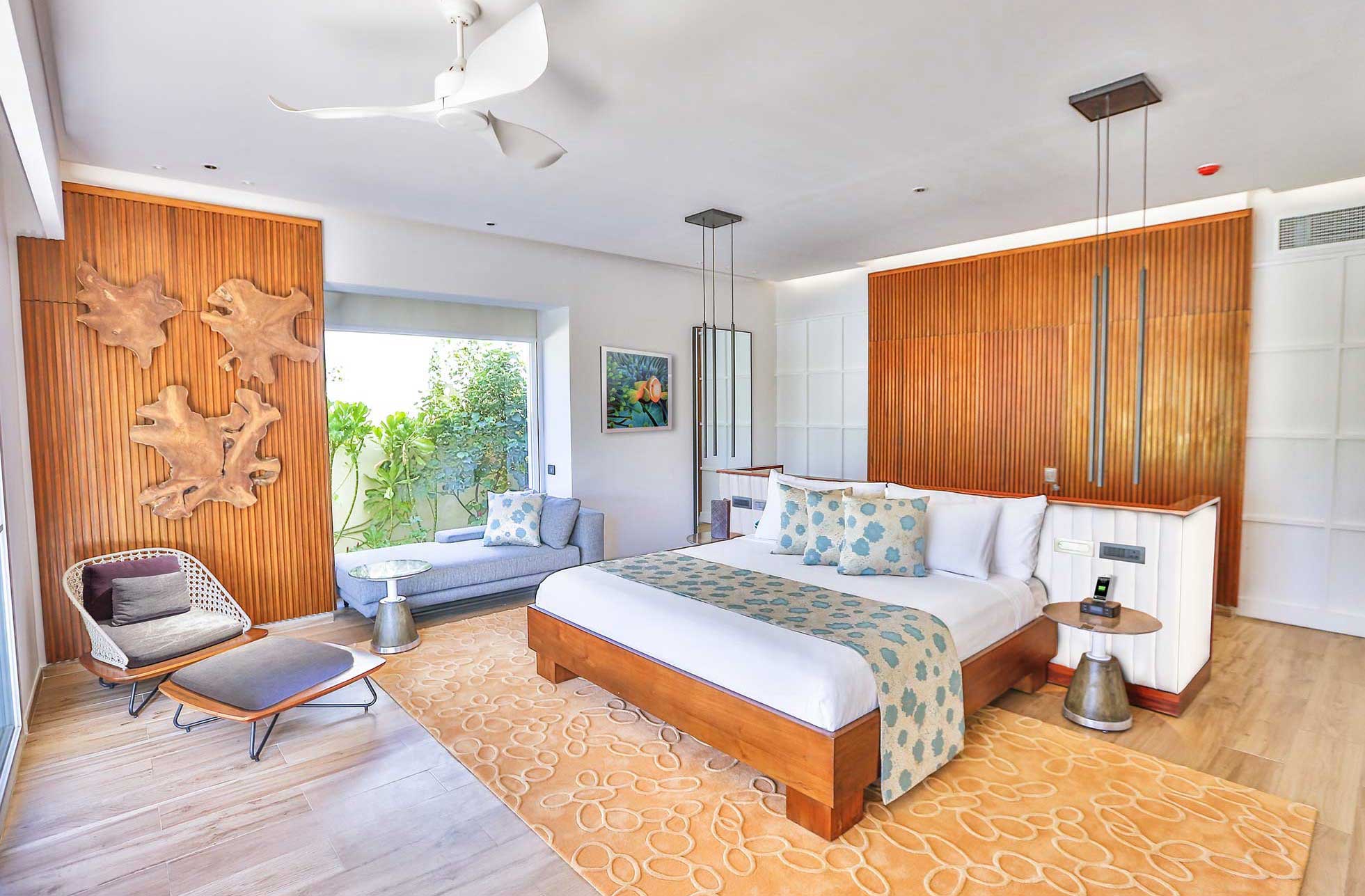 This 176 sqm villa is located along the beach and has beautiful wooden furniture to complement the all-white interior. The king-sized bed is directly facing the beach and azure lagoon. An additional sofa bed lays next to a glass window peering into the garden. The bathrooms are spacious and come with marble floors.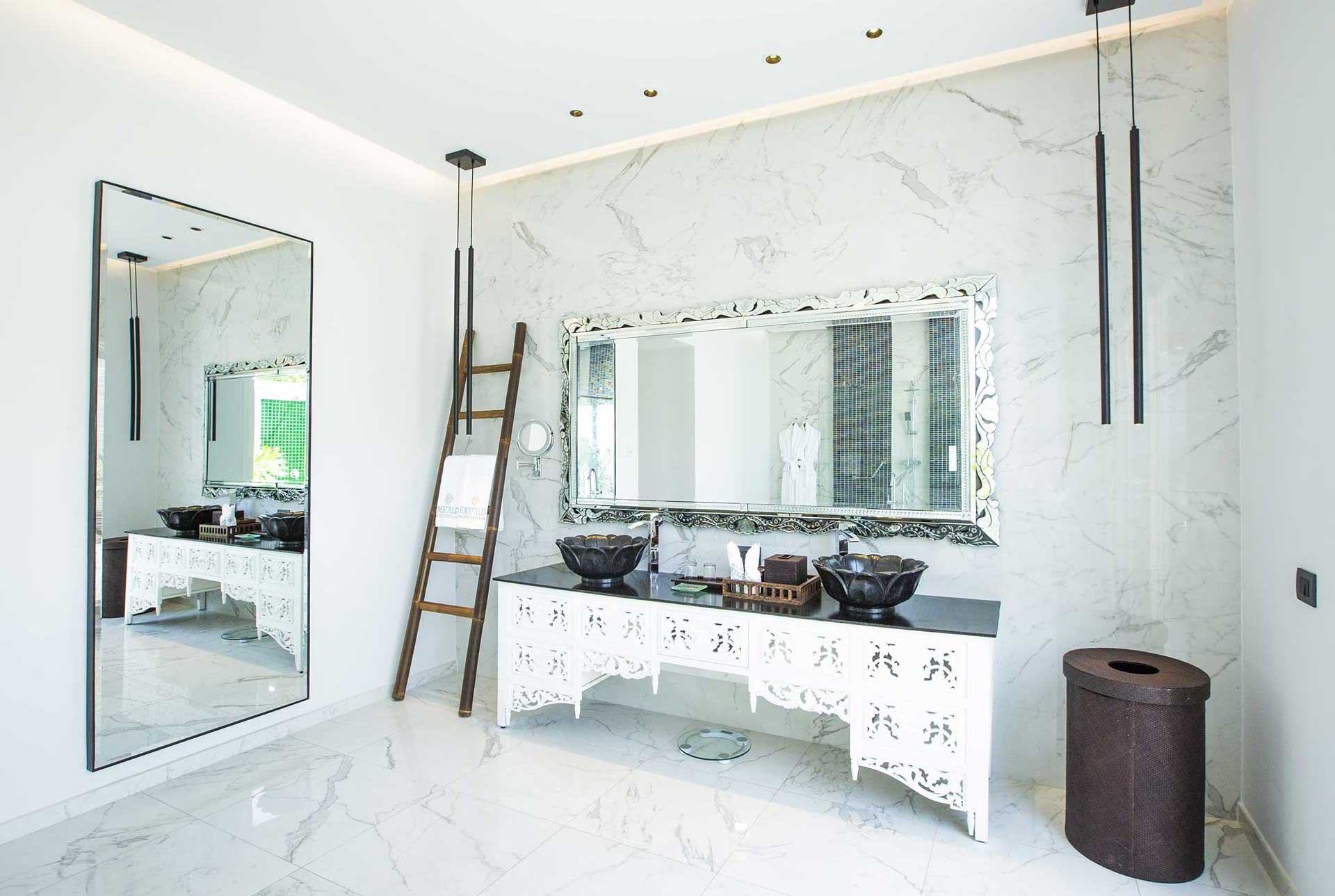 Inside you have a bathtub and plenty of areas for you to run around in your birthday suit. You can step into the outdoor open shower from the bathroom, but you will have full privacy even if it's open sir. This villa would be perfect for couples who are looking for a romantic hideaway as it provided you with a private beach area with sun loungers and a coffee table with seating.
Beach Villa with Pool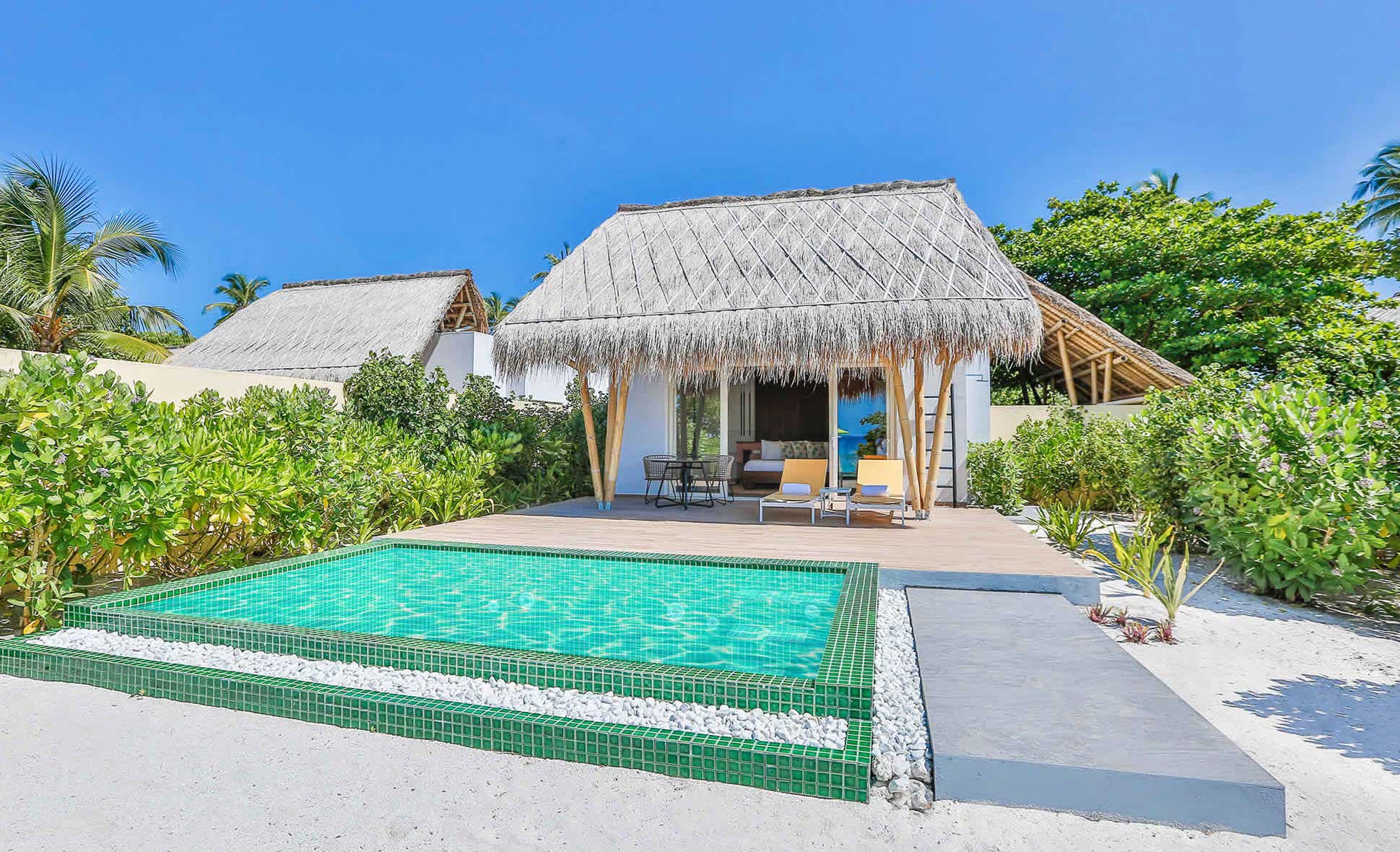 This 187 sqm villa is similar in design to the beach villa but with an added luxury of a private pool. Slightly larger in size with a pool measuring 5x3 meters, this villa also comes with its private garden just outside the bathroom.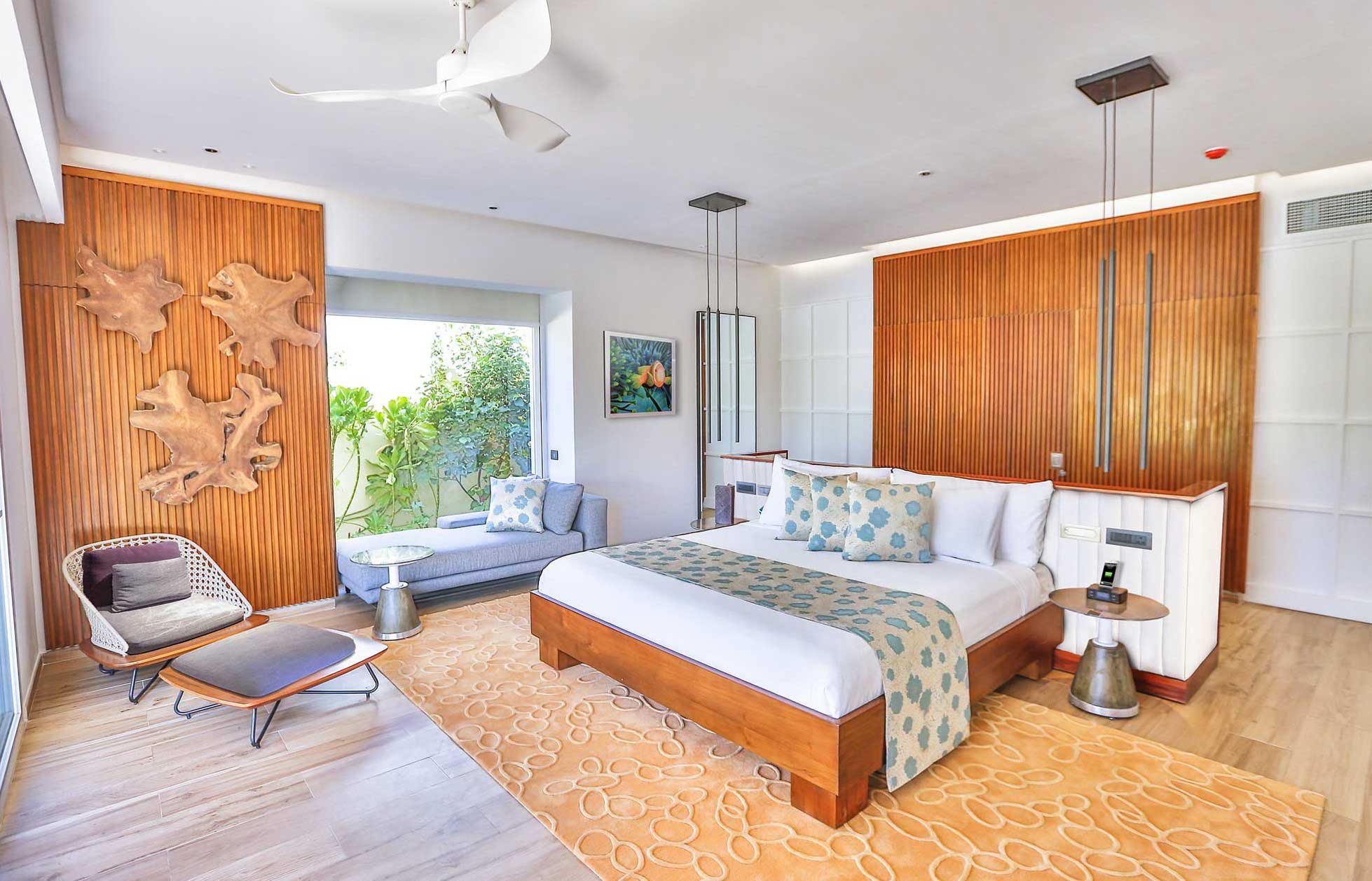 The king-sized bed is facing the beach and azure lagoon. Your private pool is situated on the wooden deck that includes sun loungers. If you want to spend a little extra on a private pool this villa would be perfect for you.
Family Beach Villa with Pool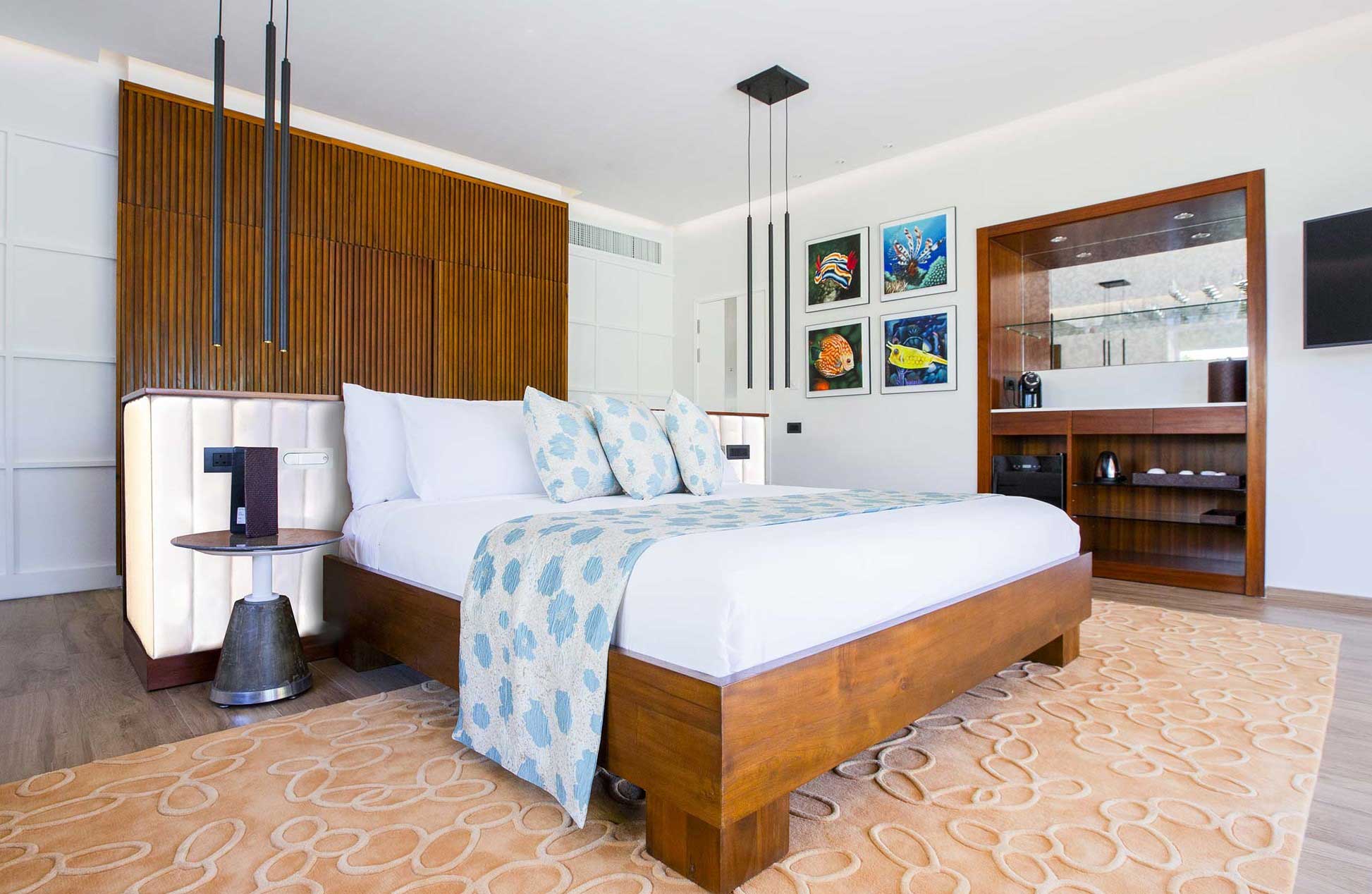 This 280 sqm villa is the perfect choice for a family with children. It comes with a master bedroom and a separate kid's bedroom as well. Each room comes with its private bathroom with marble flooring. The master bedroom has a king-sized bed facing the beach and lagoon. The kid's bedroom comes with two beds and direct access to the outdoor patio.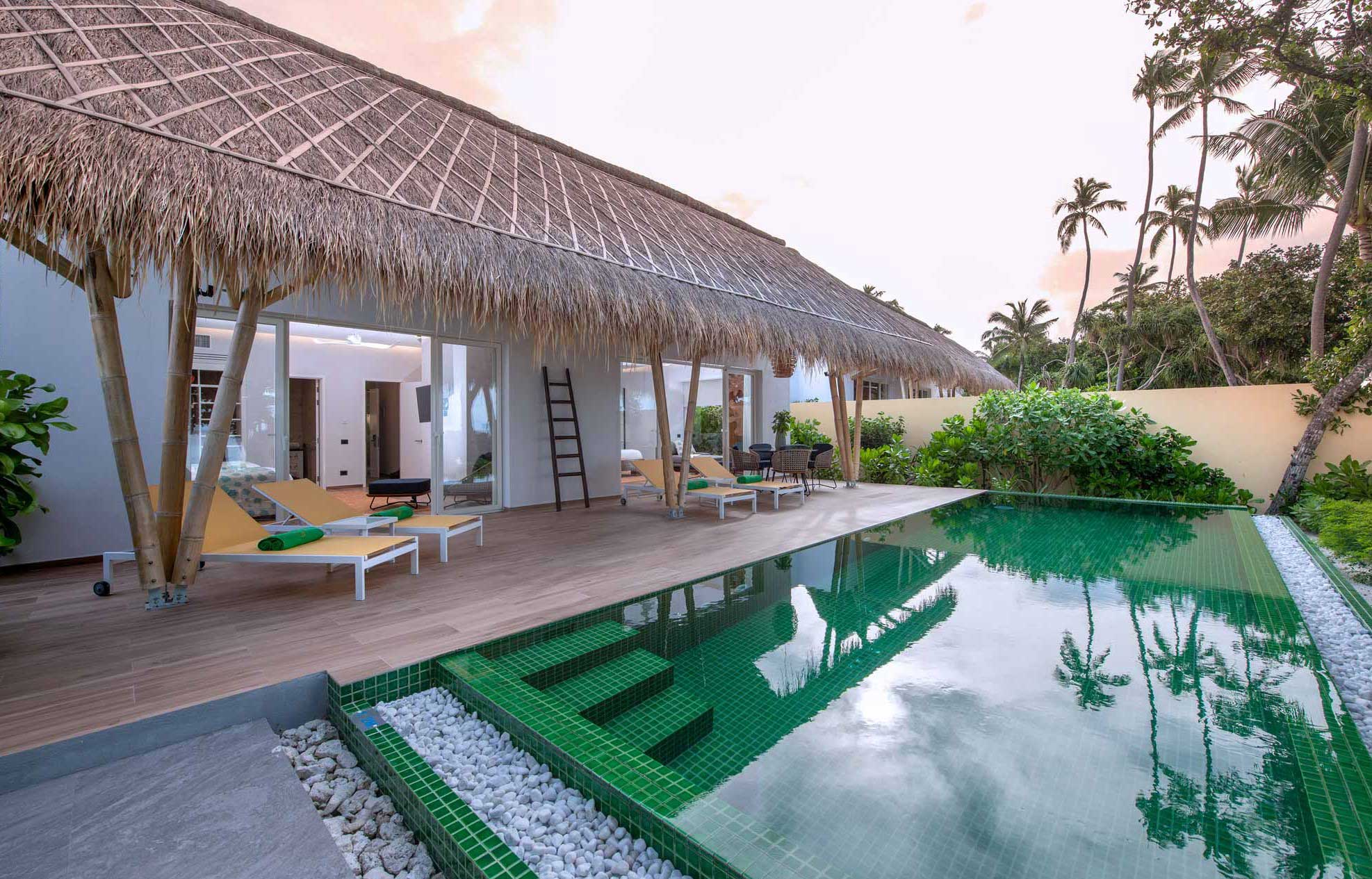 Your private swimming pools await in front of your rooms for you to take a refreshing swim in. You will also have access to the beach area with sun loungers. This villa comes with an 8x3 meter private pool. Designed in a way where you can enjoy family time together and have privacy when needed, this villa will create beautiful memories for your family.
Jacuzzi Beach Villa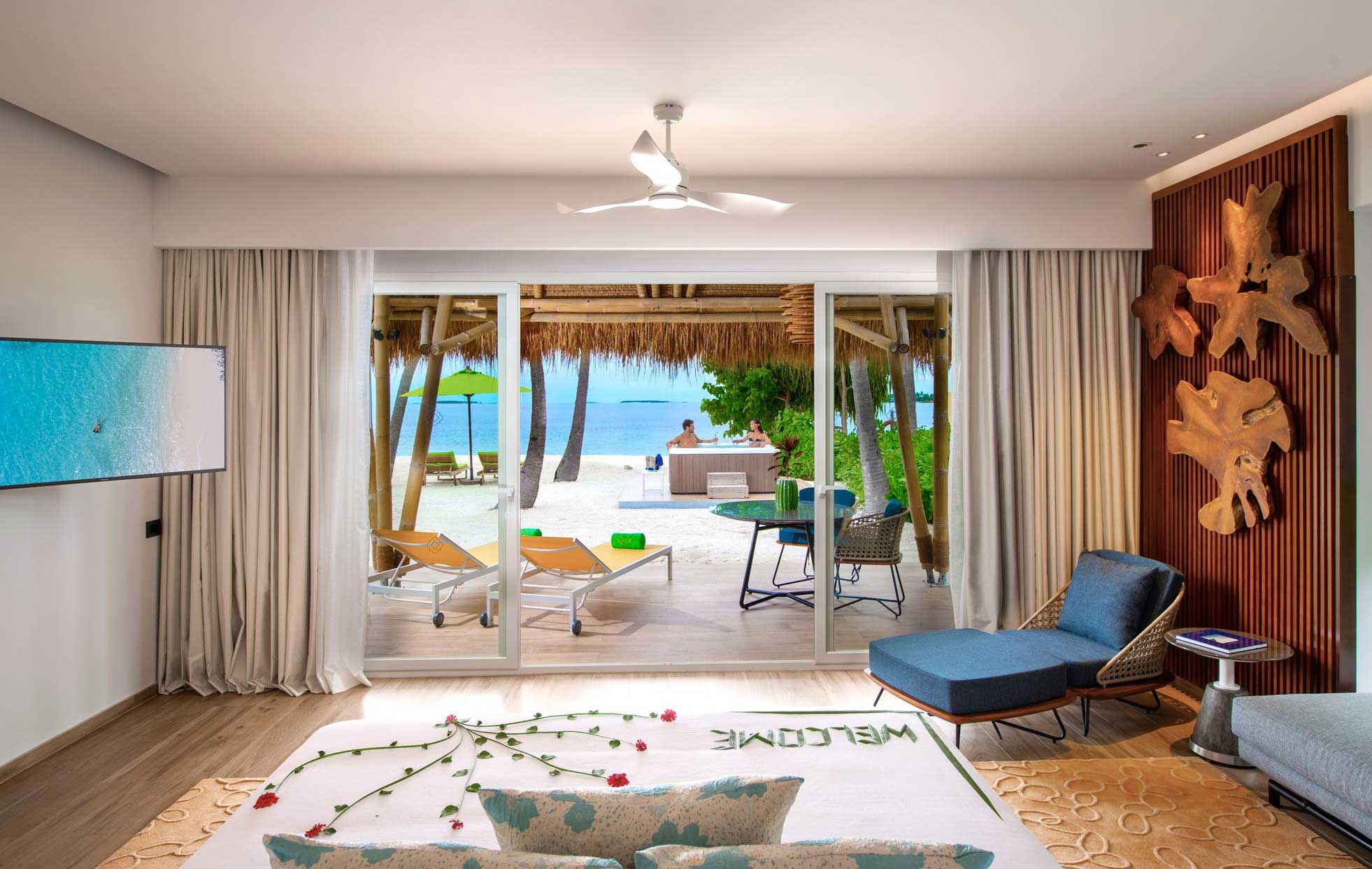 This villa of 176 sqm, although smaller than the previous villas comes with an added luxury of a private Jacuzzi measuring 2x2 meters. Perfect for couples looking for that added touch of luxury, this villa combines luxury with nature to serve you a perfect blend of a romantic hideaway.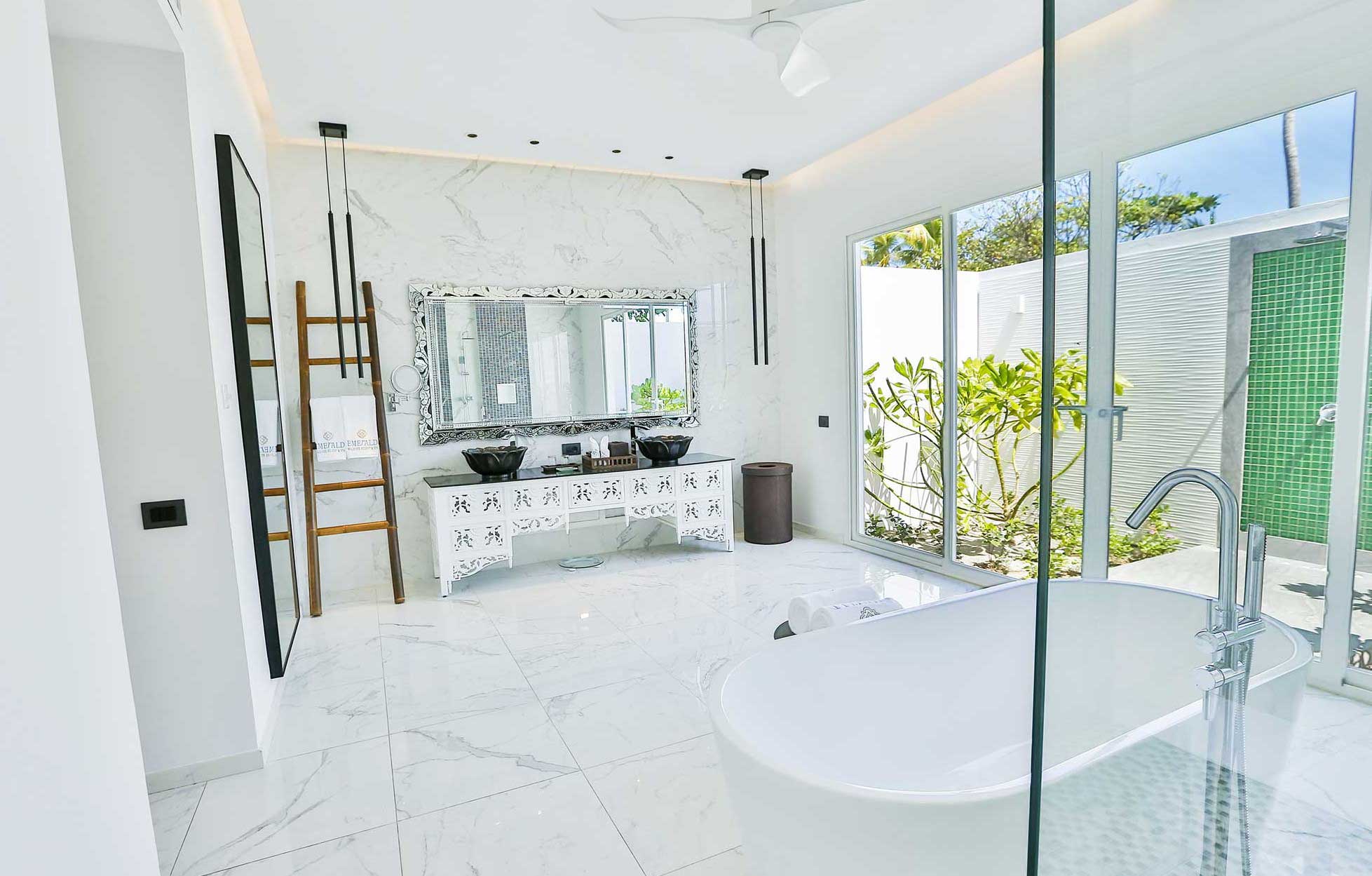 The king-sized bed is facing the white sandy beach and azure lagoon and the bedroom comes with a sofa bed and a working station. The bathroom is spacious and comes with marble flooring that compliments the white interior. You can either take a relaxing bath in the bathtub or experience the refreshment of an open outdoor shower with the utmost privacy.
Marine Beach Villa with Pool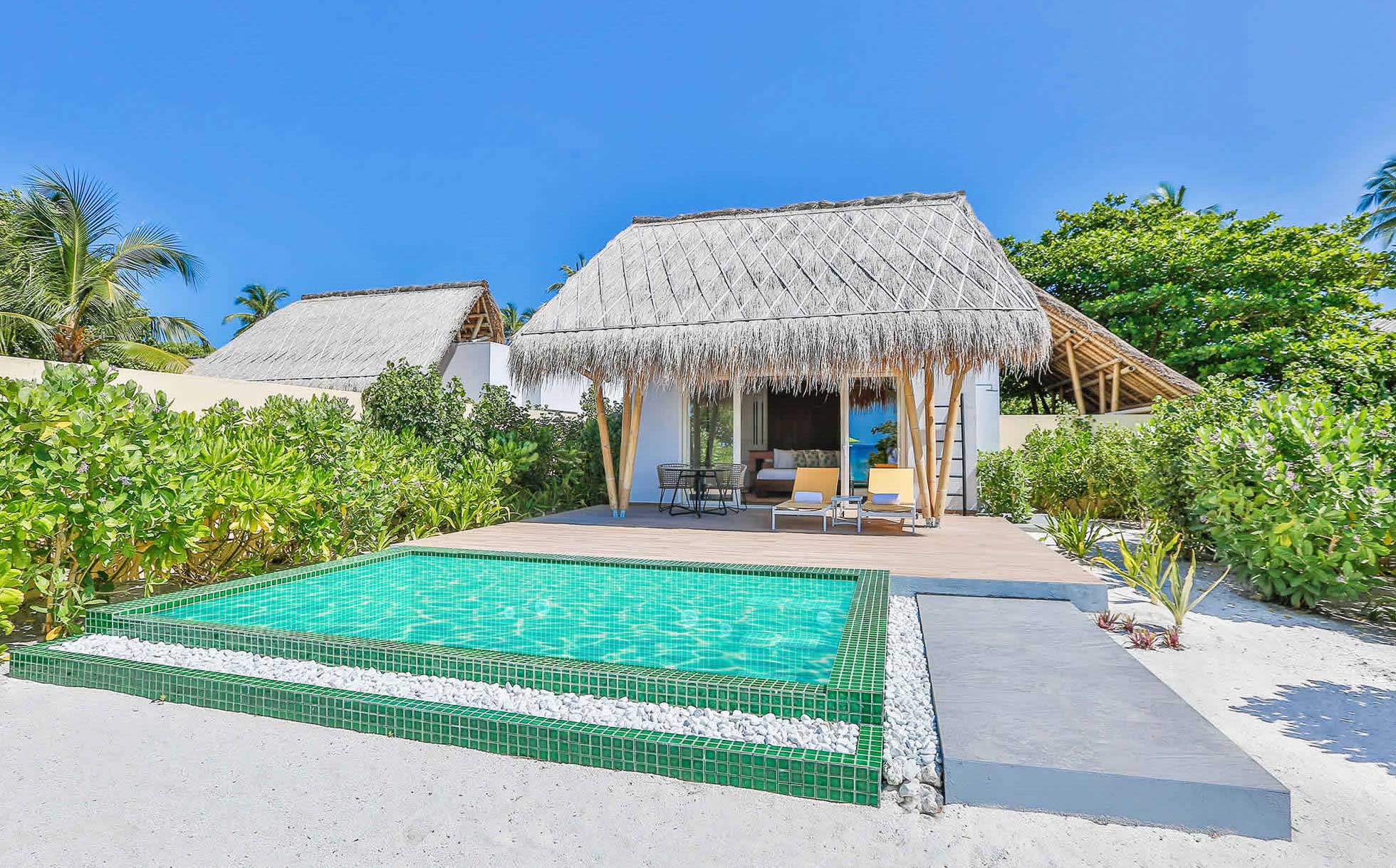 Bigger than the Jacuzzi Beach villa, this 187 sqm villa is located in front of the resorts private marina and seaplane arrival. The king-sized bed facing the beach and lagoon gives you a mesmerizing view of the blue waters of this island. This villa also comes with a private pool measuring 5x3 meters and a private garden.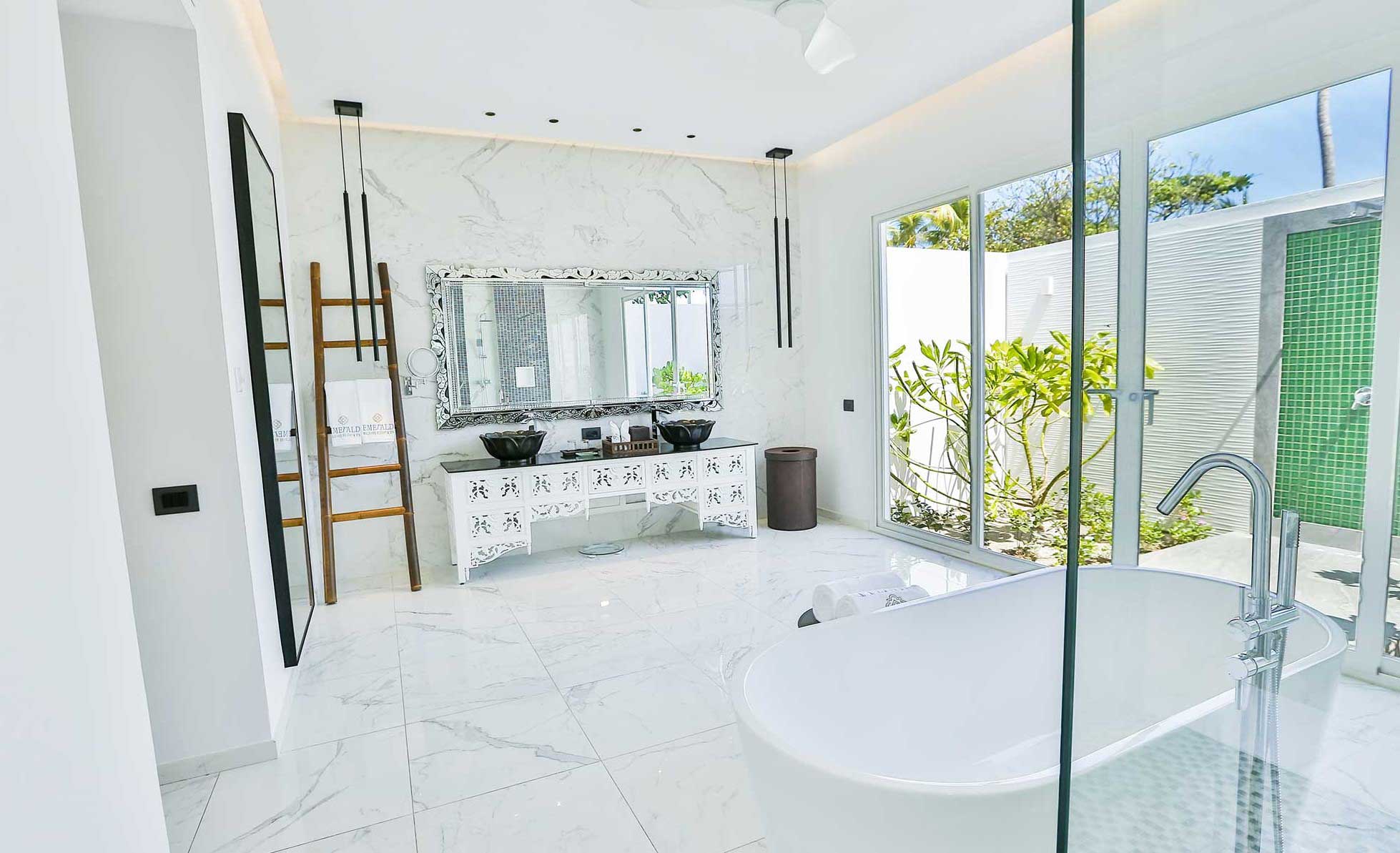 The spacious bathrooms have a white interior and marble flooring like the other villas. The room has a sofa bed, a working station, and a comfortable chair. If you are an aviation fan then you might want to stay in this room as it will give you a view of the seaplanes that land on the sea. They are not noisy unlike commercial flights but if you want a quieter option you might want to go choose another villa.
Superior Beach Villa with Pool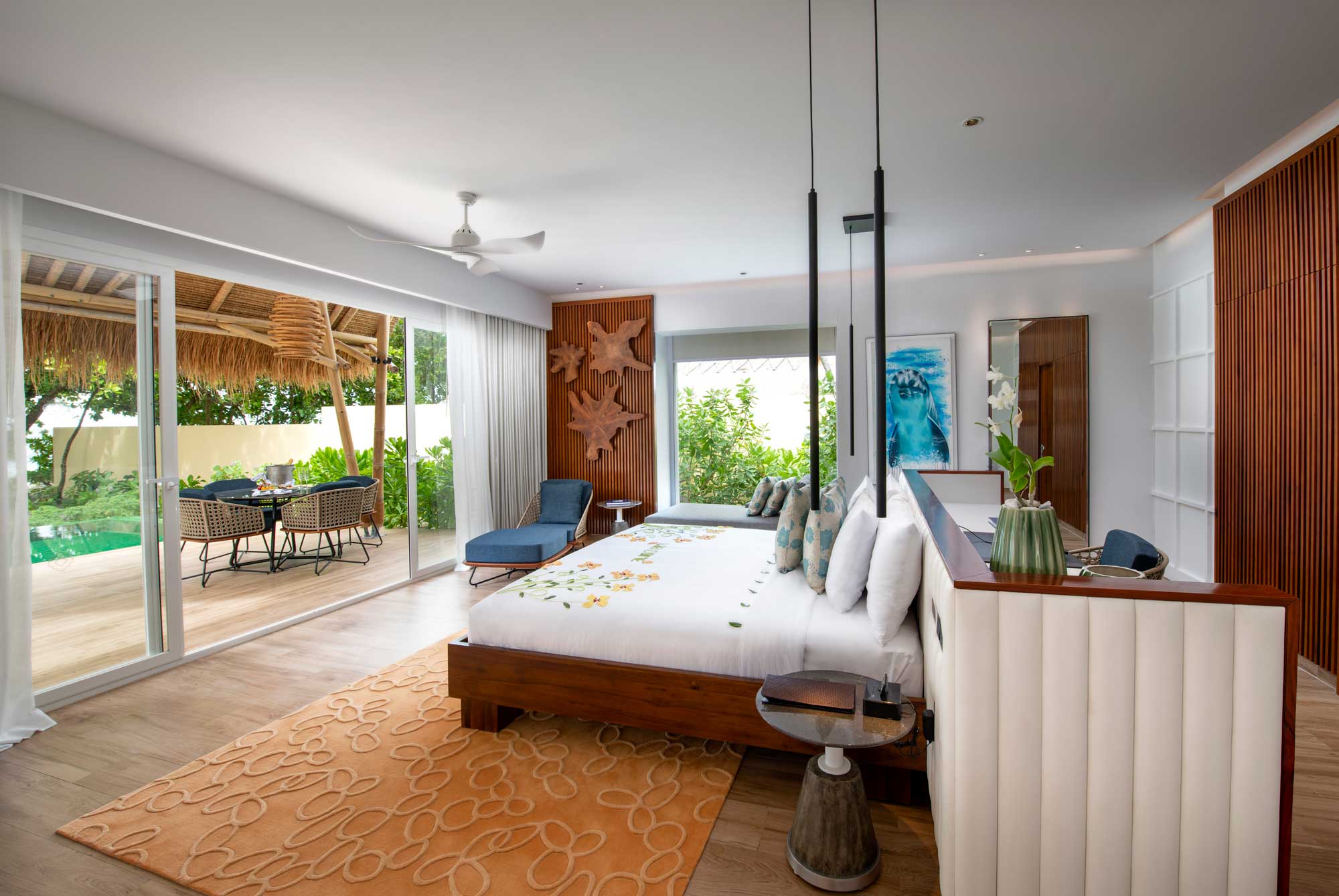 Now we have the ultimate private beach villa, a 280 sqm villa that provides you total privacy. This villa comes with a bedroom and a living room designed perfectly to blend in with nature to offer you a state of bliss. The king-sized is facing the beach like other villas and comes with a sofa bed, a comfortable chair, and a working station.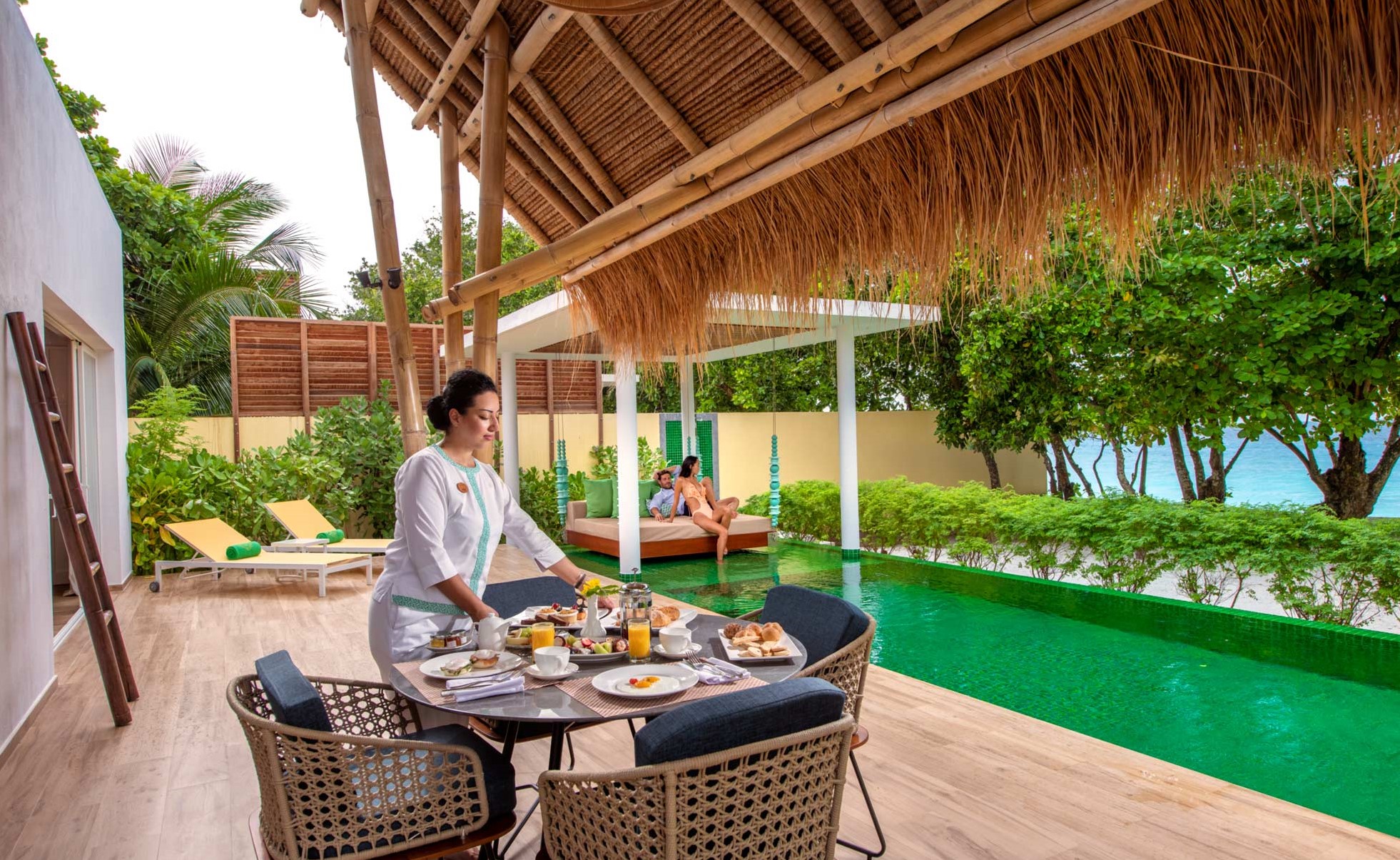 The outdoor patio comes with a dining table with seating for 4. This would be perfect for families and friends traveling together. The bathroom is spacious and comes with a bathtub and outdoor shower. The private garden comes with a lounge and a private swimming pool measuring 8x3 meters.
Royal Beach Villa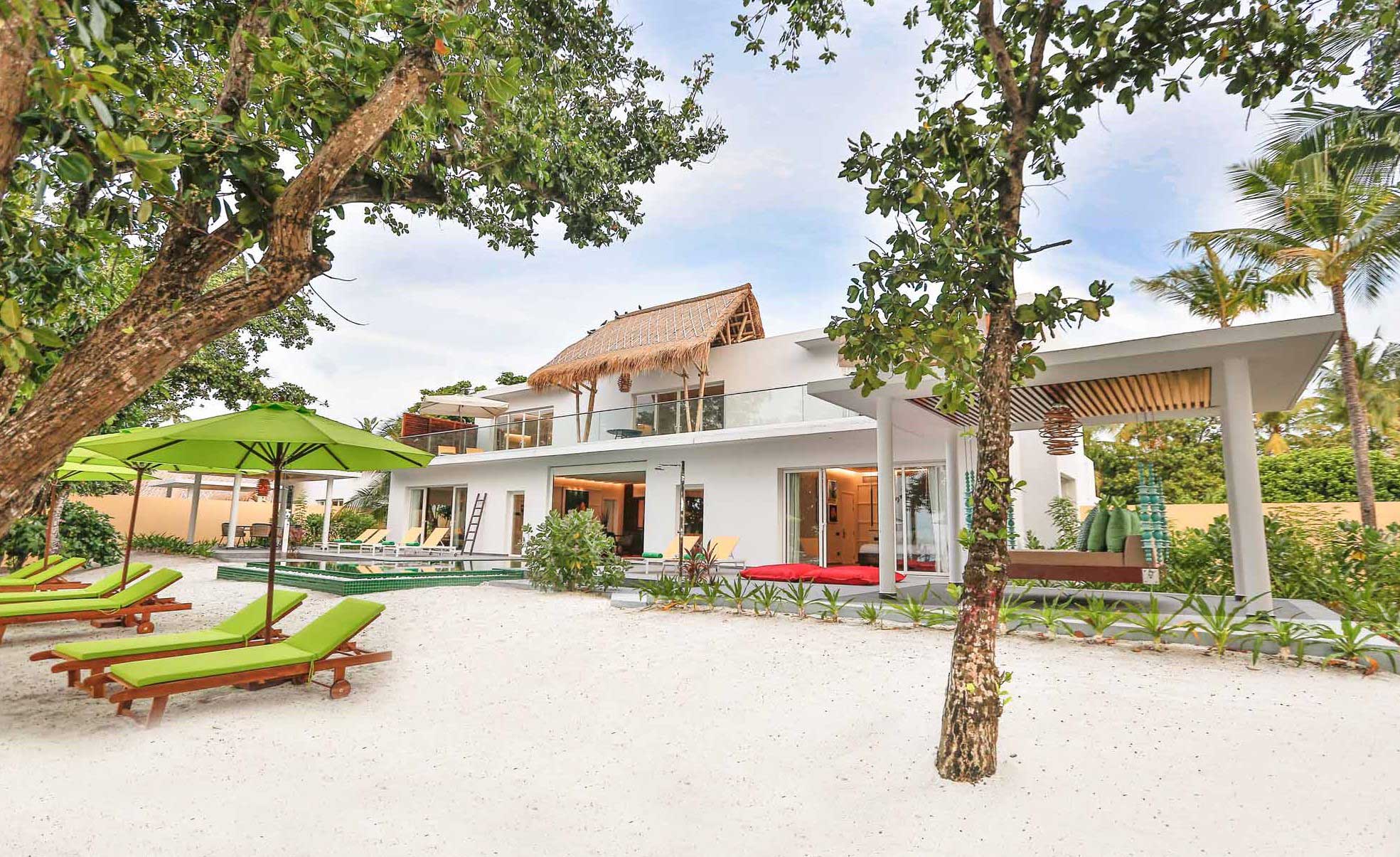 This is the largest of the beach villas, with a staggering 900 sqm and two floors featuring two bedrooms on the ground floor and a guest room on the second floor. Each room comes with its private spacious bathroom and closets. The ground floor has a lounge area with a private bar and kitchen included.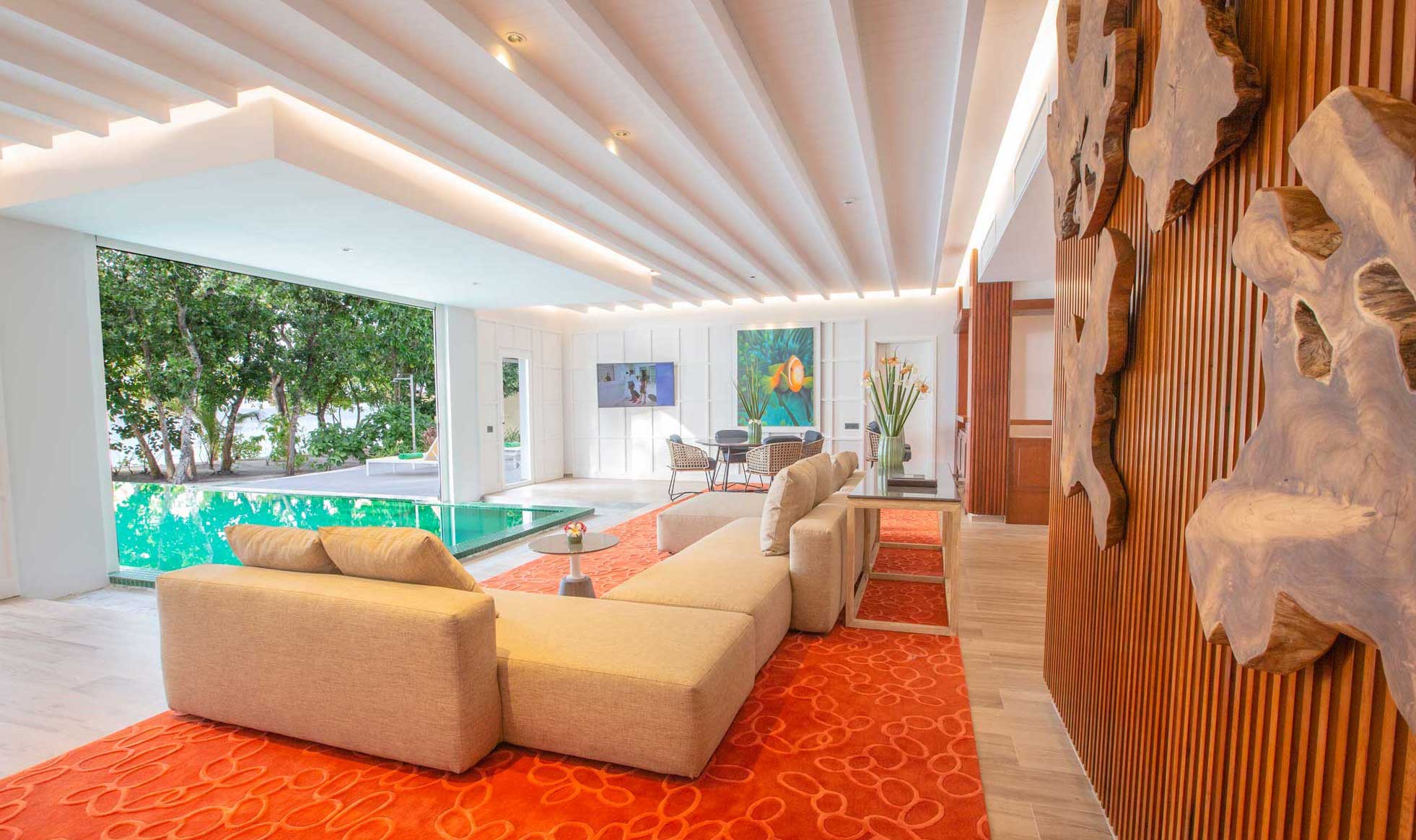 The ground floor also has a private garden with a covered and open patio, a gazebo, and an 8x3 meter swimming pool. The first floor has the guest room with a bathroom, a massage area, a lounge, and a walk-in closet. Perfect for groups of friends or a large family traveling together this villa will provide the utmost privacy and memorable moments throughout the day.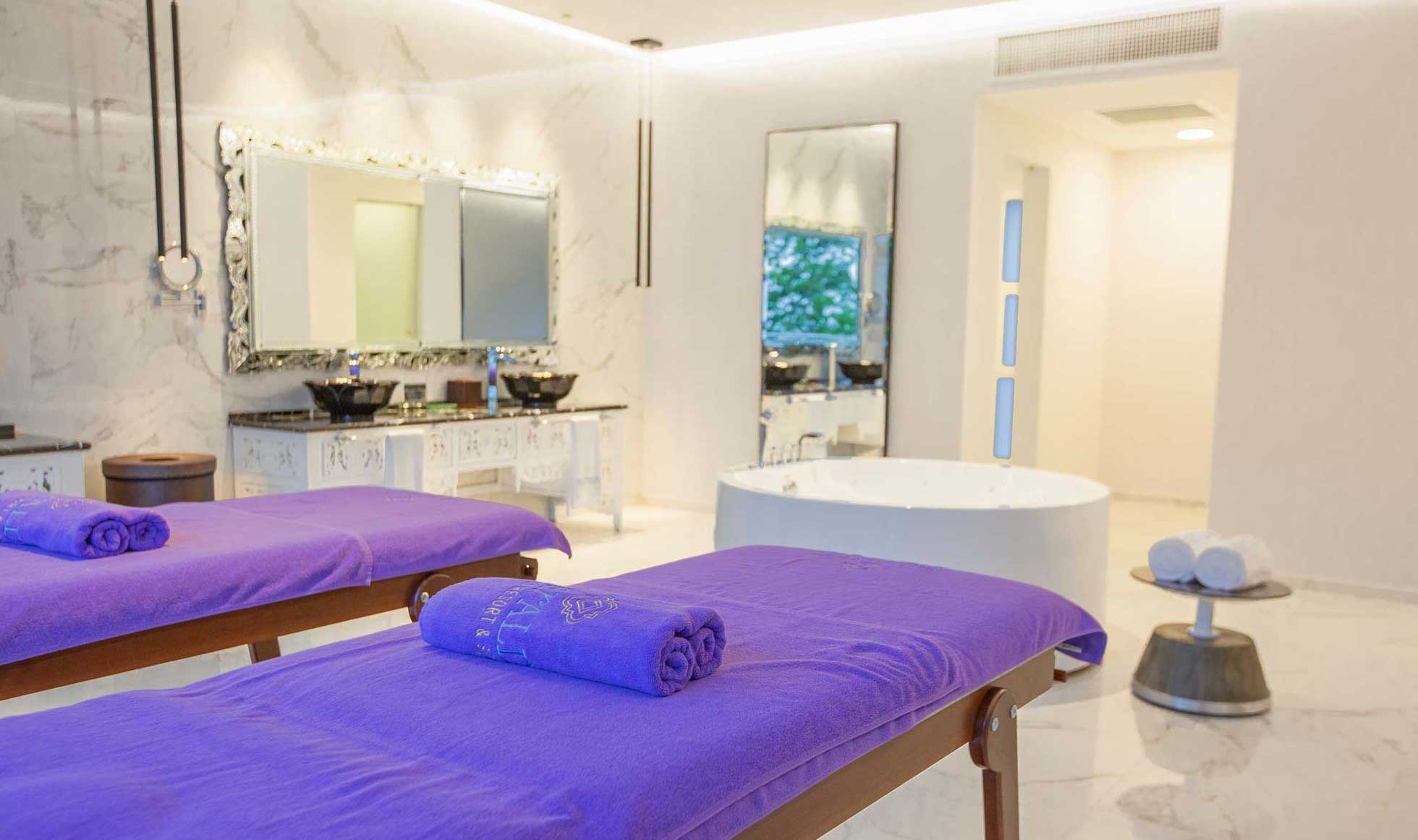 The room and bathroom designs are similar to other villas however this villa is much more spacious. Another plus point is that this villa provides uninterrupted views of the azure lagoon and white sandy beach of this private island.
Other Accommodations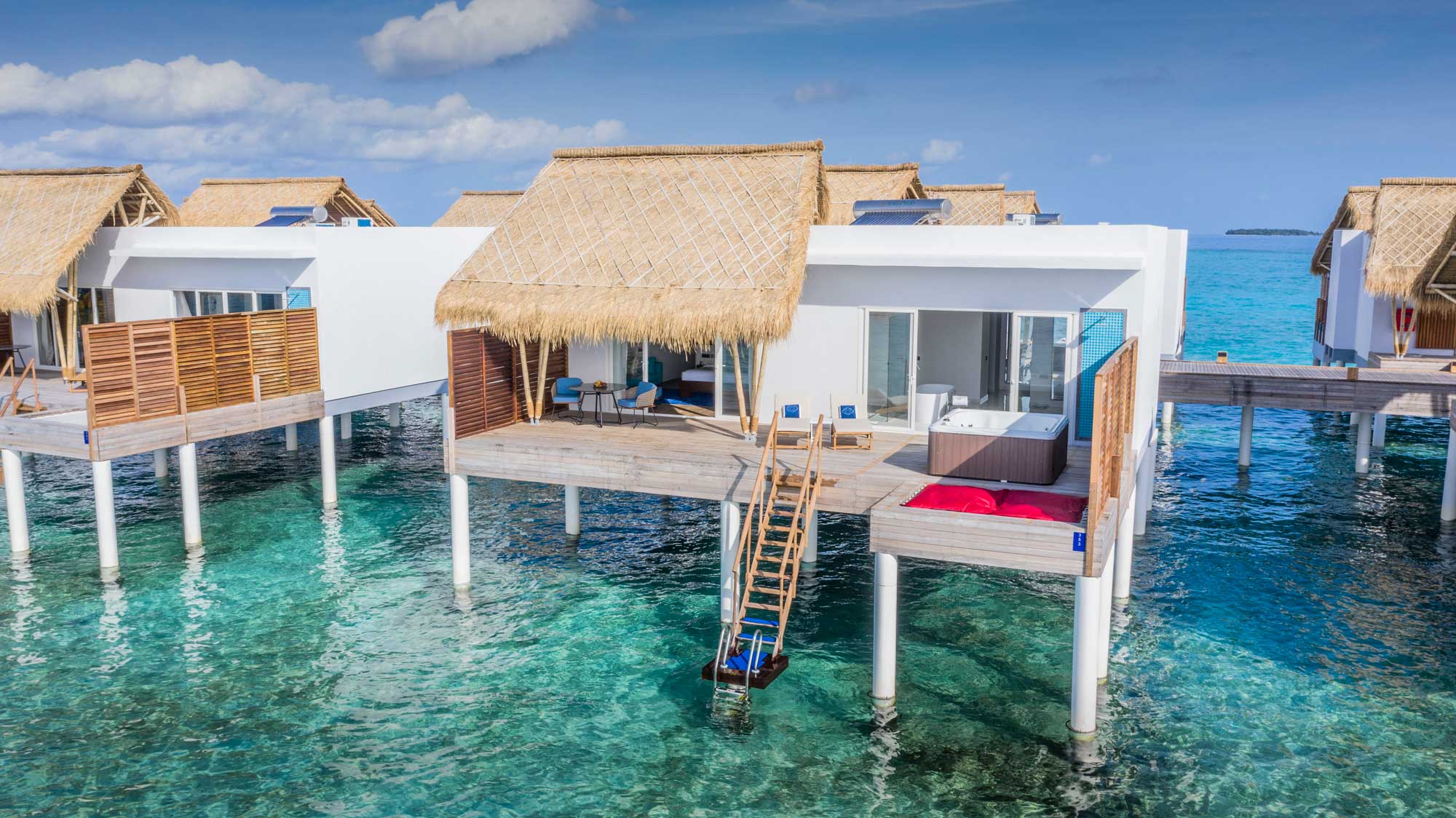 Although beach villas are the main feature, this resort also has water villas that are equally mesmerizing and beautiful. You have options of staying on beautiful villas perched on the azure lagoon such as the 176 sqm Jacuzzi Water Villa; perfect for a couple, or a 176 sqm water villa and 187 sqm water villa with pool, or a 310 sqm Superior Water Villa with Pool; perfect for a group of friends or family traveling together.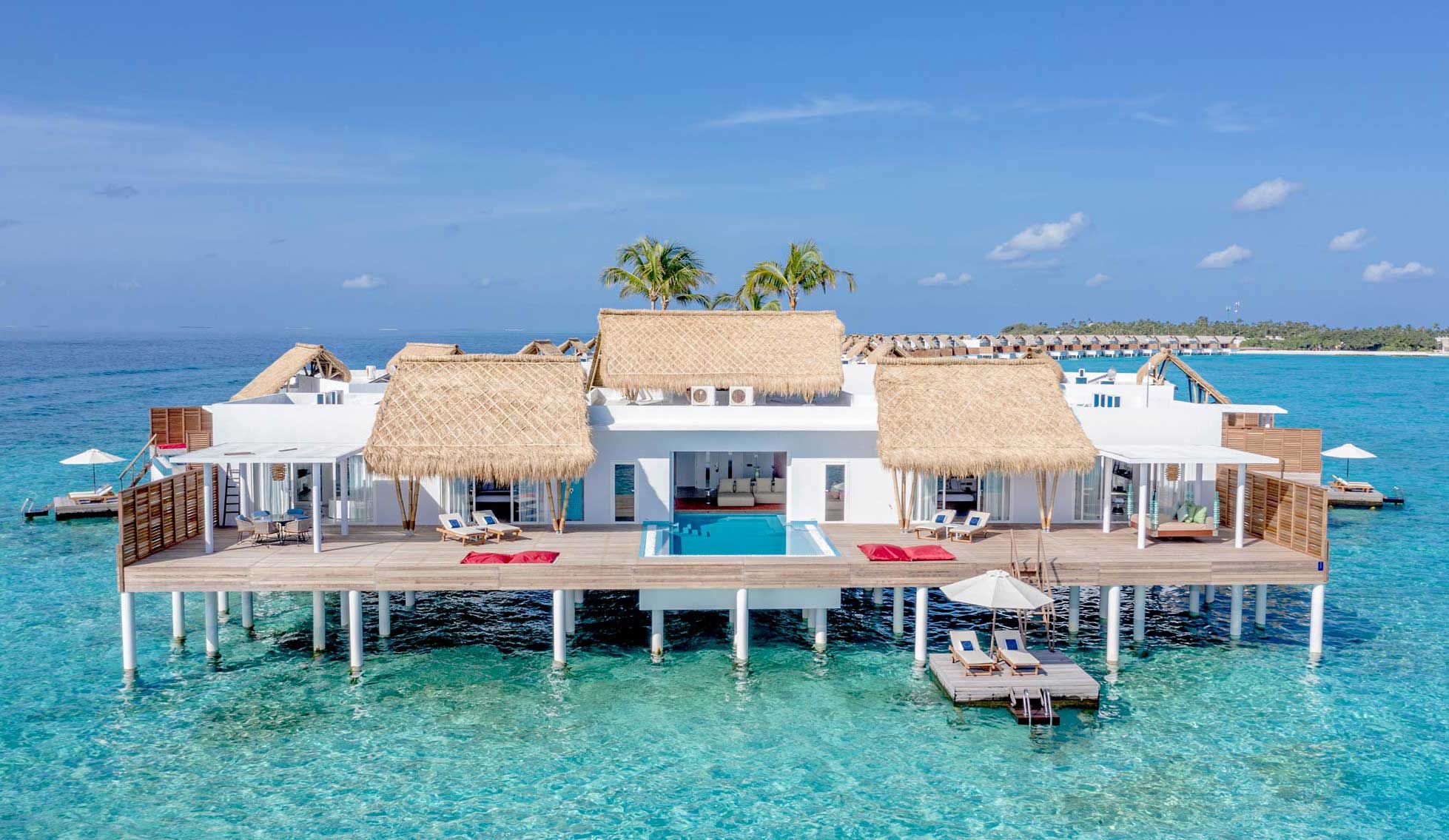 For the ultimate luxury, you can choose the 640 sqm Presidential Water Villa that comes with two spacious bedrooms. All the villas a designed to blend into the surrounding waters and comes with affordable luxury. This private island has a wide range of options for you to pick from.
Activities
This resort is a haven for couples and families looking for an escape from the chaotic world. They have many options for things to do during your stay. For your fitness goals, you can visit the Gym & Sports Center with state-of-the-art TechnoGym equipment, 2 tennis courts, 2 paddle courts. They will offer you professional assistance for personalized training programs. For the aquatic beast, the Water Sports Center offers Hobie-cats, kayaks, kite and windsurf equipment, jet skis whilst a trained Water Sports Team will supervise to ensure your safety. The Diving Center offers you the support of certified PADI professionals if you want to obtain the PADI license and take you diving and snorkeling to witness the mesmerizing coral reefs and exotic marine life that inhibits these rich ecosystems. After a day of adrenaline-filled activities, you can visit the Emerald Spa that offers Balinese and Thai treatments in private bungalows. This spa also comes with an Indonesian style pool and relaxing area with Jacuzzi, Sauna, and Turkish baths. With the experienced therapists, you will come out refreshed and feeling like a completely new person. For the children, this island resort has a Dolphin Kids Club for children from 4 to 12 years. This club has a 1500 square meter complex with a large outdoor playground and a wide range of indoor and outdoor activities. It also comes with a kid's restaurant and pool so that you can enjoy your day whilst your children are taken care of by trained staff.
Dining
Dining options are aplenty on this private island, from Aqua Restaurant that serves international cuisine for break, lunch, and dinner to 5 other locations that provide your different culinary experiences during your stay.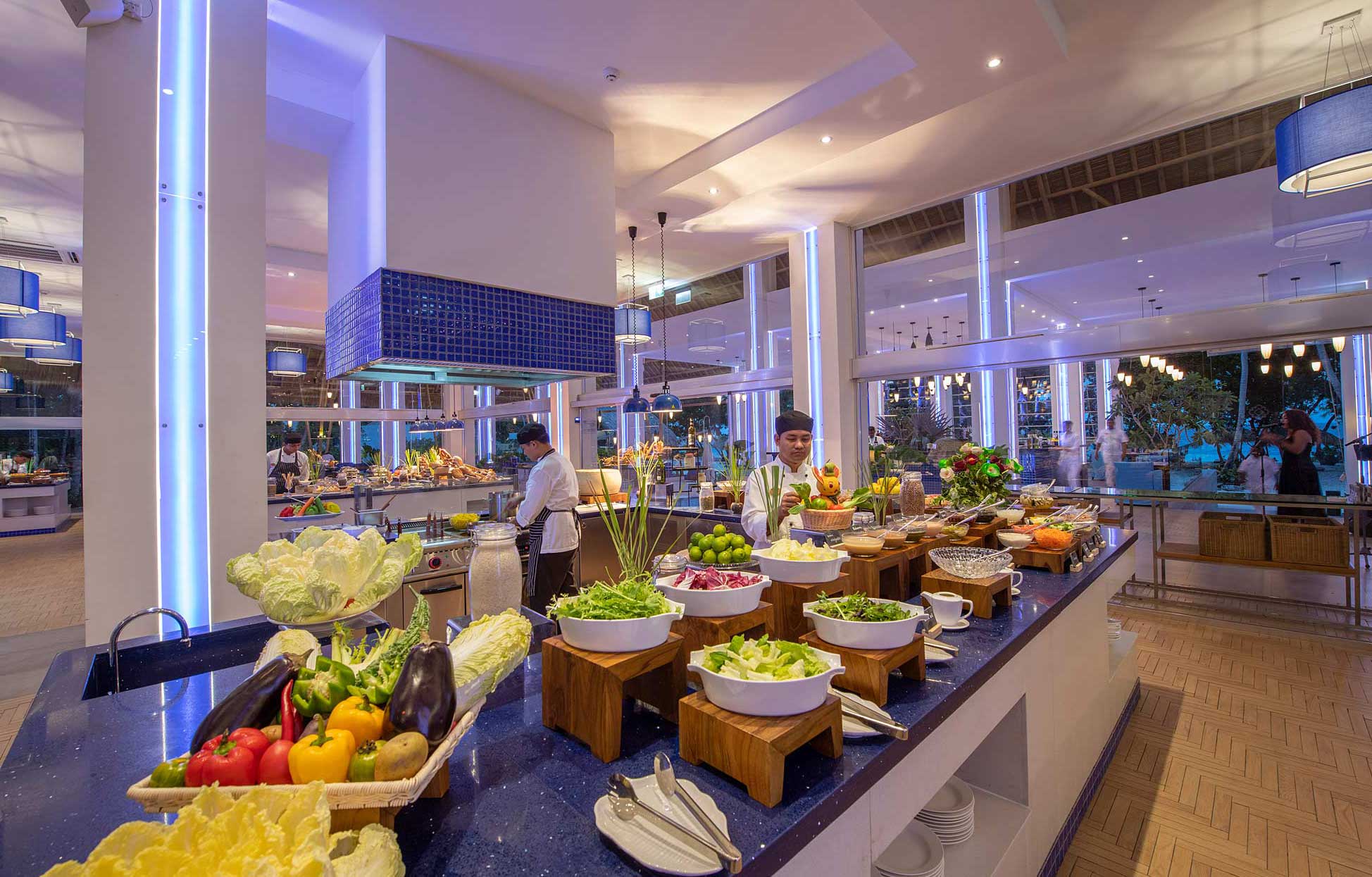 The Resort is also a real laboratory and a point of reference for flavors and taste, featuring the international cuisine of the Aqua Restaurant, the Beach Club Grill, and its Mediterranean cuisine and two other outlets offering respectively Latin American and Asian cuisine. Natural ingredients are treated with a superior level of creativity in all restaurants, to offer guests a deluxe all-inclusive formula in all outlets. Aqua services an indoor buffet of Mediterranean, Japanese, Italian, Chinese, Vegetarian, and many other additional delicacies to give you a gastronomical experience. The main beach features the Beach Club Grill Restaurant that offers lunch and dinner based on a selection of fresh fish, seafood, meat, and vegetables prepared on a stone grill to give you a dish rich with flavor. It also comes with a pizza & pasta station and a Beach Pool Bar. For a fun dining experience, you can visit Amazònico Restaurant that services dinner prepared right in front of you. The dishes are based on original recipes and ingredients from Central and South America. They also offer dishes from Brazil. Mexico, Argentina, Peru, and Chile such as quesadillas, beef ribs, enchiladas, and Brazilian beef.
Last we have Le Asiatique Restaurant, placed in the center of the island amongst the tropical forest serving authentic Asian dishes. This restaurant is fully equipped with a Teppanyaki grill and live cooking shows. For a perfect evening or afternoon of lounging with your favorite drink, you can visit either the Sunrise Café or the Sunset Pool Café. The Sunrise Café offers you outstanding views of the tropical sun rising above the horizon as you start your day with a caffeine fix. For sunset, you can visit Sunset Pool Café; where you can witness the tropical sun bidding farewell as you continue your day listening to music and unwinding with your loved ones. This restaurant comes with a billiard game table right on the beach.
Emerald Maldives Resort & Spa truly is a gem, with its all Deluxe All-inclusive concept which is not common at private resorts in the Maldives. With an outstanding 5-star rating on TripAdvisor and visitors vouching for the excellent service provided by the resort, this newly opened resort is reaching new heights. The friendly staff that speaks English, German, Italian, Russian, Chinese, Hindi, and Indonesian will take care of all your needs throughout the day with a smile. This resort is built with nature in mind, after all, nature is what most visitors come to the Maldives to seek. Come and enjoy your dream vacation on an exotic island that gives you the perfect blend of nature and luxury and make memories that will leave you yearning to return.
7 Beach Villas at Emerald Maldives Resort. #Maldives #EmeraldMaldives #MaldivesLuxuryResorts #LuxuryResort #PrivateIsland