Maldives Resort Bathrooms That You May Never Want To Get Out
The Water Pool Villa in Milaidhoo Island Resort comes with an exquisite bathroom that gives view of the turquoise lagoon meeting up the house reef. The double vanity bathroom is equipped with oval mirrors, vintage lights and a bathtub facing the ocean. Mesmerizing views feasting your eyes may cause you spend more time in bathroom than usual. This is one of the best simplistic yet elegant bathrooms in any Maldives resort.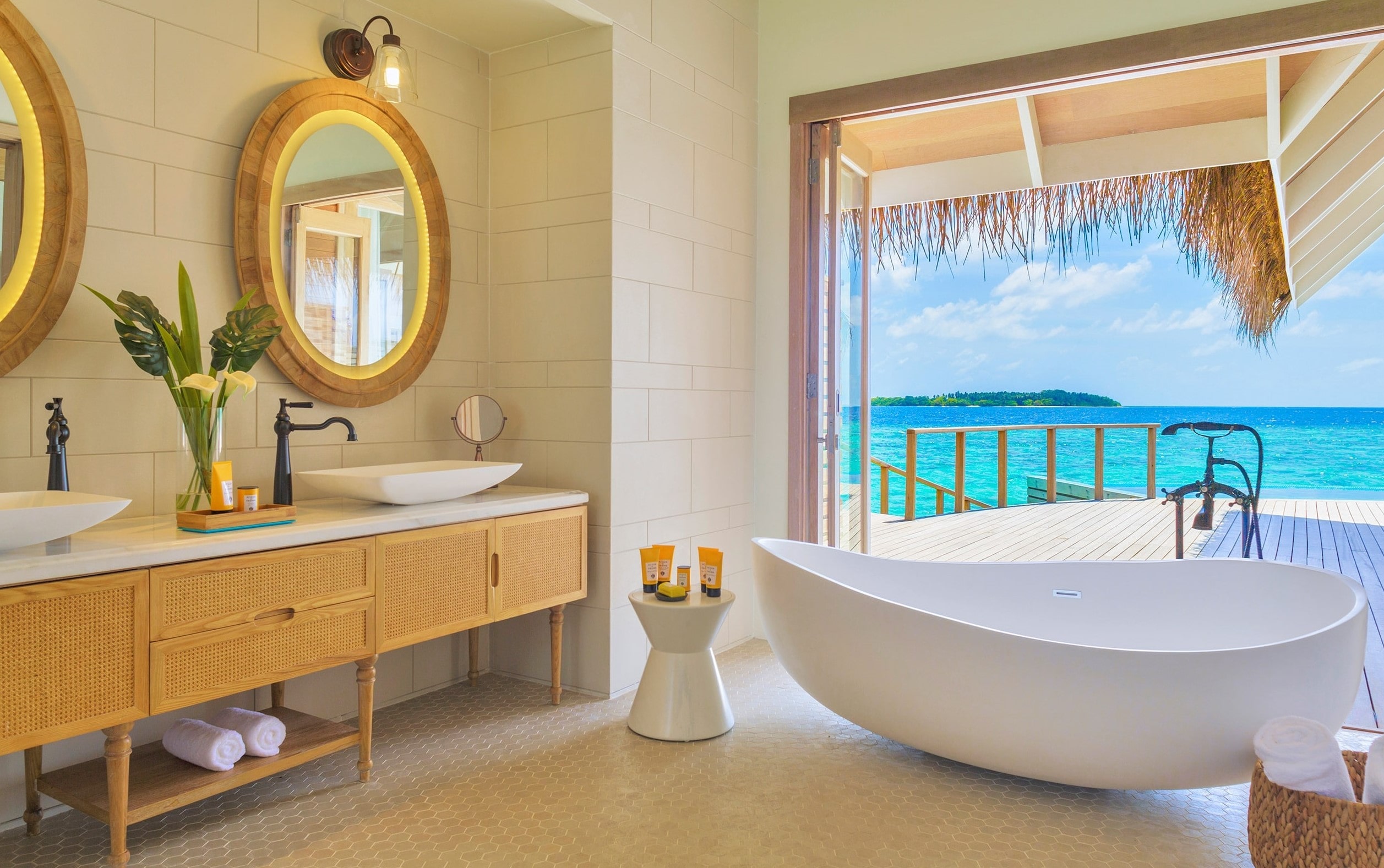 Opened in 2016, Milaidhoo is located in the UNESCO biosphere reserve of Baa Atoll where Hanifaru Bay enables you to watch manta rays up-close. The giant gliders gather at Hanifaru Bay every year to feast on the planktons. Milaidhoo resort is one of the top-ranked islands on Maldives Finest. The 5 star resort enjoys great reputation among the travelers. In this resort there's certainly more than just bathroom that you would enjoy.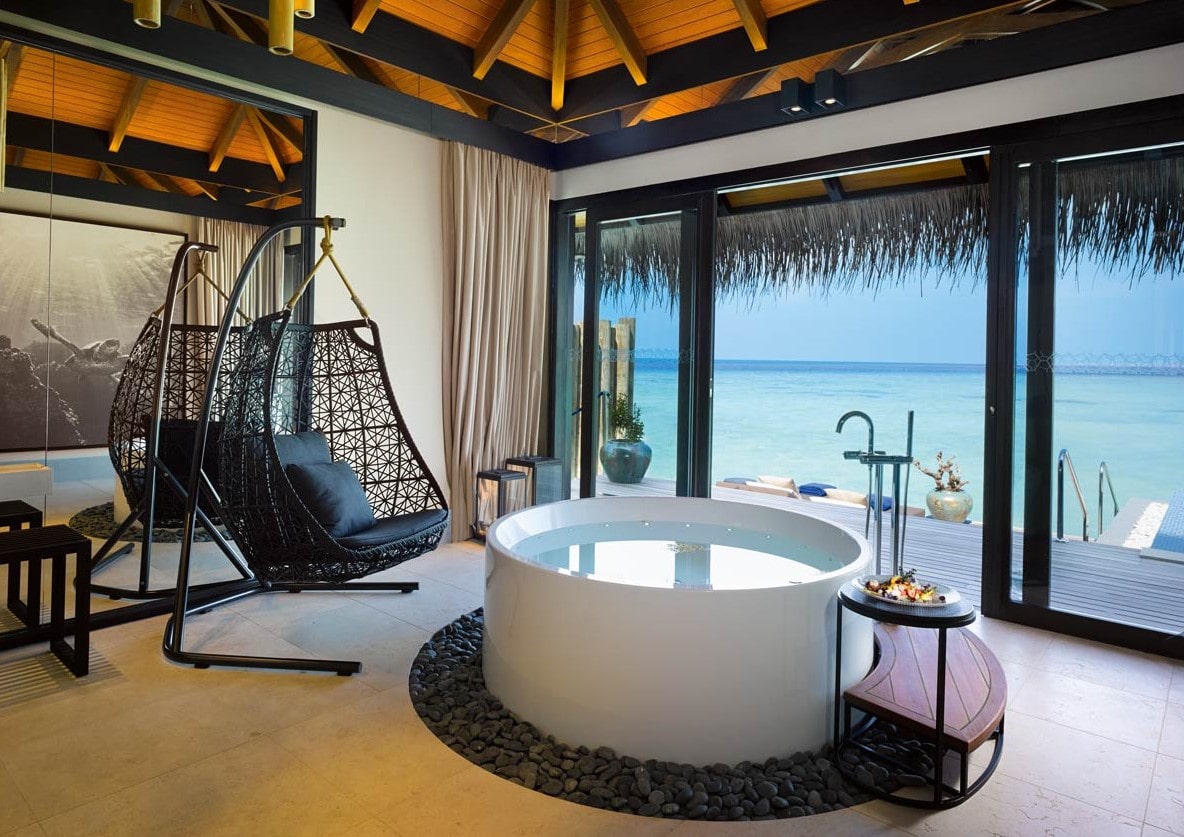 The Sunset Deluxe Water Pool Villa in Velaa Private Island has a unique feature in its bathroom. The rattan swing next to a circular bathtub makes you feel little playful at times. At other times its just relaxing in the tub while sipping your favourite drink. All time favourite of every guest visiting Maldives could be perfect as well - that's just pure relaxation with eyes closed. If I call this experience "answering the call of nature" the meaning could be complicated but the reasons are evidently clear.
In a setting like this there can't be bad day. It's paradise that gives you breath-taking views, all in the bathroom. There's literally no reason to turn your face away. If you are not in a good mood remember that there is a swing, for a reason, just swing the mood.
Emerald Maldives Fasmendhoo offers water villas and beach villas with a twist. Thatched roof with a simplistic appearance is complemented with thick bamboo columns and white exterior. There are some villas with partly thatching. The bathroom in Beach Villa With Pool comes with double vanity that looks like duo of hibiscus bloom. Large mirror has a frame resembling elegant design elements that match with vanity station. It's simplistic and ultra-bright for guests who seek the cleanest look.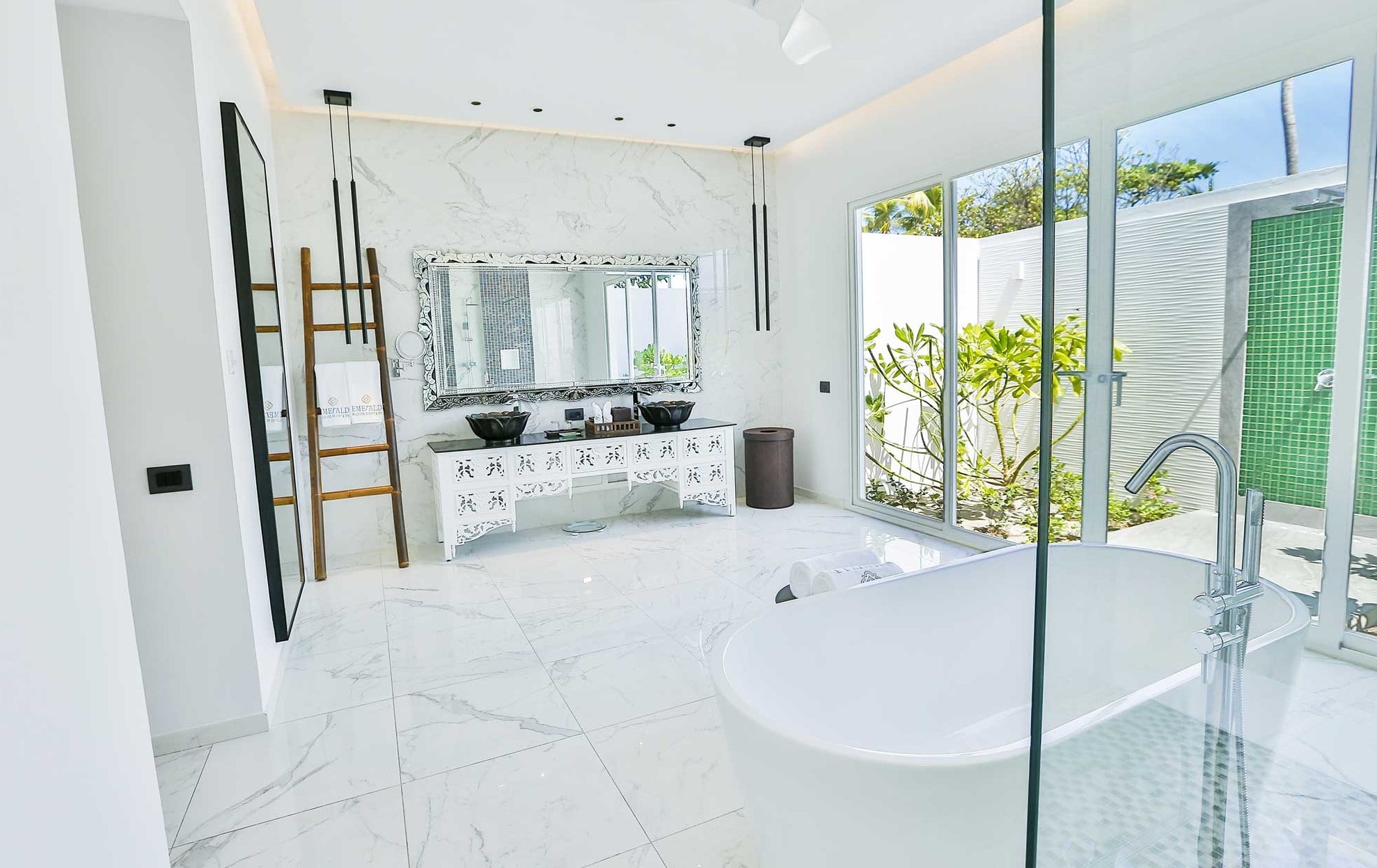 There are 2 showers, one under the roof and another in outdoors when you talk a few steps away. You can enjoy an outdoor shower in complete privacy and confidence as it does not open too much into the nature. The white interior receives plenty of reflected sunlight in the day time, making everything visible for the most hygienic guests.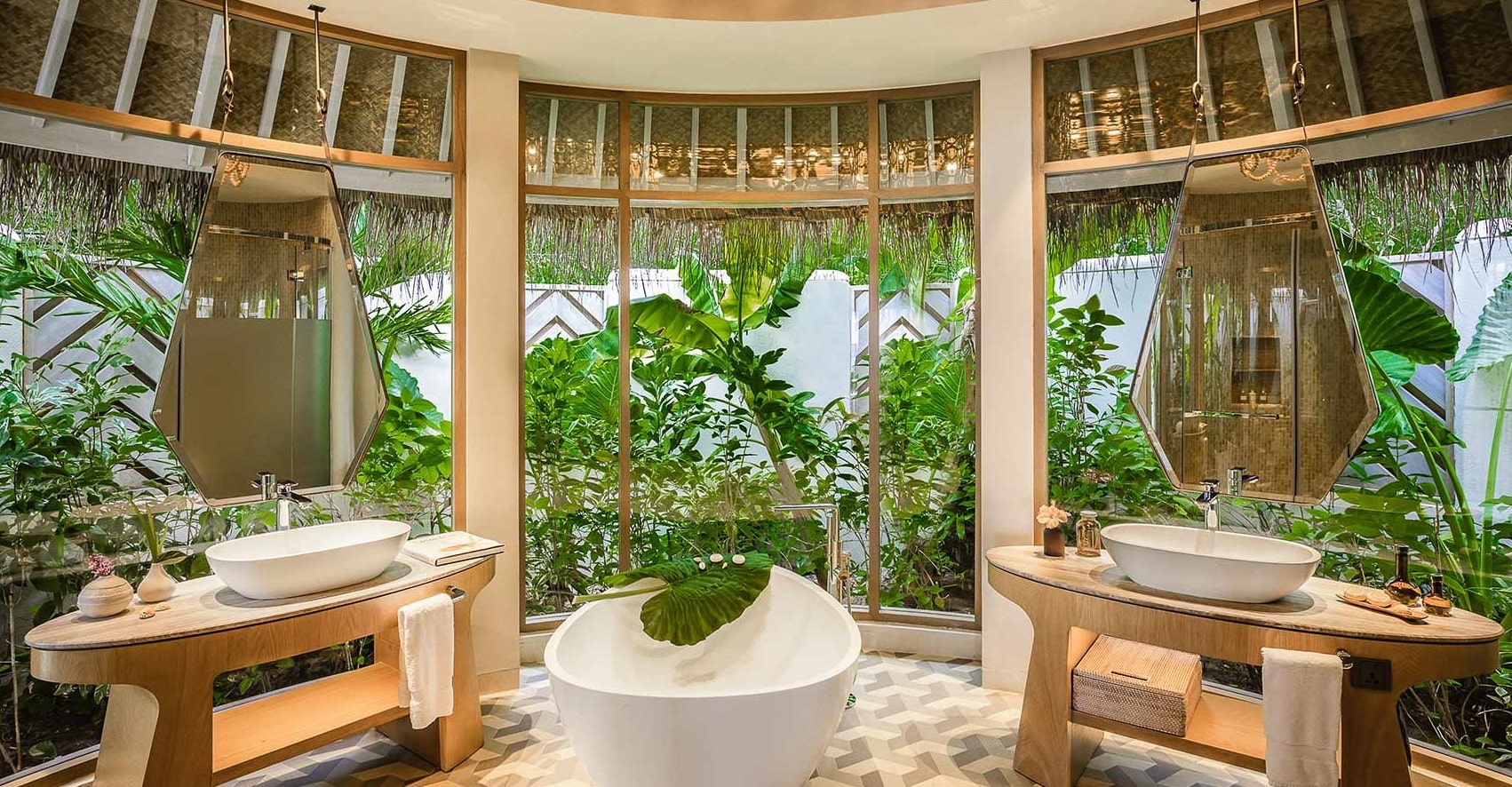 Nautilus Maldives takes bathroom experience to a whole new level. The bathroom of Beach House With Private Pool is a culmination of nature with elegant lifestyle. A single vanity station on each side gives ample space to each partner to freshen up without getting into conflict. The view is right in front of the vanity, it's the little green garden. There are 2 hanging mirrors and a bathtub in the centre. It's a gorgeous bathroom appealing to honeymooners and couples. When you have this you may never want get out.
Maldives Resort Bathrooms That You May Never Want To Get Out #Maldives #Island #Honeymoon #Maldivas #Malediwy #Maladewa